Roses are red, violets are blue…and Valentine's Day is coming for you.
Luckily, as a regular human being, you can always choose to ignore this holiday in the years that you don't really feel it. However, as a marketer, that's a whole other story.
Involving a neverending need for innovation and creativity, seasonal campaigns - such as the ones linked to Valentine's Day marketing - raise tougher challenges for social media managers year after year.
While that's something that you and I both know, with the Valentine's Day marketing tips that we've put together below, you'll have an ace up your sleeve for spicing up this year's campaign.
Ready to get down to business?
Social Media Marketing Campaigns And Ideas For Valentine's Day
Valentine's Day marketing ideas
Examples of Valentine's Day social media posts
1. Valentine's Day marketing ideas
If you're a social media coordinator at a company that's in the love business, or you'd just like to mark the occasion with a cheeky marketing campaign, you know that this day allows you the perfect opportunity to do so.
However, it's tough to come up with new and engaging Valentine's Day marketing campaigns every single year.
So here are a few Valentine's day marketing ideas that will get the ball rolling.
Come up with a couple of themed social media posts
While it makes for a great opportunity for businesses to boost their sales, Valentine's day social media posts don't have to be all about selling.
Think of it this way - Valentine's day is all about love - one of the strongest feelings in the world that has an unbelievable driving power. So, why not capitalize on that?
With the social media landscape nowadays being shaped by an increased need for authenticity, creating social media posts that appeal to people's emotions is, by far, your best shot at gaining their attention and interest.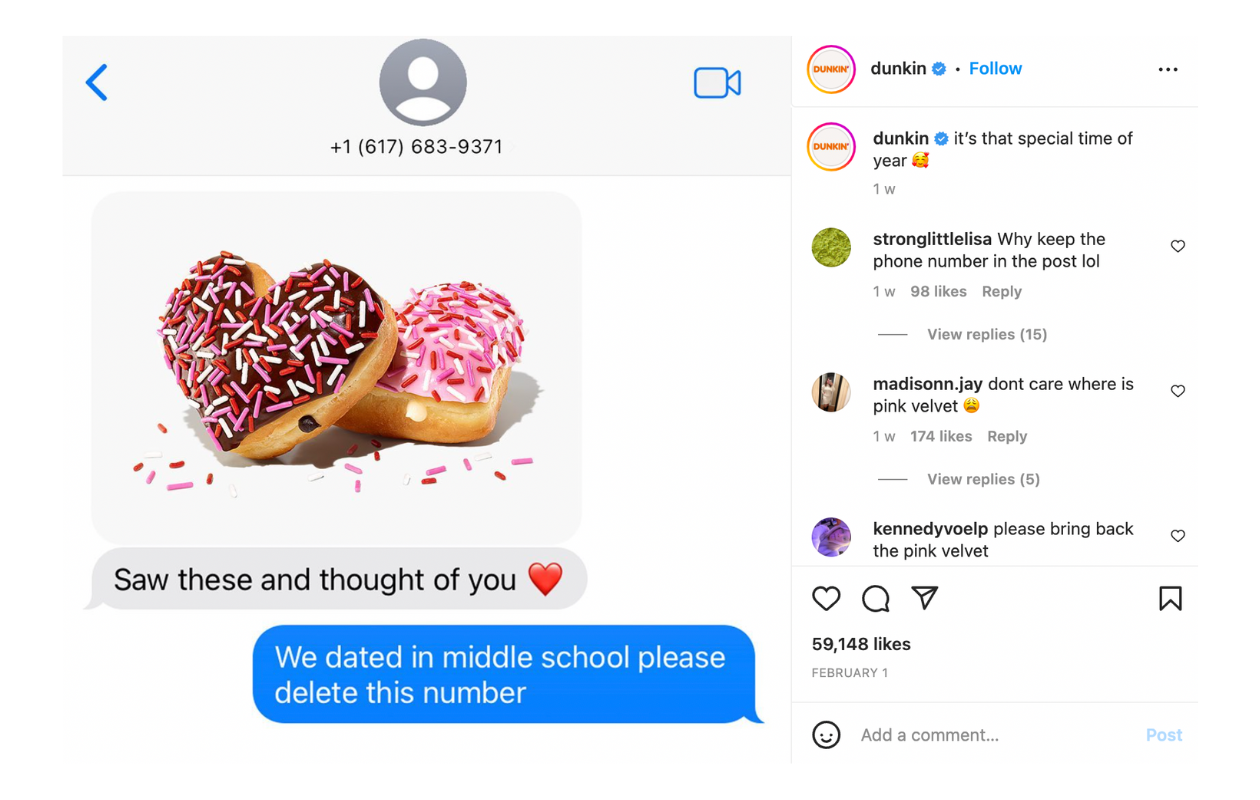 Whether it's through humor, nostalgia, excitement, or you name it, capitalizing on the power of emotions will surely help you make your social media followers open up their hearts and, in the end, eventually, their wallets.
When creating your Valentine's Day social media campaigns, remember that you can joggle between sales and engagement-oriented posts to keep things interesting for your social media followers.
Put together some Valentine's Day gift guides
Shopping for your loved one is not an easy task. Everyone wants to buy the perfect gift, but not everyone knows what that gift should be.
You can help ease the anxiety with a simple and effective idea: Valentine's Day Gift Guides.
Draw up a list of items that would make perfect Valentine's Day gifts and include a few of your best products.
Try out some ideas like:
Gifts for him
Gifts for her
Gifts for your BFF
Gifts for your family
Gifts for yourself
Gift guides give people exactly the information that they are looking for in a clear and precise manner and also leave room for plenty of self-promotion.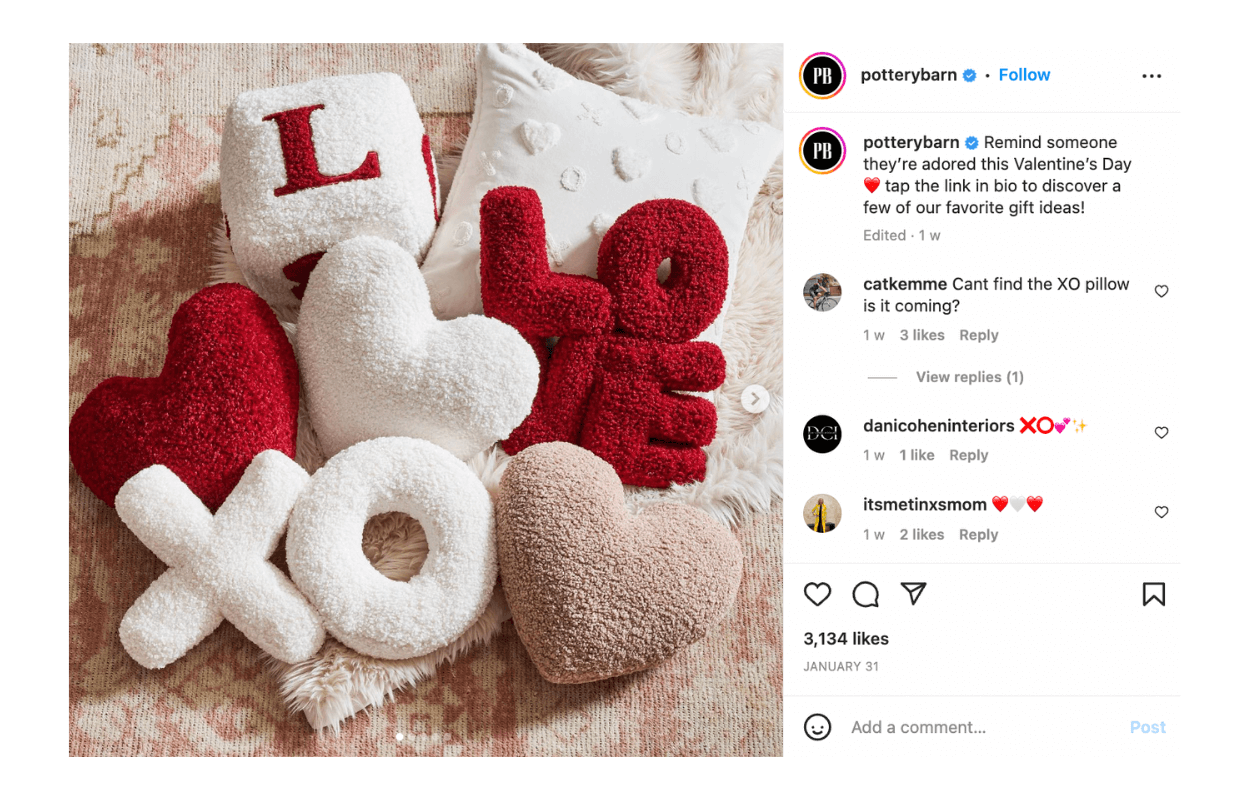 Create dedicated apps or experiences
If your budget allows it, don't shy away from spreading the love by creating a dedicated app or a landing page.
It may not be the cheapest option, but if you're planning on running a long Valentine's Day marketing campaign that can run for the entirety of February, this is worth considering.
An app or a landing page on your website will definitely help attract more people and offer more information, which ultimately backs up your social media efforts.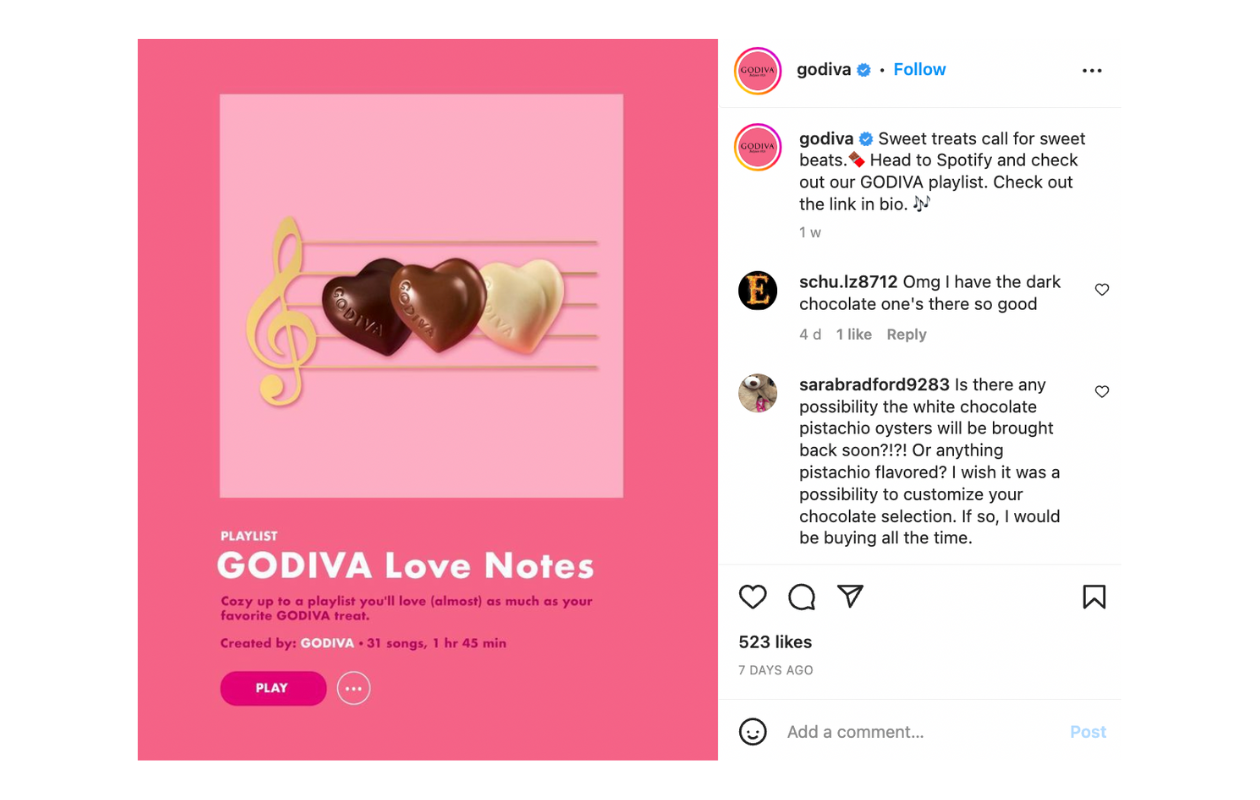 2. Examples of Valentine's Day social media posts
Businesses that are outside the Holy Trinity of Valentine's Day - meaning the jewelry, candy, and flower industry may be wondering whether or not investing resources in a special Valentine's Day marketing campaign it's really worth it.
Naturally, depending on your budget and marketing objectives, you can choose to go big for this Valentine's Day campaign or lay lower and just mark the celebration with a couple of cute Valentine's Day social media posts.
Equally, if you're activating in one of those industries that benefit the most from this festival of love but haven't quite had the time to prepare for this year's holiday, you can try out the last-minute strategies we mentioned earlier.
And to help you quickly gain some inspiration, here are a couple of examples of Valentine's Day social media campaigns that some of the most notorious brands have launched this year.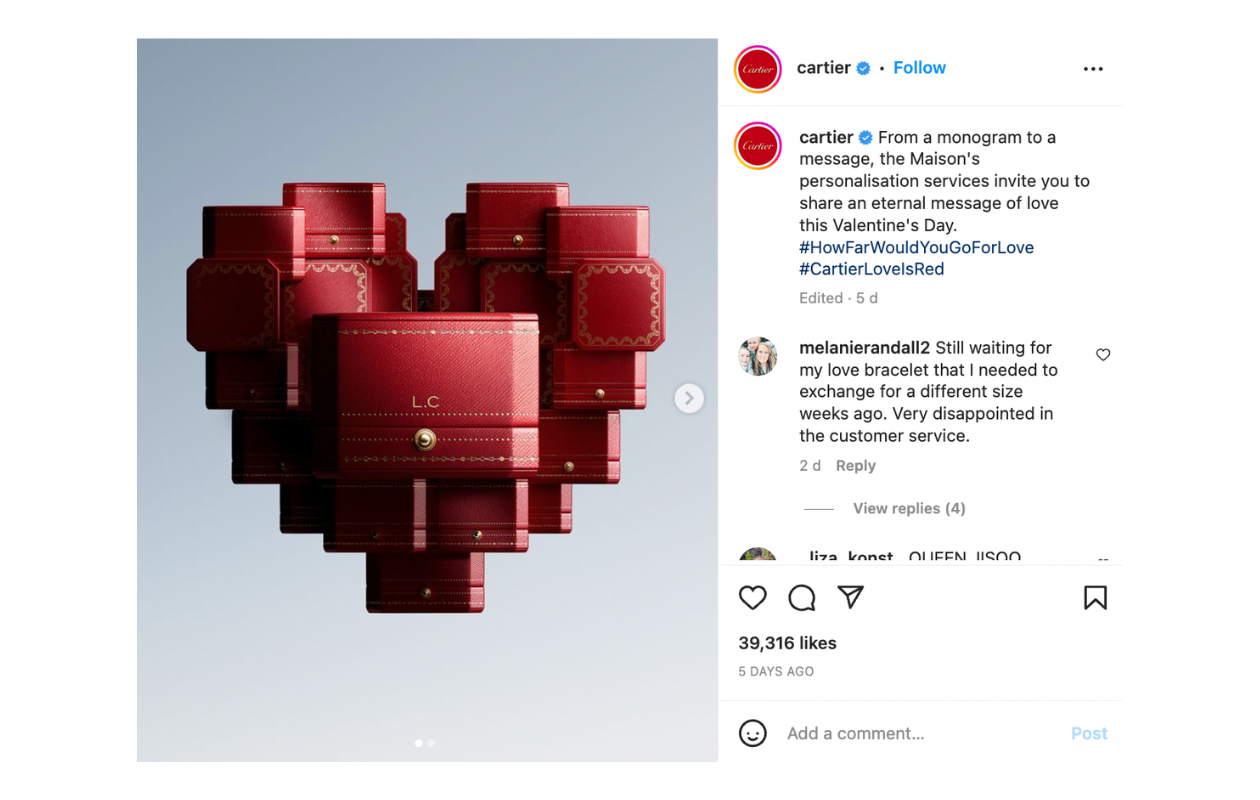 Known for its refined yet minimalist style - for its social media Valentine's Day campaign, Cartier chose to keep things simple and adopted a soft-sales approach.
When it comes to Valentine's day, jewelry brands are all about affection and unlocking hearts. In most cases, their captions encourage their followers to purchase products that will stay forever in the hearts of their loved ones.
Also, most of their products are intended gifts for women.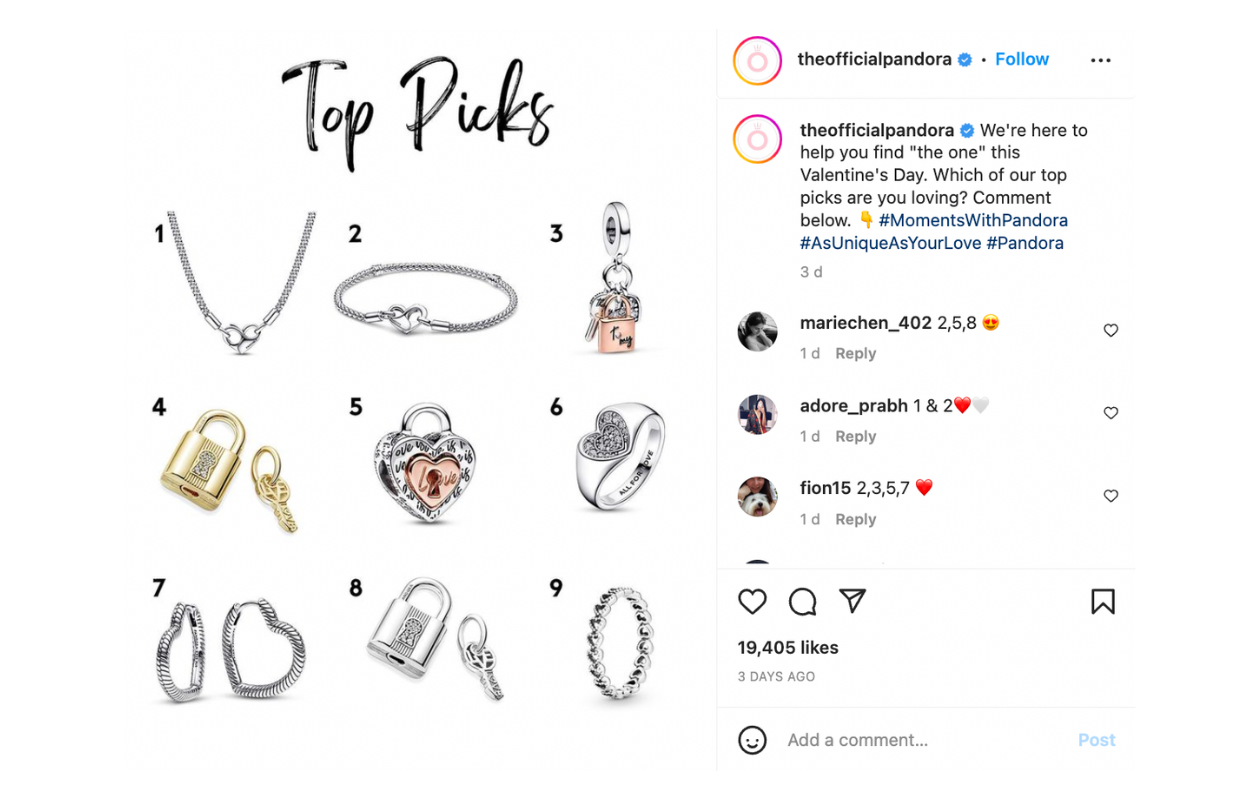 Compared to last year, for this year's holiday, it appears an increasing number of brands have started to leverage more video content for their Valentine's Day marketing campaign.
This was certainly a smart move, given that, nowadays, video content is king in the social media world.
Brands like Pandora or Tiffany & Co, for example, promoted their Valentine's Day offers and deals primarily through a series of Reels posted on Instagram.

Hopefully, these few Valentine's Day social media posts sparked some content ideas.
However, if you're not quite there yet, and could still use inspiration (backed by data this time), let's also take a peek at these two brands' best-performing Valentine's Day posts.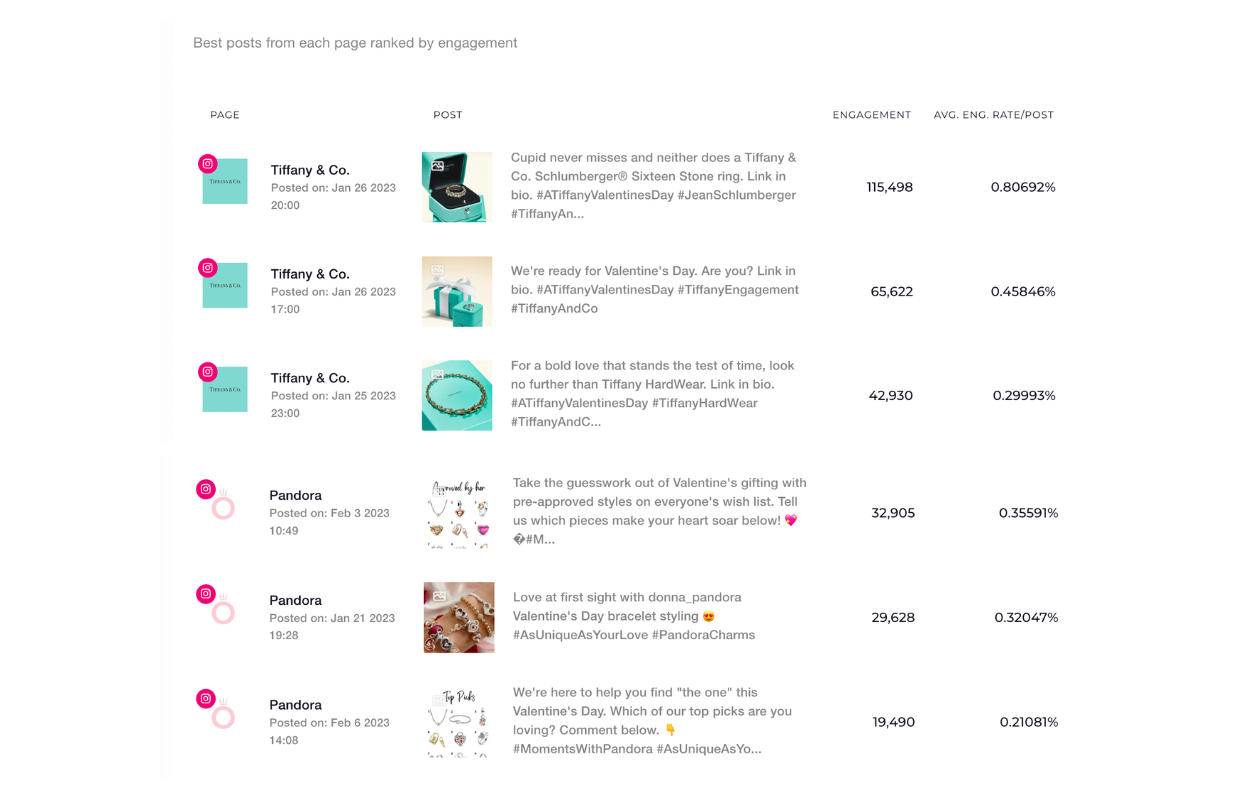 Let me guess - mindblowing! Isn't it?
Indeed, one could say so about Socialinsider's Campaigns feature.
And because I like you, I'll give you a ticket backstage and tell you a bit about you how I got those insights.
Well, Socialinsider's Campaigns integration allows you to search for specific keywords used in your profiles of interest's captions that you can set as different campaigns and then check the data about those specific posts.
Talking about competitive research and content strategy made easy, right?
And now comes the cherry on top - if you're curious to know how your competitor's Valentine's Day social media campaign is performing and want to get some insights on how to outrank them, now you've got the means to do it!
3. Valentine's Day on social media: data-backed insights
For this year's Valentine's Day marketing campaigns, most of the businesses that are in the love industry seemed to have chosen Instagram as their primary communication channel.
So, naturally, there's the question of whether or not this is the secret to creating a successful Valentine's Day social media campaign.
Well, that's all up for debate.
As a matter of fact, according to our latest social media industry benchmarks study, businesses from the jewelry industry, for example, record pretty low engagement rates on Instagram. Not to mention the platform's overall engagement rates significantly decreased since TikTok's rising.
However, let's not jump to conclusions just yet, but take a peek at the data instead. Deal?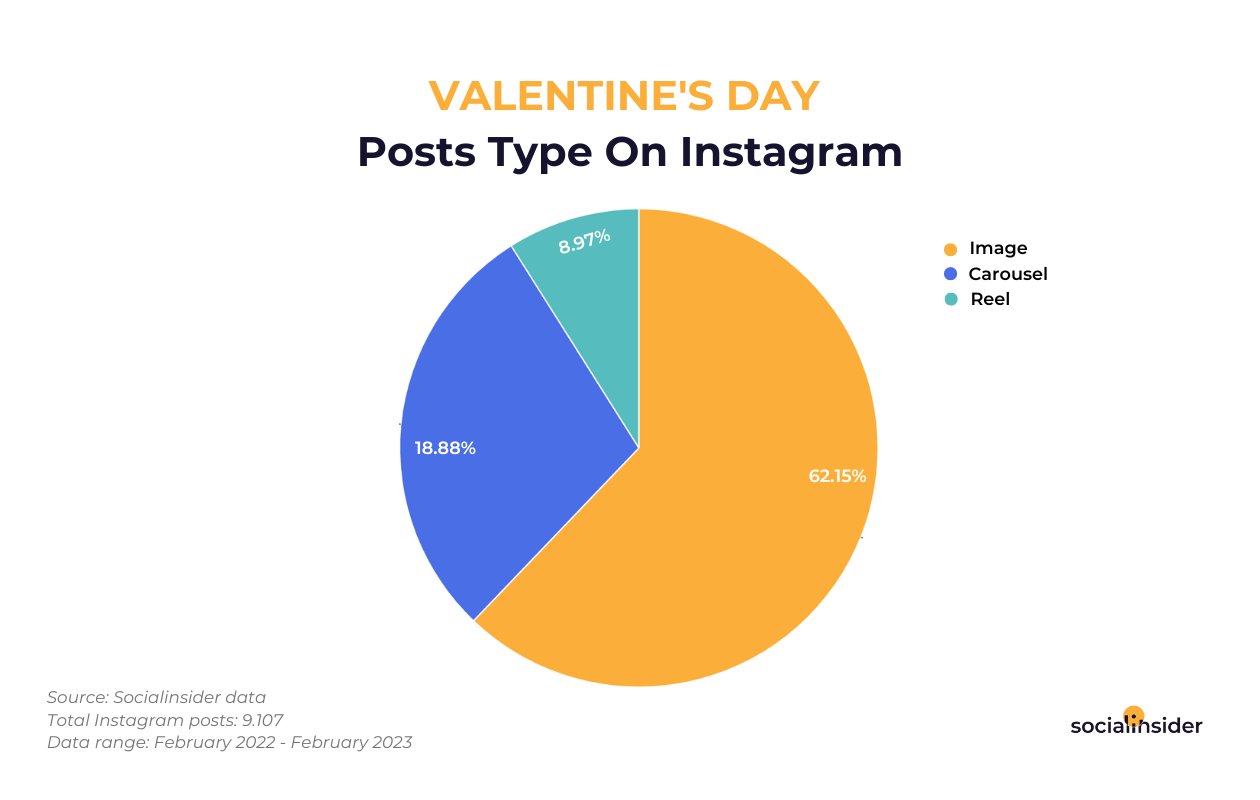 When it comes to their most used content type for Valentine's Day social media campaigns, single images are the brand's go-to chosen posts.
Despite being the most popular feature within the app right now, Reels are integrated into social media managers' Valentine's Day content plan in only 8.97% of cases.
However, when looking at the average engagement rate generated by brands that integrated Reels into their Valentine's Day marketing strategy, it gets you thinking if you should not get on that route instead.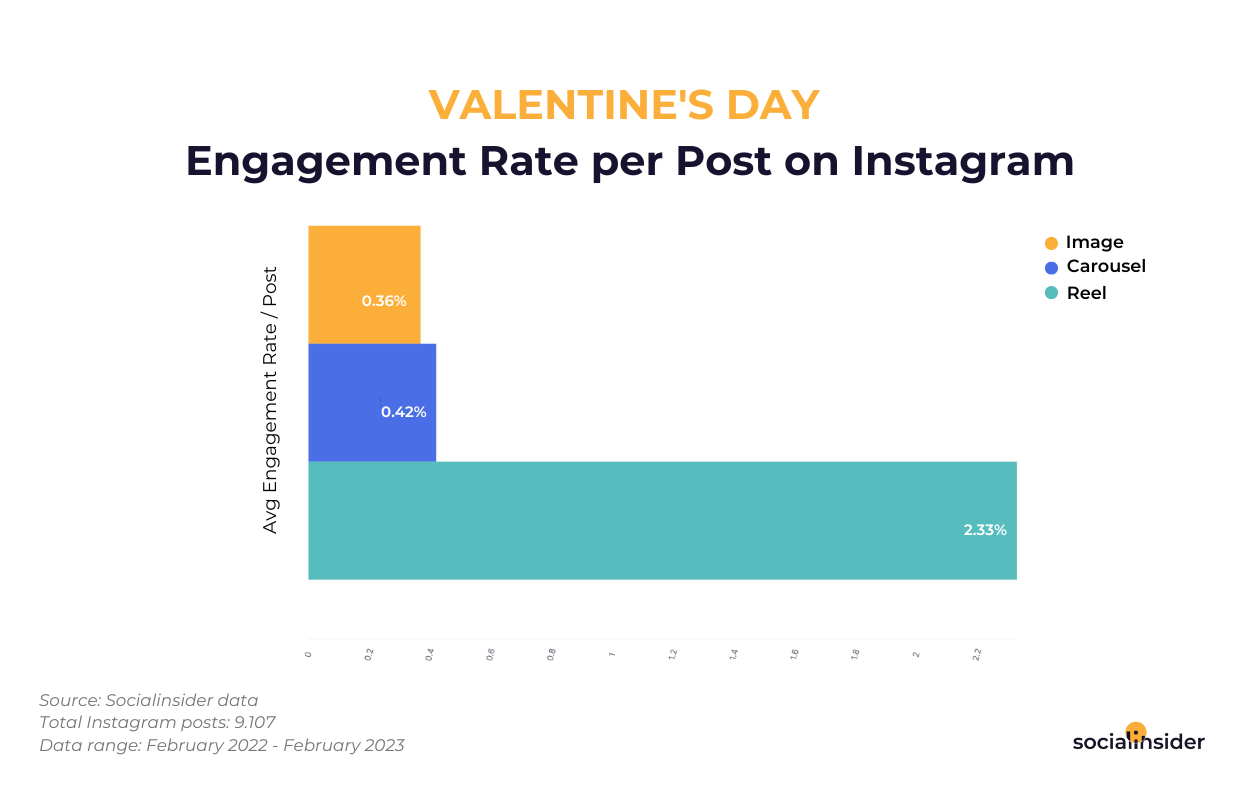 While it may require higher production costs, in the end, it may be worth the investment. All in all, there's no denying the engagement difference between Reels and the other content types is pretty significant.
To help you in developing your Valentine's Day social media strategy, I'll give you one final insight that Jenn Hermann - an Instagram marketing expert - has shared with us.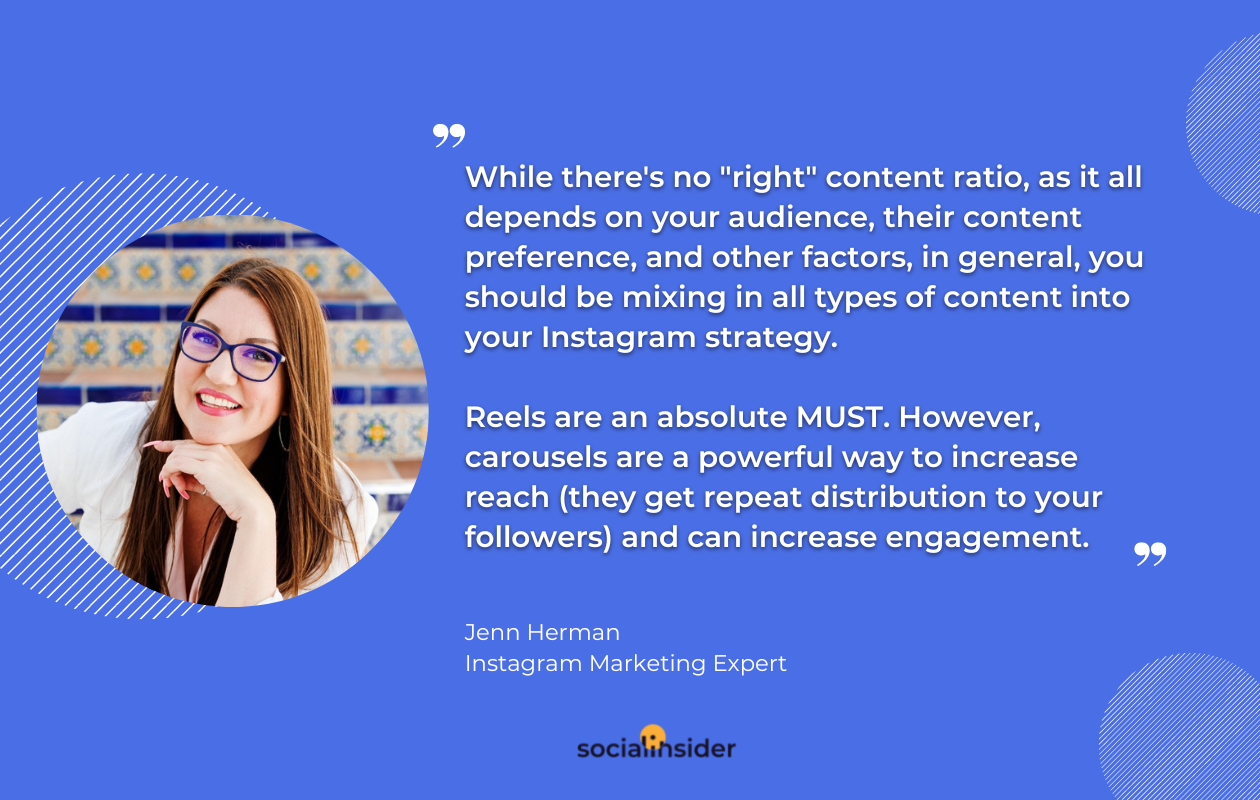 Final thoughts
Regardless of the industry, there's always something special you can do on social media for Valentine's Day.
Show your audience you're ready to come to their rescue by offering them a promo, a discount, interacting with them through a contest, or simply making them laugh with a clever post.
Try some of the ideas above and embrace the feeling of affection when creating your posts.
How many likes, shares, or retweets do you think you are going to have after this year's Valentine's Day? But above all, how much are your sales going to increase?