During the year, there are a few celebrations that appeal to the masses. When it comes to love, there is one particular occasion that embodies it both in real life as well as on social media: February 14th.
For brands, Valentine's Day means coming up with new ideas every year to attract attention and to increase their sales.
If you're a social media coordinator at a company that's in the love business, or you'd just like to mark the occasion with a cheeky marketing campaign, you know that this day allows you the perfect opportunity to do so.
However, it's tough to come up with new and engaging Valentine's Day marketing campaigns every single year.
So here are a few Valentine's day content ideas and strategies that will get the ball rolling.
Best Social Media Marketing Campaigns For Valentine's Day
Is it a good idea to post about Valentine's Day on Social Media?
Every campaign you launch requires time, effort, and proper coordination of your social media team.
So naturally, you may be wondering if it's worth investing your resources in a special Valentine's Day campaign.
Short answer: yes, and it comes with a lot of gains. 💏🤑
It seems that people are more than willing to spend a lot of money this year to spoil their loved ones, according to Statista.
Here's what the V-Day spending prognosis look like:
the total expected spending amount on this holiday in the USA is 18.2 billion USD
on average, people plan to spend 71 USD on gifts
61% of Americans are planning to spend Valentine's Day with a spouse or with a significant other
the most popular kind of gifts are chocolate, sweets, and candies
22% of consumers prefer to receive red roses on Valentine's Day
6% of young adult consumers are buying "anti" Valentine's Day gifts
What's even more interesting is that people are not buying the most expensive gifts, as shown in the National Retail Federation. Most people prefer symbolic presents with a romantic significance, such as chocolate, candies or flowers.
This is how Americans plan to spend their money and how much industries are estimating to gain from V-Day.:
52% of Americans buy candy ⇢ $2.4 billion in sales
43% are going for greeting cards ⇢ $1.3 billion in sales
34% are spending money on an evening out ⇢ $4.3 billion in sales
37% are giving their loved ones flowers ⇢ $2.3 billion in sales
21% of them are buying jewelry ⇢ $5.8 billion in sales
These are the products or services that consumers associate with strong sentiments such as love and affection. But not all products are equally as important. The red versions are preferred to other shades of the same products.
Diamond jewellery is at the top of the preference list and red roses are chosen over other kinds of roses or flowers in general.
If your company shares this lucky podium, you need to go all out on Valentine's day.
There are plenty of last-minute strategies to put into practice and great ideas to implement quickly.
And even if you're not part of the top industries, you can still go out there and have some fun, gain some awareness, and even increase sales.
For those of you out of ideas, let's get some inspiration!
Ideas for social media marketing on Valentine's Day
There are quite a few fresh and great ideas at your disposal. From simple posts to full-blown campaigns, we gathered some options for you.
Consider this a checklist you need to get through in order to find out which one is a fit.
It's time to get your most popular products into the spotlight. Make a list of your top assets and set up a Valentine's Day campaign that would impress your harshest critic.
Try to create an appropriate context around the product and the idea, to make it integrate naturally.
Some brands have doubts about posting anything special on Valentine's Day because they fear it might not be well received by their followers.
This shouldn't be the case. Quite the contrary.
Love is one of the strongest, most complex feelings, which can make for a powerful message as well. So do it justice by expressing relevant traits through a post or even a campaign on Facebook, Instagram or Twitter.
This Valentine's Day it's time to double your resources by teaming up with another company. This way you can build a stronger Valentine's Day marketing campaign, with more exposure.
Co-marketing tactics have proven to be very effective, as long as you manage to communicate as one entity:

Find the perfect partner. The most important step is to find another company that is complementary to your brand. They offer products or services that go hand in hand with your services or products and share the same type of audience.
Focus on the visual materials by combining the branding elements of both partners. Settle on a mutual visual guideline and create a few dedicated images. You can even upload a temporary cover photo that reflects the love month's theme.
Coordinate and use the same messages. Communicate mutual intent and values in a similar way, with a similar tone of voice. Keep consistency in everything you do.
Settle on mutual incentives, such as discount offers for both services/products, a "Valentine's day pack" - something that both partners can bring to the table.
This might prove to be a very effective Valentine's Day promotion that can generate leads or customers for both parties involved.
If your budget allows it, don't shy away from spreading the love by creating a dedicated app or a landing page.
It may not be the cheapest option, but if you're planning on running a long campaign that can run for the entirety of February, this is worth considering.
An app or a landing page on your website will definitely help attract more people and offer more information, which ultimately backs up your social media efforts.
Keep your posts short, sweet and to the point, as these types of posts get the highest engagement rates, and redirect people to your app or LP.
Hashtags are a really cool way to approach new audiences and to access new territories. As long as you make sure you use the right ones.
Search for the trending hashtags on Twitter and Instagram and select which hashtags you can add to your posts.
By using relevant, but popular hashtags, you ensure your message reaches bigger audiences.
We suggest choosing hashtags that have been widely used before because more people tend to follow them.
Apart from popular hashtags, it's always helpful to create a tailored hashtag for a specific campaign or activation.
This way you can ask your audience to use your hashtag and take advantage of user-generated content.
Moreover, people can just access the hashtags to find everything ever posted about the campaign.
Did you know that running polls or contests can dramatically increase your engagement on Instagram?
People like to be included in your marketing efforts. Giving them the option to pitch in and have a voice will help create loyalty.  
Polls are always a quick and easy way to get clear and specific answers.
Contests, on the other hand, allow for more creativity.
Think of a way to launch an interactive contest that can keep people entertained, engaged and empowered to speak up.
Use the strength of your audience in your campaigns. Not only will it lead to high engagement, but it will also create brand loyalty
Shopping for your loved one is not an easy task. Everyone wants to buy the perfect gift, but not everyone knows what that gift should be.
You can help ease the anxiety with a simple and effective idea: Valentine's Day Gift Guides.
Draw up a list of items that would make perfect Valentine's Day gifts and include a few of your best products.
Try out some ideas like:
Gifts for him
Gifts for her
Gifts for your BFF
Gifts for your family
Gifts for yourself
Gift guides give people exactly the information that they are looking for in a clear and precise manner and also leave room for plenty of self-promotion.
There are many ways to publish these roundups on all of your platforms. You can use links from blog posts, highlighted stories with multiple related frames, or simple posts.
Try albums on Facebook or carousels posts on Instagram. On Twitter, go for visuals as well.
Valentine's Day content ideas for social media
You may have already saved some of your top posts from your favorite brands. But what if you missed something?
You can use google search, or look up hashtags directly on Twitter or Instagram.
But let's see how brands are celebrating Valentine's Day across the main three platforms: Facebook, Instagram, and Twitter.
On Facebook, brands are not stepping back from celebrating Valentine's Day.
It looks like experiences, useful objects and recipes are trending this year. While some images are full of info, some are very minimalist, but with longer captions.
On Instagram, Dior is using the word passion to encapsulate all the Valentine's Day celebration. And because it is a big brand, it picked famous model and actress Cara Delevingne to be the face of the brand.
Red is a go-to color so it's a good idea to use it in your posts once in a while.
Talking about dedicated Valentine's Day marketing efforts, ColourPop cosmetics prepared  a full new collection centered around V-Day.
Brands are also competing for your attention on Twitter.  They don't shy away from promoting their products by using heart emojis in their captions or romantic set-ups.
Take, for example, this Starbucks post. It showcases special boxes of chocolate near red roses.
Valentine's Day posts performance on Instagram and Facebook
We wanted to find out the performance of Valentine's day posts on Facebook and Instagram to better understand what type of posts is the most performing.
Brands should go for posting more photos and create albums on Facebook for a higher engagement rate.
In this particular case, we observed that videos on Facebook don't return so many reactions, and they have the same engagement rate with links - 0.21%.
The average engagement rate per post on Instagram is 0.27%.
Continue reading the 2021 Social Media Industry Benchmarks Report.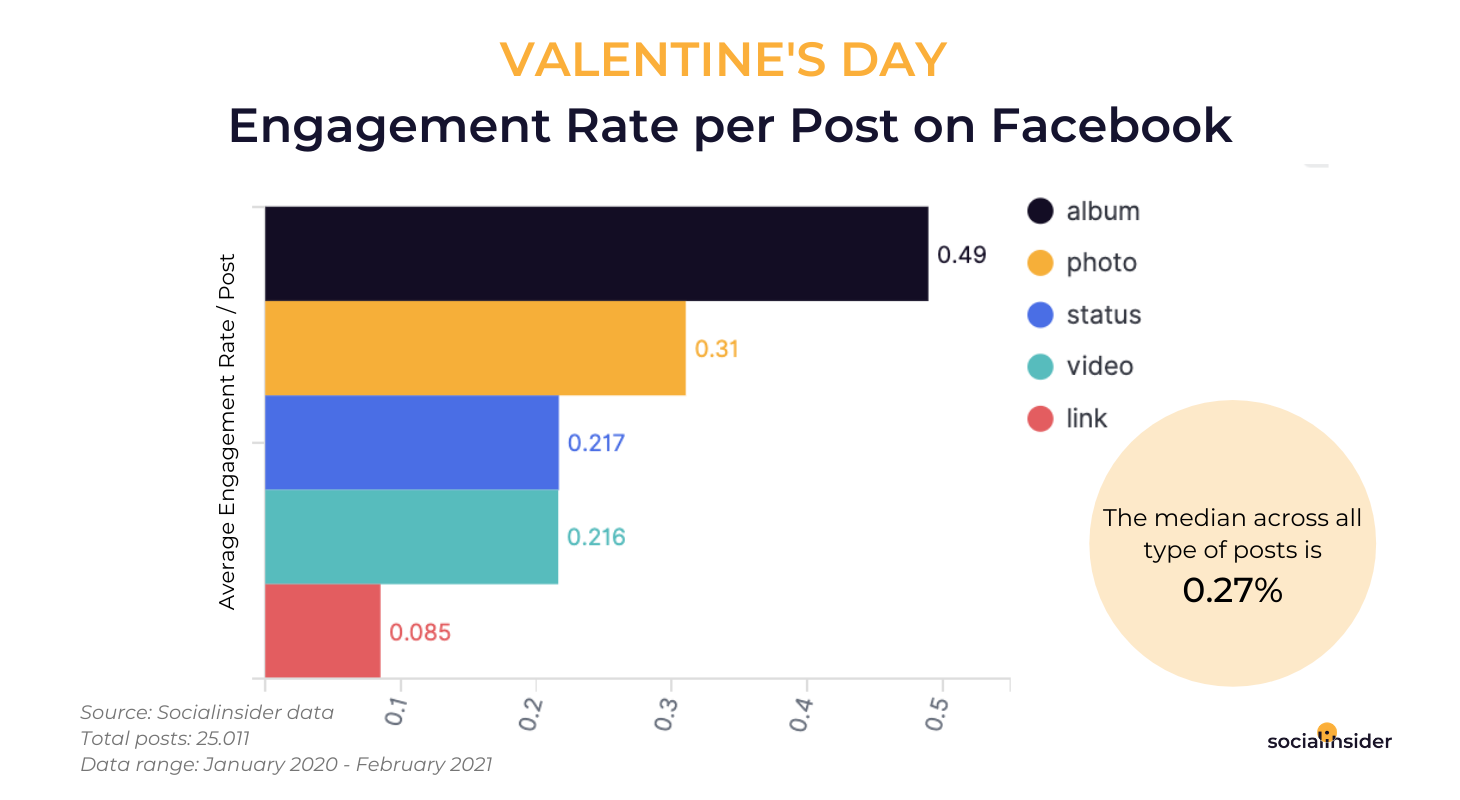 Overall, in 2020, brands published photos (58.98%) and links (17.88%) on Facebook, followed by videos (13.7%) and albums (8.82%).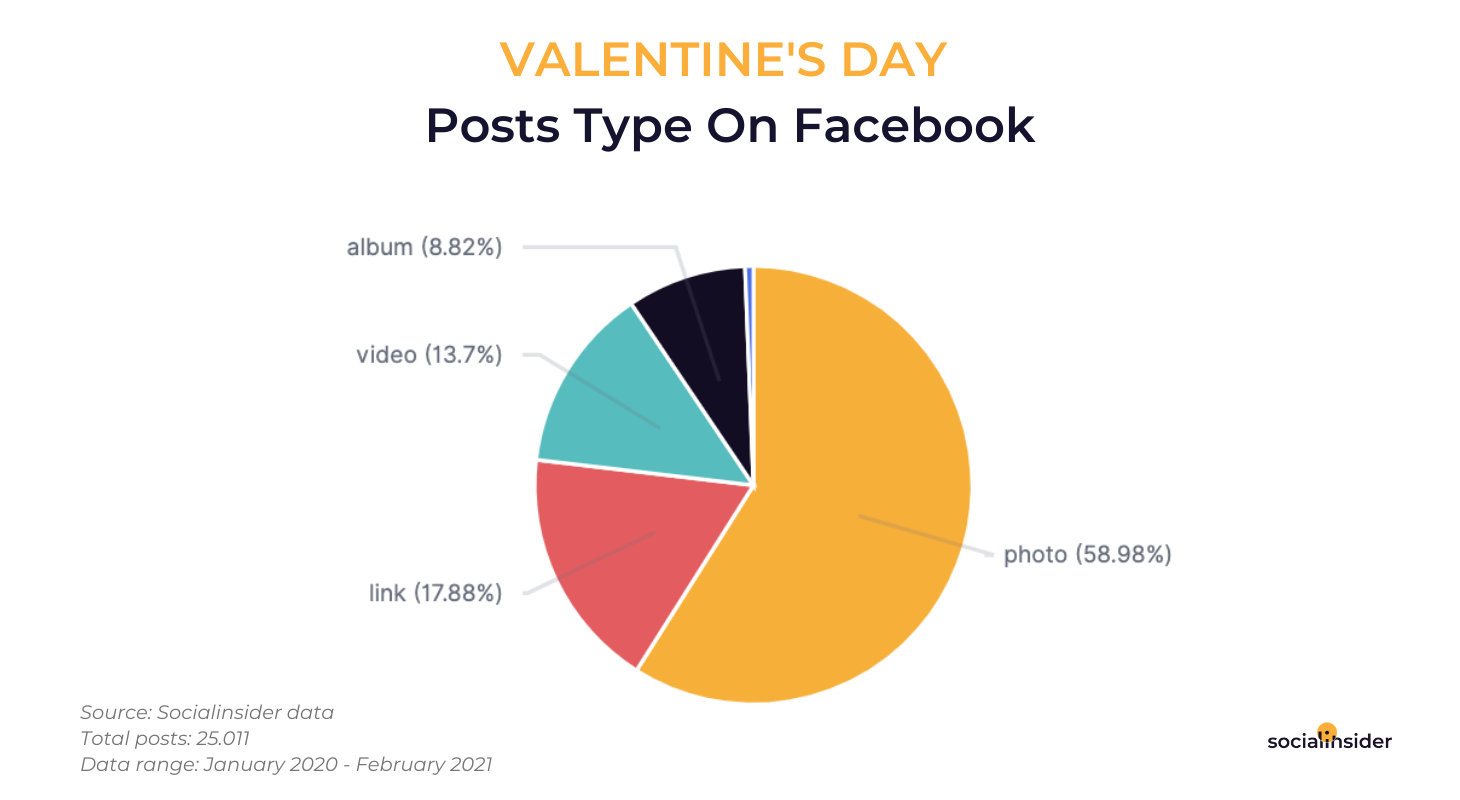 Videos bring a higher engagement rate on Instagram compared with carousels and image posts.
Even though most of the brands published in 2020 more photos (67.1%) on Instagram, followed by carousels (22.6%) and video (10.29%), videos increase the conversations around the brand.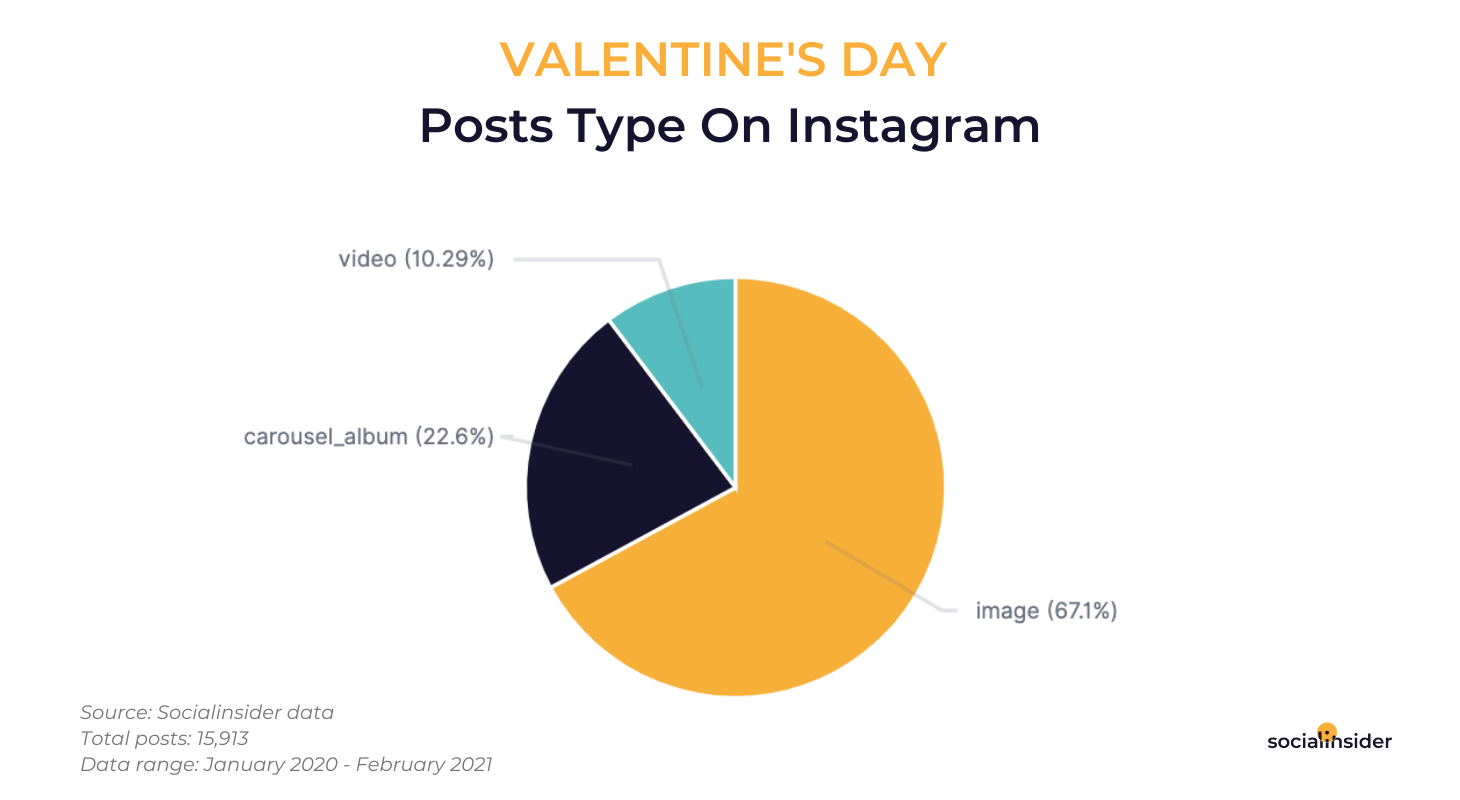 On Instagram, videos are the most performing type of content for Valentine's Day, with an average engagement rate per post of 0.65%.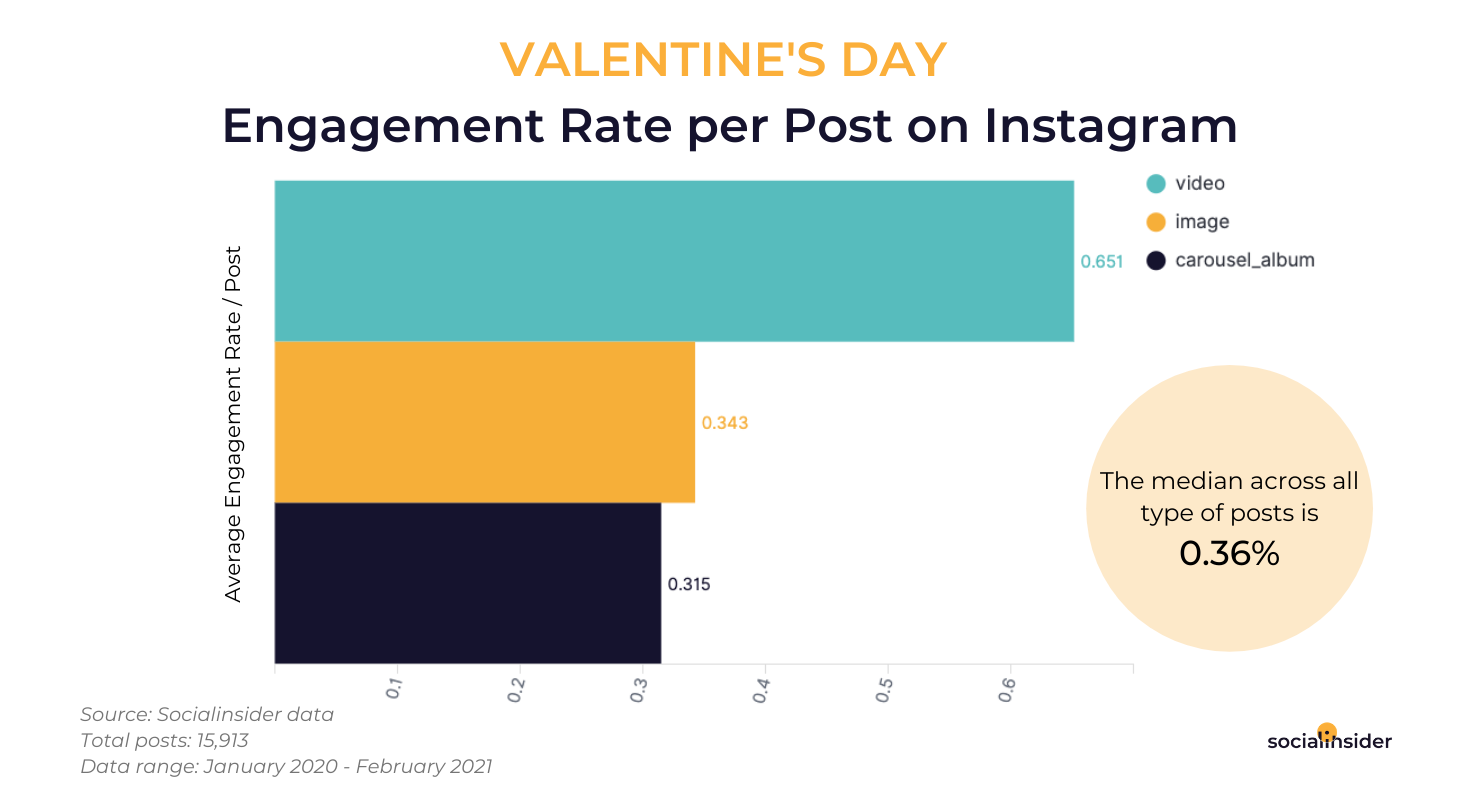 Valentine's Day top hashtags
Finding the right hashtags for every occasion can be tricky.
For this Valentine's Day celebration, I tested #valentinesday2020 on Twitter and Instagram to see which V-Day related hashtags are the most popular and which are the most engaging.
Analytics can show you what are the top hashtags that you should be using this Valentine's Day, as well as how they perform.
Looking into #valentinesday2020 on Instagram, you can see that the most popular hashtags that are used with this one are #valentine, #valentinesday, or #love.
However, other hashtags that are engaging are: #valentineday, #bemyvalentine or simply #valentines.
Also, most of the posts that carry the hashtag contained images, followed by carousels and videos.

People that add #valentinesday2020 to their tweets also like to add hashtags like #valentinesday, #pitbull  #gifts, #valentines or #gifts, together with branded hashtags.
When you look at engagement, however, we see that branded hashtags like #asimriaz, or #BB13finallyweek are at the top of the list.
This is a great example of how your own branded hashtags (or event hashtags) can perform exceptionally when used together with other popular hashtags.
Spoiled industries on Valentine's Day
As seen above, there are a few industries that benefit the most out of this festival of love, such as chocolate brands, flowers or jewellery companies.
So how are brands in these industries approaching Valentine's Day on social media?
With heart-shaped boxes and red roses, chocolate brands are going for classic, but efficient love recipes.
Once more, you can notice an obvious red theme.
This recipe seems to bring in the most engagement.
The jewellery brands are all about affection and unlocking hearts. Their captions want the consumer to purchase products that will stay forever in the hearts of the loved ones.
Also, most of their products are intended gifts for women.
For example, two out of three Chopard's top posts on Instagram are from the current Valentine's Day campaign.
The messages are a clear indication that men should buy their products to impress their significant other - and they don't beat around the bush.
Florists are relying on the classic red roses or they advocate for buying local to sustain little companies rather than giants who are many sales and profits.
It's all about creating a perfect visual with a dreamy decor that seems torn out women's favorite romcoms. She's gotta love it, right?
Another strategy is to appeal to men's need for convenience, like the above ad. You can give her the perfect gift by picking up a great bouquet of flowers on your way home. And you'll have an expert to guide you through the process.
There are other brands who want to engage as much as possible with their audiences on Facebook, Instagram and Twitter this Valentine's Day.
The clothing industry is also benefiting from the celebration of love by launching special designs and lingerie that are perfect for both date night as well as girl's night in.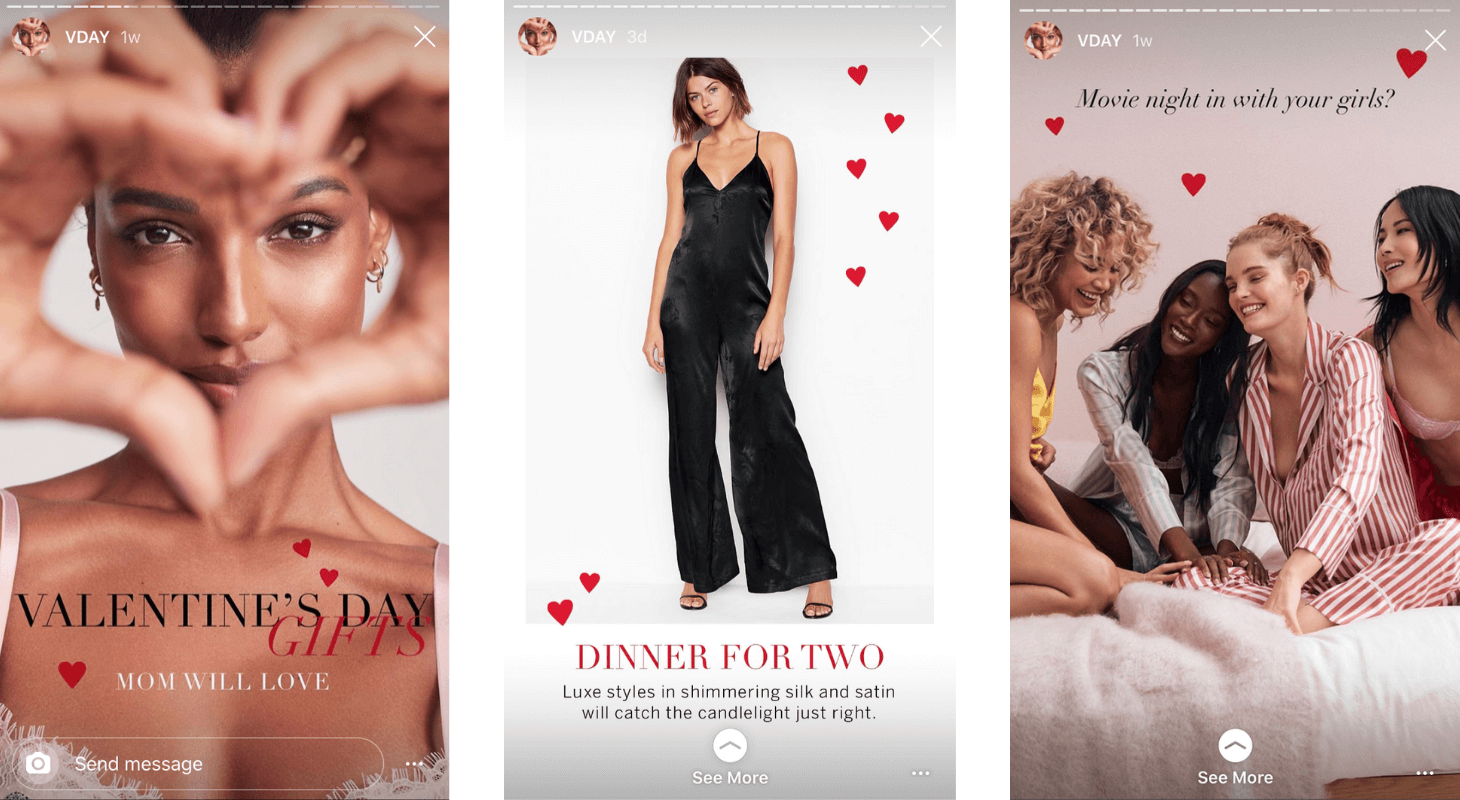 Morph is going outside the box with a stunning presentation of valentine's day makeup that would make any woman feel special.
It might not appeal to men, but it's definitely something that women would gift themselves.
Playful and youthful, these posts definitely deliver a different side of Valentine's day - the daring side.
Pottery barn also joins in the celebration and tries to create the perfect date at home. Nothing more romantic than your own home, right?
On the same note, H&M Home found a way to showcase their soaps and lotions, but this time the message is focused on pampering yourself.
And even if your products have nothing to do with Valentine's day, there's always a way to post something witty, as Grammarly did.
Final thought
Regardless of the industry, there's always something special you can do on social media for Valentine's Day.
Show your audience you're ready to come to their rescue by offering them a promo, a discount, interacting with them through a contest or simply making them laugh with a clever post.
Try some of the ideas above and embrace the feeling of affection when creating your posts.
How many likes, shares or retweets do you think are you going to have after this years' Valentine's Day? But above all, how much are your sales going to increase?