Without a doubt, sales are a challenge for marketers—no matter the industry.
B2B marketing has evolved from relying on a vast database and endless cold calling to showing your true self online and developing genuine relationships with other brands.
Studies show that 75% of senior B2B buyers use online social media during the purchasing process. And 77% of B2B purchasers said they would not speak to a salesperson until they had researched.
Since customers will only buy from B2B companies they are familiar with, having more channels than just your website to communicate with prospects is crucial.
And this makes us wonder.
Can B2B brands secure long-lasting partnerships via TikTok?
Read on to find out.
A guide on how to use TikTok for B2B marketing
1. Should brands use TikTok for B2B marketing?
Even though it is becoming seemingly popular among B2C brands, TikTok may not seem like the most obvious choice for B2B marketing based on the demographics alone.
And while some brands may still be reluctant to use TikTok because it is seen as a platform for Gen Z, some marketers believe it might be a very effective tool for generating leads.
They think so mainly because B2B buyers, just like individual consumers, are more likely to buy from a brand they recognize and identify with.
But as we've stated in one of our related articles, brands do not need to be on TikTok just for the sake of it.
B2B marketing aims to make other companies aware of your brand and the value your products add to their Business.
To do so, you must evaluate your brand identity and consider your target audience first. This will help you shape your marketing goals and develop a strategy that distinguishes you from other competitors on the market.
As long as it helps you reach your public and makes your target audience perceive you as a go-to source of information, TikTok should be a part of your social media marketing strategy.
If you're still a TikTok newbie and would like to learn more about how to use the platform, we have answered all your questions here.
2. What is TikTok for Business, and how can you use it?
B2B brands are learning that TikTok can offer more than just cute pet videos and dance challenges.
TikTok is, indeed, a very effective tool for business promotion.
You can reach many potential customers by posting videos on TikTok regularly and encouraging and giving them a reason to interact with your brand.
TikTok has taken extra care to appeal to start-ups by using various features—including hashtags, a user-friendly TikTok Ads Manager, or Shopify integration.
TikTok's platform—TikTok for Business—will assist you in connecting and interacting with your audience. Users engaging with your content is the most crucial component of TikTok marketing.
And with TikTok's business-dedicated features, it's easy to leverage the platform to develop your brand, share your message, and grow your Business.
TikTok for Business will walk you through every step of picking a goal, choosing your target, setting a budget, designing your ad, and measuring your performance—which sets it apart from the creator-focused platform.
You can use TikTok for Business to create TopView ads, in-feed Ads, brand takeover ads, branded effects, and branded hashtag challenges.
💡Tip for social media managers:
You can also use TikTok Ads Manager to connect with professionals who might use your service outside an organization.
There is a greater probability that a company will discover you and want to collaborate with you if they see you've gotten freelancers or creators fired up about your product.
3. Tips on how to use TikTok for B2B marketing
Unlike B2C, where jumping on trends and consistently sharing content is critical, B2B can work differently.
If you're looking to rule the TikTok B2B market, we've compiled the best advice for getting started, crushing trends, and unlocking the potential of the B2B formula.
Take a look.
3.1 Pay attention to what your prospects are complaining about
It's critical to keep an eye on both your rivals and potential customers.
Sprout Social claims that if you search for #corporate on TikTok, you can find a subculture with a ton of entertaining content about corporate life.
Professionals are hurrying to adopt TikTok's realistic style and are creating fun methods to express their frustrations with the workday.
All you have to do is pinpoint their issues and figure out how your offering may help.
It is also crucial to peek at your rivals' strategies to differentiate yourself from them and their offerings.
3.2 Partner up with key opinion leaders
As we said before, as a brand, you want to be perceived as a go-to source of information by other industry experts.
And teaming up with key opinion leaders within your field is an excellent method.
You can start by selecting a few creators or companies that you want to network and connect with on TikTok.
Watch their content and interact with their postings. If the occasion calls for it, you can even think of sewing one of their videos together with your own to offer your perspective.
You may increase your chances of being noticed by using TikTok's features—Duet and Stitch—to engage with relevant creators you like.
3.3 Invest in TikTok ads
TikTok is mainly designed for organic discovery.
However, there are occasions when it makes sense to spend money on paid ads.
If you are new to TikTok, you should allocate a small budget for the initial push.
This will enable you to connect with your audience in a manner that organic means might not be able to.
Not to mention paid ads allow you to test different ad wording and creative options to determine which ones are most effective for your brand.
If you'd like to start experimenting with TikTok ads to reach more profiles, you might want to give our article—How to Create TikTok Ads And Setup a Campaign That Converts—a read.
3.4 Measure your performance constantly
Before diving headfirst into your TikTok strategy, it can be insightful to start by observing other B2B brands already making waves on the platform.
Follow these brands and note their successful tactics and creative content strategies. This will give you a rough idea of what works and what doesn't in your industry.
However, while imitation can be the sincerest form of flattery, it's not always the key to success. Each brand is unique; what works for one may not necessarily work for another.
That's why you need to dive deeper. A more granular, in-depth analysis is necessary to understand the specific tactics that work for your brand truly.
This is where a TikTok analytics tool can come into play, offering many invaluable insights to inform and enhance your own TikTok marketing strategy.
If you're seeking a TikTok analytics tool that offers insights into your own performance and facilitates KPIs comparison with other accounts, Socialinsider is your perfect match!
A social media analytics app that goes beyond basic reporting that offers benchmarks and campaign data, Socialinsider can provide powerful insights that will empower your TikTok marketing strategy and help you gain a competitive edge in the market.
From engagement to followers metrics to superhero KPIs that will help you identify the potential virality of a video, its comprehensive features make it an invaluable tool for maximizing your social media strategy and achieving success in the B2B landscape.
But instead of bragging on and on about what you can do with such a tool, let me offer you a sneak peek instead.
For example, here, I wanted to conduct a competitive analysis and look at the TikTok performance data of Canva and Photoshop to understand which brand's strategy is more effective.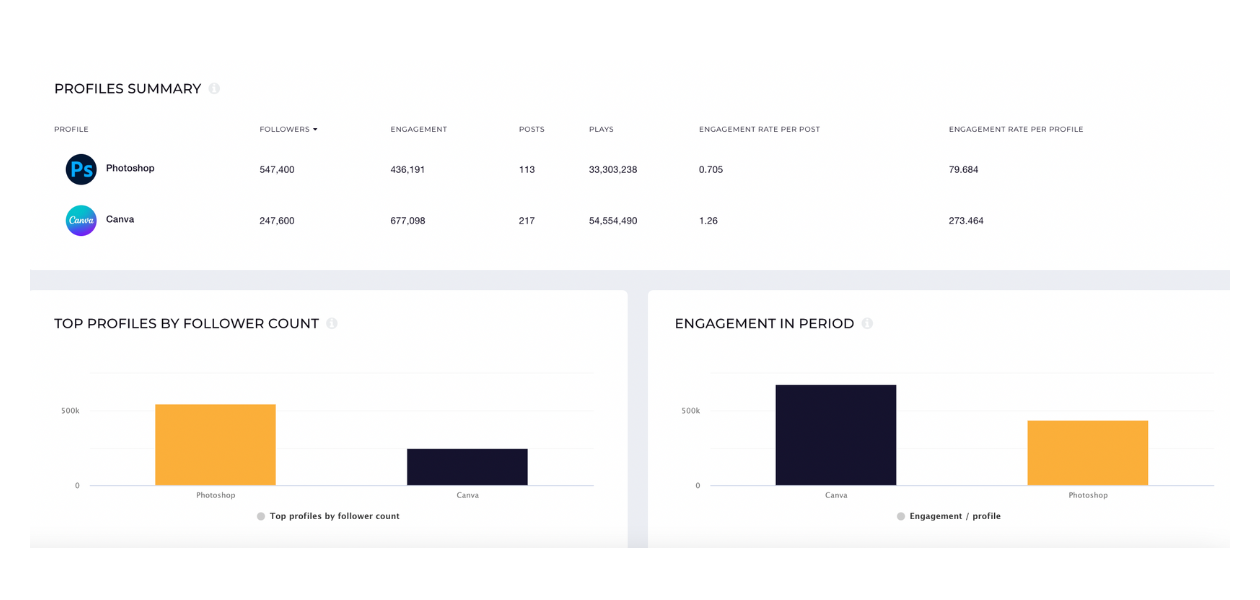 By using Socilainsider, here are the insights I dug up.
Being more active within the platform, Canva gets more plays and engagement on its videos.
Now that we know this, the next interesting thing to do would be to deconstruct a couple of Canvas' TikTok videos to understand what's the brand's successful formula - how long the captions and the videos are, are they featuring real humans, and so on.
The deeper you go when monitoring the data, the more strategic insights you're likely to get.
And if you're curious about how you can perform such an analysis tool, here's briefly what you need to do - add your profiles into Socialinsider, then go to the Benchmarks sections to see your comparative data. Simple as 1,2,3, isn't it?
Alternatively, if you desire more options, you can compare these  9 TikTok Analytics Tools for a Successful Social Media Strategy. This way, you can determine which tool best suits your specific needs.
4. Brands that are winning at B2B TikTok marketing
As a B2B brand, you can post clips on various topics, such as product tutorials, industry insights, brief interviews with your internal specialists, guidance on solving a problem, or quick tips and tricks highlighting your leadership.
To get you inspired and see if TikTok is where you want to promote your Business, we have listed three brands that are currently winning the B2B game.
You may use the following cases as a starting point for your future content:
4.1 @adobevideo | Being a go-to source of inspiration
According to research from Enlyft, more than 101K companies use Adobe Creative Cloud. Businesses with 1–10 employees and a revenue of $1–10 million are the ones who use the app the most frequently.
With over 300K followers and 1M likes, @adobevideo mastered the art of B2B marketing on TikTok.
How did it do that?
Adobe established itself as an authority in the creative market.
Videos showcasing popular design trends, feature overviews, and collaborations with well-known professionals do the trick for Adobe.
Adobe also uses TikTok to share short-form, engaging tutorials for creatives that want to turn their work into masterpieces.
The best part is that professional designers looking for new ideas and social media managers who want to create content quickly or learn to use the Adobe Suite can find unique assets on TikTok as a resource.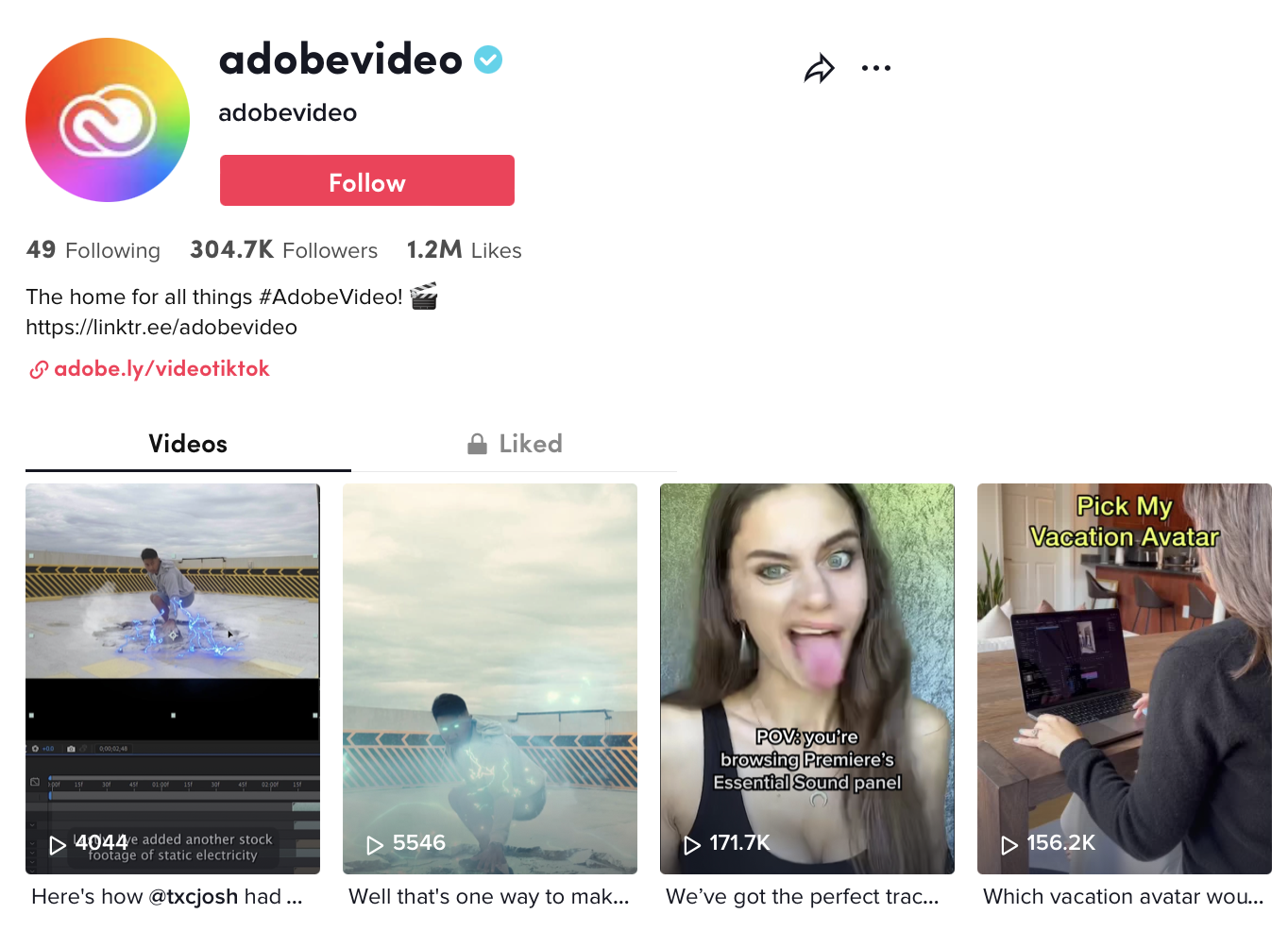 💡 Key takeaway:
@adobevideo has positioned itself as a leading source of inspiration on TikTok by showcasing design trends, collaborating with professionals, and providing engaging tutorials.
Social media strategists can apply these strategies to their managed brands on TikTok.
To enhance their brand's presence and engagement on TikTok, they can share unique assets and offer valuable resources to their target audience, thus establishing authority.
4.2 @grammarlyofficial | Identifying pain points
@grammarlyofficial uses a content mix, sharing both educational and humorous postings.
Their content is relatable and demonstrates the worth of their offering.
Grammarly differs from other SaaS companies in that it clarifies any common problems or incorrectly spelled words that executives or individuals might encounter.
Suppose you'd like to learn more about Grammarly's brand identity. In that case, you might want to read our brand analysis—Grammarly's Marketing Strategy: How the Brand Succeeded in Becoming a Leader in Its Market.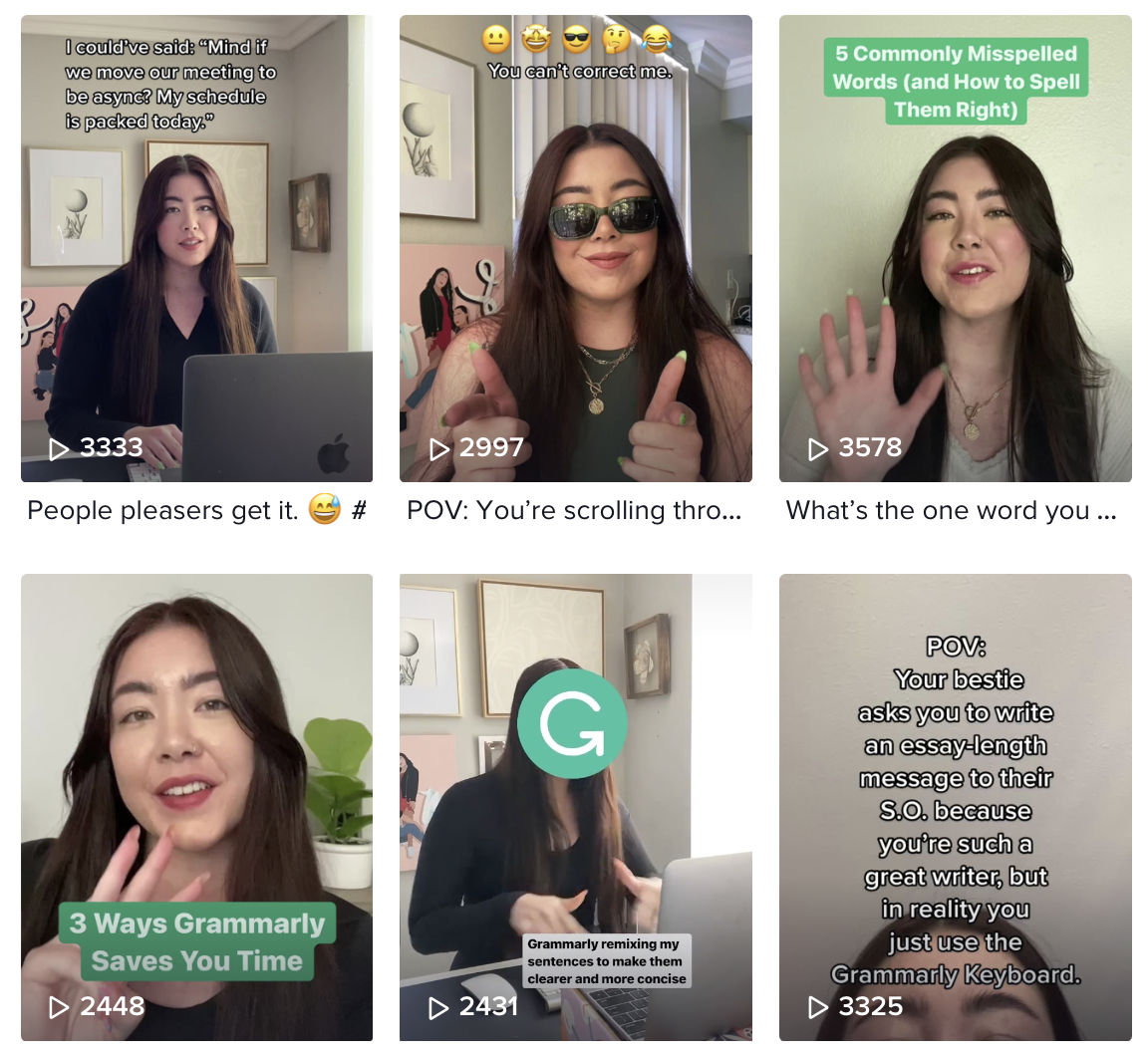 💡 Key takeaway:
@grammarlyofficial highlights the importance of identifying pain points and offering valuable solutions in social media marketing.
Social media strategists can identify their target audience's pain points and create content addressing those challenges, showing how their brand solves the problem for their audience.
4.3 @mondaydotcom | Having fun with the content
@mondaydotcom is the living proof that branded content is no longer an effective way to grab people's attention.
According to Monday's marketing and creative management platform, creating a comprehensive marketing strategy is all about knowing your target audience, how your product fits into the market, and where to advertise.
On TikTok, @mondaydotcom's strategy relies heavily on trending sounds.
They use the latest audios and adapt their content to show aspects of their work life in a fun and relatable way.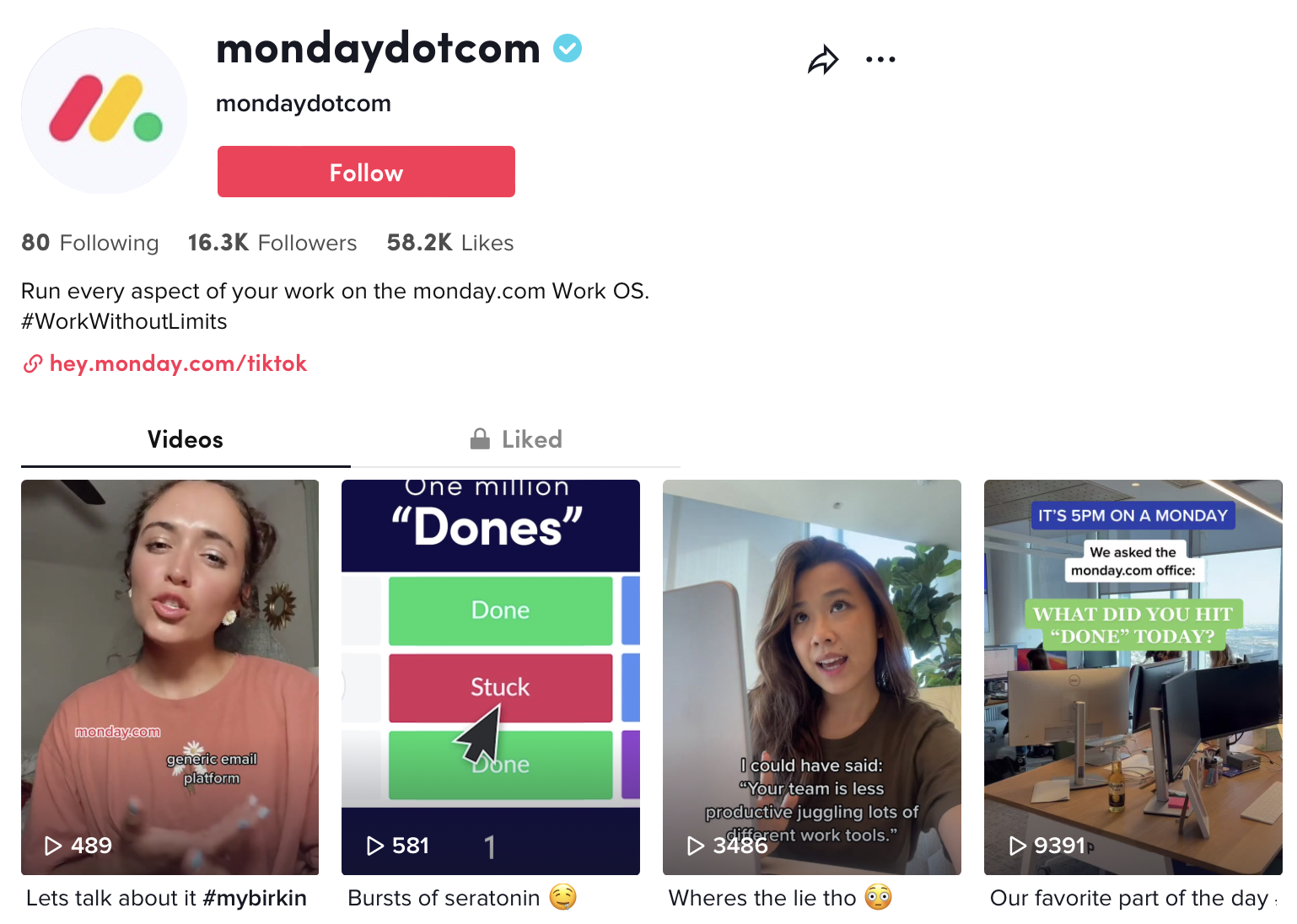 💡 Key takeaway:
By simply having fun with its content, @mondaydotcom grabs its audience's attention and shows that traditional branded content may not be as impactful.
Its strategy also highlights the importance of staying up-to-date with platform trends and finding creative ways to make your brand entertaining on TikTok.
Social media strategists can experiment with elements like trending sounds and relatable content to engage their target audience effectively on TikTok.
Last thoughts

TikTok makes it simple for small business owners to reach their customers, but it may also put you in touch with other small business owners.
TikTok is not quite as crowded as Facebook, Instagram, and YouTube because it is still relatively new to the business sector.
Due to the lack of a developed influencer network and the fewer users vying for sponsorship and ad slots, it is also significantly less expensive to promote.
TikTok's widespread platform popularity allows B2B companies to find their niche audiences.
Using TikTok to establish your brand as the authority in your field could be the key to differentiating yourself from the competition and securing more deals.
And due to the short-video format pushes them to explain their solutions briefly and clearly.
Are you ready to give TikTok for B2B business a try?