One of the best ways by which you can grow your Instagram account and create a following that converts is to understand and take advantage of Instagram analytics.
Of all social media platforms, Instagram continues to register massive growth.
It is, therefore, a powerful platform for your brand, marketing campaigns, and events; and just about anything that can elevate your business to higher levels.
And this is where the important factor of Instagram metrics comes in. Metrics are useful as they help you to analyze, evaluate and take stock of the performance of your account, and how it influences your overall business strategy.
Whether you are tracking your own profile or that of an influencer, in this article, I'm going to describe the most effective analytics metrics you can track in 2022.
Top 5 Instagram metrics that matter
---
1. Engagement - Track your engagement rate on Instagram to understand your peak in interactions
Tracking engagement involves comments, likes, and shares done on your Instagram account. To drive your business to desired levels, your followers need to see your post and engage with the same post.
Tracking comments, likes, and use of the share button allows you know how much your audience are interested in your brand. The number of likes and comments can then help you to calculate the engagement rate.
Take @lululemon for example. People ask them questions about the sports outfits and they use Instagram as a support channel for sales and brand awareness.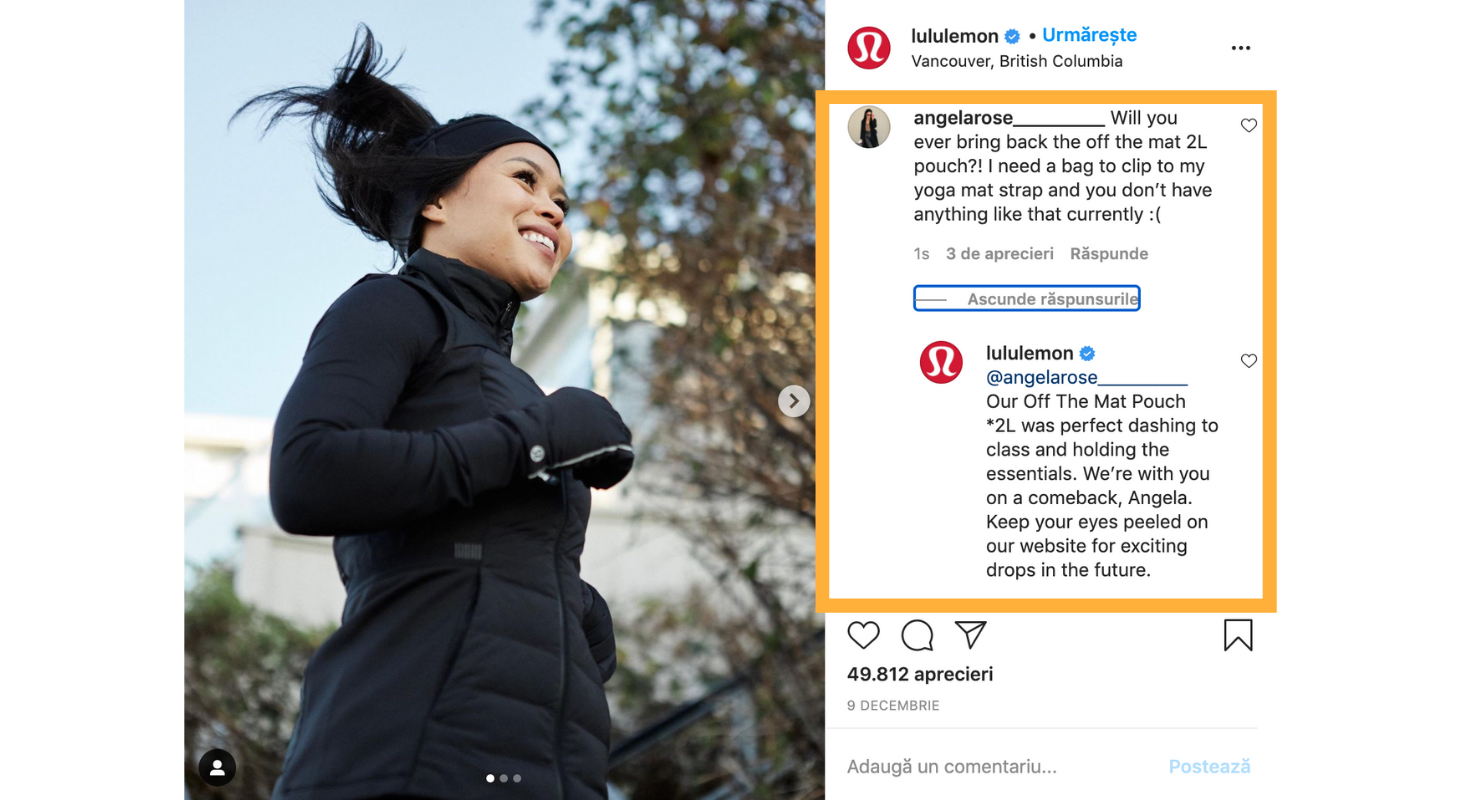 Engagement rate is calculated as follows:
Divide the combined number of comments and likes by the total number of your followers, and multiply this by 100. It gives you the actual percentage of engagement rate.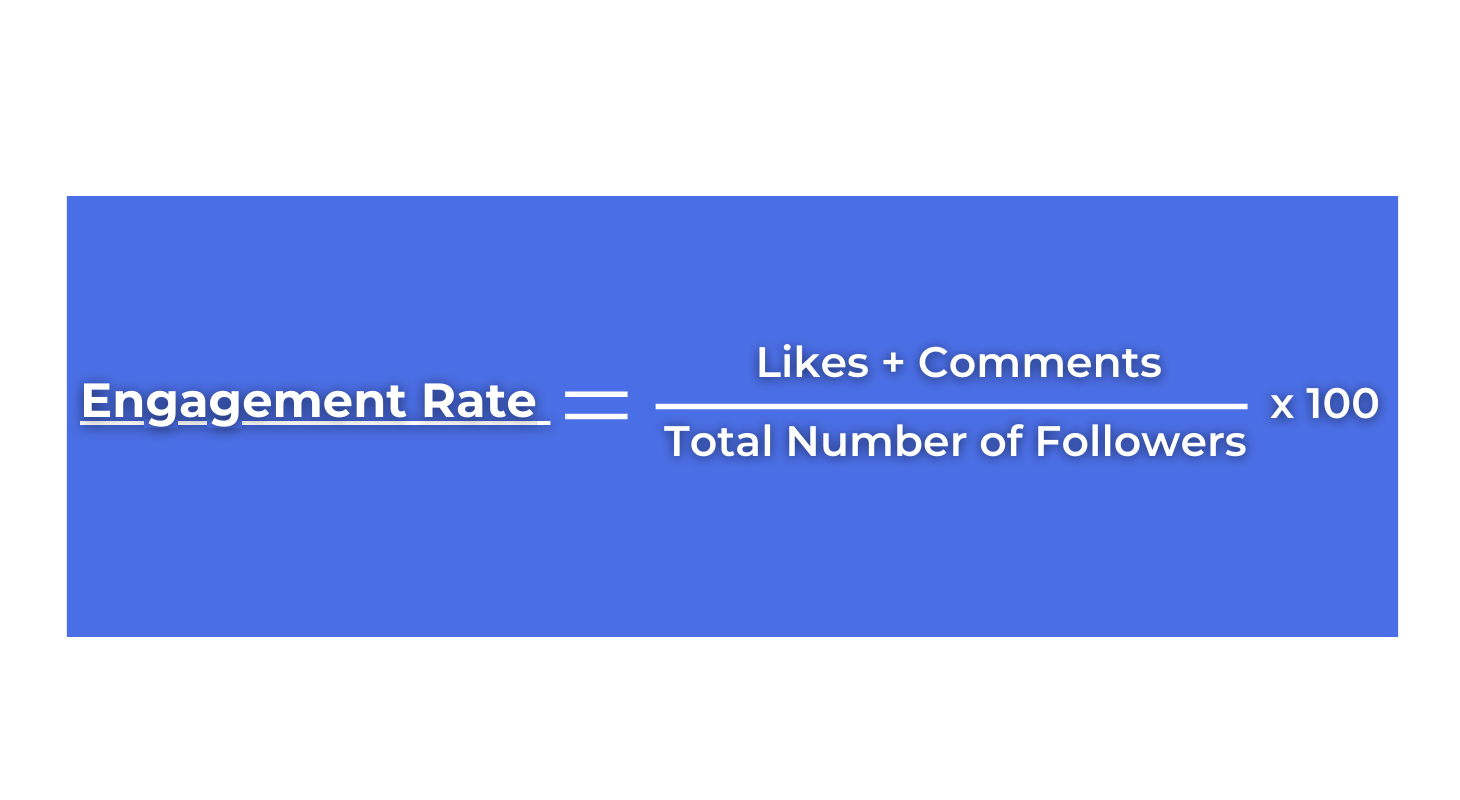 No need to do the math or to keep an excel with your engagement rates evolution. Using an analytics tool like Socialinsider you can keep track on your engagement reports for your business and understand how your brand performs on Instagram.
Knowing your engagement rate allows you to keep track of your best performing post. It also makes you to know exactly where the interest of your audience is. With this insight, you can grow and improve your business presence on social media.
Again, you can quickly determine what works and what does not work for your brand. Finally, this kind of feedback helps you to make the needed upgrades where necessary.
2. Reach - Understand how far your content is really going
Measuring reach allows you to see and measure how many people have viewed your posts. This metric is used to analyze the extent of awareness of your brand, but also it creates the required hype and buzz around a post, story, or advert.
If you want to calculate your reach rate, you take the total number of viewers per post and divide it by the total number of your followers. Basically, reach is often shown in numbers, and for every account that sees your post is counted as one view.
The reach rate, on the other hand, comes in a percentage and helps you to evaluate whether your account is growing or not.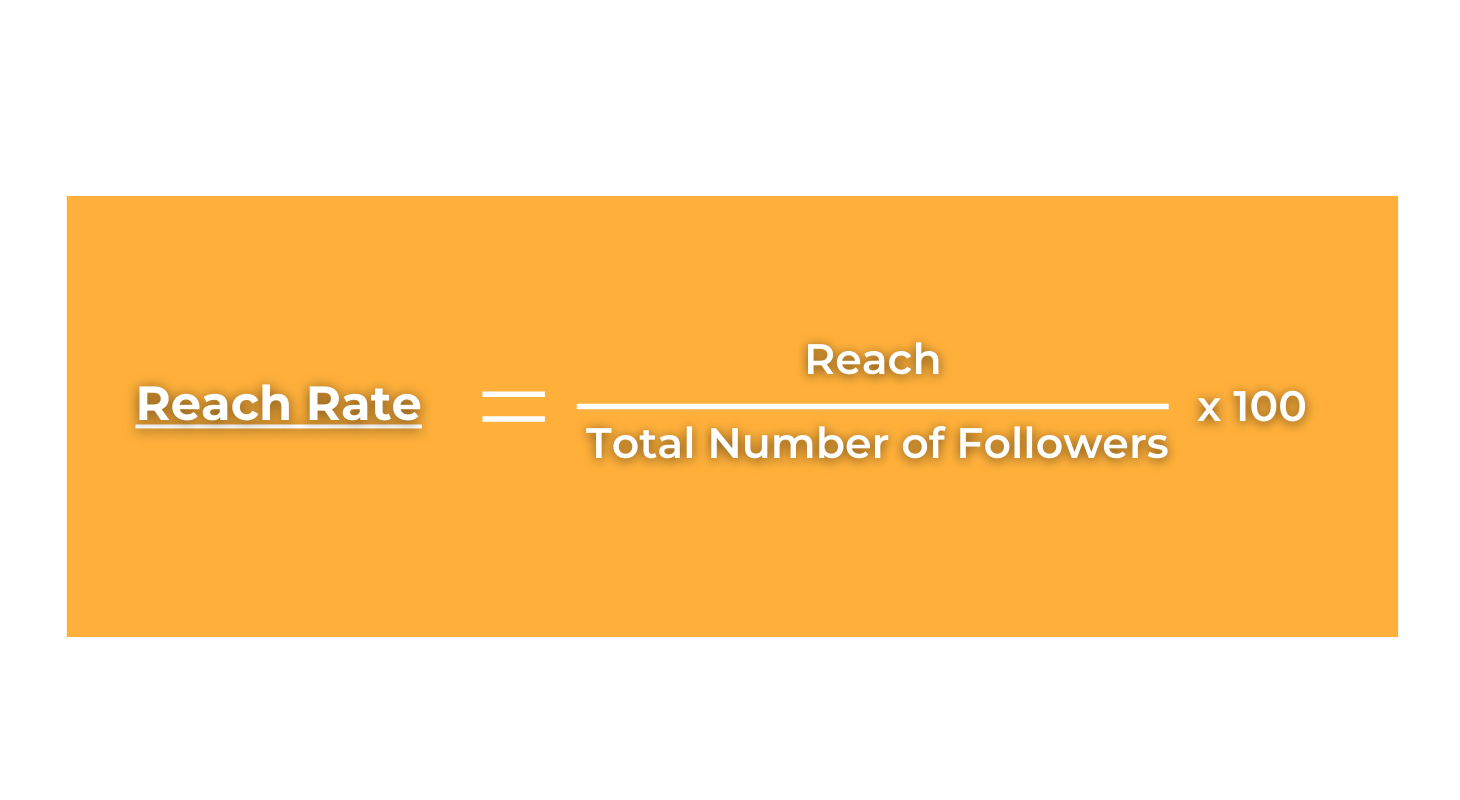 To find your reach stats for your posts, access your Instagram Insights by tapping the bar chart icon from your profile page. Then click "Insights" - "Accounts reached" like in the below image.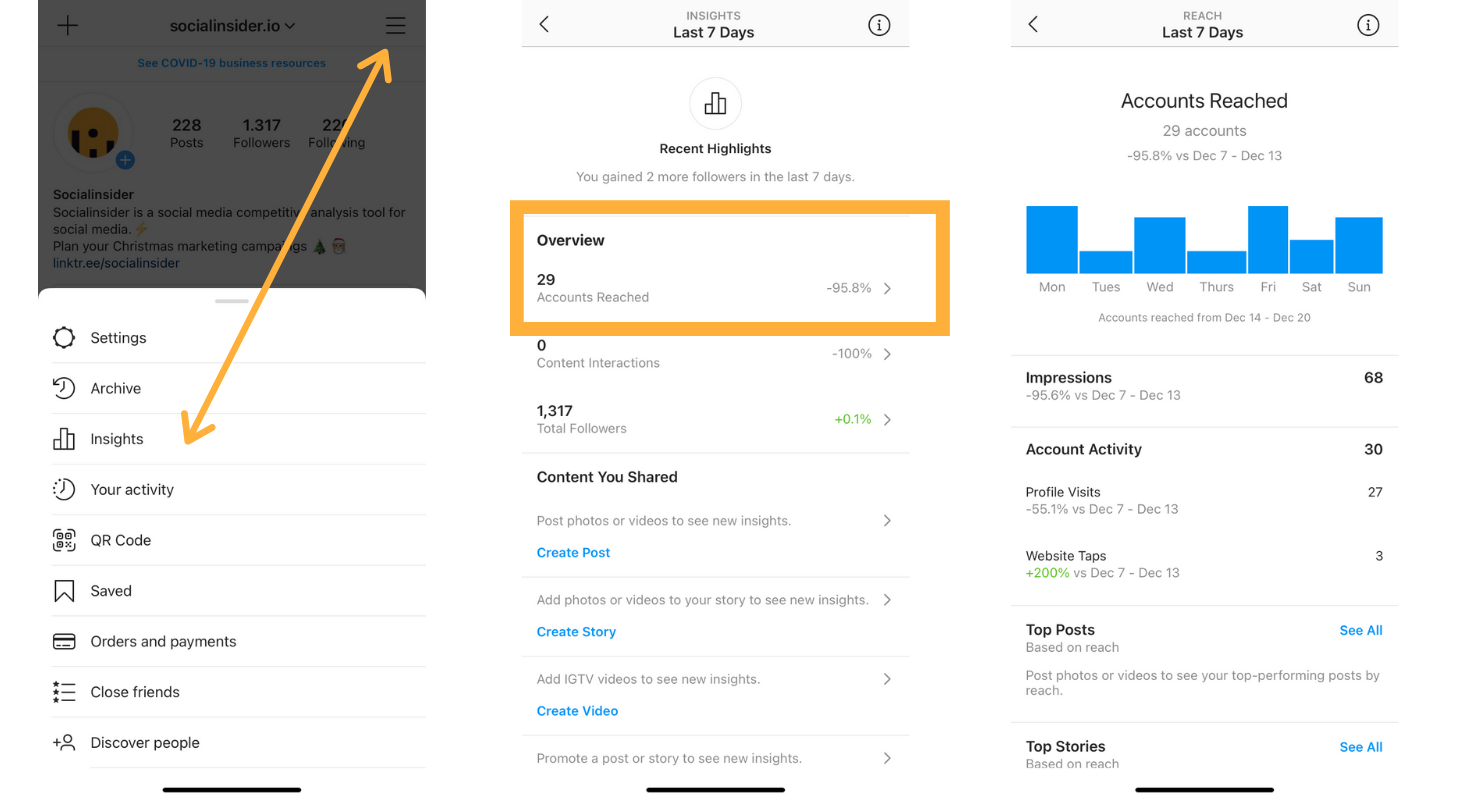 3. Stories retention rates - See how engaged is your audience with Stories
Stories retention rate is perhaps the toughest, yet most productive part of your metrics. It involves creating ideas that resonate with and interest your audience. It means you create ways to keep your followers glued on your content from start to finish.
To determine retention rate means that you carefully track how each individual Story is performing. So if you are posting multiple stories on your Instagram page daily, each of these Stories is evaluated individually.
Understanding retention rates helps you to evaluate trends. For example, you can quickly see if people are following your story to the end or not, and to find out the reasons why it is happening that way.
The future of Instagram Marketing lies in stories. Stories told with images in the feed, as well as Instagram Stories done with video. Only when a marketer can tell engaging and entertaining stories, they will grow a real loyal following.
Artificial growth through bots is not sustainable as a long-term strategy. Therefore great thought has to be put into viable and exciting marketing campaigns that capture the attention of the audience - says Dorien Morin-van Dam as trend you should in 2019.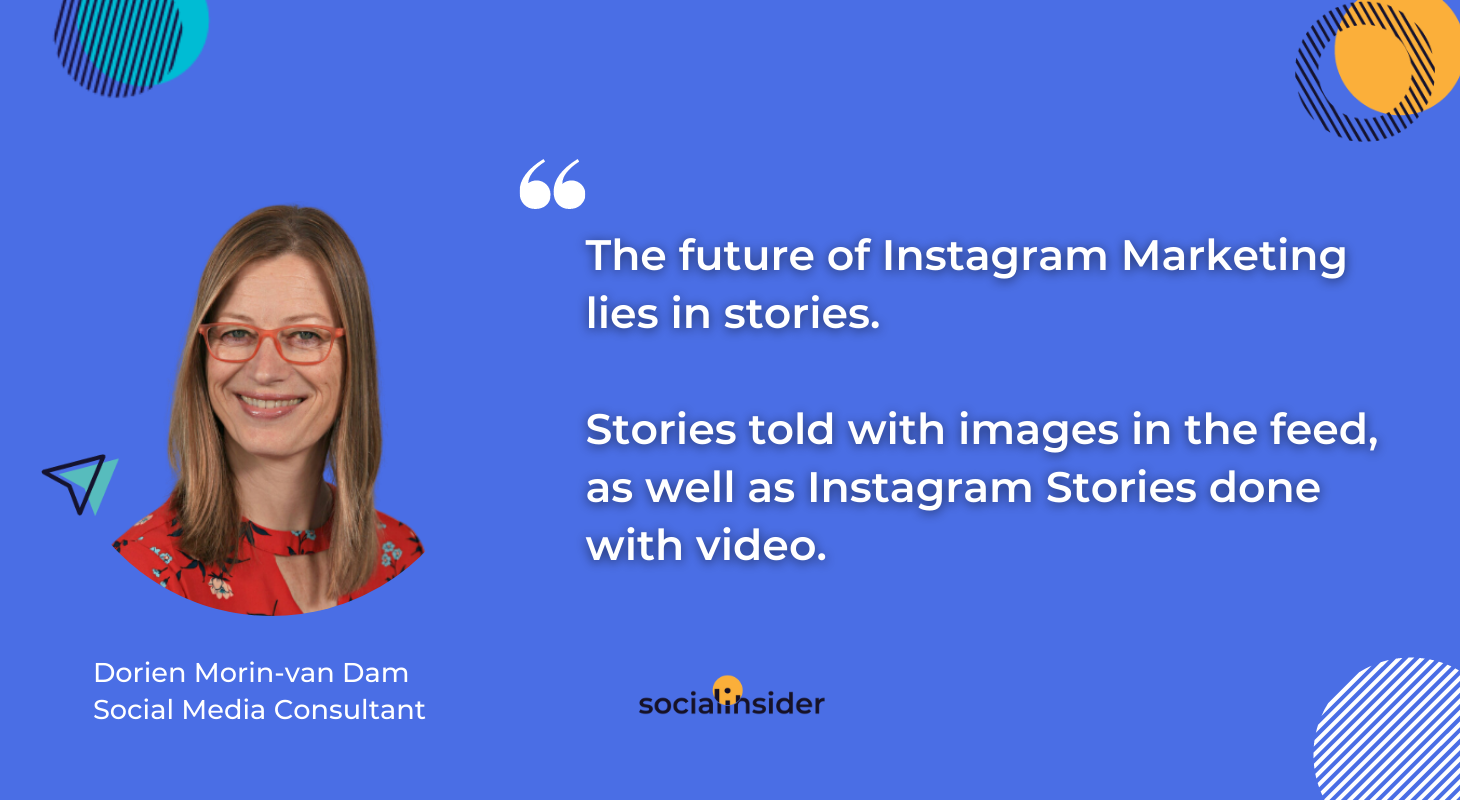 Here are the most important Story metrics you should follow for your account:
Retention rate - if you are able to grab the attention of your viewers and they stick around until completion of the story, it means that your content strategy is working.
The retention rate is defined in percentage of viewers who see all your frames within a day.
For instance, if a user is able to see more of your frames in a day, it means that the content is good. It also means that chances for engagement and connection are high.
Taps forward - it calculates the number of taps a user made to see the next video or Story. A higher number of taps could be an indication that your Story did not capture the interest of your audience, which in itself may require you to take some restorative measures.
Taps back - shows the number of taps users made to view your previous post, story or video. This could be a positive indication that people might have shown greater interest in your content.
Reply - Depends on the number of DMs in your inbox which is associated with a particular story on your Instagram and which positively resonates with a certain number of viewers. Use Stories stickers to increase the number of reply and the overall Stories interactions.
Exits - is a key metric, one which you need to monitor closely. It shows the number of people who left your story without watching up to the very end.
Sue B. Zimmerman - THE Instagram expert - knows how to create engaging Stories. Take a look at her account and see how she's using videos and vote stickers to gather feedback from her audience.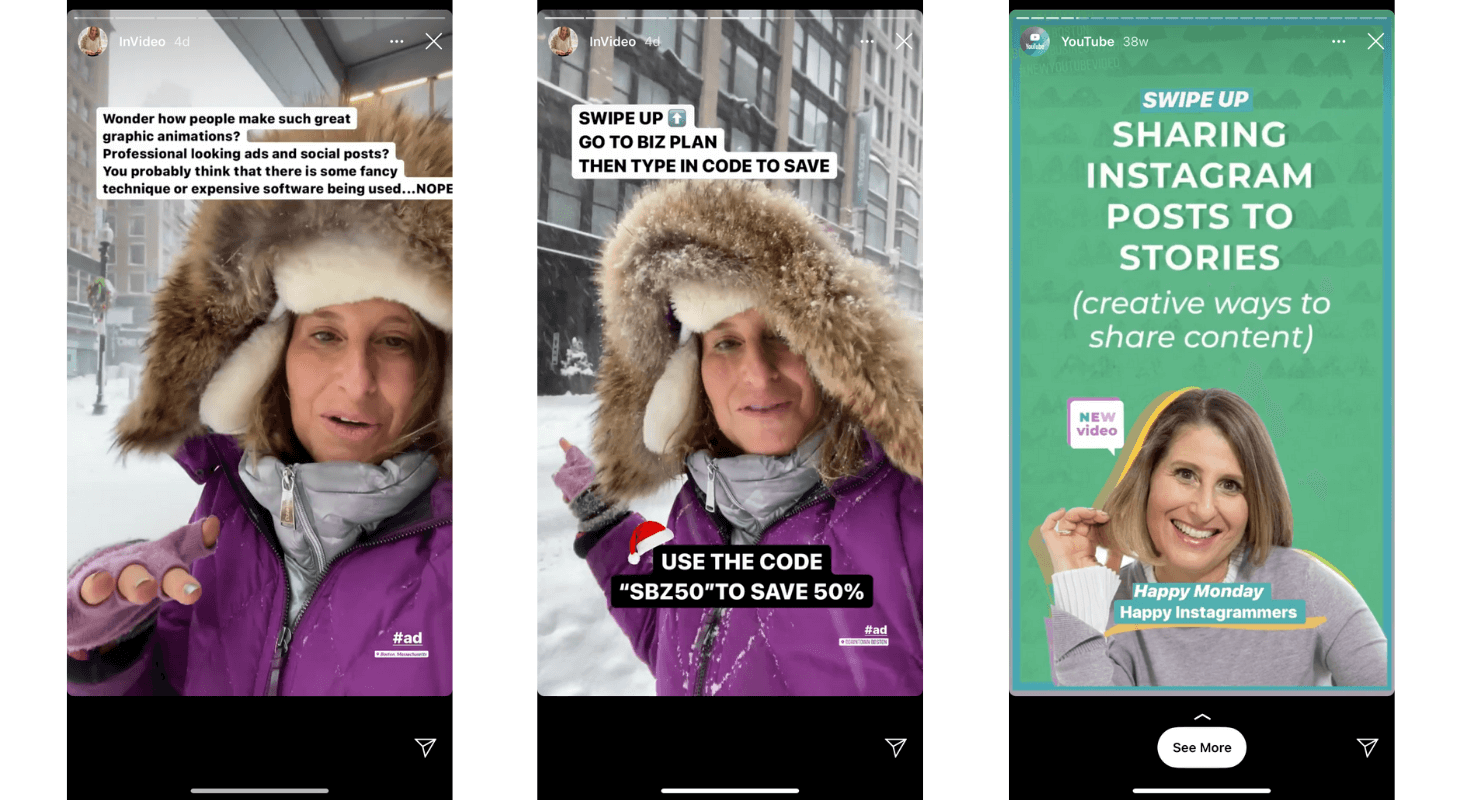 4. Traffic & sales - Make sure your posts are converting
As you create content on Instagram, you also must ensure that it translates into traffic and sales on your website. You can easily use shoppable stickers in your content.
Metrics for Instagram shoppable posts and Instagram Stories allows you to evaluate your content and tailor it to suit your audience, which in turn converts.
"Instagram's Shopping features will be a big part of the platform in 2022. Marketers should prepare ways to leverage direct to consumer selling as part of their overall Instagram marketing strategy." says Matt Navarra - a social media consultant.
5. Audience demographics - Identify if your content is drawing in the right audience
Information on age, interests, and location of your audience is a must-have. It helps you to create a buyer persona. It also gives you direction on whom and where to focus your content strategy.
The demographics metrics help you to establish a certain trend and a target group which is well-defined. Again it allows you to modify and tailor your content to suit the needs of your target group.
A monthly evaluation of demographics data helps you to know if your followers is still intact. You can also know if there's a marked growth or the levels are fluctuating.
To see your demographics data, access your Instagram Insights, then go to "Total followers". Here you'll discover top cities and countries and gender information.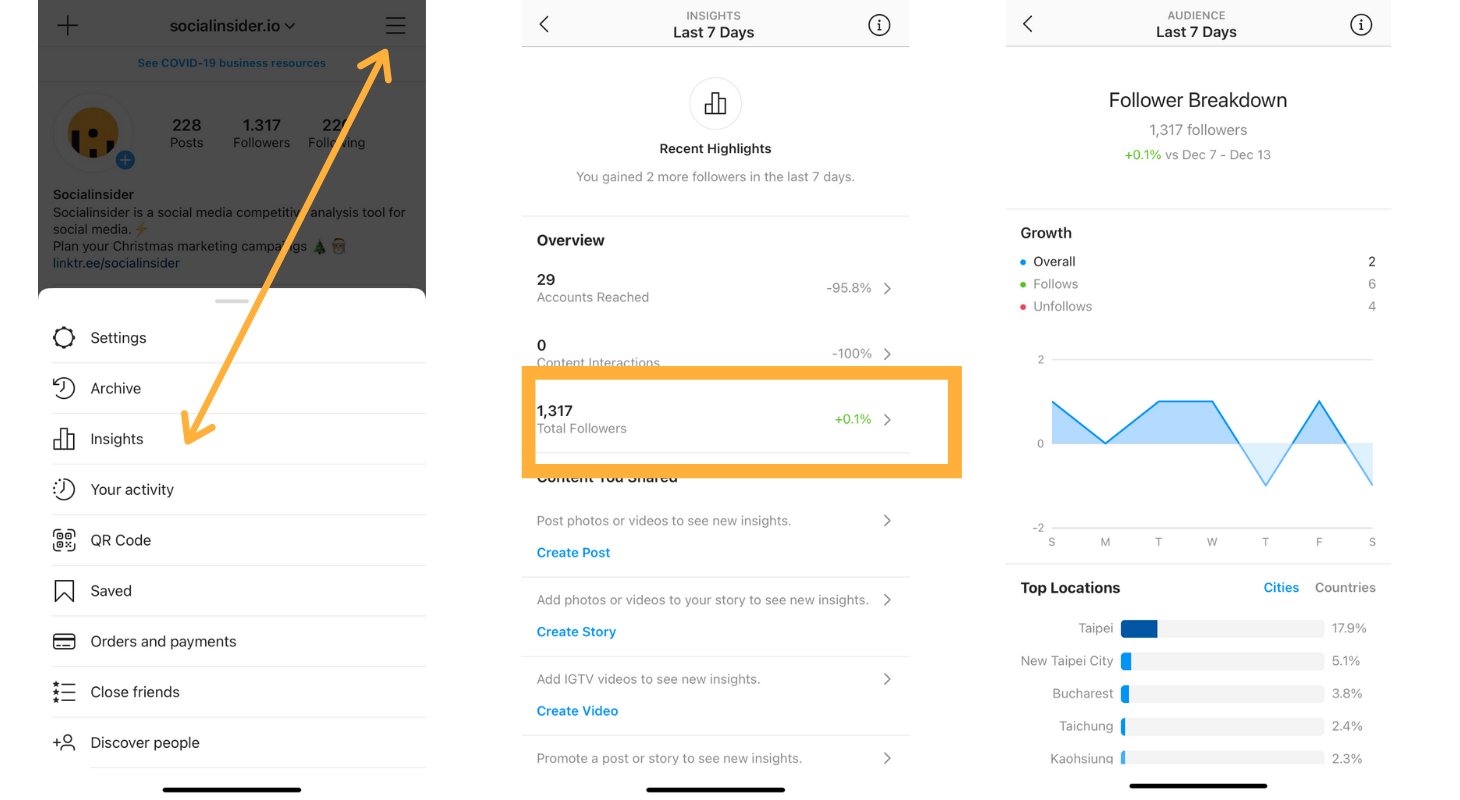 Final thought
Instagram remains one of the social media sites from which you can grow your business to higher proportions. Once you know how to analyze the metrics, your Instagram marketing campaigns can both be fun and profitable.
The best thing with Instagram metrics is that they clearly show you how your account, and generally your business is doing. With these insights, you can easily make the necessary upgrades, maintain the best practices, as well as improve on the weaker areas of your marketing strategy.
---
Related articles: