People want to buy the greatest products or services available—even when speaking about B2B marketing.
They do, however, also want to invest in a vision and culture that's consistent with their underlying beliefs.
Leveraging Instagram for B2B marketing can help you promote the distinctive qualities of your business, draw in new clients, and establish your brand as an expert within a specific industry.
Continue reading to learn the best ways to use Instagram for B2B.
A guide to using Instagram for B2B marketing
B2B Instagram marketing strategies to grow your brand
2.1.Make use of Instagram Business's features
2.2.Promote your resources on Instagram
2.3.Make the most of the link in your Instagram bio
2.4.Be consistent with your postings
2.5.Maximize the potential of Instagram Stories
2.6.Up your game with Instagram Ads
2.7.Test and assess your performance on Instagram
1. The benefits of using Instagram for B2B marketing
Even though Instagram revolutionized the game for B2C brands, it also offers a lot of potential for B2B companies.
While increasing brand recognition and awareness is the primary goal, using Instagram for B2B marketing has additional benefits:
1.1 Instagram's B2B features makes reaching your audience easier
As the user's experience with brands is less disruptive on Instagram, leveraging Instagram's features for B2B marketing makes it simple to reach and communicate with your audience.
And trust us when we say that your audience is definitely on Instagram.
You may reach your audience through Reels, Stories, hashtag trends, and more.
However, targeting the decision-maker through your Instagram content is a common error.
There are usually several parties involved in B2B purchasing decisions, so you have to be able to reach multiple stakeholders with your content.
1.2 Instagram for B2B can increase website traffic
The number of website visitors determines your company's chances to make an excellent first impression, provide quality leads, be recommended, and help develop long-term partnerships.
And the more individuals visit your website, the more prospective clients you can get.
Instagram makes it easier for B2B companies to direct traffic to their website, increasing the chances of closing a deal.
To increase conversions, you can either add a link in your Instagram bio or leverage the Instagram Stickers feature and Swipe Up button to send your followers to a specific landing page.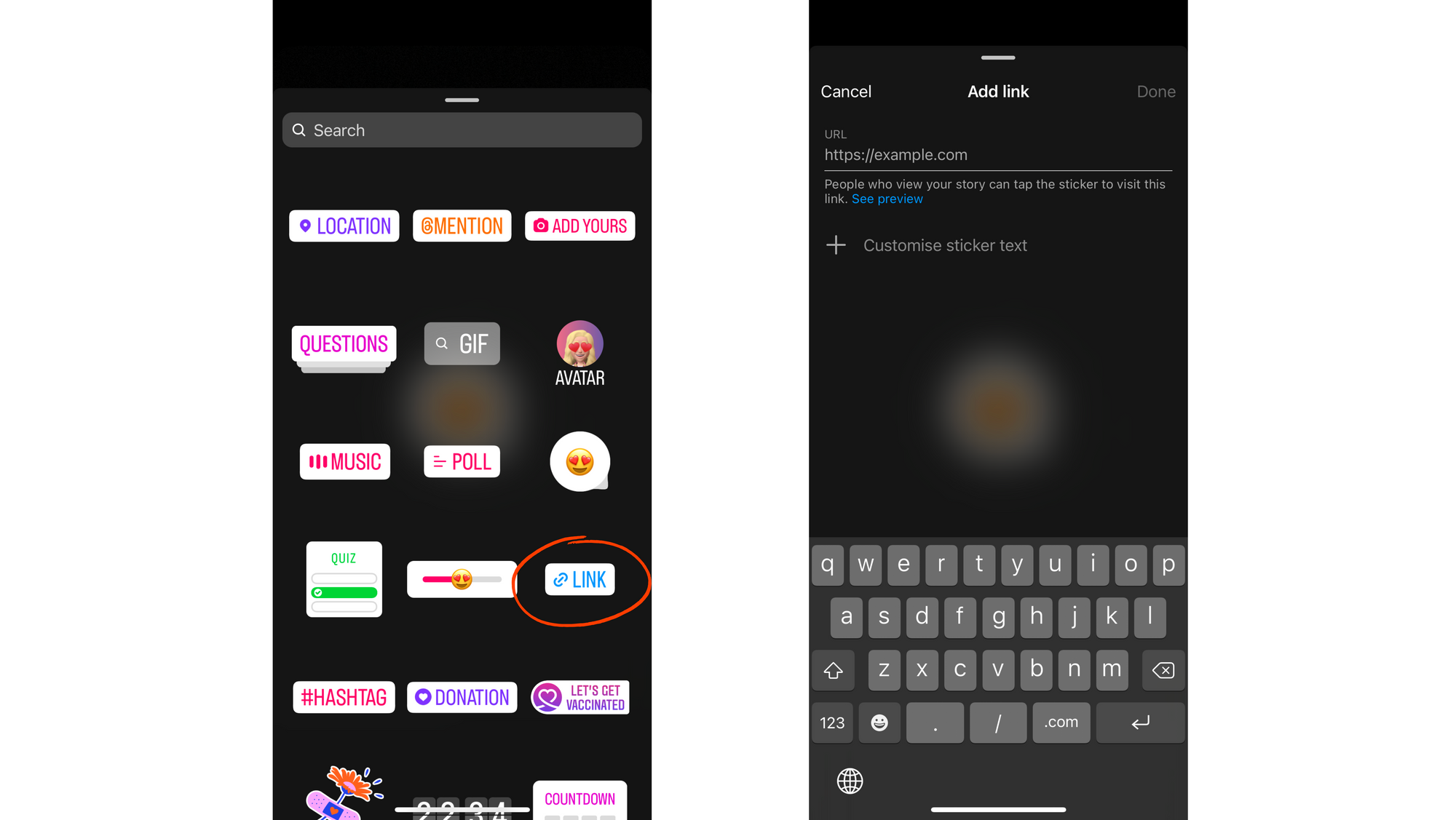 2. B2B Instagram marketing strategies to grow your brand
To grow your Instagram account organically and attract quality Instagram leads, you must carefully plan out your social media campaign strategy.
For that, you might want to take a look at the following best practices for leveraging Instagram for B2B marketing:
2.1 Make use of Instagram Business's features
Unlike regular or Creator accounts, the Instagram Business account includes several extra features that make it easier to draw in and retain your target audience, boosting sales.
Adding contact information, viewing insights about your Instagram posts and followers, promoting posts from within the Instagram app, creating shoppable posts, and selling directly from your Stories are all features that Instagram Business includes.
Moreover, Instagram Business accounts can access a broader range of call-to-action buttons, including scheduling appointments, contacting customer service, and making reservations.
And to top it up, the Instagram Business account also allows social media managers to save time scheduling their posts using Facebook's Business Suite.
2.2 Promote your resources on Instagram
Planning your B2B social media campaign for Instagram represents a chance to evaluate your content from a new perspective.
Examine your marketing content library and consider how existing materials could help you create and share fresh Instagram content.
When doing that, remember the factor that makes a potential B2B client loyal to you is the constant value that you bring to them.
In this case, it is essential to remain relevant to your audience and regularly promote any long-form guides, studies, tutorials, and other resources your team brings out.
This way, your Instagram followers will get new knowledge and be aware of your understanding of a specific industry.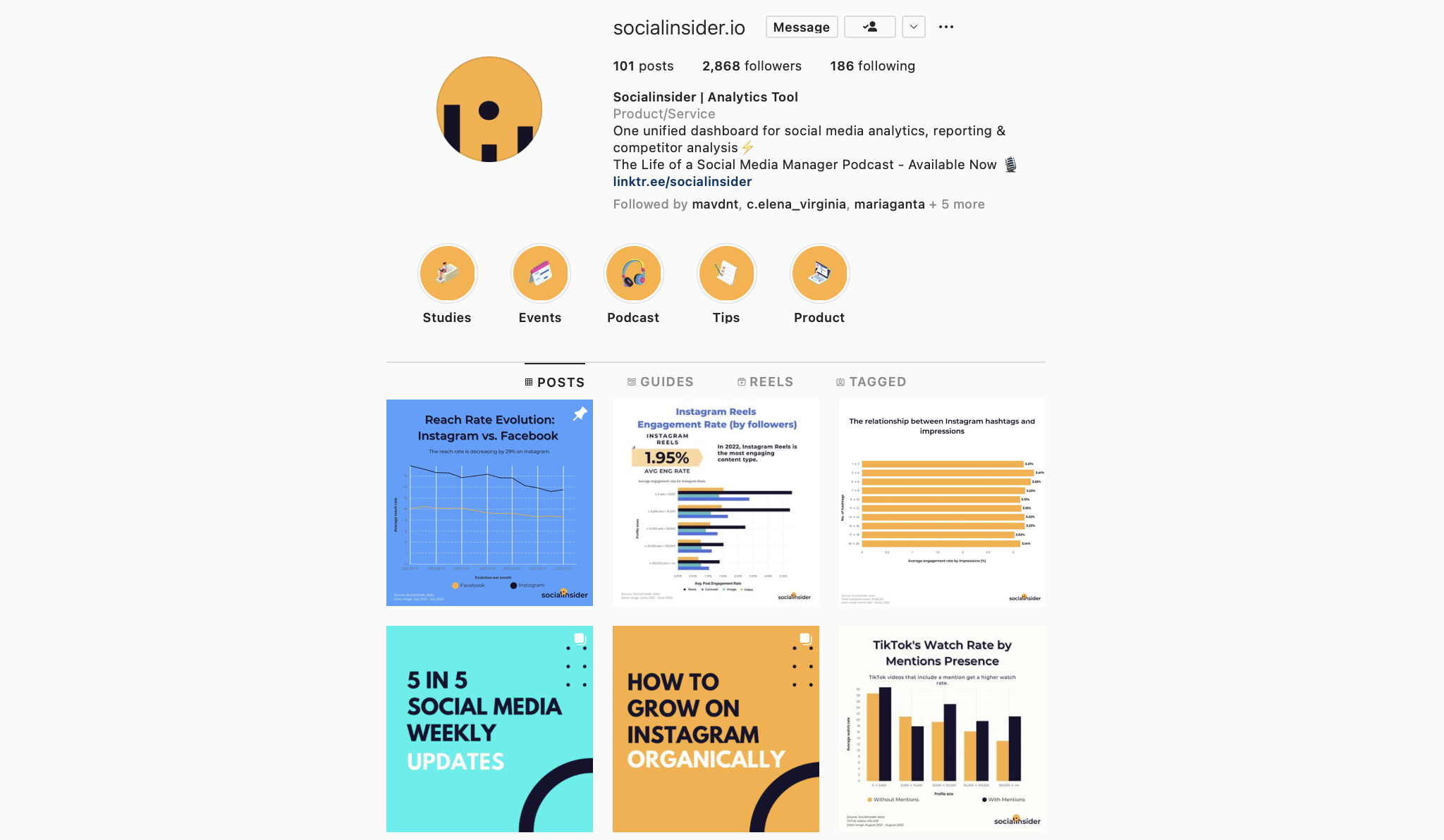 2.3 Make the most of the link in your Instagram bio
Consider your Instagram bio the first thing people will see about your company—consider it a scaled-down version of your website's About Us page.
The Instagram bio is crucial because it allows you to introduce your company and motivate potential customers to take action.
Your Instagram bio can have up to 150 characters, including one link.
Viewers can follow a link to a product, blog post, services page, or website with a personalized URL in the bio.
To make the most of the link in your bio, you may also utilize tools such as Linktree or Feedlink to create a customized link page that holds all your content in one place.

2.4 Be consistent with your postings
Consistency with postings is key to creating a sense of community amongst your Instagram followers.
As you continue to post relevant content, your potential leads are more likely to notice you.
Waiting weeks between posting on Instagram makes it improbable that your audience will encounter your message frequently enough for it to stick in their minds and have an impact.
Posting on Instagram constantly will help you establish a distinctive voice within your industry—which clients will associate with your brand.
To determine an ideal time to post on your B2B Instagram, you may check out our article—Best Time to Post on Instagram in 2022 According to Data—or perform an Instagram audit and establish a pattern of when your audience is most active.
2.5 Maximize the potential of Instagram Stories
Posting-related attitudes have changed and are still evolving.
As consumers become increasingly interested in short-lived content, Instagram Stories are thriving.
In fact, nearly 87% of Instagram users post Instagram Stories every day.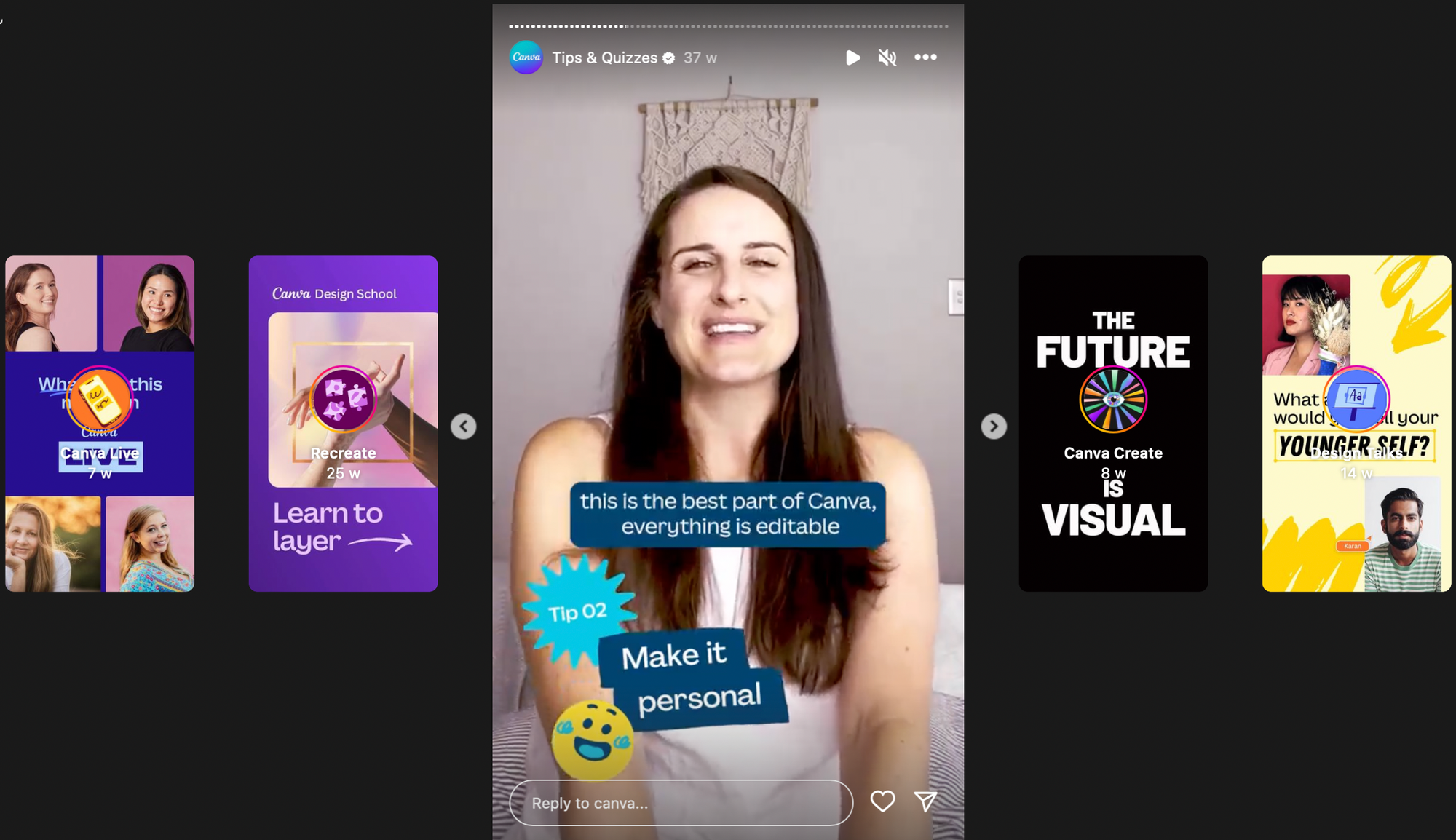 Businesses are responding to these needs and attitudes by constantly adding enhancements to Instagram Stories. One good example would be the recent addition to the Add Yours sticker.
And while it may seem like a waste of effort for B2B companies to create content that disappears in 24 hours, Instagram Story Highlights allows businesses to keep selected Stories indefinitely on their profiles.
You can make different albums and organize relevant Stories so that users can find the content that most interests them.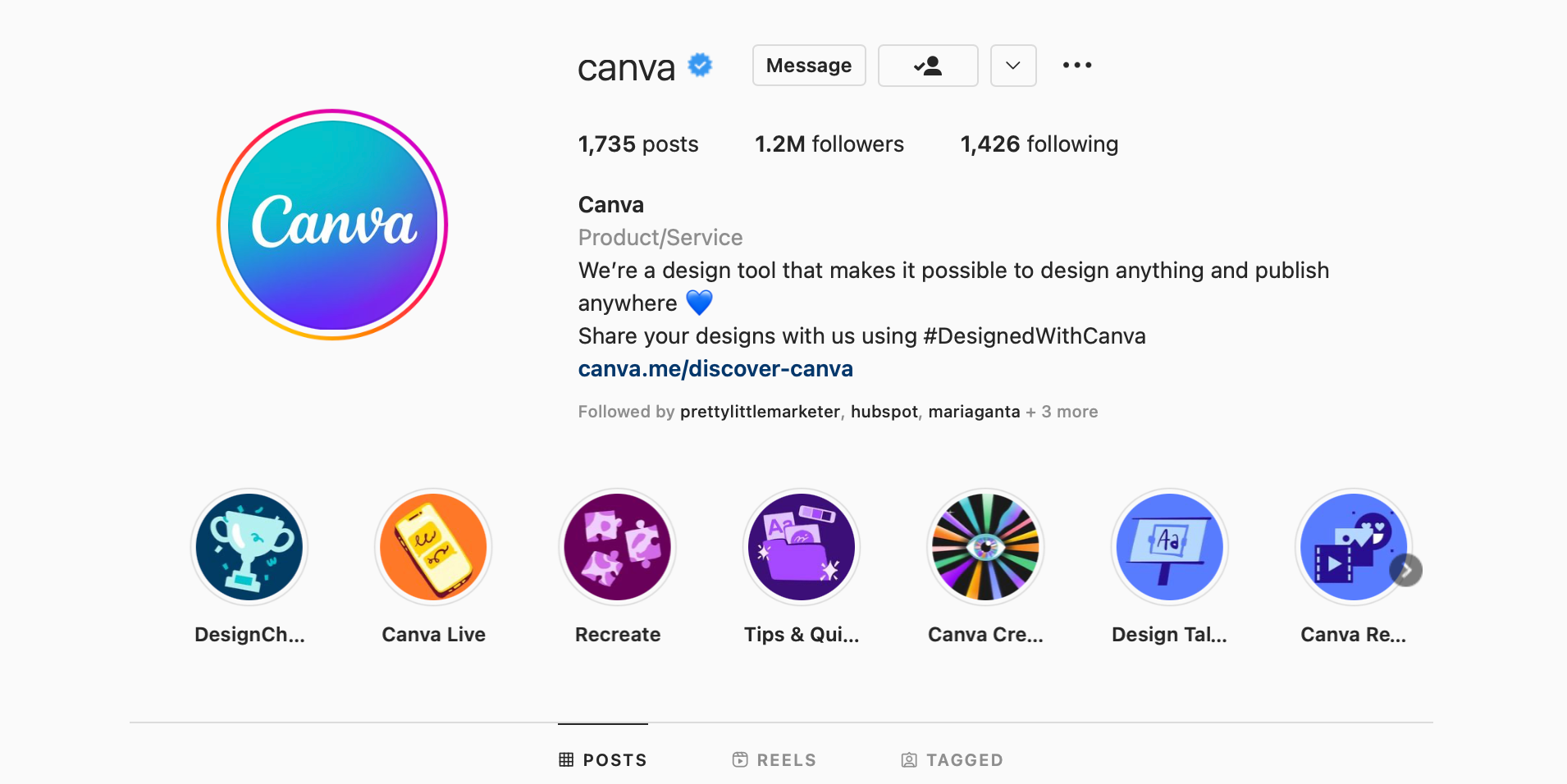 2.6 Up your game with Instagram Ads
Although there are other, more obvious B2B-oriented social media platforms to leverage, Instagram has enormous potential for B2B businesses looking to sell their goods, stand out and attract B2B customers.
An Instagram Ads campaign can help you cut through the noise, reach people who aren't already following you, and increase website traffic.
You may leverage Instagram ads to retarget website visitors, nurture leads and prospects at various transaction phases, advertise new features to current customers for upselling, or highlight customer success stories.
In terms of formats, you can choose between photo ads, video ads, carousel ads, Stories ads, and ads in Explore.
Therefore, it would be advisable to put aside money to spend on Instagram ads—especially if you are a B2B brand just starting on Instagram.
2.7 Test and assess your performance on Instagram
As change in social media is inevitable, you will need to constantly adapt your B2B Instagram plan based on new findings, platform updates, or algorithm changes.
To stay ahead of your competition, you can find out what your potential clients want from your brand by conducting regular A/B tests.
Spend some time experimenting with new creative, copy, and hashtags and regularly monitoring your activity to determine what has the most significant impact on your performance.
Keeping track of your Instagram metrics is just as crucial for B2B as for B2C brands.
For that, you may use the platform's built-in Instagram Analytics feature to assess growth in terms of followers, reach, profile visits, or engagements.
Alternatively, you can leverage a dedicated Instagram analytics tool to delve deeper into these insights and perform a competitive analysis.
By providing you with helpful information, an Instagram analytics tool will assist you in optimizing every aspect of your social media content strategy.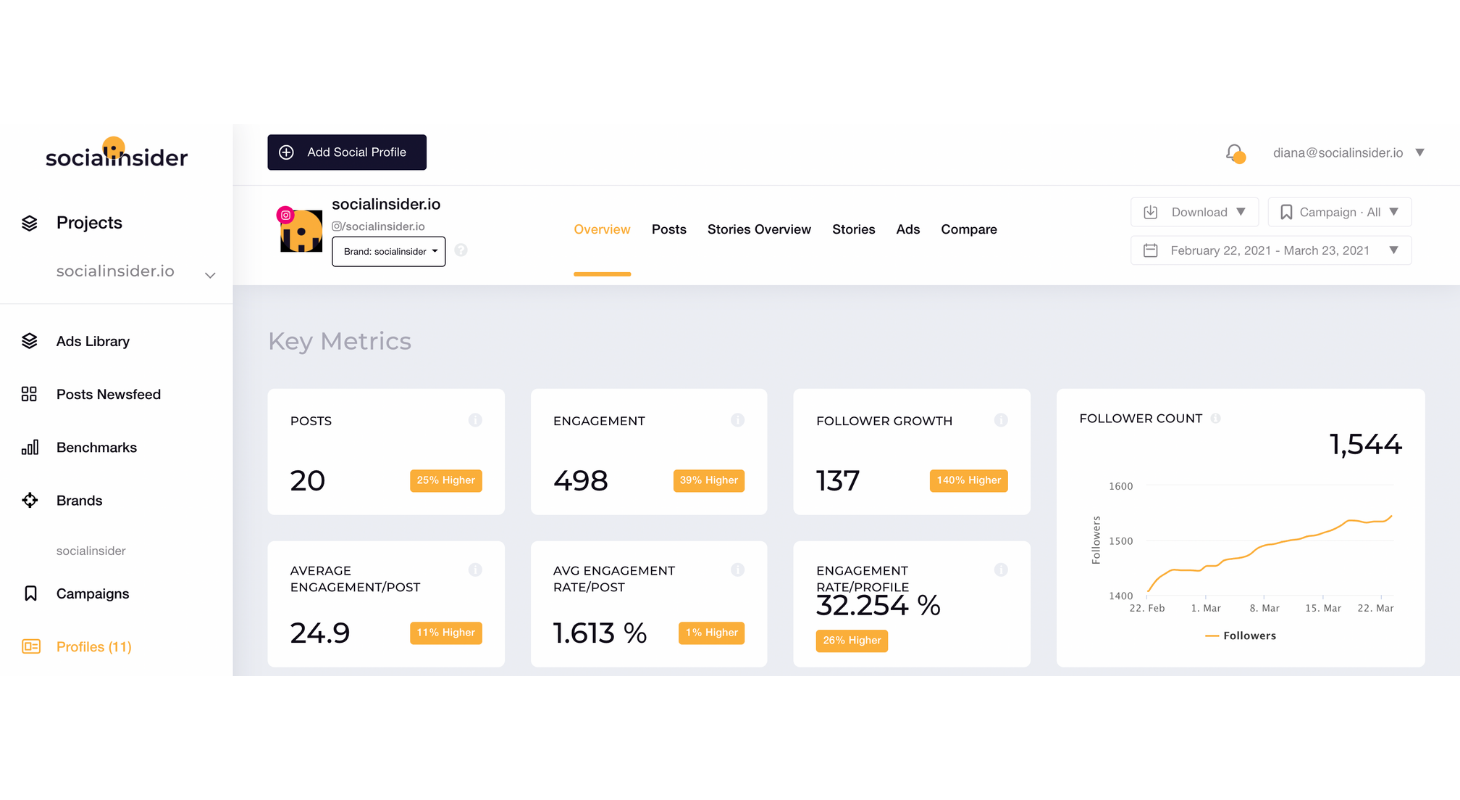 Your content's performance, the best posting time, your top Instagram posts, your Instagram audience analysis, and your metrics for branded hashtags are just some of the KPIs you need to include in your monthly Instagram performance report.
3. Successful B2B Instagram marketing examples
The most important thing for your brand to grasp is that successful B2B companies on Instagram have a firm sense of who they are and like to establish trends rather than follow them.
If you'd like to peek at what other brands are doing on Instagram, we have compiled some examples of Instagram accounts winning the B2B game.
Take a look at the following brands that stood out to us:
3.1 Zoho | Humanize your B2B brand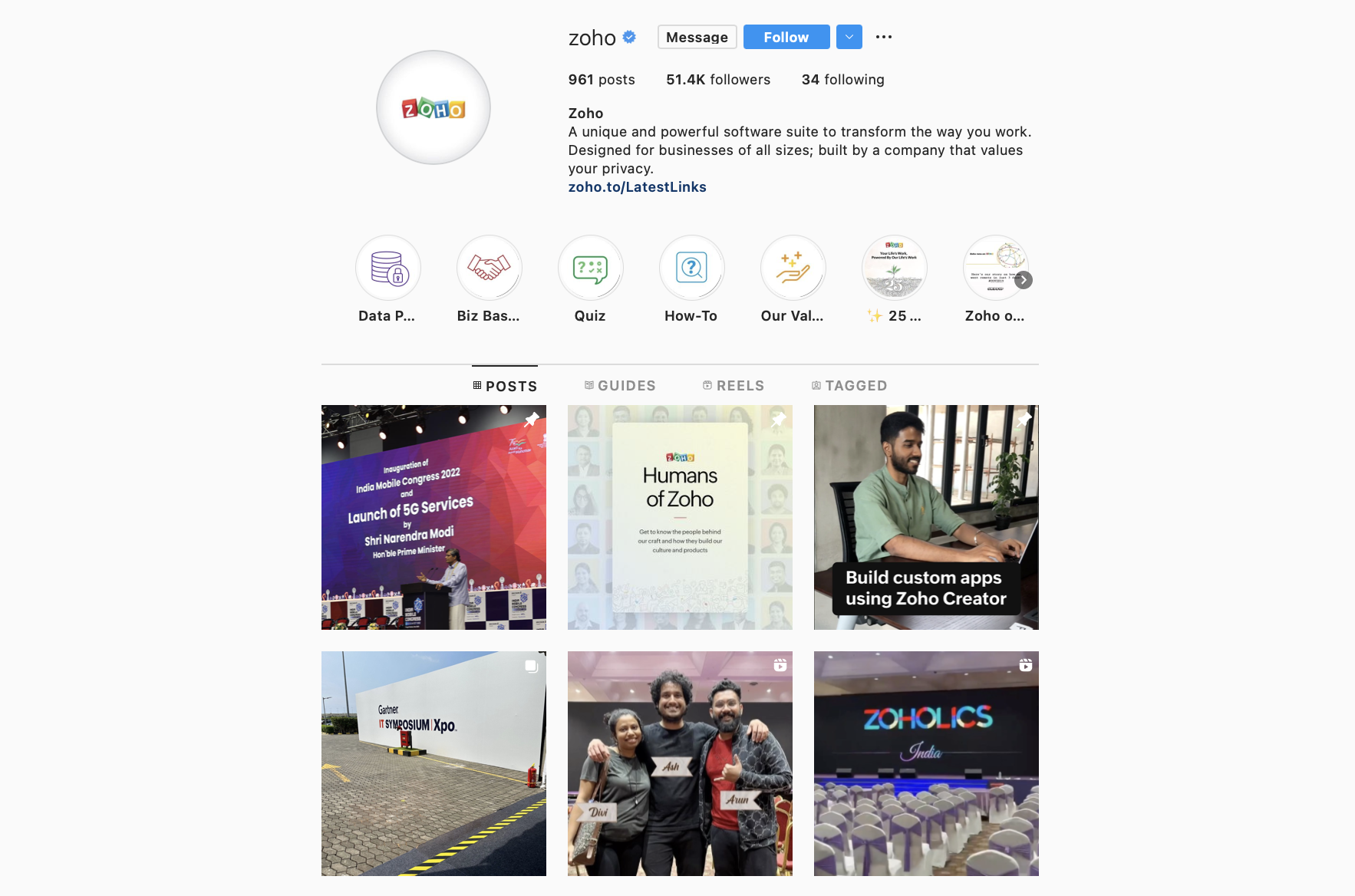 Overview: Zoho is a suite of business tools and productivity enablers meant to help small to mid-sized organizations digitize every aspect of their daily operations.
First impressions count for a lot. And an Instagram post showcasing your people and culture could mean the difference between a kind first encounter and an ice-cold call.
Prospective customers are inclined to peruse a brand's social media to learn more about its personnel, just as a hiring manager is likely to look at a potential employee's online presence when performing a background check.
At the end of the day, B2B is essentially just people selling to people on behalf of businesses.
And by posting their employees under the hashtag #HumansofZoho and spreading motivational quotes, Zoho humanizes its brand, showcasing the corporate culture of its business.
3.2 Figma | Promote your resources to attract leads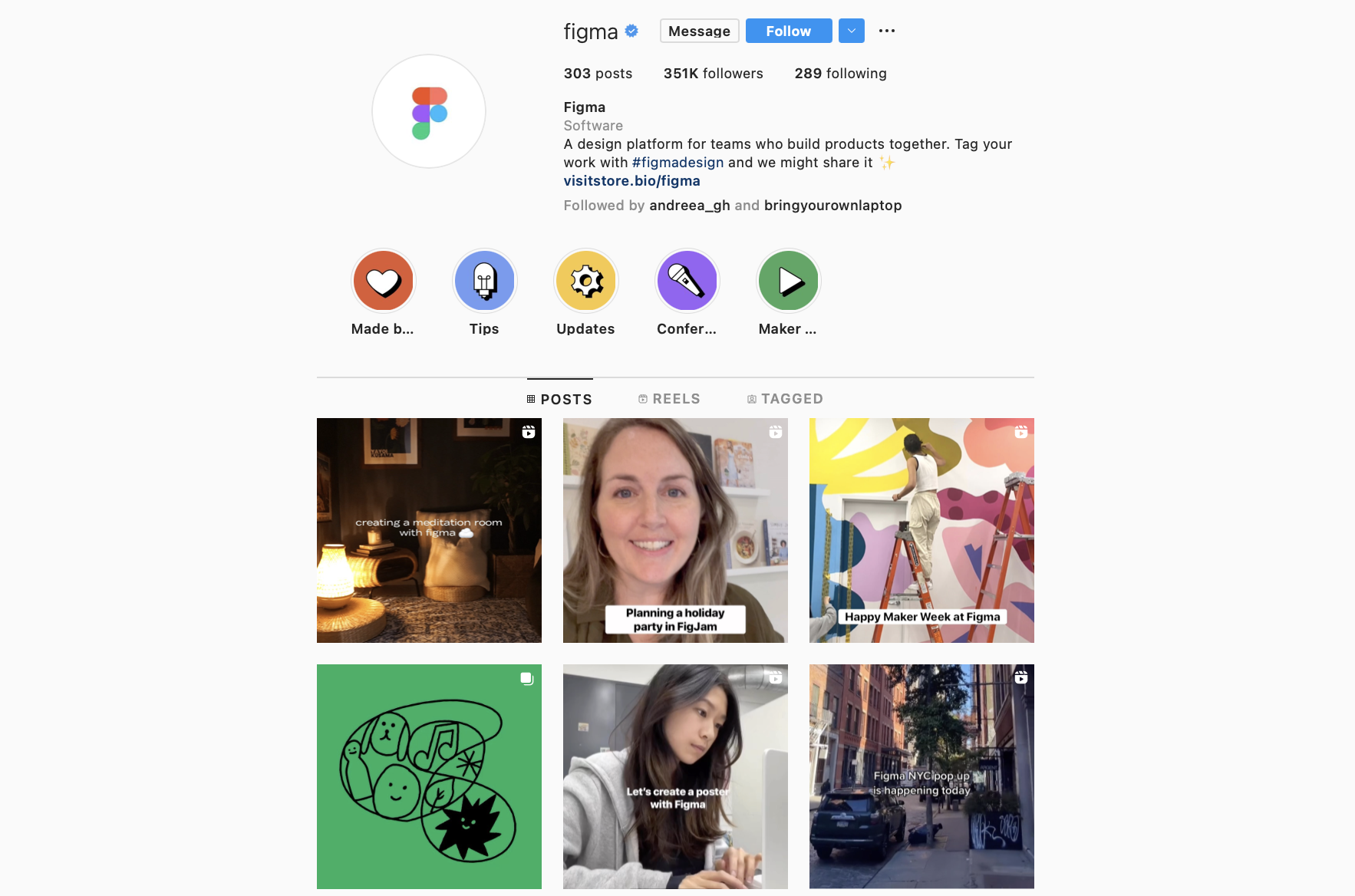 Overview: Figma is a cloud-based user interface design and prototype tool. It facilitates team collaboration by allowing users to work directly on browsers.
Figma is a true fan of using Instagram Reels to educate its audience through tutorials, software updates, and design hacks.
For B2B marketers, all of the resources you create can be great lead magnets because it establishes you as an industry expert.
Draw inspiration from Figma's Instagram strategy by displaying your resources with pride and confidence.
3.3 SurveyMonkey | Use quirky designs for your B2B Instagram account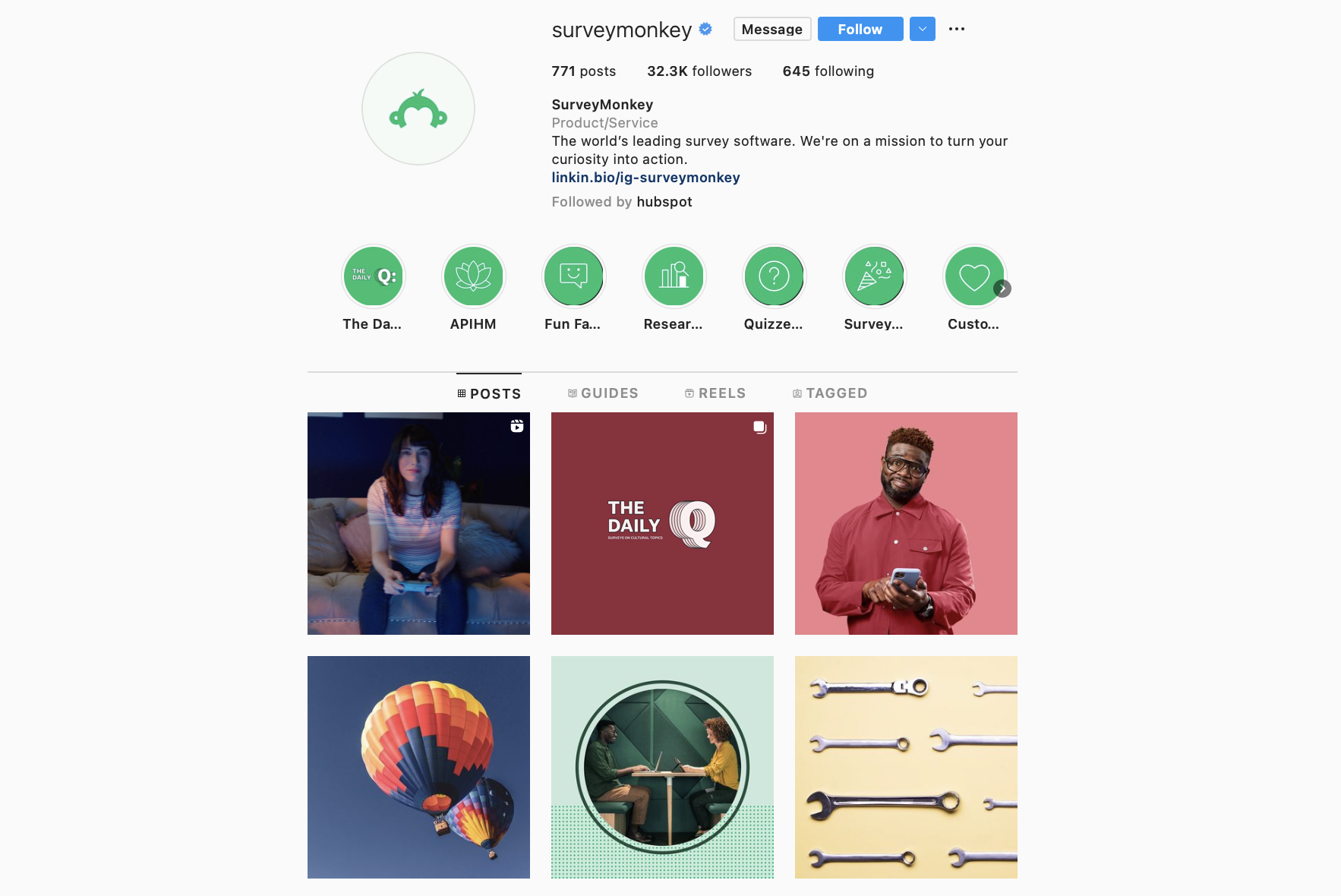 Overview: SurveyMonkey is an online survey developer software that helps brands with data analysis and representation.
Essentially, people use Instagram to be visually stunned and motivated.
Creative content adds value to your audience without trying to hide its marketing orientation.
A humorous, upbeat image can encourage a potential follower to learn more about your company. That applies to SurveyMonkey as well, which encourages its followers to follow the link in the bio.
SurveyMonkey uses quirky designs for its B2B Instagram content to demonstrate the lighthearted side of the company, thus conveying an easygoing yet sophisticated corporate culture.
Last thoughts
Instagram has gradually been introducing new features geared toward businesses.
People can now use Instagram to shop, call, and email businesses.
And it's only a matter of time before Instagram rolls out even more B2B-friendly features.
Despite the platform's significant promotional potential and integrated marketing tools, B2B companies still need to focus more on Instagram and the outcomes it may deliver.
Using the strategies we have provided on leveraging Instagram for B2B, you can experiment with your content and try something completely new.