Back in 2010 when Instagram launched, 25,000 people signed up the first day.
Since then Instagram has grown annually, and 2018 the community reached one billion monthly active users.
Through the years there were a lot of functional changes, and one of the updates was IGTV- Instagram's video platform.
In this article, you will find out everything you need to know about this feature, like what is IGTV, how it works, how you can use it for your business and how brands are using IGTV to promote.
Also will explain how you can upload videos and what brings it new.
---
Everything you need to know about IGTV:
---
#1. How to use IGTV in 2019
Several experts predict that Instagram will invest heavily in IGTV this year, adding new features and functionalities to make it more popular.
IGTV users are encouraged to create content lasting up to 1 hour which remains in their channel forever – a bonus compared to Stories' 15 seconds limit and 24-hour disappearing act.
Brands who are using IGTV
National Geographic became one of the first media companies to air a full, vertical-optimised, 48-minute show traditionally made for TV. The video was called "Experience the world throught the eyes of National Geographic photographers".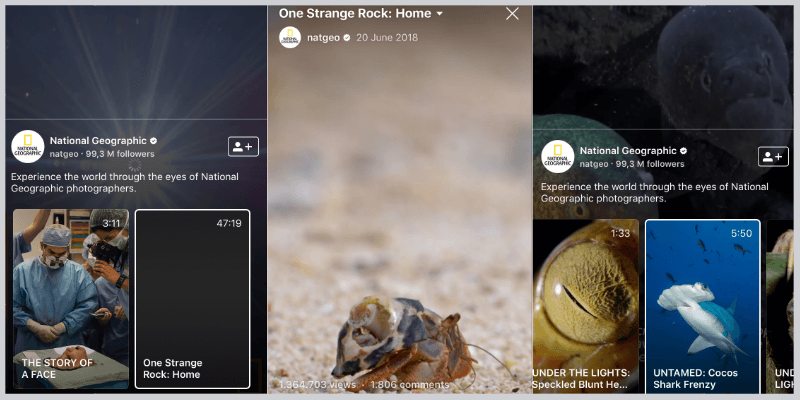 With an account of 99M followers, National Geoprahic is using this social media channel to promote their projects and the life of many species across the globe.
IGTV can be used as a behind the scene video for your clients. You can have a flower shop, a clothes shop, a startup, or you can run a big company.
For exaple, Fashion house Louis Vuitton gave fans a glimpse backstage with behind-the-scenes content from its Men's Spring/Summer 2019 fashion show.
Netflix also took advantage of the feature to announce the introduction of a new episode by using the 'Riverdale' star, Cole Sprouse in the video.
In the entirely video, Cole points winks and molders while eating the burger. The Netflix video on IGTV has received more than 500, 000 views and a lot of positive comments
H&M, Zara, Nike, Puma and a lot of other brands are also using this feature to promote their ideas.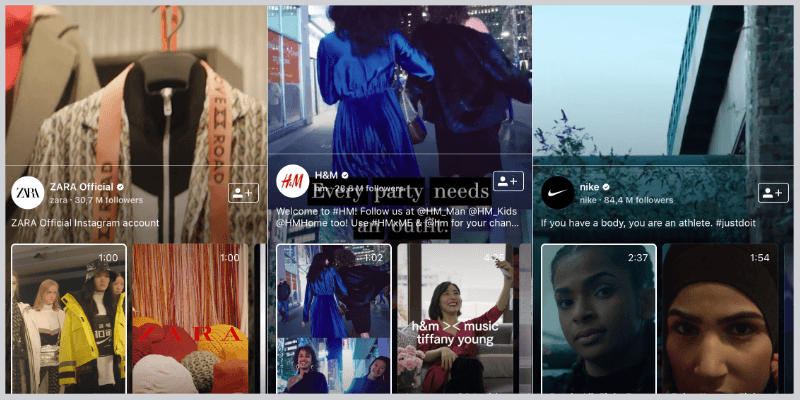 #2. What's IGTV
IGTV is Instagram's way of disrupting the traditional TV experience and updating it for a new mobile experience, and a game changer for Youtube.
Just like turning on the TV, IGTV starts playing as soon as you open the app. Unlike on Instagram, here videos aren't limited to one minute, each video you upload can be up to an hour long.
For now, Instagram presents videos for you based on your interests and its algorithm update, You always can discover more by swiping up. You can also like, comment and send videos to friends through Instagram Direct.
To find new IGTV accounts to follow, users can swipe up and switch between the accounts they follow or accounts they don't follow that are popular.
They can resume watching videos they'd started previously or select from content that IGTV's algorithm thinks they'll like, based on past viewing habits. Users will also be able to access another user's IGTV content from a designated spot underneath their Instagram bio.
Some IGTV basics:
Videos are full screen and vertical
Videos can be anywhere from 15 seconds long, to 60 minutes - the full 60 minutes is currently only available to verified accounts, all other users have a limit of 10 minutes.
Users can watch IGTV content from within the Instagram app, or they can download the dedicated IGTV app
Videos start to play automatically upon opening the IGTV app
Users can like or comment on videos, or send videos to friends via DM
#2. IGTV for your business
IGTV is all about vertical videos and for a mobile experience, this is a way better idea, because when you want to record or watch a video, you don't have to rotate your phone or watch a small version.
If you have a business, you can take advantage, and you can upload videos with how people can use your tool, as some business tutorial.
Also, you can answer some questions your clients have or post some insights white the team while they are working.
This is an excellent opportunity for businesses to create personal connections with the community they have built around the product.
You don't have to create a super polished video to upload it on IGTV; you have to be natural and put value in that channel.
#3. IGTV categories
Right now IGTV has 3 main categories:
For you - a collection of videos that Instagram things you will like, made up from people you follow.
Following - a collection of videos from all the people on Instagram that you already follow.
Popular - features all the trending videos on IGTV, most likely ranked by popularity.
If someone follows you on IGTV, they'll be following your regular Instagram account too
There's also a small hidden search bar that lets you search for videos, but Instagram is trying to curate the best videos for you within your social network and without you having to search for the next video to watch regularly.
#4. What's the difference between IGTV and Instagram Stories
Instagram offers three marketing channels to promote your brand and business:
Instagram ads are just an instrument, not a dedicated channel.
The differences between IGTV and Instagram Stories are:
The IG stories go away after 24h, while the IGTV stays as long as you want. Yes, you have the option to delete it by clicking those three dots.
IGTV has to have the same brand consistency, and it has to match with your business purpose.
IGTV requires to use video in vertical format. Traditional videos are landscape, but IGTV requires entirely vertical videos.
You can upload videos up to one hour.
IGTV attracts vloggers and video content creators, and Instagram tries to compete with Youtube here.
IG is looking for non-edited videos, but you need to make sure what your audience wants.
IGTV has the option to add a link, and it doesn't matter the followers count.
Wondering how to add links to Instagram Stories? Check this out!
Once you launch your IGTV channel, you can cross-promote it on other channels: Facebook, Twitter, email, Instagram Stories, etc.

Instagram is looking for evergreen content, specific content created only for this channel.
Do I need to use both, Instagram Stories and IGTV?
Yes, definitely yes. Within the Instagram Stories, you have the option to promote your IGTV by adding the link when designing the story. Instagram Stories continues the campaign message and redirect your audience to your IGTV.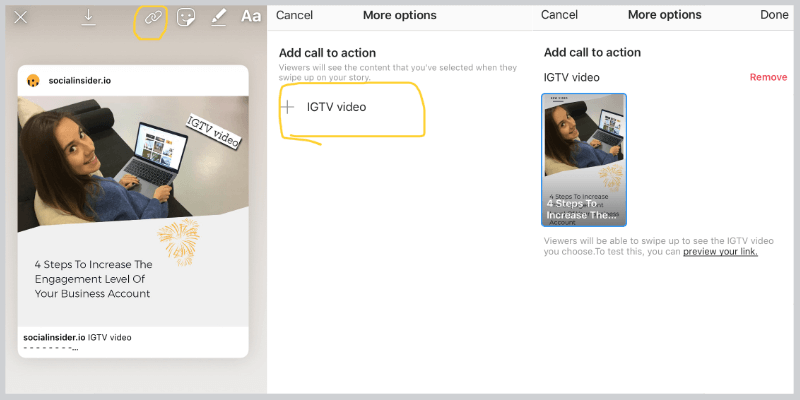 #5. IGTV vs. Youtube
When it comes to analytics and search option, IGTV is limited. There is no search option for brands, and it doesn't offer the opportunity to reach a broader audience as Youtube provides. But there is no doubt that Instagram will use all its resources to create a new video platform.
As Taylor Cygan stated - "Although IGTV may cause a change in your content strategy, it can be a way to draw in a larger following, leads, or potential customers for an eCommerce business."
#6. Recommended size and ratio for the IGTV
Instagram published a guide on how to create content for the IGTV which includes: what format you should have, helpful tools and how to upload videos. Some important aspects:
File size: Up to 3.6GB
File type: MP4
Video size: 9:16
Video thumbnail/cover image: .JPG
#7. How to upload an IGTV video
If you want to upload a video to your IGTV you have to follow seven simply steps.
Step 1: Go to your channel by clicking on your avatar from the main page.
Step 2: Click the + icon in the right-hand corner to add a new video on IGTV.
Step 3: Select a vertical video from your camera roll
Step 4: Write a title and add a short description. You should add here any relevant keywords for your brand to make it easier for people to find your videos on IGTV.
Don't forget to add a link and a branded hashtags within the description or title.
Step 5: Add a cover photo. You can upload your custom cover or choose it from your video. The cover photo is what you will show up on your channel page in the IGTV categories, so make it pretty.
Step 6: Click the post button.
Step 7: Don't forget about the IGTV Analytics. You will want to monitor your post so you'll be able to reply to the comments you will receive.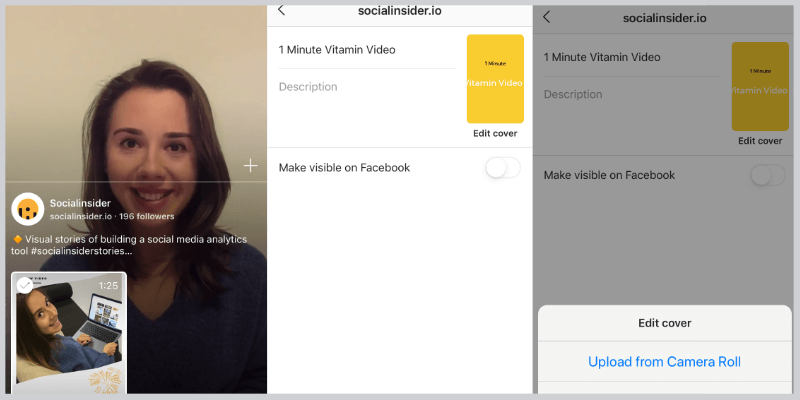 Click on "View Insights" and you'll be able to see your views, likes, and comments.
✌️ Congratulations, you're first IGTV video is on!
What the IGTV metrics mean:
Views - the number of times that people watched at least three seconds of your video.
Avg. percentage watched - the percentage of your video that people watched. This is calculated as the percentage of your video watched as an average of all plays.
Always correlate the IGTV metrics with your Instagram insights overall.
Final thought
Instagram is booming and if you think that IGTV is matching with your business objectives in general, then this new feature is a great way to exprim your ideas uniquely.
So don't waste time, create your own IGTV channel and make it spectacular.
Originally written March, 7, 2018. Last updated Feb. 7, 2019.
Start a free Socialinsider trial today and track your Instagram analytics! Report and analyze multiple profiles from one dashboard, quickly evaluate your Instagram performance based on the metrics that matter, understand your hashtags performance and get Stories analytics!
---
Related articles: