Instagram has evolved from a simple photo-sharing app to a marketing powerhouse.
But in a sea of content, how can you make your profile stand out and attract followers?
With Instagram becoming more and more like a search engine, it's essential to understand how to optimize your profile to increase visibility and attract more followers.
It's time to dive deeper into the world of Instagram SEO.
In this article, we'll share 8 insider tips for Instagram SEO to help you dominate the platform and skyrocket your brand's reach.
So get ready to take notes.
8 Instagram SEO tactics to rank up in the feed
Instagram SEO vs. Instagram algorithm
Although distinct concepts, they function as a powerful pair on the platform, influencing the visibility and fate of your content.
In essence, the Instagram algorithm delivers personalized content to users based on their interests, Instagram's engagement history, and content quality—all in a bid to keep them engaged on the platform.
Essentially, the algorithm tries to predict which content a user will most likely enjoy and engage with and shows them that content.
In the meantime, Instagram SEO supports the algorithm for middle and top-of-the-funnel prospects. Thus, increasing the visibility and discoverability of your content.
When you optimize your profile and content for search engines, you're making it easier for users to find you when they search for relevant keywords or hashtags.
Therefore, it's important to consider which stage of the funnel you're targeting.
For example, if you're targeting users in the awareness stage (top-of-the-funnel), you may want to create more general, visually appealing content that showcases your brand's aesthetic or values.
If you're targeting users in the consideration stage (the middle funnel), you may want to create more detailed product-focused content, such as how-to videos or customer testimonials, to help them make a more informed decision.
Thus, creating content that resonates with your target audience and is optimized for search engines increases the likelihood of your content being deemed high-quality by the algorithm.
How does Instagram SEO work?
Instagram SEO serves as the mastermind behind the Instagram algorithm. It is like the unseen hand guiding and supporting the algorithm's decision-making process.
By strategically performing a series of actions—which we'll talk about later—you make it easier for the Instagram algorithm to understand your content and who it might be relevant to.
This, in turn, helps the algorithm make better decisions about what content to show to users and where to rank it in search results.
For example, if you consistently use relevant keywords in your posts and have a high engagement rate, the algorithm may identify your content as high quality and show it to more users in their feeds or search results. This can help increase the visibility and reach of your content on the platform.
In essence, Instagram SEO supports the Instagram algorithm by providing valuable Instagram data about your content and helping it make more informed decisions about what content to show users.
Expanding your reach: Instagram SEO benefits
Instagram SEO aims to improve your content's discoverability on the platform and boost engagement and attract followers to your profile.
Doing SEO for Instagram involves optimizing your profile and content for the app's search engine.
And with 83% of Instagram users saying they discover new products or services on the platform, doing SEO for Instagram is crucial for organically growing your Instagram profile and driving high-quality website traffic.
While Instagram ads and the Explore tab can also drive discovery, Instagram SEO is the only way to connect organically with prospects who are actively interested in your content or business.
8 hacks for Instagram optimization
Want to be easily found on Instagram?
Identify your niche. Get familiar with your audience and their search habits to pinpoint the keywords you need to prioritize.
Once you've gathered your relevant keywords, it's time to put them into action and watch your visibility soar!
And to take things to the next level, check out the following Instagram SEO hacks:
#1 Optimize your Instagram profile for search
Instagram's search function works similarly to Google.
When someone searches for a specific keyword or phrase on Instagram, the platform's algorithm scans through account names, usernames, and bio descriptions to deliver the most relevant results to the user.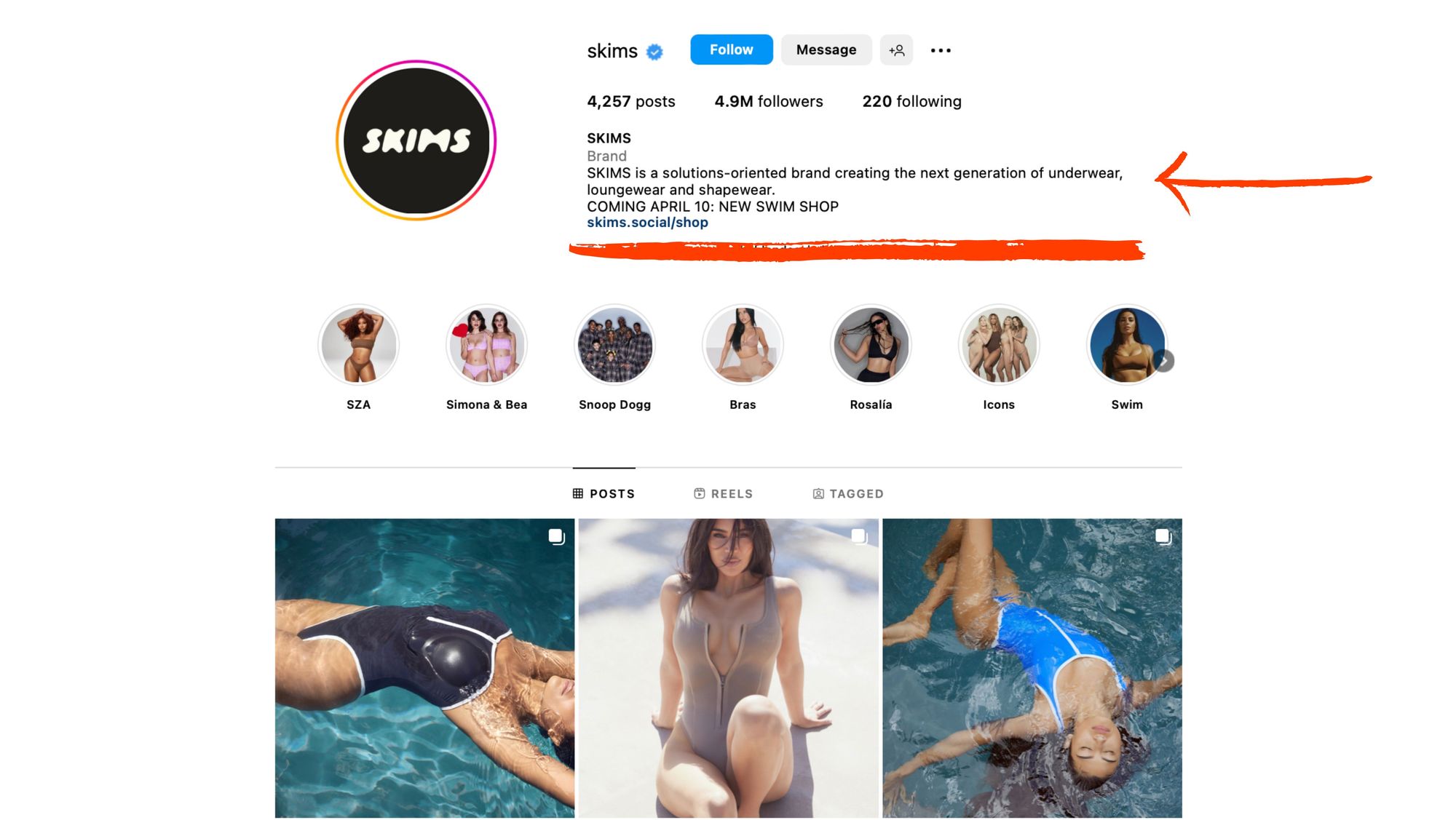 Based on your search term, Instagram uses various factors to deliver the most relevant profiles. Factors that influence search results include accounts you follow, accounts you are connected to, and posts you have liked.
If your Instagram username and name include keywords that are relevant to your niche or industry, your account is more likely to show up in search results when users are looking for content related to that keyword.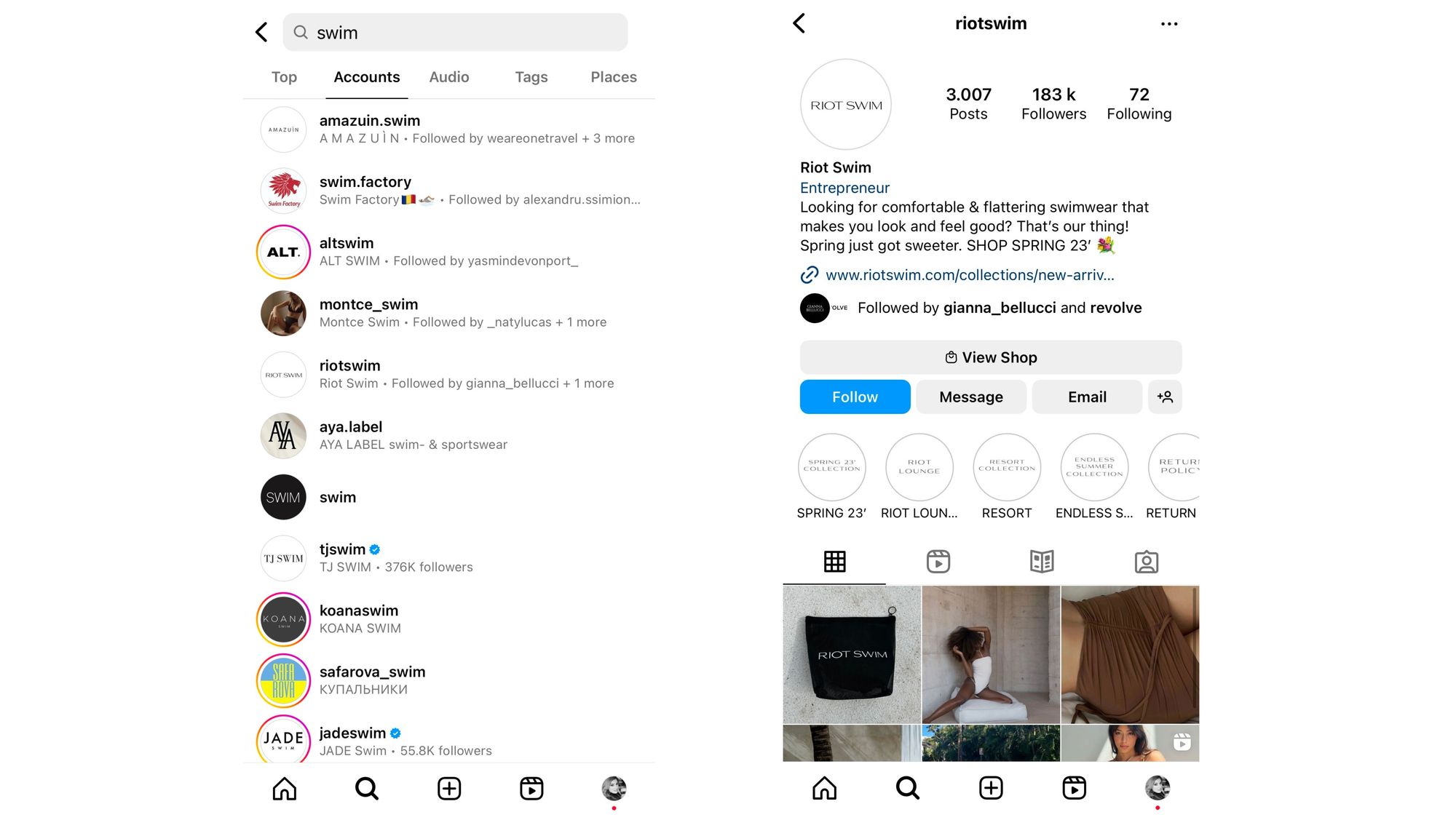 For example, if you are a swimwear brand owner and you include the keyword "swim" in your username and name, your account is more likely to appear in search results when users search for swimwear in their area. This can help you attract more followers and potential customers to your Instagram account.
Additionally, including secondary keywords in your bio can help users understand your content's scope and the services you offer. This can lead to more engaged followers who are interested in your niche or industry.
#2 Optimize captions with keywords on Instagram
Once you optimize your Instagram profile, the next step is to optimize your posts.
Maximize your chances of appearing on the Explore page by writing keyword-optimized Instagram captions.
While the Explore page can only be searched using Instagram hashtags and location tags, Instagram's algorithm suggests personalized content based on user interests and interactions.
Instagram also uses keywords in captions to identify accounts that are topically similar to each other.
Thus, to increase your visibility, write descriptive captions with relevant keywords that align with your account's topics of interest.
#3 Use your hashtags as keywords to boost Instagram SEO
Since most users are unlikely to search for you directly, it's important to develop a hashtag strategy for each Instagram post.
These hashtags should be treated as secondary keywords and can include your brand name and specific terms related to the post.
For example, in the case of Ben & Jerry's social strategy, they use the hashtags #benandjerrys and #icecream to promote their brand. They also include post-specific hashtags, such as #raspberrycheesecake and #cheesecake, that relate to the image's content.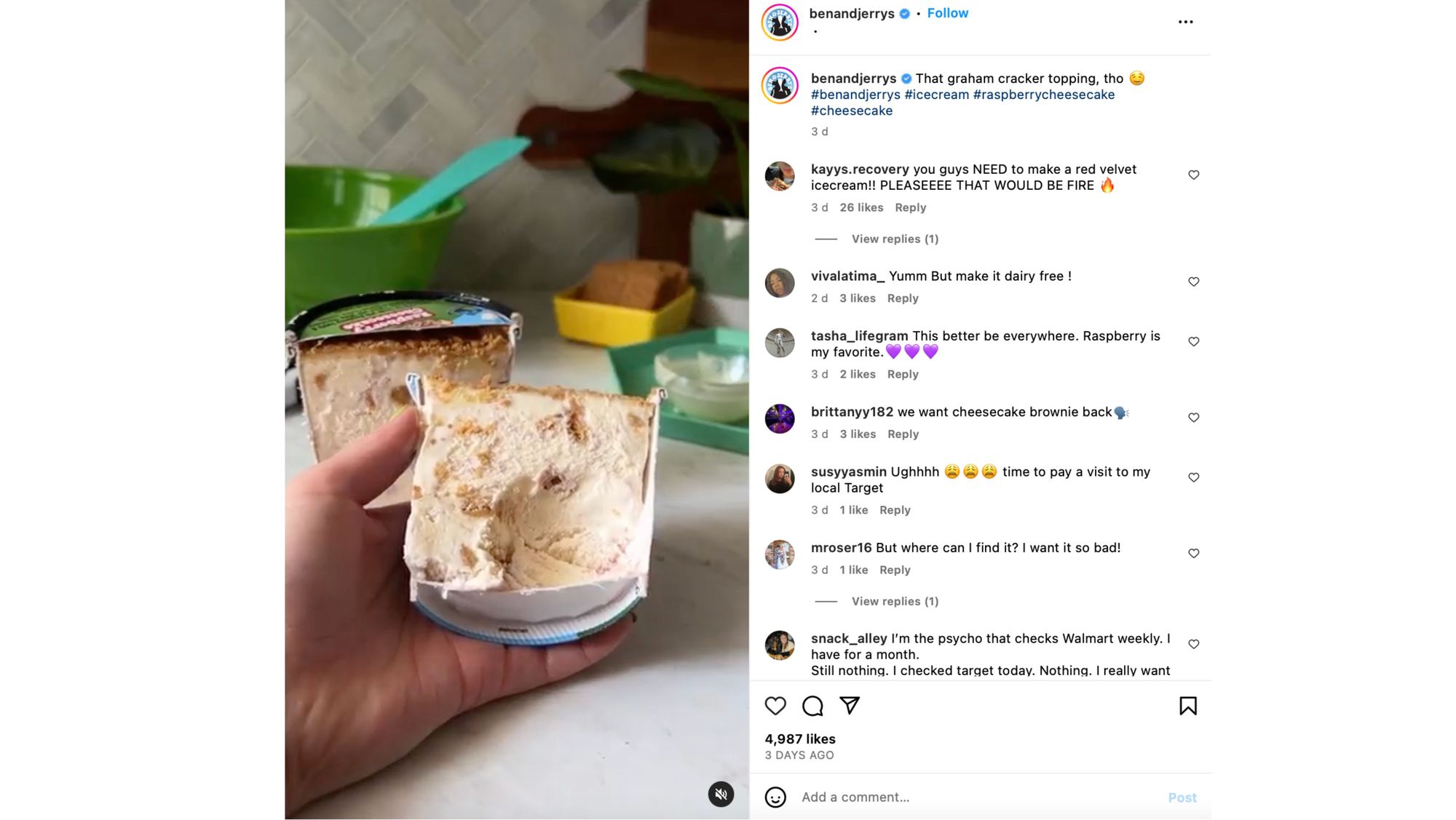 It's important to avoid using the same set of hashtags for every post, as this limits your reach and can make your content appear repetitive.
Instead, by varying your hashtags and making them relevant to each post, you can increase your chances of being discovered by new users.
#4 Leverage Stories and Highlights for Instagram SEO
Using Instagram Stories and Highlights is a great way to engage with your audience, build your brand, and improve your SEO efforts.
Firstly, they provide an opportunity to engage with your audience in a more interactive way. By using features like polls, questions, and quizzes, you can encourage your followers to engage with your content and increase your visibility on the platform.
Additionally, you can use Stories and Highlights to showcase your brand and highlight key products or services. This can help to build brand awareness and drive traffic to your website.
In terms of SEO, you can add hashtags, location tags, and mentions to your Stories and Highlights to make them more discoverable.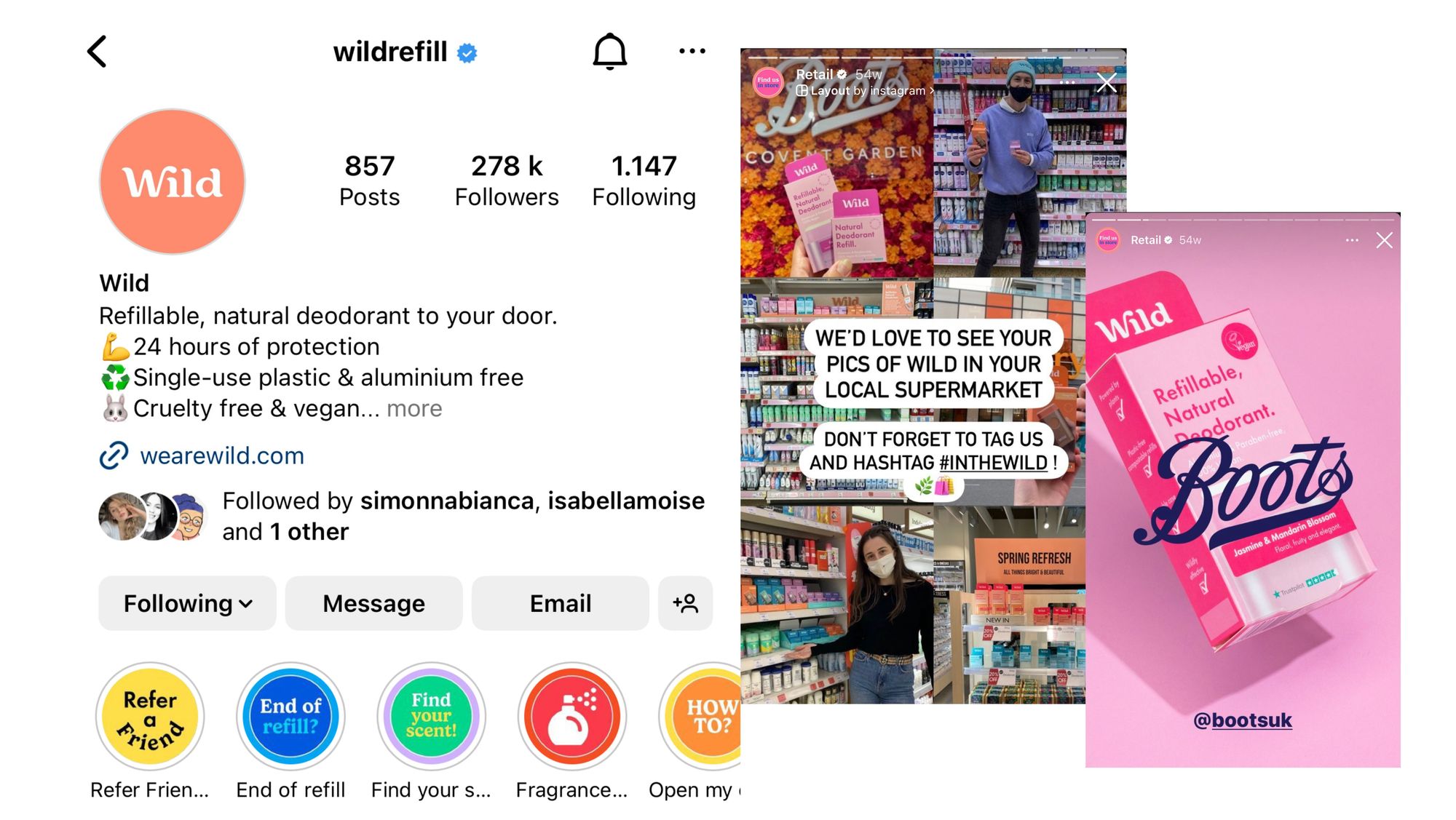 Using relevant keywords and tags increases the likelihood that your content will be seen by users searching for that particular topic or location.
#5 Engage with accounts ranking for your target keywords
Interacting with accounts that already rank for your desired keywords helps Instagram identify the category your account belongs to based on user activity.
Plus, it's an effective way to encourage other users to engage with your content, which is essential in increasing your account's popularity.
By engaging with similar accounts, you can boost your own visibility and rank higher in Instagram search results.
So, don't hesitate to connect with others on Instagram—it's not just good practice; it's a smart strategy.
#6 Add subtitles to your Instagram videos
As the saying goes, video content is king.
And when it comes to Reels on Instagram, adding subtitles can help take your content to the next level.
Subtitles not only make your content more accessible but also improve your SEO by providing additional context for search engines.
By including your target keywords in the subtitles, search crawlers can better understand the contents of your video. This leads to increased visibility both on Instagram and regular search engines.
Adding subtitles to your Reels is easy.
Simply click 'Preview' to edit your Reel, tap the smiley icon stickers, and select the 'Captions' sticker to add auto-subtitles.
You can also use free tools like Kapwing or Filmora to add subtitles automatically or manually edit them for your Instagram Reels.
#7 Motivate others to tag you on Instagram
Another effective way to increase your Instagram discoverability is by encouraging others to tag your account in their posts or stories.
This can help attract a larger audience to your profile, as people who view those posts can click through to your account.
One way to encourage tagging is by asking people to tag your account in photos featuring your products, with the chance of being featured in your own posts.
You could also repost some of those photos to show your appreciation. You could still share those posts on your Instagram stories if you want to maintain a consistent feed aesthetic.
Another successful strategy is to run promotions or giveaways that require people to tag your account. This is a great way to increase the number of tags, as people are likelier to participate when there's a chance to win something.
For inspiration, check out how @q.cosmetice.coreene runs a giveaway that encourages people to share their posts on their stories and tag the brand for extra entries.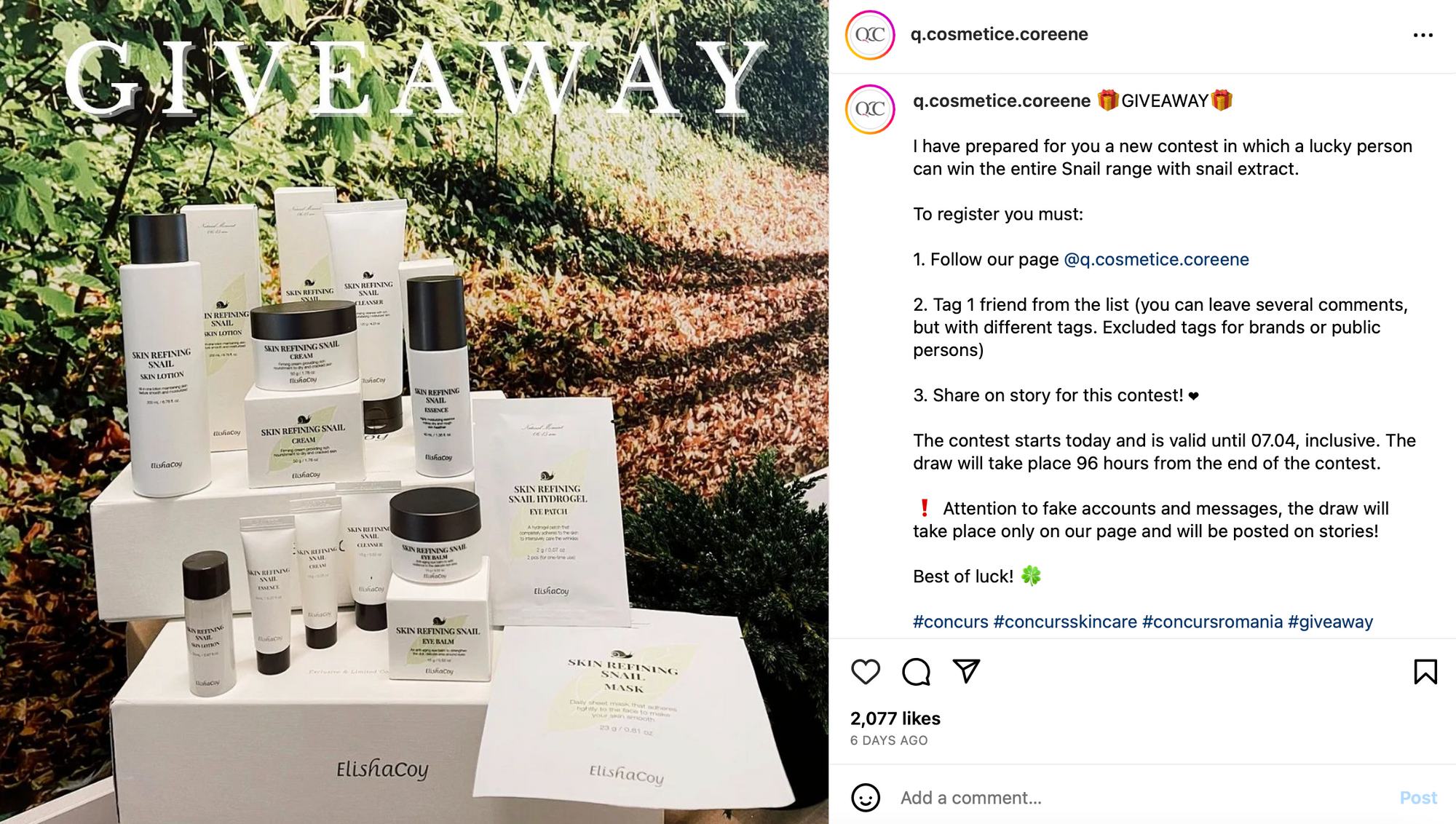 #8 Track the performance of your Instagram SEO efforts
Tracking and optimizing your Instagram account is crucial because it helps you measure the impact of your efforts and make informed decisions about improving your visibility and engagement in the future.
You may use the built-in analytics tool for individual post insights, reach, and impressions to understand your viewers' origin.
You may also invest in a comprehensive Instagram analytics tool that provides competitive analytics, follower insights, and recommendations for growth.
💡
Note
: Understanding the differences between Instagram
reach and impressions
is also important because it can help you gauge the effectiveness of your content and take actions backed by data about how to reach your target audience.
8.1. Monitor your competitors regularly
Remember that regularly monitoring your competitors is a simple but effective way to gain a competitive edge and improve your Instagram SEO efforts.
You can identify new opportunities and gain insights into what works in your industry by keeping an eye on your competitors.
Monitoring their hashtags, keywords, and content, so you can stay up-to-date with the latest Instagram marketing trends and ensure that your own content is relevant and engaging.
Additionally, analyzing your competitors' performance can help you identify areas where you can improve your own strategy and stay ahead of the game.
SEO for Instagram: last thoughts
SEO is more than just optimizing your website and blog.
It's about leveraging every opportunity to increase visibility and reach your target audience. This includes Instagram SEO, which is critical to your overall content strategy.
By staying on top of Instagram's best practices and implementing optimization techniques, you can improve your account's visibility, engagement, and growth.
So, don't overlook the power of Instagram SEO, and start optimizing your account for success!