Learn The Art Of Writing A Good Instagram Caption
Nov. 2018
For businesses and not only, Instagram represents an excellent oportunity to market their products to a more targeted audience.
Today, Instagram is one of the most popular social media platforms; the app currently has 1 billion monthly active users (June 2018).
In a nutshell, marketing your business on Instagram is about visuals, but adding a good caption can be a way to drive engagement to your account.
You can make your post serious, funny, inspirational by merely using the right caption.
Today, I'll going to show you how to use Instagram captions to get more followers and increase your engagement rates.
Let's dive in!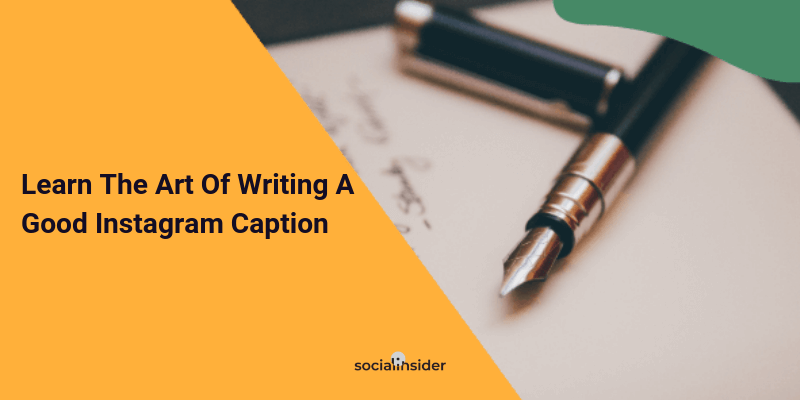 ---
How to write a good Instagram caption
Here's a sneak peek at the article:
---
Why is important to have a good Instagram caption?
If you want your post to be shared or liked, writing a good Instagram caption might be a starting point. It is not the essential part of your post, but still playing an important role.
A great Instagram caption will provide context to your post, add personality to your business and encourage your customers to take action.
What is a good Instagram caption?
There is not a rule or a definition of a good Instagram caption; they came in all shapes and sizes. It can be a question, one word, a sentence, an emoji, anything that makes you feel appropriate.
The purpose is to inspire your followers or to reach a new audience. Through your captions, you give voice to your posts and add value to your brand.
☝️Click to tweet☝️
Here are seven smart ways to write a good Instagram caption for your brand or business:
#1. Write several drafts before posting
Don't push the process. Write a list of a few ideas for captions down, choose the right hashtags, sit on them for a bit and then pick the one you think is the best.
It is essential to take your time constructing a great caption. This will keep your followers around and encourage them to engage with your content.
#2. Ask a question
Encourage people to comment on their own life experiences, and you might be surprised. Also, this may help you with new content ideas.
To be more present, respond to users, in this way it seems like a live conversation and they will fell part of your story.Make your followers part of your brand's story.
#3. Direct people to a link in your bio
Clickable URLs are allowed only in the website box in your bio.
Post a photo and in the caption suggest your followers click the link in the Instagram bio. These could lead them to your business website, another social media profile, your blog, or any page you want to promote.
#4. Invite people to write their opinion
Content is excellent for increasing engagement, so invite people to post their views or pictures regarding your post.
You can ask what their favorite sport, or pet, or what do they like on your Instagram account is.
✨ Read more: The Importance Of The Instagram Theme For Your Business Account✨
#5. Use hashtags
Hashtags are great for connecting users who aren't otherwise connected, but who are talking/ posting or interested in the same topics, brands, events and so on.
As long as your account is public anyone who searches for that hashtag can find your Instagram post.
#6. A sneak peak of your blog content
Do you want to be a storyteller? If your photo has a good story, then you should write it down.
You can use your Instagram account as a part of your blog, and as long as your ideas are exciting or fun, you should share them with the community. Ideas, tips, stories, anything you want.
#7. Use emojis
Emojis - those quite emoticons available to most smartphone users - can add some personality to your Instagram captions.
You can use them at the beginning of the post, in the middle of the sentence or at the end as a sort of a punch. It is an excellent way to make your post more friendly.
Promote other social channels using the captions
You can use your captions to promote your other social media accounts. This can be a great way to let your followers know where else they can find you.
Your Instagram followers can become your Facebook fans, your Twitter followers or your clients 🎉.
Measure your impact with Instagram Analytics data
If you want to succeed in using Instagram as your marketing tool, you will have to focus on the insights.
Using Instagram analytics tools like Socialinsider you'll understand how your engagement rates evolve every day and what strategy you should adopt for your Instagram account.
You will see your Instagram profile growth over time, historical posts data, content performance and also you'll be able to (multi)compare profiles.
Final thought
Now that the mystery of how the new Instagram algorithm works it's not a mystery anymore all you have to do is create great content to be on top.
There are a lot of ideas of high content, make yours to be liked, shared and commented if you want to transform your account - be visible.
P.S. Can we send you an email?
Once a week or so we send an email with our best content. No sales pitches, no bullshit, and one-click unsubscribe: