When the hype for Instagram Reels took over the internet, everyone was aiming for the same thing: viral Instagram Reels.
New Reels trends are emerging every week on Instagram. For brands, this is a constant battle, being hard to always keep up with the new changes when you always have to ask for approval from the legal department.
The struggle is real for marketers and following every trend means that you need to act really quick.
Today we're going to learn together about Instagram Reels trends and why it's important to follow them. Let's jump in!
Instagram Reels trends in 2023
1. What are Instagram Reels and why it's important to use them
Instagram was launched in 2010 and it quickly became popular, capturing the attention of over 28% of the world's internet users so far.
In the summer of 2020, Instagram launched Reels, 90 seconds videos that are meant to be fun and attract users to get lost in a web of infinite Reels.
The new feature launched by this platform is encouraging users to express themselves and use original content, edit with viral audio, add captions, stickers, AR effects and more.
Besides the fact that Instagram Reels has attracted many young users, it has also become an opportunity for brands to showcase their products and services in a way that is closer to their audience.
Marketers have quickly understood that it's important to use Instagram Reels, follow trends and become viral to attract more prospective customers and the follower count.
Businesses are more likely to thrive and grow in an environment that propels their content towards the masses who expressed their need for such products and services.
2. How to create trending Reels on Instagram
Now that you've learned that you need to implement Instagram Reels in your marketing strategy (if you didn't do that already), it's time to learn how to create Instagram Reels that can become viral.
Don't post video with watermark
If you consider to repurpose your TikTok videos for Instagram, don't. Instagram officials have previously made a statement about this, emphasizing that they will deprioritize the Reels that feature a watermark.
When creating videos, it's best to make one for TikTok and also save one for Instagram Reels without the watermark, just to make sure that Instagram's algorithm won't overlook that Reel.
You'd want your brand's content to be easy to discover for your audience. That's why you have to make sure your Instagram Reel has what it takes to become viral.
Add the element of surprise
Your Instagram Reels need to be catchy and always feature an element of surprise. This is how you'll keep your audience engaged.
In order for a brand to grow their follower count, engagement and number of leads, it's important to hit home with their content and address their users' needs.
By adding a CTA and an element of surprise at the end of your Reel, it will make your audience curious to the point that they want to visit your website.
The lucky combo for Reels that convert is: element of surprise + CTA + eye-candy content + personality = engaged audience.
Make a high-quality vertical video
Since we've discussed how your Instagram Reels should look like, it's time to look into the technicalities of things.
Always create your Instagram Reels vertical and make sure you record using a proficient camera. Your audience expects to see high-quality videos and you should deliver.
Otherwise, you are risking to lose followers and that's the most undesirable thing as a marketer.
Showcase your personality and humour
A Reel with no humour at all (at least a small pun) is not something someone would want to watch.
Unless you're promoting motivational speakers who talk about success. That's serious business.
But if your brand sells shoes, you can always find some funny scenarios to display your new launches.
Don't forget about your brand voice. Your Instagram content should scream loud and clear your brand's values.
Sprinkle a bit of your personality in your content. That's the secret ingredient that will propel you on your way to success.
Use a template for trending Reels on Instagram
To make sure you create an Instagram Reel that has a really high chance to become viral, you can always use a template from an already trending Reel on Instagram.
When watching Reels, pay attention to your options.
Tap the small three dots near the down right corner and you'll see that you can use several options.
Tap "Use as template" and you will get to implement the same features into your new Reel. You can duplicate the template and insert your own input.
Here you'll see a sequence of clips that are displayed in such a way that they match the audio. By replicating this pattern, you get a fresh and shiny Reel that is bound to wow your audience.
Add your videos and photos in the space provided, in an order of your own preference.
Use audio to create trending Reels
When it comes to trending Instagram Reels, you need to know that these viral Reels are accompanied by trending audios.
By using those trending audios in your Reels, you can make your Reel viral. It's as simple as it seems.
Here is how it goes.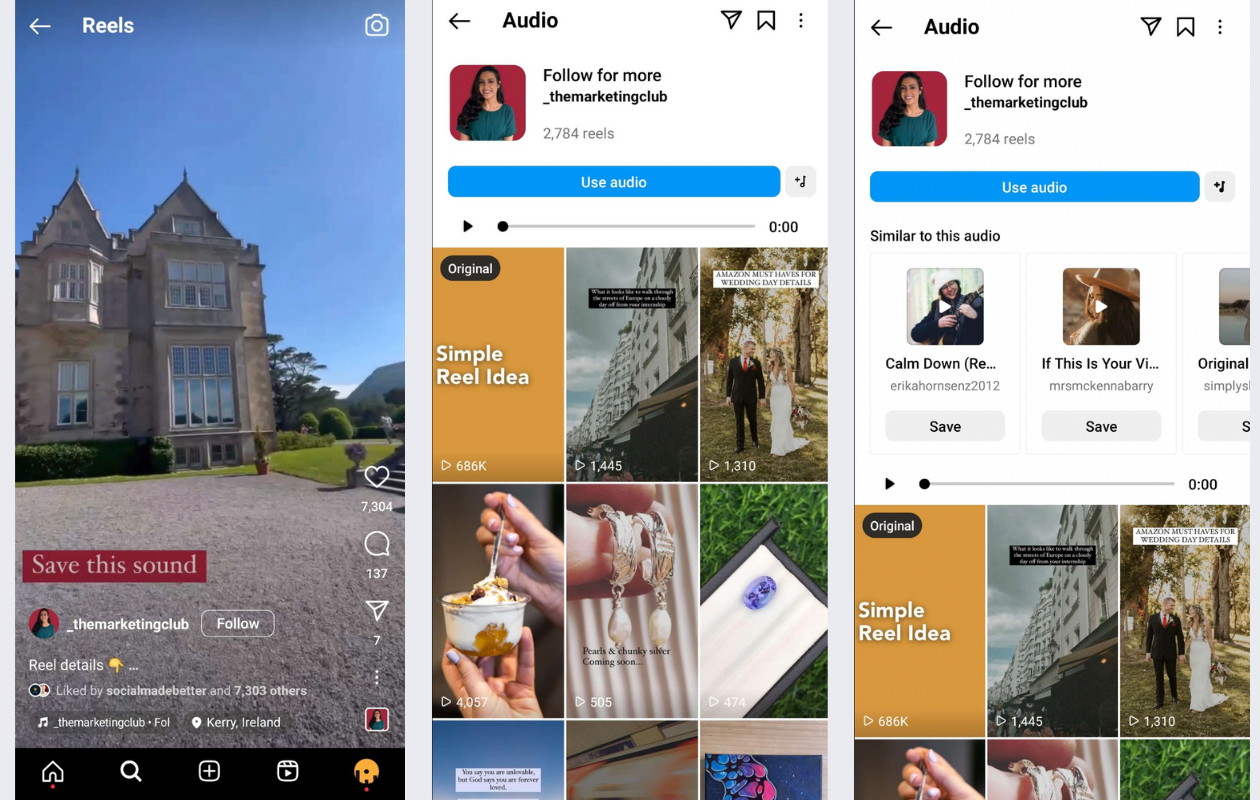 When you watch a Reel, tap the audio link at the bottom of the Reel and you'll be displayed with the main audio page.
Here you are presented with two options: you can either tap "Use audio" and use it for your next Reel or you can "Save audio" and use it later.
When seeing the main page for the audio, you will also get to see other videos that use the same audio like the one you tapped. You should check these videos as a source of inspiration.
In case you don't want to use that same audio for your Instagram Reels, you can tap that little keynote button at the right of the blue bar with "Use audio" and there will be a lot of other audio suggestions in a section called "Similar to this audio".
3. How to find trending Reels on Instagram
In a world where trends come and go all the time, you need to constantly search for new Instagram Reels trends and stay on top of your competitors.
Inspiration is key. By using all these sources of inspiration, you're likely to create more engaging Instagram Reels for your audience.
Finding trending content can inspire you to create trending Instagram content.
Here are a few places where you can find some trending Reels ideas to implement for your brand.
3.1 Instagram's Reels tab
This is the most intuitive method that can help you find inspiration for your Instagram Reels. Just tap the Reels button at the centre of the page.
By tapping that button, you will land on the For You page which is a scrollable tab full of videos that are similar to the ones you have recently seen.
Instagram's algorithm will generate a series of Reels based on the interests you have previously expressed.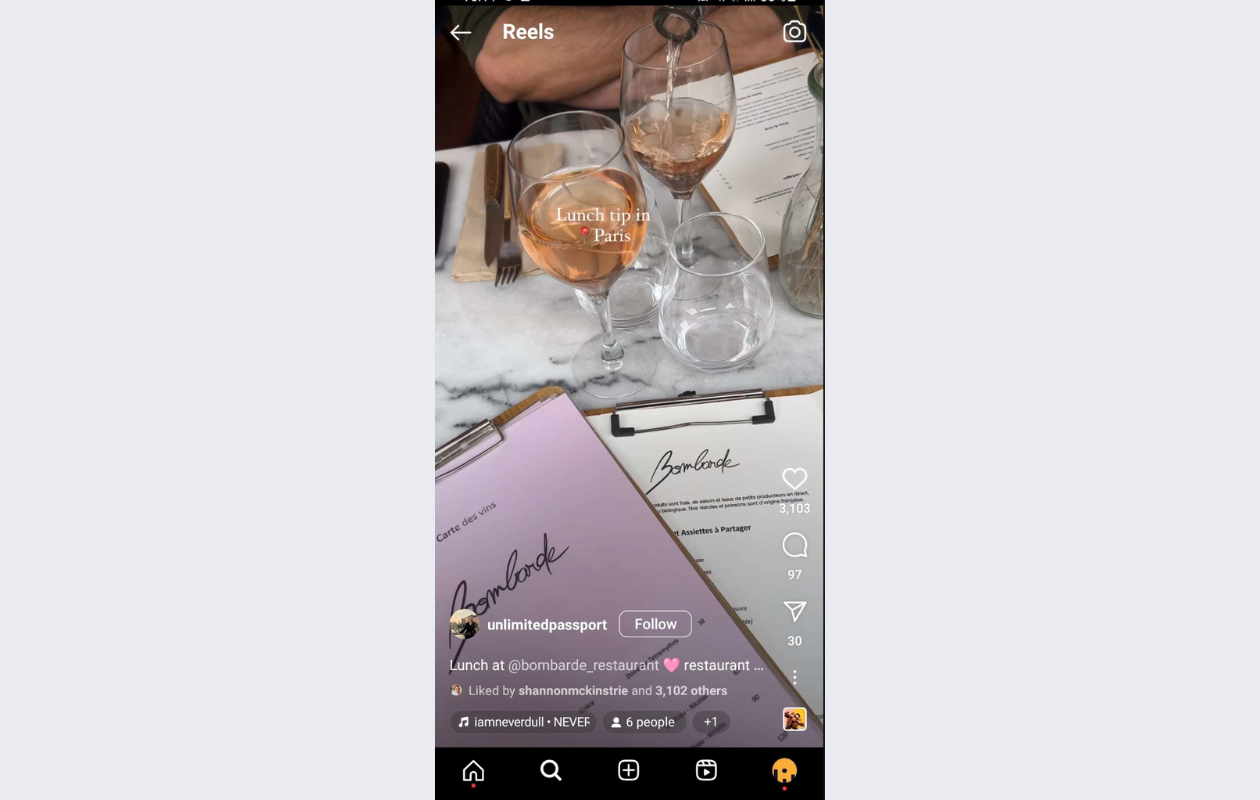 3.2 Instagram's Explore page
Another way to search for trending Reels on Instagram is by using the platform's Explore page.
It seems that 50% of Instagram users find Reels through the Explore page.
Similar to Home feed posts, the Instagram Reels algorithm ranks videos according to what it thinks viewers would be most likely to interact with.
Therefore, scrolling through the Reels that Instagram has selected for you can help you decide what viral videos to remix for your brand.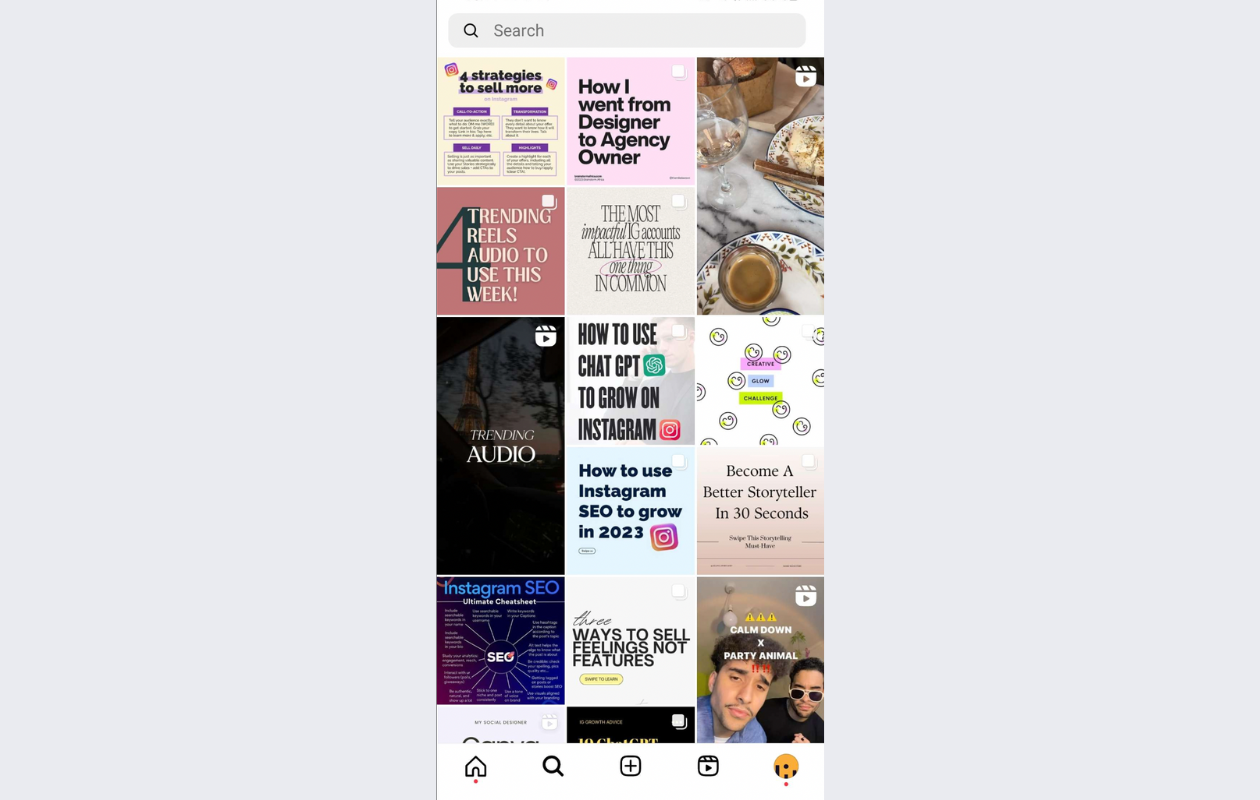 3.3 Competitors' accounts
Believe it or not, your competitors can be a great source of inspiration when it comes to trending Reels on Instagram.
You might be surprised to find out the way your competitors make use of the latest trends. Try to apply some of their strategies to your own video content.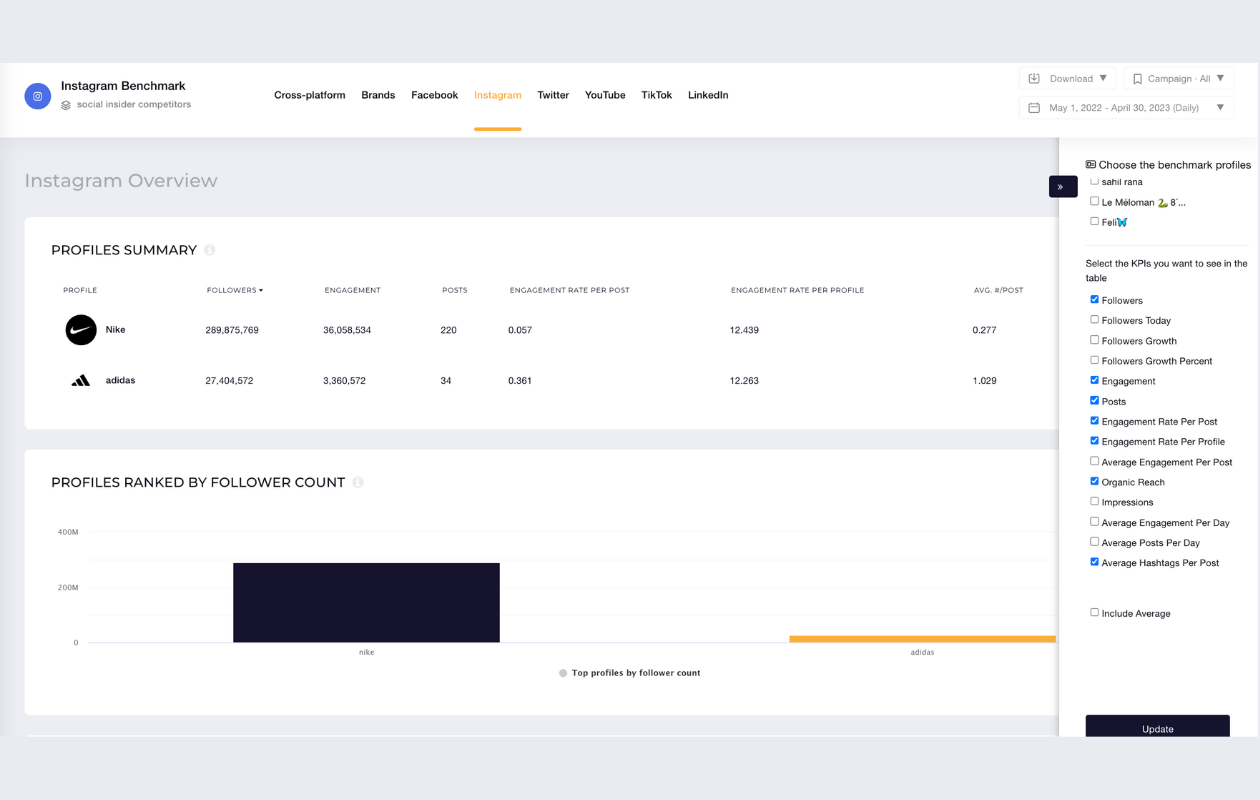 Then, to see how you stand compared to your competitors, you should also look at numbers.
By using the Benchmarks feature from Socialinsider, you can easily compare your brand's Instagram page against your competitor's.
This way, you will see the most important metrics and, adding this up to your research about their video content, you can easily develop a better marketing strategy to top their performance.
This is the sign you needed to remind you that you have to periodically perform a competitive analysis to make better-informed decisions regarding your Instagram strategy.
A more useful way to use Socialinsider to find new Instagram Reels trends is by developing a Campaign based on a hashtag or keyword.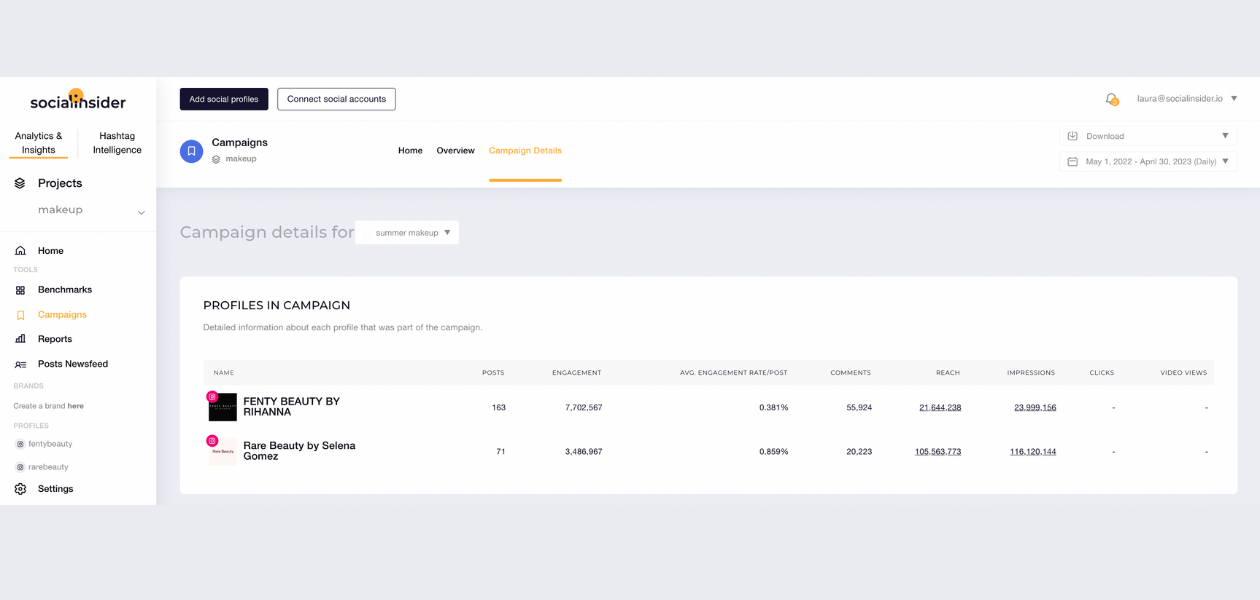 Let's say you put together an event calendar based on all the important events in your industry throughout the entire year.
Go to Socialinsider, create a Project where you include your brand's Instagram page and your competitor's Instagram page.
Then, go to the post newsfeed, sort them by Reels and search for a specific keyword or hashtag that suits that event you're following.
For instance, I added two beauty brands, Rare Beauty and Fenty Beauty and then I looked at their Instagram Reels.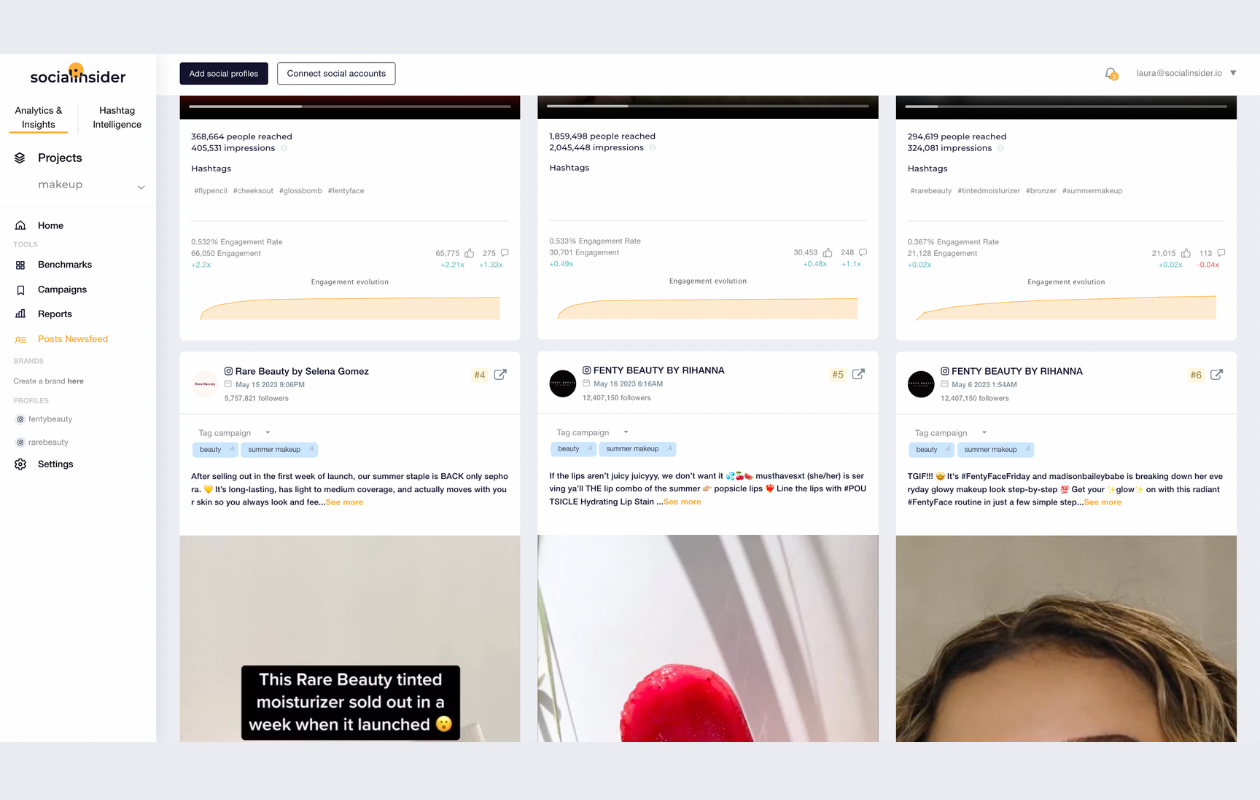 I chose the keyword "summer makeup" since this "event" is approaching. And I was surprised to find a bunch of Reels that use this as a keyword or hashtag.
By scrolling down, you can see the metrics for every post that features that keyword. You will see key metrics, like engagement rate and engagement.
Next, you can analyze this Instagram Reels trend for both beauty brands in a campaign.
In the Campaign section, you'll be able to see a lot of key metrics based on the hashtag you choose.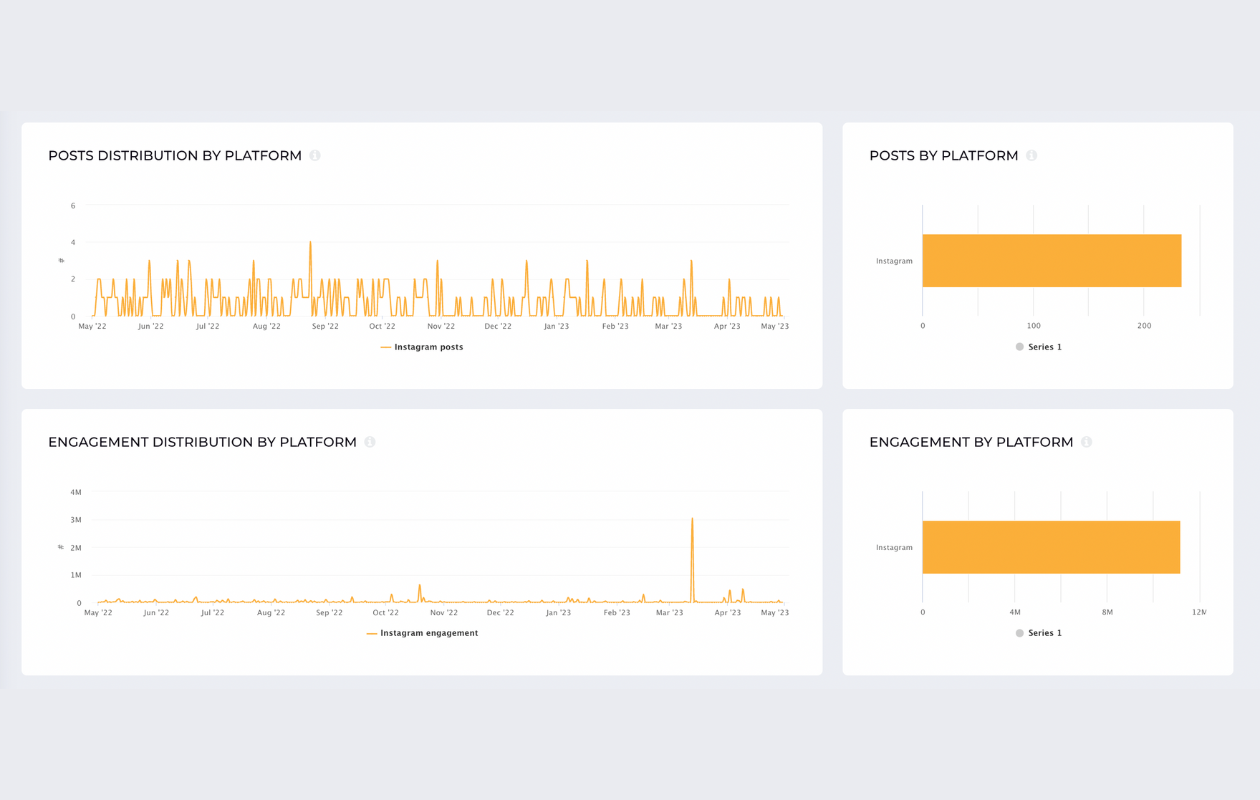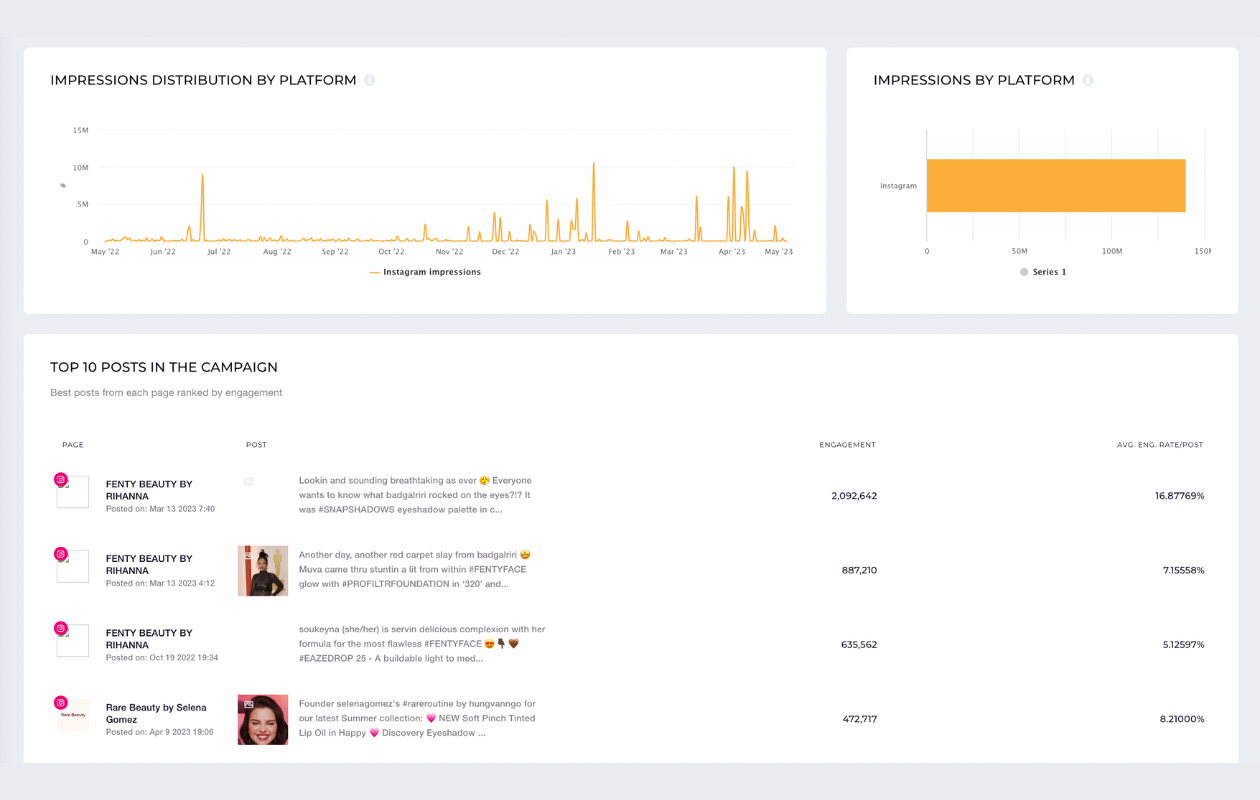 3.4 Instagram's @creators page
The creators page on Instagram is not only an infinite source of inspiration for all the marketers out there, but the people posting on that account also emphasize what are the latest trends.
The creators' page is a Social media manager's prettiest dream, being packed with actionable insights that anyone can apply for their Instagram Reels strategy.
The creators posting on this Instagram page offer free tips & tricks on how to improve your Instagram content strategy.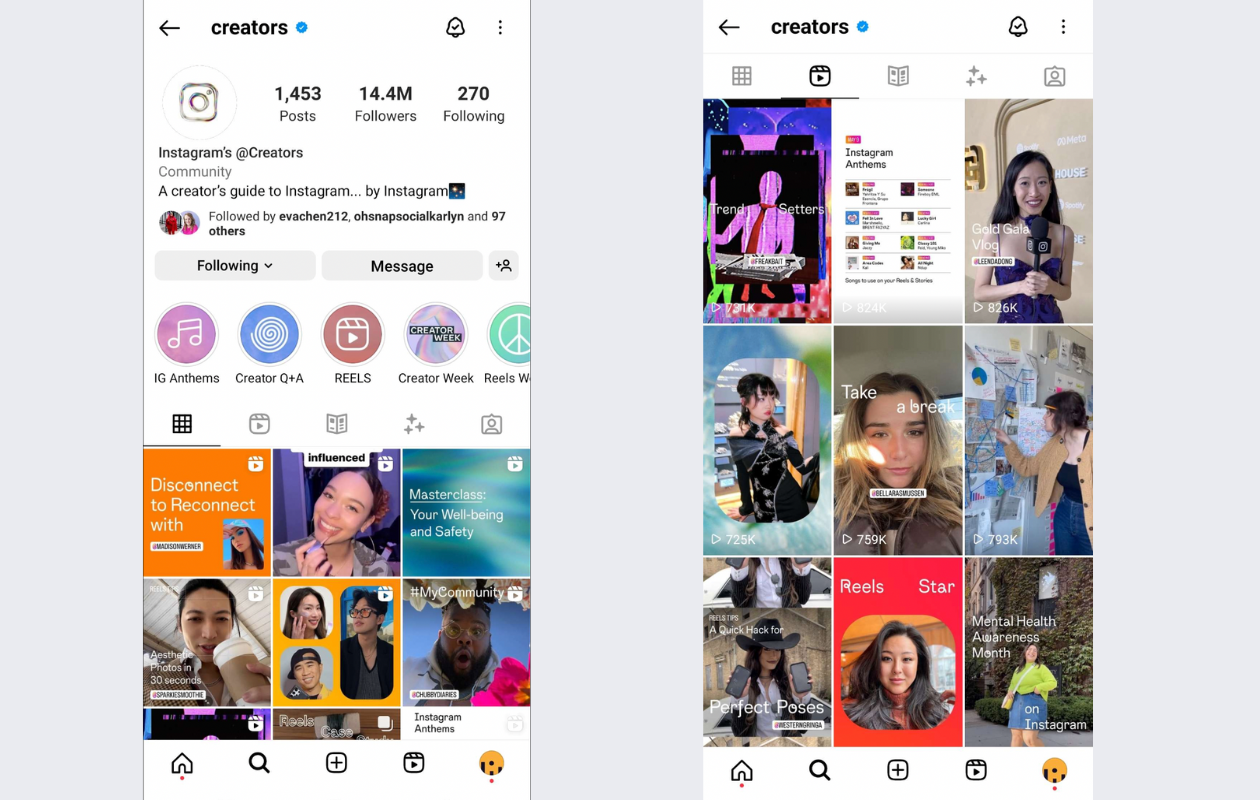 3.5 TikTok's Discover page
TikTok or "The Mother of all Dragons", like I like to call it, since its no 1 focus is on video content, is also a great platform to get inspired for the second best type of videos in social media, namely Reels.
We all know that TikToks have a higher engagement rate than Reels, but this does not mean that hoping is prohibited.
Working your way through a solid Instagram strategy, relying on research and a trial & error process, you can help your brand slay with some trending Instagram Reels.
Use the "Discover" page on TikTok to learn more about how to create short and eye-catching videos for your audience.
3.6 Search by audio
The audio of your Reel is what will make users stick to your content and watch it until the end.
It's true that a picture is worth a thousand words and that's what will drawn your audience towards your content, but the way you pair up your video with your audio really matters.
Your videos may have a higher chance of going viral if they feature popular Reels tunes.
There are several ways in which you can find trending audio on Instagram and use it for your Reels.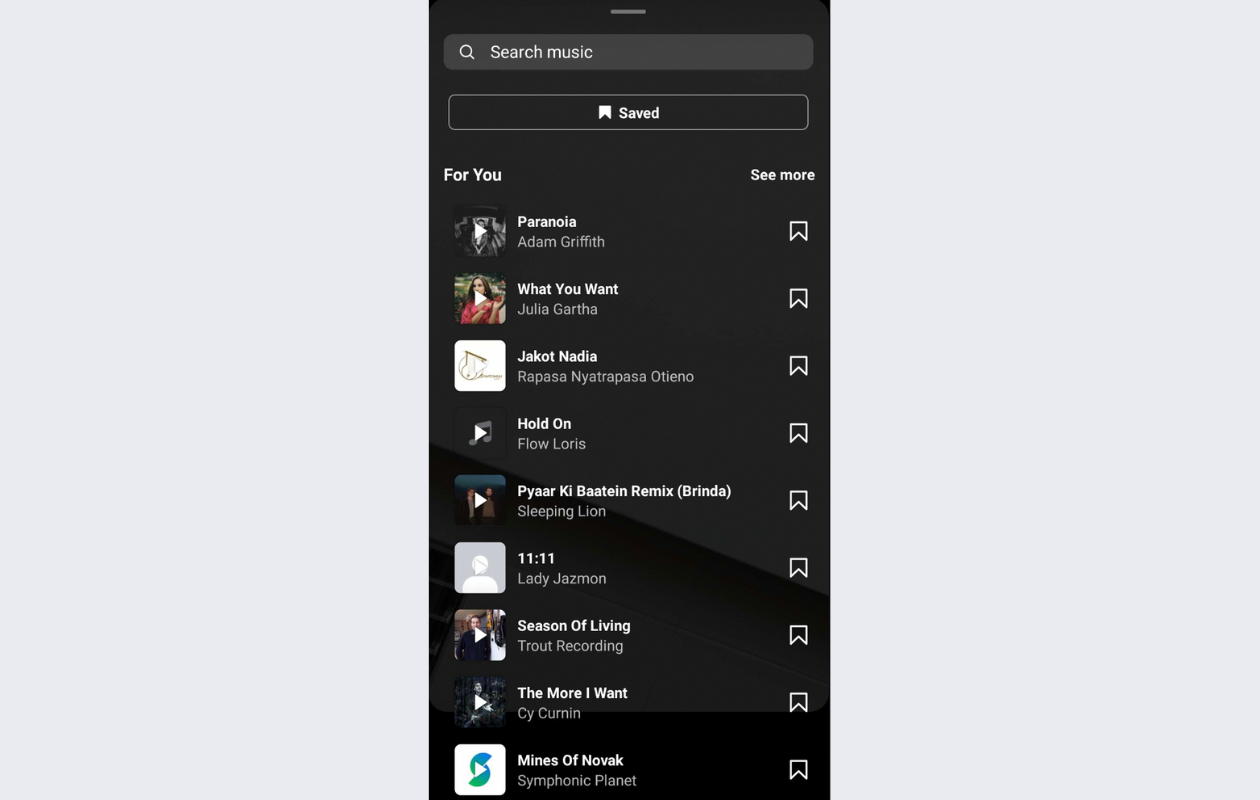 3.7 Social listening tools
Social listening tools typically gather mentions of predetermined keywords from throughout the web. That's why they are useful in helping you find trending tools.
Social media monitoring may give you precise, high-quality insight into the attitudes and sentiments of your audience.
You may do this to establish any relevant Instagram hashtags or keywords and keep track of Reels that have the potential of going viral.
If you'd like to give listening tools a try, you might want to check these 23 social media listening tools for every budget that we've listed.
4. Instagram Reels trends & audios for brands
When trying to find the best Instagram Reels trends to implement in your social media strategy, you need the best kind of inspiration.
In order to do so, you have to prepare yourself for thorough research, being patient enough to find the current trends.
However, you have to keep in mind one thing: a trend is just a trend for only a few days. After that, it becomes old news.
Therefore, when you find a trend for Instagram Reels, you have to create content based on it immediately. Otherwise, the trend will no longer be of interest for your audience.
Here are some of the current trends for Instagram Reels:
Reels trends in August 2023
4.1 The "I don't know who needs to hear this" trend
For some Instagram users, this audio is silly, for others is way funnier than expected.
Instagram users have been using this audio trend to mock deep conversations or words of wisdom some people share in Reels.
Some used videos of their surroundings, their pets, kids or some glimpses from their holiday.
Basically, instead of using an audio that matches the way you romanticize your life, you can use this one.
This audio has been used in over 10K Reels on Instagram.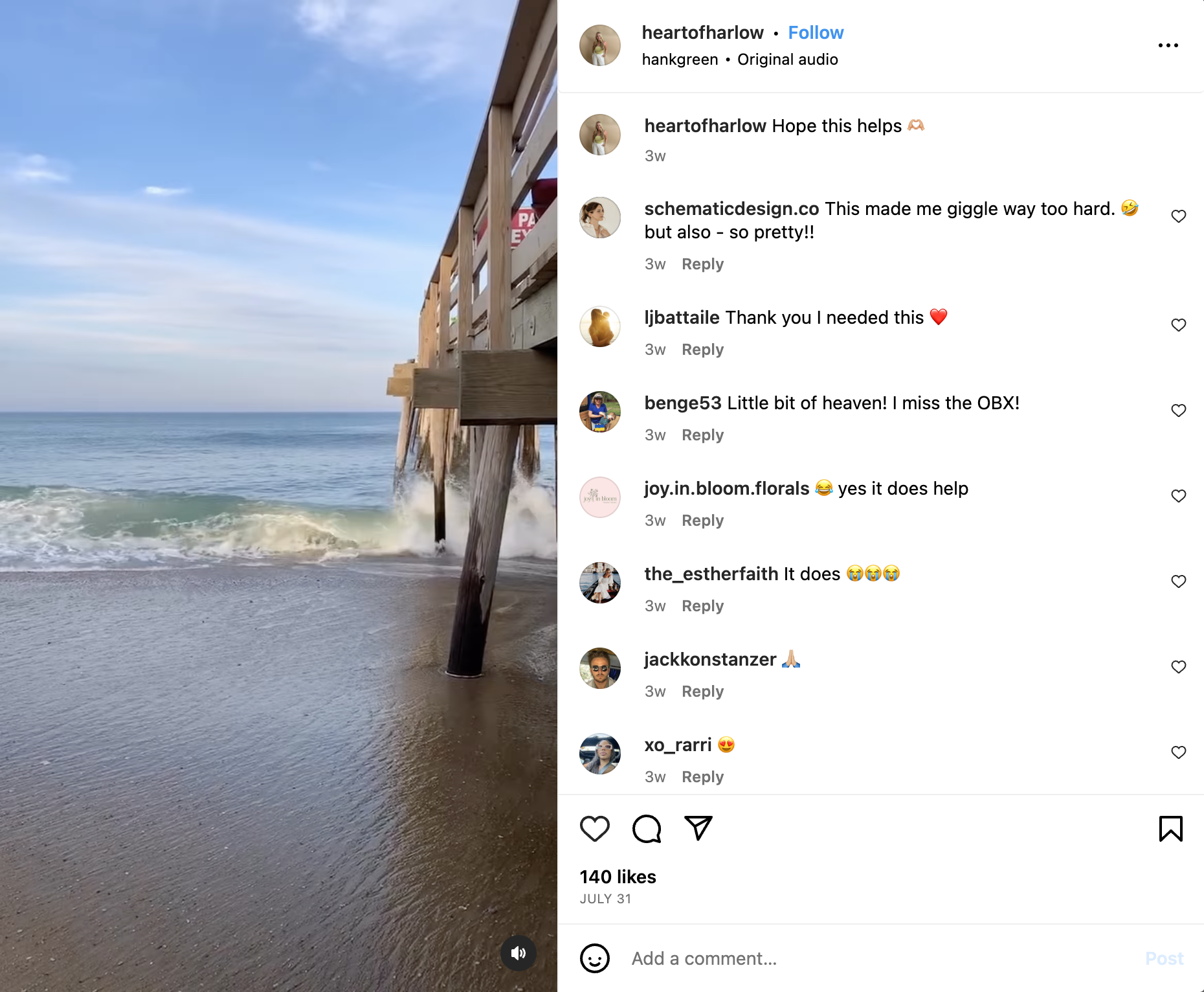 4.2 The "I need some kind of cation" trend
If you haven't been on holiday just yet, I feel you. I need a vacation at least once a month.
So this Instagram audio trend is for you. It starts with "I need some kind of cation" and you can surely find something that suits you in what comes after that.
Users have been using this audio trend in over 5K Reels on Instagram.
People have been using this audio to signal that they are going on vacation or that they at least need one.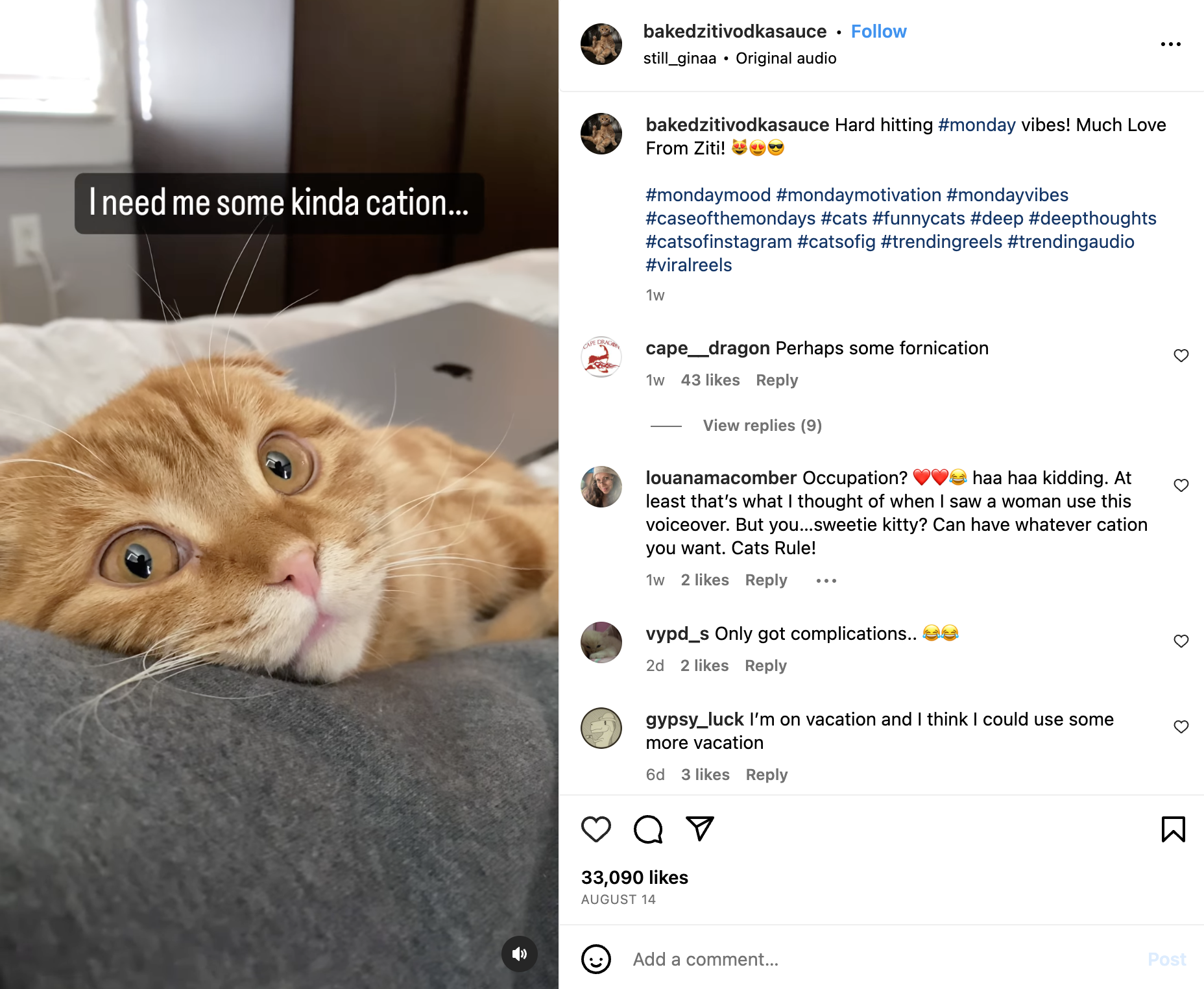 4.3 The "Me Robaste El Sueño" trend
This audio is now trending on Instagram. And if it's not making people to dance, Instagram users use this latino tune to showcase their latest holiday, a new outfit check or their latest discovery when it comes to restaurants.
The trending audio for Reels has been featured in more than 81K Reels.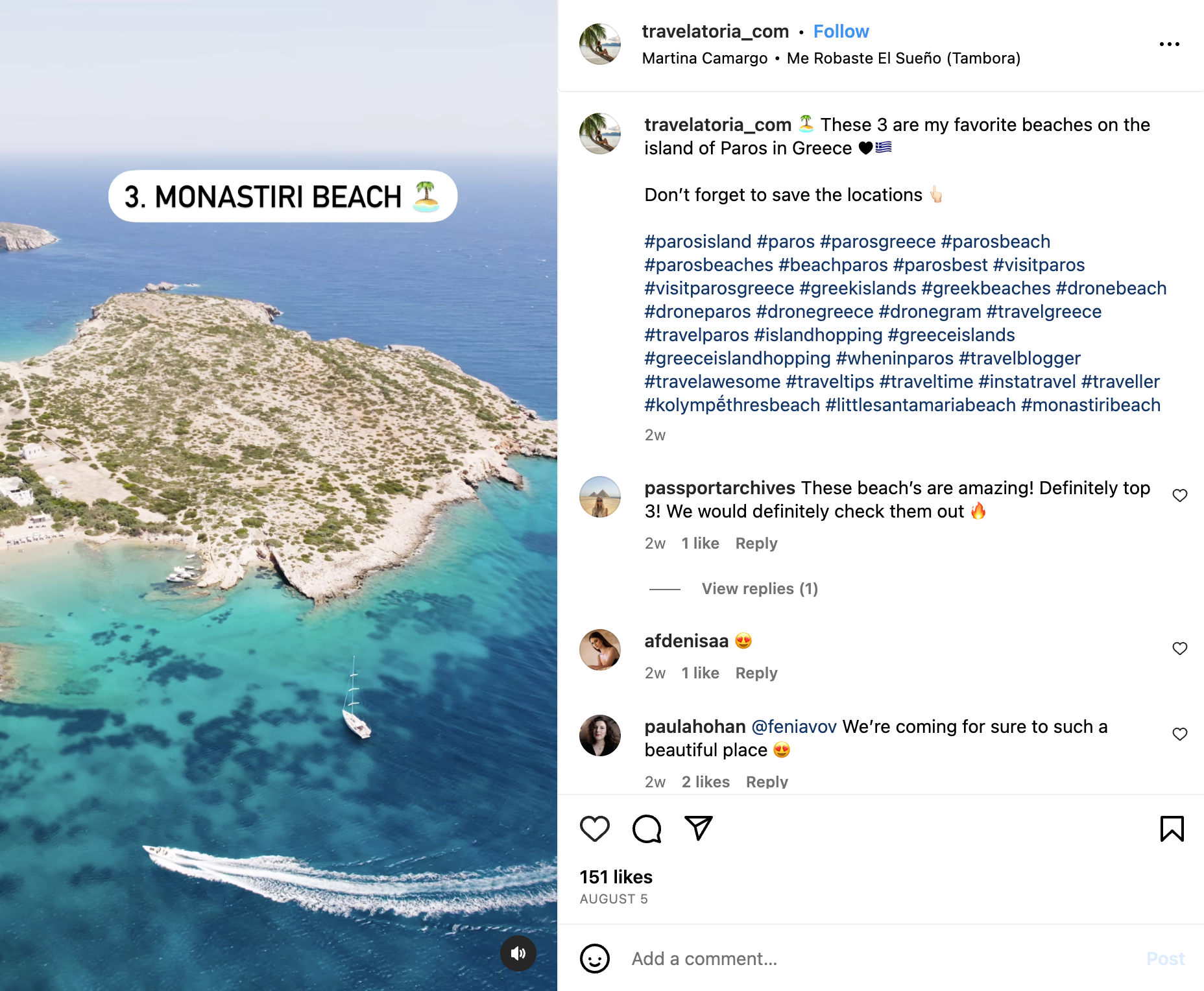 4.4 The "Hi Barbie, hi Ken" trend
The Barbie movie has taken over the world and a lot of brands from different industries have lanuched new campaigns, tailing on the success of this movie.
It was clear that with this movie premiere, a lot of memes and social media trends were about to pop up. This audio is one of them, from the beginning of the movie when all the Barbies and Kens greet each other.
Instagram users have been integrated this audio into their Reels to showcase  their new pink products, make-up looks, pink outfits, hairstyles and even cakes. You should use it while it's hot.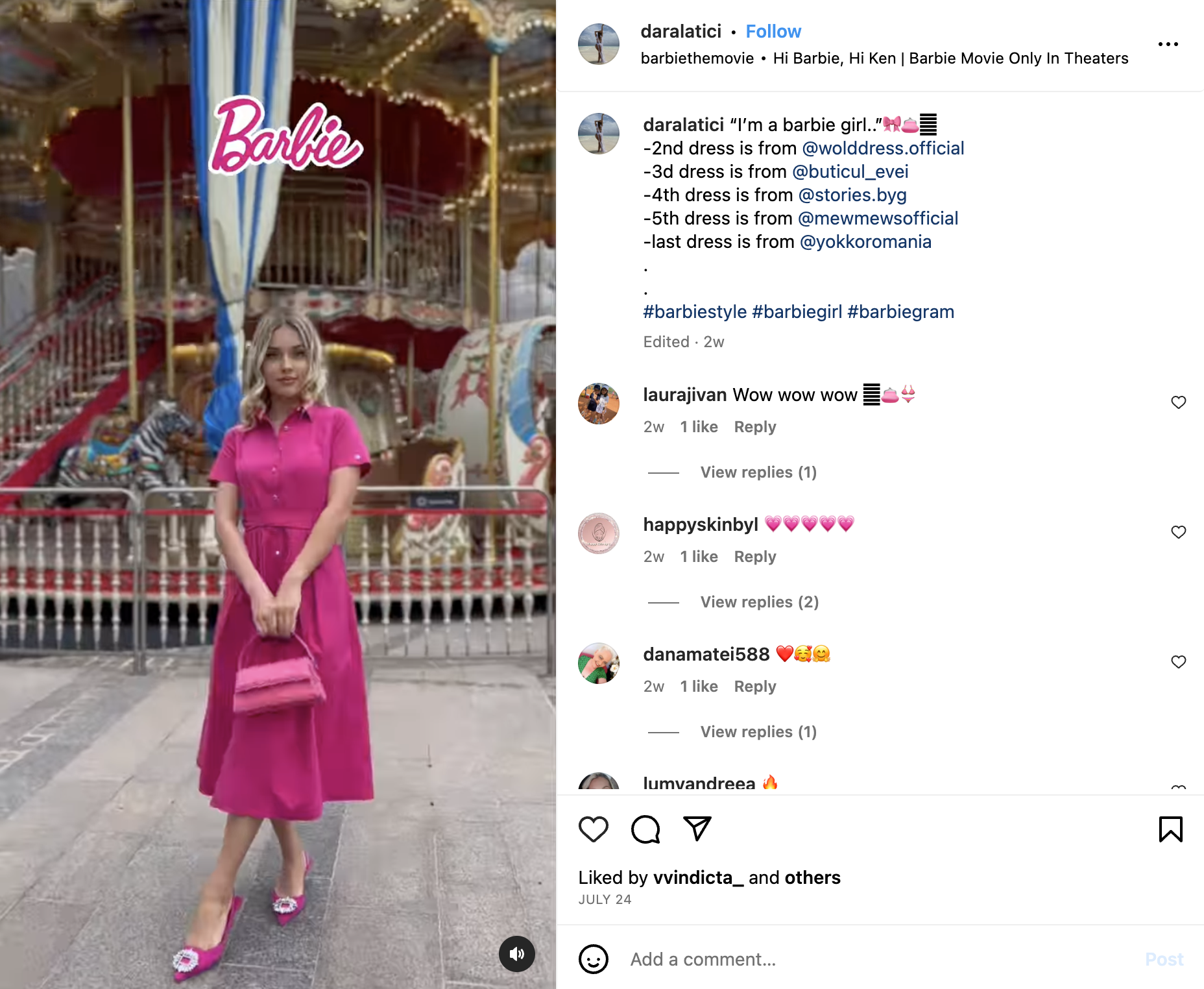 4.5 The "Me before and after the Barbie movie" trend
Another trend related to the Barbie movie is the one with before and after, refering to the moment when Barbie started to think and feel like a human, disrupting her perfect pink world.
This mixture between the perfect, utopian world and our world lead to runny eyes in movie theatres. (Believe me, I was there)
This audio was used by Instagram userd to depict moments that suggest a change in their life or in their way of thinking. Some even use it to showcase their new food recipes and tuturioals.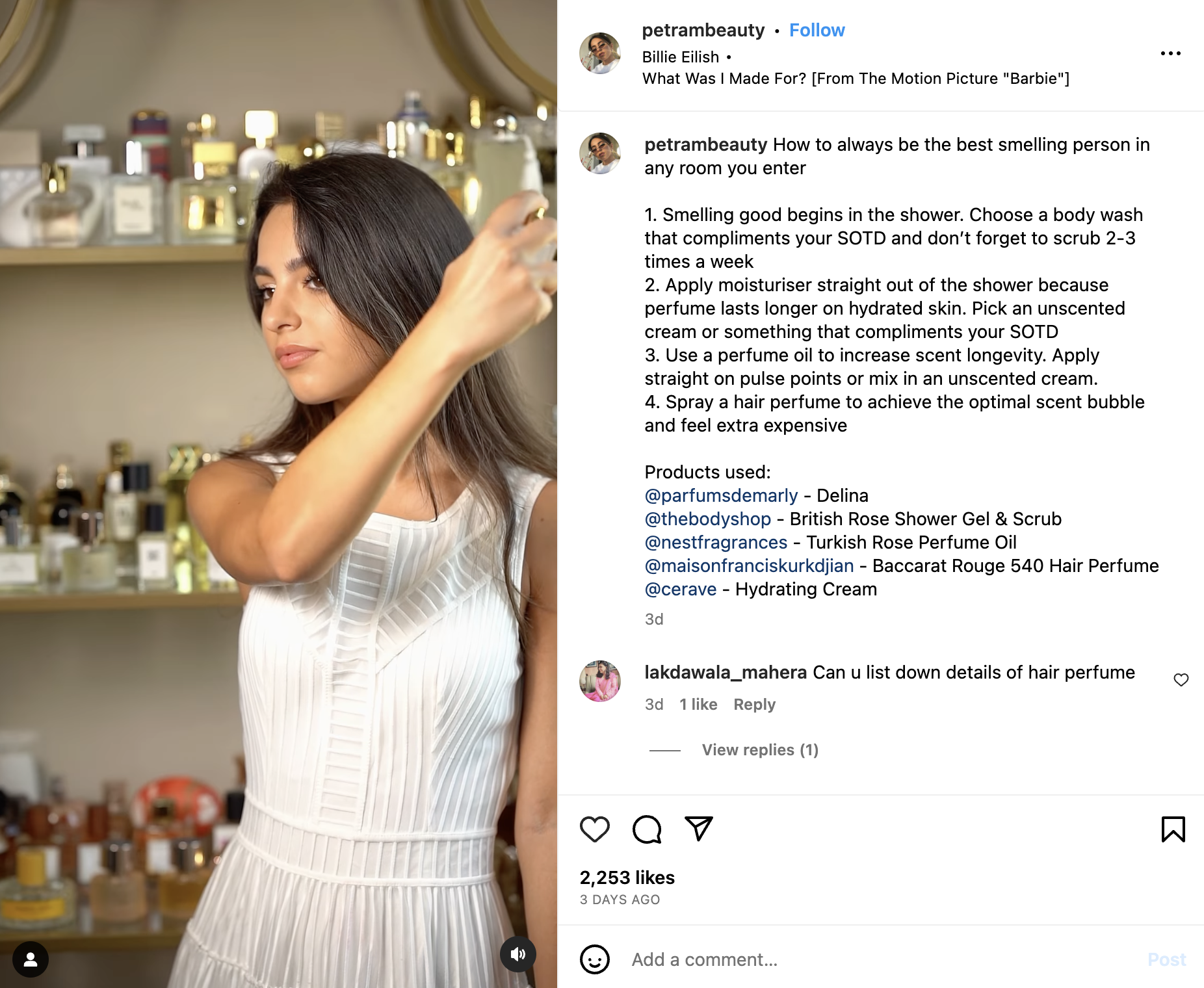 4.6 The "And my man, thank you to my man" trend
This popular audio was used in Reels where girls thanked their boyfriends for support. Even guys used this audio for when supporing their male friends.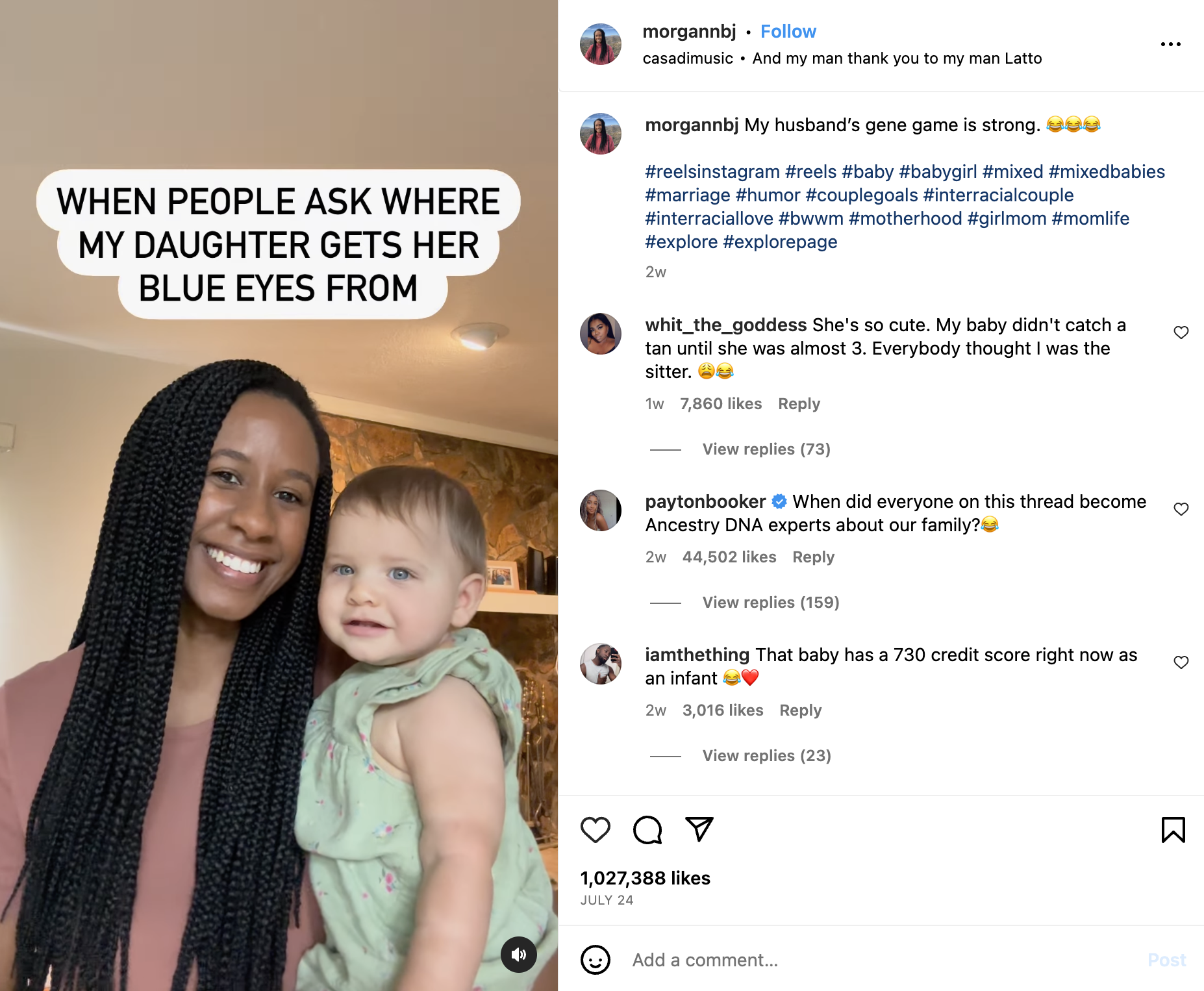 4.7 The "Ashley look at me" trend
This new audio has hyped people on Instagram, helping them create incredible Reels where they showed before and after results.
Some also use it for a teleporting-like effect in their Reels. How would you use this trending audio?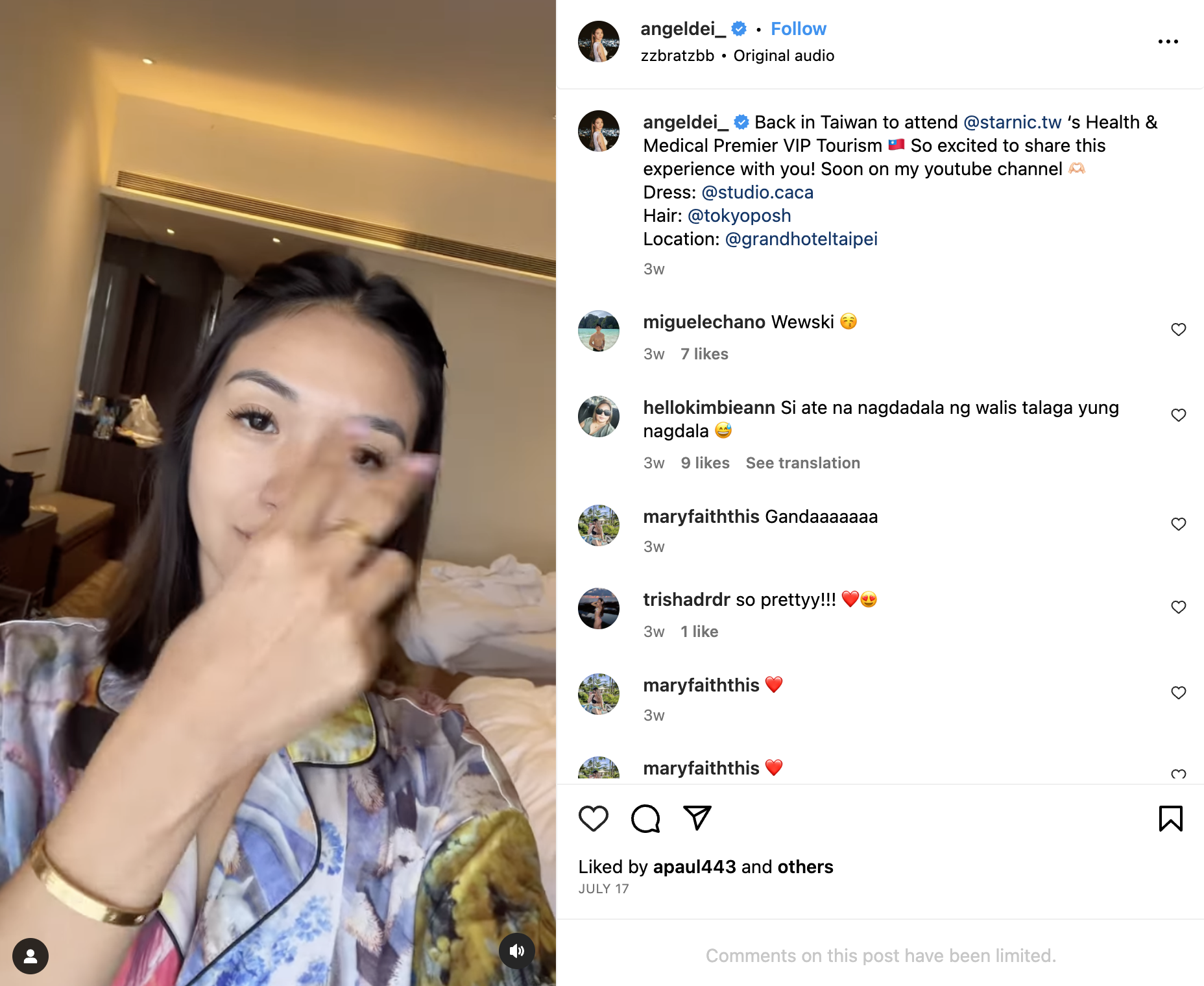 4.8 The "7 days of outfits" trend
Women love fashion and everyone wants to showcase her sense of style when assembling their outfits. This audio makes people wanna use it when making OOTD Reels.
Some Instagram users use this audio to show what they eat or drink every day for a week.
4.9 The "Close your eyes" trend
This trending audio is used to refer to a feeling, a mood. Instagram users are currently crazy about this audio from the Barbie movie.
Some use it to show everyone their group of friends, for touchy-feely videos and new methods to meditate.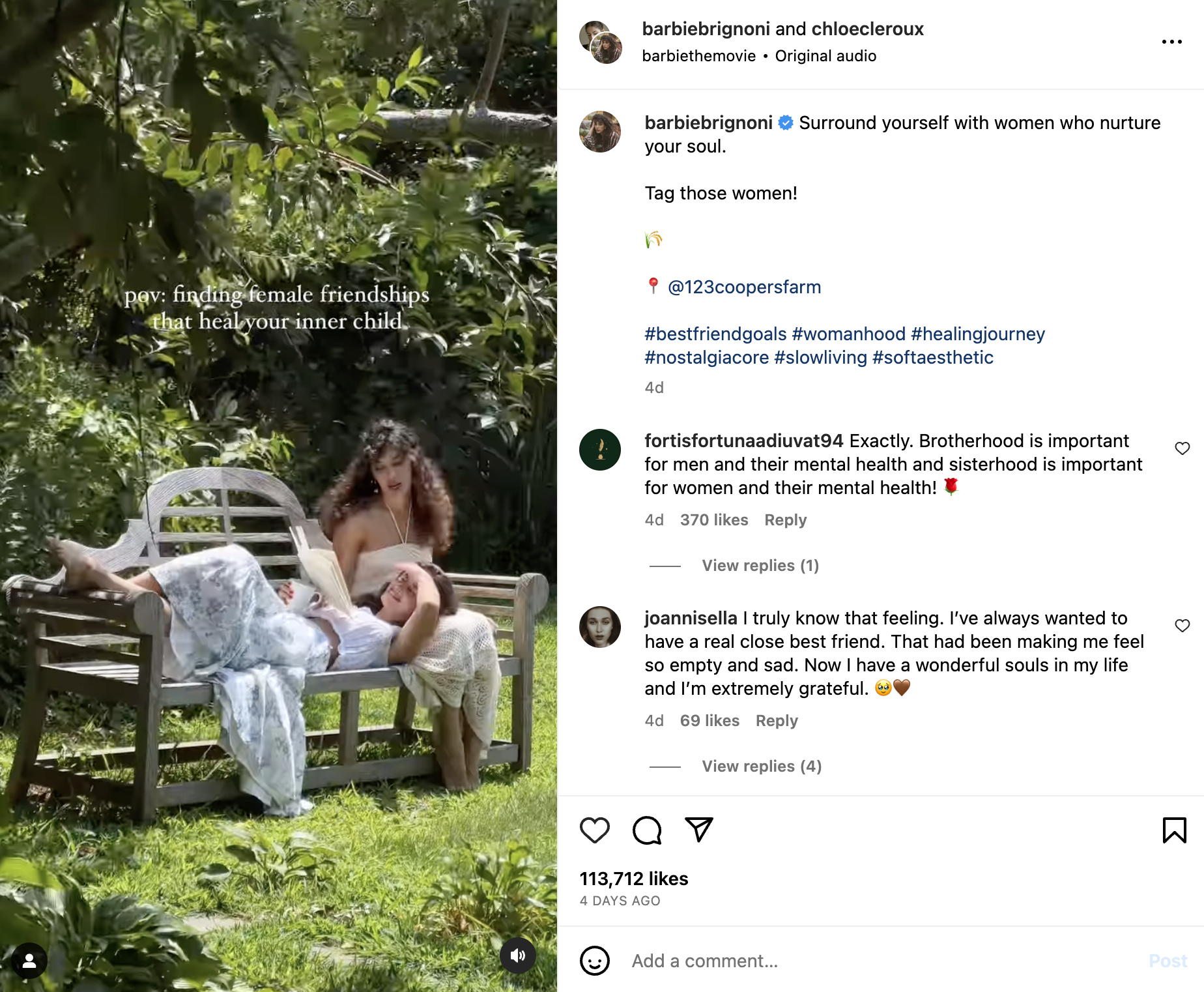 Reels trends in July 2023
4.10 The "Wes Anderson movie" trend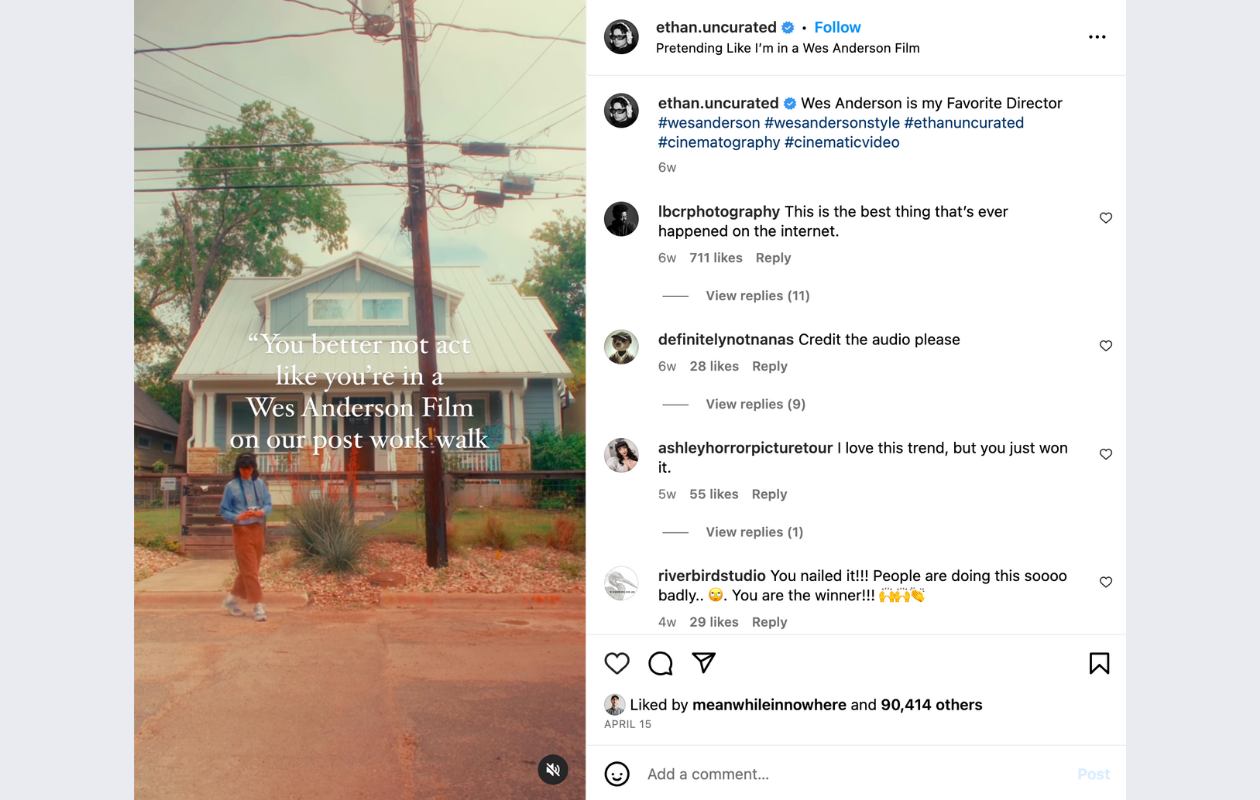 This trend is so sick that the audio was used in over 70K Reels. The trend started slowly, but it's already here for about 2 months now. And it seems it's going pretty strong.
Trying to imitate Wes Anderson's style can be challenging, since you have to work with his recording technique, while also combining the colours, filters and don't even get me started on the attitude you need.
4.11 The "if this your vibe" trend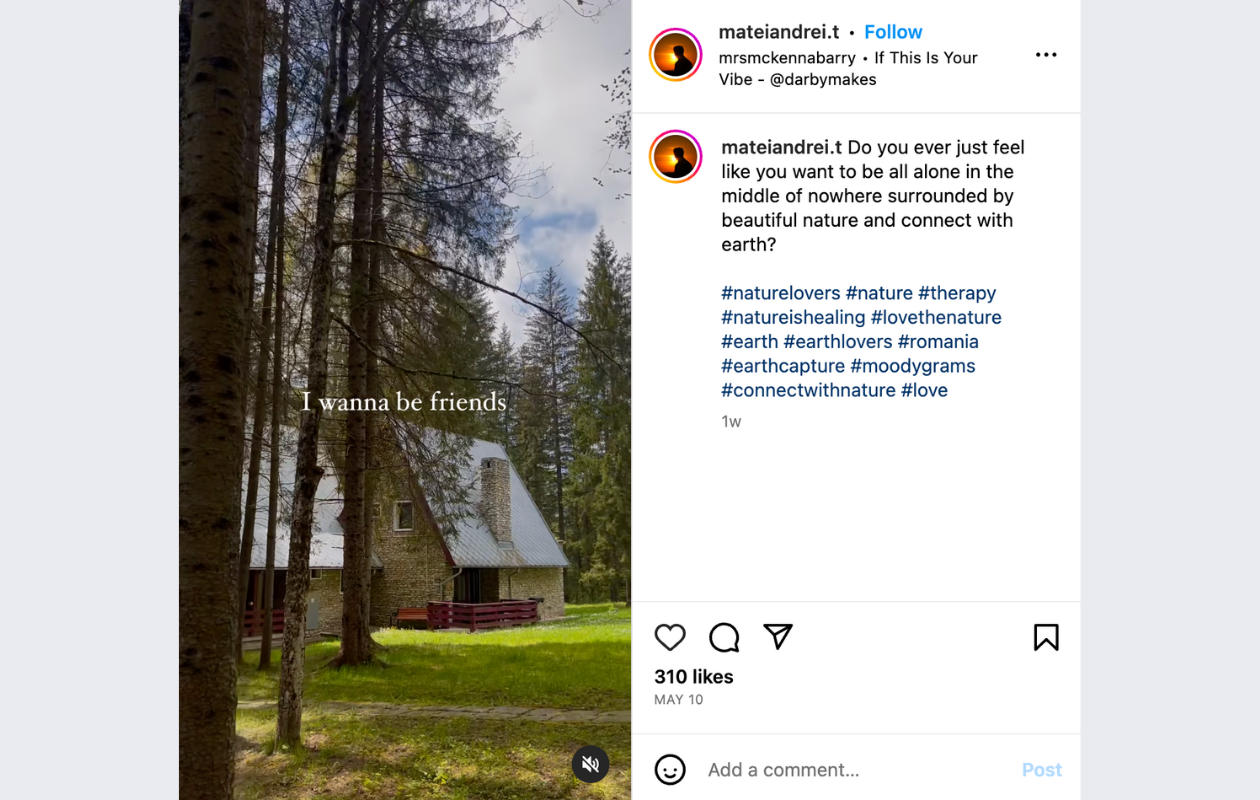 This is a new trend on Instagram Reels for those who try to find others that match their vibe.
All you have to do is choose between 1 to 8 short clips that showcase your products or services and add the text "If this is your vibe, I want to be friends" using the text tool.
So far, there are 70K Reels that use this audio.
4.12 The "bumping into each other" trend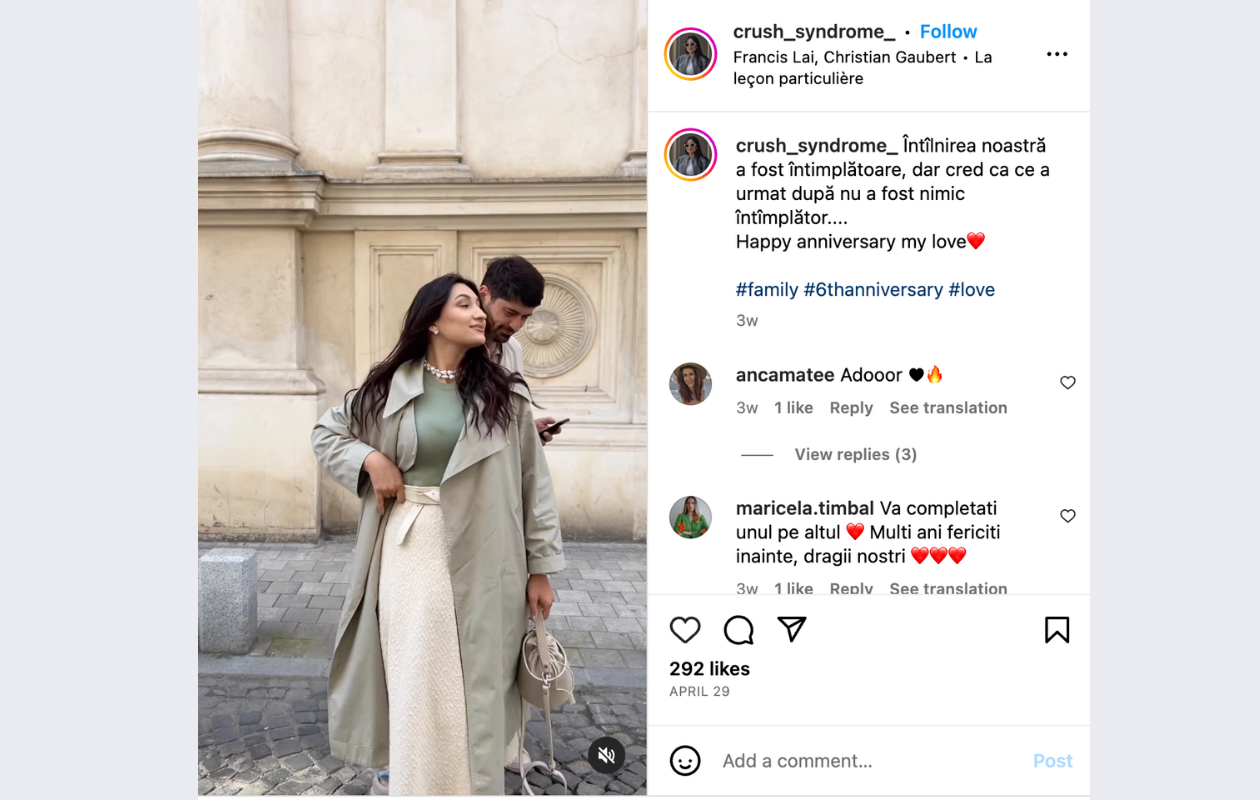 This trend has a very nice audio and people have been using it for the type of videos that showcase a love story, when the two accidentally bump into each other.
To replicate the trend for your brand, you need to record a video of you "bumping into" your products and then showcase what happens after, the way you use the product and how you fall in love with its utility.
So far, there are 180K Reels that use this audio.
Reels trends in June 2023
4.13 The "bombastic side eye" trend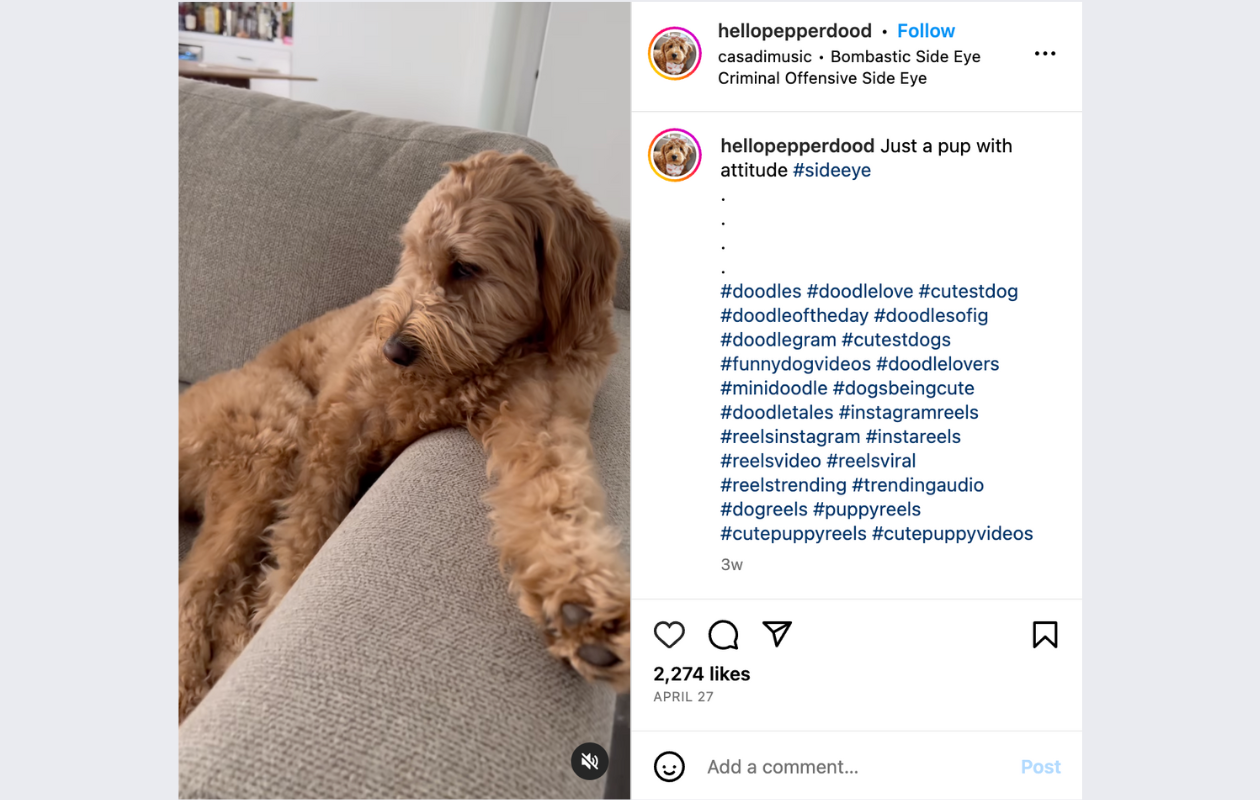 This is one of the funny trends that recently rose towards virality. The audio is just perfect for your cat-lover videos or for someone on your marketing team complaining about clients.
So far, there are 25K Reels that use this audio.
4.14 The "piano" trend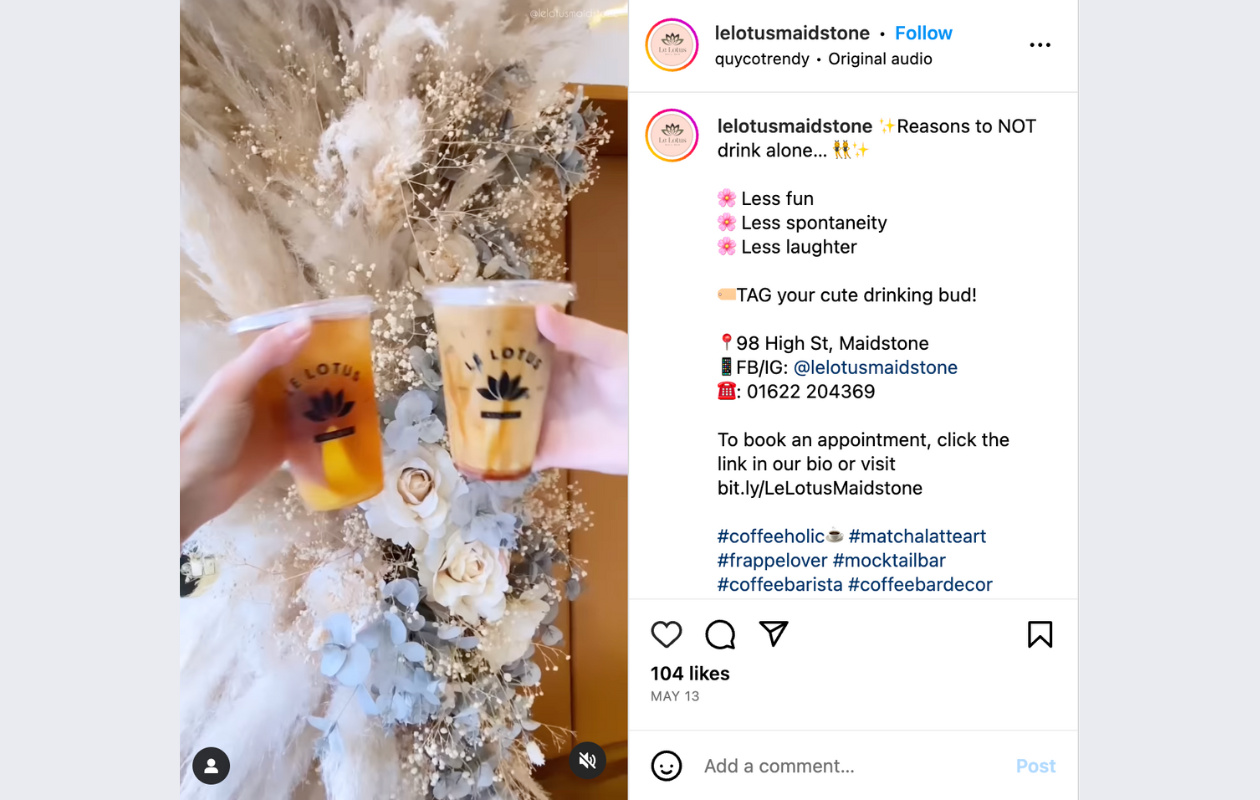 The trend that started with this piano tune is so sick that it went viral right away. Use it to show your audience your new products, make outfit-check videos or Reels where you teleport to different travel spots. The possibilities are limitless.
So far, there are 106K Reels that use this audio.
4.15 The "calm down" trend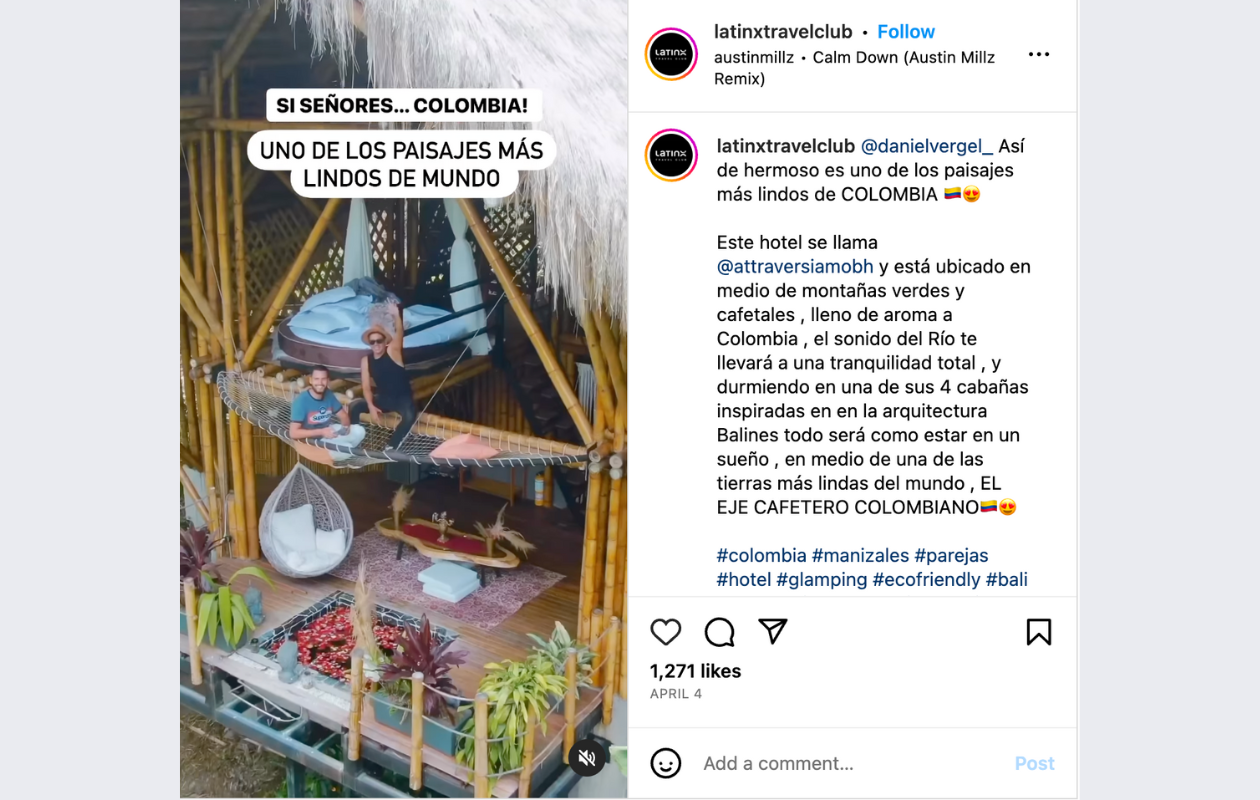 This Instagram Reels' trend seems to be here to stay since users have already making up all kinds of dances using this audio.
You can also create your own dance, showing your audience everything about creating a social media report or other fun stuff marketers do.
So far, there are 242K Reels that use this audio.
Reels trends in May 2023
4.16 The "sugar" trend (Billie Holiday's song)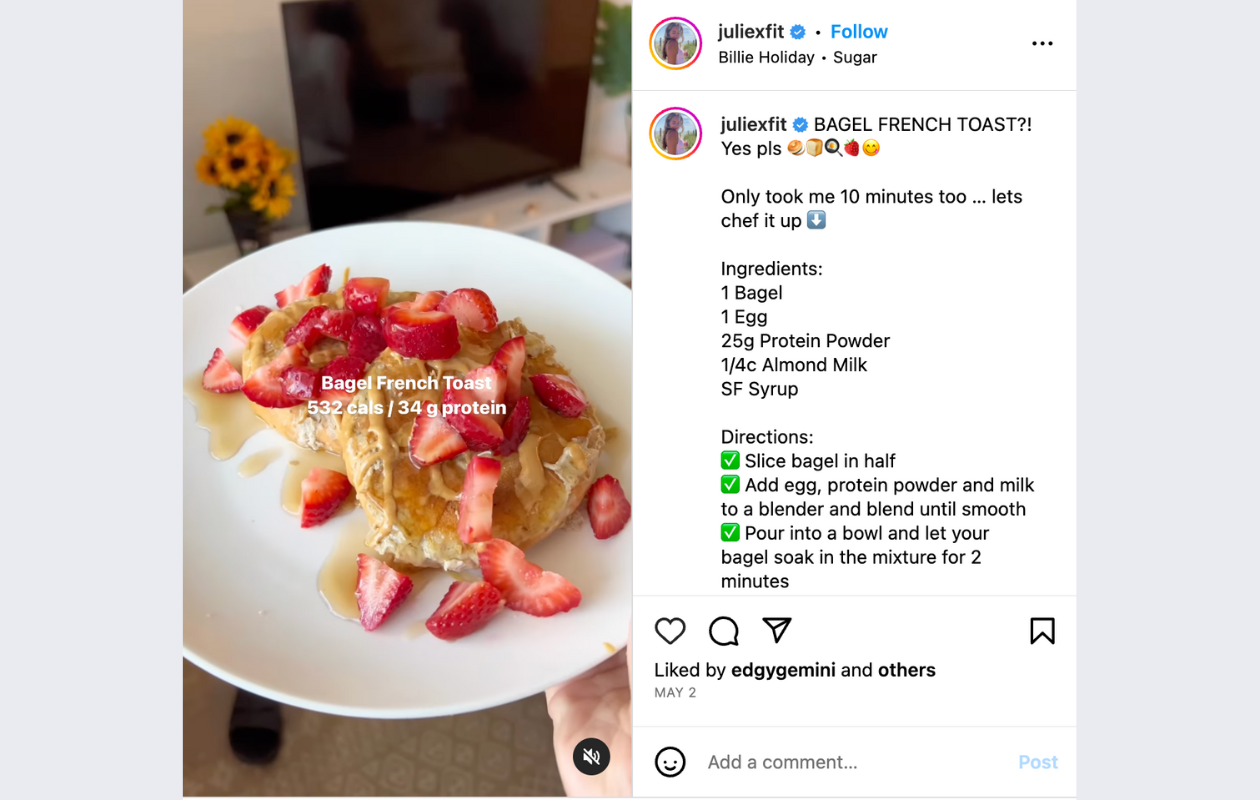 This Instagram Reels trend is perfect if you want to show the world a recipe where you integrate the use of your products or for a day in the life vlog.
So far, there are 7K Reels that use this audio.
4.17 The "feel so good" trend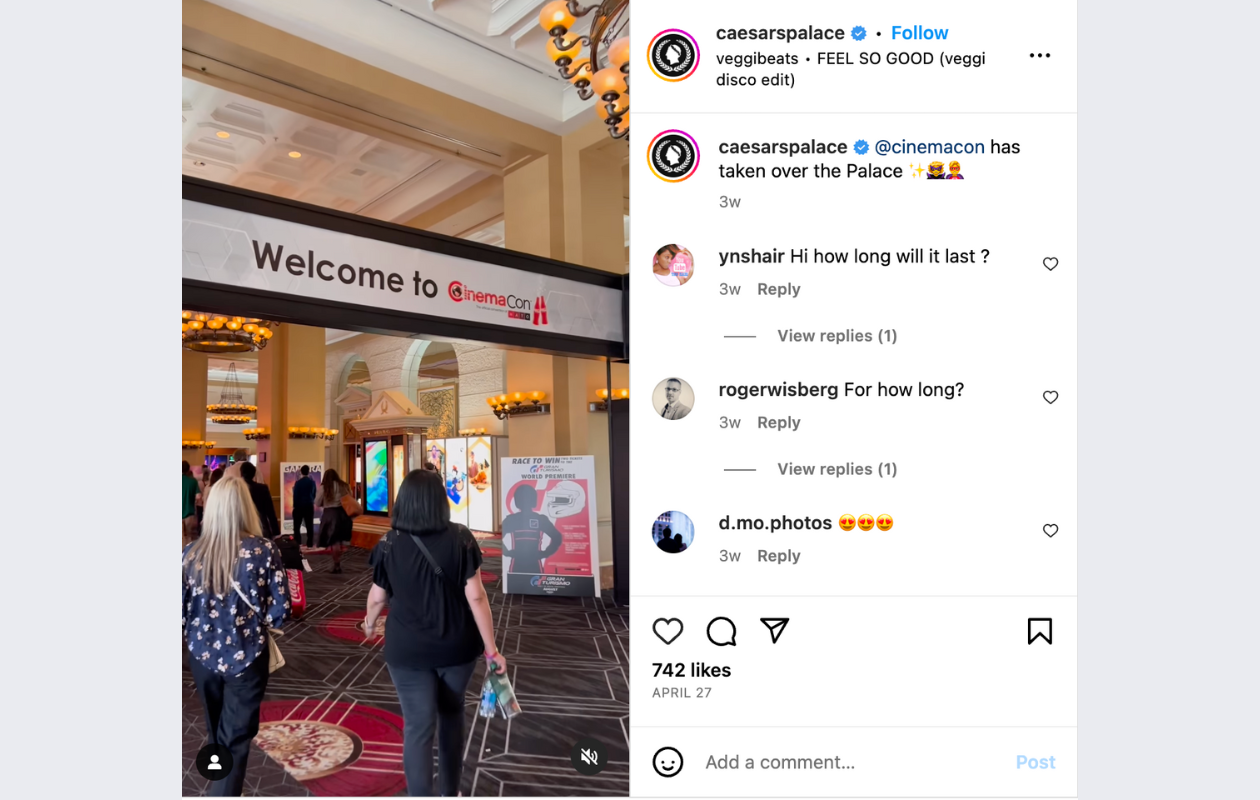 With this trend, you get the most important reminder of the day : whatever you do, always send others good vibes.
You can use this audio to highlight a special event in your life, like a product launch.
So far, there are 48K Reels that use this audio.
4.18 The "never too much" trend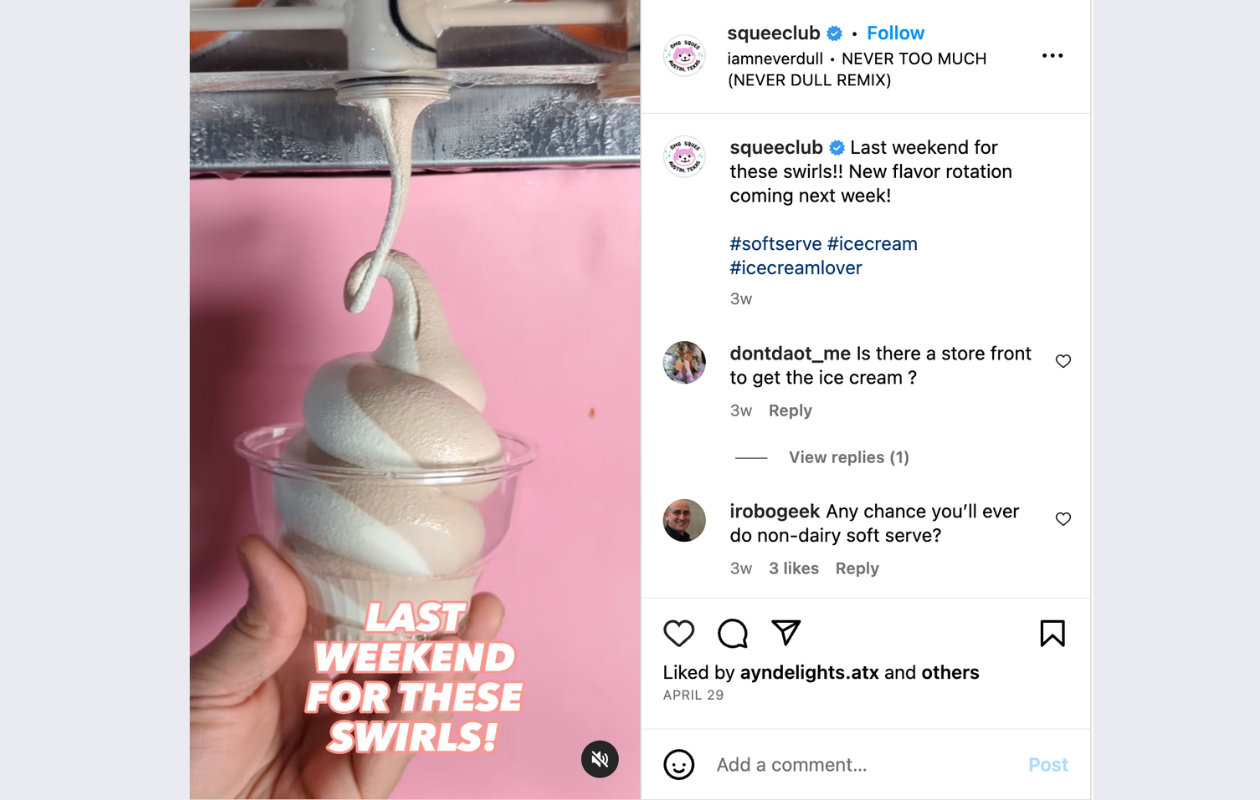 This Instagram Reels trend proves one more time that the audio is everything, helping Reels become viral. Instagram users use this audio for videos with OOTD, exotic trips, lunch with friends and more.
Get inspired first and then find a method to implement the use of this audio for your brand.
So far, there are 30K Reels that use this audio.
Reels trends in April 2023
4.19 The "marea" trend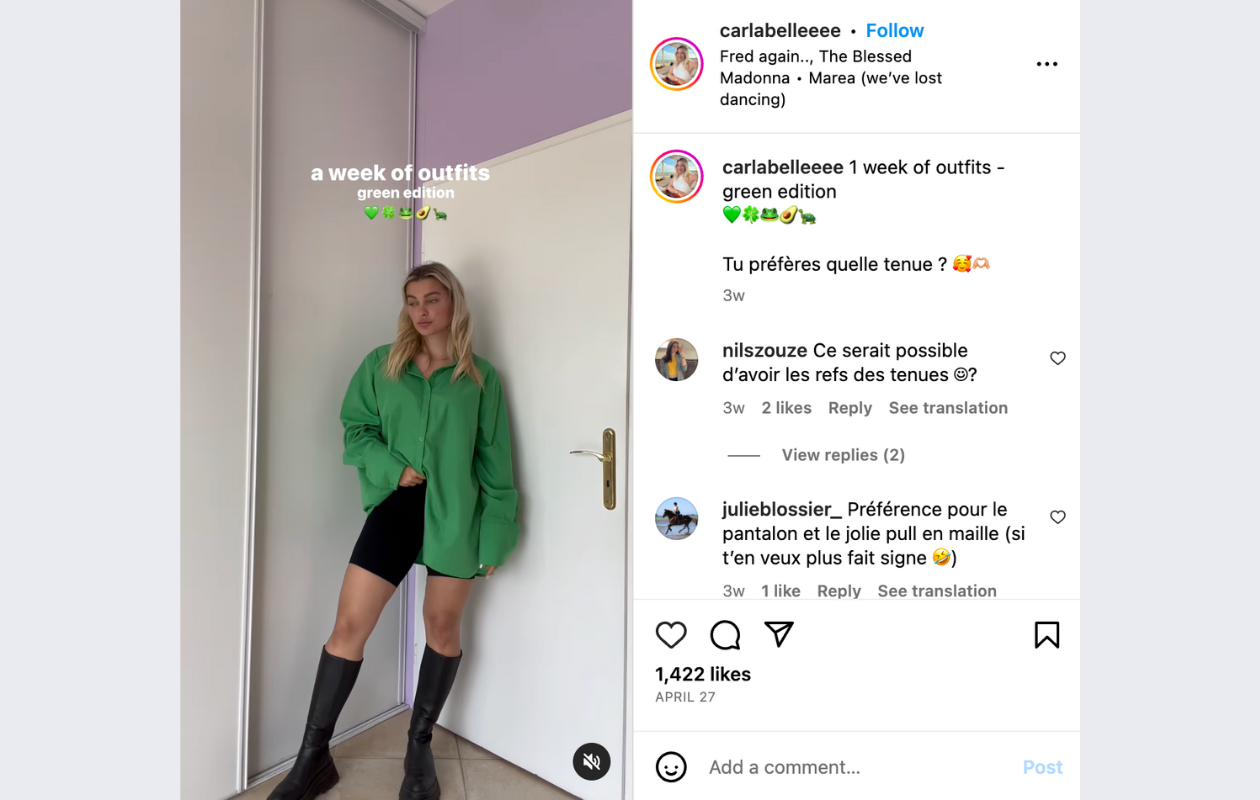 This tune is so versatile that you can pair it up with any video. You can make an OOTD Reel, one about travelling, with some fast transitions or you can use the audio to fast-forward through the diversity of your products.
So far, there are 104K Reels that use this audio.
4.20 The fantasy trend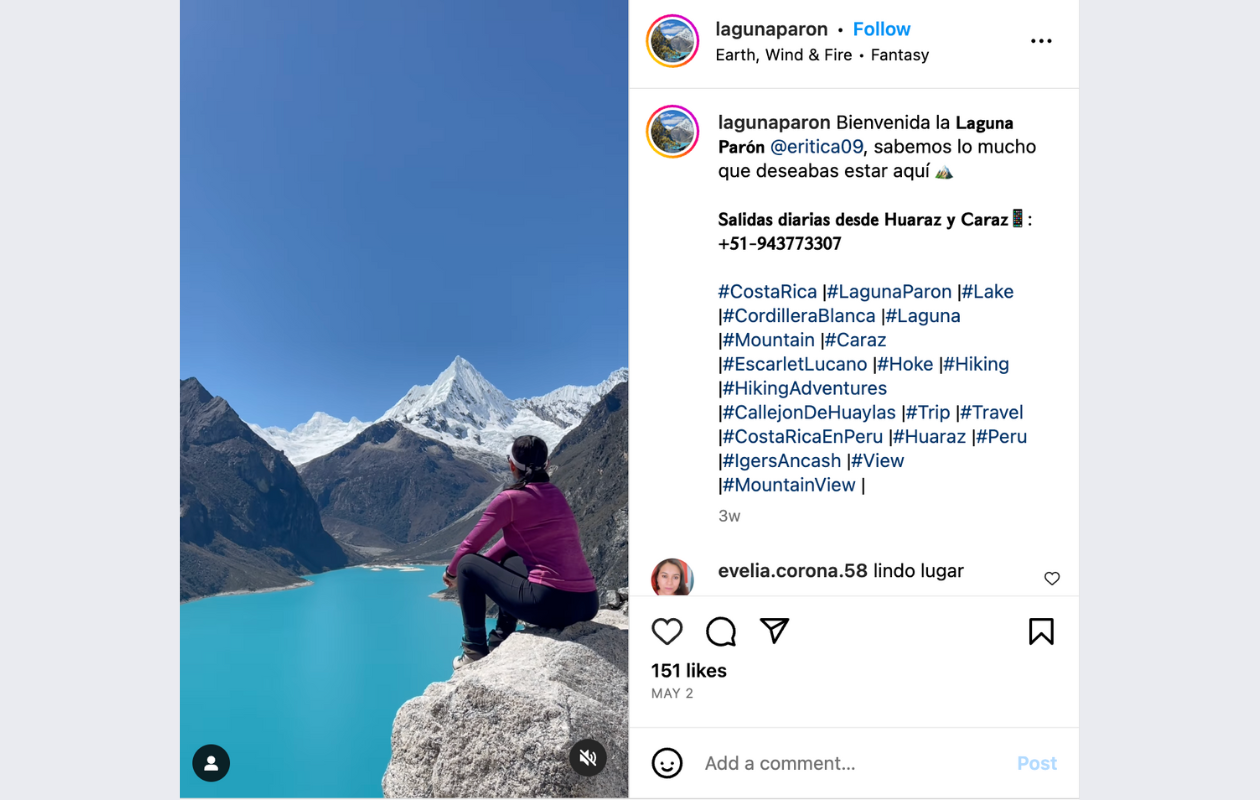 The Reels' trend using the "Fantasy" audio is still blooming. This audio is perfect for travel tips and travel videos depicting amazing places.
However, you can always adapt to the trend and find something funny to do with this tune. For example, you can record a video of how a social media manager behaves when on vacation.
So far, there are 18K Reels that use this audio.
4.21 The "still don't know my name" trend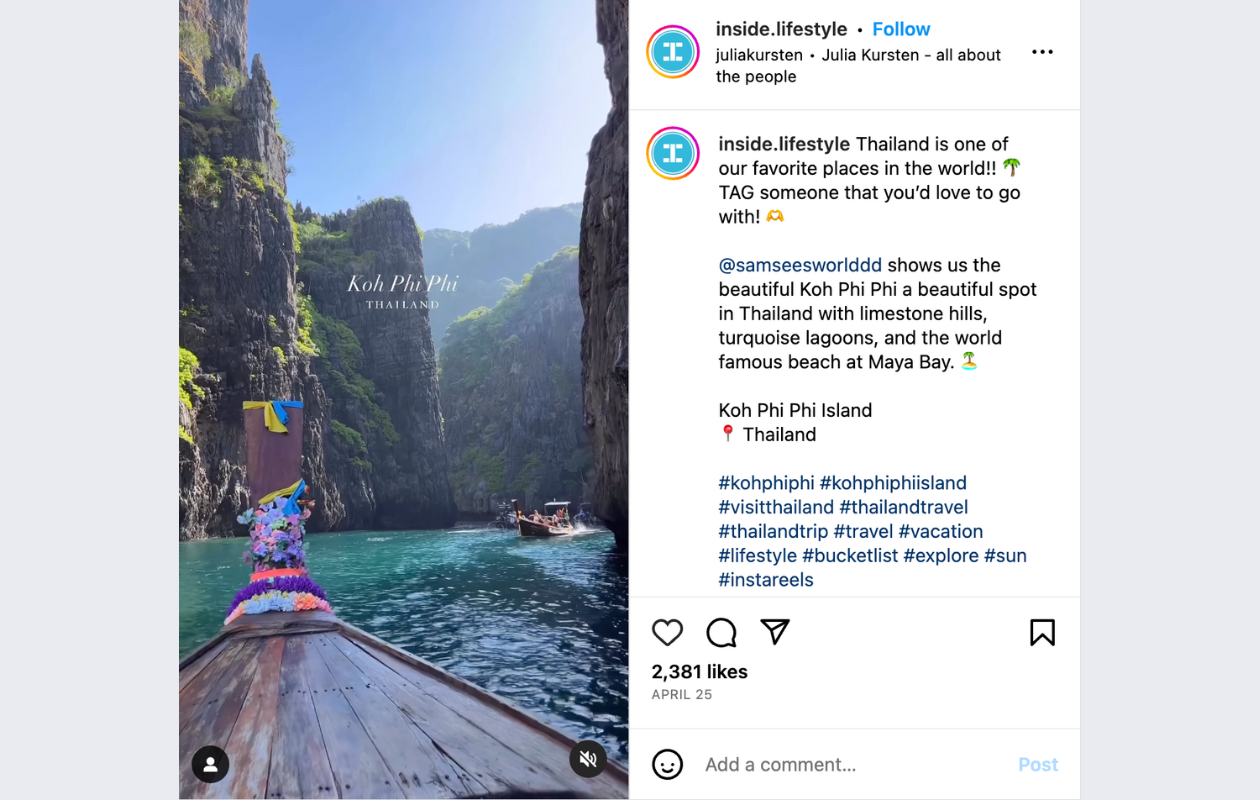 This tune can offer a lot of juice to your travel video or you can even use it when showing your audience a new recipe.
So far, there are 36K Reels that use this audio.
4.22 The "go to be real" trend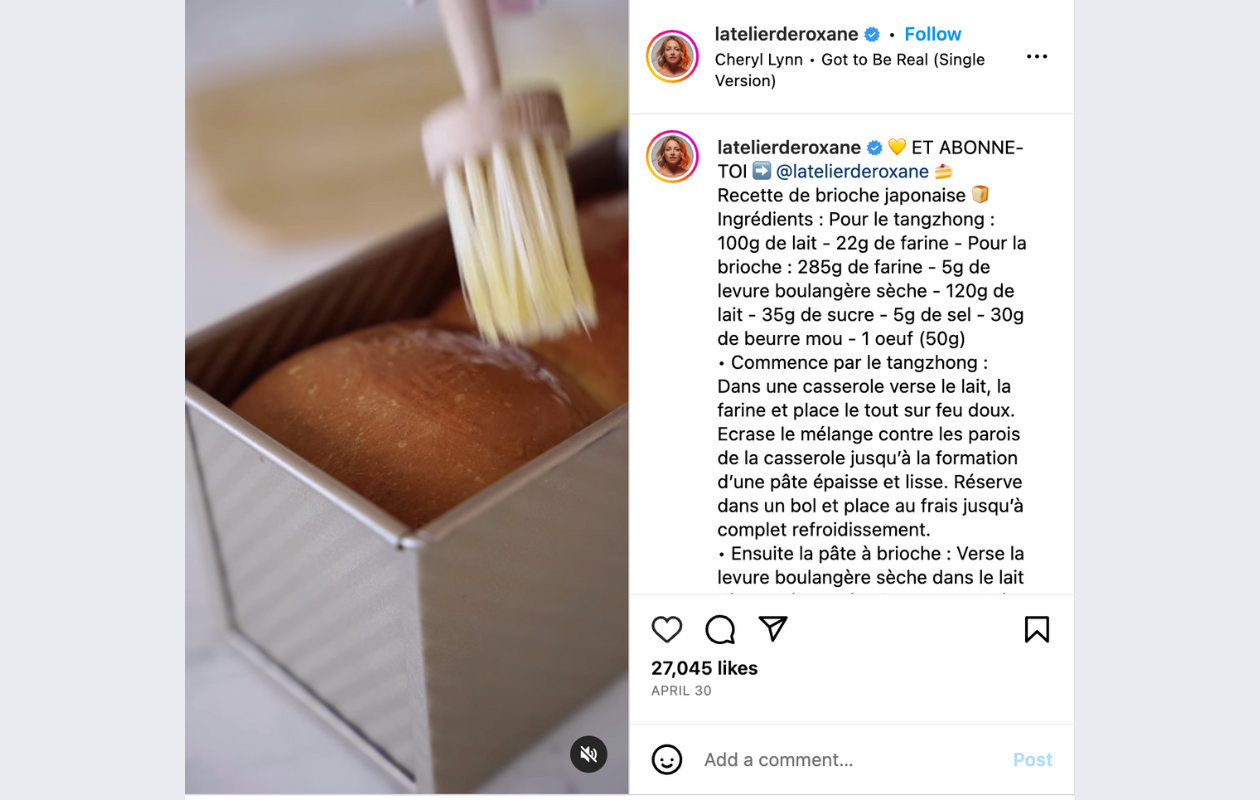 This is the right audio if you want to show everyone a special moment from your life, like graduation day, your wedding or your baby's first birthday.
So far, there are 171K Reels that use this audio.
5. How to know if your Instagram Reels are working
Everyone is raving about Instagram Reels, but how effective are they?
In our recent study, we examined over 350K Reels to determine how they stack up against other Instagram content.
In terms of engagement, we discovered that Instagram Reels have an average engagement rate of 1.95% – which is nearly twice as high as other types of content.
Moreover, Reels outperform any other form of content in terms of Reach Rate, with an average of over 20%.
But how do you know if your Reels are performing well?
According to Flick Tech, you're on the right track to going viral if a Reel has three times or more than the typical number of views.
In most circumstances, you can be sure that your Reel will go viral if it picks up steam within an hour of posting.
However, in the long run, brands may also use social media analytics tools to run an Instagram audit to better understand what matters to their audience.
To evaluate the performance of your Instagram Reels, you can use Socialinsider to track metrics such as likes, comments, shares, saves, interactions, views, and reach.
Final Thoughts
Even though it can be quite simple to follow current Instagram Reels trends, many businesses fail because they are unwilling to change their marketing strategy and are mired in old methods of thinking.
For your brand to remain relevant and grow, you must keep up with social media trends and leverage platform updates.
Hopefully, the examples we provided will get you on the viral train and help you raise brand awareness.