Since its launch in August 2020, Instagram Reels has grown to be a well-liked feature for all kinds of content among brands.
Nike gets an average of 4.6 million views per Reel.
Apple gets 6.7 million views per Instagram Reel.
And while Zara received over 150 million views on their combined Instagram Reels, H&M received 33 million views across 17 Instagram Reels.
There is no denying that Reels have become an indispensable marketing tool that you need to leverage ASAP.
In this article you'll learn how to spot viral Reels, what the latest Instagram Reels trends and songs are, how to create and optimize Reels, and how to determine whether your Instagram Reels are effective.
Instagram Reels trends in 2023
1. How to find trending Reels on Instagram?
Social media managers use Reels to broaden their audience and raise brand awareness by enabling consumers to find fresh, entertaining content.
But where do they find trending content?
1.1 Instagram's Reels tab
The first method for finding the best Instagram Reels trends is rather intuitive.
Instagram has placed the symbol for Reels towards the center bottom of the home page.
The button will launch a scrollable tab with the most popular Reels – effectively Instagram's equivalent of the For You page on TikTok.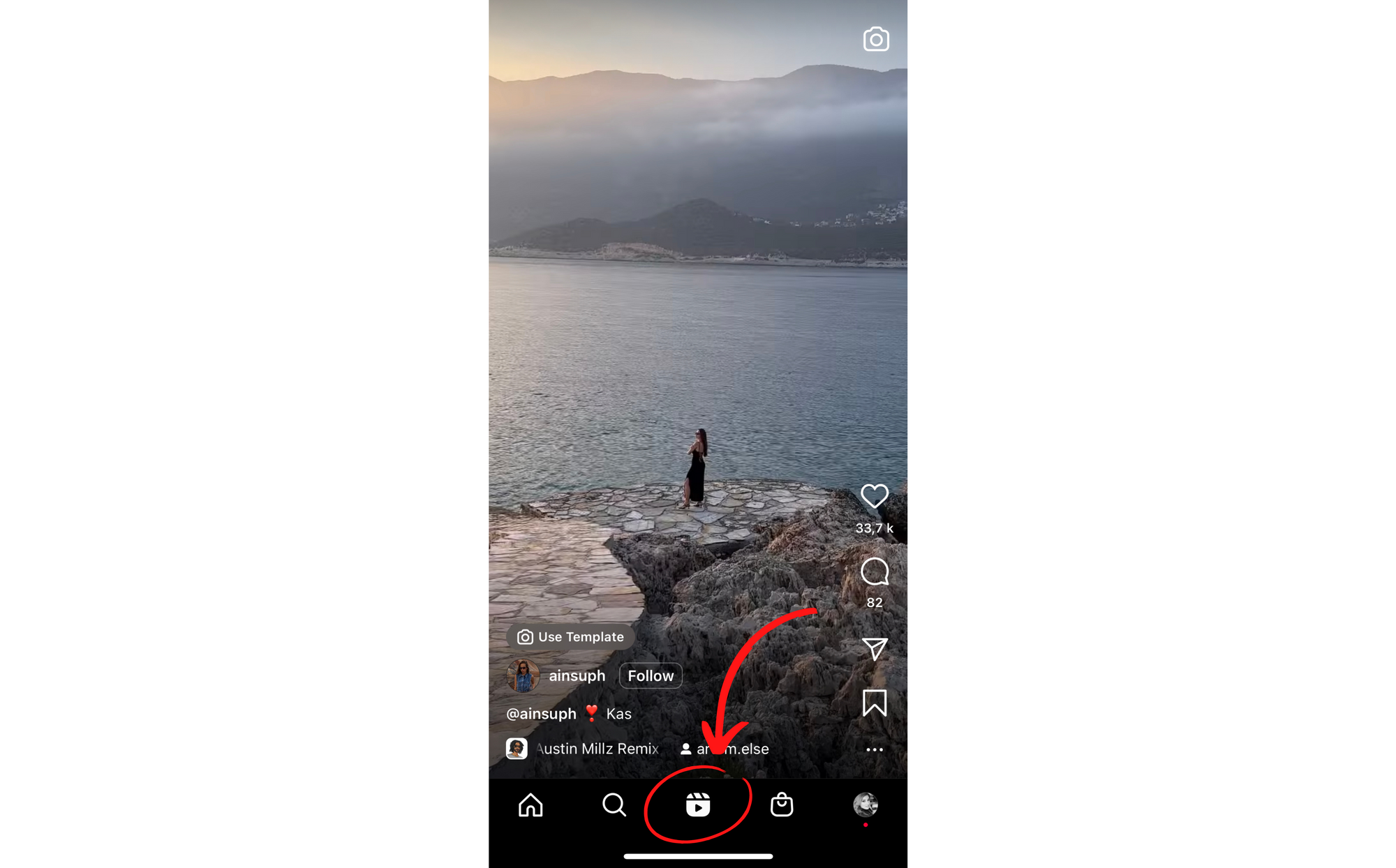 1.2 Instagram's Explore page
When starting your search for social media trends, you might find inspiration and new accounts to follow on Instagram's Explore page.
After all, 50% of Instagram users find Reels through the Explore page.
Similar to Home feed posts, the Instagram Reels algorithm ranks videos according to what it thinks viewers would be most likely to interact with.
Therefore, scrolling through the Reels that Instagram has selected for you can help you decide what viral videos to remix for your brand.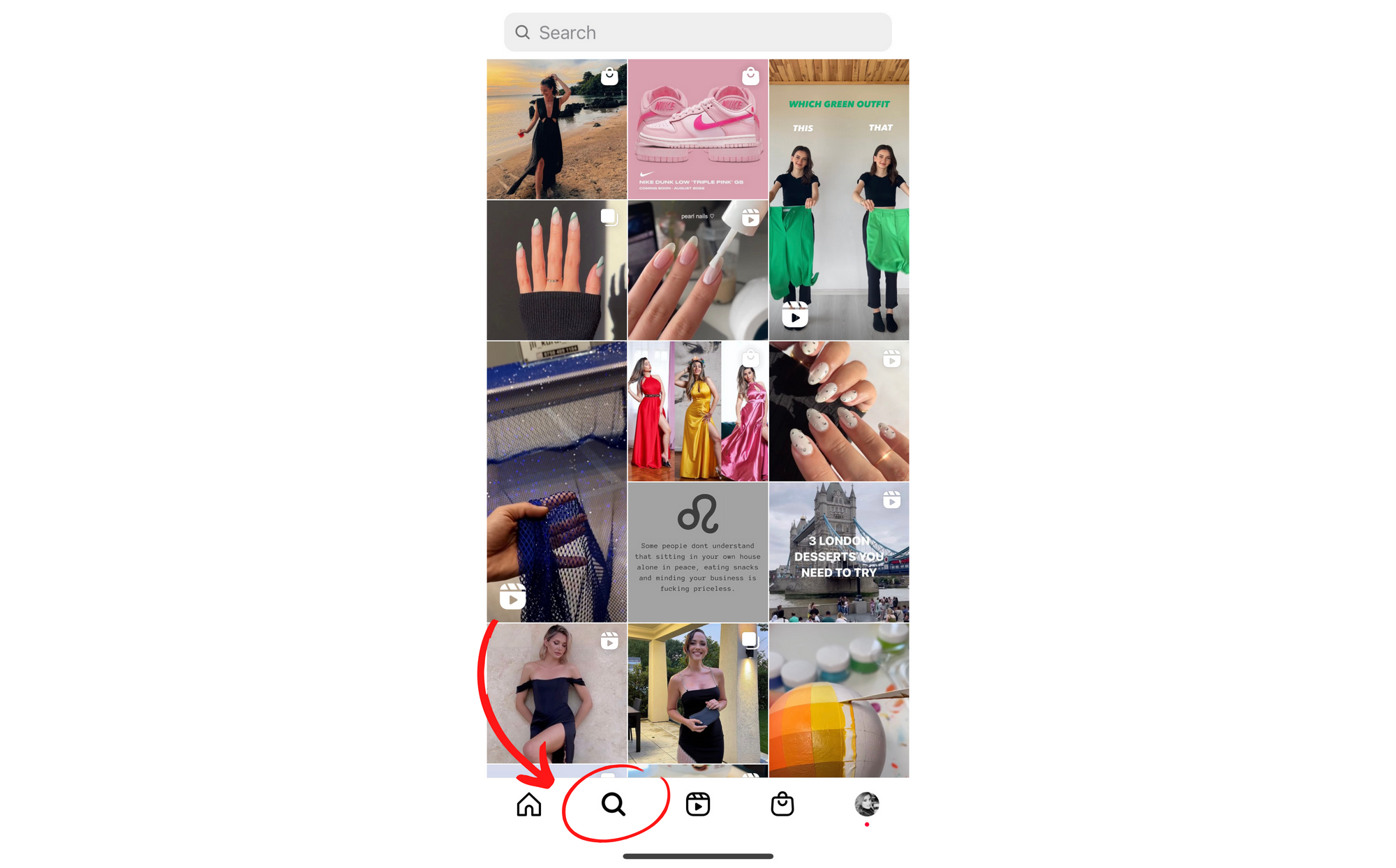 1.3 Competitors' accounts
Checking what your competitors are doing is a terrific way to generate fresh ideas for Reels.
Constantly running a competitor analysis will allow you to make better data-driven decisions rather than depending solely on intuition.
See what worked for them to enhance your own tactics. Identify their weaknesses and see what you could have done better.
1.4 Instagram's @creators page
Instagram's @creators account is any social media manager's heaven.
Instagram refreshes its @creators account with popular Reels and up-and-coming creators daily, offering helpful tips on using the app's most recent updates.
Moreover, if you click the link in the bio, a page for Instagram creators will be displayed.
You may get the most recent information on creating an online community, growing long-term, connecting with other creators, and much more.
Even more, the Creators page has a Reels-dedicated section, where experts respond to all of your related questions and release a weekly Reels Trends Report.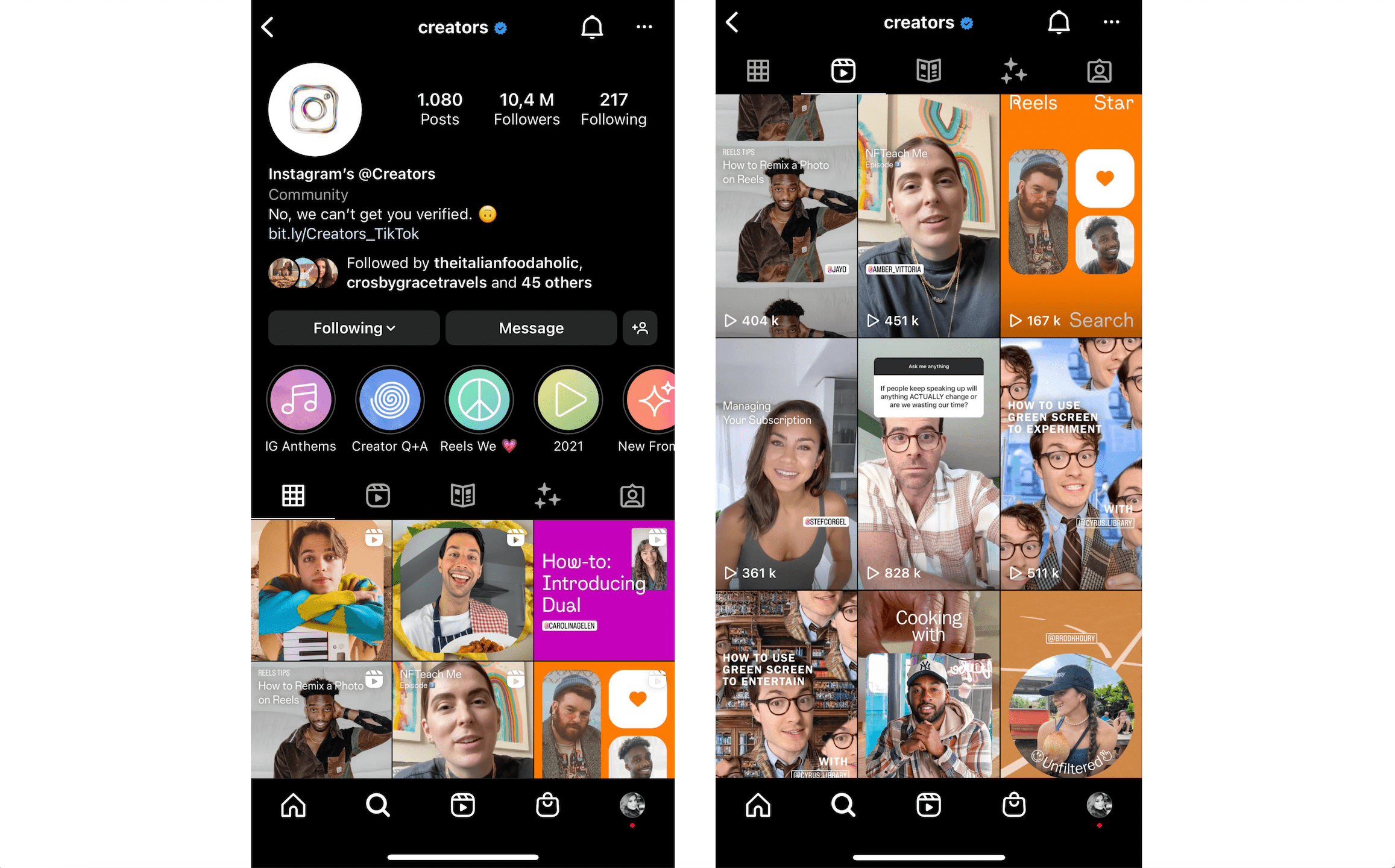 1.5 TikTok's Discover page
While TikTok is a terrific platform for creators, many marketers believe Instagram Reels are a better option for brands.
Instagram's Reels feature makes it easy for users to consume content without navigating to a competing app.
But this doesn't mean you shouldn't check a different app to get inspired.
The Discover page on TikTok is a fantastic resource because it shows various current trends and lets you see how other creators express themselves.
You can see how frequently the trend has been adopted so far by finding content from users worldwide.
1.6 Search by audio
Everything starts with a trending audio.
Your videos may have a higher chance of going viral if they feature popular Reels tunes.
You might establish a Reels trend to increase views or join one already existing if you use popular songs.
Trending audio featured in 36.7% of the Reels. The view count of those Reels was over 13 million, compared to Reels without trending songs, which only garnered around 9 million views.
There are numerous ways to find trending songs out there.
You may want to start by checking the sounds key content creators use.
You can click on the sound at the bottom of the video to see how many Reels use it and then save the audio for future videos or send it to someone.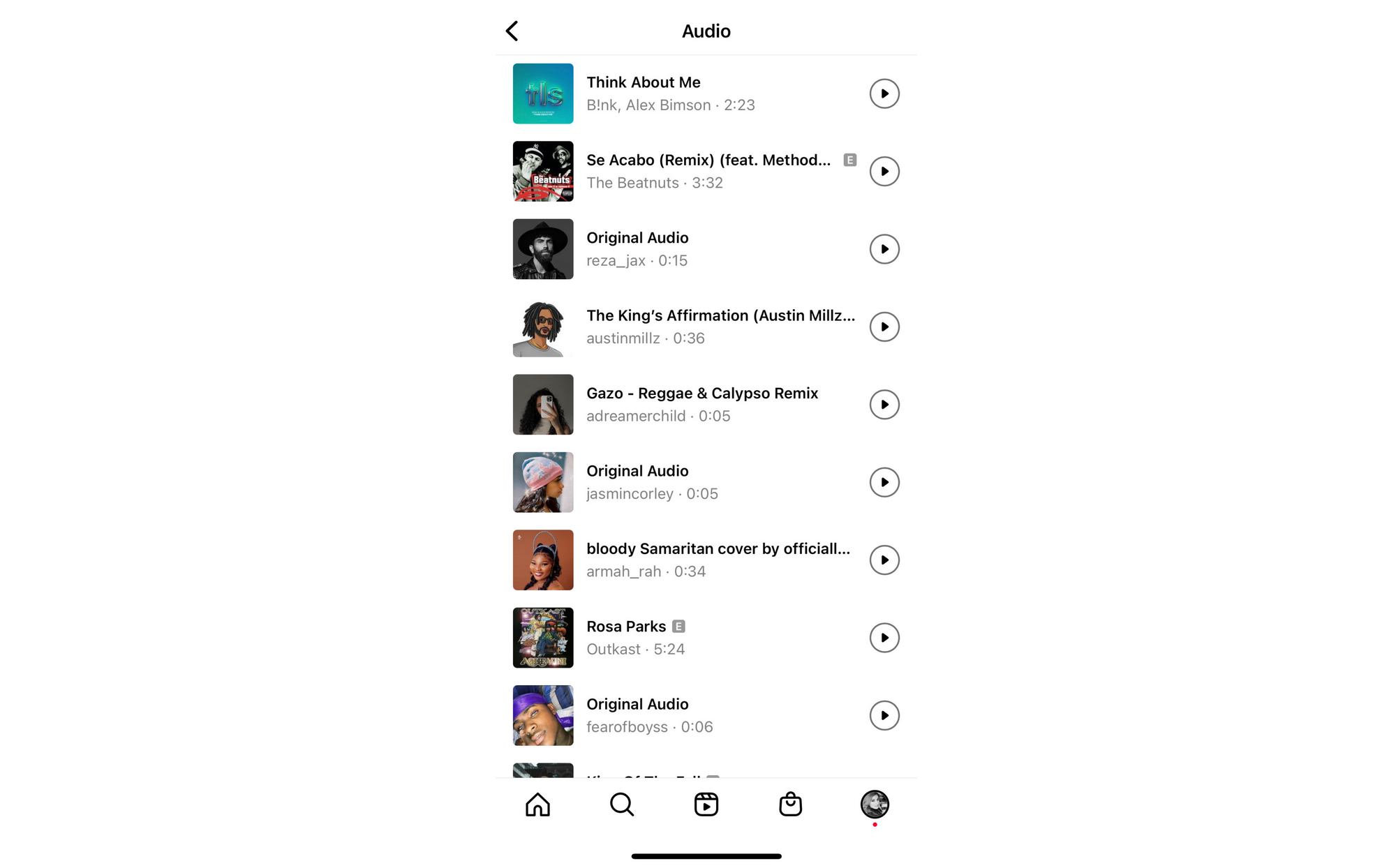 You can also check your Instagram Story Music sticker. Instagram automatically recommends songs that are popular at the moment.
Or you can simply search for TikTok Songs playlists on Spotify. They are regularly updated depending on what's new at the moment.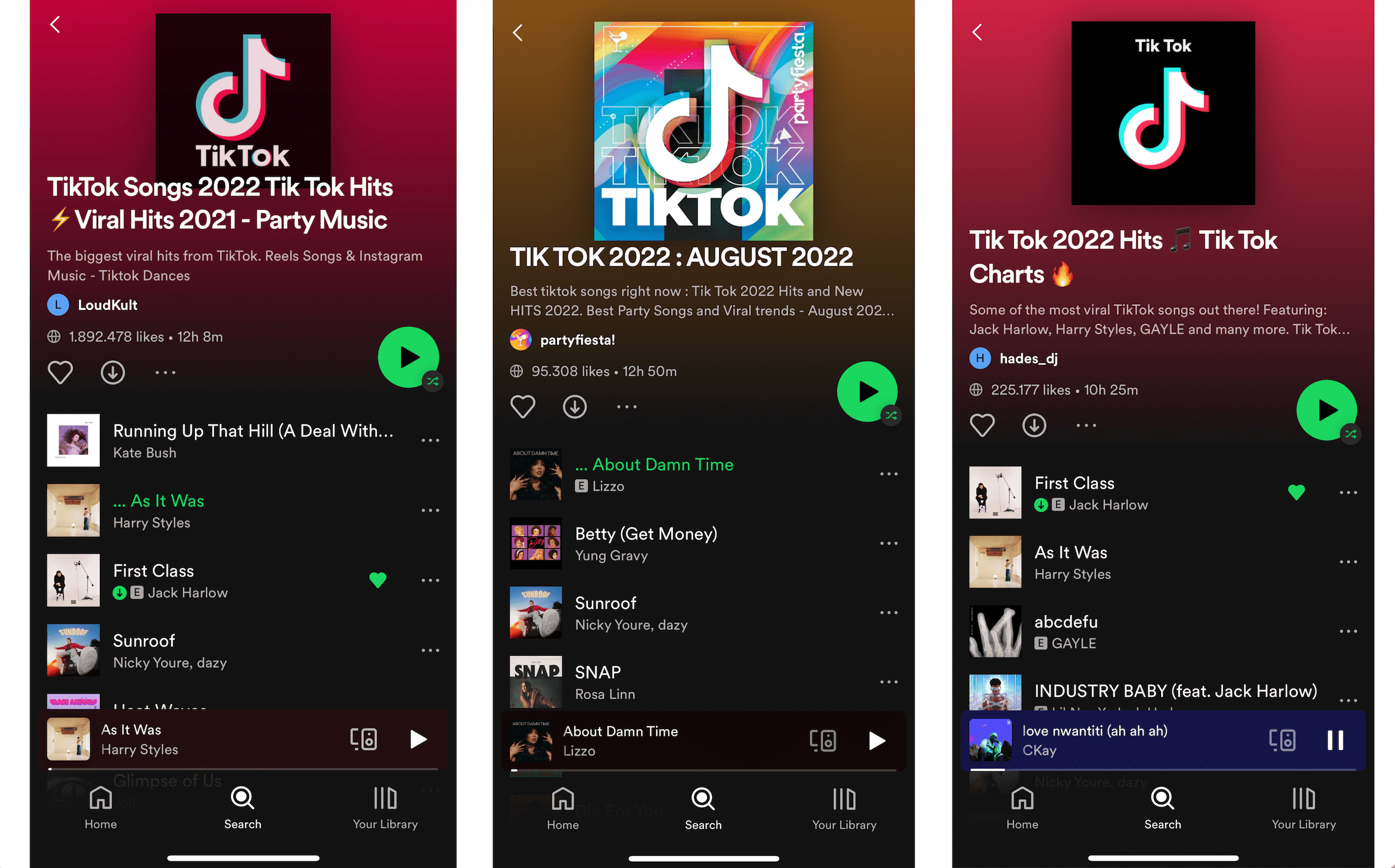 1.7 Social listening tools
A social listening tool is one of the best ways to find trending Reels.
Social listening tools typically gather mentions of predetermined keywords from throughout the web.
Social media monitoring may give you precise, high-quality insight into the attitudes and sentiments of your audience.
You may do this to establish any relevant Instagram hashtags or keywords and keep track of Reels that have the potential of going viral.
If you'd like to give listening tools a try, you might want to check these 23 social media listening tools for every budget that we've listed.
2. Instagram Reels trends & audios for brands
New feature navigation can be challenging.
Reels were only made accessible in 2020, thus little is known about how marketers can use their potential to their advantage.
Fortunately, we're here to make sure you're at the top of your game and overtake the competition.
This is why we have listed some of the brands that use Reels to generate the hottest Instagram Reels trends.
Take a look and get inspired.
2.1 The photo mix trend
Creators and marketers love this popular template, which allows users to showcase some of their greatest photos in a slideshow format.
Depending on the tempo of the audio you select, you can begin by adding 6 images to a slideshow and playing each one for 1-3 seconds.
Instead of using static images, you can also create brief video montages.
The advantage is that you can work around a ton of videos that are similar and a range of popular songs.
With Instagram's new Template feature you can easily replicate a Reel. Just click on Use template whenever a Reel you like comes up on your feed and follow the prompts.
If you have no idea what we're talking about, you might want to watch this Reel in which @whoismero creates a casual wardrobe inspiration video by pairing various clothing items in unique ways.
You can follow his example and showcase your best products or services that you offer.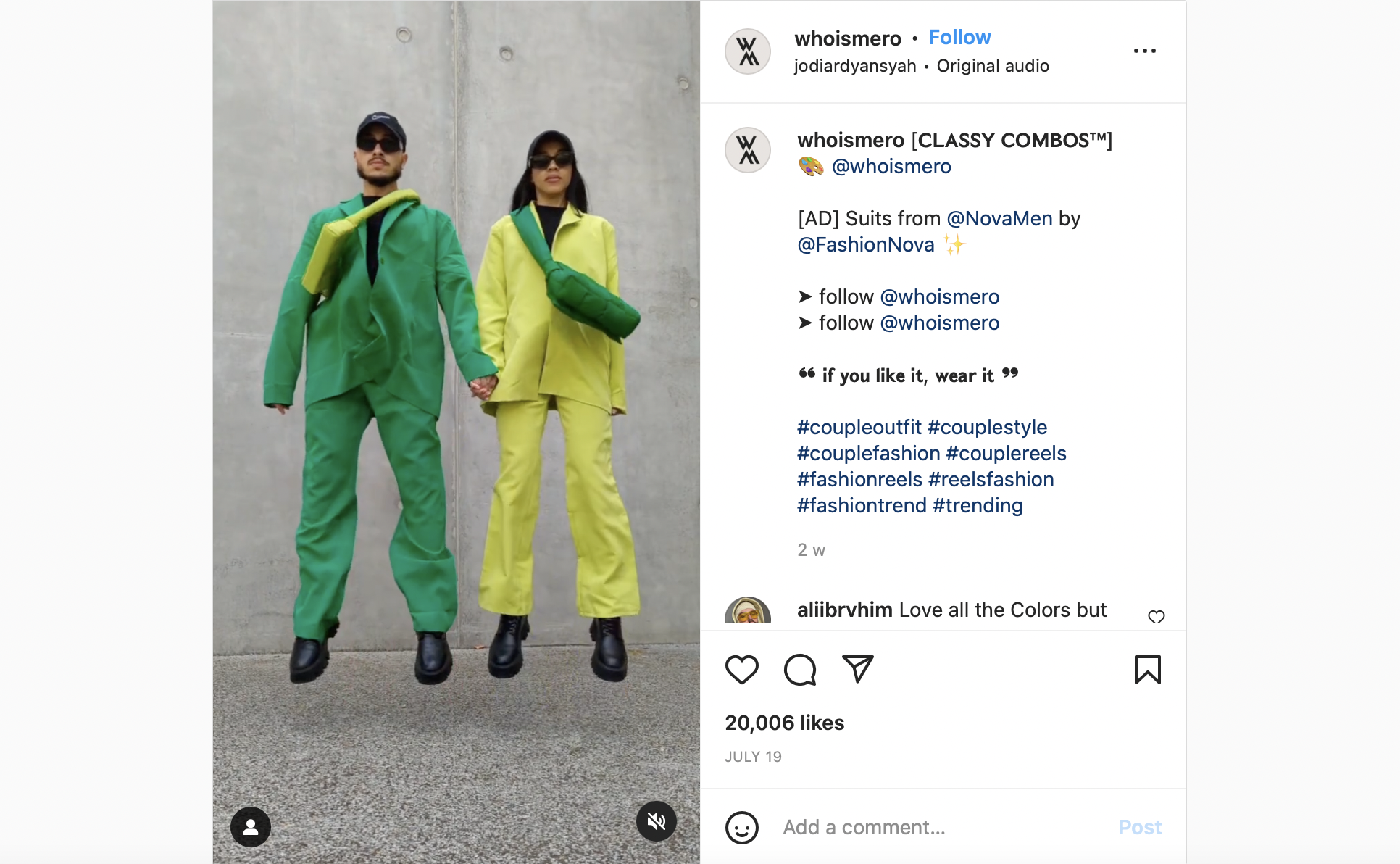 Viral audios to use for this trend:

2.2 What I ordered vs. what I got
The What I ordered vs. what I got trend has people sharing funny stories of frustration.
The #whatiorderedvswhatigot hashtag has been used more than 31K times on Instagram and continues to spark debate.
As a brand, you can use this momentum to your advantage and present your flawless products online and in real life.
@asos was one of the brands that was quick to jump on this trend and highlight its clothes.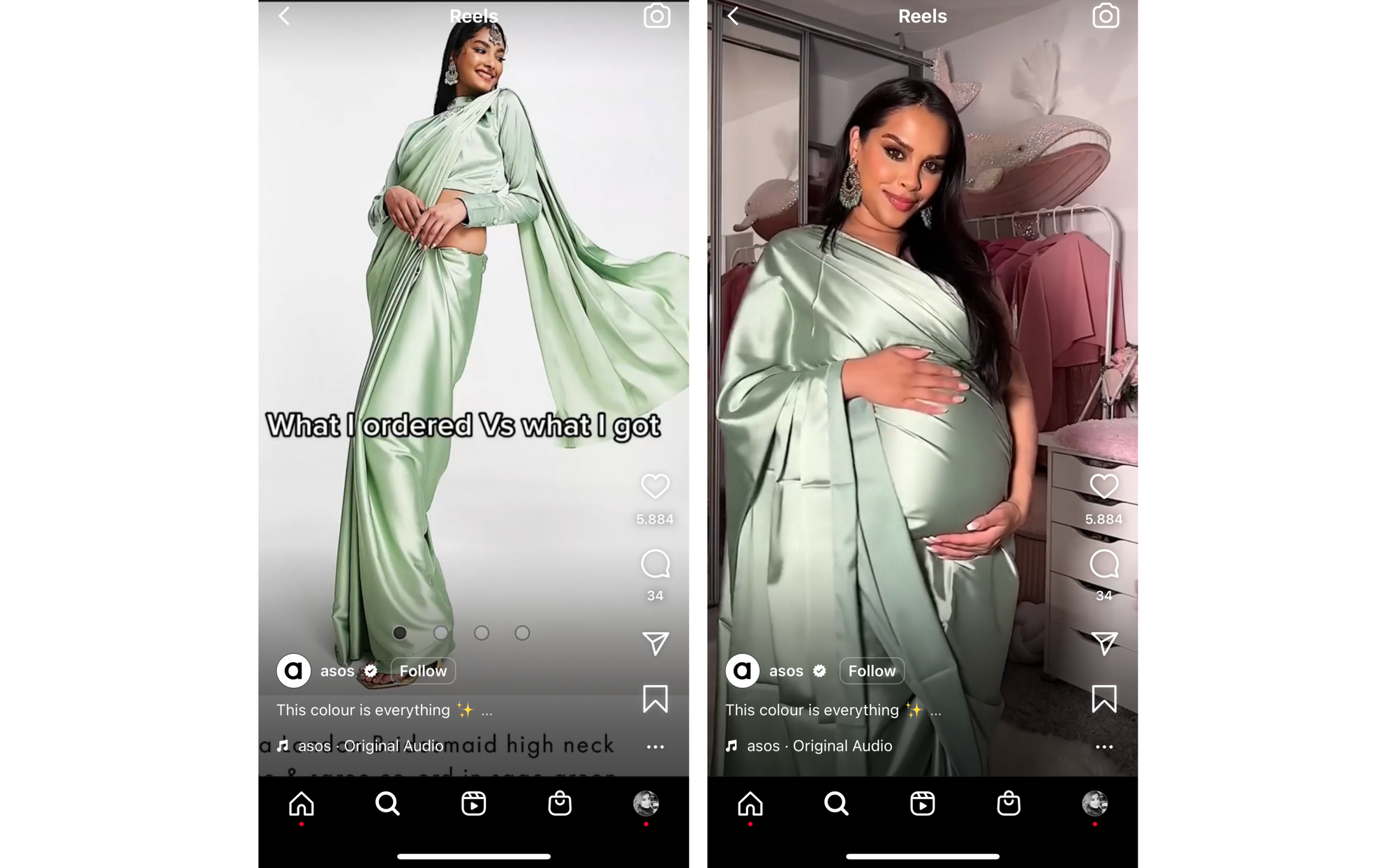 Viral audios to use for this trend:

2.3 I could've made that
Use @brock11johnson's audio in a Reel to showcase your achievements.
Film something you've created with your products, such as a work of art, a cooking recipe, or a fashion styling to demonstrate that while others might think they could have done it too, they didn't.
The audio has been used in more than 15K Reels and is a great way for smaller brands to highlight their uniqueness.
@mireiaysuscosas is just one of the artists that decided to use this audio to become viral and advertise her skills and services.
2.4 The Glitch Recap trend
With over 10K Reels using this specific sound, the Glitch Recap is one of the freshest trends in the spotlight.
You can take a shot of your open laptop with the title of your video printed in white on a black background, and then cut a montage of films together with glitchy transitions.
This way, you can display your products in an aesthetic manner.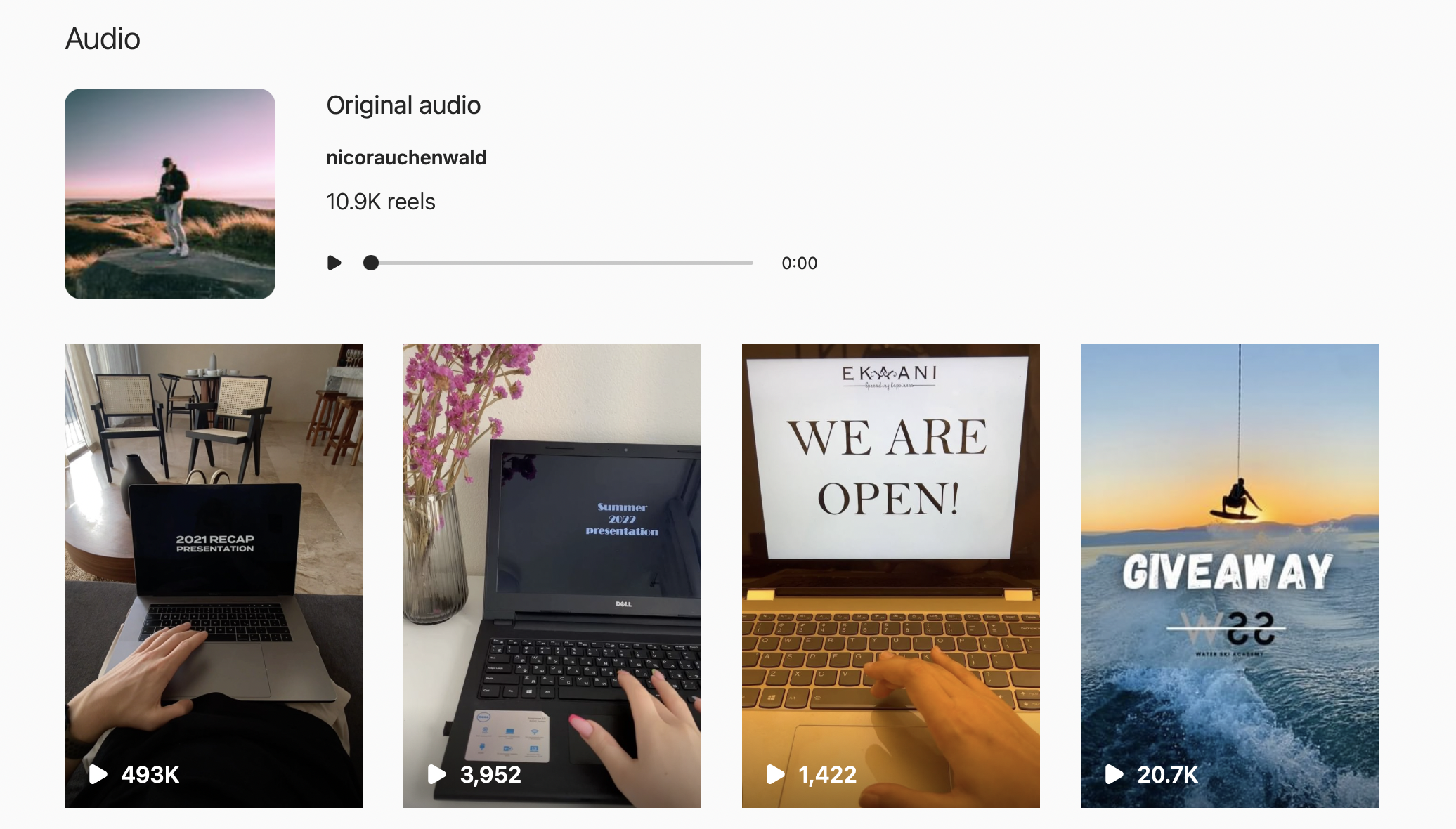 2.5 Here's your Reel
Here's a trend to follow when you're stuck for ideas yet still want to keep the content coming.
Because it was relatable, @mahdiwoodard's simple audio made it to over 127K Reels.
You could, for instance, use this sound to demonstrate how you package your products.
Consider this Reel from Bloomish, which offers a glimpse inside the process of making floral arrangements.
2.6 The Apple Pay trend
Since this audio is the repeated "ding" sound from Apple Pay, brands can get incredibly creative with it!
You can even add a quirky caption such as "My Apple Pay every week" to make the video more relatable.
This trend is especifically good for eCommerce or FMCG brands, as they can list their range of products.
@urbandessertlab uses the Apple Pay sound to display its delicious desserts.
2.7 I made this!
@kelsrfloyd's I made this! sound quickly became popular amongst small brands who wanted to showcase the effort they put into their products.
The beauty and cosmetics company @skincarebysye uses this audio to take its followers on the adventure of filling up the bottles with vibrantly colored lotions and scrubs.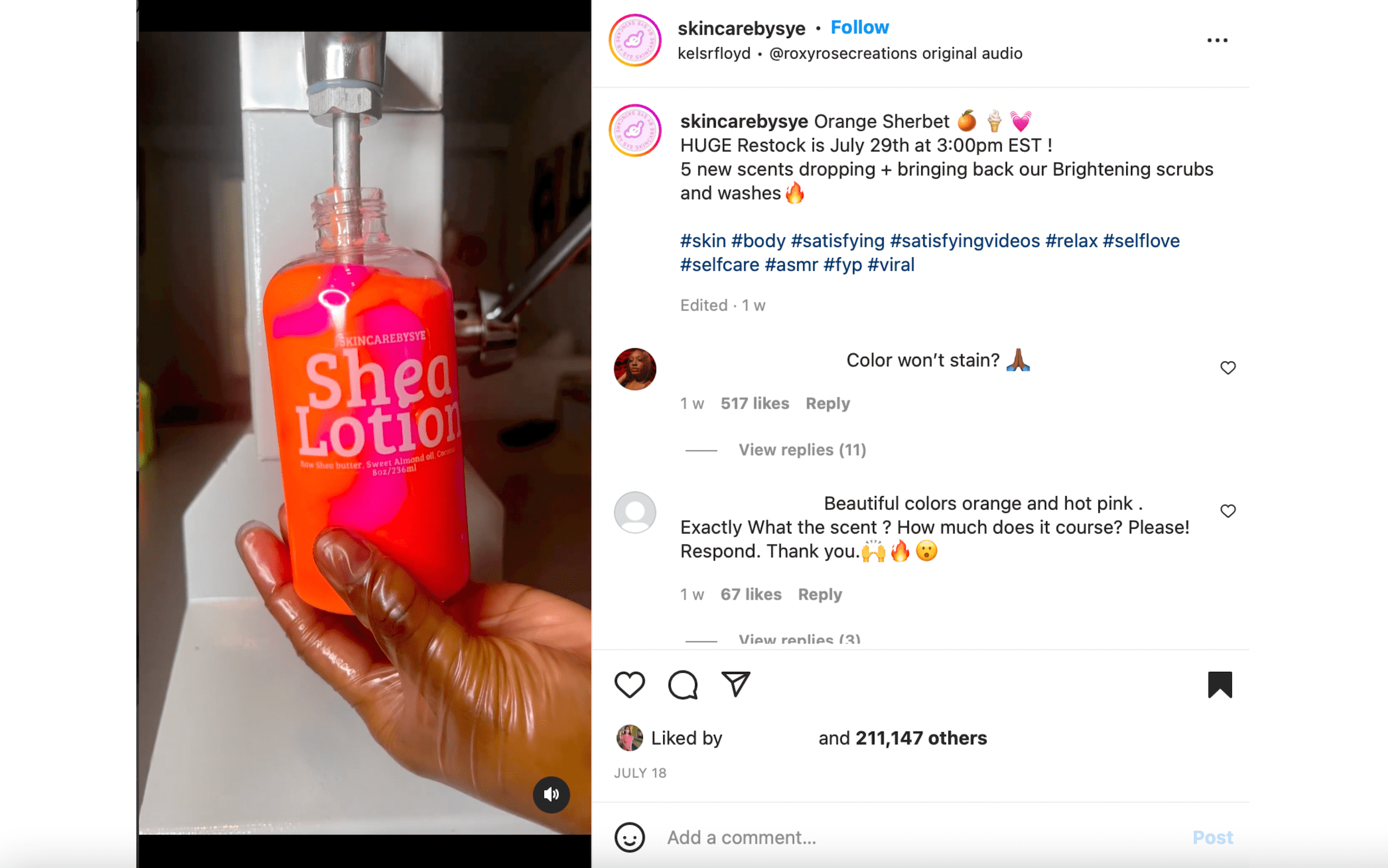 3. How to make trending Reels on Instagram?
Even if you've never used this feature before, creating an Instagram Reel is no rocket science.
You simply need to hit the + button at the top right of your phone to access a number of options. You then have to press the Reel button at the bottom right of your screen and explore with endless creative options.
You can either create a Reel in-app by holding down the record button or upload a movie that's already stored in your gallery.
If you're a social media manager and curious to experiment with Reels to make your brand stand out, you might want to check these Instagram Reels Ideas for Brands Across 10 Different Industries first.
However, simply creating the Reel is not enough to make it viral. You will need to optimize your Reels to fit the algorithm. You can do so by following expert advice or including trending songs.
Instagram advises using a 9:16 aspect ratio, a maximum file size of 4GB, a maximum running time of 90 seconds per Reel, and a maximum of 60 seconds for Reel ads.
4. How to know if your Instagram Reels are working?
Everyone is raving about Instagram Reels, but how effective are they?
In our recent study, we examined over 350K Reels to determine how they stack up against other Instagram content.
In terms of engagement, we discovered that Instagram Reels have an average engagement rate  of 1.95% – which is nearly twice as high as other types of content.
Moreover, Reels outperform any other form of content in terms of Reach Rate, with an average of over 20%.
But how do you know if your Reels are performing well?
According to Flick Tech, you're on the right track to going viral if a Reel has three times or more than the typical number of views.
In most circumstances, you can be sure that your Reel will go viral if it picks up steam within an hour of posting.
However, in the long run, brands may also use social media analytics tools to run an Instagram audit and understand better what matters to their audience.
To evaluate the performance of your Instagram Reels, you may use Socialinsider to track metrics such as likes, comments, shares, saves, interactions, views, and reach.
Socialinsider has recently integrated insights for Reels, so you can effortlessly track their success in-app.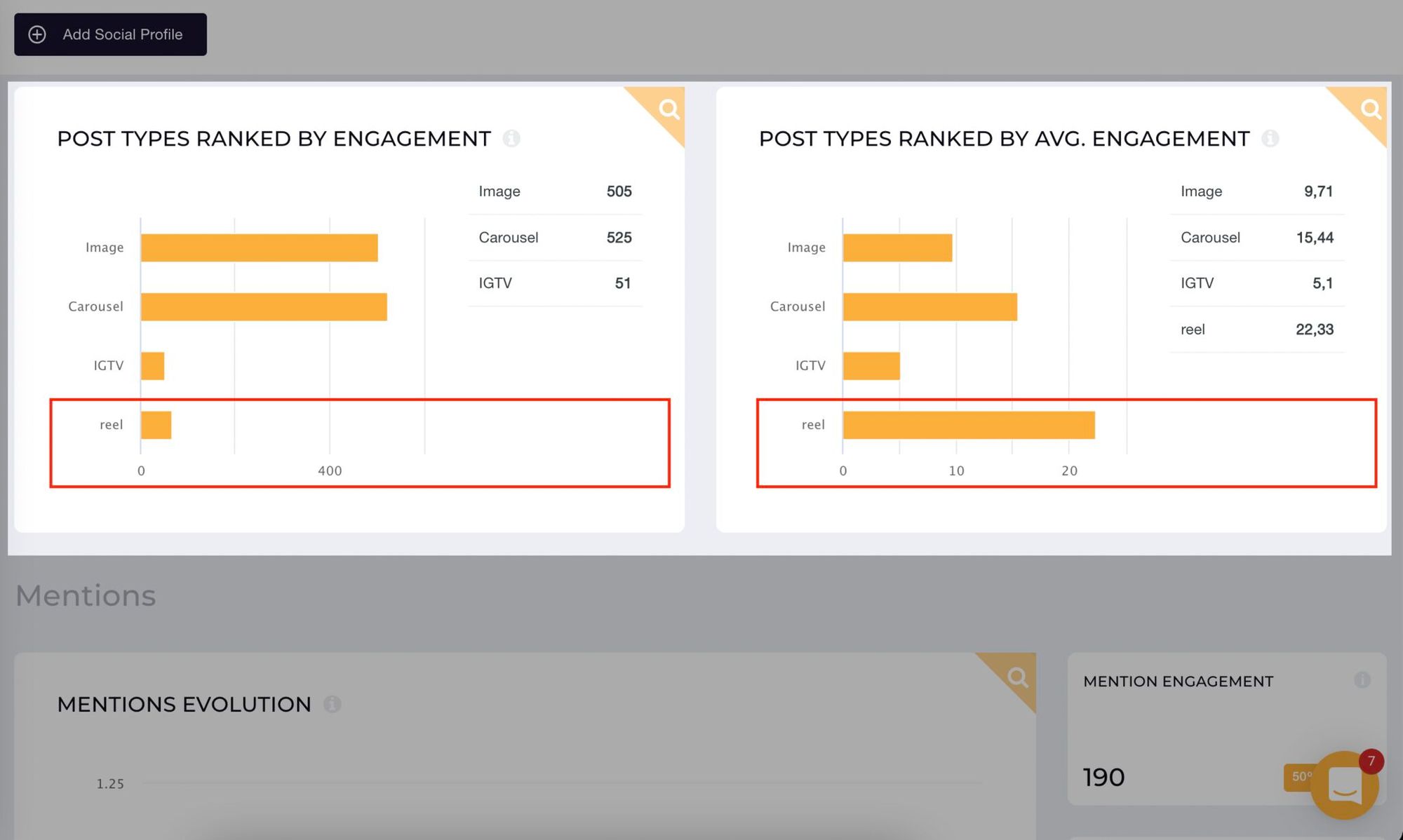 Final thoughts
Even though it can be quite simple to follow current Instagram Reels trends, many businesses fail because they are unwilling to change their marketing strategy and are mired in old methods of thinking.
For your brand to remain relevant and grow, you must keep up with social media trends and leverage platform updates.
Hopefully, the examples we provided will get you on the viral train and help you raise brand awareness.