How are your Instagram metrics looking like lately? Are they rocking, are they mediocre, or utterly disappointing?
Well, fear not if your account falls into one of the last categories. Many mid-size businesses struggle with exactly the same issue as you do. But, nonetheless, you should look forward to making those numbers rise and shine.
Why?
Well, Instagram is one of the best social media platforms for brands because it focuses on visual content and offers many ways to engage with the audience. You can share stories, user-generated content, videos, ads, influencer campaigns, and all these can bring you generous profits.
However, it's important to know how your brand message is received and how people interact with it. Understanding Instagram analytics can help you interact better with your audience and set actionable goals that can boost your ROI.
Mid-sized business owners often work on a restricted budget, so for them, it's important to find a balance between features and cost when choosing an Instagram analytics tool.
That's why today, I'm going to share with you key tips on how to choose the right analytics solution for your business needs.
Let's dive straight in.
Key tips on how to choose the right Instagram analytics app for your business needs
1. Why every social marketer should check the company's Instagram Analytics
2. Types of Instagram analytics you should look at
2.1. Profile analytics
2.2. Single post analytics
2.3. Audience analytics
2.4. Stories analytics
2.5. Hashtags analytics
2.6. Paid promotion analytics
2.7. Compare competitor analytics
3. How to choose the right Instagram analytics tool for your business
---
1. Why every social marketer should check the company's Instagram Analytics
Well, if you haven't cared too much about Insta Analytics, you should start paying more attention to those numbers from now on.
According to TechCrunch, in 2017, there were more than 25 million business profiles at the time on it, and over 200 million users visited those profiles daily. Since then, we are informed that 80% of Instagram users visit at least a business profile daily.
This makes it clear how Insta can make or break the success of your advertising and marketing campaigns. But if you have no idea who views your posts, stories, ads, how successful and appealing are these to your audience, you're wasting both time and money. And this is the last thing mid-size enterprises on a limited budget need.
What can you get out of paying more attention to your Instagram metrics?
You'll be able to find out if you're targeting the right audience – target the wrong audience that will never be moved, impressed, or interested by your content is a surefire way to ruin your ROI.
Find out if you're posting at the right time and at the right frequency – there's no size fits all when it comes to the best time to post. Make sure you consider your type of business, gender's location (read time zone).
Find out what content works for your page – not all content is created equal. For some businesses, video content seems to perform better and help them engage better with their audience.
Find out who is mentioning you on Instagram – by having a closer look at your Insta Analytics, you can figure out who mentions your business, their consumer profile, and more detailed insights on each mention.
Find out how you can boost brand engagement – when you know your audience in detail, making the most of that information will help you engage and interact better with it. Find out their likes, dislikes, product preferences, and type of message, and content they prefer. Some pieces of advice from professional writing agencies or grammar editors (Grab My Essay, Grammarly, Studicus, Hemmingway Editor, or WoWGrade) will come in handy when you want to get the perfect tone for your content and audience.
Find out what hashtags bring the most audience engagement – we're going to tell you from the beginning. #love is the best hashtag you can use in your content, but only if it's relevant for your account. It seems to bring the most likes and content views.
Instagram analytics and metrics can help businesses improve all the above. Take a look at those more regularly than you're currently doing it, and we guarantee the success of your Instagram marketing campaigns will improve tremendously.
2. Types of Instagram analytics you should look at
Of course, you can't just pay attention to one metric and expect to know how to change and adapt your campaigns. To max out the success of your efforts, ensure you take a closer look at the following:
2.1. Profile analytics
The easiest to reach and analyze is Instagram profile analytics. These can be easily accessed through your "My Profile" page. Here you will find analytics from the last week.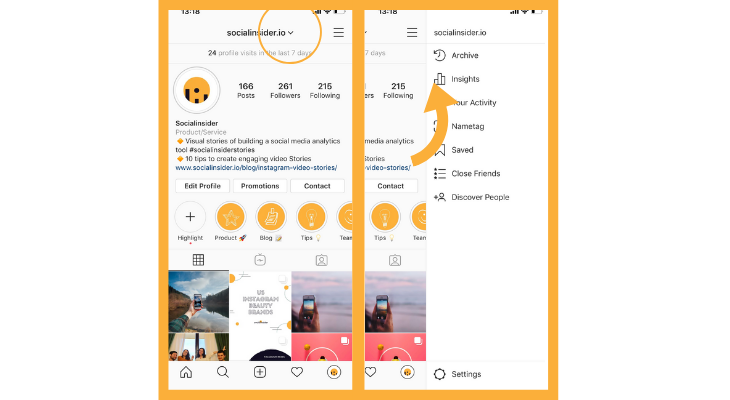 If you haven't thought too much about these metrics, below we'll share what analytics your profile features.
Profile visits – here, you will see the total number of visits of your Instagram profile from the past week.
Profile mentions – how many times your account has been mentioned by other Insta users.
Profile impressions – how many times your posts have been viewed during the past week.
Profile reach – how many unique accounts have seen your posts.
Website clicks – the number of times users have reached your website from your account page.
Profile interactions – the number of actions (clicks, taps, etc.) that happened on your account.
Call or email clicks – how many times have visitors used the call or click buttons on your profile page.
2.2. Single post analytics
Now, that you have a general view of your profile's metrics, you can get down to details. In the single post analytics section, you'll find more information on how your audience receives the message of each of your posts.
Paying attention to these metrics will help you create content that works better for your audience. Here's what you can have a closer look at.
Follows - here you can see how many followers a certain post has generated you.
Impressions - see how many times a single post has been visited, and see from where your audience has viewed your content: the home page, hashtags, profile, or other sources.
Reach - check how many unique accounts have reached the posts you share.
Discovery - everybody is now familiar with Instagram's Discovery function. All accounts can now be discovered by using this function and this data will show you how many non-follower unique accounts have reached your profile by using it.
Interactions - everything your post visitors do while on your post will be reflected here. You can see if they visited your profile from there, whether they accessed a hyperlink from there or if they have made emails, by using the dedicated function.
Saves – if you're familiar with Instagram, then you know each user can save posts and content to their personal folders. Luckily, there is a section where you can see how many unique accounts have saved a post of yours.
Comments – this is pretty straightforward, but you'll make a better idea what type of content generates more comments for your account.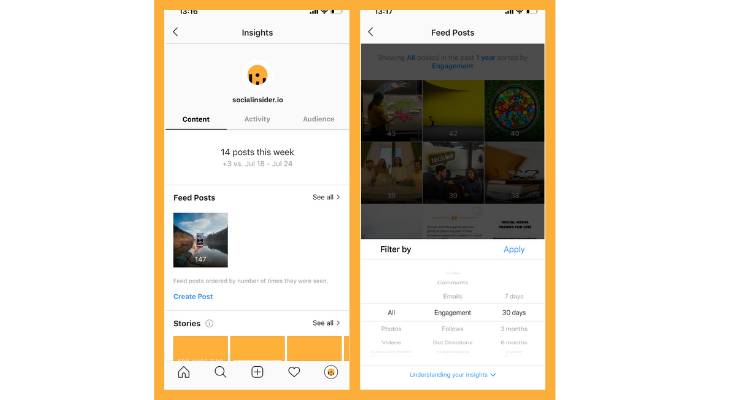 2.3. Audience analytics
Are you in the mist how to target the right audience with your Insta profile?
Then, take a closer look at your audience analytics. You most probably have a clear idea who your ideal audience is, but make sure it reflects in reality. See if those who view and interact with your posts are the same you describe as your target audience. The audience metrics can help you determine your public more accurately.
Here's what info you'll have access to:
Your audience's age - see in which category the largest part of your audience falls into 13-17, 18-24, 25-34, 35-44, and so on.
"Knowing exactly how old your followers are, allows you to generate better content for your Instagram profile, adapt your tone and message, and get closer to them", says Abigail Spencer, a head of the Social Media Department at Trust My Paper.
The gender share of your audience - knowing exactly how your audience is split by gender can offer you some valuable insights and help you set some actionable, achievable goals.
Your audience's location. Knowing the geographical distribution of your audience will help you tailor better, more targeted Instagram posts and boost the success of your campaigns. By accessing the top location metrics on your account, you'll see the top five cities and countries where your followers come from.
Follower hours and follower days metric - we mentioned in the beginning that not all hours or the days and not all days of the week are just as good to share new Insta content. The follower hours and follower days metrics will help you determine those. All businesses are different, so take a closer look at this data. Schedule your content accordingly.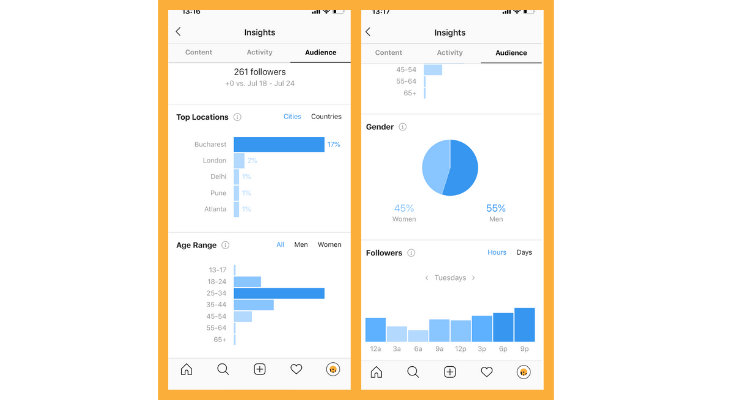 2.4. Stories analytics
Please, please, please, use Instagram stories, if you're not doing it already. These have a huge potential in generating more views, helping you engage with your audience better, and raise brand awareness.
The data you can access once you start using this function intensively is listed below:
Impressions – once again, the number of total views of each of your stories.
Reach – see above, this reflects pretty much the same type of info, but for stories.
People insights – here you'll find the accounts that viewed a certain part of your stories.
Exits – not all people finish viewing stories on Insta. It's a good thing you can see the real number of those who behaved similarly.
Replies – and, finally, the number of replies people left on a particular story.
2.5. Hashtags analytics
Using the right type of hashtags is the simplest way to grow your account. Invented in 2007, it has taken over the social media platform and has become what we know today: a powerful marketing and advertising tool. Depending on what hashtags you use, you can get a better look at how good these perform.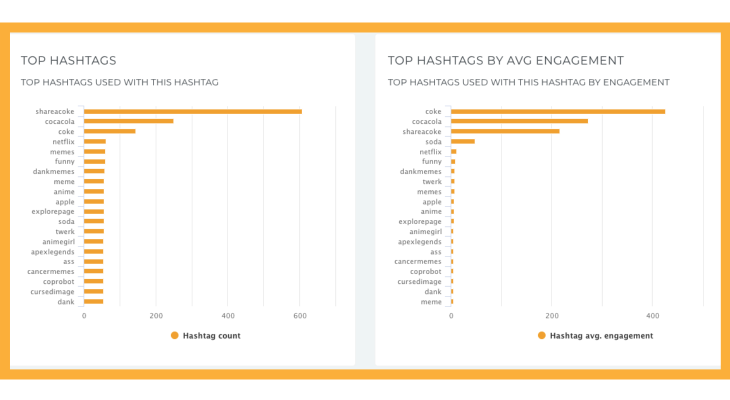 2.6. Paid promotions analytics
Insta Ads grow in popularity, and for good reasons.
They can boost your market reach, audience reach, and ultimately ROI. Once you access the ad charts available for your Instagram Ad campaigns, you'll see metrics for performance, demographics, and placement. These should be interpreted like the ones which we have detailed above.
2.7. Compare competitor analytics
There are dedicated tools that allow how good or bad your competitors' campaigns perform. This is a good opportunity to see the demographics, market reach, number of mentions of your direct competition, and they can offer you a better image of how you should tailor your future campaigns.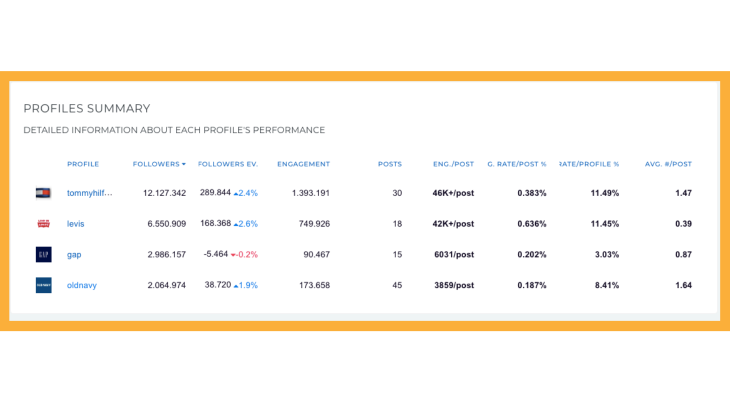 3. How to choose the right Instagram analytics tool for your business
Now, analyzing all that data looks like a long and complicated process, doesn't it?
But, hey, even Dior uses Instagram analytics tools to get better insights into their campaigns. And although you're not as big and luxurious as Dior, you deserve analytics tools designed to help small and medium enterprises to grow on Instagram.
Well, with so many options and companies that promise ground-breaking tools, it's hard to choose from all the tools available.
But allow us to make the process easier for you.
Establish your must-have features – do you want to quickly generate branded reports, do you have preferences on the format they'll be available in? are you looking for other smart features? Decide which are those, and start looking for tools featuring them.
Decide what you want to track – although all the data above is relevant for some businesses, this might not be your case. Here, at Socialinsider, we make sure to listen to our clients and help them choose the right package of tools and data, relevant for their business.
What kind of support do you need? – like a respectable business owner who might encounter difficulties with their analytics and reports, you might want to look into tools with 'round-the-clock customer support services. Emergencies don't wait for special departments to open, do they?
Make a shortlist of the best analytics tools – research online and see which tools have the best reviews and ratings. This will help you narrow down your options and make a decision faster. You don't want to spend months in the process, do you?
Request a demo – never buy a premium version of an analytics tool previously to checking out its functionality. The easiest way to do so is by requesting a demo version, obviously. And this rule is valid for all services and products you consider buying, not only for analytics tools.
Ask about scalability – paying attention to the chosen tool's scalability previously to going for the full version will offer you a better image on what results you should expect. Since you aim to use Instagram analytics to design better and more effective Instagram marketing campaigns, you want to pay extra attention to the tool's scalability.
Final Thoughts
Instagram can prove itself an incredible tool at helping businesses of all sizes grow their market reach, profits, optimize their marketing and advertising strategies.
But analyzing all the metrics above yourself and interpreting those is nearly impossible. So, make sure to automate part of the process and choose a flexible analytics tool. We should emphasize flexible, since you want to be able to use it for other social media platforms, too.
---
Related articles: