Instagram is an online social platform that has over 1 billion monthly active users (June 2018).
The amount of time spent by Instagram users to watch these videos continually increases over time. This means that videos are receiving the same attention as that given to images on Instagram.
As a result, most brands have now embraced video marketing and the frequency of video posts on Instagram has increased gradually over the last few years.
Video marketing on Instagram is a chance for a business to show the world who they are and what they do in a period of 60 seconds or less. This is why every business should reconsider their Instagram strategy.
In this article, I deep dive into Instagram video marketing strategies for businesses and how to use videos to increase your engagement rates on Instagram.
---
Instagram video marketing guide
Types of videos on Instagram
👉Branding videos
👉Product Videos
👉Tutorial Videos
👉Educational Videos
👉Live Videos
---
#1. Types of videos on Instagram
Businesses can post different types of videos on Instagram;
Branded videos contain a specific message to familiarize the audience with the business. They are used to create an image for the business. They do not necessarily sell the business' product or service but act as a tool to humanize the business by engaging the customers' emotions.
A branding video should be short, entertaining, unique, not self-promotional and original.
Product videos clearly explain the business' products or services. These type of videos not only highlight the benefits of the products but also the problems the product will solve for the customers.
Product videos should be creative and involving to show customers the major functions and impact of the product in the society. Creatively created product videos help to create a long lasting impression in the customer's minds.
A good product video is professional, short enough to maintain the customer's attention and long enough to clearly explain the product. It should also be created in a manner that customers can relate to the products it is promoting.
'Make sure your product videos are of the highest quality. The clearer they are the more sales you will drive. For this, you will need to invest in good equipment such as a video camera, lighting equipment, a microphone, and a video editor.
Tutorial videos are business' instructional videos. They provide step by step procedure on how to use a product. Tutorial videos also offer additional information about the product such as how to maintain the product.
A tutorial video makes the customer relate with and feel comfortable to use the product.
Educational videos are informative videos whose main function is to educate the viewer. Business can use educational videos to inform their audience on the problems their products are solving in society.
A good educational video should be specific, factual and informative.
Live videos are live streaming platforms on Instagram. Live videos allow you to broadcast video in real time to your audience. A live video can only be watched while you are still streaming. It has no replay.
Live videos can be used to cover major events for a business such as the launch of a new product.
#2. Where businesses can post their videos on Instagram
Businesses can post their videos on Instagram through:
In-feed Instagram videos are short clips that last up to 60 seconds. They can be included in multiple image posts and have aspect ratio of 1:1 or 1.9:1.
In-feed videos are automatically auto played without sound on Instagram. However, the viewer can hear the sound by tapping the video.
Best practices for in-feed Instagram videos include:
-> Short and precise
A good in-feed video is short and direct to the point. It should be under 30 seconds or maximum 60 seconds. This is because most Instagram users view short videos more than long videos.
-> Interactive
To make the in-feed videos interactive, reply to all comments as much as possible. Responding to comments on Instagram creates bonds of trust with the customers.
->  Audience-focused content
Customer oriented content helps to show that the business can relate to the customers' needs. This will attract more views to the in-feed video.
Instagram stories are short videos that last up to 15 seconds for 24 hours. Instagram stories are full-screen mobile-oriented content. Therefore, while creating Instagram stories, remember to create vertical position videos with an aspect ratio of 9:16.
Below are the best practices of Instagram Stories videos:
-> Use Instagram Stickers
Story stickers help to make Instagram stories unique and capture the audience attention. You can use different stickers to reach more audience or to promote your product.
Some of the stickers that you can use are hashtag stickers, mention stickers, question stickers, poll stickers, location stickers and emoji slider stickers among others.
👉 What Questions You Should Use In Instagram Stories To Generate Conversations
-> Consistent
A good Instagram story should be short, creative, authentic and unique. It should be interesting and have a consistent flow. This will make it easy for the viewers to understand the content.
-> Timely
Instagram stories last for 24 hours. They should therefore be timely and relevant to the audience.
IGVT allows users to upload vertical videos of up to 10 minutes for smaller accounts and up to 60 minutes for popular or verified accounts.
It allows users to upload files up to 3.6 GB in MP4 file format. The videos should be vertical and not portrait with an aspect ratio of 9:16.
Best practices include;
-> Choose your audio intro
An intro audio that is carefully selected will draw more viewers to your IGVT. However, intros that have loud and distracting audio will make it hard for customers to view the video to the end.
-> Instagram stickers
Instagram stickers make Instagram stories fun but more help to reach a wide audience. Use clickable hashtag stickers and links with Instagram IGVT to reach more users and promote the business. When users click on the link or hashtag, they should be directed to the feeds, just like it would happen if they searched it manually.
👉 Continue reading: How Brands Are Using IGTV (With Examples)
Instagram video ads are videos posted on Instagram for advertising purposes. Just like the In-feed Instagram, they last up to 60 seconds, they have an aspect ratio of 1:1 or 1.9:1 and are automatically auto played without sound.
Let see their best practices:
-> Use engagement focused posts
Using engagements focused posts will help to boost your video ads on Instagram to a large audience by earning your ad more likes, comments, shares, direct messages or views.
-> Use Instagram stories highlights
Instagram stories highlights are a collection of Instagram stories that can live on your profile permanently. Story highlight can contain testimonial that can be viewed over and over by the customers.
->  Use content inbound marketing strategy
This is a marketing strategy that helps to retain a business' already defined customers. It involves distributing relevant and consistent videos on Instagram to keep the customers engaged, active and in communication with the business.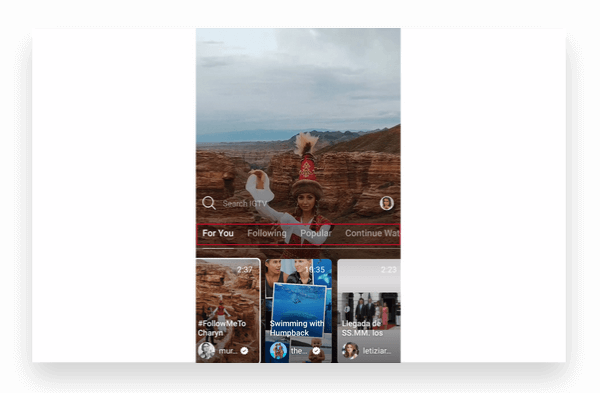 ---
Final thought
Videos are a better advertising tool compared to images because they are more interactive and engaging. With Instagram, businesses are able to advertise their products and services through creatively created and quality videos. The videos can be of different length, from as short as 10 seconds to a maximum of 60 minutes, to suit the business' needs and goals in advertising.
And remember - track your Instagram performance, and measure your growth with the right Instagram analytics tool.
Start a free Socialinsider trial today and track your Instagram analytics! Report and analyze multiple profiles from one dashboard, quickly evaluate your Instagram performance based on the metrics that matter, understand your hashtags performance and get Stories analytics!
---
Related articles: