As an agency, having multiple clients that need constant care, reporting and great results, is both a blessing and a curse. So how do you facilitate an agency-client relationship?
The blessing is that you have a lot of work and your chances of growing and learning multiply. The curse is that you have to be really well-organised.
And this can feel like a blessing as well, if you are focused enough and provide your clients with the best of services.
We know that your clients expect you to be perfect and to deliver great results for them like yesterday. However, I think earning the three H's is more important: Human, Humble, Help.
Show them your human side, stay humble and work your best to offer them the help they need. Let's see how you can nurture the agency-client relationship with the next tips and tricks.
How to create a top-notch social media strategy
1. What is an agency-client relationship
The agency-client relationship is as important as every other relationship. In order to make things work, you have to offer everything you have, without waiting for anything in return, and hope you won't have your heart broken.
Yep, I know this sounds like the definition for a romantic relationship, but the agency-client relationship relies on the same pillars.
You have to be trustworthy, reliable, honest and work hard for your common goals. Does this sound familiar?
Well, here's how a healthy agency-client relationship looks like.
You, as an agency, and your clients have to be honest right from the start. They need to set attainable goals and you have to tell them what you can and can't do.
If both of you set realistic objectives and have a down-to-earth approach, then the process will run smoothly.
The agency-client relationship relies on a collaboration, an agreement between a company (the client) and an agency that provides content marketing, PR services and social media.
If both parties establish a set of rules from the beginning and you are bound to follow them, then everything will work as planned.
To go in-depth with the details on the best traits for an efficient agency-client relationship, let's take a look at the next step in the process.
2. The traits of a healthy agency-client relationship
A healthy agency-client relationship is a relationship where both parties invest their best assets, like:
communication
honesty and respect
relatability
transparency
connectivity
accountability
These are the best traits you can use for a strong agency-client relationship. You are not supposed to work with half-measure. Give it all and do your best to be there when your clients need you.
Let's go even more in-depth, finding more tips to help you build a healthy agency-client relationship.
3. 8 tips on how to build an agency-client relationship
To make sure your professional life is steady and you get to reach your deadlines, it's time to set up a plan to follow with all your agency's clients.
Help clients establish their goals
Generally, when clients come to you, they say something like "We expect you to make our marketing better".
Only a few of them, who have worked with other agencies, come prepared with a list of goals. The rest expect you to understand that they want EVERYTHING from you.
And by "everything", they mean social media posts about their latest products and services to long-term marketing strategies for every campaign.
To help your clients set realistic goals and make requests based on them, you have to get to know the company first, learn about their products and services, who their audience is and what's the brand's voice.
Teach your clients that their goals need to be measurable and underline the most important metrics to look at when trying to check the campaign's performance.
If you want to learn more about the perks of a thriving and efficient agency-client relationship, listen to our latest podcast, where Christina Miller, Head of Social Media at VMLY&R, discusses the importance of setting objectives.
Get to know them and their brand
In order to help your clients, you have to know what's their brand's story, what needs they want to satisfy through their products and services and how do they want to impose themselves in the social world.
By learning about them, you actually paint an idea of how you're going to market them, developing a strategy based on their goals, requests and future campaigns.
Pay attention to the onboarding process
This part of the process also includes the paperwork. After the client has signed the contract and you, as an agency, are going to take care of their needs, you have to start the onboarding process.
By onboarding the client, you set the tone for the relationship you want to develop with them.
You ask for their brand guides, including logos, banners and the content strategy they have in mind.
The onboarding process is meant to establish the way of communication, the frequency of it, the channels you'll be using and how you define an emergency.
You will clearly explain to your client that they should not cry wolf. An emergency is a spoiler social media post that was published before the campaign started.
Unlike this situation, asking for a new idea for an Instagram campaign in the middle of the night is not an emergency.
Set some working hours when your clients can contact you. You will only answer their queries during that interval.
Make sure that during the onboarding process you also get all the login data for your client's social media accounts.
Then establish a meeting where your team meets their marketing team to get acquainted and talk about planning.
Under promise what you'll deliver
When you sign the contract with a new client, it is important to be honest and realistic when it comes to fulfilling their goals.
Don't tell them you can carry more than your team can handle. Otherwise, they will have expectations from you and they can even go to the terms of your contract, trying to combat you with that.
To make sure your agency is delivering the services at the greatest quality, you should under promise what you can provide.
This way, the client will be surprised that you managed to deliver them the new marketing campaign structure before the deadline.
Have a to-do list that your client can check and make sure you always tick off the steps you have already accomplished, while also showing them the results.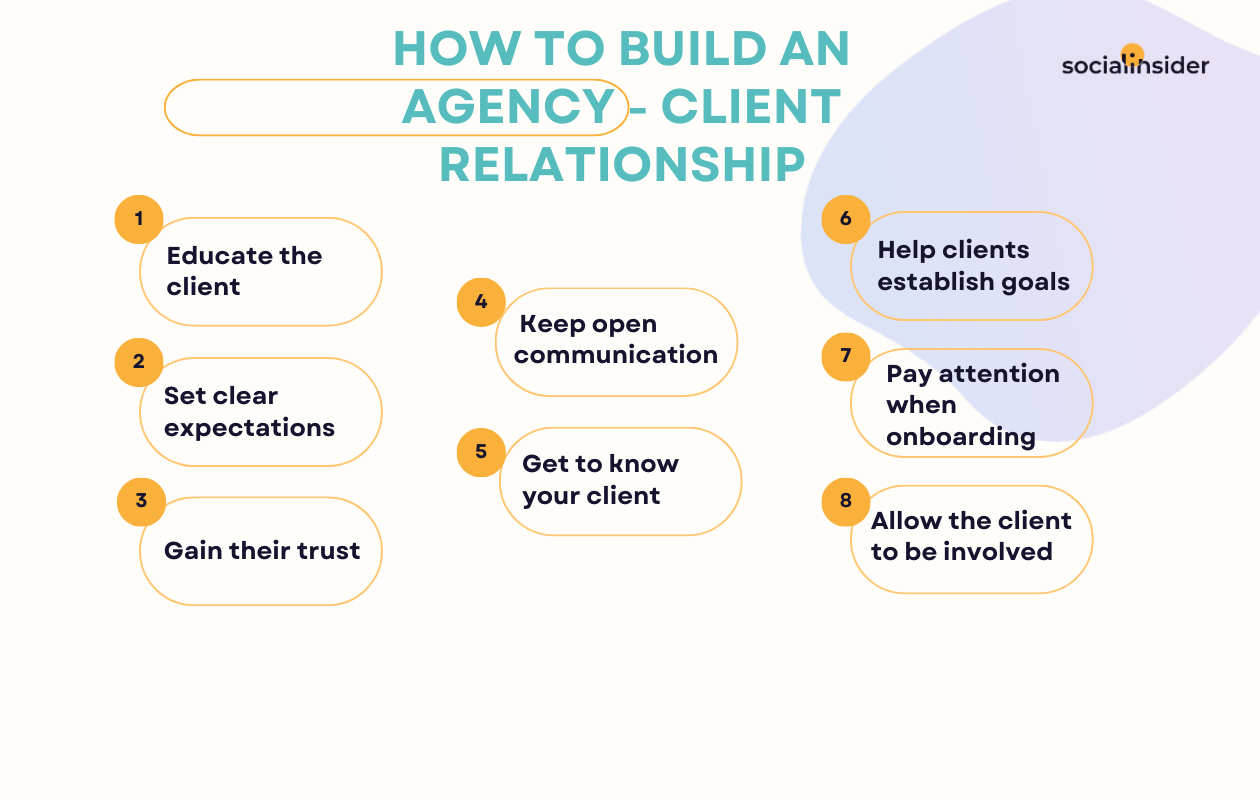 Clear communication prevents and soothes a lot of pain. It even prevents chaos. And that's a desirable scenario.
Don't try to pamper your client. It is better to be brutally honest, respectful and offer explanatory insights.
Don't allow your message to have biased meanings. It will save yourself a lot of time and energy if you communicate clearly with your client.
Also don't be afraid to offer a lot of details. It is not overexplaining if every info is useful.
You wouldn't like your client to come up with a list of questions because you weren't clear enough.
A great communication process should lie at the foundation of your agency-client relationship.
Allow the client to be involved in the process
When finishing your task, it's time to ask. This rhymes for a reason. To make you keep this in mind next time you are in this position.
Ask your client for feedback, put down their new requests or changes and implement them as you work.
By getting your client involved in the process of creating their marketing campaign is efficient in a lot of ways.
You will not only get the work done as they want it, but you will also get to know their likes and dislikes.
Remember that you work together, you are partners, working to accomplish the same goal. You are not supposed to work independently.
When you allow the client to be involved in the process of developing their marketing campaign, by constantly showing them the progress you made, you should also be ready to offer honest feedback.
Whenever they come up with new ideas, you should be able to tell them "no" if you feel like you're entitled.
Some of their ideas might not align with the rest of the plan you have created for their strategy.
You just have to be honest and explain why their suggestion will not work. If your explanation is backed up by data, maybe some analytics, this will convince them.
Your main interest is to make their brand even more"likable" for their audience, attracting more leads.
If you know for sure that their idea can ruin or lead part of the strategy you have in mind on another path, it is better to stand your case.
This works hand-in-hand with the honesty thing I was talking about earlier. As long as you listen to their ideas and queries and offer them feedback right away, your clients will trust you even more with their marketing campaign.
It's not a matter of flattery, but more a thing about building a friendly work-relationship with your client.
If they appreciate the blunt truth, then they will certainly appreciate your honest feedback and all the opinions related to the unfolding of the strategy you craft.
4. The benefits of agency-client relationship
When you nurture an efficient and healthy agency-client relationship, you will unlock a lot of skills along the way. This goes both ways, for you and your client.
All these benefits will help you in your future agency-client relationships, but also in your personal life.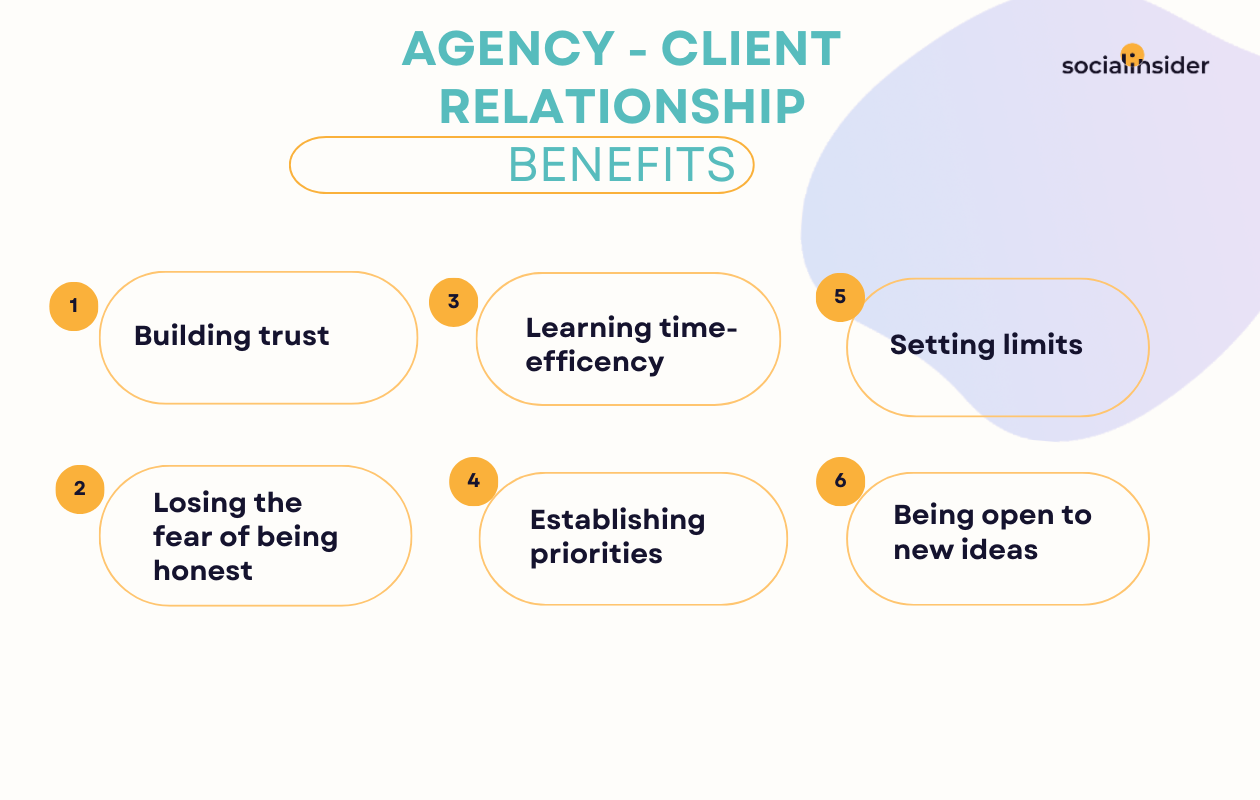 Here are some of them:
learn how to build trust
lose the fear of being unapologetically honest
manage your time efficiently
learn about priorities
learn how to impose limits
become more organised
manage how to be open to new ideas
5. 4 tools to nurture the agency-client relationship
Having multiple clients makes you juggle with a lot of responsibilities. To make your work more efficient, you will need the right tools to help you contain the chaos.
Here are a few of the best tools for a fruitful agency-client relationship:
ClickUp
ClickUp is not an app, but a suite of tools that facilitates the workflow and collaboration between you and your clients.
With this app, you can handle spreadsheets, document collaboration, chat, goals tracking, templates and process automation for all your projects.
However, ClickUp is better known for its project management product. A lot of those who have already learned about the tool mostly use it for this particular feature.
ClickUp also integrates CRM and a lot more useful features.
Slack
Slack is a well-known app that can help you with sharing every stage of the crafting of a new marketing campaign.
The app is useful to collaborate efficiently from a distance with your clients. With the help of this tool, your clients can offer you their feedback.
"Slack Connect" is a feature of the app that facilitates remote work to help agencies make use of charred channels.
With Slack you can collaborate and make changes for projects with your teammates in real time.
Moreover, you can easily automate the approval process.
Google Workspace
Google Workspace is a suite of apps that offer collaboration solutions while increasing productivity.
This app is bound to make your workflow more efficient. You can use Google Drive to store all the important data, reports, images, etc., with easy access for the rest of your team.
Google Docs, Google Sheets and Google Slides are perfect to help you organize all your infos and complete reports (in Google Sheets).
Hangouts, Jamboard and Google Chat are used for easy collaboration and efficient communication.
Avoma
Avoma is a conversation intelligence app powered by AI for those brands that focus more on ROI and sales.
The tool is helpful to develop transcripts from sales pitches. However, it's much more than that.
Marketing, sales and account teams can use this app to check their teams' performance and give feedback.
Avoma is a tool useful in many ways, from planning to analyzing clients insights.
Final thoughts
To help the agency-client relationship blossom and prosper you need to pay attention to several aspects that bring benefits to both parties.
If you follow all the steps mentioned above on how to build an agency-client relationship, you will find yourself in a win-win situation.
Moreover, if your clients love you, they are likely to recommend you to other companies who are in search for an agency.
And then you have achieved your goals. You did not only make your client happy, but you also increased the number of clients.
Hopefully this guide is helpful for anyone working in an agency, facilitating the agency-client relationship with these tips & tricks.