Ready to dive into the fast-paced world of digital marketing and build your own empire?
Starting a digital marketing agency may seem like a daunting task, but fear not. We're here to guide you through the treacherous waters of entrepreneurship.
So let's strap on our thinking caps and get ready to revolutionize the world of digital marketing!
How to Start a B2B Digital Marketing Agency
1. Define your niche
2. Define your target market
3. Conduct market research
4. Develop a business plan
5. Build the right team
6. Use the right tools
7. Build your online presence
8. Start building relationships with clients
9. Deliver high-quality work and results
10. Can you start a digital marketing agency with no experience?
Starting a digital marketing agency requires a combination of marketing knowledge, technical skills, business knowledge, and a solid plan.
So check out these 9 steps you can follow to start your digital marketing agency:
#1 Define your digital marketing agency's niche
Determining your niche is the first crucial step when starting your own B2B digital marketing agency. And that's because it helps you establish yourself as an expert in a specific area.
When choosing a niche, it's important to consider your strengths and interests, as well as the needs of your target market.
For example, if you have a background in graphic design, you may want to focus on web design and branding services. Alternatively, if you have a passion for creating engaging social media management, you may want to specialize in social media marketing.
Some other good examples of niches you can become a go-to source for is engine optimization (SEO), content marketing, PPC advertising, or email marketing.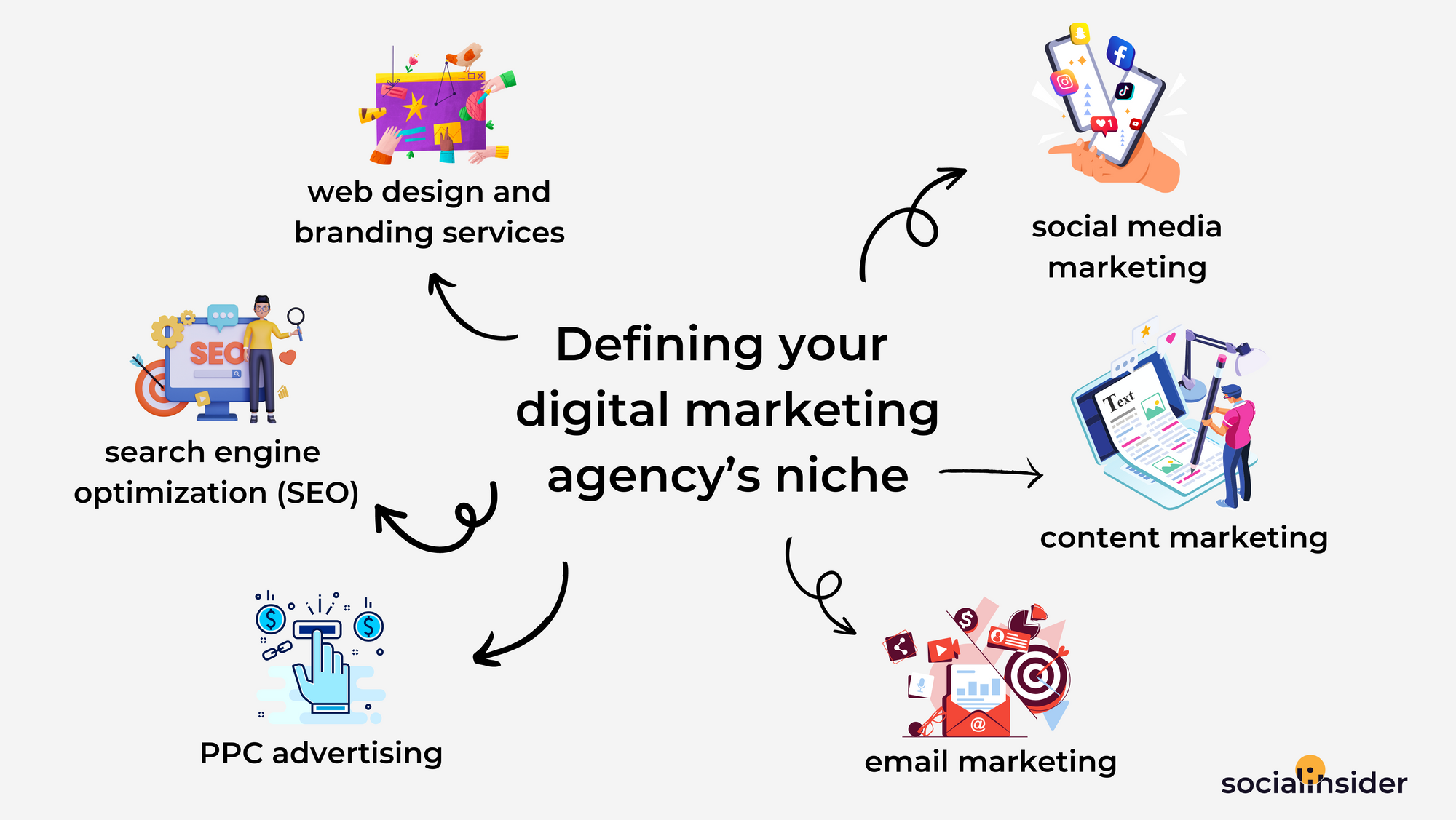 Of course, you'd be tempted to say you want to offer more services than just one.
But by establishing yourself as an expert in a particular area, you can differentiate yourself from other digital marketing agencies that offer a more general range of services.
Moreover, you can also become more efficient in delivering your services. You can develop and refine your processes and strategies, allowing you to provide high-quality services to your clients—while maximizing your productivity.
Once you have determined your niche, you can start building your brand, market your services to potential clients, and even add more services to your portfolio step-by-step.
#2 Define your digital marketing agency's target market
When defining your target market, it's essential to consider factors such as the size of the businesses or organizations you want to work with and the specific industries or niches you want to focus on.
You may choose to specialize in working with small businesses or startups that are just getting started with their digital marketing efforts. Or you may focus on large enterprises that require more complex and customized solutions to meet their specific needs.
Besides that, you'll also have to consider the specific industries or niches you want to target such as healthcare or real estate.
Defining your target market helps you develop customized solutions, differentiate yourself from competitors, and attract loyal customers to grow your digital marketing agency.
#3 Conduct market research
Conducting market research allows you to gain a deep understanding of your potential customers and competition.
By analyzing your competition, you can identify gaps in the market that you can fill with your unique value proposition. You can also learn from their successes and failures and develop strategies to differentiate your business and stand out in the crowded digital marketing landscape.
Identifying your target market is also critical as it allows you to tailor your services to their specific needs, budget, and pain points. This can help you attract and retain clients who are looking for precisely the services you offer.
Moreover, conducting market research can help you stay up-to-date with the latest trends and changes in the digital marketing industry. This can help you adjust your strategies and services to keep up with the evolving needs of your clients and the digital landscape.
#4 Develop a business plan for your digital marketing agency
Developing a business plan for a digital marketing agency involves defining your services, target audience, market analysis, marketing and sales strategies, financial projections, operations and management, risk analysis, and an appendix.
A solid business plan can help clarify your vision, identify strengths and weaknesses, and create a roadmap for success.
#5 Build the right team for your digital marketing agency
By building the right team for your digital marketing agency, you can ensure that your agency delivers high-quality services, meets your clients' needs, and achieves long-term success.
Here are some key steps to consider when building your team: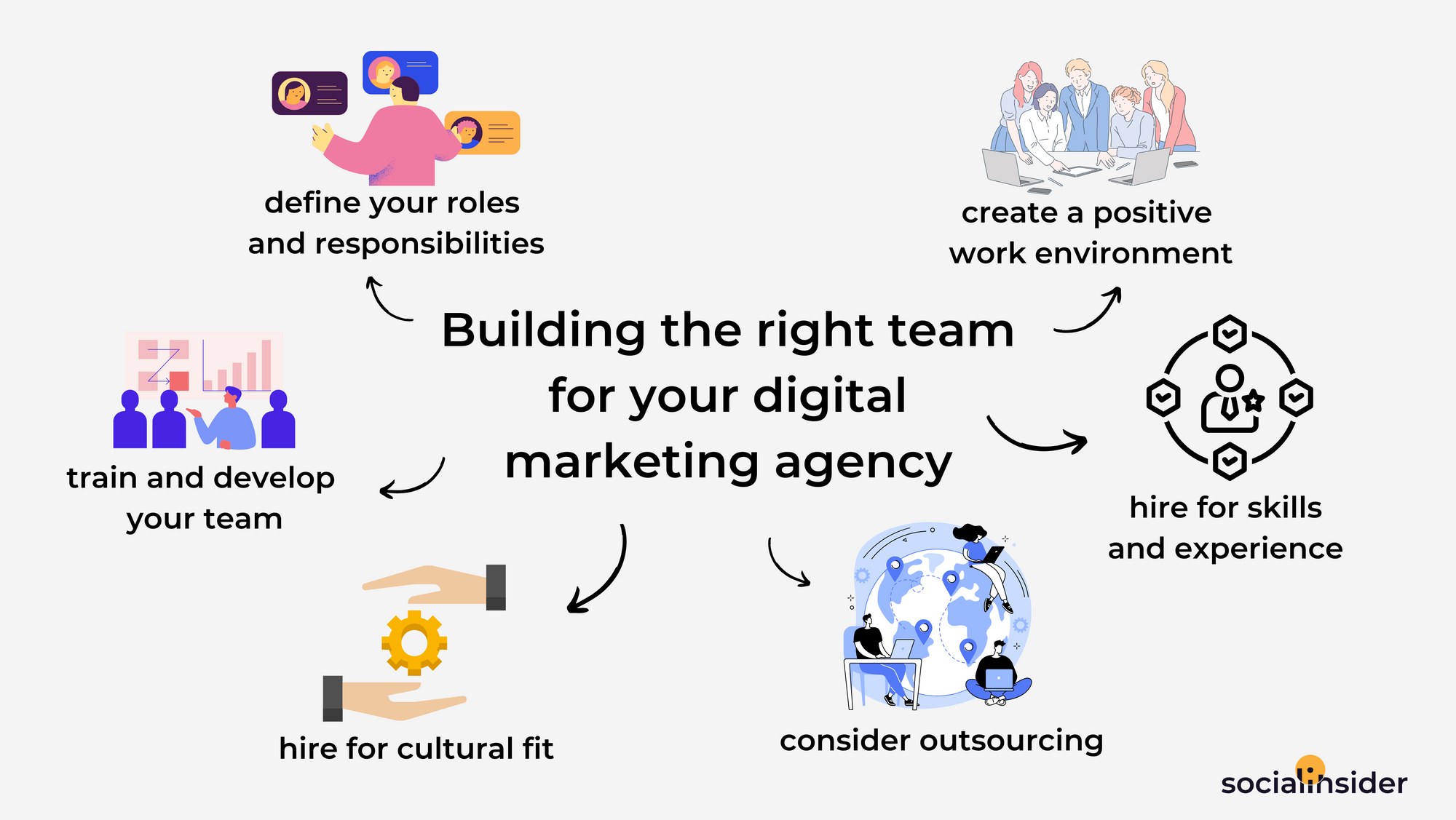 Define your roles and responsibilities
Common roles include digital marketing specialists, project managers, content creators, web designers, and account managers. Define the skills and experience required for each role.
Hire for cultural fit
Look for candidates who share your agency's values, work ethic, and vision. Cultural fit is important for building a cohesive team that works well together and shares a common goal.
Hire for skills and experience
Look for candidates with the skills and experience needed for their respective roles. Review their portfolios, resumes, and references to assess their abilities and accomplishments.
Consider outsourcing
If you need specialized skills that are not available in-house, consider outsourcing to freelancers or other agencies.
This can be a cost-effective way to access niche expertise without hiring full-time employees.
Train and develop your team
Provide ongoing training and development opportunities to help your team stay up-to-date with the latest digital marketing trends, technologies, and best practices.
Encourage them to attend marketing conferences, workshops, and online courses.
Foster a positive work environment
Create a positive work environment that fosters creativity, collaboration, and growth. Provide a supportive culture, clear communication, and opportunities for feedback and recognition.
Recommended: How to Build a Top-Performing Social Media Team: A Step-by-Step Guide
#6 Use the right tools to start a digital marketing agency
Sometimes, all you need to start a digital marketing agency is a room and a laptop.
Using the right tools is essential for efficiency, consistency, creativity, and analytics. These tools can automate tasks, maintain brand identity, enhance creativity, personalize messaging, and track performance.
With AI becoming mainstream, it's clear that an AI revolution is underway.
However, limiting yourself to just #ChatGPT might not be wise, as there are many other AI tools available in 2023 that you may regret not using.
So here's our top 15 tools to consider:
1. Canva—for easy-to-make, eye-catching social media visuals and videos
2. Socialinsider—for insightful analytics and benchmarking
3. Notion—for interactive and easily shareable content calendars
4. Planable—for effective collaboration and content scheduling
5. Manychat—for chat automation across multiple channels
6. Grammarly—for keeping those damn typos away
7. Semrush—for in-depth SEO research and content planning
8. Figma—for an endless loop of customizable social media templates 9. CapCut—for video editing magic
10. Cleanvoice—for automatically editing podcast episodes
11. Beatoven—for creating custom royalty-free music
12. VoicePen—converts audio content into blog posts
13. Copy—for generating copy that increases conversions
14. Unbounce Smart Copy—for writing high-performing cold emails at scale
15. Puzzle—for building a knowledge base for your team and customers

Take advantage of these top AI tools that can significantly boost your productivity and transform the way you work.
#7 Build your digital marketing agency's online presence
Building your digital marketing agency's online presence is critical to establishing your brand, attracting clients, and generating revenue.
So here are some key steps to consider: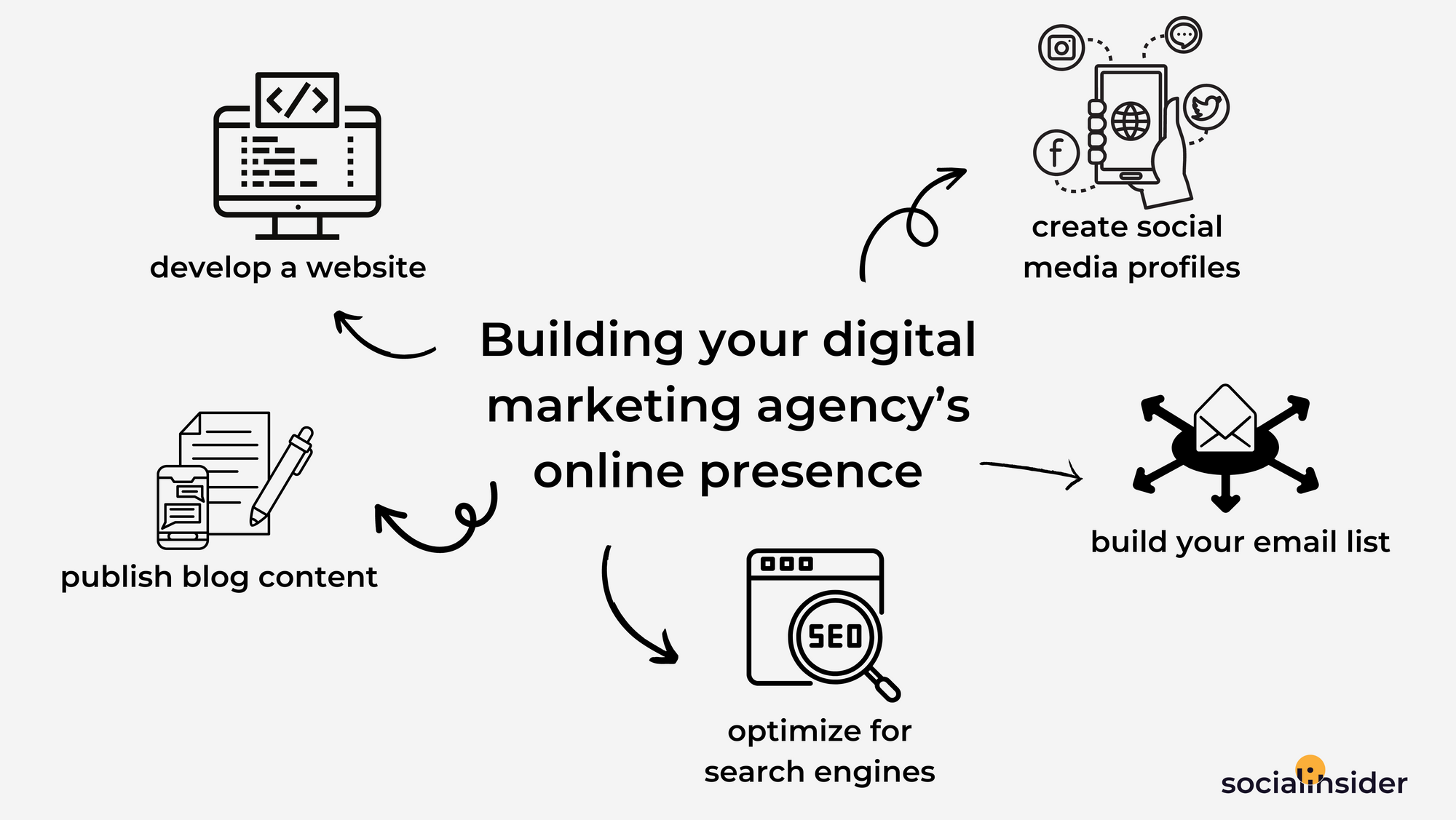 A website is the cornerstone of your online presence. Make sure your website is professional, visually appealing, and optimized for search engines. Include information about your agency's services, team, portfolio, and contact information.
Create social media profiles
Social media is a powerful tool for connecting with clients and promoting your services. Share content regularly, engage with followers, and use hashtags to reach a wider audience.
Related:
Publish blog content
Blogging is an effective way to showcase your expertise, provide value to your clients, and improve your search engine rankings.
Build your email list
Email marketing is a cost-effective way to reach clients and prospects directly. Offer a lead magnet, such as a free guide or e-book, in exchange for their email address.
Use an email marketing platform to create and send targeted campaigns that promote your services and drive conversions.
Optimize for search engines
Conduct keyword research, optimize your website's content and meta tags, and build backlinks to improve your SEO and drive more traffic to your site.
By developing a strong online presence, you can differentiate yourself from competitors, build trust with clients, and position your agency for long-term success.
#8 Start building relationships with clients
By fostering a positive relationship with clients, you can establish trust, understand their needs and expectations, and deliver services that meet their goals.
Building relationships with clients can also lead to referrals, positive reviews, and repeat business, which can help your agency grow and succeed.
It's important to be communicative, responsive, and transparent with clients, and to focus on delivering high-quality services and results that align with their business objectives.
#9 Deliver high-quality work and results
One of the most critical factors for success when starting a digital marketing agency is delivering high-quality work and results for your clients.
To achieve this, you need to have a deep understanding of your clients' needs and goals, and develop tailored strategies and campaigns that deliver measurable results.
Use data-driven insights and analytics to track and assess your campaigns, and regularly report your progress and results to clients.
This way, you can establish your agency as a trusted partner for your clients and position yourself for long-term success in the competitive digital marketing industry.
10. Can you start a digital marketing agency with no experience?
Starting a digital marketing agency without any prior experience can be challenging, but it's possible.
You need to commit to continuous learning, focus on word-of-mouth marketing to select industries, set firm business goals, and build strong client relationships.
Consider taking online digital marketing courses to upskill yourself and prepare for the challenges of the industry.
With dedication and hard work, you can start and grow a successful digital marketing agency, even with no prior experience.
Starting a digital marketing agency: last thoughts
Starting a digital marketing agency is challenging—but rewarding.
By following these steps and continually learning and adapting, you can build a successful business and help your clients achieve their marketing goals.