Social listening is one of the core pillars that help any brand become more aware of what people think, feel and say about it. Relying on direct feedback from your audience is key to creating a brand voice and identity that people can really resonate with.
It should ideally be an ongoing process but it should at least be conducted every quarter for an in-depth understanding of how your brand is perceived in the online world.
Ready to dive in? Let's slowly step towards this sea of data and learn how to swim!
Social Media Listening - A Complete Guide
---
1. What is social media listening?
Social listening is the practice of monitoring and analyzing all social media conversations users have about your brand, when they mention or tag your brand.
Social media listening is a process made up of two parts:
tracking social media discussions about your brand, services, products, competitors and keywords related your niche and business to spot people's pain points and needs
analyzing all the tags and mentions to have a better understanding of how people perceive your brand and how you can work on improving it
2. Why is social media listening important?
Social listening may seem like the newest, shiniest toy in social media marketing. In fact, it's neither one of these.
The practice of social listening is not new, but the process through which brands extract this type of data has changed changed and evolved considerably. That means social media listening now offers a larger variety of nuanced, in-depth insights.
Still wondering why social listening is so important in this day and age? Let's go over some of the most important reasons:
It helps brands make more data-driven decisions. Leveraging analytics data to make informed business decisions should be a given for any brand nowadays. But adding social listening data to the mix enables you to develop more tailored products and strategies based on market trends and clients' preferences.
It gives brands a direct line to the influencers market. Keeping your ear close to the ground means you get to hear all the voices that talk about your brand. Everything you hear is, to some extent, important but you should focus your attention on the loudest, most influential voices - that's where your future influencer collaborations might be.
It strengthens customer-brand relationships. Customers might not always find it easy to tell you what they like and dislike about your brand, but sure enough, they will post on social media about it. Tuning in to their frequency can be essential in creating better products and improving the client-brand relationship.
It offers brands a competitive edge. If you don't find out what people are feeling and saying about your brand, your competition might find out first and use it to their advantage. On the other hand, social listening data enables brands to identify gaps in the market and opportunities for growth that they would otherwise miss.
3. How to conduct social media listening
Learning how to use social media listening for your brand is helpful to make sense of all the changes that take place in your industry and niche.
Keeping up with the latest trends will surely help you get one step ahead of your competitors. Here is our step-by-step guide on how to conduct social listening for your brand.
3.1. Establish your goals
Setting your goals first will help you determine which is the direction you're moving to. First, monitor and analyze your industry and niche to learn what's new, what gaps you can fill and how you can keep up with the rest of the trends.
Next, find out how you can provide people with solutions to their problems.
3.2. Pick your data sources
Evaluate the activity on every social media platform and pull data to see your performance.
To find out more about how your posts have performed, you can use the in-built analytics tool from every social media platform or a third-party analytics tool to develop an in-depth evaluation.
3.3. Formulate an action plan
Like any other important analysis, when you make-up a plan for social media listening, you also need to think of a set of strategies that could help you reach your final goal.
Your social media listening strategies could help you obtain supplementary insights to a brand analysis or brand audit.
Social media listening can help you check key data on your list, like campaign analysis, competitive analysis, industry insights, and the healthy development of the brand.

Unsure where to start? Check out our full step-by-step guide on social listening.
3.4. Choose the right metrics to track
Tempting as it may be, you can't measure everything. You need to decide which metrics to prioritize in your listening analysis in order to you save time and only get the insights that matter to your brand.

If you don't know what metrics to focus on, maybe our article on key social listening metrics can help you out.
3.5. Use a social listening tool
A good social listening tool will remove the need for manual digging through all the online conversations about your brand and provide you with all the necessary insights.
Once you collect all the data you need, it will be easier for you to develop a report and closely analyze how to place your brand on the path to success.
3.6. Measure your results
After collecting all the insights needed, it's time to establish the actionable insights from everything you've gathered.
What will you do next to improve your brand's image in your prospects and clients' eyes?
4. A new way of doing social listening with Socialinsider
Active listening is an art, and your brand should learn it.
Keeping a close eye on your audience and really understanding how they feel about your brand, products or campaigns goes a long way in creating the perfect action plan and connecting with your followers.
Luckily, Socialinsider is launching a new tool for social listening which goes beyond the classic metrics. This new tool relies on Instagram hashtags for now, and draws its power from AI technology.
Don't believe me?
Then watch me perform a quick case study on a popular campaign hashtag, and see what we can dig up about it
Take Adidas' campaign, #adidasoriginals, for example.
With Socialinsider's Instagram Listening tool, I can track this campaign and understand whether it is helping Adidas improve their brand visibility, engagement and other metrics that matter to them.
Let's see what insights I can uncover about this campaign:
Content
In terms of content, I found out that just in the last 7 days, over 3000 posts were created by influencers sharing the hashtag #adidasoriginals.
Most of these posts were carousels.
The majority of the conversations around this campaign hashtag fit into the "clothing", "sports" and "beauty" topic categories.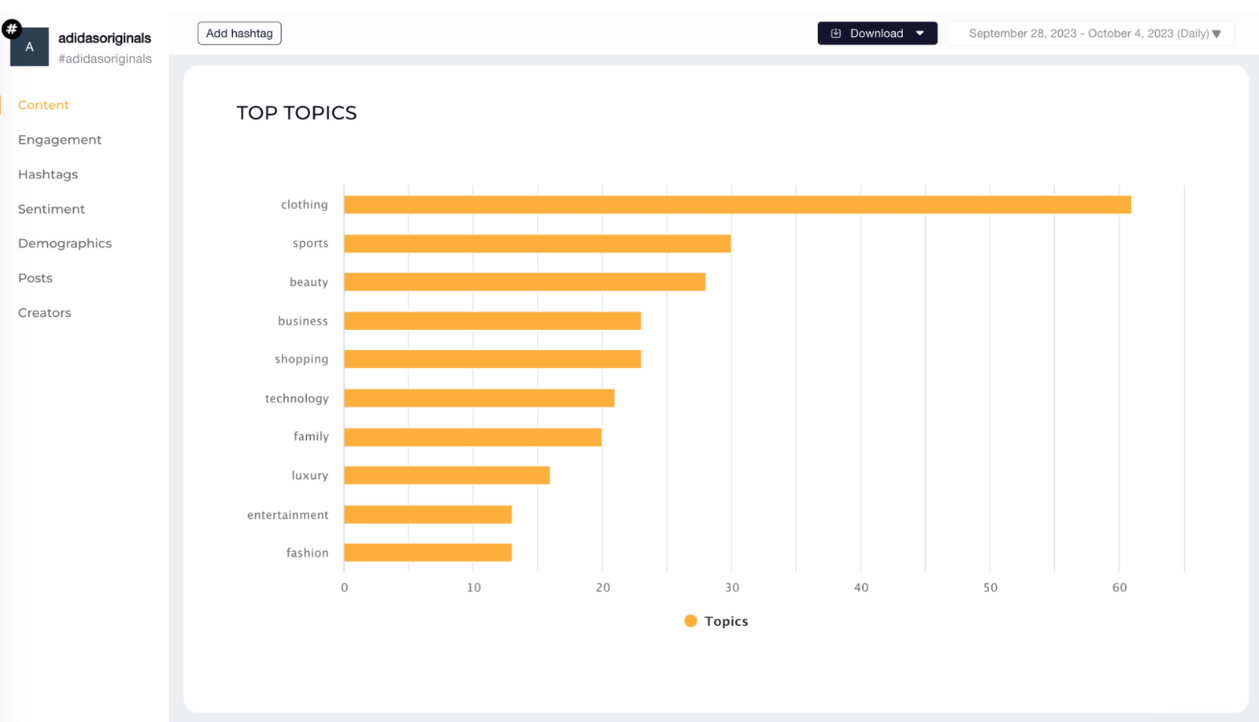 Engagement
By adding this campaign hashtag to my project, I also unlocked engagement data. These stats are broken down by the type of account generating the buzz around that hashtag.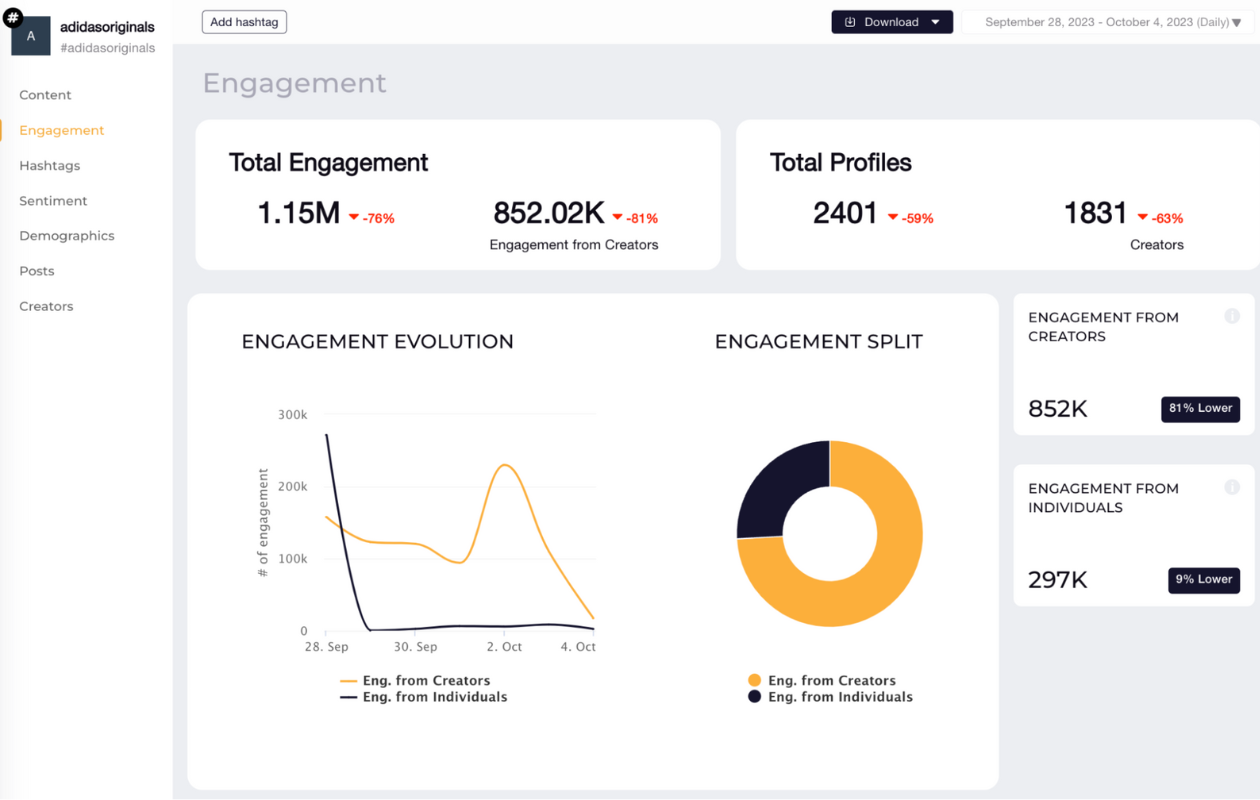 Hashtags
Next up, we have popular hashtags. By exploring this section, you can see what product categories people associate your brand with.
In the example below, you can easily spot: streetwear, sport, football, fitness, lifestyle etc.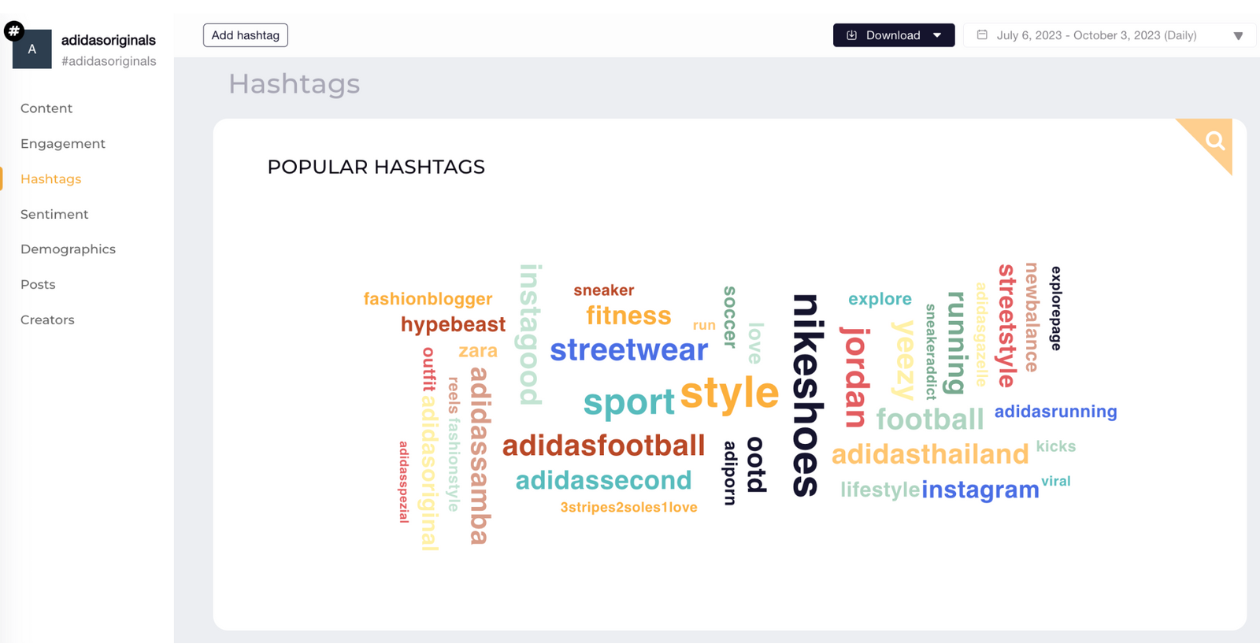 Wondering how to translate these insights into action points? Well, one thing you can do is use them to target new niches on social media, thus expanding your reach and your audience.
Sentiment and emotion
Sentiment analysis is often seen as the unsung hero of the social listening world. That's because it goes beyond what's being said, it reads between the lines and helps you discover how people feel about your brand.
Thanks to the AI-consolidated sentiment and emotion insights present in this tool, I managed to find what is the most common emotion people have towards the #adidasoriginals campaign (it's joy!) and whether their sentiment can be classified as mostly positive, negative or neutral.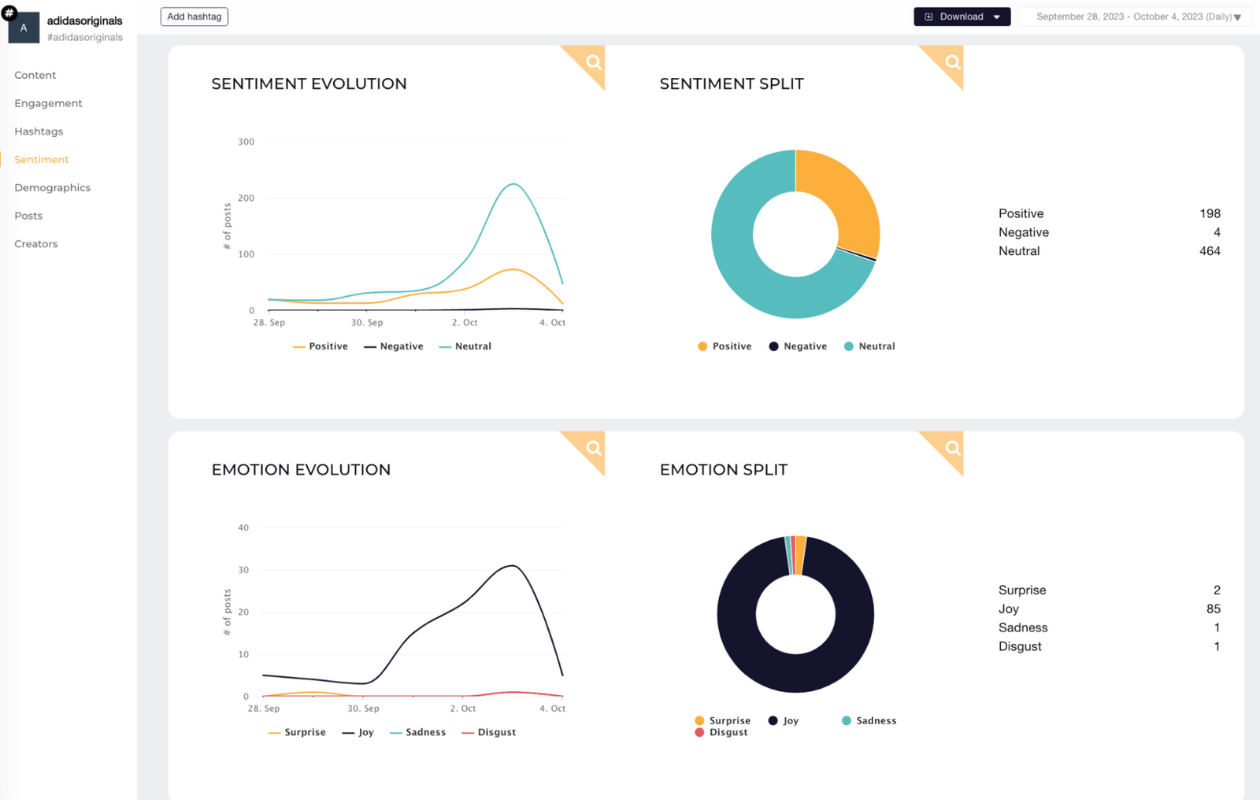 Demographics
From the demographics section, I understood that most posts that mention the #adidasoriginals hashtag are written in English.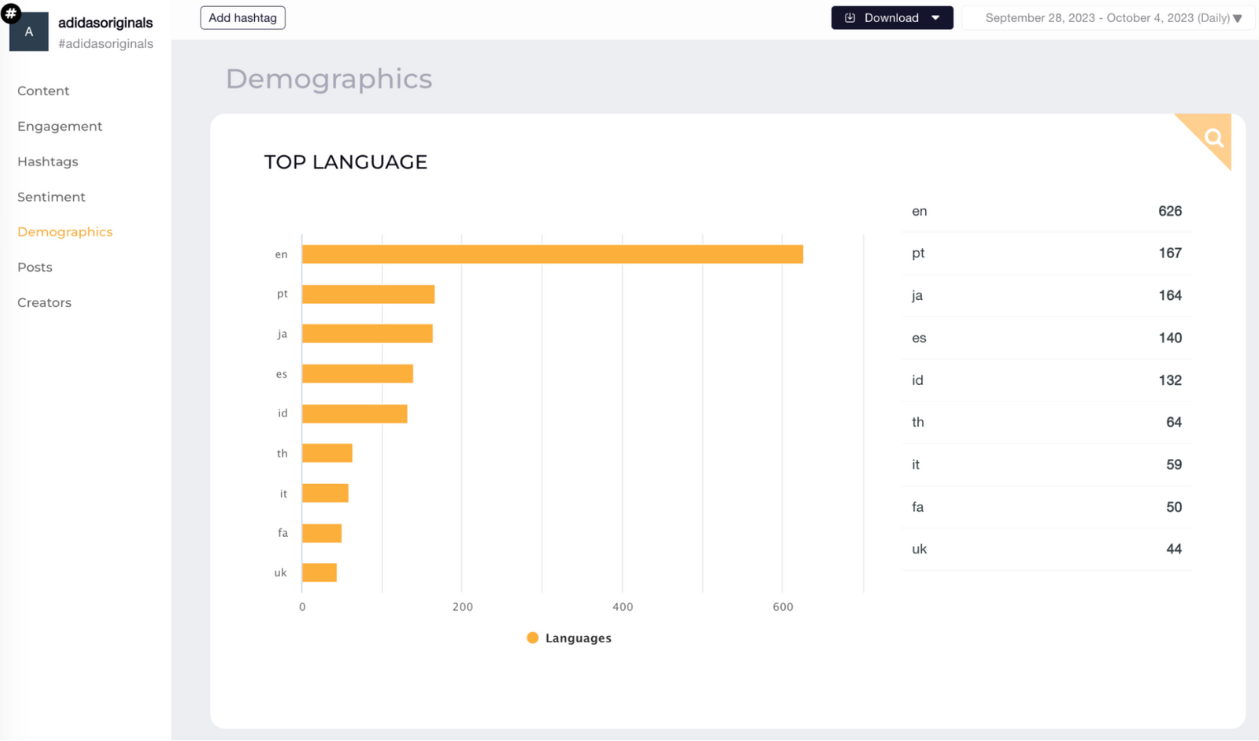 Posts
The posts section is a rich playground to explore for any and all social listening enthusiasts.
Here I could see all posts that include the #adidasoriginals campaign hashtag, play around with all the available filters and sort the list by either engagement, publishing date, engagement rate or follower count.
Influencers
One of the best parts about this tool: you can see a full list of all influencers that talk about a hashtag. So if you're curious who's a top Instagram voice in a particular niche, industry or even a specific brand campaign, you can see it all right here.

Of course, this list can get very long, so I filtered it to match my interests.
And last, but not least:
Benchmarks
We know how important it is to analyze your brand's performance in context, comparing it with that of your competitors or with industry standards, so we brought this feature into Social Listening.
Here I compared the main brand hashtag - #adidas - with two of their most popular campaign hashtags, #impossibleisnothing and #adidasoriginals, and saw exactly how they stack up against each other.
You can do the same with any hashtag - branded, campaign or popular topic - as long as you add them all to the same project.
Curious what our tool can do for you? Book a demo with us or start a trial so test it yourself!
5. Top social listening tips and tricks
The world of social listening can seem big and daunting, but it slowly starts to make sense once you go over a few guiding tips:
Narrow down your search.
Social listening is great, but it often produces large volumes of data that can feel overwhelming. That's why it's important to narrow down your searches by using filters, selecting only one or a couple channels to focus on, adjusting the time range and so on.
You don't need all the data, you just need the right data.
2. See where your audience is most active, and tune it to that.
There's no point in tracking channels where there's little activity. Find out where your audience is most active and vocal, and focus your social listening efforts on that.
3. Choose the right tools for the job.
Building on the idea mentioned above, you need a powerful tool to help you sift through large volumes of data to get what you want out of your social listening data.
Like we showed you earlier, Socialinsider's new tool can do the heavy lifting when it comes to social listening on Instagram, which making sense of unstructured data and generating chart and reports that organize this data into top interests, demographics and user sentiment analysis.
Final thoughts
Social media listening helps you get a better understanding of your audience, learning how to make them happier so that it turns into a win-win situation.
Your customers will get satisfied with your products and you will gain even more clients when they will see the audience's recommendations.
If some marketers tend to think that client-business is a love-hate relationship, by using the right social listening tools, every story can have a happy ending for everyone involved.
---
Frequently Asked Questions
1. How often should you do social media listening?
The frequency of your social listening analyses depends on your needs, as well as on topics or campaigns you are monitoring. It can be an ongoing process, a weekly, monthly or quarterly occurance. If things are not likely to change too often, there's no point in high-frequency reporting.
2. What are the limitations of social media listening?
Some of the limitations of social media listening include: incomplete/inaccurate sentiment analysis, messy data, private spaces (such as Instagram DMs), etc.
3. Can social media listening help you find leads?
Yes, social listening can be used as a tool for finding leads at multiple stages of the buying journey. It also provides you with significant insights about your consumers.