Social media managers are modern-day superheroes. But like all superheroes, they can benefit from powerful tools to support their efforts and get the job done right.
That's why it is crucial to use the best tools for managing social media platforms, track social analytics and refine marketing strategies.
To help you pick what's most suitable for your brand and business, we've put together a list of the top social media management tools for every budget.
Without further ado, let's jump right in.
Top 10 social media management tools
3.1. Social media management tools for small & medium businesses
3.1.1. ContentCal
3.1.2. MeetEdgar
3.1.3. Buffer
3.1.4. Loomly
3.1.5. Hootsuite
3.2. Social media management tools for agencies & enterprises
3.2.1. Agorapulse
3.2.2. Sprout Social
3.2.3. Falcon
3.2.4. SocialPilot
3.2.5. Sendible
1. What is a social media management tool?
A social media management tool allows users to plan, schedule, post, monitor, and administer one or more social media accounts from a single unified dashboard.
The best social management tools usually provide an entire arsenal of useful features that help you keep a close eye on all aspects of social media activity.
Here is a list of some of the most important features a social media management tool should have:

Scheduling and publishing
The ability to easily schedule and publish is a must-have feature for anyone managing multiple social media accounts.
It helps you better organize your monthly calendar, schedule and customize the posts.
Social monitoring and audience listening
Good social media content is made better with meaningful insights.
Social listening can help you keep an eye on a brand's reputation and see what your audience thinks and feels about your products or services.
Competitor analysis
You're not alone in your industry. Seeing how you stack up against your competition is key in developing new strategies to stay ahead of the curve.
Thus, it's essential to monitor your competitors' social activity closely so you can understand their behavior, intentions, and actions.
Campaign tracking
Using this feature, you can track ads and posts and monitor the effectiveness of marketing campaigns.
By analyzing the performance of older marketing campaigns, you can see exactly what needs to be tweaked or improved moving forward.
Social media analytics
This feature will allow you to maximize your social media performance and grasp all indicators such as engagement, reach, and other KPIs.
Custom reports
With so many tasks on a social media manager's schedule, time is precious. That is why many social media management platforms include custom automated reports.

These reports give you an overview on all social media metrics that are relevant to you and can be delivered straight to your inbox on a regular basis.
Alerts
Instant alerts will allow you to know who likes your posts or follows your page.
Some tools provide notifications that warn you if you've used up all of your planned posts or there's some other type of issue with your posts.
Unified social inbox
This is a feature that lets you connect with your audience in real-time and connect all of your social media accounts into one chatbox, without having to manually log in to every platform.
2. Why use professional tools for social media management?
There are lots of things social media specialists should do on a daily, weekly, monthly and quarterly basis. The most important tasks that fall under their responsibility are:
Analyze the brand's audiences
Create, plan, and distribute social media content
Keep an eye on online conversations
Engage and interact with users
Evaluate social media content
Monitor, measure, and report data
These tasks can be overwhelming, especially on your daily tasks-to-complete list.
Fortunately, there are many social media management solutions available to help you streamline your processes.
3. Social media management tools for every budget
We've made a list of some of the effective tools that can help you minimize your daily social media struggles.
3.1. Social media management tools for small & medium businesses
Depending on your needs or how much you want to elevate your business, you can require an upgrade to your free plan and enjoy more features.
So here are five amazing management tools for small businesses: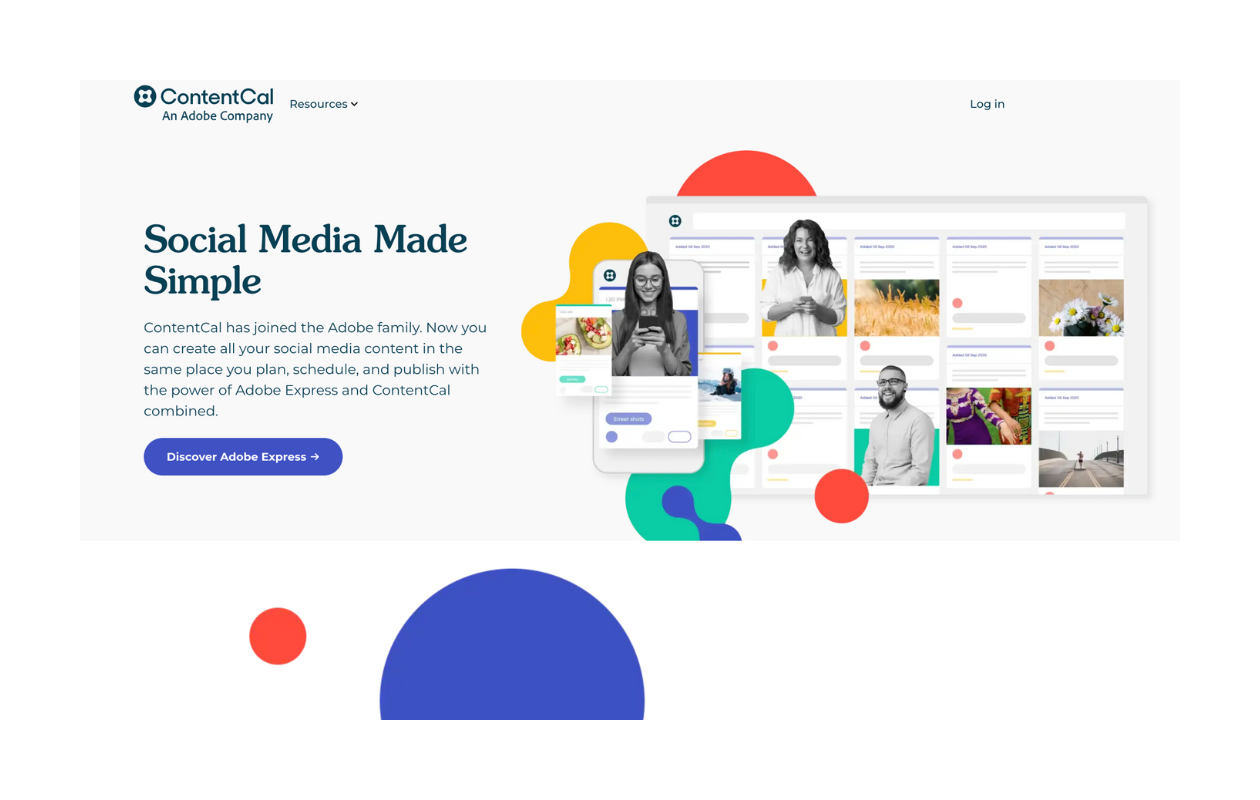 Price: free
ContentCal provides a free plan for those just getting started with social media management platforms.
You can plan and post to Facebook, Twitter, Instagram, and LinkedIn with one user and one content schedule.
By offering channel notes, a wide variety of templates, a monthly overview and placeholder posts, ContentCal makes it easy to set up your social presence.
Other solutions that ContentCal provides include paid media and organic analytics for LinkedIn, Facebook, Google, Twitter, TikTok, and Instagram and access to data from Google My Business, Twitch, and YouTube.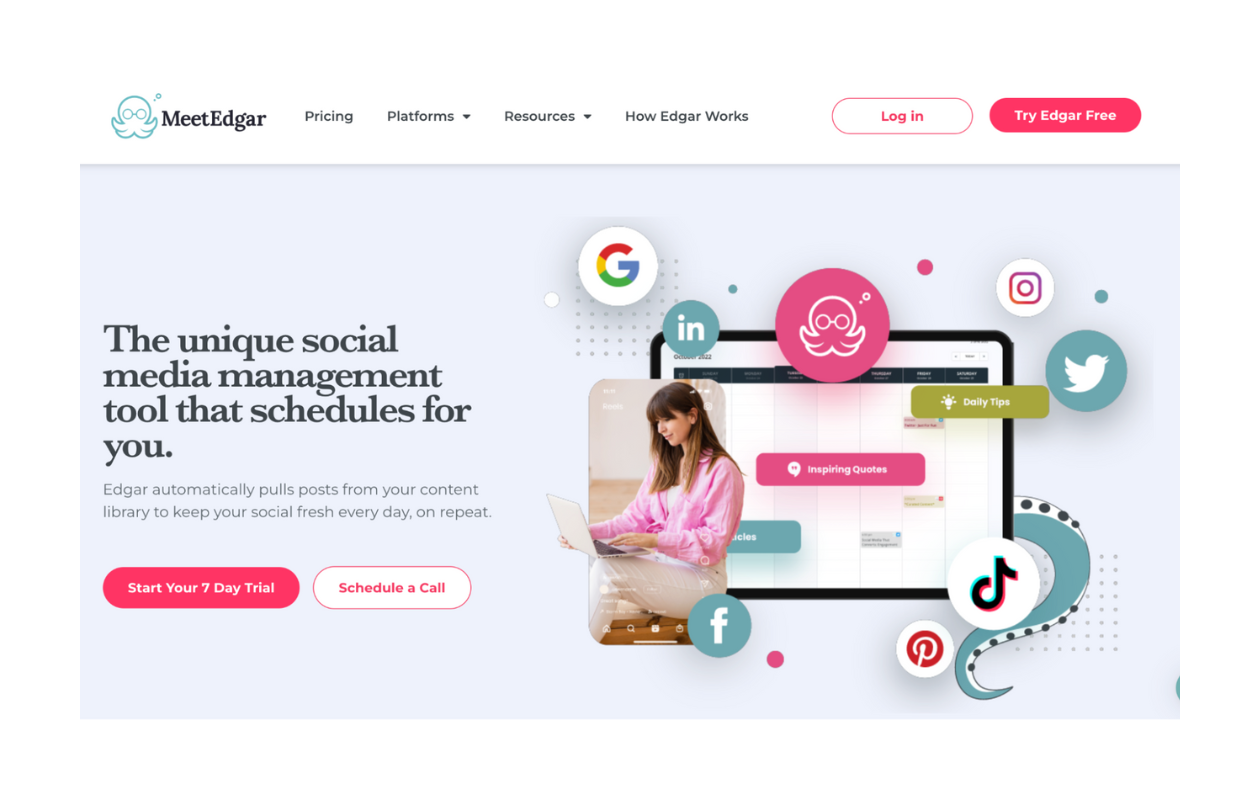 Price: starting from $29.99/mo
MeetEgdar is a nifty little social media account management tool, perfectly designed for solopreneurs and small to mid-sized businesses. It comes with a 7-day free trial and two pricing plans.
Automation and scheduling are two of MeetEgdar's most powerful and useful features. Besides category-based scheduling, the app offers continuous posting to maintain constant engagement with your audience.
MeetEgdar integrates with Instagram, TikTok, Facebook, Twitter, Pinterest, LinkedIn as well as Google My Business.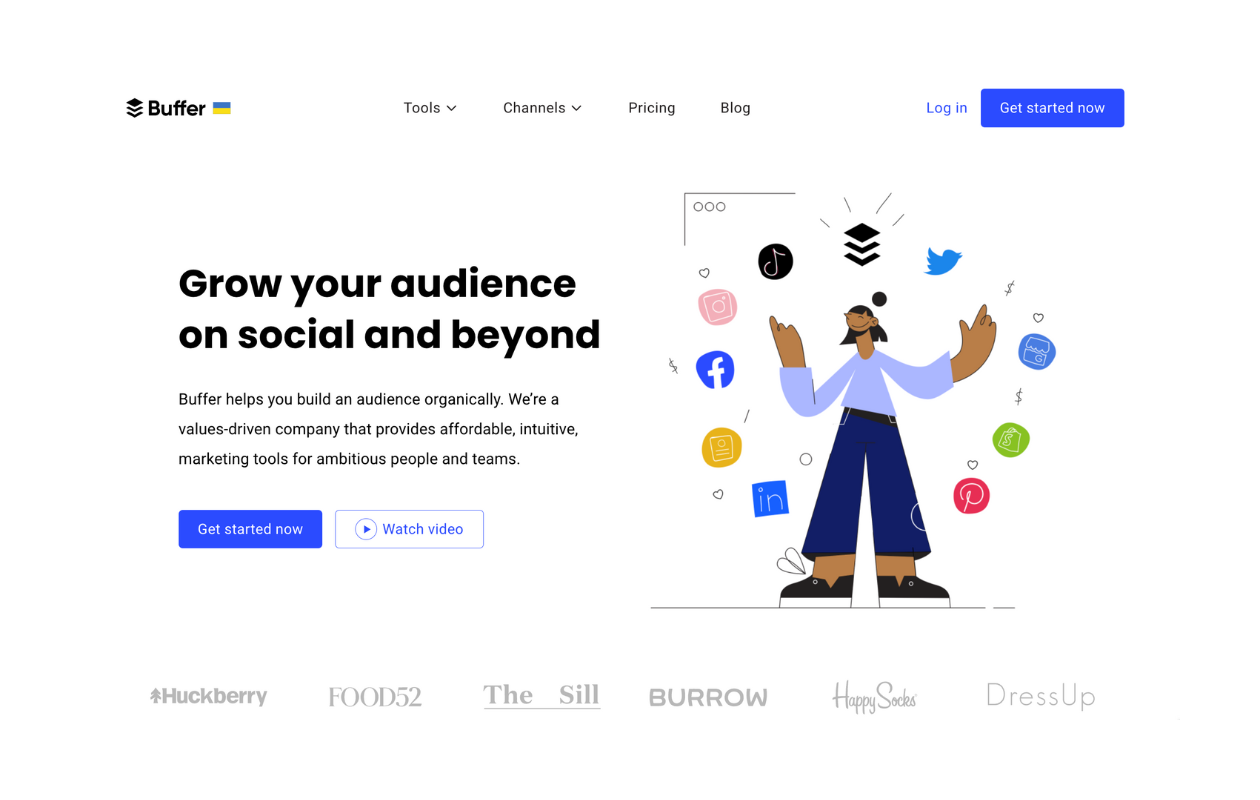 Price: free or starting from $5/mo
Buffer is one of the best free tools for social media managers, that lets you schedule your posts across Instagram, Facebook, Twitter, LinkedIn, and Pinterest, measure your social media performance and effectively engage with your audience.
With the free plan, you manage up to three social media accounts and schedule up to ten updates per channel.
Alternatively, for $10 per month, you may manage 12 social profiles, have unlimited postings in your dashboard, and even add two team members to help you stay organized.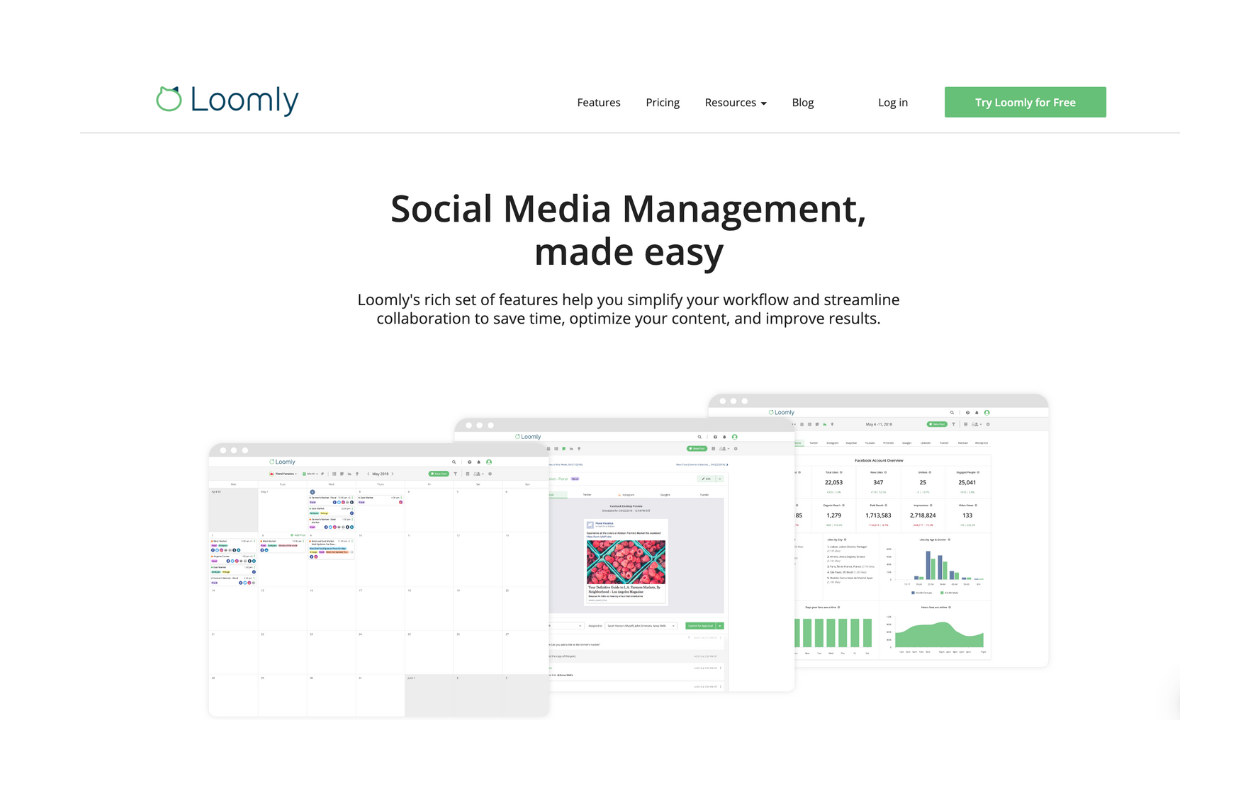 Price: starting from $26/mo
Loomly is a platform designed specifically for managing brands and content.
Enterprise-level clients might find that it lacks certain capabilities such as social listening and competition monitoring.
However, for small businesses, Loomly delivers all the essential features they need:  audience targeting, automated publishing, advanced analytics for all posts, and post sponsoring.
What's more, Loomly constantly offers content suggestions so you can stay active on your socials even in those moments when you don't feel inspired.
Loomly's five plans include core functionality, hashtag suggestions, and limitless content posting.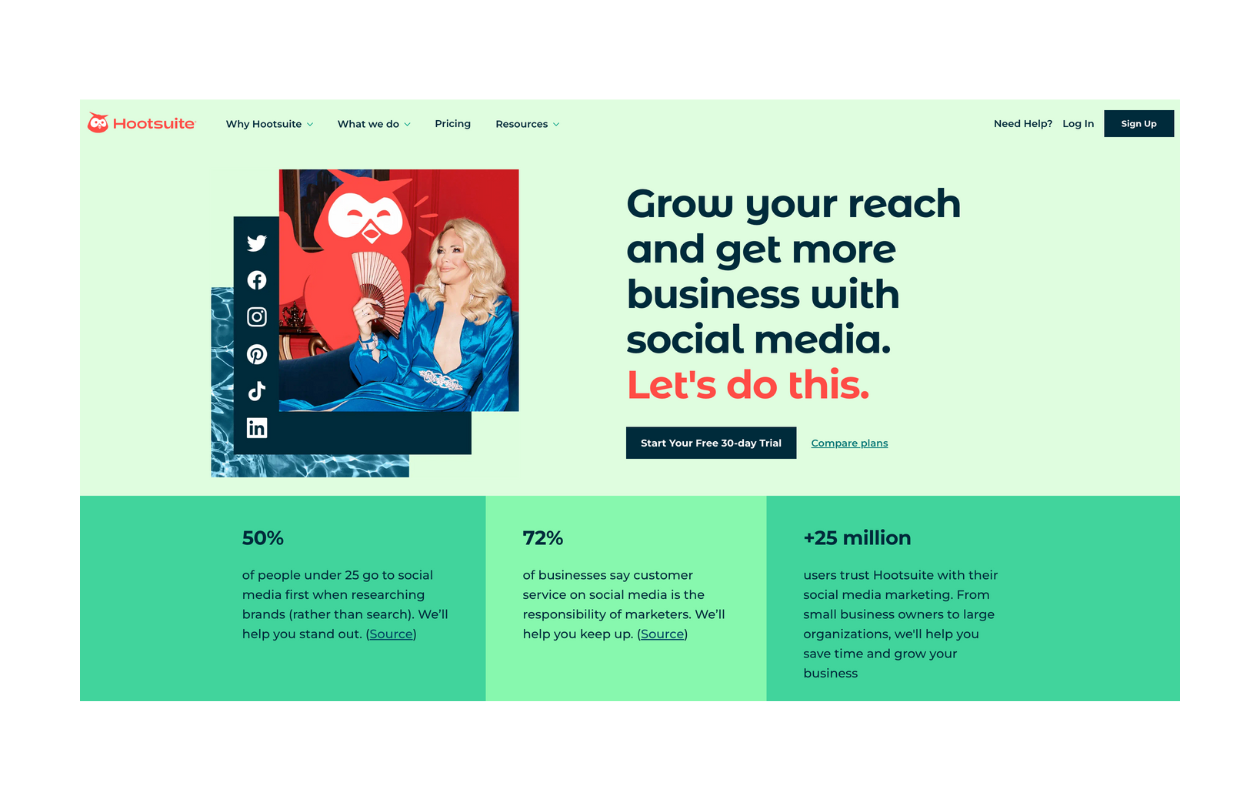 Price: free or starting from $49/mo
With Hootsuite, all key aspects of your social media strategy can be handled in one place: content scheduling and curation, social ROI measurement and ads management.
This makes it one of the best social media tools for account management, engagement and scheduling.
If you've just started a small business, you can initially use the free plan. At no cost, you can manage two social media accounts and schedule up to five posts in advance across Instagram, Facebook, Twitter, YouTube, LinkedIn or Pinterest.
Later on, you can upgrade your free plan to the professional one which allows you to:
manage 10 social accounts
spend up to $500 on ads
schedule in bulk
schedule posts at a time and in advance
access messages in one box and much more
3.2. Social media management tools for agencies & enterprises
Discover what these top technologies that were designed for large-scale agencies and enterprises use have to offer: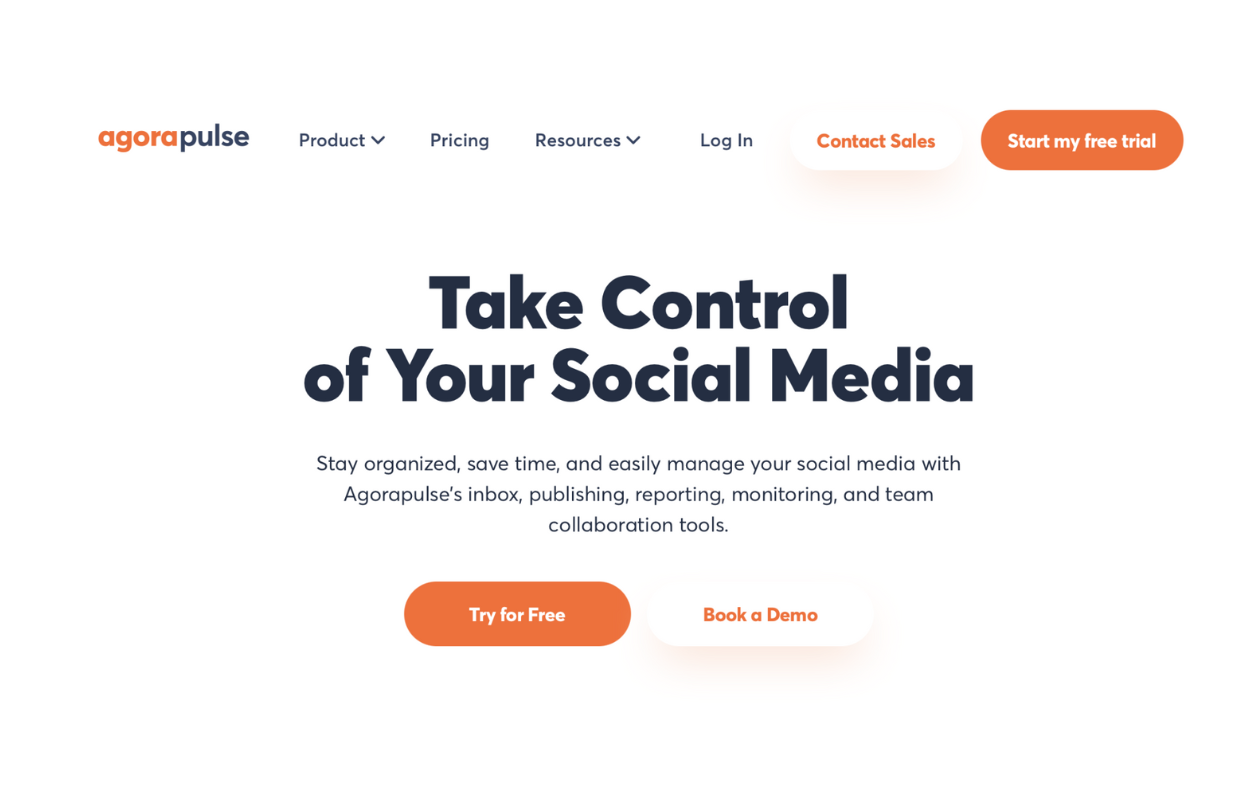 Price: starting from $79/mo; also includes a free 30-day trial
Agorapulse is a social media management suite that helps you stay on top of and improve your brand's social media presence.
Since it comes packed with a lot of powerful features, Agorepulse is a great addition to any social media marketer's toolkit.
With Agorapulse, you can easily schedule content across Instagram, Facebook, LinkedIn, TikTok, Twitter, Youtube and Google My Business, engage with your audience and collect the latest data on content and engagement metrics.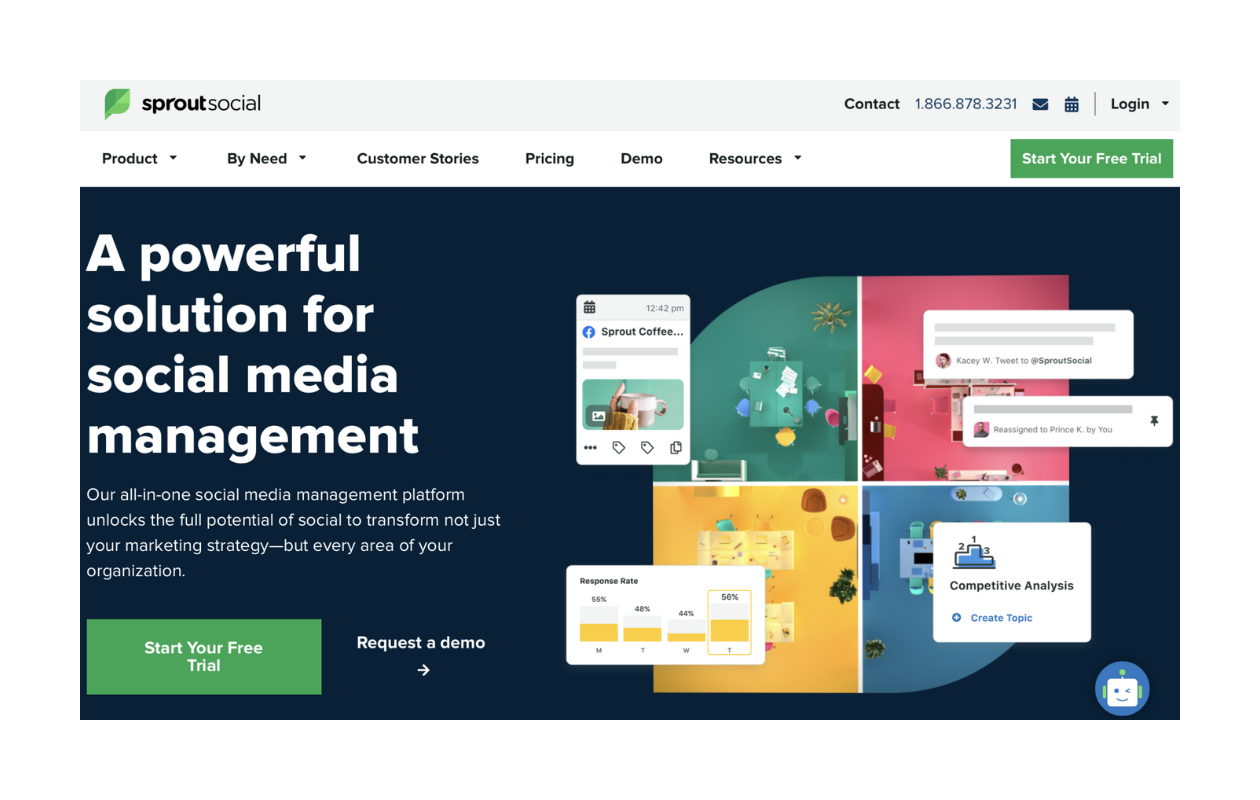 Price: starting from $89 per user/mo
Sprout Social is a powerful and user-friendly social media management solution designed to help you fully understand your audience's behavior. This is why Sprout has a fantastic social inbox and a powerful social listening functionality.

Sprout also offers agency features such as post-approval and individual statistics.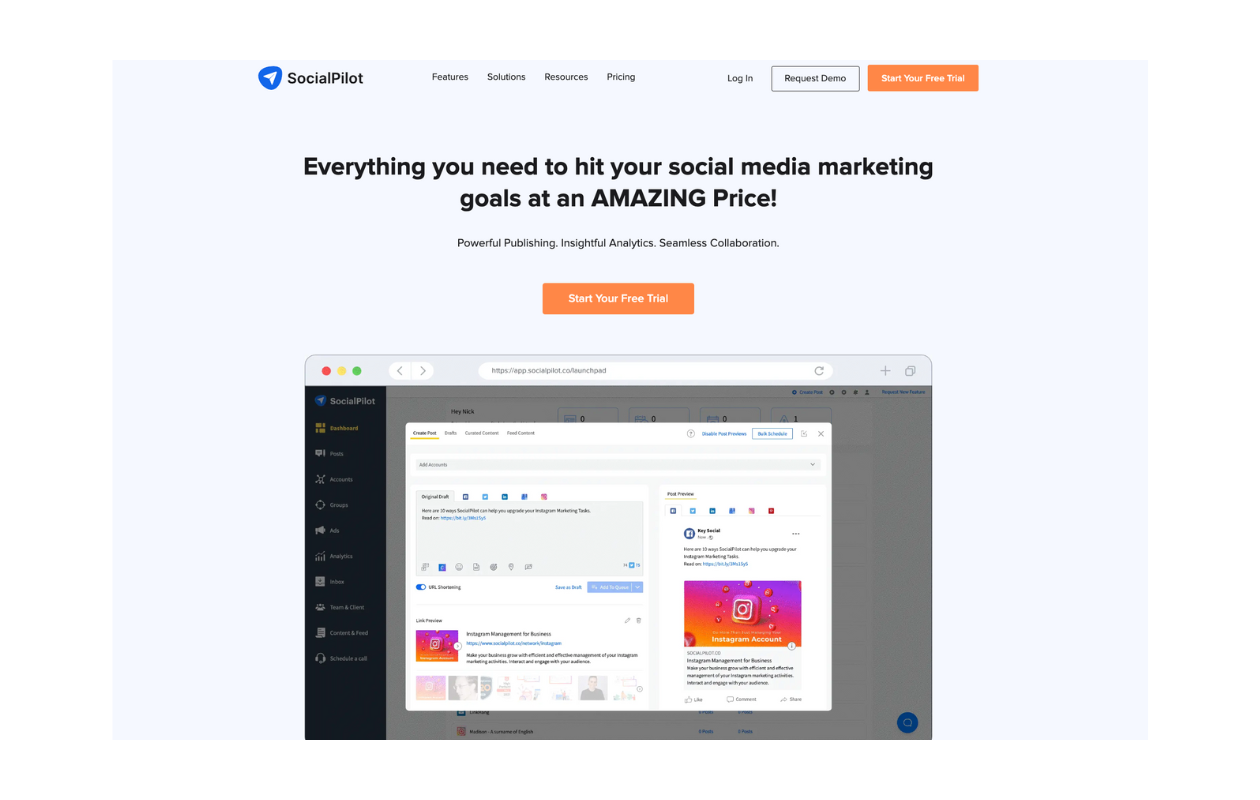 Price: starting from $127.50/mo
SocialPilot is one of the fastest-growing social media marketing platforms. It has quickly carved out a niche as one of the top choices for agencies.
The primary focus of this tool is to stay on top of ever-changing social media trends and requirements.
From developing content, scheduling, and uploading to collecting analytics data and reporting, SocialPilot has it all.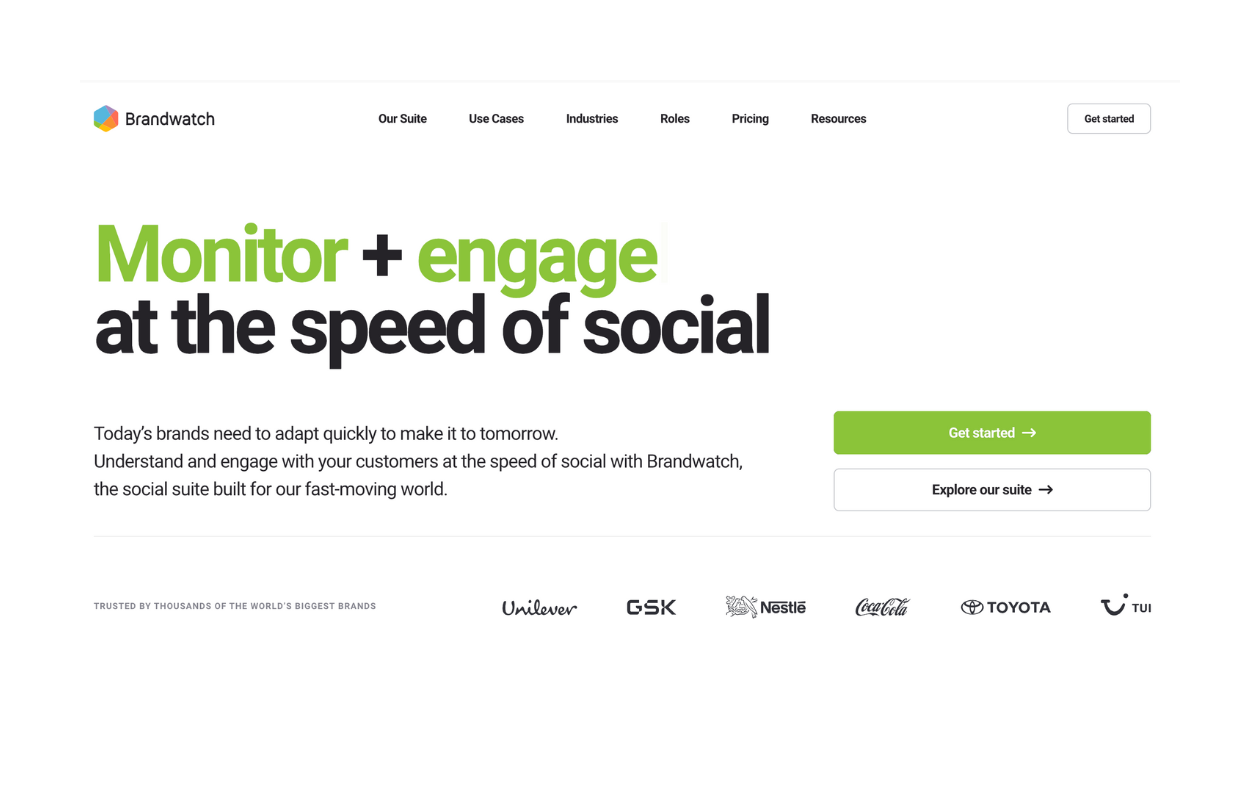 Price: starting from $129/mo
Falcon, now part of Brandwatch, is a consumer data management and social media listening, publishing, advertising, and measurement platform with a global presence.
As a data-driven tool, Falcon aims to help brands make informed decisions by providing the most accurate and current data to help them maintain a competitive advantage.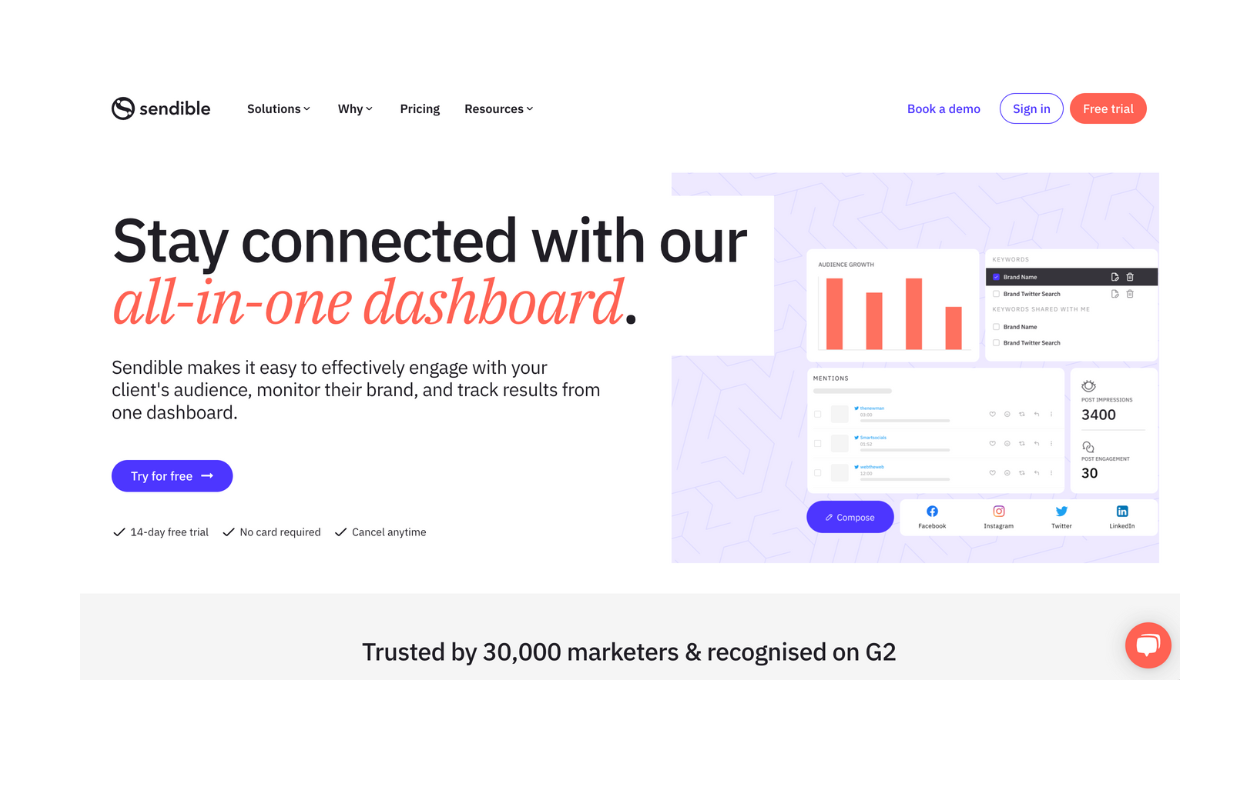 Price: starting from $199/mo for growing agencies and brands
What makes Sendible a perfect tool for agencies and teams is its large variety of powerful social features.
Compared to other social media management tools, Sendible offers its users performance reports to measure campaign successes.
Sendible is integrated with Google Analytics, has a CRM feature and allows you to collaborate with your team to create the best strategies together.
Apart from that, you can also use social listening tools to monitor your competitors and keywords, plan reminders for Instagram Stories, and schedule campaigns in bulk weeks or months in advance.
Final thoughts
Social media management tools are unquestionably essential for every marketer or social media expert.
They can help you achieve your social media goals by automating social media marketing practices and saving you time.
When selecting a social media content manager tool, make sure that its features and capabilities meet your company's or client's needs and offer valuable data.