You've got a great-looking website and killer social media content, but the new client enquiries just aren't rolling in?
Here's the thing—clients don't typically make quick decisions.
So let me make it easier for you.
Read on to discover effective strategies that can enhance your business and attract new clients through the use of social media analytics.
How can social media data help agencies get more clients?
Why you should care about social media analytics data
1.1.Proving the ROI of social media for agencies
1.2.Understanding the clients' target audience
1.3.How to position your agency as an industry expert and win clients
1. Why should you care about social media analytics data?
Social media metrics can provide valuable insights into the competitive landscape, giving agencies a powerful tool to leverage when pitching to potential clients.
By analyzing key social media metrics such as response rates, response times, click-through rates, reach, impressions, and engagement, agencies can gain a deeper understanding of the market and identify unique opportunities for their clients.
Incorporating data-driven insights from social media into their strategies can also help agencies build trust with clients by demonstrating their expertise and ability to create impactful campaigns.
💡
Overall, by utilizing data-driven insights to inform their pitches and strategies, agencies can help their clients succeed in today's rapidly evolving business landscape.
1.1. Proving the ROI of social media for agencies
It's critical for agencies to demonstrate to clients that their services deliver real, significant benefits.
By focusing on showcasing the value of social media and delivering measurable results, you can establish your agency as a trusted industry leader.
But how exactly do you prove social media's return on investment?
The first step in building a successful agency-client relationship is setting clear goals with your potential clients.
This will enable you to comprehend what success means to them and evaluate the viability of your objectives.
Without specific objectives, it is impossible to track progress and grow your business to meet client needs.
1.2. Understanding the clients' target audience
Data can be extremely valuable for agencies to understand the target audience and behaviors of their clients.
By collecting and analyzing data related to the targeted audience, agencies can gain insight into consumer preferences, interests, and purchasing habits.
Social media analytics can be used to develop more effective marketing strategies that are tailored to the needs and desires of the target audience.
Additionally, social media data can help agencies identify patterns and trends in consumer behavior, enabling them to predict future trends and adapt their future strategies and proposals accordingly.
1.3. How to position your agency as an industry expert and win clients
As a digital agency, your success depends on your ability to attract and retain clients.
One effective way to do this is by positioning your agency as an industry leader.
Here are some steps you can take to achieve this:
Craft an effective sales pitch
A savvy sales pitch can be the key to winning new clients and establishing your agency as an industry leader.
By focusing on your prospects' specific pain points, needs, and goals, you can create a pitch that resonates with them and encourages them to work with your agency.
Use data and case studies to back up your claims, and be prepared to respond persuasively to any objections.
Prove your expertise
Establish your agency's expertise by appearing on relevant podcasts, speaking at industry conferences, and sharing your expertise through content marketing.
This can help generate greater brand awareness and more leads for your agency.
Brooke Sellas, founder and CEO of B Squared Media, a digital marketing agency, says that half of her leads come from content marketing efforts:
"As the CEO and the only salesperson for B Squared Media, sales are critical for me. Our leads come from many different places:
About 50% of our leads are inbound from our content marketing efforts (blog, podcasting/show, reports, webinars, etc.)

About 40% of our leads come from our industry partners, including my mastermind group. I keep a close circle of partners I follow up with them regularly. I also support them by sending business their way or finding ways to ensure the relationship is a two-way street.

About 5% of our leads come from my book, Conversations That Connect.

The other 5% of our leads come from speaking – where I'm able to present our philosophies and case studies on stage at conferences or for certain industry leaders."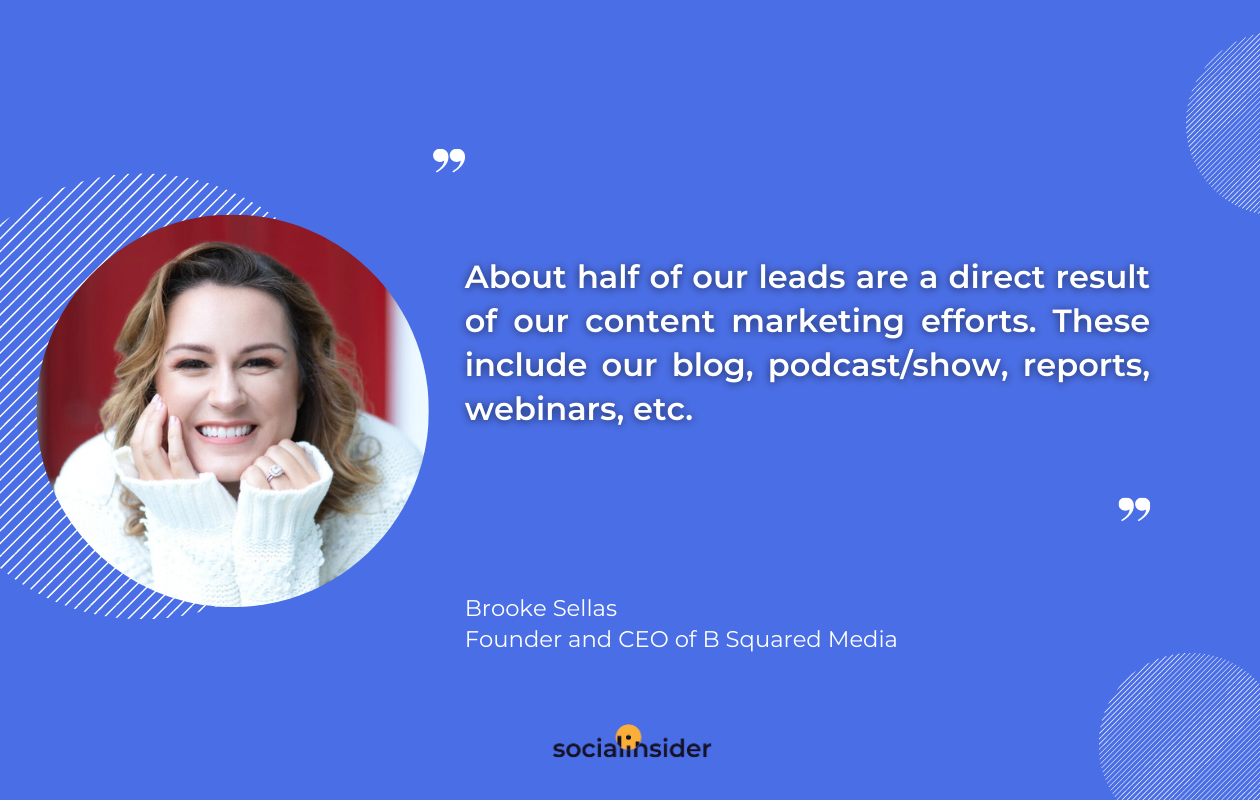 Register on trusted reviewing platforms
Consider registering your agency on Trustpilot — or other digital platforms that allows clients to review a business from which they've purchased a product or contacted customer service.
This can help prospects find you and read positive reviews about your services. Your agency's reputation will be enhanced, and you will be positioned as an industry leader.
Remember that consistency is key, and you must continuously deliver quality services to maintain your position.
Navigate competitive benchmarking
As an agency, your clients may ask you to benchmark their performance against their competitors.
So here are some tips to navigate this challenge and help clients achieve their social media goals:
Look for industry-standard reports that provide information on social media performance.  This will give you a sense of how your client's efforts compare to the industry as a whole.
Focus on the following metrics to measure performance: response rate, response time, response percentage, posts per replies, brand engagement ranking, and consumer engagement ranking.
Stay flexible and adjust your approach as you gather more data.
Consistently review your social reports and assess whether your clients are on track to meet their KPIs.
Use the insights you gain from your campaigns to optimize your strategy and share these learnings with your clients.
Show them how to evolve with each interaction and set new goals for their social media performance.
Our best tip? Use a third-party tool that offers advanced features such as competitor analysis of specific campaigns and reporting capabilities, like Socialinsider.
If you're already doing competitive analysis, then it's time to step up your game.
Using Socialinsider's Benchmarks feature, you can see exactly how you (or your clients) stack up against different competitors and use these insights to create data-driven pitches for your prospects.

You can get benchmarks data at a brand level, cross-channel or for each individual social media platform. Depending on your choice, you can track all major KPIs and some channel-specific metrics (e.g. channel views for Youtube).

If you just need a side-by-side comparison of two brands, you can use our nifty little feature called Compare - where you can all the quick stats at a glance: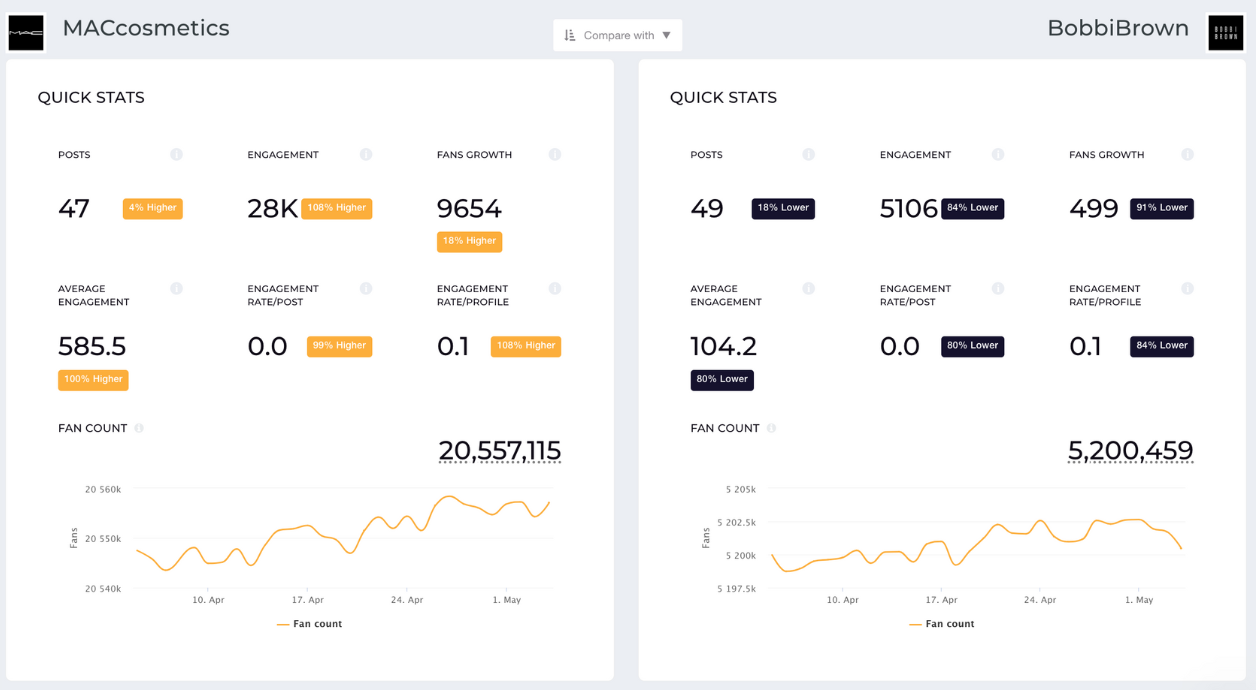 Or compare your clients' performance against industry benchmarks: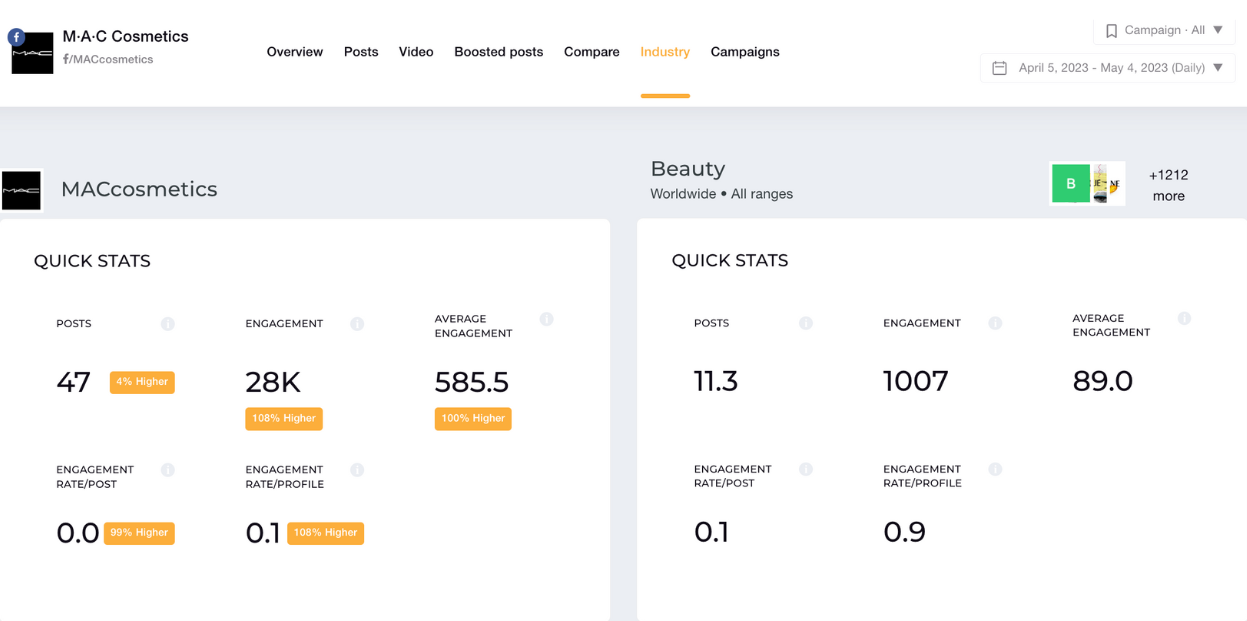 2. Why measuring your agency's social media data matters?
It is crucial for a social media agency to measure its own KPIs in order to effectively track progress and attract new clients.
The constantly evolving nature of social media, with new platforms, features, and trends emerging all the time, makes this particularly important.
This allows for the extraction of significant insights concerning target demographics, social media habits, and the efficacy of marketing campaigns.
Consequently, this information can then be leveraged to create custom strategies that boost engagement and ultimately drive greater ROI.
In summary, measuring KPIs in social media is crucial for social media agencies to gain insights into their performance, create tailored strategies, and make data-driven decisions that lead to business growth.
So let's see how exactly social media analytics can help agencies attract new business.
2.1. Monitor social media conversations
Social media monitoring is essential for businesses seeking clients.
It yields valuable insights into their target audience, helps them manage their reputation, and improves their products based on the feedback that was gathered.
By using social media listening tools, you can identify customer pain points, needs, and areas for improvement.
Use this data to enhance your offerings and craft messages that resonate with potential customers.
Analyzing conversations also helps to identify trends and make necessary improvements.
Negative comments or reviews can significantly impact a business's reputation. Thus, monitoring social media conversations allows for prompt identification and resolution, maintaining a positive brand image.
Finally, gathering data on social media conversations helps businesses understand their competitors' strengths and weaknesses, refine marketing strategies, and gain a competitive advantage.
2.2. Use the right tools
Choosing the right social media analytics tools is crucial as it can help agencies extract valuable insights from social media data and create a targeted marketing approach.
There are various tools available in the market, including built-in apps like Google Analytics or Facebook Insights, as well as third-party tools.
Among the many tools an agency needs, it is important to choose those that offer the most value.
While built-in tools provided by social media platforms are useful in providing analytics tailored to their respective platforms, third-party tools such as Socialinsider can offer additional features and functionalities that are not available on built-in tools.
These advanced analytics make Socialinsider an indispensable tool for agencies looking to gain a comprehensive view of their social media performance across multiple platforms.
2.3. Use data to boost social media engagement
Obvious or not, social media engagement can increase your chances of attracting clients.
How so?
When potential clients see that your social media posts have received a significant number of likes, it can act as social proof that your product or service is valuable.
This can encourage them to visit your website or other social media pages.
Ultimately, this can increase the likelihood that they will consider your product when searching for solutions in your industry.
This brings us to our next point.
2.4. Analyze your social media results
Regularly review your social media analytics to see which tactics are working and which are not in attracting clients.
Use this information to continuously improve your social media strategy and better target potential clients.
Additionally, you can draft a social media analytics report to communicate performance to the team and stakeholders.
This report should summarize and visualize the data, insights, and actions, including goals and metrics, data sources and methods, key findings and recommendations, and next steps and action plans.
Final thoughts

Social media analytics can help agencies translate likes on a post into clients by increasing brand awareness, improving engagement, providing valuable insights into content performance, and providing social proof to potential clients.