Talking about brands that have been around for a long time and that have created history in their line of operations, today we introduce you…Levi's.
Besides making it one of the longest-lived companies, Levi's' revolutionary vision shaped not only its products but also its overall marketing and social media strategy.
Are you curious to see what tactics is Levi's leveraging when it comes to its social accounts? Let's dive into that!
Levi's' marketing strategy: key takeaways
1. What is Levi's' TikTok strategy?
2. Insights about Levi's' Instagram marketing approach
3. Performance data and analysis of Levis's' social media strategy
1. What is Levi's' TikTok strategy?
Levi's is an iconic brand for so many reasons. It has not only passed the test of time, but it also played an important, revolutionary role in the denim industry, being the company that created the first-designed women's jeans.
Being an innovation pioneer, Levi's does not hold back when it comes to taking risks to make an impact. Rooted in the brand's core, its explorer side is easily detectable in all its communication, especially on social media.
Leveraging TikTok, at a time when still many brands are very hesitant in doing so, the brand is gaining big.
Levi's positions itself as a brand of all generations, which is why being present on TikTok was imperative for the company.
While serving and entertaining consumers of all ages, Levi's' social media focus is highly directed toward dubbing down on Gen Z - to grow and consolidate the brand's next fanbase.
Levi's has developed advertising partnerships with TikTok
Quickly adapting to the reality of the COVID-19 pandemic, back when it all started, Levi's saw the opportunity of capitalizing on TikTok's increasing popularity and started experimenting with ads within the platform.
Levi's was actually one of the first retailers to use TikTok's "Shop Now" buttons that allow consumers to make purchases through links posted to TikTok. Which, according to the brand, was a successful tactic for generating high engagement and traffic to the company's website.
Collaborating with creators for the execution of those promoted videos, Levi's afterward ran those as in-feed ads.
Killing two birds with one stone, as in having the power of influencer marketing boost those ads, Levi's showed what a smart way of doing TikTok marketing looks like.
One of the brand's end goals on TikTok is to drive awareness for conscious consumption
With fashion being one of the fastest-changing industries, Levi's' survival through the decades while succeeding in keeping its signature jeans (the 501 model) a classic is quite impressive.
Given the nowadays crave for vintage items as a result of the massive authenticity need of the younger generations, on TikTok, Levi's is not only highlighting its core piece but thinks of the longer game.
Proving the brand's products can easily resist through the ages, as opposed to most of the current fast-moving fashion brands and trends, Levi's is set on showing how the creation of more qualitative products can, in the end, reduce waste and save precious resources. Altogether with conscious consumption.
That's why, in order to inspire it, one of the content pillars of Levi's' TikTok strategy consists of tips, hacks, and ideas of how to give old denim a new spark and look.
Levi's creates unique, tailored content to match the platform's audience and algorithm
When started creating content for TikTok, Levi's put a lot of effort into understanding the platform's audience, the user's needs, and preferences, altogether with the platform's algorithm.
Capitalizing on the network's highly entertaining nature, Levi's' TikTok strategy consists of posting, on the one hand, rather helpful videos showcasing outfit ideas and on the other, funny videos related to the brand's story.
Not to mention the educational videos regarding conscious consumption that we already talked about.

If we were to deconstruct Levi's' TikTok content creation pattern, here's what we would encounter:
a mix of longer and shorter videos (ranging from 10 to 40 seconds);
a usage of primary original sounds;
very short captions;
an insertion of only one hashtag per video.
2. Insights about Levi's' Instagram marketing approach
Levi's' unity in communication is visible across all its social channels.
While creating different content tailored to each platform's specificity and audiences, the brand leverages on Instagram more or less the same concepts we've identified in its TikTok strategy.
However, from a glance, it looks like Instagram is the brand's go-to network for more consolidated and longer-run campaigns.
Levi's creates ageless campaigns (designed to resonate with multiple age groups)
Celebrating 150 years of existence of its star model, Levi's created a campaign that encapsulates the brand's journey and identity, altogether with their customers' stories.
The #150YearsOf501 campaign, for example, with its echoing motto - "The greatest story ever worn" makes for one of those ideas that will be remembered through time and that is not bound to a particular place, age, or other specific borders.
In making its Instagram campaigns, Levi's usually embodies its customers of all ages' experiences to highlight it is a brand of multiple generations, capable of being relevant for all age groups in each one's particular way of interpreting the world.
The brand has a video-first content strategy
Capitalizing on the high demand for video content, Levi's' social media strategy aligns with this new trend of consuming information, heavily integrating Reels into its posting.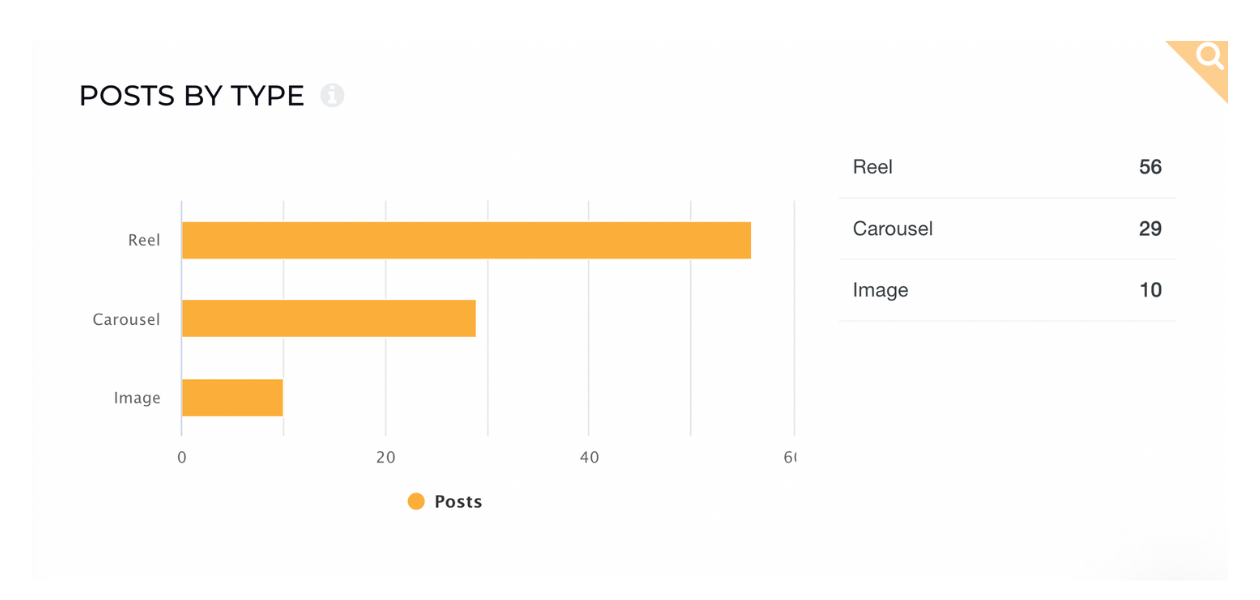 As for the Reels created, the brand's video materials are mostly conscious consumption awareness videos and time-capsule wardrobes meant to inspire Levi's' customers to style their outfits in a timeless way.
3. Performance data and analysis of Levis's' social media strategy
With Levi's' marketing strategy sharpening its focus on Gen Z to consolidate the next fanbase, it's interesting to see how the brand's Instagram, which is a more "assembled" account, performs compared to its TikTok.
This very reason is probably the motive why, over the past three months, Instagram outnumbered the engagement gained by Levi's on TikTok.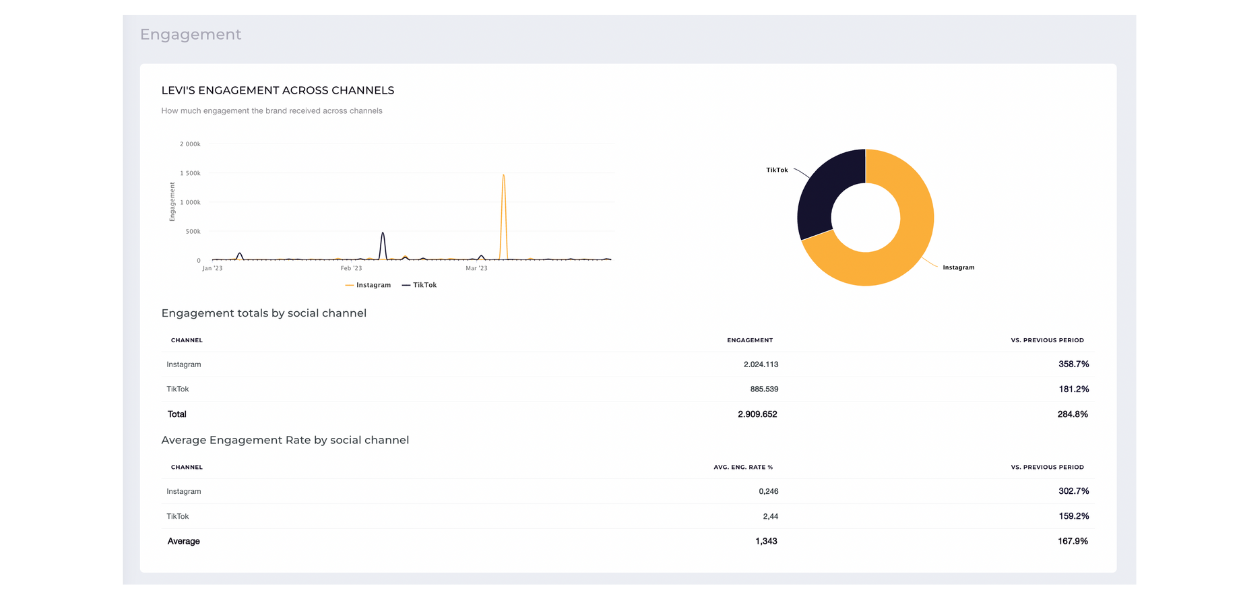 And surely Levi's' anniversary campaign on Instagram also had something to do with the engagement data we've seen.
How do we know this?
Looking at the average engagement rate, which is higher for TikTok, we can understand that, overall, TikTok performs better than Instagram.
However, with an ongoing campaign on Instagram, it's understandable why, for a particular time frame, Instagram may be delivering better results. Obviously, because there are multiple resources invested into that channel for that specific period.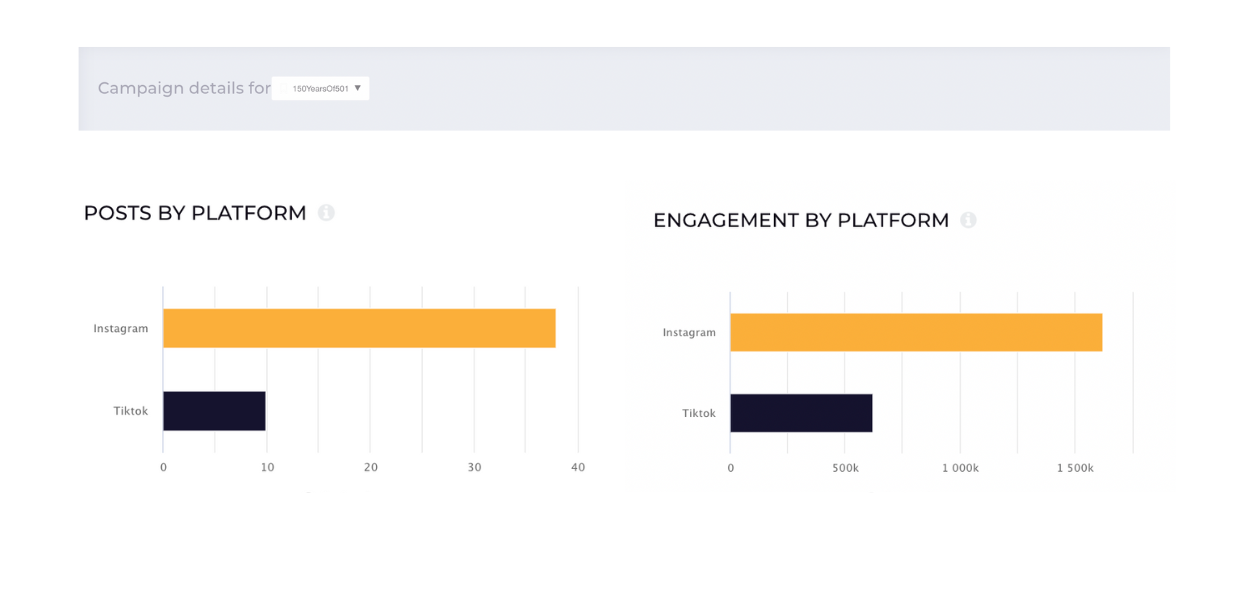 Now let's explain how we uncovered these insights and how you can apply the same tactics to spy on your competitors' campaigns.
By using Socialinsider's Campaigns feature, which automatically enables post tagging based on the user's desired criteria, we analyzed the performance of the posts that were part of the #150YearsOf501 campaign across TikTok and Instagram.
Running a competitive analysis for Levis's marketing strategy
Now that we've seen how Levis's social media channels stack up against each other in terms of performance let's also run a quick social media competitive analysis to see how effective Levis's marketing strategy is compared to other similar businesses.
Since we uncovered that Instagram is the brand's most engaging channel for the time being, let's keep our analysis focused on this particular platform.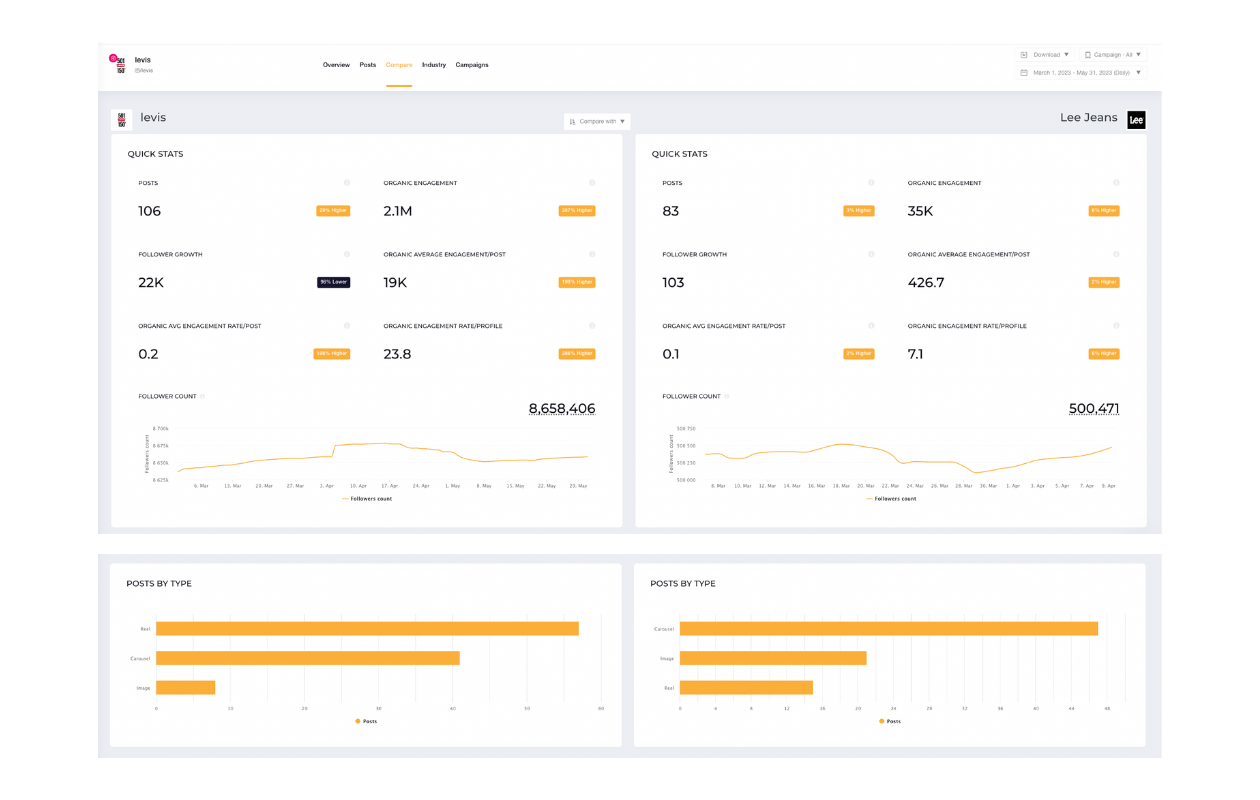 When comparing Levis's marketing strategy for Instagram to Lee Jeans's one, we can see that one of the differentiating points between the two brands is the preference for a certain Instagram content format.
With Instagram Reels known to be the most engaging content type, there is no surprise that by integrating more of that particular format into its posting calendar Levis succeeds in outperforming its competitor, as highlighted by the great differences in engagement and followers between the two brands.

Final thoughts
Since leveraging TikTok and Instagram Reels, Levi's has had a tremendous increase in content.
Testing and discovering what's working for the brand and what's not is probably one of Levi's' major winning social strategies, as there's an imperative need to quickly adapt to the trends and to what the users are attracted to.