Since its humble takeoff, social media has turned into a very important and powerful marketing channel for small and large businesses alike.
With it, companies unlocked the opportunity of portraying more pronounced and individualized brand personalities while also getting increased exposure.
Thanks to an out-of-the-box social media strategy, some of the most ingenious brands - like Innocent Drinks, for example - succeeded in quickly gaining considerable attention from their potential customers.
Wondering what the secret is?
Let's dive in!
What is Innocent Drinks' marketing strategy for social media?
1. Innocent Drinks' marketing strategy for TikTok
2. Innocent Drinks' marketing strategy for Instagram
1. Innocent Drinks' marketing strategy for TikTok
With social media platforms and features evolving greatly in the last few years, a couple of sporadic posts don't make the cut anymore for getting the user's attention, let alone their active involvement with your brand.
These days, for a social media strategy to be successful, there's a great need for in-depth research, audience analysis, and tons and tons of creativity.
In case you didn't notice by now, nowadays, social media consumers want authenticity more than anything. THIS is what smart social media marketing implies today and what helped different businesses grow, get incredible popularity, and thrive.
Such a business is, for example, Innocent Drinks, a UK-originating smoothies and juices brand that, thanks to its original social media strategy, succeeded in getting quite a significant number of fans and customers.
Jumping on the cool kid's train, Innocent Drinks launched its TikTok account last year and since then has creatively leveraged more TikTok trends that got Gen Z's fondness and interest.
Innocent Drinks leverages the most popular TikTok filters
Similar to Ryanair, Innocent Drinks has understood what TikTok users like and started creating more TikTok content in that direction.
With the face filter being one of the most popular TikTok effects at the moment, Innocent Drinks chose to capitalize on that and integrated it into a part of its funny TikToks.
Since TikTok is a platform where humoristic content performs best, Innocent Drinks equally chose a friendly and rather humanized approach for its TikTok content creation.
As a general TikTok marketing strategy, Innocent Drinks portrays many POVs in its TikTok videos, predominantly around the theme of social media managers' struggles with finding the best creative concept for TikTok marketing.
Beyond being salesy, on TikTok, Innocent Drinks is personal - and most certainly relatable.
From a performance perspective, the above-mentioned angle taken by Innocent Drinks on TikTok led to an engagement rate of more than 10% and a follower growth rate of 10.33% over the last year, both being amazing results.
PS: These KPIs were calculated using the Socialinsider analytics app. If you'd also like to get in-depth TikTok data for your TikTok account, you can start a free trial here!
2. Innocent Drinks' marketing strategy for Instagram
We've already established that smart social media marketing can positively influence a brand's image and finances in multiple ways - from generating increased brand awareness, more traffic, and even sales.
With social media marketing proving to have quite a satisfying ROI, and new platforms emerging and gaining more popularity, it's highly recommended to give it a shot.
Like TikTok, Instagram Reels are among the new generation of social media features created with the intention of encouraging video creation.
While at a broader level, this feature claimed the title for the most engaging post type of the moment, as our latest Instagram Reels study has revealed, Innocent Drink's Instagram is the best proof that every brand's fruitful recipe for social media success is incredibly unique.
Despite video content's popularity nowadays, Innocent Drinks' most engaging post type remains the single image-framed one.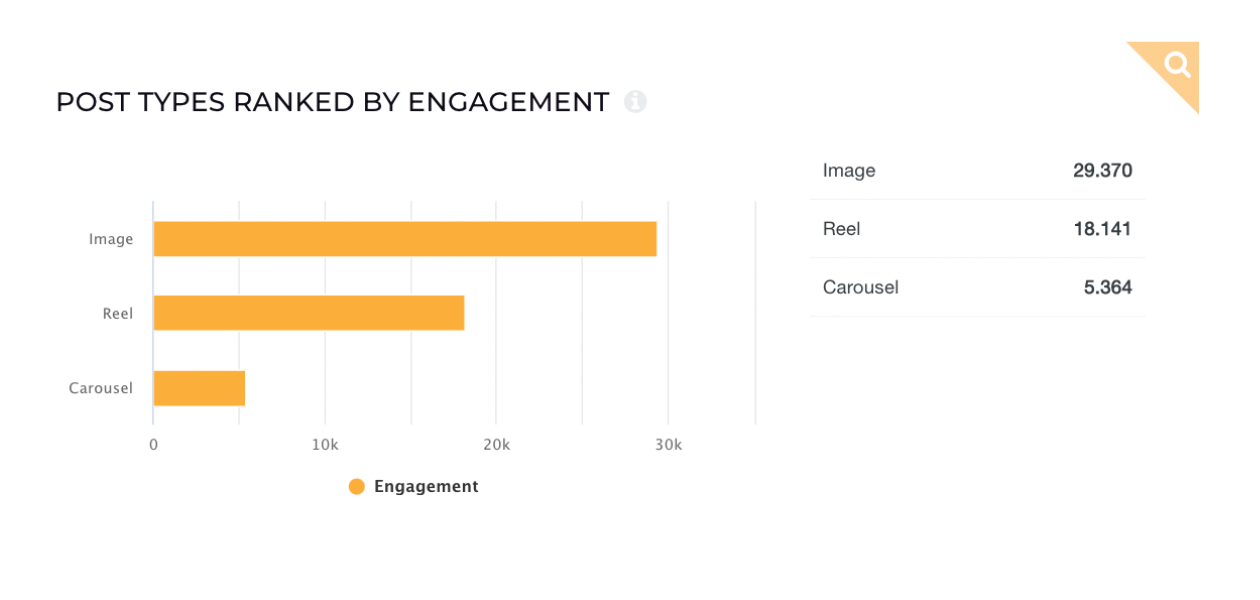 As for the brand's marketing strategy, on Instagram, Innocent Drinks talks with its audience in a friendly, personal tone, adding a splash of humor to its messages every now and then.
Actually, if we were to name Innocent Drink's Instagram's one characteristic trait, that would undoubtedly be its unique, humoristic content approach.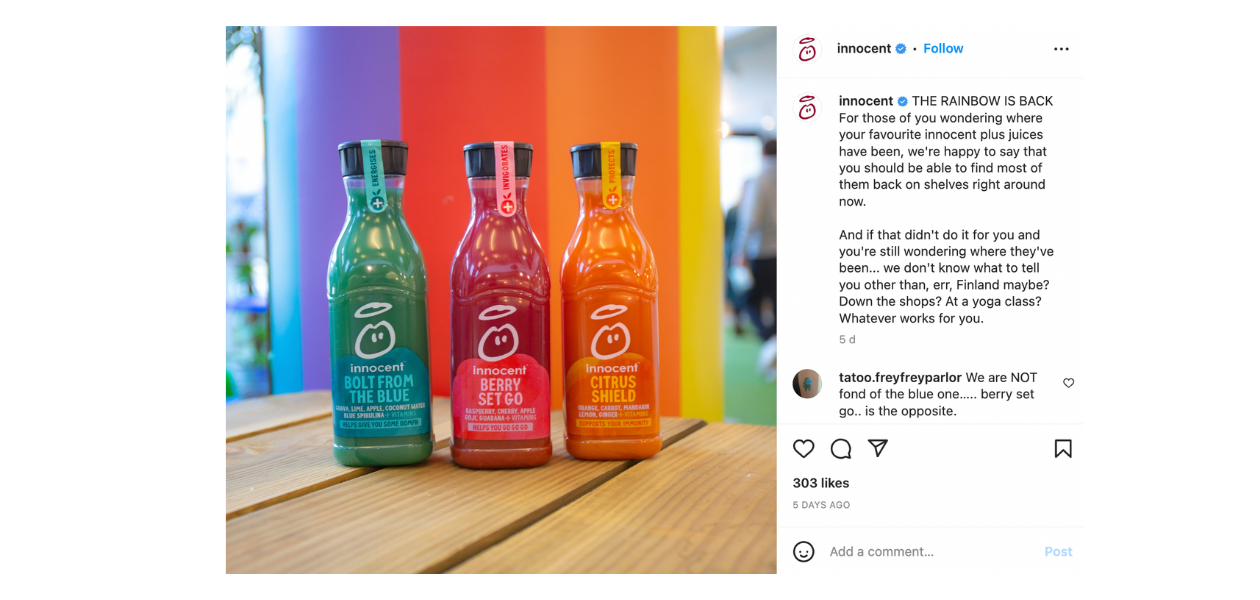 With an average engagement rate of 0.70%, which is only a bit lower than the platform's average, through its bubbly brand personality, it can be concluded that Innocent Drinks aces the game of getting Instagram's community sympathy.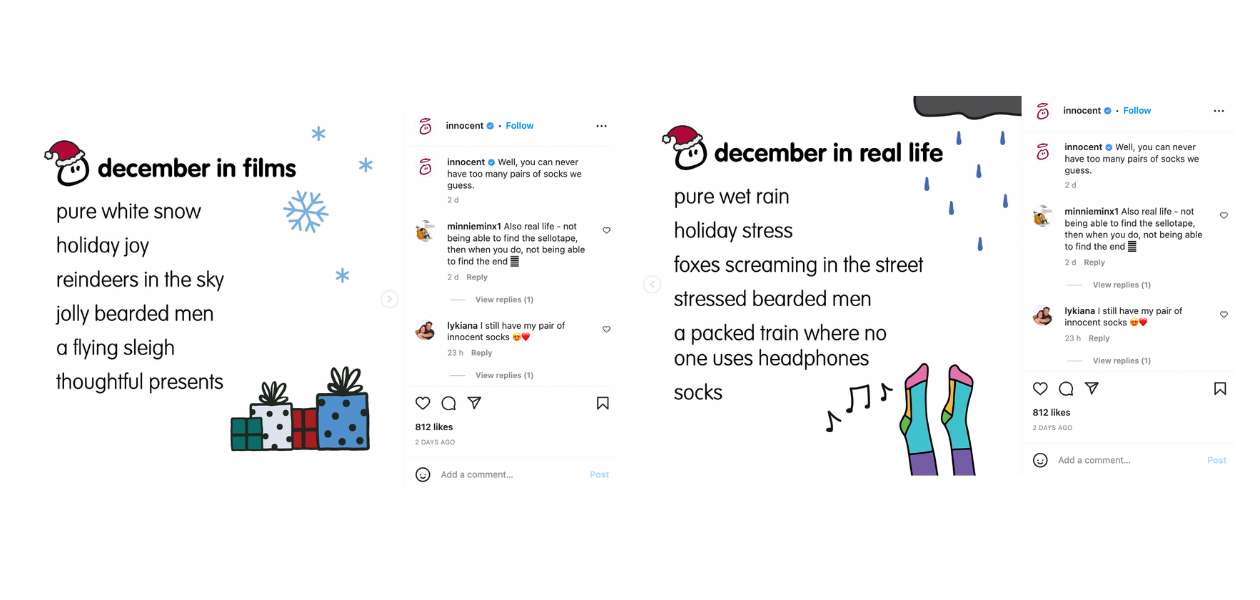 3. TikTok vs. Instagram
While Innocent Drinks usually creates platforms-tailored content adapted to every network's specific audiences and preferences across all its social channels, Innocent Drinks keeps its quite unique and easily recognizable tone of voice.
As Marcus Dean, social media manager at Innocent Drinks, has highlighted, the brand's three main content pillars are soft product promotion, the force of good (as he named its CSR-related social media posts), and everyone's favorite posts - the branded random ones.
A key takeaway for brands that aim to follow the brand's footsteps and - to some extent - replicate Innocent Drinks' social media strategy and success is to focus on being relatable instead of salesy. Remember that at the end of the day, it's how Marcus said: " the secret is to make people see themselves in you".
Despite Instagram being the earlier adopted social media platform by Innocent Drinks, given TikTok's current high user base increase trend and also the brand's creative video content strategy for the platform, Innocent Drinks has started to have a more significant follower growth on TikTok.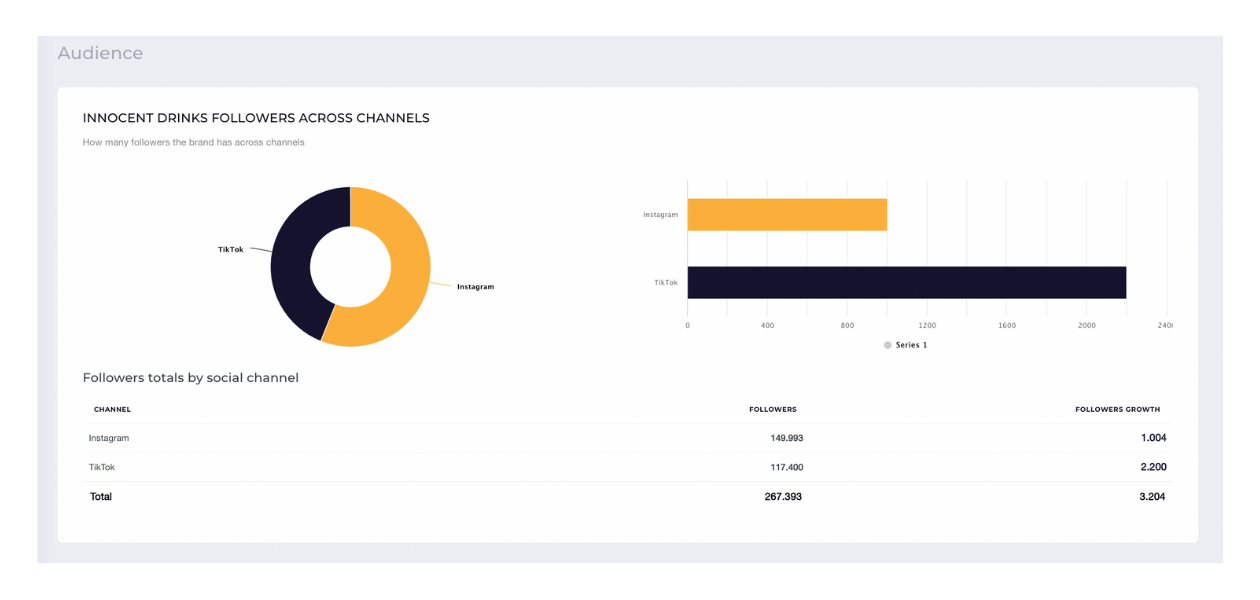 To get performance data for Innocent Drinks' Instagram vs. TikTok, I used Socialinsider's TikTok and Instagram analytics features that display more in-depth metrics such as best-performing posts, top hashtags by average engagement, total video plays, and other insightful KPIs.
Moreover, the tool also offers the possibility to conduct a multi-channel measurement, getting your brand data across multiple channels.
Last, but not least, you can also get social data for any of your competitor's social profiles, have a sneak peek at their strategy, and gain some strategic insights.
Sign up for a 14-day Socialinsider free trial!
Final thoughts
The brand's humorous and lighthearted messages in social media and not only - in its overall marketing materials have helped the brand establish its image as a fun and approachable company, which is an example worth following.
What's most interesting in Innocent Drinks' social media strategy, and probably one of the best examples of its efficiency, is that the brand gets its exposure mainly through organic content, paid advertising having just a small piece of the pie that's the brand's marketing strategy.
Hopefully, the insights presented about Innocent Drinks' social media strategy offered you some inspiration for your own marketing plan.
Now - is there any other brand social media strategy analysis you would like to read about? Feel free to let us know!