As marketers, we are all passionate about discovering inventive campaigns, learning about successful, inspiring brand stories, and creative strategies adopted by the most visionary brands.
And that's exactly what we're committed to digging up by deconstructing Gymsharks' social media strategy and analyzing the effectiveness of its leveraged marketing tactics.
Ready to find out what are the strong points of Gymsharks' social media strategy?
What is Gymshark's marketing strategy for social media?
1. For TikTok, the Gymshark creates entertaining content tailored to the platform's audience
2. On Instagram, the brand capitalizes on the power of influencer marketing and user-generated content
1. For TikTok, Gymshark creates entertaining content tailored to the platform's audience
One could say that Gymshark is a pioneer in TikTok marketing, given that the brand launched its account back in 2019, at a time when not many brands had the courage to do so.
But truth be told, Gymshark's marketing strategy overall is nothing but ordinary.
With a heavy focus on social media promotion, the brand had reached some milestones a few brands did, especially in the somehow short life cycle it has.
By deeply understanding each social platform's audiences, it has succeeded in breaking through the highly competitive landscape, becoming one of the most successful brands within the athletic wear industry.
Now back to Gymshark's TikTok strategy - its strongest point is its fun, helpful, and relatable content approach.
The brand's TikTok content is entertaining, consisting of workout suggestions and tips mixed with funny and relatable gym stories
With most brands nowadays increasing their focus on Gen Z marketing, TikTok has become a most valuable resource to leverage, given that it is this consumer segment's favorite social media platform.
Being the first truly digital natives, Gen Z makes for a very particular audience category that values authenticity above all else.
By choosing brands with whose values they identify and looking beyond the functional benefits of the products they purchase, Gen Z consumers need to be nurtured through meaningful conversations.
Since TikTok is an entertainment-oriented social network, normally, the type of content that performs best is fun, easy to consume, and relatable.
To diversify its TikTok content while also keeping up with the platform's audience needs, Gymsharks has come up with a mix of helpful content showcasing workout routines or tips for its sports-loving community and funny and relatable gym situations that stir engagement and conversations.
Enough to say, this strategy seems to work wonders for the brand, successfully helping it to cross the thin line between brand promotion and entertainment.
Another tactic that has proven to be extremely successful for Gymshark, in TikTok's and well as Instagram's case, was collaborating with micro-influencers within the fitness industry that had highly engaging communities and that helped the brand increase its exposure in a most effective way.
Gymshark's content creation pattern for TikTok
Now, in case your business is also in the fitness apparel sector and you're eager to discover some specific strategies that work on TikTok for brands within this niche, or you're just looking for some ideas about how to shape your strategy, here we come for the rescue.
When deconstructing the brand's TikTok content, we uncovered a series of posting patterns that you can use as a starting point for creating or optimizing your TikTok strategy, those being:
most of Gymshark's TikTok videos have under 30 seconds;
the brand integrates, on average, three hashtags per video, among which, one is branded (#Gymshark)
on average, Gymshark posts on TikTok every two days, which is a significantly higher posting frequency than most brands have -  this is a way of ensuring the platform's algorithm works in one's favor, increasing the content's reach. Ultimately, the brand's consistency is surely a key element of its TikTok success.
2. On Instagram, the brand capitalizes on the power of influencer marketing and user-generated content
Ever since its early days in Instagram marketing, Gymshark was focused on building relationships with people who believe in the brand, sparking loyalty and a sense of trust among its customers.
And a cost-effective way to achieve this goal was through smart influencer marketing and user-generated materials.
With this type of content usually being more authentic and human while also allowing Gymshark to incorporate the culture of the audience into the brand story, it became crystal clear this was the approach that would help Gymshark become a human-centric brand.
Most of Gymshark's Instagram content features athletes wearing the brand's products in their daily gym and life routines. Through this approach, the brand highlights how its consumers see it as a trusted partner for their evolution story.
The brand's current high peeks were possible to reach thanks to its long-lasting partnerships with influencers that helped Gymshark establish its nowadays solidified and supporting social community.
Gymshark's social media strategy for Instagram is centered around the idea of motivating and empowering
Creating valuable, engaging content for its Instagram fanbase is the effect of Gymshark's deep understanding of its targeted audience's challenges, struggles, and pain points.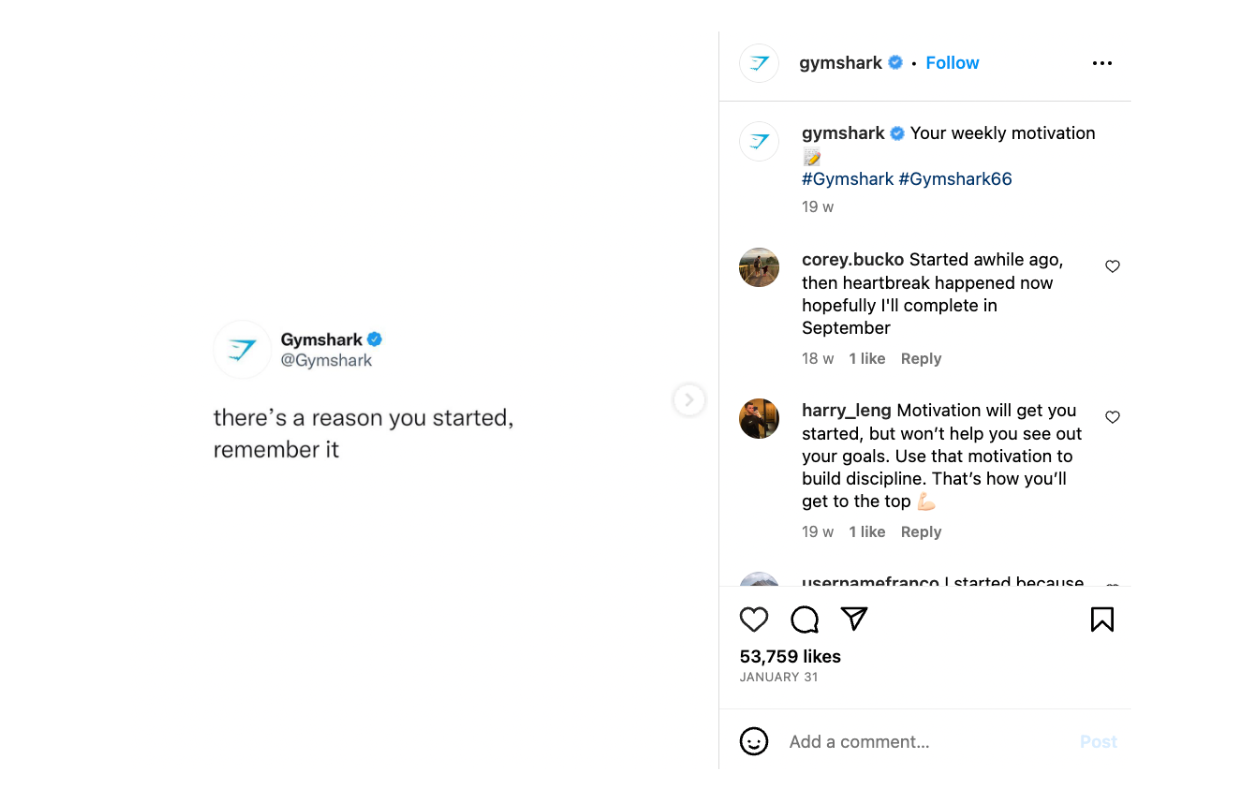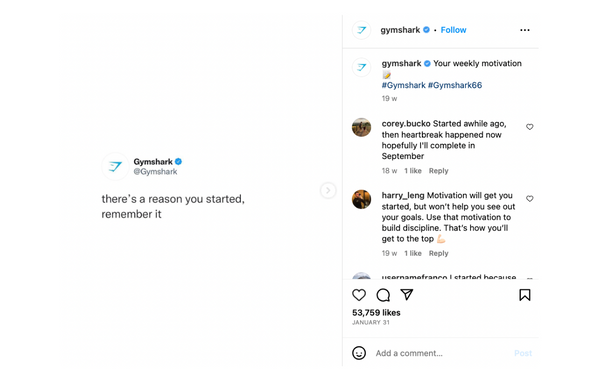 3. Performance stats for Gymshark's social media strategy
Now that we've seen what are the main pillars of Gymsharks's social media strategy, we can't help ourselves not to dig into the data a bit to see how Gymshark's numbers stack up against some of its competitors.
After all, how else can we prove the effectiveness of the marketing tactics mentioned earlier on, if not by highlighting the data behind - right?
Gymshark vs. Under Armour on TikTok
With TikTok being one of Gymshark's focus channels, a data-backed analysis of its account's performance vs. one of its main competitors should indicate to which extent its current social media strategy helps it gain a competitive advantage within its market.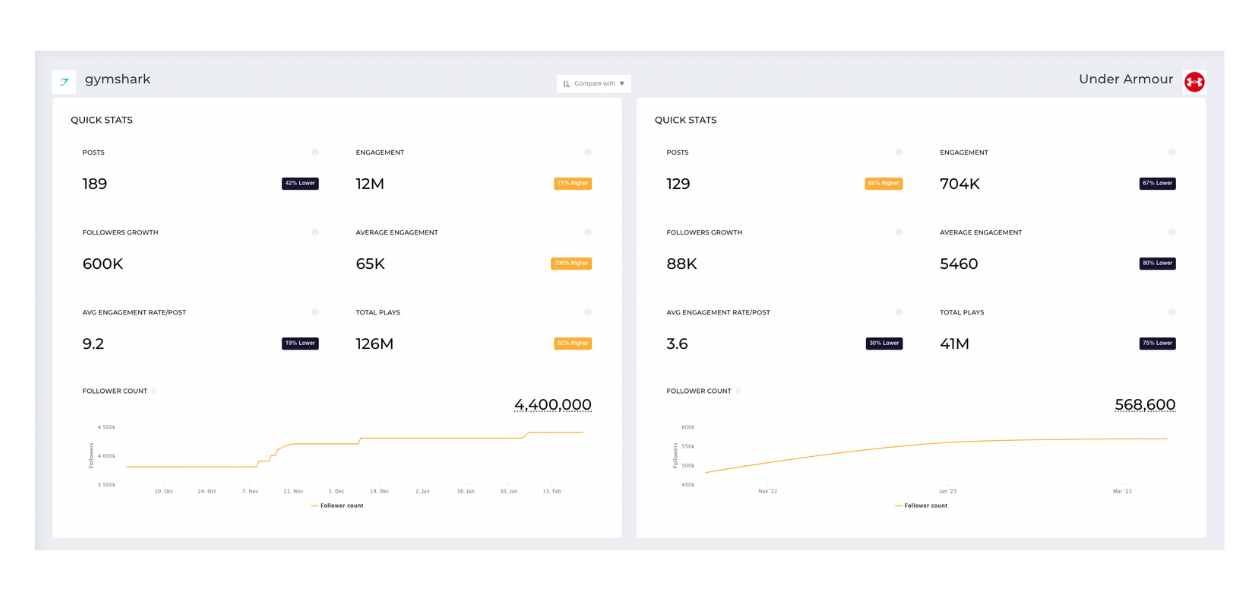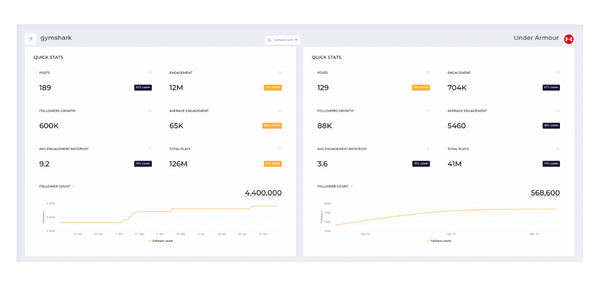 By taking a quick look at the numbers, we can easily conclude that Gymshark's strategy of having a more active presence within the platform has led to better KPIs, from views and engagement to a significantly higher increase in followers.
Gymshark against its competitors' Instagram data
Switching over to Instagram, we can see in this platform's case as well, Gymshark outperforms Under Armour in terms of better performance results.
To better understand the numbers, we also took a peek at Gymshark's vs Under Armour's posting patterns.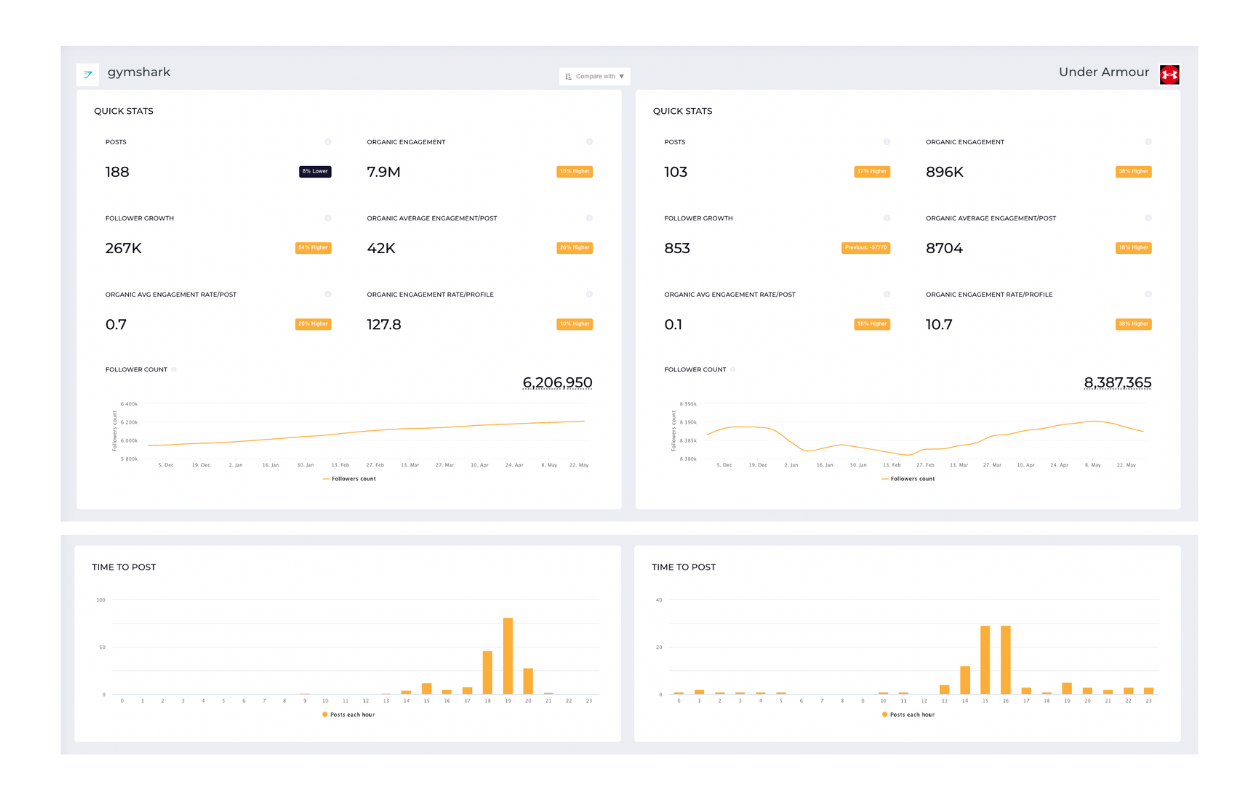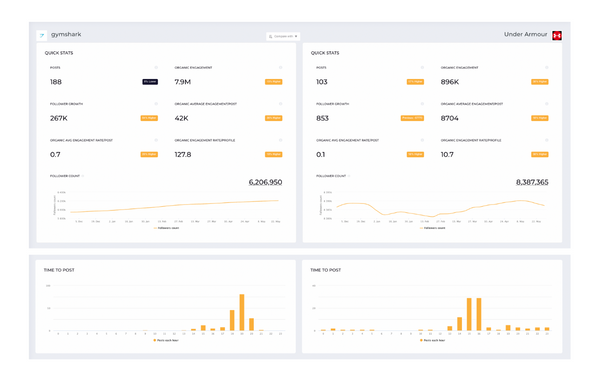 As highlighted by our data, Gymshark has a bit of a different posting calendar than Under Armour, which may be more efficient.
There's the possibility for Gymshark to have found that exact time when most of its audience is logged on to Instagram and, therefore, open to engaging with the brand, while Under Armour may still have to do a few tweaks here and there.
However, equally important is to remember the two brands have different home countries, which means their primary markets may be different, despite both of them selling and communicating globally.
To perform this competitive analysis, I used Socialinsider's Compare feature, which allows me to see head-to-head performance results for different brands, offering an overview of the strengths and weaknesses of every brand's strategy.
If you're curious about how you can replicate this type of performance report for your brand, let me quickly explain.
First, I added my wanted accounts to Socialinsider by clicking the "Add social profiles" within the dashboard, then inserting the account's URL.
After selecting the account I wanted to compare (e.g.: Gymshark's Instagram account) by clicking on it from the left-sided menu, I went to the "Compare" section available in the top menu.
The last step was to select the second account I wanted to include in the competitive analysis report from the list of already-added profiles that were automatically suggested by the platform. And voila! Here's how a simplified, while equally in-depth competitive analysis is made!
Final thoughts
Gymshark's visionary way of doing social media marketing has helped the brand get into the big league of fitness apparel, competing with echoing names within the industry, like Nike, Puma or Adidas.
With such a rapid growth thanks to its innovative way of targeting and communicating with its audiences, Gymsharks is surely a brand worth keeping an eye on even further.
As the social media landscape changes, the best inspiration source for marketers comes from brands that have such out-of the-box-thinking-patters, such as Gymshark.