In the last couple of years, TikTok has become the star of all social media platforms, increasing in popularity and users.
Social media managers and marketers around the world have focused their powers and efforts into building communities around their brands on TikTok.
Like any other social media platform, the question about ads rose soon and marketers wondered how paid campaigns on TikTok work. However, there are some gaps that need to be covered.
That is why today we're going to unfold the TikTok ads topic to offer you a wider perspective and a thorough understanding of everything there is to know about TikTok advertising.
TikTok advertising guide for 2023
1. Why use TikTok advertising in 2022?
2. How to set up a TikTok ad campaign
3. Design your ad with TikTok's video creation kit
4. TikTok ads best practices that help you convert
5. Types of TikTok ads
6. TikTok ad formats
7. TikTok ad objectives
8. How much do TikTok ads cost
1. Why use TikTok Advertising in 2023?
We're in 2023 and a while ago we used to think that we'll be driving flying cars by now. Well, the reality is different. Inflation is still going up and sometimes TikTok posts convert only if you boost them.
Many marketers may believe at first that great video content does not require TikTok advertising.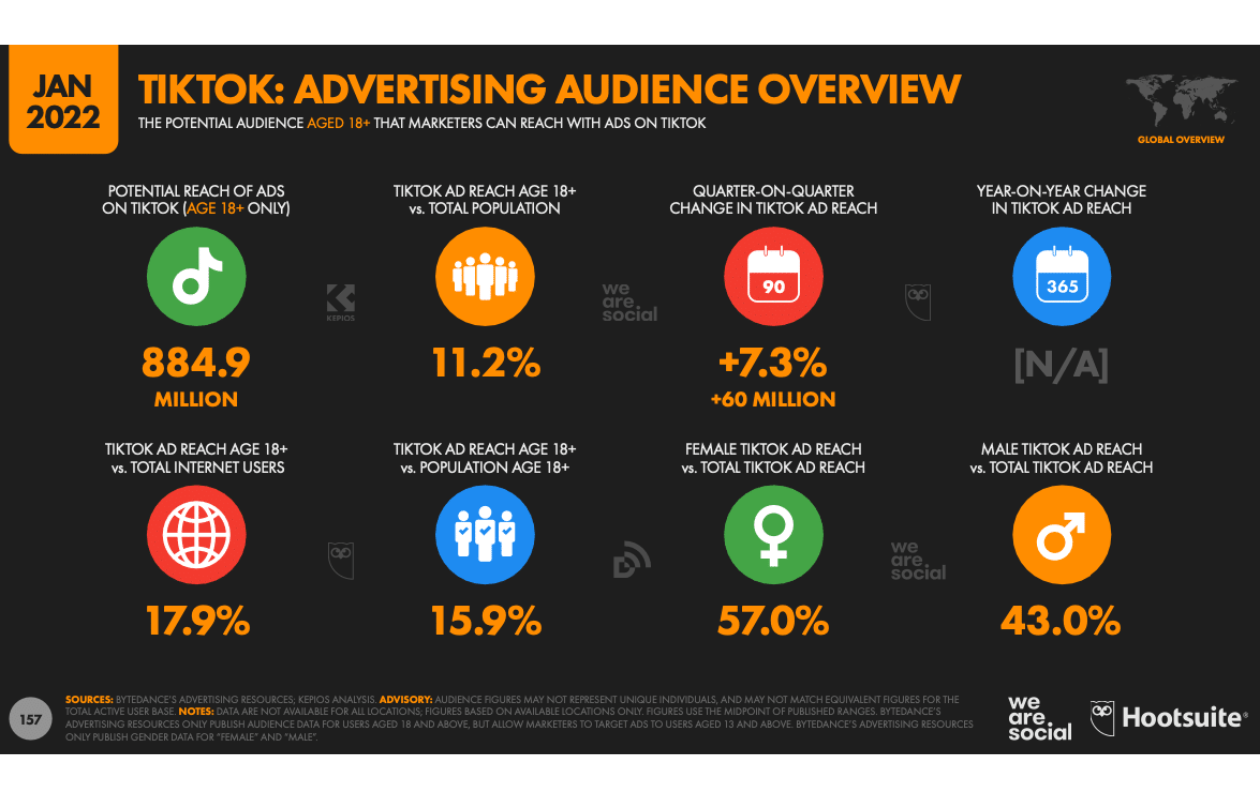 And we strongly disagree. Creating a TikTok ad with quality video content can increase your brand's chances of exposure and conversion.
Put simply, users spend over an hour every single day on the app. With 689 million active users, you can do the math.
TikTok is often associated with Gen Z and Millenials.
However, contrary to popular belief, TikTok isn't just for kids. 53% percent of TikTok users in the US are over the age of 30.
No longer limited to the youth market, TikTok stats show that it is now a platform on which to target consumers of all ages.
Going viral and connecting with your customers is easier than ever with TikTok. Here are a few statistics developed by Hootsuite.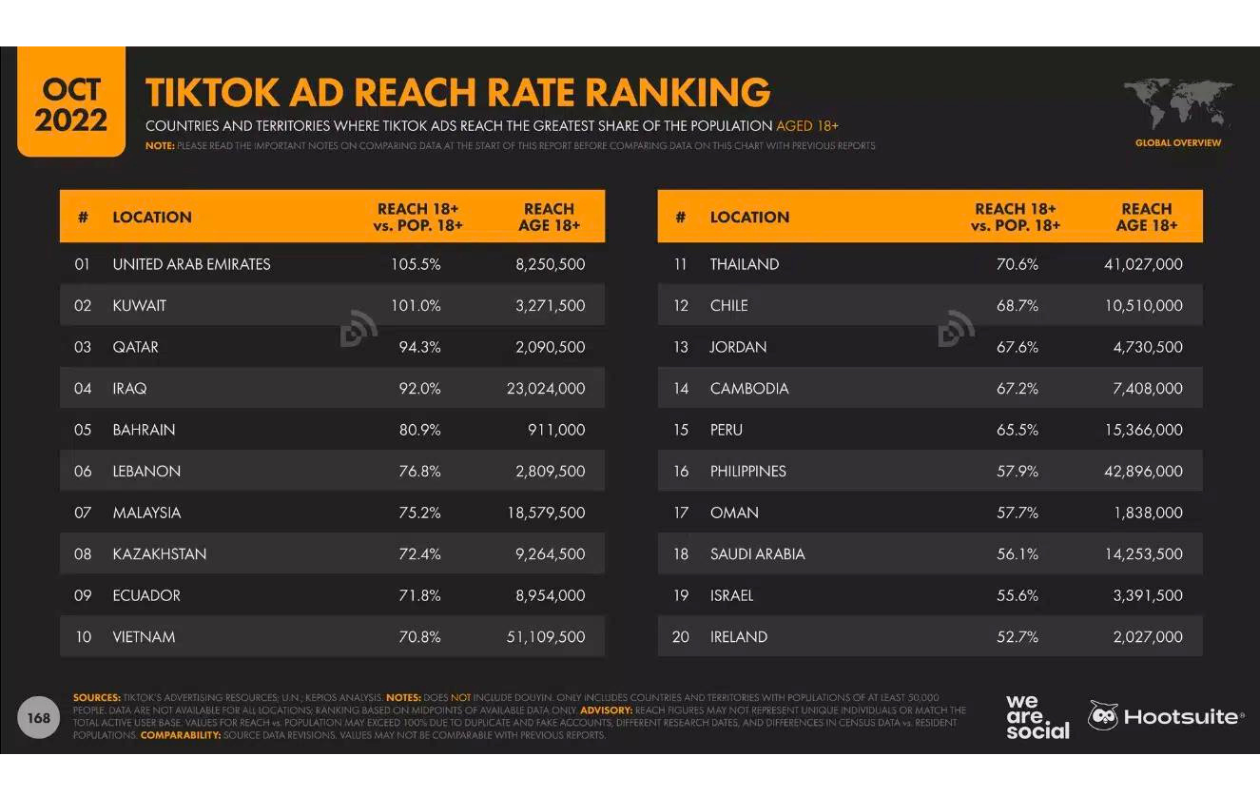 Gone are the days of requiring massive content creation budgets. In fact, the more authentic it looks to the platform, the better.
Not only does it offer a wide user base, easy creation of viral content, but it also has improved targeting.
Now, TikTok lets you target just the right audience using age, location, interests and more.
2. How to set up a TikTok ad campaign
Creating ads on TikTok is easy. Creating ads that can blow your organic TikTok data out of the water, that's a little bit more challenging.
First, you'll need to define your goals, set up target audiences, choose a realistic budget and design eye-catching content to get started.
Thereafter, measure, refine, and do it all again to meet your goals.
We've broken the process down into a step-by-step guide to ensure you're prepared to set up a campaign that converts.
A. Create your TikTok ads account
This may seem like an obvious step, but you would be surprised.
To advertise on TikTok, you need a business account. This is easily created via TikTok for Business.
You'll submit a quick form with your business information, and a TikTok representative will be in touch within 48 hours to get you started.
B. Set up your campaign
After setting up your account, you'll be able to create your first campaign via the ad dashboard.
Here, you'll specify the campaign objectives, campaign name and set your campaign budget.
Your objective is what you want viewers to do after seeing your ad.
Similarly to those on Facebook, TikTok objectives can be in one of three categories: awareness, consideration, or conversion.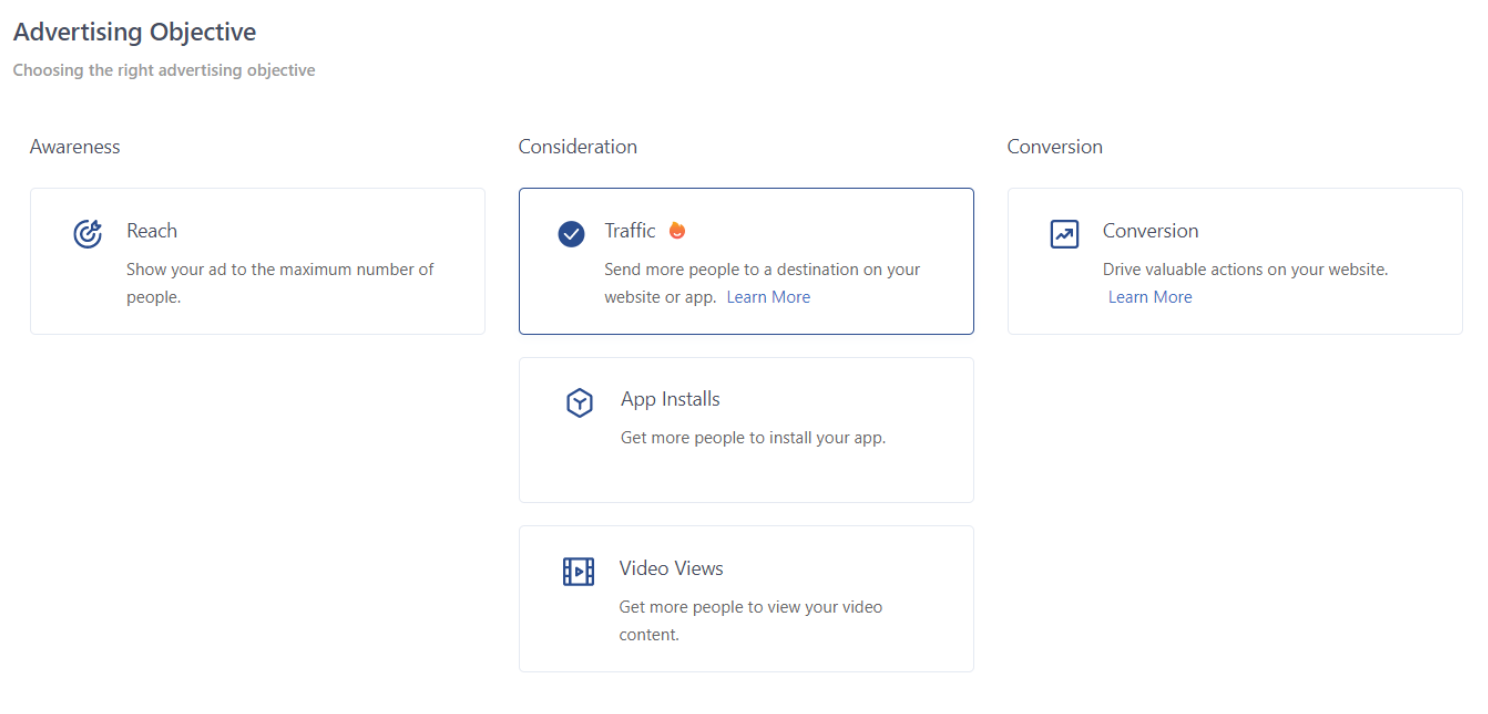 To choose the best option, ask yourself the following. What are your goals? Are you looking to increase traffic to your website?
Drive conversions? Improve your call center analytics? Understand your overarching goal, and you have your objective.
You'll then set a campaign budget. This is the amount that you're willing to spend on running your ads. Once you hit your budgeted amount, no more ads.
You can choose to run your campaign with no limit, or a specified budget. With no limit, there will be no restrictions on your ad delivery at the campaign level. You can however set a budget on individual ads.
Give your campaign a name you'll be able to recognize and differentiate when reporting.
C. Set up your ad groups
Every TikTok campaign can have multiple ad groups. This allows you to optimize ads and measure performance. Use this to test different targeting options, images, videos, and calls to action.
Here's how to set up an ad group in TikTok Ads Manager:
Choose your ad placements
Ad placement is where your ad will appear on TikTok. You have the ability to control where your ads are placed. For example, in feed video, or top view ads.
If you have no preference, or you're not sure which will be the most effective, you can select automatic placement.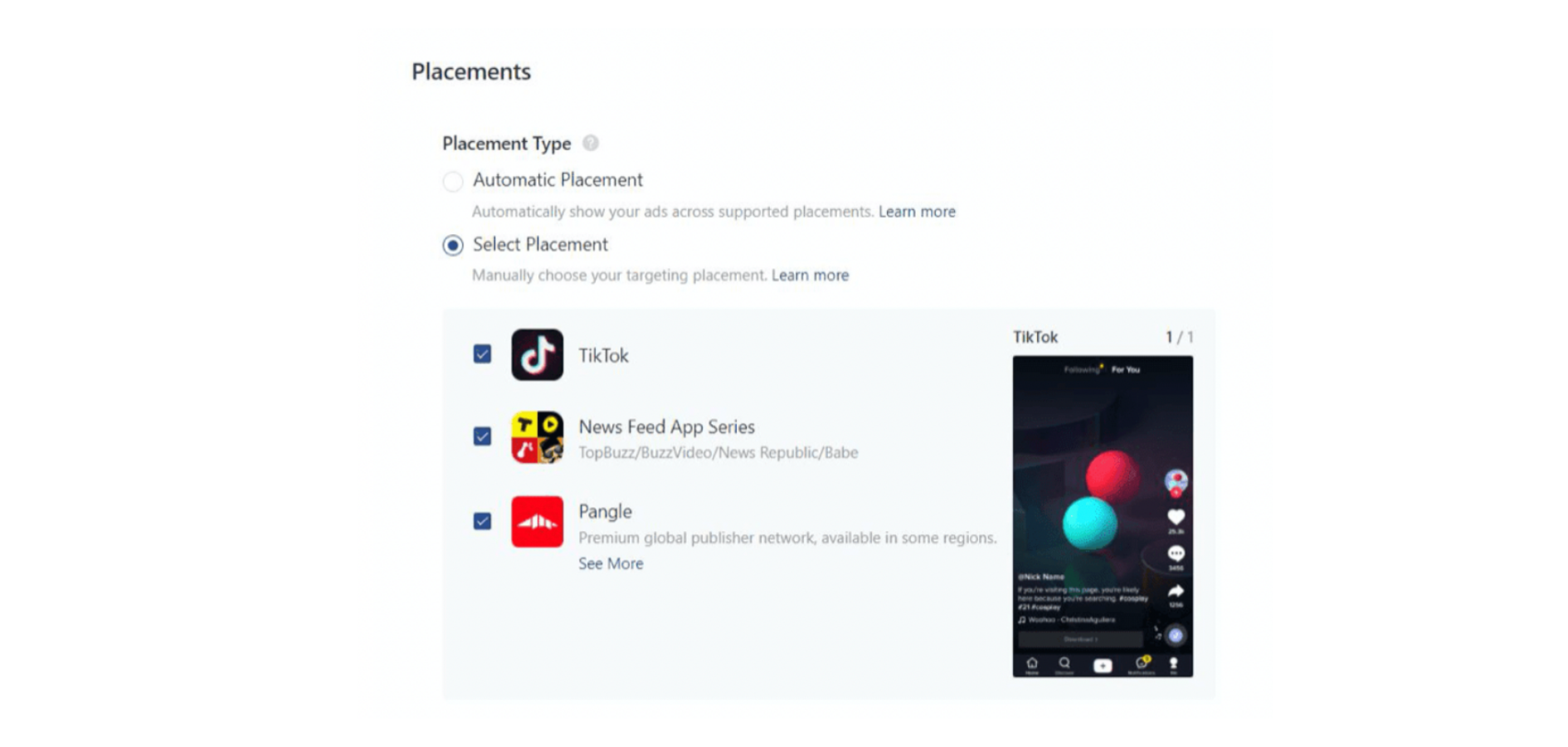 The algorithm will then optimize your delivery to maximize your TikTok results and help you achieve your specified objective.
This section is where you'll fill out all the details related to the landing page or app you're promoting.
Define the target audience for your ads. This is fairly self explanatory - choose who you want to see your ads.
You can choose from parameters such as location, demographics, interests or devices.
The more specific you are, the smaller your potential audience, but the more likely you are to reach those who will convert.
Set up a budget and schedule
Here, you'll determine how much you want to spend on your ad group. You'll then be able to schedule these.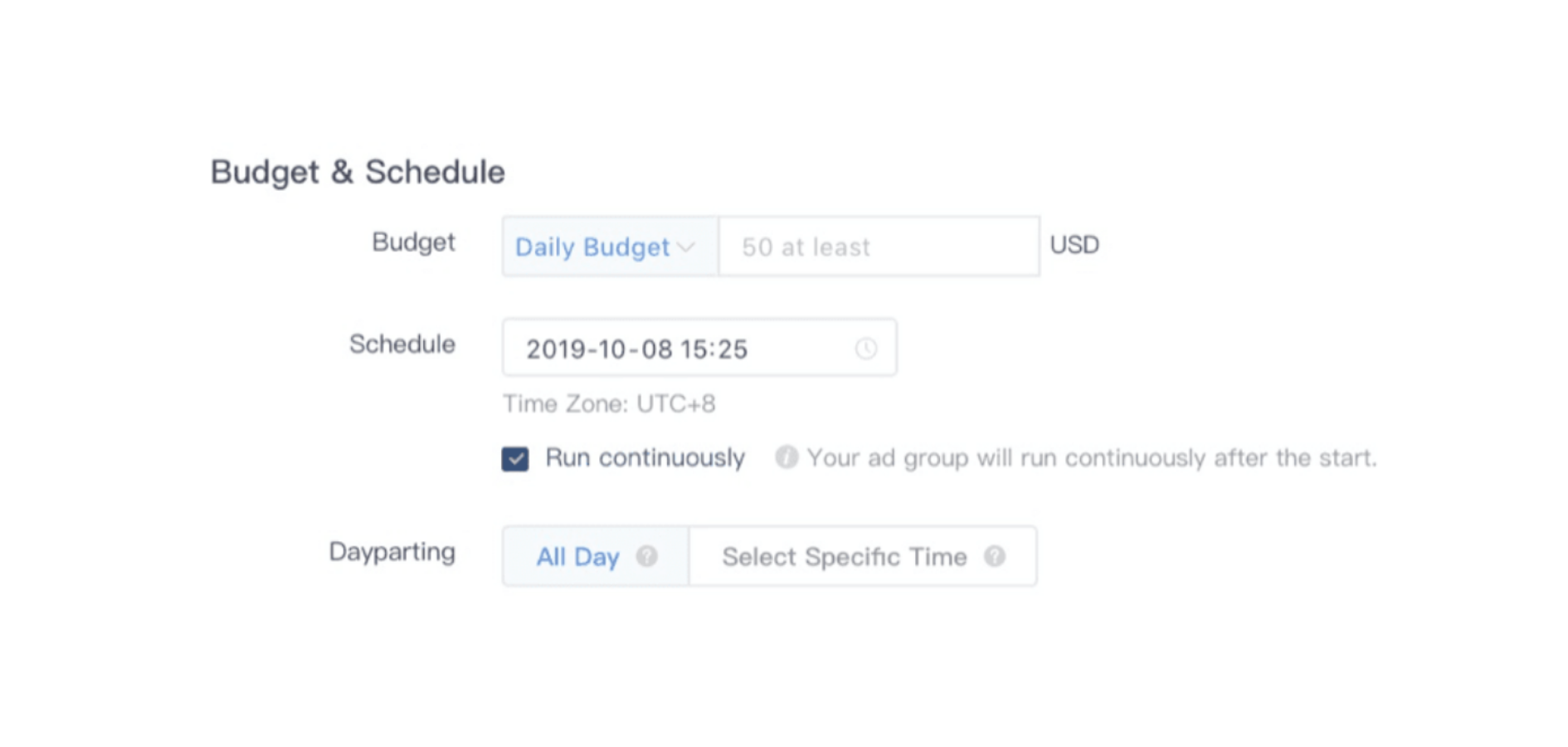 You can also choose whether you want your budget to be spaced evenly across a timeframe, or an express option.
This will spend your budget as quickly as possible, but may be useful for time-sensitive marketing or trend items.
Choose your optimization goals
To optimize your goal on TikTok, ensure you are clear on the key metrics you want to achieve with your ad campaign. You can choose to optimize your ad group for:
Conversion
Click
Impression
If you want your ad to be seen by users most likely to buy your products, it goes without saying that conversion is the way forward.
Thankfully, long gone are the days of manually analyzing sales call reporting to measure effectiveness.
You'll be able to install a pixel to track conversions on your site - whether these be add to carts, purchases, or subscriptions to an email list.
Click is better suited to those looking to increase referral traffic - in layman's terms, to get as much traffic as possible.
Your final option is impression, which means that you pay at a cost per thousand impressions.
3. Design your ad with TikTok's video creation kit
With your campaign and ad groups set up, we can now explore the fun part.
TikTok is known for its creative freedom. TikTok's Video Creation Kit offers you a database of video templates and images for customization, and over 300 background music tracks.
You can also create variations of your ad with automated creative optimization.
This allows you to upload up to ten images or five videos, five ad texts, and one call to action.
It then combines these into a variety of ads to find the best combination for your audience.
4. TikTok ads best practices that help you convert
So now you know how to create a TikTok ad, but how do you do it well?
When looking to create videos that gain impressive TikTok numbers, always consider the following:
Ensure visuals are both engaging and emotive. On TikTok, this means keeping it real and relatable. Great TikTok content often includes an undertone of lightheartedness and positivity. These have proved valuable as customer engagement strategies on the platform.
Focus on ads that show how the customer could use or benefit from the product in question, but in a funny or creative way. 76% of consumers like to watch funny content, while 61% want to watch something creative.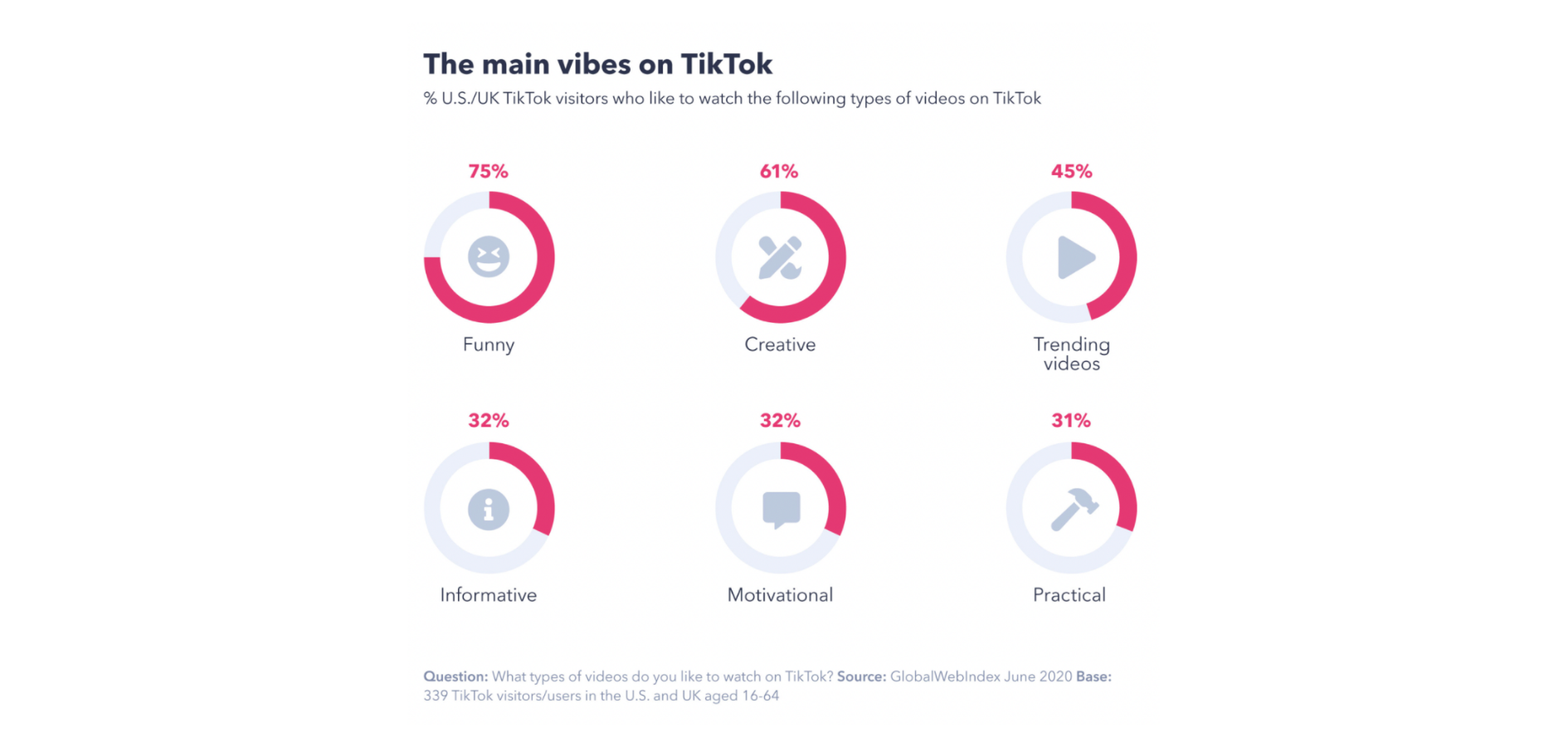 Pick music that's in keeping with your target market. TikTok'ers are not children anymore; make sure you've considered the growing age of the users. With Gen Z in the workforce and millennials now well into their 30's, think of what will appeal to them.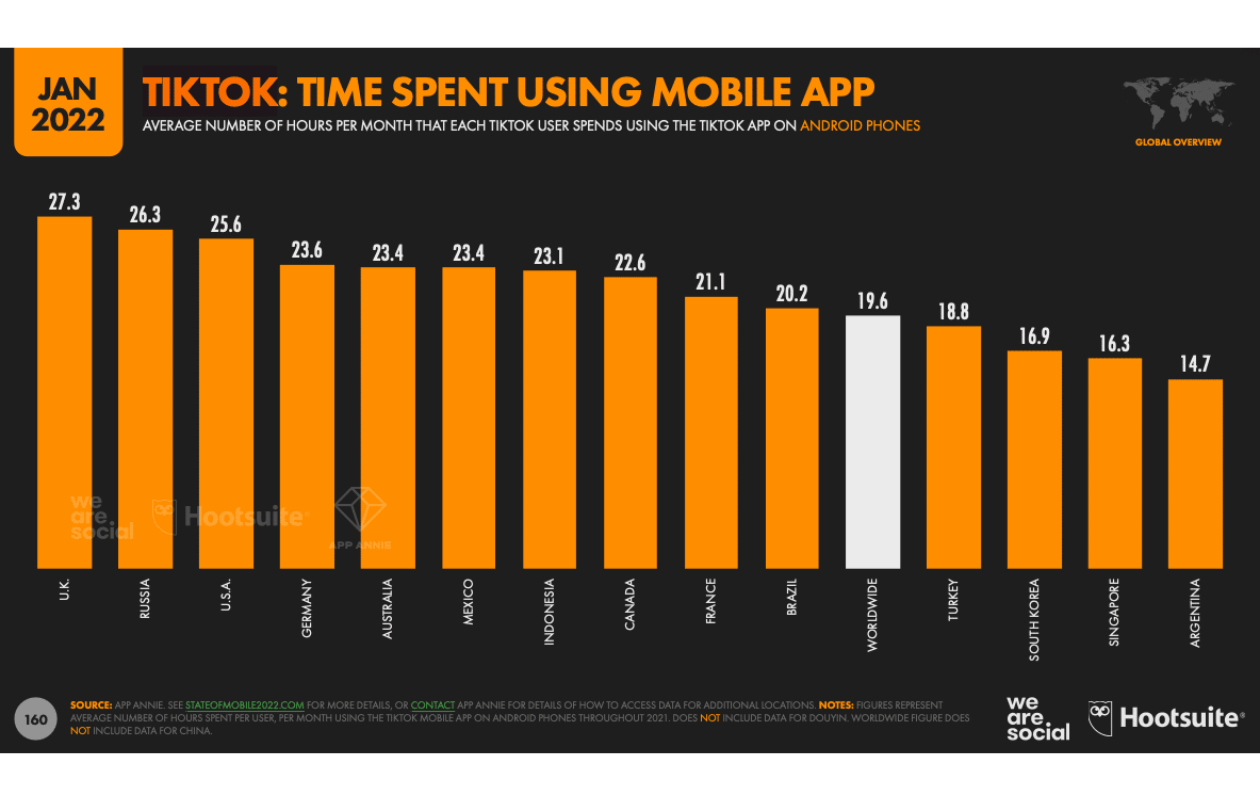 Be short and snappy. Be brief when using the TikTok platform. While you can create an ad up to 60 seconds long, the most impactful will be around 15 seconds. 63% of ads that show the product within the first 3 seconds get the highest click through rate.
Keep it authentic to the platform. Most viewers don't really want their usual viewing experience interrupted by adverts. The more authentic, the more likely your content goes viral. Think of this as automated affiliate marketing, as consumers can become prosumers.
5. Types of TikTok ads
Now that we know how TikTok advertising works, we have to look at the various types of TikTok ads to establish which one works best for your brand.
You have to know that there are a bunch of ads types you can try on TikTok, but you have to keep in mind that some of them are available depending on your area.
To create these types of ads, you need to use your TikTok Ad Manager interface.
This type of TikTok ads can have a length that varies between 5 to 60 seconds. Such an ad will appear in your followers' feed.
When creating the video ad for your TikTok account, you will have to include a text, your brand will appear on the ad and the video will be signaled as an ad for the viewers.
Image ads appear only in TikTok's News Feed apps, like Babe, TopBuzz si BuzzVideo. This type of ad includes ad text, brand name and the image you've selected to be displayed.
You surely know what carousels are, especially if you've been using Instagram, Facebook or LinkedIn ('cause for some time now this feature is also available for this social media platform).
Well, now you can use carousels to display TikTok ads. You can include up to 10 images and this type of ad appears in TikTok's News Feed apps.
Pangle ads are available only to specific countries. This type of ads is an integration of Pangle's video platform with TikTok to display banner and video ads.
With Spark ads, you can boost organic content that already exists on your brand's account.
Currently TikTok is testing two more types of ads, namely Collection ads and Playable ads.
6. TikTok ad formats
Besides the fact that there are different types of TikTok ads, you should also be aware of different TikTok ad formats.
Depending on these formats, you can better optimize your ads to reach your audience and increase your rate of conversion.
TopView ads - These are full-screen video ads that appear as users scroll through their feed.
Branded effects - You can use branded effects on TikTok to encourage your followers to use them in their videos. This way, you increase brand recognition and more people will interact with your brand. These branded effects can be filters, stickers or even special effects that can be used in videos.
Sponsor influencer content - This type of ad format for TikTok helps you spread the word about your newest products or services via sponsored influencer content. The content will be displayed on your influencer's account, but also on your brand's TikTok account, increasing the number of views.
Branded hashtag challenge - This type of ad only appears in the "Discovery" section of TikTok and it is meant to encourage users to hop on the trend and use your brand's hashtag if they decide to try the challenge.
7. TikTok ad objectives
When you decide on investing in TikTok advertising, you have to establish a few objectives and goals you want to achieve through your ads.
Your key goals, when running an ads campaign, should include, but not be limited at:
Increase views metrics
Increase follower count
Increase engagement and CTR
Convert prospects into customers
8. How much do TikTok ads cost
The price of TikTok ads depends on its algorithm since this will decide how often your brand's ad is displayed to users who've shown interest in your industry.
The pricing algorithm relies on a bid model. However, there are a few insights about pricing that can help you get started.
When developing a campaign ad, $50 on a daily basis can help you ignite that fire and fuel it until your brand's light reaches more people. If you have an ad group, then you should consider investing less, like $20/ daily.
Depending on your budget and the content you want to promote, your TikTok paid campaigns' prices may vary.
Final thoughts
When you work at improving your TikTok strategy, you have to make sure that you choose the right types of ads and content to promote in order to increase brand awareness.
Your audience will be drawn by quality, innovative content that tells a story. Remember that your prospects and followers are humans and you have to design your marketing campaign accordingly.
Speaking from human to human is what your audience expects from your brand. Your TikTok ads should help your audience decide that they need your services or products through a video that does not sound too salesy.
Hopefully this guide on TikTok advertising helps you get to the core of it and fully understand why and how to do it.