We all know that nowadays, people use social media on a daily basis. Most of the time, this is because of the urge to be entertained. The never-ending-stress and the pressure of the modern man are inevitable.
As a brand, the pressure of using social media to boost performance is even greater. One important step towards this result is to start a competitive analysis.
But there are a few secrets that we believe will make your life easier.
Performing a competitive analysis on LinkedIn might be part of the mystery.
Why?
Because it will change the way you see your own business and the way you compete with others.
I wrote this article to help you understand what a competitive analysis means, why you should do one on LinkedIn, and what are the steps you should follow.
Let's jump in!
How to research your LinkedIn competitors?
---
1. What is a competitive analysis?
Ok, so let's just start from the beginning. What does a competitive analysis actually mean?
Generally speaking, it is a way of identifying your competitors, understanding their needs, strengths, and weakness in relation to yours.
But if you are wondering why it is important to research your competition in the first place, let me clear your mind.
More than being important, it is actually very much recommended to conduct a competitive analysis because it's also a way to know your customers: understanding their needs and expectations will help you improve your product.
We promise you that this entire process will come in handy. By knowing more about your LinkedIn competitors, you will be able to learn from their mistakes and try to step up your game.
2. Why you should do a competitor analysis on LinkedIn?
We bet that you're already pretty familiar with Facebook, Instagram, Twitter, and the rising star of the past few months, TikTok. But how much do you use LinkedIn?
LinkedIn is advantageous for your business, mainly because you can share your experience, skills, and career achievements.
Still, you can also create your own network and access job opportunities. In other words, chances are, all of your competitors are on LinkedIn right now.
Statistics say that LinkedIn became the first and foremost social network for companies, being the most trusted one in the US.
To give you some numbers, more than 57 million businesses are on LinkedIn.
But don't get nervous. At first, it might appear a bit overwhelming to conduct a LinkedIn competitive analysis, but it will end up being one of the best things you could have ever done.
Thanks to a LinkedIn analysis, you'll get much more insights into your own business.
You will also have more information about your LinkedIn competitors, meaning that it will be easier for you to improve your future performance.
Moreover, a LinkedIn competitive analysis is most helpful for market positioning.
By understanding the competitor's USP, businesses can better shape clearer, more targeted messages that will highlight the unique value a certain brand brings within the market.
Wondering how can you build a complete LinkedIn marketing strategy for your business?
3. Steps to conduct a competitive analysis on LinkedIn
3.1 Know your competition
This is pretty obvious. You have to determine your competition before going to the next step.
There is no doubt that you and your LinkedIn competitors want the attention of the same audience.
That's why you should start by following or connecting with them: members connect because they probably have similar interests. This means that they can see each other's posts and updates and also send messages.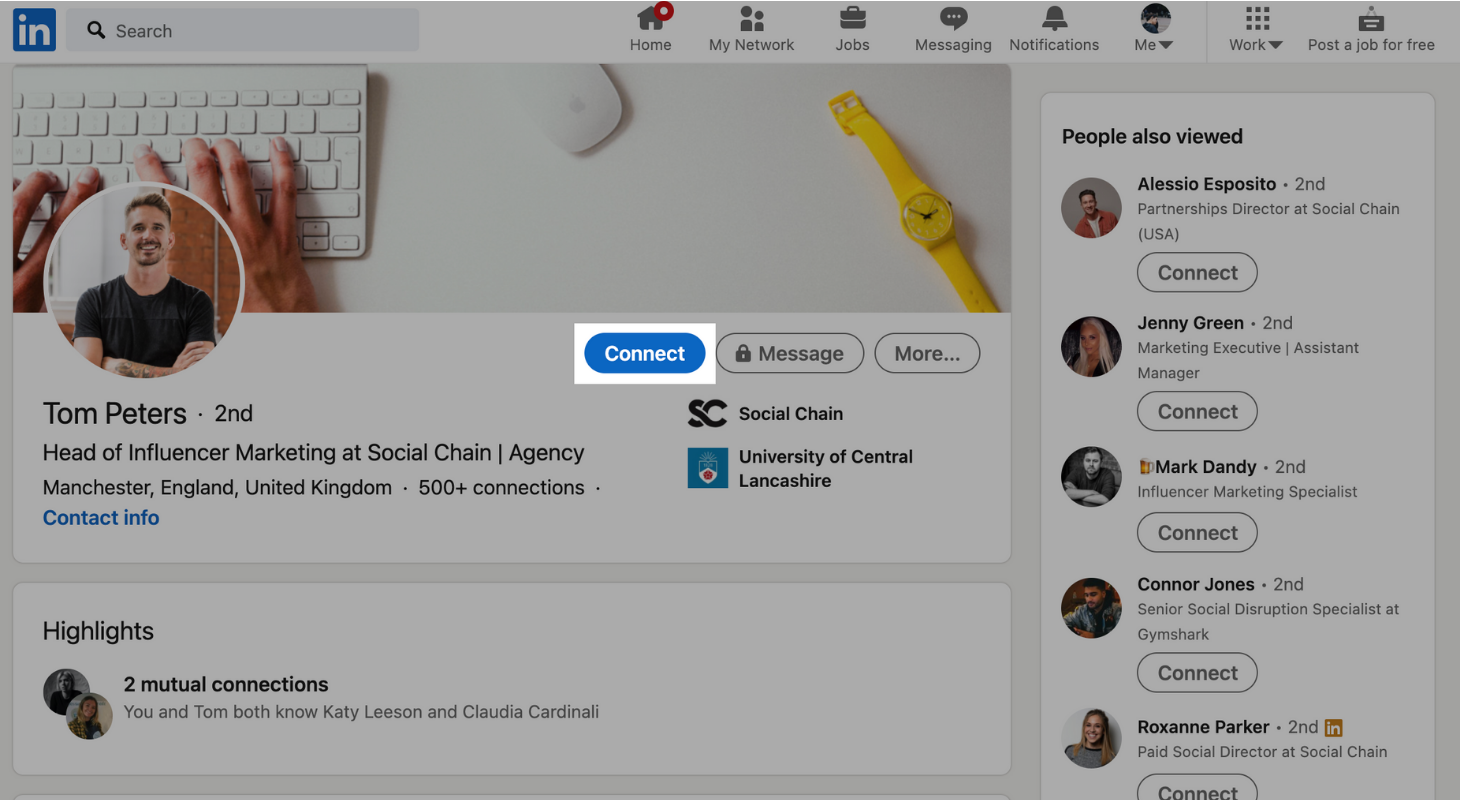 By following someone on LinkedIn, you're able to see their posts in your home page feed without actually being connected to them. If you're connected, then it means that they will also see your posts.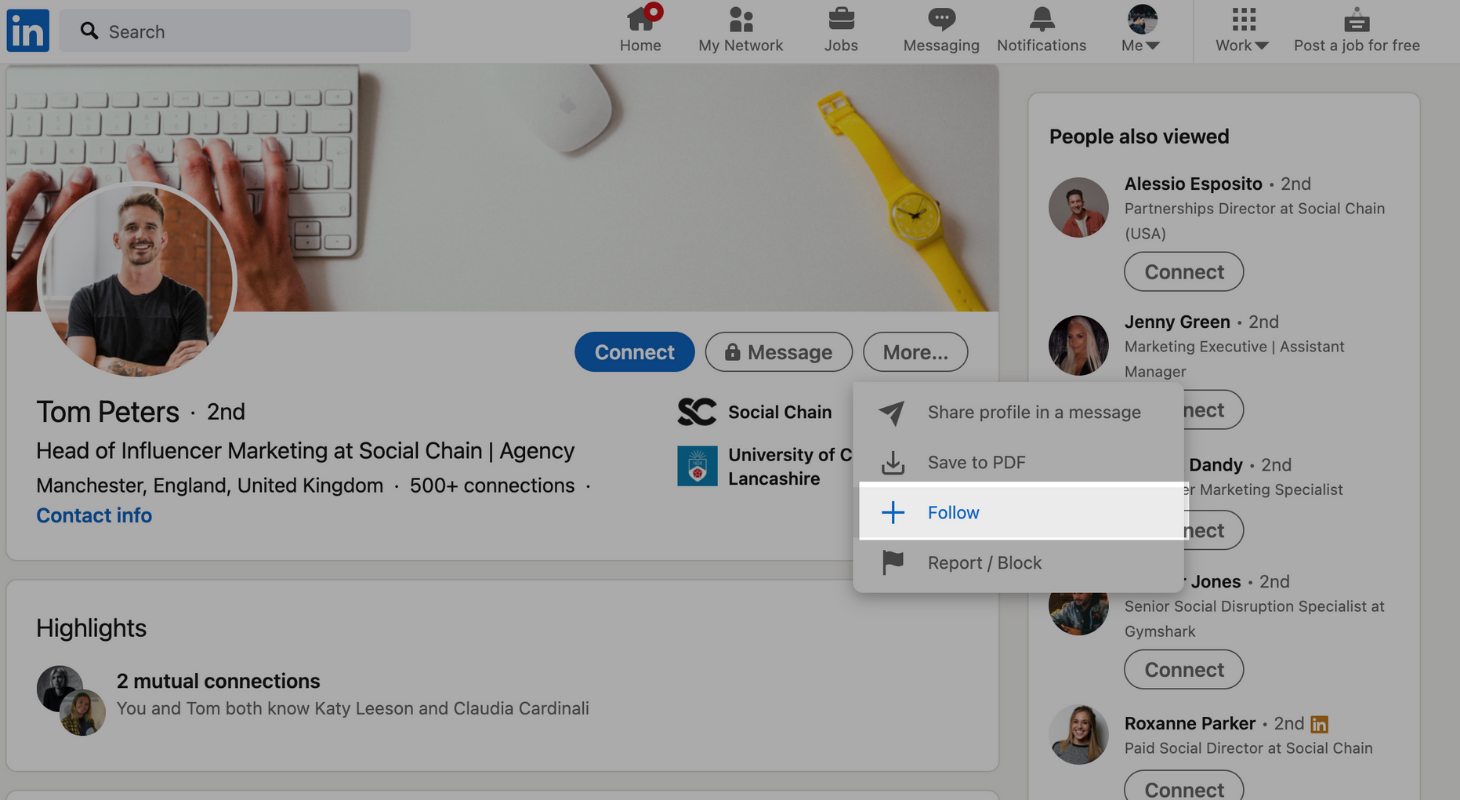 If you're just following someone is just as great, mainly if you're doing it for competitors' research, because you don't have to wait for them to accept your connection pending.
However, they will get notified when you start following them so they can watch what you're doing.
3.2 Narrow down to a few competitors
Don't go overboard! It's essential to keep your list short but efficient. Otherwise, you'll get lost in all the information from yourLinkedIn competitors, and this is not the best thing that can happen.
Start with looking at more pages from both companies and individuals, and make sure that you're familiar with the platform. If you're not used to using LinkedIn, it might be a bit scary. The purpose is to be inspired, not scared.
Use the search bar to find what you're looking for. You can adjust the filter and find people based on the job title, industry, and different other criteria.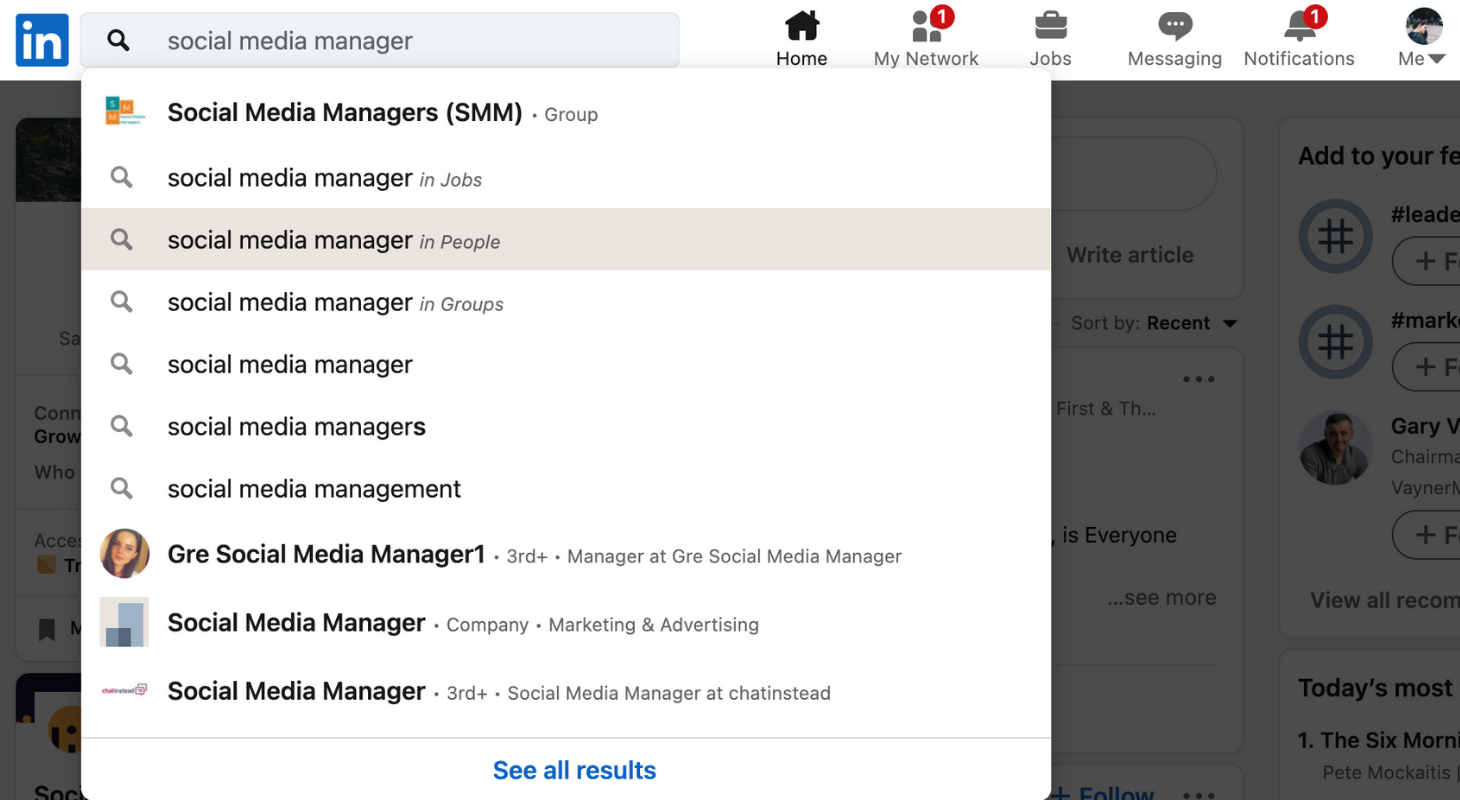 After everything is set, you should take some notes:
If you are searching a brand on LinkedIn, search what type of content they are posting (photos, videos, or simple text), see when they are posting and how many times per week they are active on LinkedIn.
Are they doing live sessions or not?
This will help you shape your own brands' social media strategy.
You can also review your LinkedIn competitor's employees: search their career history, previous education, activity on their page (what are they sharing, how are they engaging with people), their skills, their recommendations, and more.
3.3 Create precise competitive analysis goals
There is no doubt that you should figure out your exact goals. A well-organized plan means that you're going to be more productive. And this will be great for your results.
To determine your exact goals, you should make a good analysis of your competitor's feed.
Why?
Because what they are sharing will offer you valuable insights into their activities and, ultimately, into their business.
You can gather a lot of information from LinkedIn, but that information needs to have a purpose in order to get you closer to your goals.
Make a list of strengths and weaknesses and determine in which way your LinkedIn competitors can represent a threat to you. But remember that every piece of information needs to relate to your own business in order to be valuable.
Consider how you can make the most of your strengths, and see what you can learn from your LinkedIn competitors.
After that, you can decide on relevant actions for your business: what you should stop doing and what you should do more.
3.4. Collect stats and data
When it comes to collecting the data and analyzing it, we can give you a hand. There are many competitor analysis tools on the market, and each one can offer relevant insights to particular niches.
With the right tools, you should know that you can spend less effort trying to dig into your competitors and more time doing your job.
Meet Socialinsider LinkedIn Analytics - an easy way to analyze your LinkedIn's page performance.
For instance, you can use Socialinsider to perform any type of social media competitive analysis.
Once you create an account, group your pages or profiles per industry or client, and uncover your competitors' actions on social media.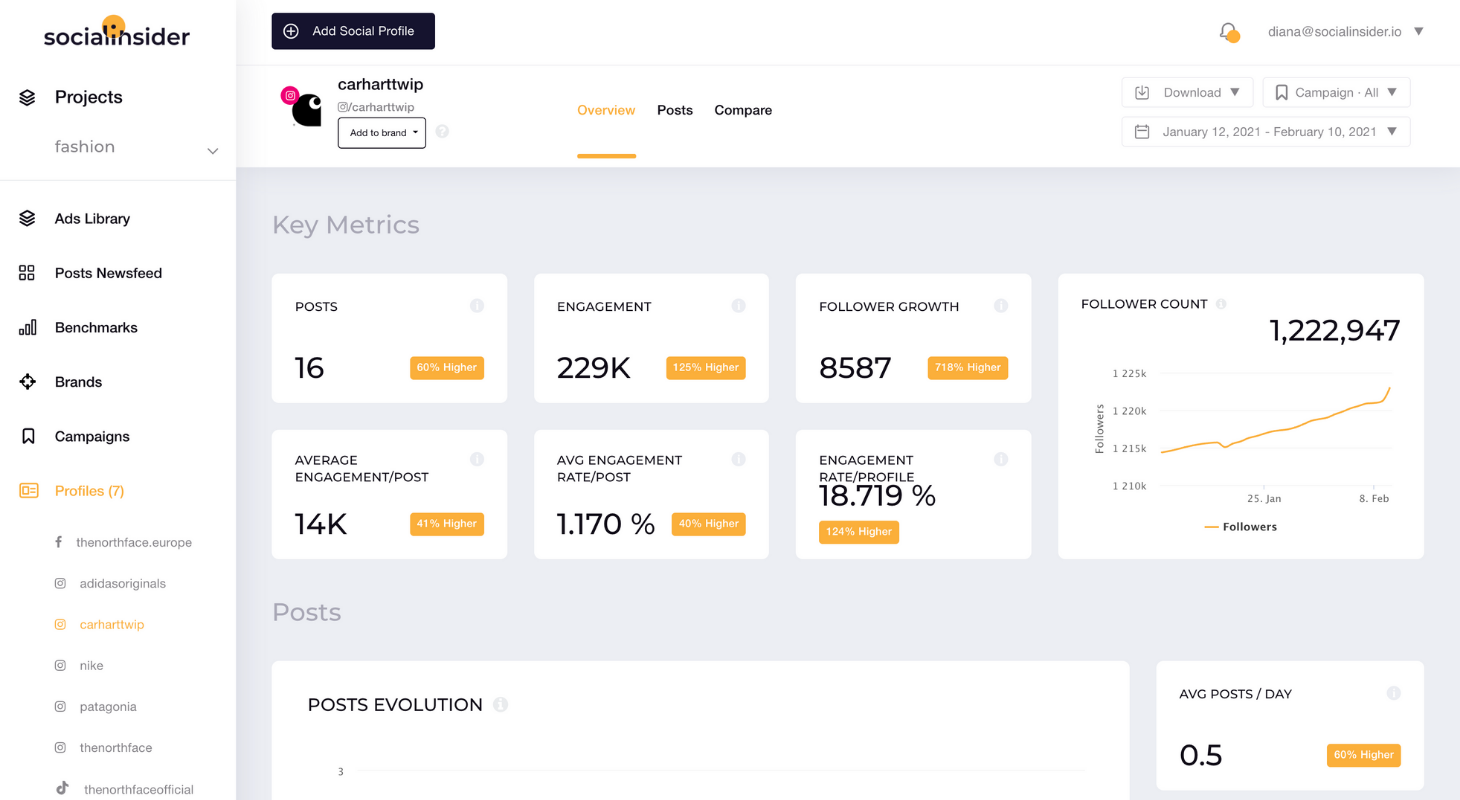 By using this tool, you can have access to the pages you own.
Important to mention here, is that if you want to analyze your competitors' LinkedIn pages, you'll have to do some manual work.
What metrics to include in a competitor's analysis on LinkedIn
Followers
You may think this is just a number, but it brings some value to your brand.
Try to pay attention to the moments when your number of followers increases and how this happens because it means you've done something good on your social network.
By including this metric in your LinkedIn competitive analysis, you will be able to plan your future posts more efficiently.
People are following you to be able to have your posts show up in their feed. You can think of them as your fans, so take good care of them.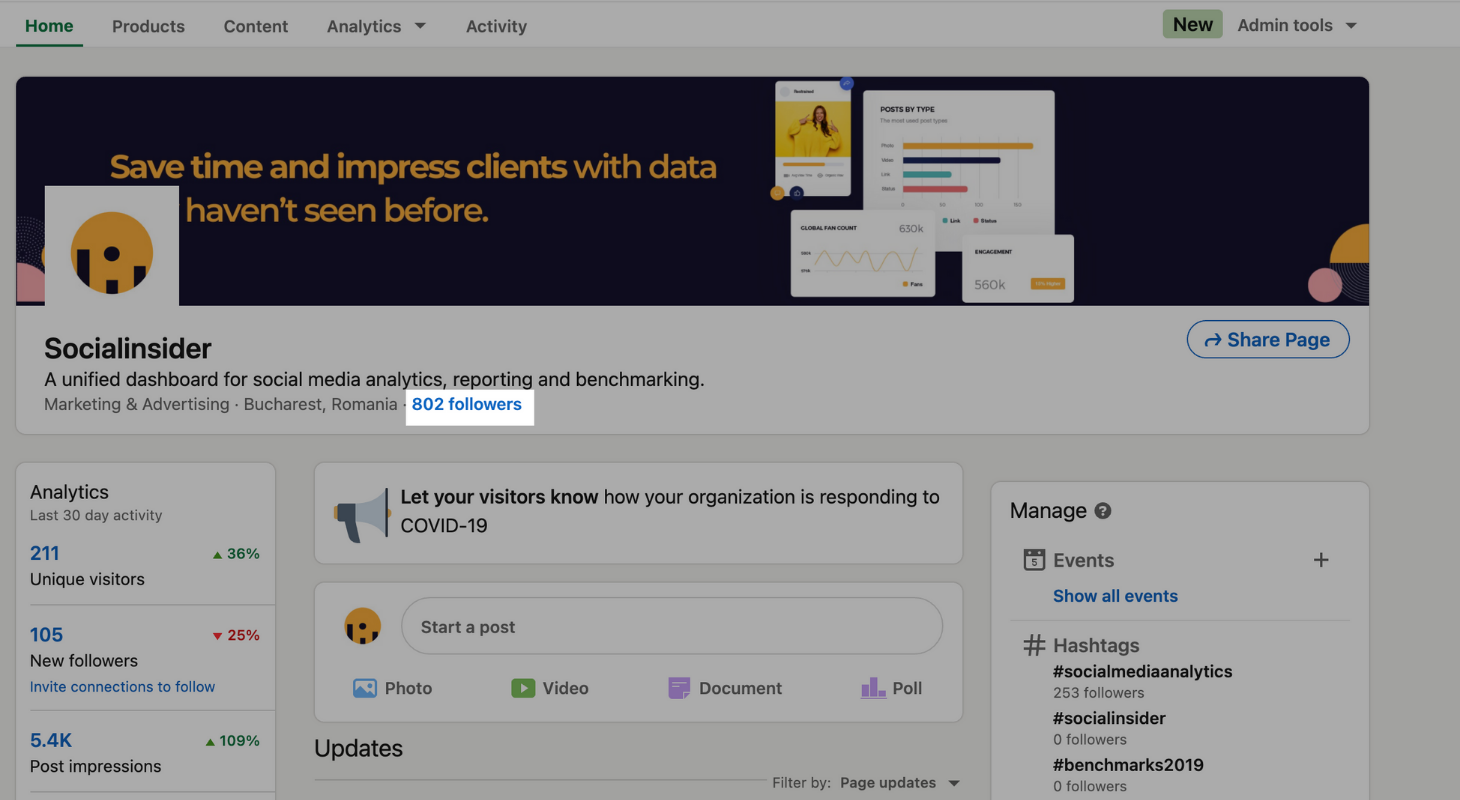 Content strategy
Your content is more important than you think. The way you share it with your audience and how they engage with it says a lot about your strategy.
Distribution is also a key element in this process: this strategy is shaped by combining action-planning and building relationships. Give value to your audience.
Pay attention to the following components:

type of content: article, video, image, native, document, live.
best time to publish on LinkedIn for your industry or niche.
communication on LinkedIn - product updates, webinars, industry updates.
Reactions and comments on LinkedIn posts
People are the ones who make the social network rolling. So you need to pay attention to them. Either they are your followers or not, they might have come across with some of your posts.
Check if they reacted in any way at your competitors' posts, and if they did, what do you think are the reasons for it: the topic, the hashtags used, or even the hour when you hit the button "publish" may be part of the answer.
The comments are equally important. See how many people interacted with the LinkedIn competitive pages by commenting on any of their posts, and try to think of the relation between the cause-and-effect.
What type of messages the CEO or the employee publish on LinkedIn
You should be aware of what your employees are posting on their LinkedIn pages, but you should do the same with your competitors'.
Look into what they are posting, when they are posting, how they are engaging with their audience, what type of content they are publishing, etc.
If you learn from them, you are already a step ahead.
However, when you are checking on a brand's page, the business doesn't get notified, but if you want to see what the employees are posting on their own LinkedIn profiles, then they will know who visited their pages.
That's the reason why, when you're collecting the data, you may consider changing some of your LinkedIn Privacy Settings.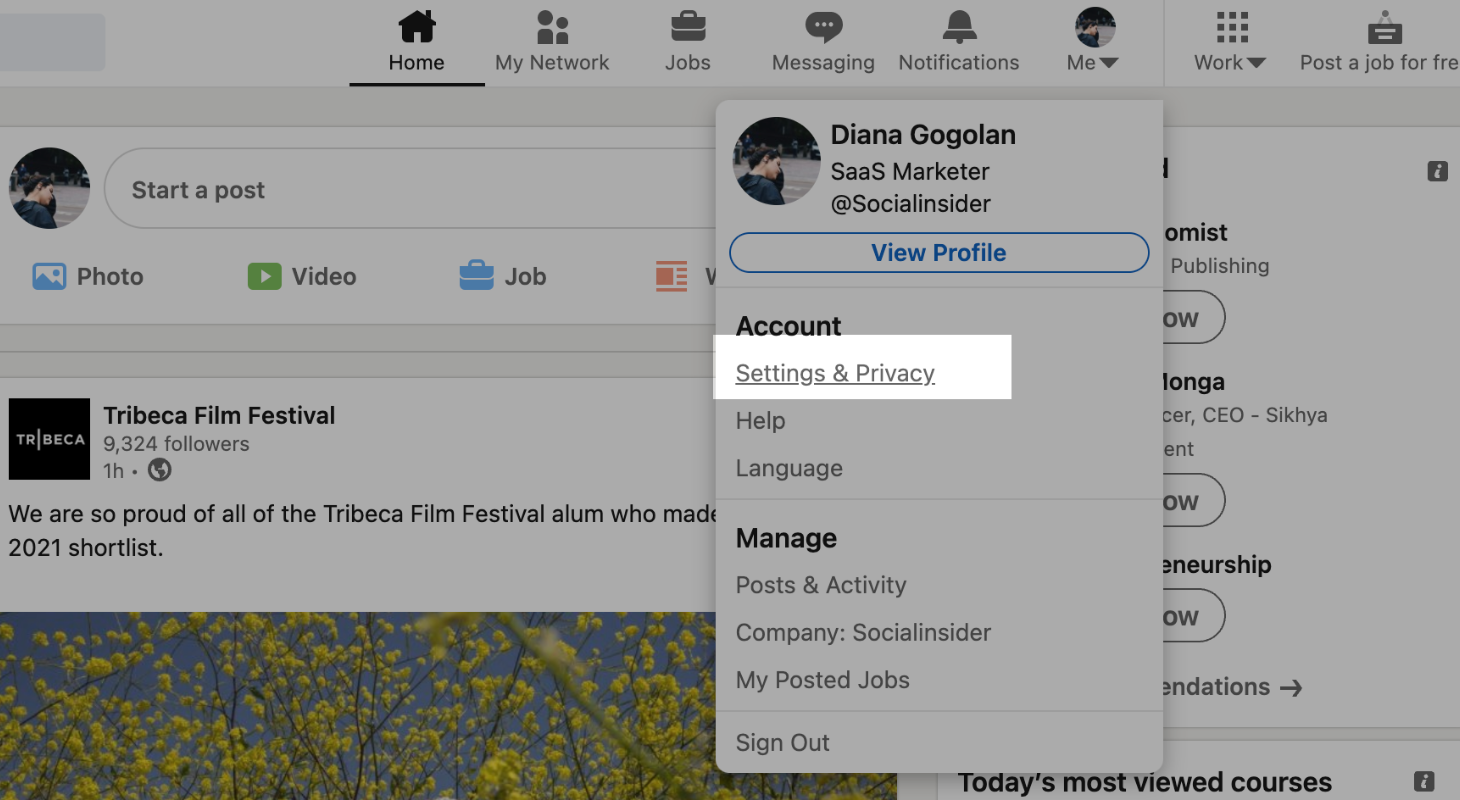 First of all, you should check your LinkedIn presence to ensure that you're not sharing more than you should.
To access your privacy settings, go to your profile photo and select Settings and Privacy. From here, consider adjusting the following settings.

a) Allow "Only You" to see your connections
Your connections will be able to see your entire list of connections. This is how they can have access to your network, which might as well include your clients, prospects, and partners.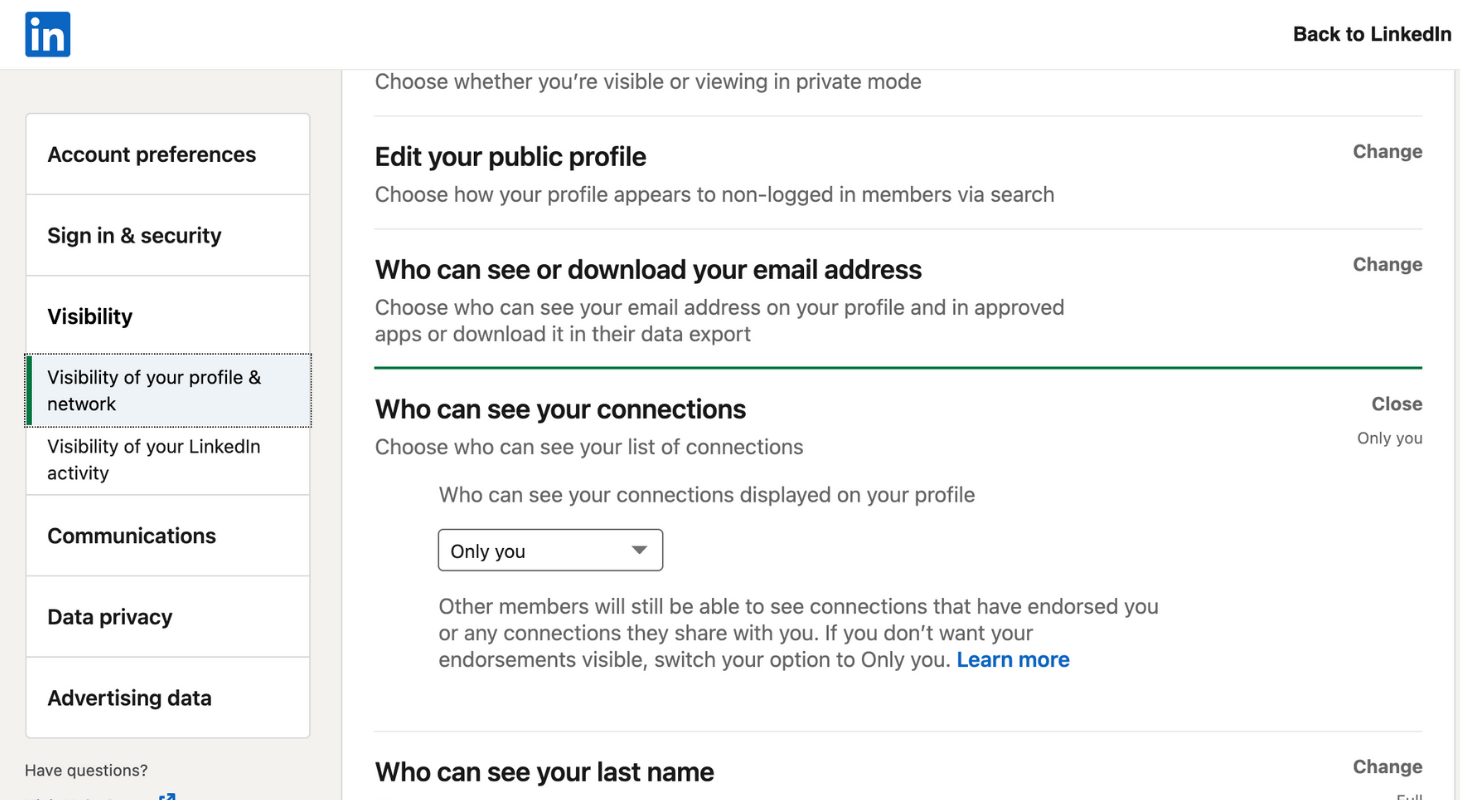 Keep in mind that, concerning the visibility of your connections to others, LinkedIn users can see connections who endorse your skills.
So if you choose to keep your connections private, make sure you adjust your endorse settings (turn them off).
b) Switch your Profile Viewing Settings to Private Mode
If you're checking on your LinkedIn competitors, you may wish to avoid leaving any trace behind you. Usually, they will get notified when someone is looking at their profiles, so make sure you switch your profile viewing setting to Private Mode.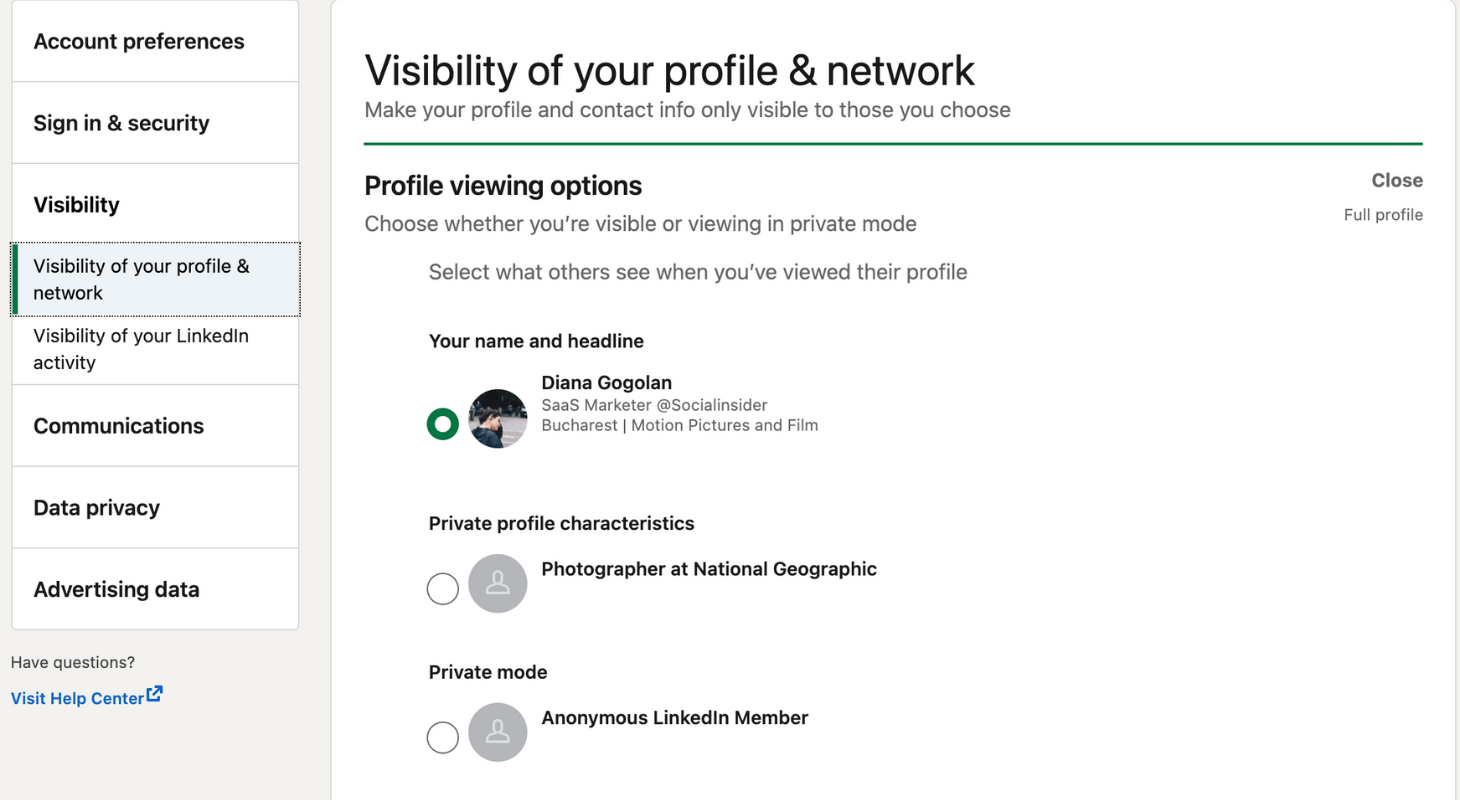 Note: Don't forget to switch your profile option viewing back to fully visible after your LinkedIn competitor research session to ensure you get notified when someone is viewing your profile (this option becomes unavailable to you when you're in private mode).
c) Turn off the "Viewers of this Profile Also Viewed" option
If you have noticed that this feature appears when you're checking out a LinkedIn profile, you may consider turning it off. Why? Because any customer who visits your profile is likely to see a big list of your LinkedIn competitors that they can also check out.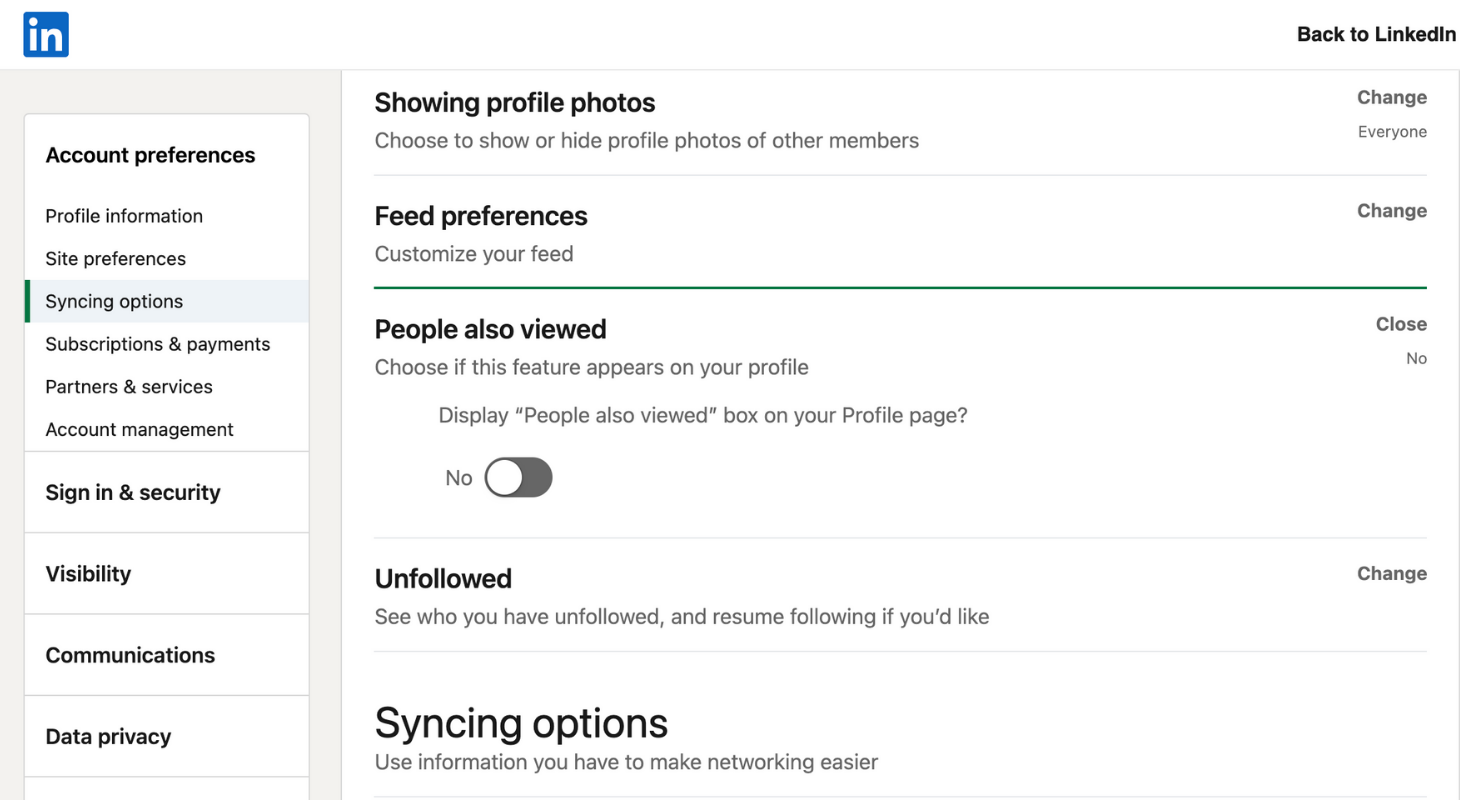 3.5 Create an actionable plan
Start by asking yourself why you have performed the competitive analysis on LinkedIn in the first place.
By collecting all the information that you wanted from your competitors on LinkedIn, you are now a step ahead. Go back to your notes and decide on a practical plan to strengthen your strategy in the future.
Action planning speaks louder than words, and there are a few key questions to ask yourself during development:
Where am I now?
What are my LinkedIn objectives: brand awareness, traffic, employer branding or sales?
How do I tell the others?
How do I decide on a direction?
What defines my action plan?
Find out how to perform a social media competitive analysis and where to start.
Final Thought
By constantly performing a LinkedIn competitive analysis, you'll have access to valuable insights for your own business. And your main goal is to improve your performance.
Learn more about your LinkedIn competitors, where they stand, how they are doing their jobs, identify some critical trends, and get better at what you're doing.
---
Related articles: