We live in a world where everyone seems to run at full speed towards their dreams. Or so it looks like.
In the marketing sector, you're not only against the clock, with all the trends you have to keep up with, but you also get challenged to prove your brand's worth within a few seconds.
Otherwise, everyone swipes or clicks further away from your video. And we know how that feels like.
To get the sense you are doing things right, you need a huge cup of coffee and a sky-rocketing video engagement.
Since we are talking about how a social media metric can really change your day and your campaign's outcome, we're going to get even more in-depth on this subject.
Let's jump in!
Video engagement on social media
1. What is video engagement
2. How do you measure video engagement
3. Why video content helps to increase social media engagement
4. Video tips for high social media engagement
5. Video statistics for social media platforms
1. What is video engagement
Depending on the social media platform you are working with, video engagement can be defined differently.
Usually, social media managers show their products and services to the world through all social media platforms.
Video engagement is a metric which, depending on its value, can help marketers figure out the impact of their previous or on-going social media campaign.
We all know that videos can be more convincing for potential customers, impressing them through the use of a touching story nicely put into frames.
Video content that has a catchy message will definitely stick to potential customers, if it's able to surprise not only via the non-salesy ideas, but also through colours, story and design.
It seems like a lot of work, but it's definitely worth it. Even if you put more effort into coming up with new ideas for videos that will sell, and you spend more time and money to create them, the results should be stelar.
A high video engagement is a great indicator that you are doing things right, that your video marketing campaign is a success.
Video content helps you increase users' interest for your brand, attracting your audience to become your community.
And what else could you wish for? A loyal social media community definitely helps you boost brand awareness and increase ROI.
2. How do you measure video engagement
Video engagement relies on the interactions users had with your videos. It is calculated as the sum of likes, comments, reactions and shares from all video posts published in a pre-defined time period.
The video engagement rate is calculated as the sum of interactions (likes, comments, reactions, shares, etc) divided by the number of followers, and then multiplied by 100 to obtain a percentage.
This metric helps you learn with what type of video content your audience resonates more.
Video content does not only trigger more emotions than an image, but also keeps users interested.
If your videos are suspenseful enough and eye-candy, users will keep scrolling through them, wanting to interact with this type of content.
The key for successful and engaging videos is to keep them short, have a structure for them and always offer viewers a take-away.
This way, they will learn to appreciate the way you present your products and services even more.
3. Why video content helps to increase social media engagement
On every social media platform, video content started to make waves. And it has all begun with the launch of TikTok.
After its grand success, all the other social media networks wanted to follow TikTok's lead, hoping to get the same results.
Since videos have become such a popular type of content, it is time to understand why they contribute so much to the increase of your overall engagement on all social media platforms.
Videos help convey your brand's message
We are made to process images in movement quicker than our brain can process words. That is why the simplest way to be exposed to content is via videos.
Easy to digest and so comprehensive, videos get your brand's message, ideology and ideas a lot faster.
By using video content instead of photos, you make sure your message is not misinterpreted or lost while making its way through to users.
We know a picture is worth a thousand words, but what about videos? Well, I like to think that videos are worth hundreds of thousands of words.
This type of social media content is full of meaning, charged with emotions and packed with nice effects that could catch users' attention. It can clearly increase your video engagement.
Sounds like a great recipe for successful marketing campaigns, right?
A great video on social media is bound to increase the overall engagement if the viewer finds something familiar, interacts with it and maybe even shares it with their friends.
Most of those who view your videos will be amazed by the particularities of your brand and they will most likely remember that next time they search for your products.
Videos are naturally engaging
Due to the decrease of users' attention span, being less and less patient to read long posts, videos started becoming top of mind for users when scrolling through their newsfeed on social media, regardless of the platform.
However, what you need to know is that every social media algorithm favours videos, being its new favourite cup of tea.
That is why video content reaches more users. Statistics have shown that about 80% of social media users watch videos on social media networks.
Videos help users make decisions
Besides the emotional part, videos that tell beautifully-crafted stories about products and services are the ones that sell.
This type of content urges your audience to click your website and finally make a decision about what you've been selling.
A good, non-salesy video will have the same impact as a commercial, convincing users that they need your service or product in their life, since it can solve all the problems they didn't even know they had up to that point.
Does this sound familiar? Maybe it happened to you too.
Videos that depict reviews, how-to's, user-generated content or branded content that it's not salesy or pushy are pure bliss. These will make you feel proud about your video marketing campaign when using your analytics tool to look at data.
Videos can better transmit emotions
The sense of familiarity discovered in videos is what melts users' hearts. If your video content shows viewers that they are the most important, they are in focus and their problems matter, then those users will surely turn into customers.
Yep, it's that simple. If they feel touched by the message conveyed by your video, they will not only like it, but also comment on it.
However, you have to make use of the perfect combination between visuals, texts and sounds to conquer the viewers.
There is no winning recipe until you try out more and you figure out what works best for your brand, depending on every social media platform.
4. Video tips for high social media engagement
Now that you've learned what attracts users the most when it comes to videos, it is time to work on increasing that video engagement.
If you are wondering how or you don't know where to start, I listed a few tips and tricks below that could be game-changing for your new marketing strategy.
Build a solid structure before shooting
Before everything, put down your ideas for the video and make up a plan with your team, both technically and creative, thinking of every detail.
Trust me when I say that details are the ones that differentiate your videos from the rest in your industry.
Start by writing down what you'd like to see in the beginning, middle and at the end of the video and then expand your ideas from there. This technique will help you increase video engagement.
From the beginning of your video, you have to make sure you catch everyone's attention. The first three seconds are really important.
If you don't give viewers a reason to watch your video until the end, they'll leave your profile without even interacting with your posts.
By having a mind-bending, catchy introduction that makes people curious about the rest, you increase the chances of having a higher engagement and more video views.
If the hook looks promising, then viewers will be intrigued, wanting to see the rest.
Create high-quality videos
Now that you have convinced your audience to watch your video through that powerful hook, it is time to wow them through the visuals even more.
Make sure you use high-end equipment that can provide you with best-quality videos.
Clear images, in-sync subtitles, a human being caught on camera, great filters and smooth transitions can contribute to the way your message is transmitted and perceived by viewers.
Also pay attention to your source of lighting, room acoustics, a clear lens (don't forget to clean it once in a while) and put your camera on a tripod.
Instagram, a pretty popular social media platform, has announced that it will not show low-resolution videos as top-of-mind for its users.
This means that this platform's algorithm is more keen on bringing forward to the viewer high-end videos.
Be present in your videos
Maybe you are an introvert and you don't really fancy sweating up in front of the camera, being nervous about the fact that everyone sees you.
How about stepping out of your comfort zone? Maybe 2023 is the year to do it.
By showing up in your videos (maybe in a how-to or Q&A type of video), you will build your audience's trust, triggering them to react and interact with your content.
Moreover, viewers will be thrilled to see who is behind the brand, getting the sense that there is a human addressing other human beings.
Make your brand's voice sound louder. People talking to people and for people it's always engaging. Therefore, your video engagement will sky-rocket.
Users will be tempted to comment, ask questions and react to such videos.
If there's someone in your video talking or maybe a voice narrating something, it is very helpful for the viewer to see the captions.
This does not only help people with hearing problems, but also users who put their babies to sleep, but still want to watch videos.
In case some people find it hard to follow you when speaking, for them it's good to know that they can pause or rewind to read the subtitles. Do you know what that means? More engagement for you.
Facebook and YouTube have the option to automatically implement subtitles, while other social media platforms, like Instagram and TikTok require you to add it manually when editing your video, before posting it.
In case your video is a series of visuals and no one's talking, you should consider adding text to offer more context.
This way, your audience will keep on reading while the images unfold to find out more about your message. A hack like this one can definitely help you increase your video engagement.
Make your videos appropriate for mobile users
If you shot your video with your mobile, chances are that the recording is already suitable for those who will watch it on their phones.
However, if you used a professional camera to shoot your videos, you have to resize it according to the specs of every social media platform.
This way, you ensure that your video content is desktop-friendly, but also mobile-friendly, and basically every-device-friendly.
Your brand's video engagement depends on the quality of the videos you post.
This does not necessarily mean to make it funny. However, keep in mind the fact that people already live with a lot of drama in their lives.
The last thing they want to see on social media is something that makes them even sadder or thoughtful (I am "people").
Telling stories, while including a joke or a riddle can really change the tone for your video. People are more tempted to buy if you make them giggle.
Moreover, they are more likely to engage, and your video engagement will reach new highs.
Remember the words of Umberto Ecco about stories. He says that in order to survive, we have to tell ourselves stories. Continuously.
Why not tell a story through your video?
Like with every other type of social media content, don't forget to keep it short. Even if videos represent users' favourite content type that doesn't mean they are eager to watch a long one.
Maybe viewers are on their 10-minute smoking break and they just wanna scroll through social media to see something new and exciting.
That it's when you step in, stopping them from scrolling with your awesome video.
Don't bore users with unnecessary details. Include key take-aways in your video and they will surely be more interested to look through more.
5. Video statistics for social media platforms
Video engagement is not the only metric you should look at to estimate your marketing campaign's success. However, we have to face it: it's the most important video metric.
There are other social media metrics, specific for every platform, that can offer you a lot more insights regarding your video campaign.
All the video statistics below will help you craft better video content, adapted to every social media platform.
5.1. Facebook video statistics
Like all the other social media platforms, Facebook has implemented a lot of changes for all types of content.

For video, in the Watch section of the app, users are able to interact with content relying on their preferences.
Stories help people feel more connected to your brand, seeing their day-to-day activities, while Facebook Live encourages live events.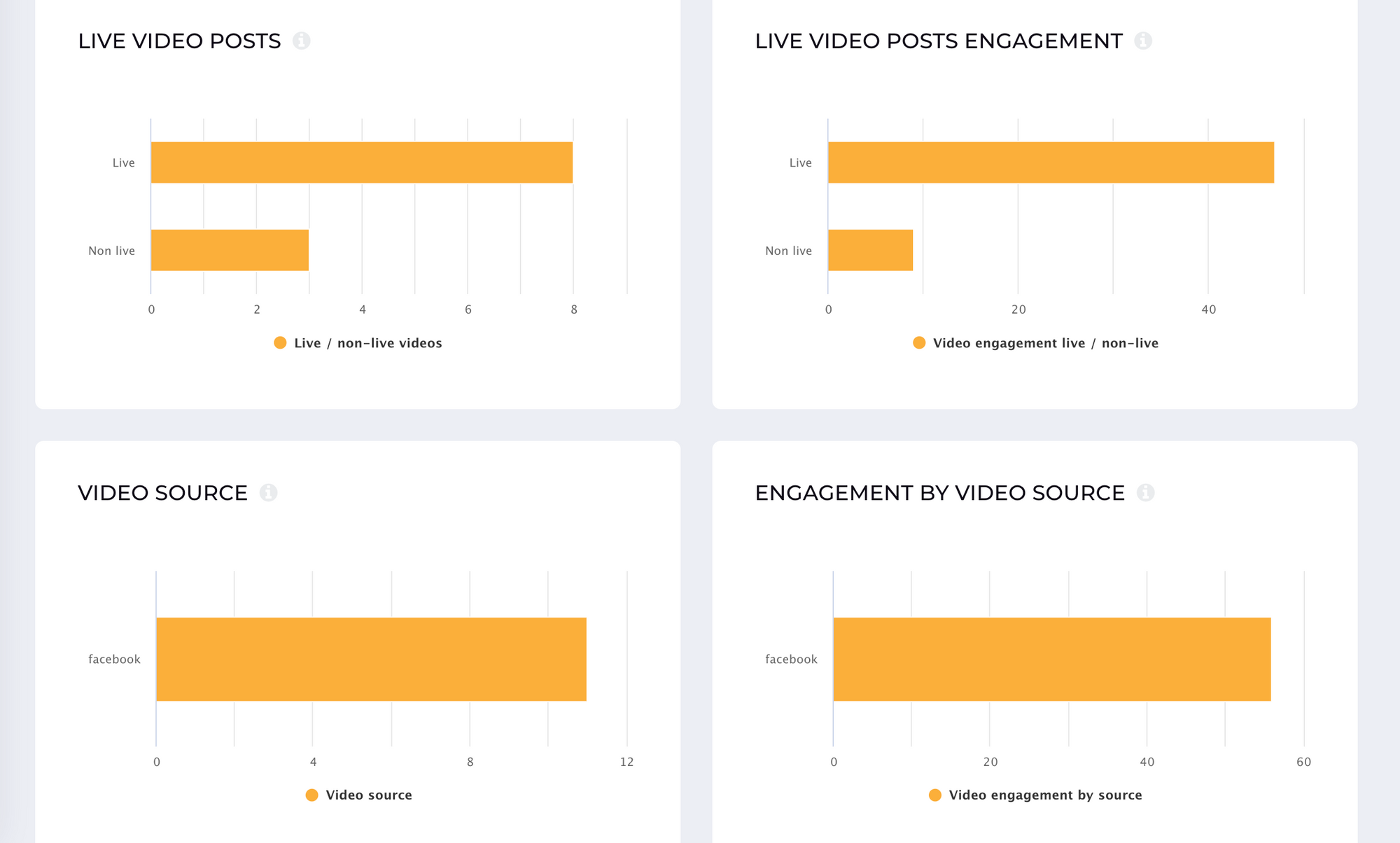 Thanks to all these types of video content, marketers can make use of statistics to learn how to adapt their strategy based on trends.
85% of Facebook users watch videos without sound, just reading the subtitles.
79% of marketers post videos on Facebook
Square videos get more views and a higher engagement than the ones recorded as landscape.
To make sure you increase your brand's engagement, statistics show that you should post 2-5 minutes-long videos.
Users on Facebook are four times more likely to watch live videos than pre-recorded ones.
The takeaway here is that Facebook Live rocks and you should definitely use it to attract a bigger audience, increase your follower count and ROI.
5.2. Instagram video statistics
On Instagram, you also have a wide variety of video types to use for your marketing campaign.
From stories to Reels and Lives, they are all great means to get a higher exposure and brand awareness.
91% of Instagram users watch videos on a weekly basis
73% of brands argue they get new customers after posting Stories
Videos that are about 26 seconds long get the highest number of comments
Half of Instagram users who see Stories that feature a link to the brand's website argue they have purchased a product or service.
The takeaway in the case of Instagram is that you should take advantage of the variety of video types and use all of them to increase video engagement.
5.3. TikTok video statistics
TikTok is top of mind for social media managers when they think about engaging video content.
At present this is the social media platform that redefined the standards of videos and how you can transform your brand's reputation through a solid marketing campaign.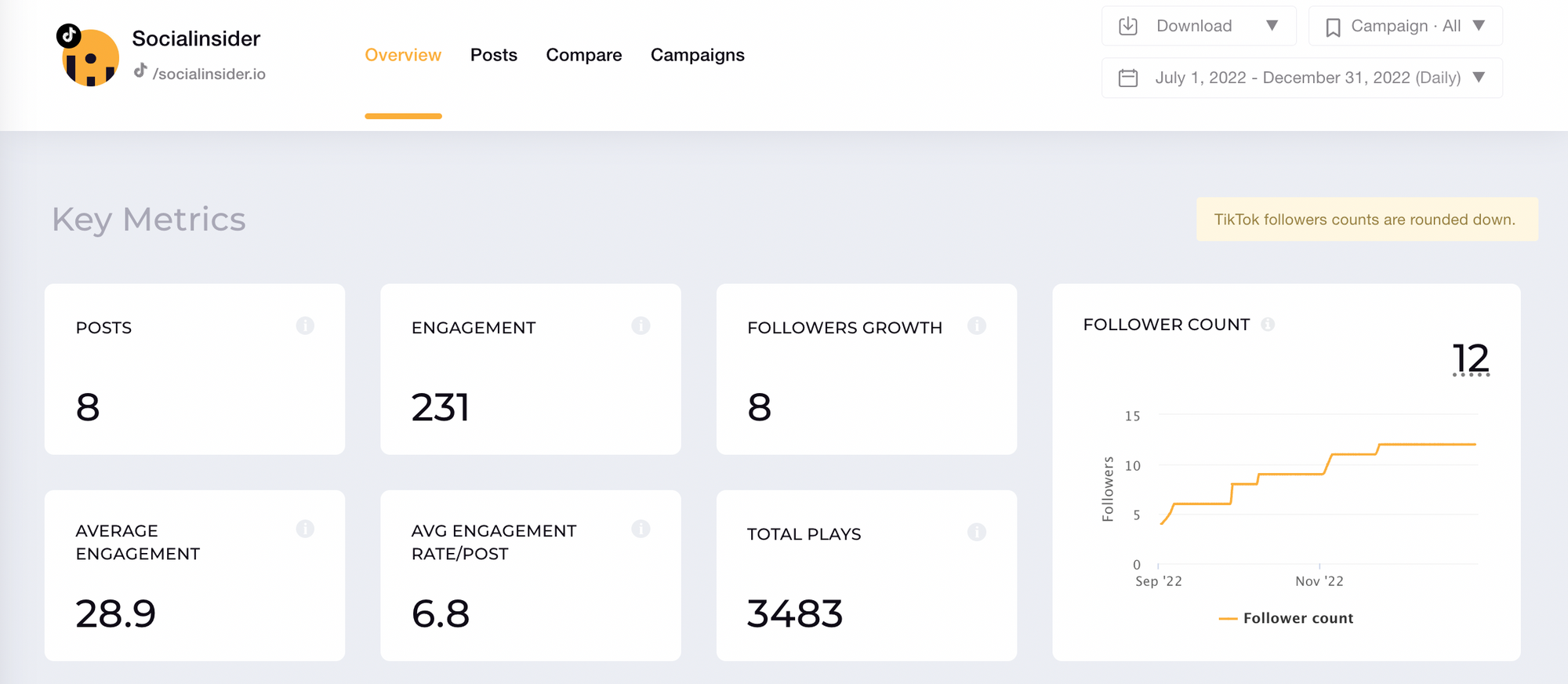 TikTok showed marketers that short-form videos are the future and those who listened saw their engagement rates explode as they adopted new trends.
Here are some TikTok statistics that will make you ponder.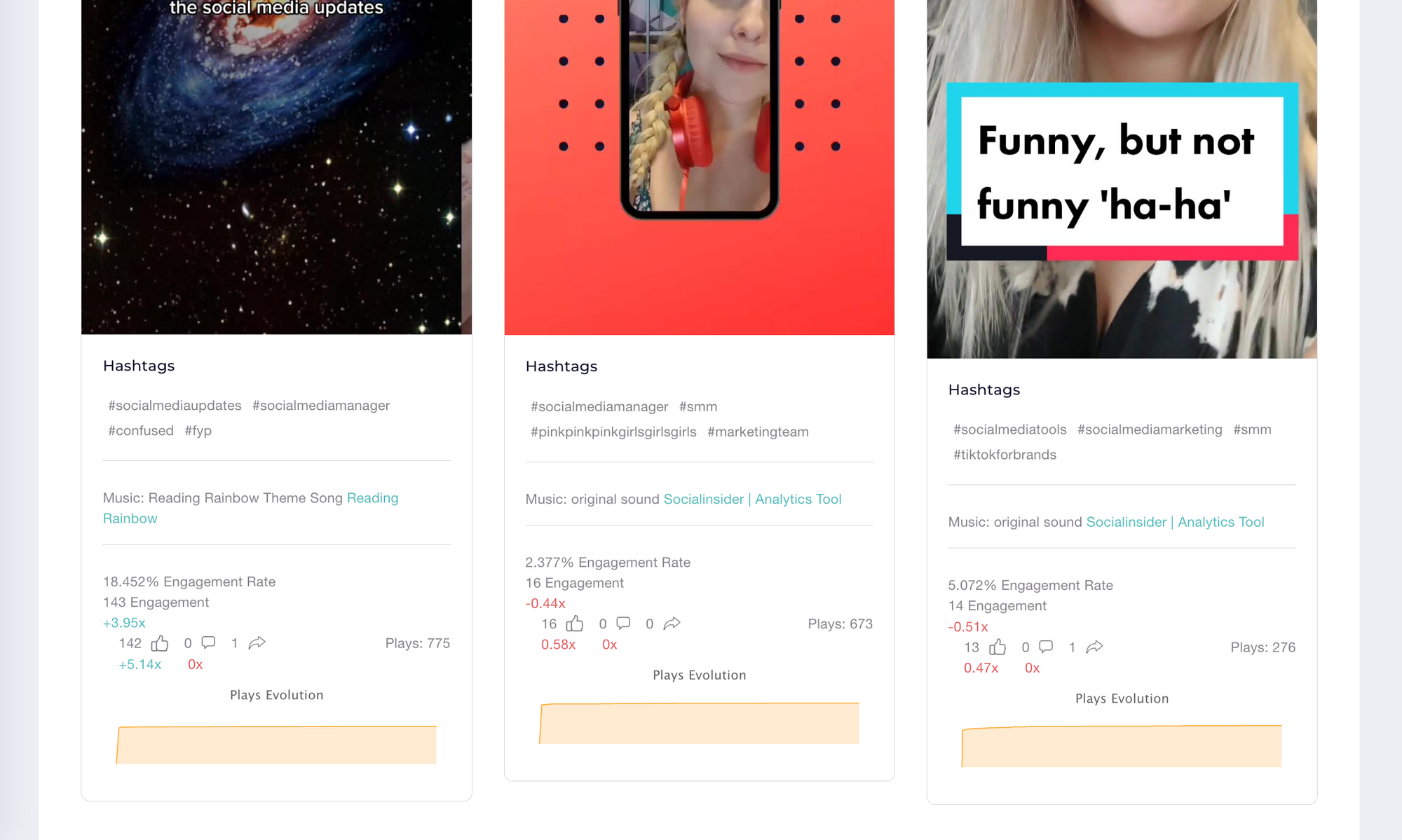 TikTok ads that feature an emotional message have the best performance when it comes to views and engagement
63% of TikTok videos communicate the intended message for their audience right away, since everyone knows that people have a short attention span.
The takeaway in this case is that you have to keep up with the trends and always make use of appropriate hashtags in order for your video to be easier to be found.
5.4. YouTube video statistics
YouTube, a video-only social media platform that has become the second-largest search engine after Google, offers marketers the chance to showcase their services and products in an innovative way.
Here are some statistics that can help you better optimize your strategy on YouTube where everyone is fighting for a spot in a sea of quality videos.
Every minute, over 500 hours of video are uploaded to YouTube.
On a daily basis, more than 1 billion hours are watched by Youtube users.
Social media users argue they are four times more likely to research a brand on YouTube before buying their products or services.
The takeaway here is about how you make videos. It is clear that everyone can do it, but the important part is to learn how to differentiate your brand from the rest.
Think about what makes your brand unique and use that to stand out when it comes to video content.
5.5. Twitter video statistics
Twitter is not only about tweets and debates. You can also post videos to boost your video engagement. And you may be surprised to find out that Twitter users are eager to engage with this type of content.

Here are a few stats that can convince you.
The takeaway here is that you need a great mix of educational and entertaining videos to get a higher video engagement.
6. 7 types of videos to increase engagement
Relatable stories
Ahh stories! We all live for stories, either to tell them or to listen to them. A high-quality video about your brand's story will surely impress your audience.
Moreover, if you build a story for every service or product you sell, a story that people can empathize with, you are likely to increase video engagement.
Event videos
If you plan a big event in the future, don't forget to tease people about it. Maybe you should develop a short video that will attract their attention or post a Story with a countdown.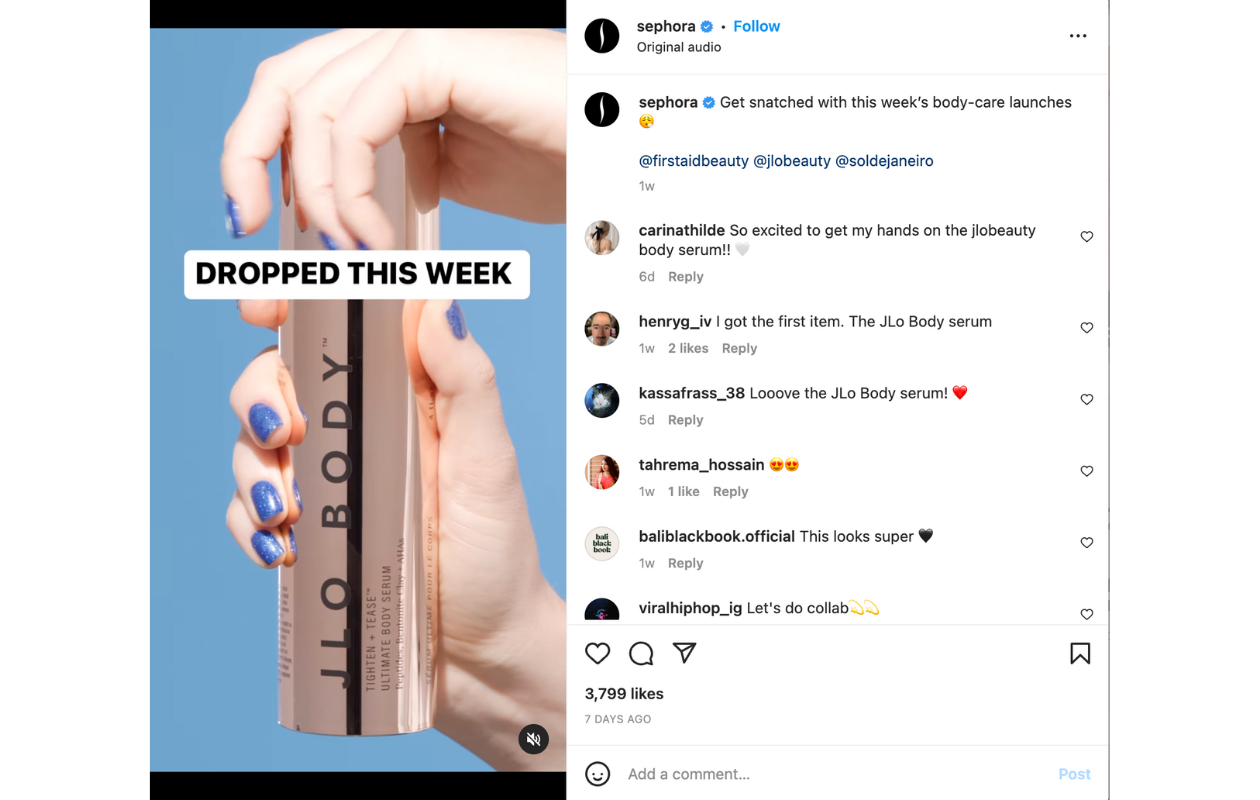 By showing your audience that they have many reasons to be present at your event, you will convince them to set a reminder and participate.
User-generated content
User-generated video content may convince your audience to transform into your community, converting from prospects into customers.
Moreover, user-generated content also proves that people are satisfied with your brand's products and services. They basically work like reviews.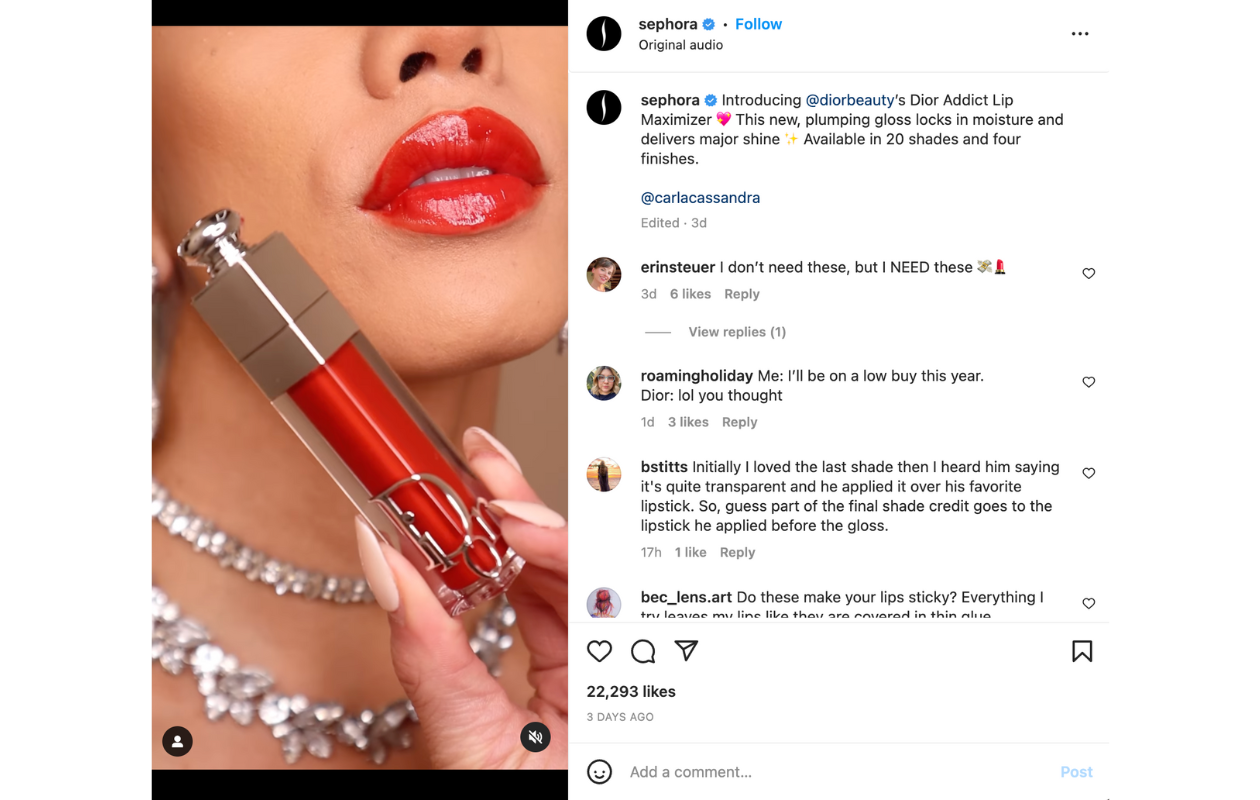 This type of video content always helps you have more content, since you can ask your clients if you could share their experience with your brand.
This way, you don't only increase your brand's engagement, but you also help to boost brand awareness.
Through user-generated content, you have the chance to share original content and also interact more with your audience. How great is that?
Demos and discounts
This type of video content is one that makes users be grateful. A demo video can make customers' work much easier and efficient.
By explaining how to use or integrate your products and services, your clients will be thrilled to see that the brand is run by patient people who really know empathy.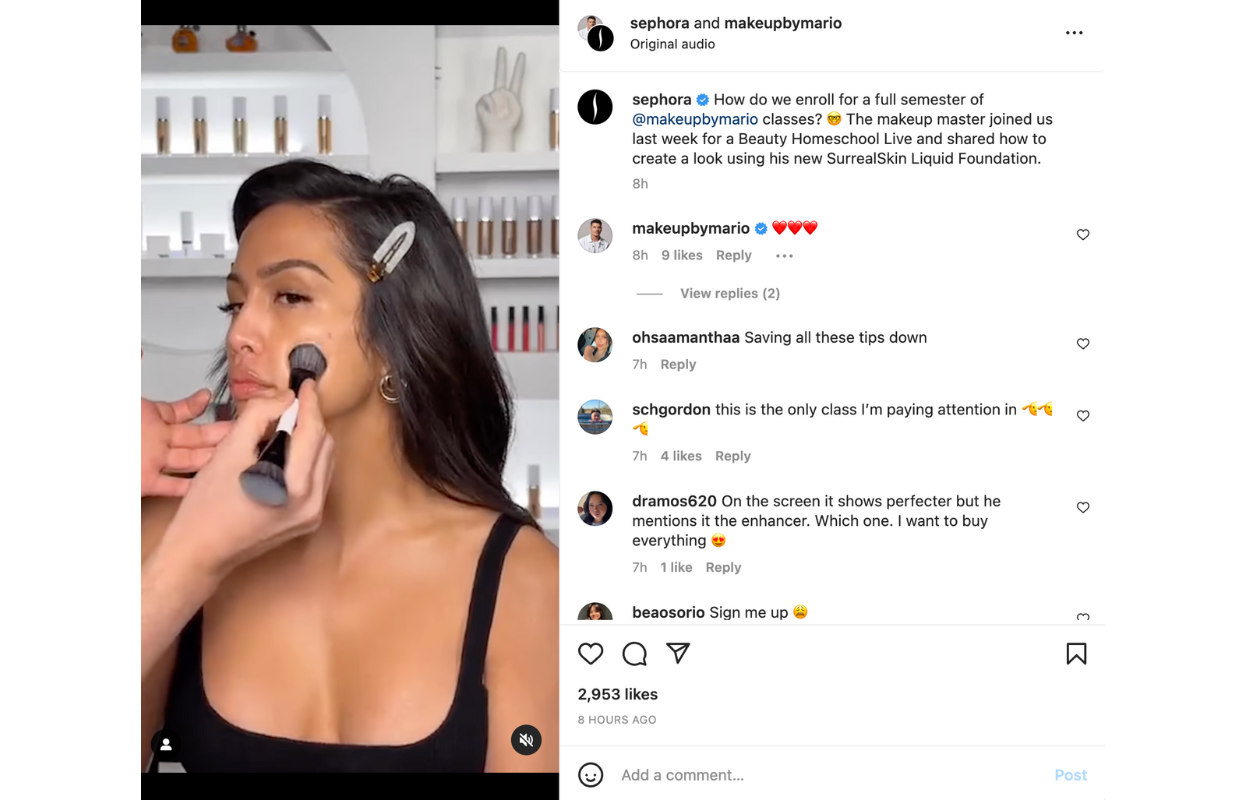 Also, if you decide to announce your audience that great deals are available now, they will be even more thrilled and tempted to buy.
A big discount displayed through a highly-innovative video is bound to attract more users to scroll through website and add to cart.
Behind-the-scenes videos
A behind-the-scene video will make users emphatize with you or find a sense of familiarity that made them follow you on social media in the first place.
If they've been following you, it means that they have similar values as the one of your brand.
When people see what happens behind the scenes for your brand's products and services, they manage to see the human part and they can better understand the business' struggles.
Coming up with new things all the time is not easy. Sometimes creativity comes with a cost and a limit.
Reveals
Whenever you launch a new service or product, a reveal-video will surely make users curious about your launching.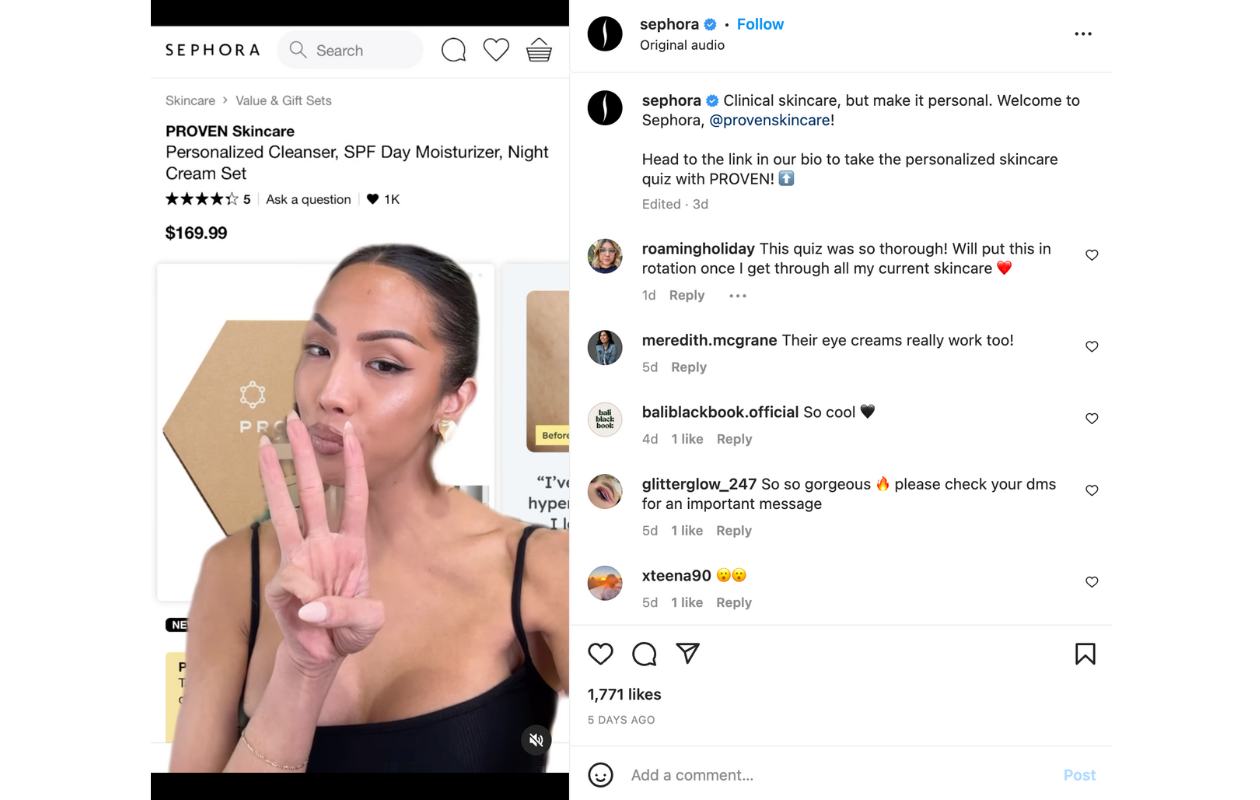 Announcing something you and your team have been working on lately is not only satisfying, but it will attract your audience's attention and your community's appreciation.
Make sure you tease the launch through a video posted on every social media platform to make users engage from the beginning.
Interviews or Q&As
This type of video content is appropriate for Facebook since its users are more likely to watch long-form videos, being interested in Lives.
Creating Q&As with your audience can help them learn more about your brand and the people who run it. Getting to know your products and services can convince them to buy.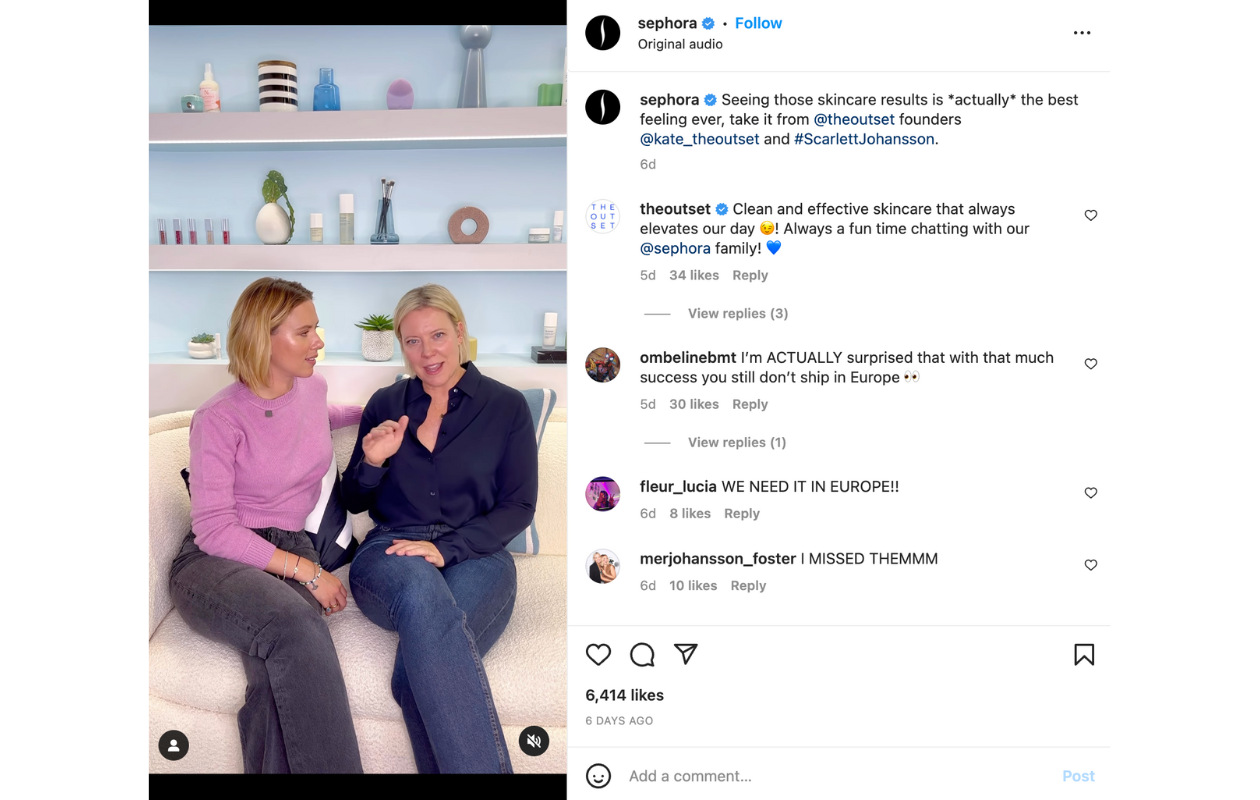 If you decide to record an interview, you should consider inviting specialists from your industry to offer your viewers more insights about the topics they are interested in.
You can use bits and pieces of interviews as a preview on TikTok or Twitter, triggering people to click the link in order to see the whole thing.
These two types of video content can fuel video engagement on social media.
Final thoughts
Working in marketing broadens your knowledge horizon and challenges your creativity. There's no wonder it becomes so hard to constantly come up with new ideas for your social media videos to increase engagement.
As a social media manager, the struggle is real when it comes to planning your next marketing campaign. Striving to make it a successful one, with high engagement rate, higher ROI and incredible reach is surely on your list of goals.
To do so, and to make it a lot easier, you should really keep count of the above tips and tricks, that offer you a lot of insights to craft better campaigns.
Your video engagement on social media is ready to top when you are. In case you have any questions, remember we are only a few clicks away.