Instagram is the most dynamic social media platform for marketers, and if you want to grow your business with this platform, creating high-quality and engaging content is more important than you imagine.
The platform changed in the last months, and the social media managers have to adapt to the new trends.
But when it comes to Instagram content strategy, do you know what to publish, when to publish, and even how often?
Today, I will share how to create high-quality Instagram content to promote your brand's messages.
Let's dive in!
Eight ways to create an Instagram content strategy for your business
---
1. Analyze what to post on Instagram
Once you establish your content calendar, keep an eye on your best performing posts and understand what type of posts generate better engagement.
Analyze your content based on:
1. Analyze Instagram bio link clicks
This is a very important metric to follow.
If someone visits your Instagram profile, this means that after seeing one of your posts, they've made an extra click over and visit your profile.
Make sure that when someone visits your profile, they will see who you are, what you do, and why they should follow you.
Instagram allows you to add one URL to your bio.
You can add:
your site,
blog,
podcast,
any other website you want to promote.
To find out your number of website clicks, go to Insights -> Accounts Reached.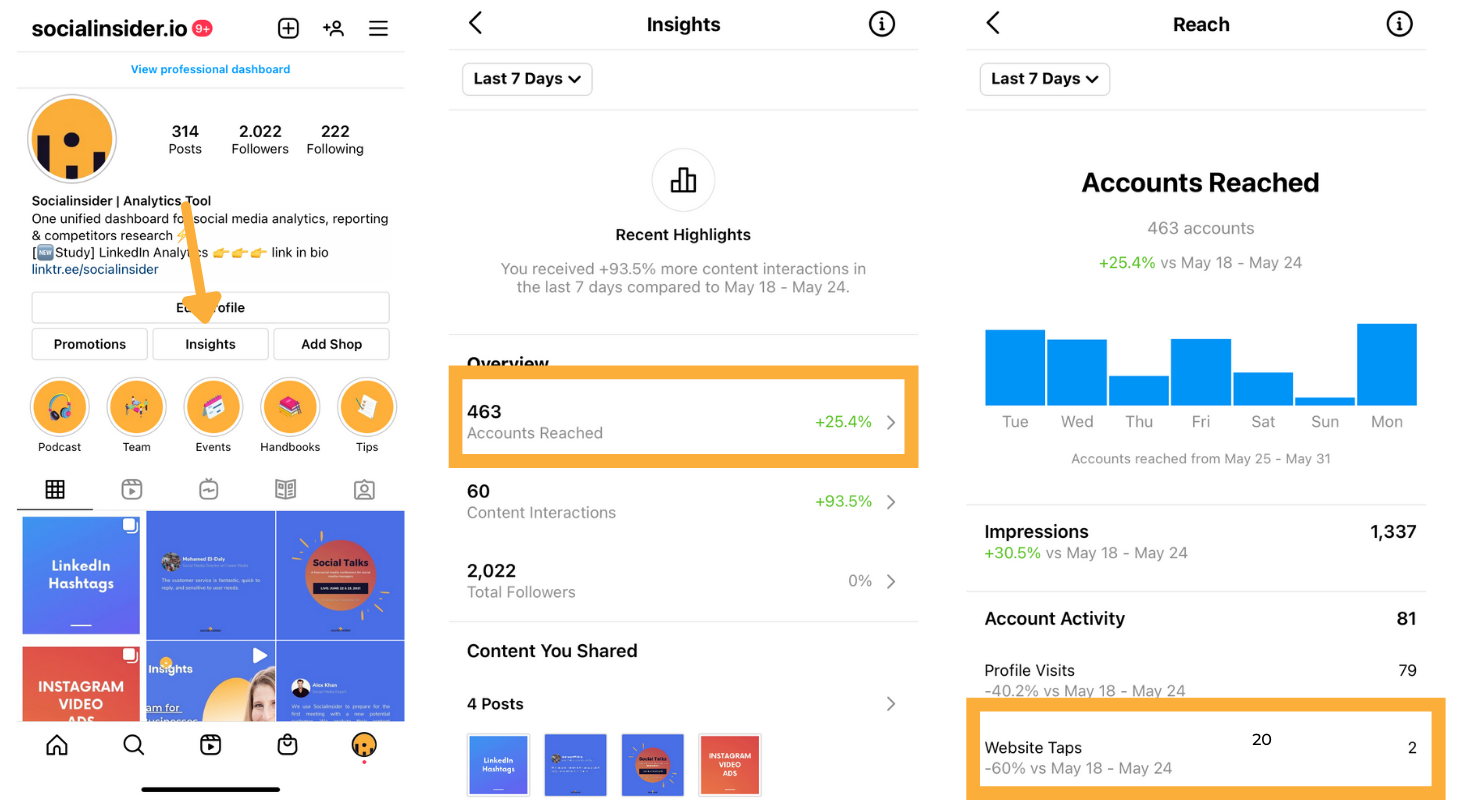 By analyzing your website clicks, you will discover what content your audience wants to see from you.
2. Analyze your Instagram content performance
On Instagram, make sure you have a content strategy for these five neighborhoods:
feed
Stories
Live
IGTV
Reels.
The experts' advice is to make use of all of them, so your chances of getting seen by your target audience can increase.
My advice would be: make sure you test.
Use all of them initially, then take a look at the metrics and see which are your top 3 posts. Your audience will tell you what type of content you should continue to create.
2.1 Instagram feed
If you create content for your Instagram feed, use carousel posts.
According to a Socialinsider's Instagram carousel study, this type of content will increase your engagement.
Remember to pay close attention to the first photo you're using. If you want to be extra sure that people will see all the photos included in the carousel, add a short reminder in the caption and tell them to "swipe left."
Here are some content ideas for your Instagram feed posts:
Meet the team - you can create an Instagram carousel post with all your team members and present them to the audience.
Share insights - things you discovered and want to share with your Instagram community.
Share promo codes - you can create a promo code and invite your followers to buy something using it.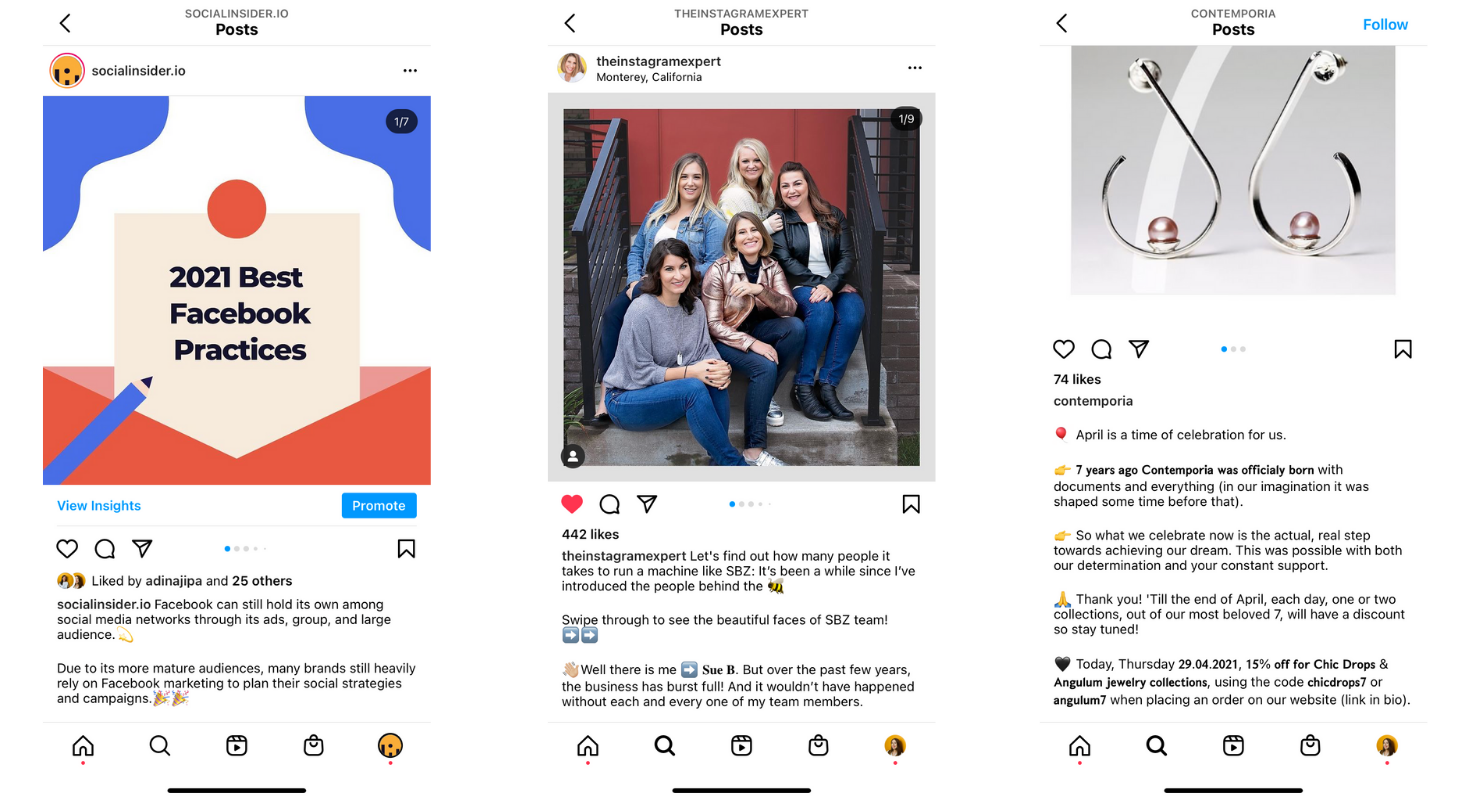 2.2. Instagram Stories
The fun part is that on Instagram Stories, you can use photos, text, videos, boomerangs, stickers, polls, hashtags, GIFs, music, etc.
Try to get creative with how you show your product or service.
Here are some content ideas for your Instagram Stories posts:
Behind the scenes action - you can give a sneak peek into a new product or some client work you are doing, how does your day look like, how do you prepare for a webinar or live session.
Product/service highlights - discuss what pain points your product solves, what makes your product different, and how you came up with the idea.
Create educational content - create short videos, like webinars, how-to videos.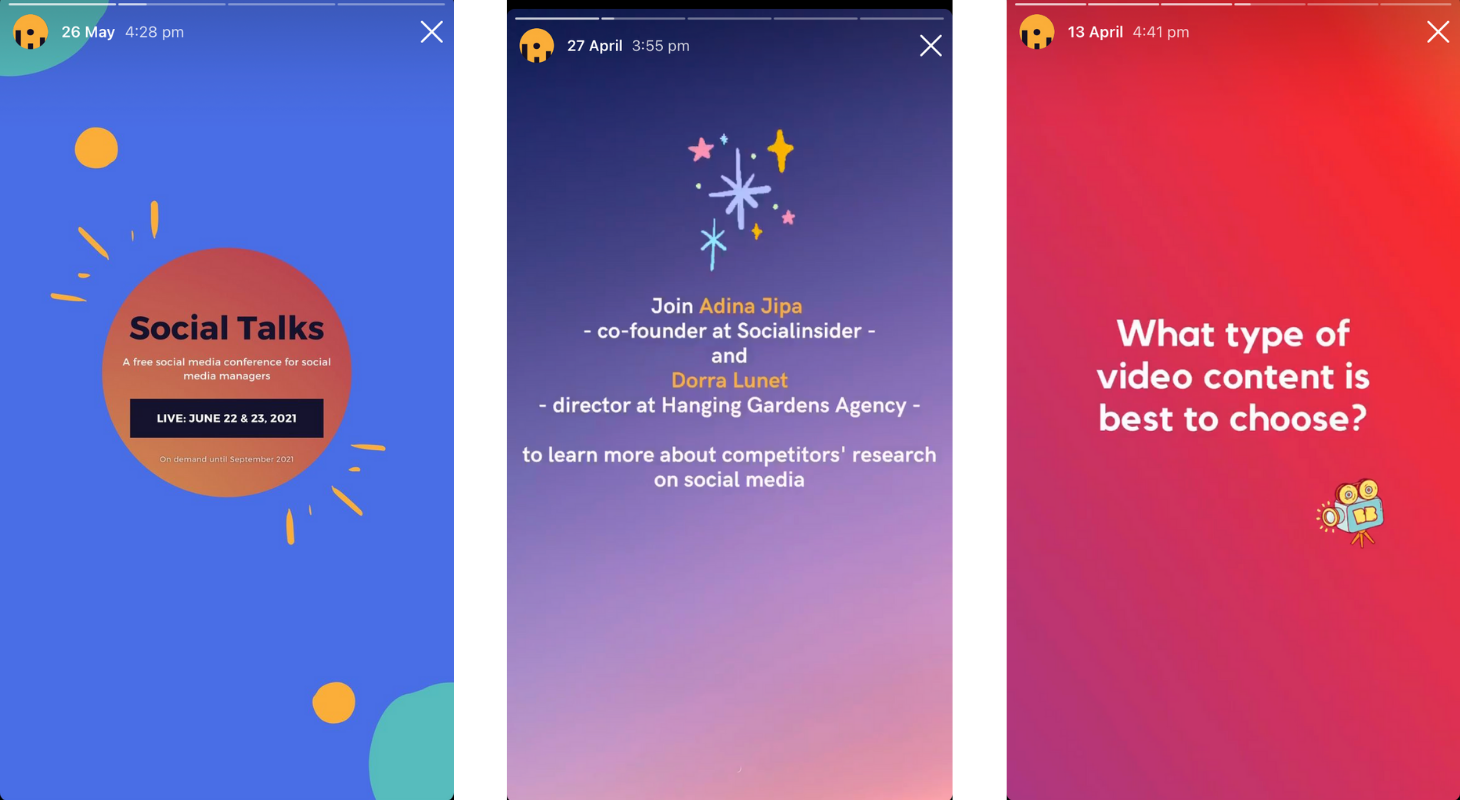 2.3. Instagram Live
Using the Instagram Live feature, your content gets bumped to the first position in Stories at the top of user's feeds, and your followers who haven't turned off notifications will receive a message alerting them that you are going live.
Also, after you end your live session you have the option to save that video into an IGTV.
Here are some content ideas for your Instagram Live:
Announce a product launch
Explain how people can use your product or a service
Host a Q&A with your audience
Interview someone using the 'add a friend' feature
Explain something
2.4. IGTV
Whether your industry or preferred social media platform, video content needs to be a part of your marketing strategy. IGTV is an excellent way to create engaging video content for your audience.
Here are some content ideas for your IGTV:
Educational videos
Repurpose older videos
Summarize Podcast episodes
Explain something
2.5. Reels
Instagram Reels is a feature that allows you to create 15-second videos with filters, text, and music within the Instagram app.
They are fun, unique, and engaging.
Here are some content ideas for your Instagram Reels:
Tell your story
Show a behind and after
Offer tips and tricks
Hop on a popular trend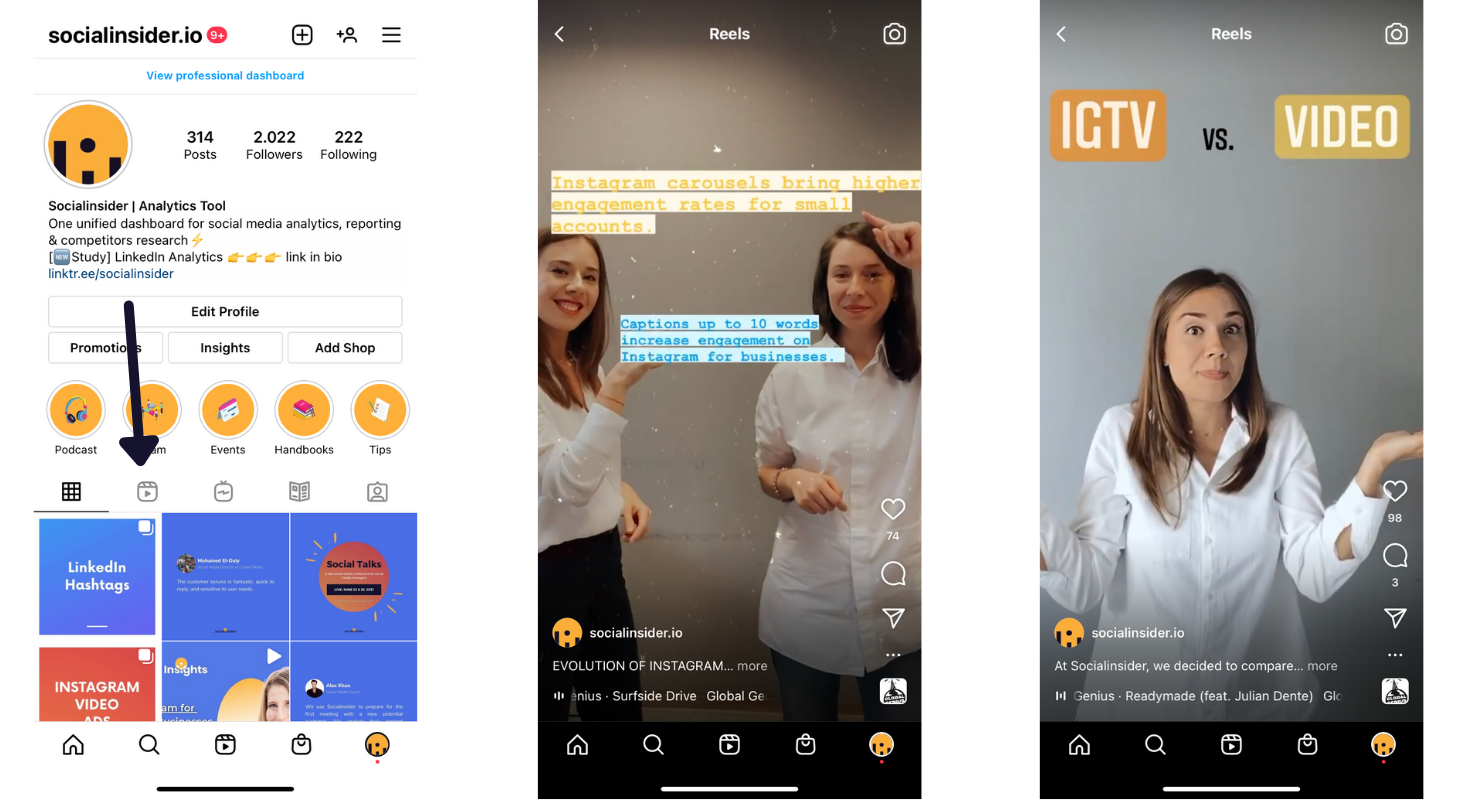 3. Analyze the number of saves and shares
Saves and shares are two essential metrics for determining the performance of your content on Instagram and the type of content you should post.
Ask yourself:
What type of content would make my followers want to save a post?
Maybe tips, tricks, educational content, behind-the-scenes content, or how-to.
Spend some time answering this question.
The same question goes for sharing your posts.
What kind of content could you create as part of your brand that would encourage someone to share it with their followers?
This information will help you create content that resonates better with your audience.
In the image below, you can see the insights for one of Socialinsider's posts. It has zero shares to Instagram stories, but 564 saves.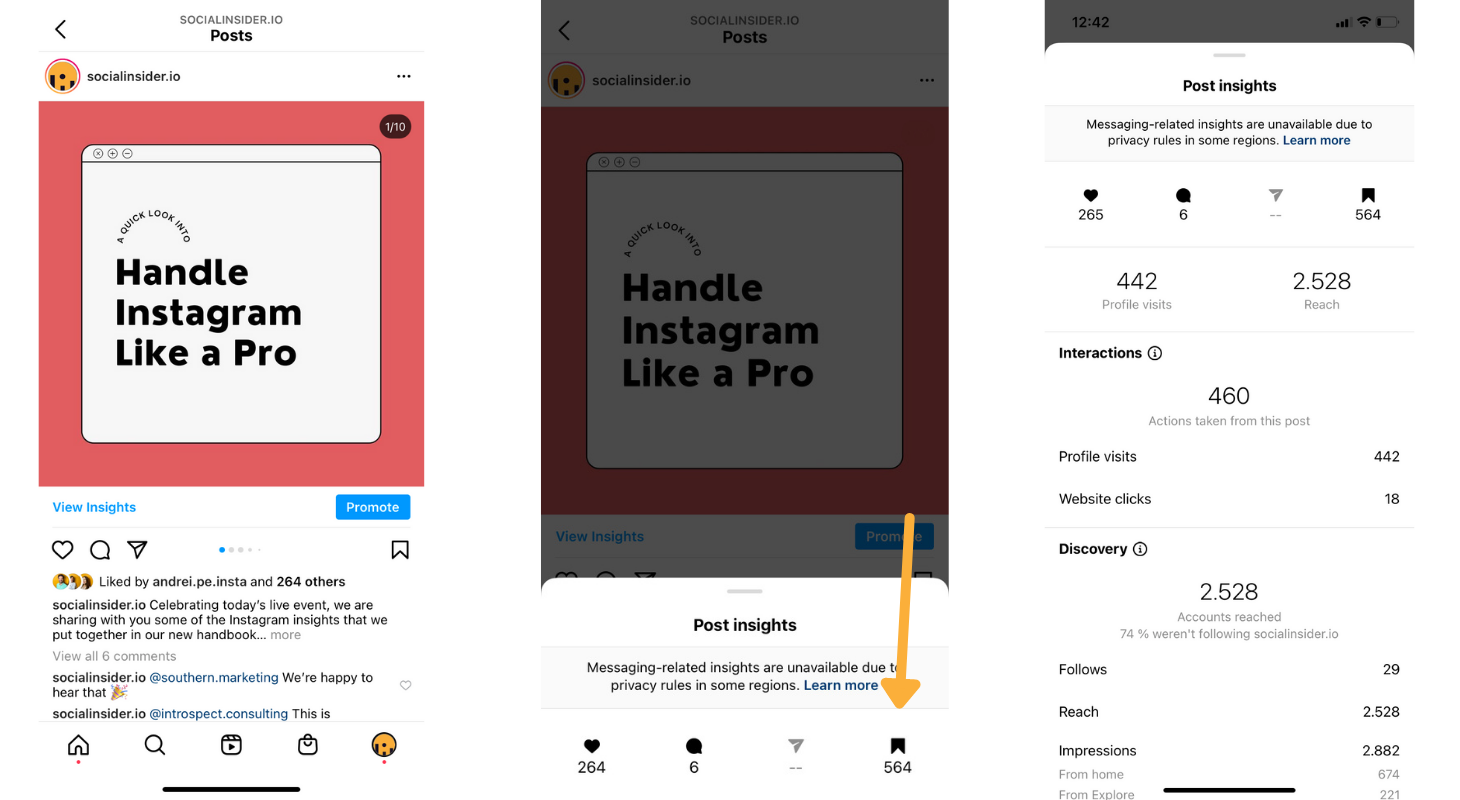 2. Identify when to post on Instagram
Generally, the best times to post on Instagram are lunchtime or evenings, when people are at the end of their work program.
To analyze your best time to post for your brand and business on Instagram,  here are four ways:
Identify your top time zones and see when your followers are online - these insights are available through the native analytics app.
Experiment with different posting times and measure your progress.
Measure when your competitors are posting.
Keep track of your industry behavior.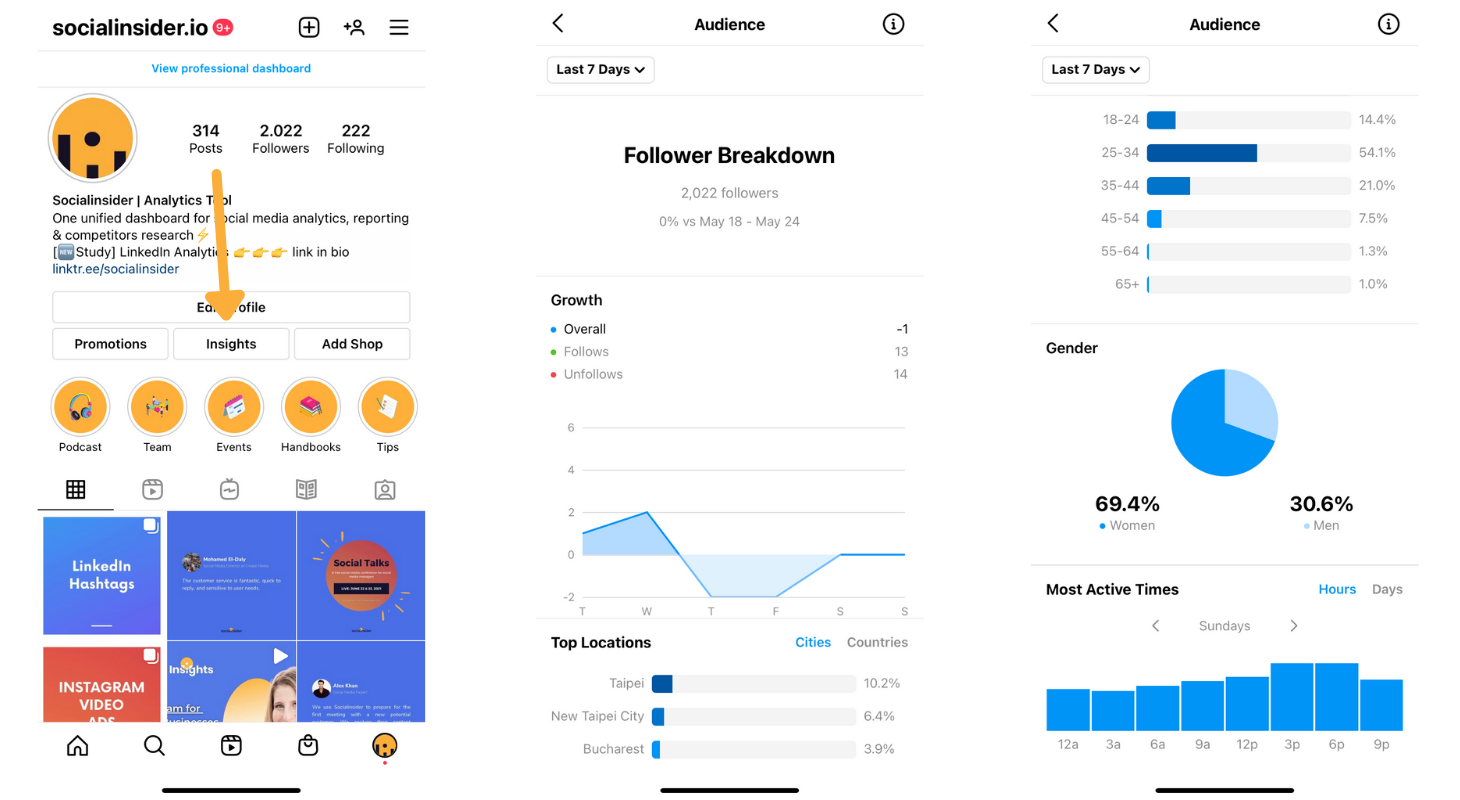 3. Analyze what hashtags to use on Instagram
Most individuals are usually confused when it comes to the using of hashtags on Instagram.

Even if hashtags are so incredible, using them in excess, don't make things better for your engagement rates on Instagram. On the contrary, they can confuse and might not attract the right audience.
Hashtags are keywords that you can use to organize your posts on Instagram and help people identify your brand quickly.
The power of a hashtag comes from people using similar keywords. If you click on a hashtag, you should access more posts on the same topic. Plus, if you're interested in that topic, you can choose to follow a hashtag on Instagram.
The type of hashtags you use will depend on the emotions you want to express, the products you wish to recommend, and the people you want to connect with. You can also use them to identify your brand, places, or events.
There are different types of hashtags you can use to enhance your brand or products. You may use one of these:
General hashtags
Niche hashtags
Community-related hashtags
Location hashtags
There are two ways to measure your hashtags performance from posts:
You can track your branded hashtags using an analytics tool like Socialinsider.
Here's the list of metrics you'll get:
The most used hashtags
The most engaging hashtags
Hashtags most shown to users
Average hashtags per post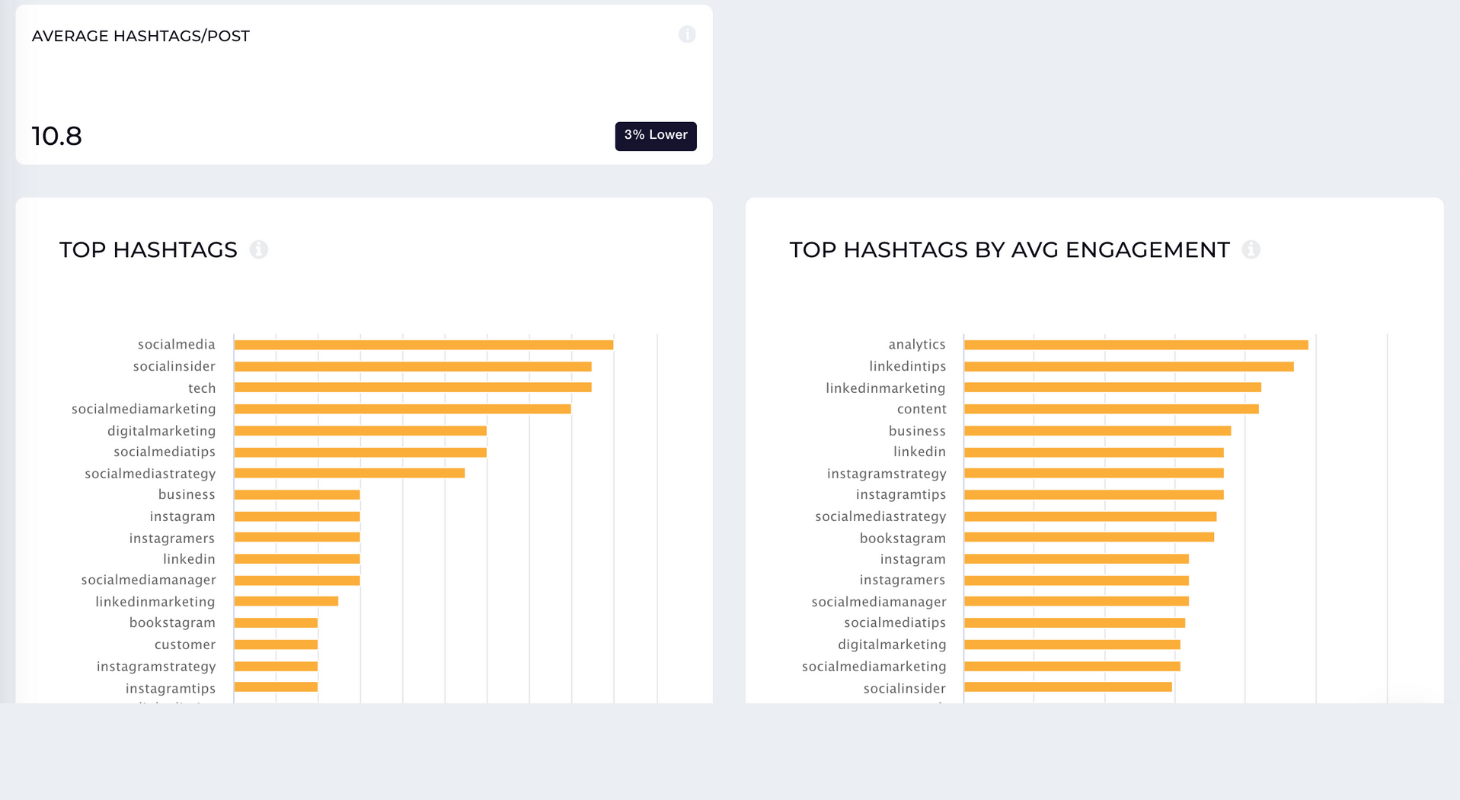 You can opt out to analyze your hashtag performance using the Instagram native insights - available for business accounts:
Tap on 'View insights' on posts
Go to the Discovery section and you'll see the impressions from hashtags. This is an aggregated number for all types of hashtag used, you don't have access to impressions per hashtag used.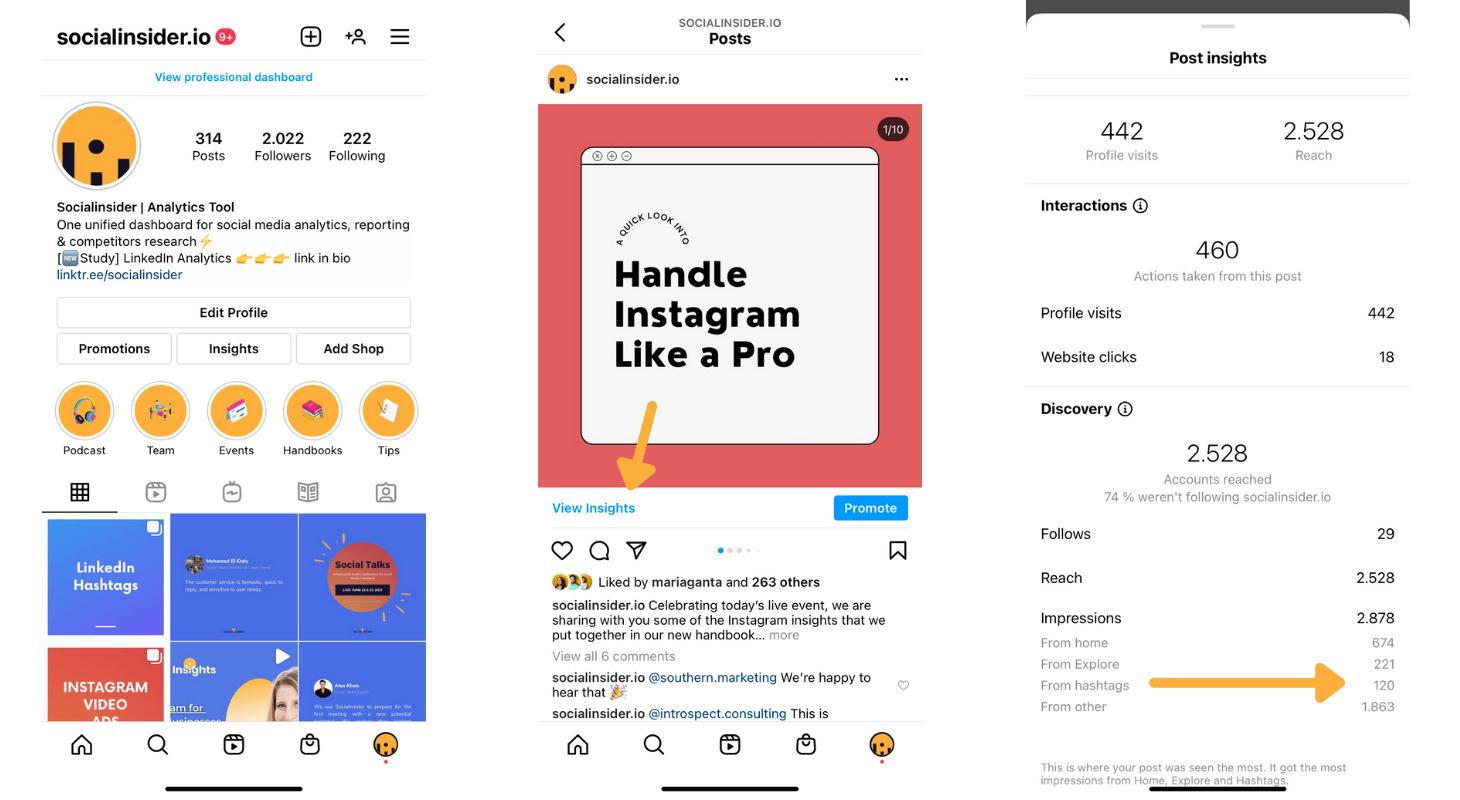 4. Understand where to place your hashtags – caption or comment
Caption or comment? That's the question.
Some people place them in the caption, at the end of the post or in the first comment. Depending on your Instagram ROI, you should test what works best for your account.
However, based on our latest research on Instagram hashtags data, 87.7% of brands place hashtags in captions.
Want to promote a campaign's hashtag and want people to share posts using that hashtag? Then it's better to use it in caption and make it visible.
5. Analyze how many hashtags you should use
Instagram allows only 30 hashtags per every post.
Content with hashtags generally attracts more conversations, but many hashtags may make your business look more desperate or attract the wrong followers.
6. Evaluate your Instagram caption length
When it comes to Instagram, things have changed and coming up with the perfect Instagram caption in 2021 is really, really hard.
Should you write a 'quickie' one with one word and emoji?
Should you write a one-liner or micro-blogging with your captions?
Metrics that help you understand what's the optimal caption length for your business are:
Distribution of comments
Distribution of likes
Reach
Impressions
Keep in mind that most individuals will scroll through Instagram feeds very fast. If you have any doubts on the length of the caption, keep it briefly.
In the first three lines, make sure you include the important message and ensure that the caption will keep the users' attention and influence them to take the following action.
7. Predict your audience behavior based on your past content
The actions of people on Instagram are a good source of information.
You can analyze the content they post or interact with in addition to their interests, behaviors, demographics. You can use this social media data to plan on future marketing and approach potential customers.
These insights help you prediction the future of buying patterns and trends.
It also helps in the prediction of the products potential customers want and when they want them. After understanding the trends, you will manage to deliver the expectations of your customers.
Pro tip!
With Socialinsider, you can get up to 24 months of historical posts data on Instagram and filter them by engagement, comments or likes.
8. Analyze your competitors' content strategy on Instagram
When in the planning stage, you will have to consider the two types of competitors on Instagram:
The first group relates to the brand's top competitors or those who likely affect your annual revenue.
The other group of competitors involves the aspirational competitors or the brands you have been looking up to.
Pro tip!
To get ahead of the competition and increase your brand awareness on social, create Instagram competitive benchmarks and analyze your industry.
Final thought
How do you analyze your content strategy on Instagram?
What tools will you be using to measure your KPIs effectively?
What's your process to create high-quality content on Instagram?
Today, social media managers are faced with an ever-growing list of metrics to follow. Measuring your social media efforts can be overwhelming.
Follow the steps described in this article to stay on top with your content strategy. Set up weekly or at least monthly meetings to analyze your postings on Instagram and create benchmarks for your business.
---
Related articles: