Instagram has become the social media platform where everyone posts aesthetic content, a lot of Reels and tons of stories like they are on a race against the clock.
Truth being told, the speed with which brands adapt and adopt new trends make the difference, since everyone is eager to see quality Instagram content.
Delivering high-end content that perfectly aligns with your brand's values, using unified colours for your social and website, will certainly attract more users.
Let's find out how to create high quality Instagram content to take your marketing strategy to the next level.
How to create a flawless Instagram content strategy for your business
How to create high quality Instagram content
2.1. Know your audience
2.2. Identify when to post on Instagram
2.3. Discover what hashtags to use and where to place them
2.4. Evaluate your Instagram caption length
2.5. Predict your audience behaviour and reactions based on your past content
2.6. Check Instagram content performance
2.7. Keep away from recycling content from other platforms
2.8. Use UGC
2.9. Collaborate with influencers
2.10. Analyse your competitors' content strategy on Instagram
2.11. Introduce call to action strategically
2.12. Boost important messages through ads
2.13. Engage with followers
---
1. Types of Instagram content
Things are pretty simple: people don't have enough time on their hands, always running towards something. If you want to sell them something, show it to them quickly, without being too salesy.
And use filters, while also showing the human-side of the brand. And don't forget to be authentic.
It's easy, right? I thought so.
Joggling with all types of Instagram content while also establishing genuine connections with your audience through your posts is not an easy job.
But it's crucial to experiment with all content types on Instagram to see what best works for you and what doesn't. Here is what you need to know about Instagram content types.
Post a photo of your product or showcase the service you offer. Make sure the colours combine perfectly to create a unity on your Instagram page.
Use the rule of third if you are taking your own product photos. The picture needs to be appealing, juicy, making people wanna interact with your post.
This type of Instagram content helps you put together a bundle of videos and images (up to 10) that tell the story of the same product.
When you let your content speak for the quality of your services or products, make sure you attract users through your creative ideas.
Authentic sells. If you think your content idea is crazy, maybe you should consider to use that twist to propel your marketing campaign.
Short-form videos, similar to the ones everyone loves scrolling through on TikTok, are a blessing. Those users with a narrow attention span consume a lot of Reels on an everyday basis.
Reels offer you the opportunity to use all those viral audios that will also push your videos towards virality.
Make sure you upload high-quality videos and let your imagination flow to obtain content that really moves users and makes them empathize.
Last year, Instagram turned all the videos under 15 minutes into Reels. The separate section previously known as videos does no longer exist.
You can use Instagram Stories to share your new post, to reveal a new launch or to engage with your audience through polls.
Regardless of the reason you use Stories, it's important to make sure they align with your brand's values.
Through lives, you can show your audience the human-side of your brand. By learning that there is a team of people behind your brand, users will empathize and engage even more with you.
Take advantage of this Instagram content to ask questions and present product tutorials or services' demos.
2. How to create high quality Instagram content
To create Instagram content that is worth your effort and your audience's attention, you need to go the extra mile.
This step-by-step guide on how to create high quality Instagram content will help you improve your marketing game.
Here is what you need to do:
2.1. Know your audience
Once you establish your content calendar, keep an eye on your best performing posts and understand what type of posts generate better engagement.
Analyze your content based on:
Leaning more about your audience will help you figure out what are their needs and offer them exactly what they are looking for, while taking into account your brand's values.
Make sure you have a content strategy for these Instagram content types:
Feed
Stories
Live
Reels.
The experts' advice is to make use of all of them, so your chances of getting seen by your target audience can increase.
However, I think it's best if you experiment with all of them to figure out what works and what doesn't work for your brand.
Take a look at the metrics and see which are your top 3 posts. The way your audience interacts with your content will indicate what type of content you should continue to create.
2.2. Identify when to post on Instagram
Checking Instagram metrics and finding out when's the best time to post for your brand is crucial.
What's the point in posting at random hours if your target audience is not active then?
By checking demographics metrics, you will find out who scrolls through your content, from what corner of the world and when they are most active.
This will set the tone for your scheduling calendar.
Generally, the best times to post on Instagram are lunchtime or evenings, when people are at the end of their work program.
To analyze your best time to post for your brand and business on Instagram,  here are four ways:
Identify your top time zones and see when your followers are online - these insights are available through the native analytics app.
Experiment with different posting times and measure your progress.
Measure when your competitors are posting.
Keep track of your industry behavior.
2.3. Discover what hashtags to use and where to place them
Most individuals are usually confused when it comes to the using of hashtags on Instagram.
Hashtags are keywords that you can use to organise your posts on Instagram and help people quickly identify your brand.
Even if hashtags are incredibly useful, using them in excess doesn't make things better for your engagement rates on Instagram.
On the contrary, they can be confusing and might not attract the right audience.
The type of hashtags you use will depend on the emotions you want to express, the products you wish to recommend, and the people you want to connect with. You can also use them to identify your brand, places, or events.
There are different types of hashtags you can use to enhance your brand or products. You may use one of these:
General hashtags
Niche hashtags
Community-related hashtags
Location hashtags
Caption or comment? That's the question.
Some people place them in the caption, or in the first comment. Depending on your Instagram ROI, you should test what works best for your account.
However, based on our latest research on Instagram hashtags data, 87.7% of brands place hashtags in captions.
Instagram allows 30 hashtags per post. However, no one says you should use all of them. Using too many hashtags may attract the wrong audience.
The  Instagram posts with 5-7 hashtags managed to rank the highest engagement. So maybe you can go from there.
2.4. Evaluate your Instagram caption length
When it comes to Instagram, things have changed and coming up with the perfect Instagram caption in 2023 is really, really hard.
Should you write a short one with one word only and an emoji?
Should you write a one-liner or a story that looks more like a blogpost?
Metrics that help you understand what's the optimal caption length for your business are:
Distribution of comments
Distribution of likes
Reach
Impressions
Keep in mind that most users will scroll through Instagram feeds very fast. If you have any doubts on the length of the caption, keep it briefly.
Make sure you include the important idea in the first three lines and ensure that the caption will keep the users' attention and influence them to take action.
2.5. Predict your audience behaviour and reactions based on your past content
Users' actions on Instagram are a good source to find out what they like and what they don't, to adjust your content strategy.
You can analyse the content they post or interact with in addition to their interests, behaviours, demographics. Use this social media data to plan on future marketing and approach potential customers.
These insights help you predict the future of buying patterns and trends.
It also helps you predict what products potential customers want and when they want them.
After understanding the trends, you will manage to deliver the expectations of your customers.
2.6. Check Instagram content performance
With the right Instagram analytics tool, you get to see in-depth insights, measuring every important metric.
Measuring your Instagram content performance will definitely help you understand what works about your marketing campaign.
In case you notice Instagram metrics drop, you can immediately adjust your marketing plan to boost your campaign's potential.
Make sure you check the engagement rate, follower count, follower growth, video views, impressions, reach and hashtags used.
Based on how your target audience resonates with the content you create, you can change the direction, stirring your marketing campaign towards virality.
2.7. Keep away from recycling content from other platforms
If you're thinking that it will be time-saving to post on Instagram that video you just posted on TikTok, well, think twice.
Avoid posting Reels or Stories that have the watermark of another social media platform. Users are on Instagram because this platform offers different things than Pinterest, TikTok or Facebook.
Adapt your content to your Instagram audience and avoid recycling your images and videos.
Remember that your content should suit your Instagram audience's needs, values and desires.
2.8. Use user-generated content
User-generated content stands proof that you've done well. Sometimes satisfied clients post content with your products, talking about their utility.
You should be thrilled about this and you can even ask them if you can use their feedback on your website and also share it to social media.
User-generated content (UGC) is clearly a powerful endorsement coming from a client. When other users see the UGC, they will be tempted to try your service or products as well.
This is the moment when you'll need to use social listening and monitoring to see who mentioned you in their posts. Try to look through every mention and tag to find out what's your clients' feedback.
2.9. Collaborate with influencers
Influencer marketing works wonders on Instagram. A lot of brands collaborate with influencers who have a huge follower count to get more visibility and increase brand awareness.
With the help of influencers, you manage to build a bigger audience and engage with them. The difficult part is to spot the right influencer for your brand.
There are specialised influencer marketing tools that help you figure out who is the right influencer who is active in your niche and which are the brands which they have already collaborated with.
With this info, you will find out exactly with whom you will be able to efficiently collaborate.
The right influencer will also be creative enough to inspire you with their take on your services and products, putting their creativity at ease.
2.10. Analyse your competitors' content strategy on Instagram
Always keeping your eyes on your competitors helps you wanna work harder to be one step ahead of them.
It is even better if you develop a competitive analysis to benchmark your brand against your competitors.
Look at all key metrics and check their content strategy, see how they engage with their audience and what type of content performs best for them.
You can gather a lot of actionable insights after doing a competitive analysis and these can further inspire you to adjust your content strategy on Instagram.
2.11. Introduce call to action strategically
When it comes to calls to action, you have to be very specific when you include some in your Instagram content.
Your call-to-action (CTA) needs to be clear and convincing. You can either place it in your post's caption or in a photo in your carousel.
Besides the fact that you use your Instagram content to increase reach, you also want your audience to take action after introducing your products and services.
Your posts should convince followers to engage with your brand and go as far as your website to find out more about your products and services.
2.12. Boost important messages through ads
During your Instagram campaign, boost your content through Instagram ads. By amplifying a message at the launch of your new product, you manage to increase your campaign's visibility.
Try your best to design ads that make your audience curious about your new launch so that they go to your website.
Organic content alone will not offer you the visibility you are looking for. Make sure you reach your target audience through your Instagram ads.
2.13. Engage with followers
I cannot emphasise enough how important it is for a brand to engage with its audience.
First, you have to show users that behind that shiny logo of your brand, there's a person.
By answering their comments and queries in DMs, you manage to establish a strong connection with your followers.
If you show your followers you are a brand that cares and empathises with them, they will transform into your loyal community.
3. How to check your Instagram content's performance with Socialinsider
To develop high quality Instagram content you need to be skillful and focused on your target audience, always providing them with a solution to their problems.
In the meantime, you also need to check content performance to know what to do next and make the best out of your collabs with influencers and UGC providers.
I know it sounds like a cliche, but Socialinsider can help you do all of these. It's more than an analytics tool, providing you with all the needed data to develop campaign reporting, competitive analysis, social media reporting, check creator insights and use social listening.
First, let's look at the analytics part, taking a look at the Instagram metrics in Overview. I added Socialinsider's Instagram page and I selected to see the data for the last three months.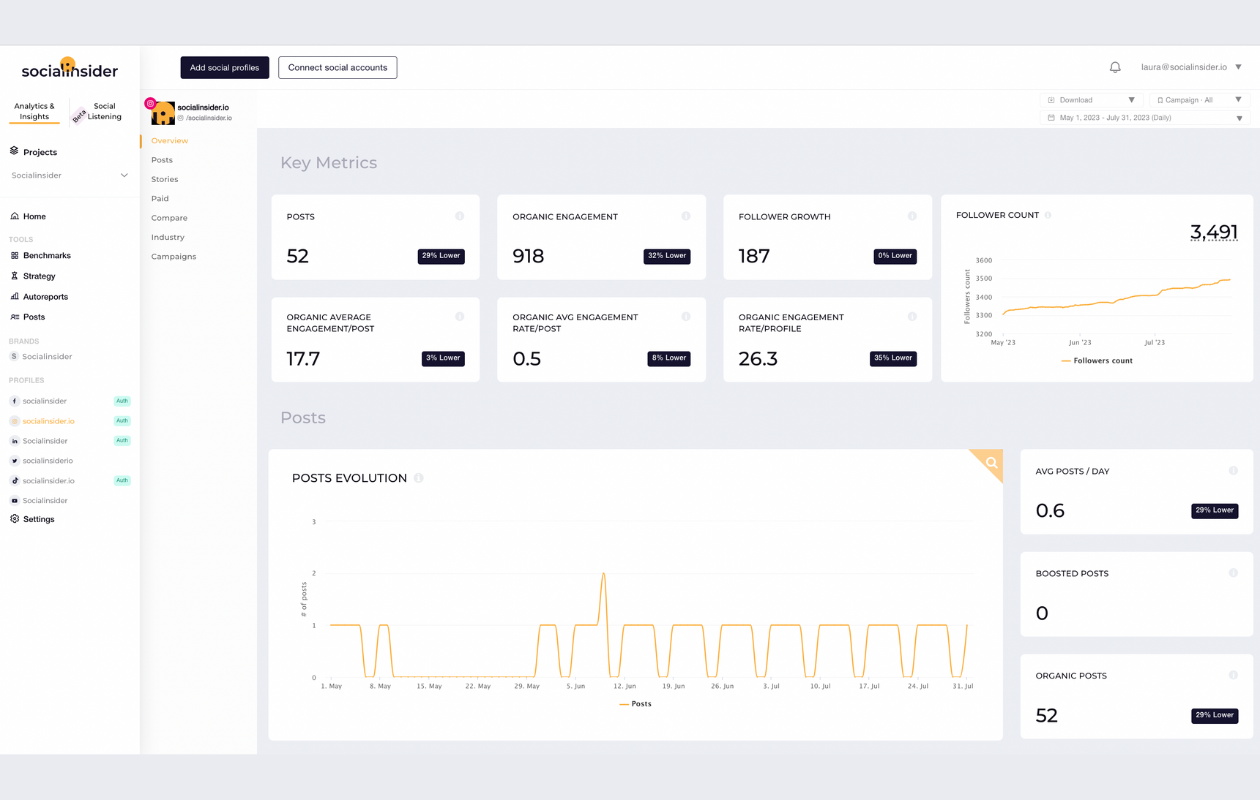 Here you can see the values of all key Instagram metrics like engagement, follower growth, follower count, average engagement per post, and average engagement per profile.
As you go downward in the Dashboard, you'll see every important metric detailed into a bunch of other metrics, like posting times, interactions, top hashtags, reach metrics, top 3 posts, top 3 stories, best time to post, video views, engagement evolution, top mentions and demographic data.
Next, let's switch to social listening. I searched for #cleanbeauty since I found this hashtag being popular with a lot of vegan beauty brands, including Haus Labs by Lady Gaga.
In the content section, you can see the total number of posts using that hashtag. In this case, it's 4355 posts and 4289 of them are coming from creators, namely influencers.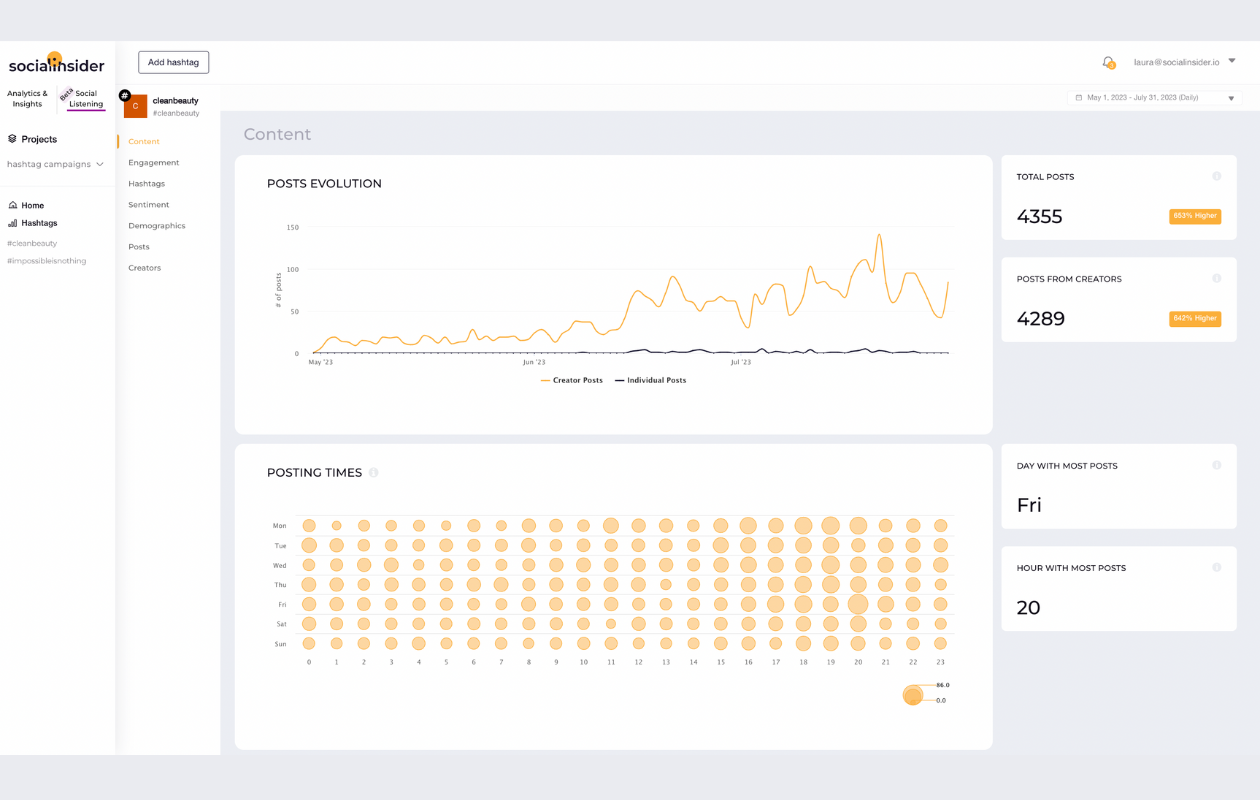 A more in-depth search here can help you discover which are the right influencers to collaborate with.
Next, I looked at the engagement metrics for the posts using the hashtag #cleanbeauty.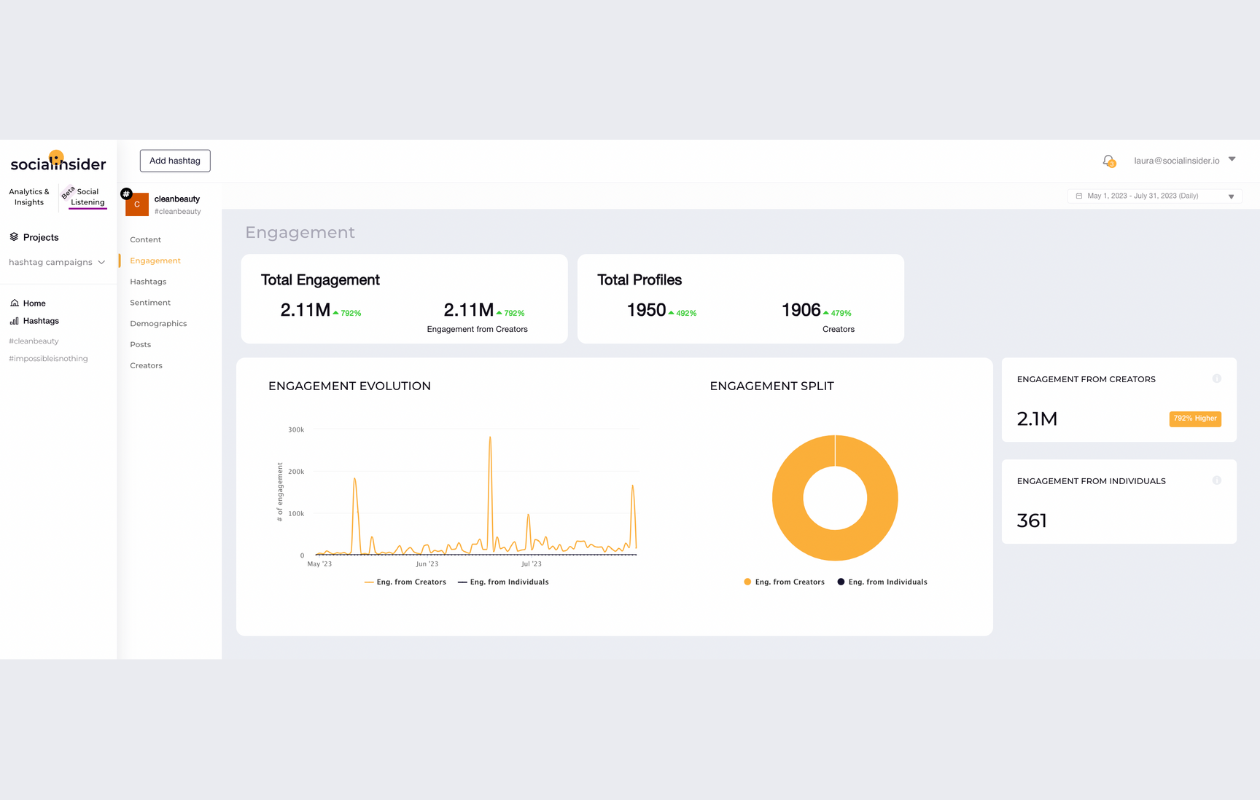 And finally, I went to the Creators section to see who used this Instagram hashtag in their posts.
It seems that 417 creators used this hashtag in their Instagram posts in the last three months. And here you can get a lot of creators' data.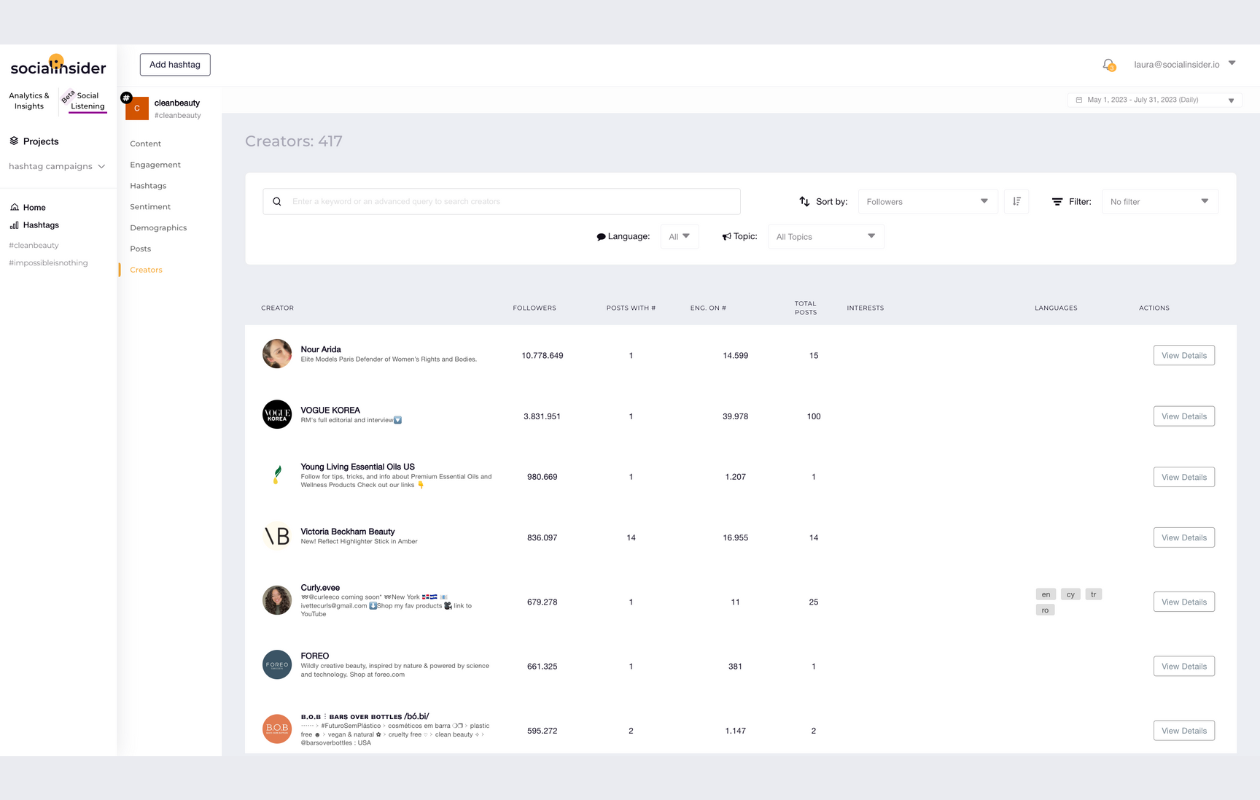 You can find out the total number of posts for which they added that hashtag, their account engagement and types of posts used in the selected timeframe.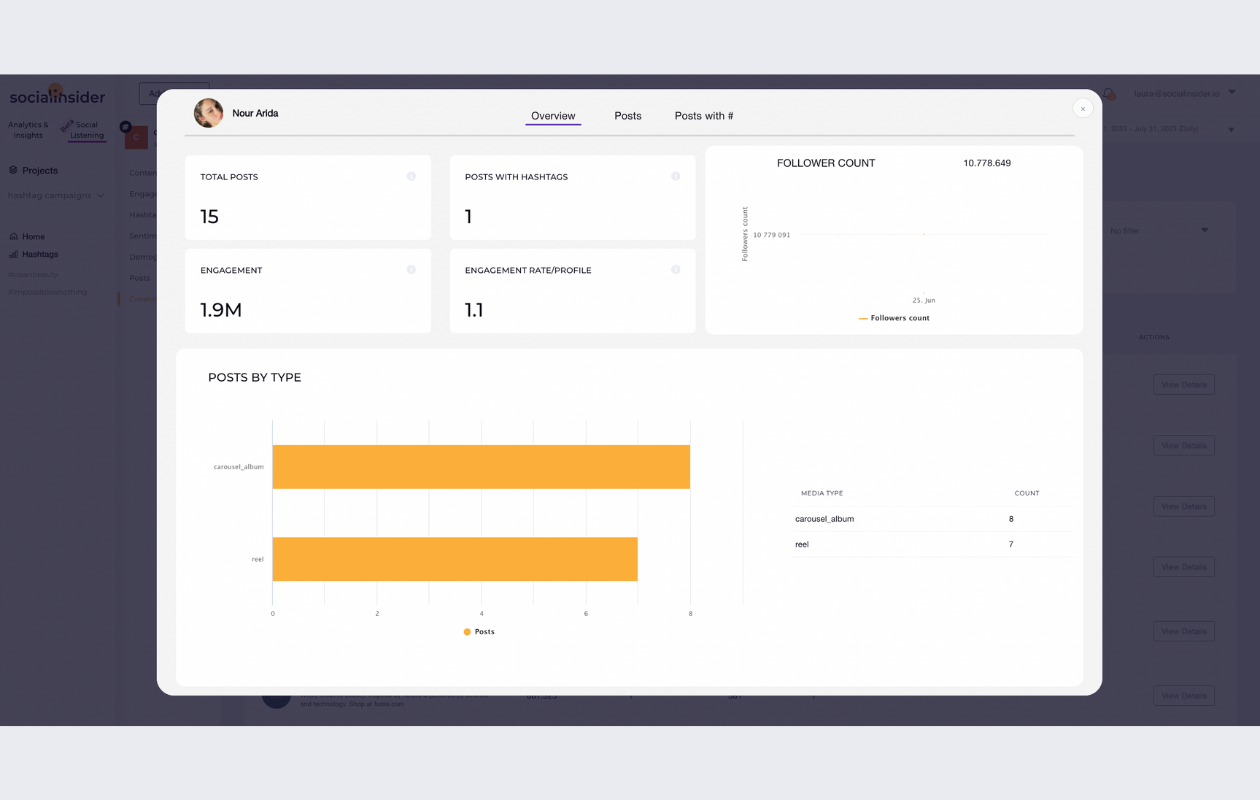 If you click on Posts, you can see all their posts with individual key metrics. Having this knowledge, you can see what other hashtags they used and with what brands they've collaborated so far.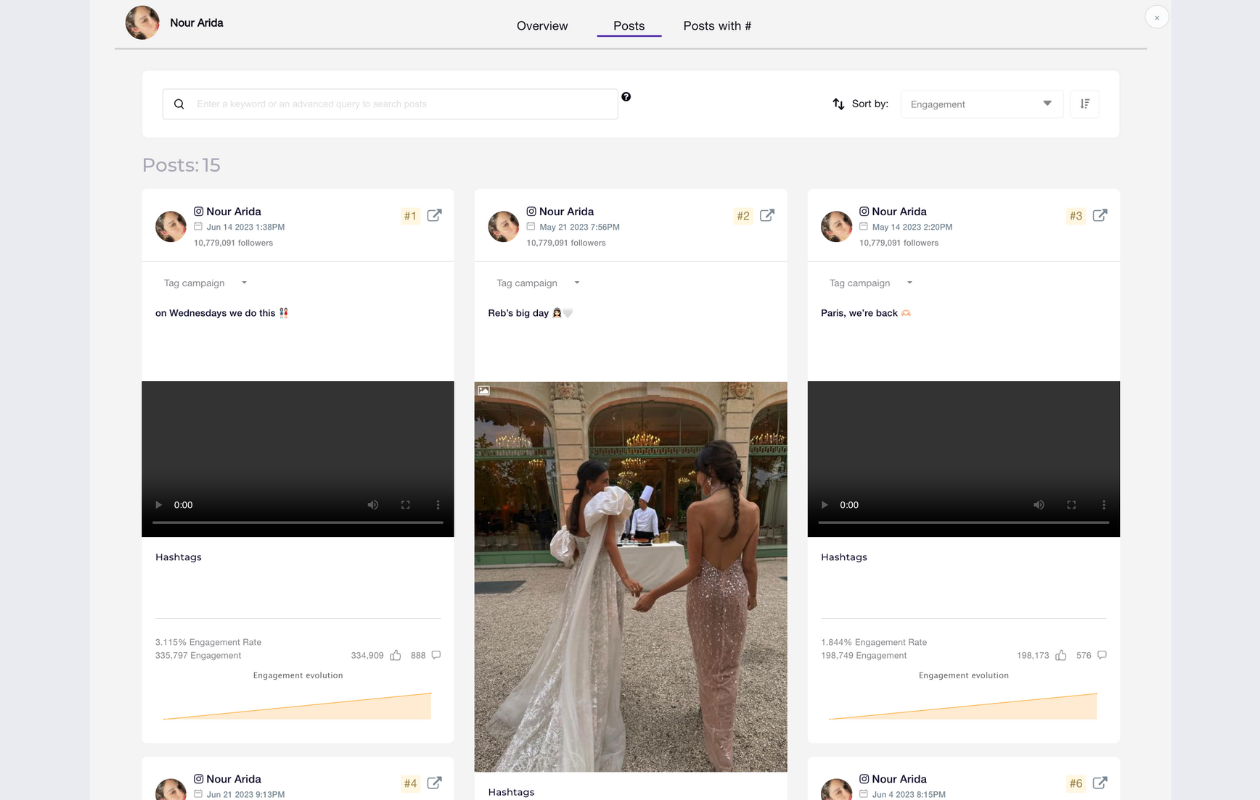 All these in-depth insights help you make sense of creators' Instagram metrics and figure out who are the right influencers to collaborate with.
Pro tip!
To get ahead of the competition and increase your brand awareness on social, create Instagram competitive benchmarks and analyze your industry.
Final thoughts
Today, social media managers are faced with an ever-growing list of metrics to follow. Measuring your social media efforts can be overwhelming.
Follow the steps described in this article to stay on top of your competitors with your content strategy. Set up weekly or at least monthly meetings to analyze your postings on Instagram and create benchmarks for your business.
Frequently asked questions
1.How do you create brand content on Instagram?

Come up with ideas that will appeal to your audience.
Determine the form you want it to be in and the platform you want to publish it on.
Come up with a content creation strategy, which can include SEO, market and persona research, and content audit.
Publish your content.

2. How do I make my Instagram look professional?
Know your audience first.
Choose a consistent color scheme.
Have a theme.
Design for the grid - and then break it.
Edit your images before posting.
Grow your followers with Stories and Hashtags.
Pull it all together.

3. How can I make my content better?
Mix up your content
Start with the benefit
Test, Test, Test, Test, Test
Get inspired by influencers
Do less stuff better
Find a real consumer insight
Build content on relevant connections
Give your content more reach on new channels
4.Can I change my Instagram algorithm?
How to Reset Your Instagram Algorithm & Improve Your Explore Page
1: Tell Instagram what you're not interested in.
2: Unfollow people.
3: Delete your search history.
4: Clear the Instagram app cache.
5: Like, comment, save, and share posts you like.
5.How do I make my feed look aesthetic?
Here are some tips to help you create an effective aesthetic for your Instagram profile:
Know your audience
Establish your brand personality
Craft a brand style guide and stick to it
Craft a template for design consistency
Creating authentic content
Establishing a consistent posting schedule
Crafting captivating captions