When it comes to brands that are killing it on social media, Starbucks certainly makes the cut for the runway in pretty much every social media user's mind.
With millions of fans across all its social networks, Starbucks is a brand that takes social media marketing very seriously, thus investing heavily in creating a social presence aligned with the brand's image.
But what are - more specifically - those marketing tactics that got Starbucks' nowadays social media success and turned it into one of the most idolized brands of all time?
Let's dive in!
Deconstructing Starbucks' social media strategy
1. Starbucks on TikTok
Starbucks' social media marketing strategy is particularly unique. A differentiator tactic used by the brand that contributed to its incredible success on social was its heavy use of seasonal marketing.
By crafting social posts, campaigns, and products specially designed for different seasons, holidays, or events, Starbucks creates a sense of urgency that drives its social communities to take action sooner rather than later in trying its drinks and deals.
When looking at Starbucks' TikTok content, it rapidly gets obvious the brand's TikTok strategy is centered around the human factor.
Thanks to its idea of featuring real humans in most of its TikTok videos, Starbucks succeeded in creating a strongly humanized presence through its TikTok account.
With authenticity being so paramount in TikTok marketing, this was a really smart move.
From a rather more technical perspective, in terms of a content planning strategy, on TikTok, Starbucks posts every two days and integrates into its captions three to four hashtags on average.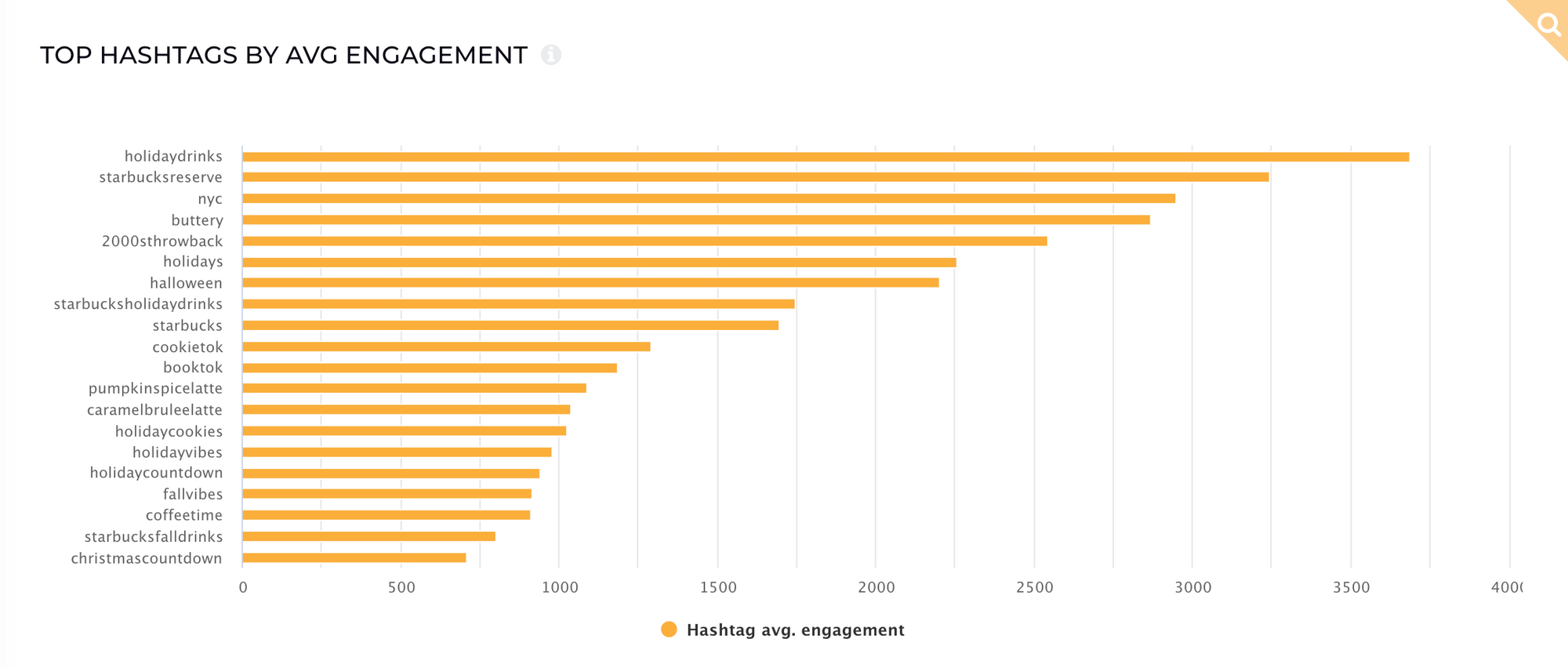 PS: to get an in-depth hashtag analysis for your TikTok account (as shown above), or data about your competitor's TikTok channels, check out Socialinsider's TikTok analytics feature!
2. Starbucks on Instagram
With Instagram being the coolest social media platform until recent times, Starbucks invested a lot of marketing resources into its Instagram marketing efforts, trying to accomplish a picture-perfect feed and presence.
That - one must admit - the brand nailed it.
Truth be told, Starbucks' aesthetic sense is hard to top - which is one of the main reasons social media users have fallen for Starbucks' Instagram.
Speaking of aesthetics, one notable strategy the brand has for organizing its Instagram content is to create chromatic themes and seasons - aligning its online visual journey with its sales strategy.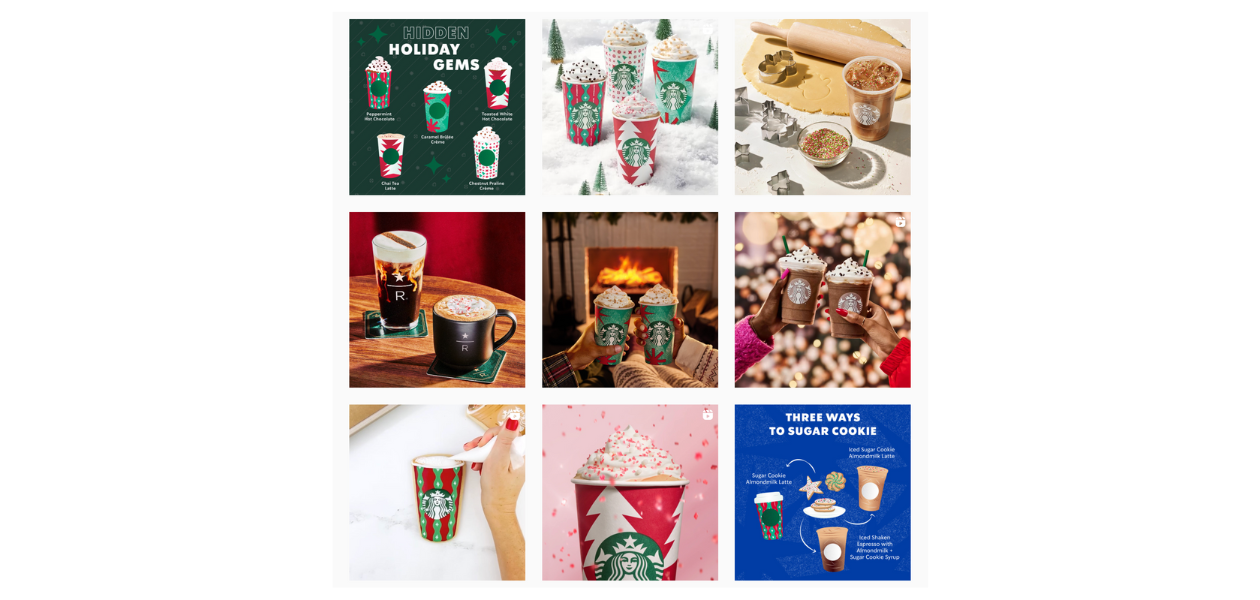 Besides its cheering content, Starbucks also likes to lighten up its community's spirits with emojis integrated into its Instagram captions - for a lighter-to-digest message and a friendlier tone that would encourage more engagement.
Last but not least, in terms of content strategy for Instagram, Starbucks has chosen a mix of single images and Reels.
This is a smart move as, on the one hand, the brand sticks to what it's good at (gaining the user's attention with catchy visuals) while altogether adapting to the new trend of video consumption and playing by the platform's algorithm rules.
In terms of posting frequency - Starbucks posts daily on Instagram.
Probably for having a more consolidated audience on Instagram, Starbucks still invests more in Instagram marketing compared to TikTok, with Instagram still being the most engaging channel for the brand.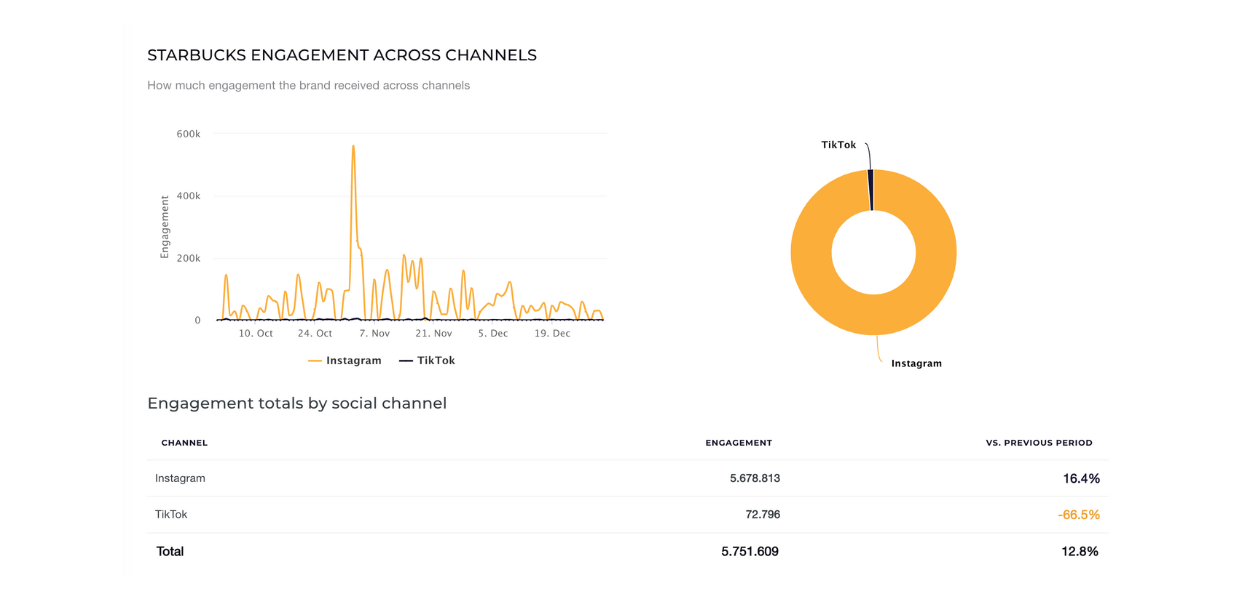 3. Starbucks and its YouTube Shorts - the "To Be Human Campaign"
Starbucks has always been a visionary brand - that quickly adapted to the trends and wowed the world with its creativity and ingeniosity while doing it.
And the way the brand has leveraged video content on social media - everyone's new obsession - is no exception.
If Starbucks joined TikTok even from the earlier days and also started to make use of Reels for a while now, with YouTube Shorts - the latest launched short-form video feature, things are a bit different.
Actually, Starbucks just recently started creating content for that particular platform and did it in its characteristic way, meaning with a twist.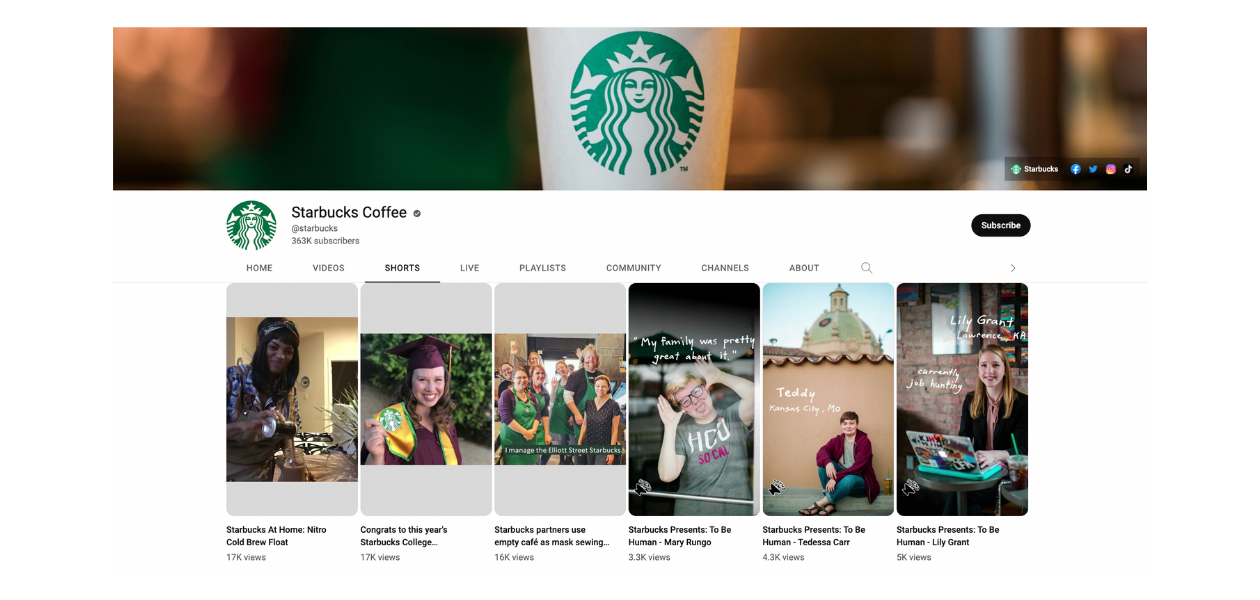 When comparing the brand's TikTok videos with its Reels and now YouTube Shorts, one will notice Starbucks has a very distinctive approach to the content created.
But hey, when you know your audience and you're swimming in creativity, the sky is the limit.
While on TikTok and Instagram Reels, Starbucks adopted a more fun vibe, with its YouTube Shorts, Starbucks chose a more inspirational, somehow emotional approach.
Starbucks' YouTube Shorts form a series called "To Be Human" and portrays different customers interviewed in various locations that share a bit of their life journey, with their ups and downs - as human life always has.
So far, these videos have raised millions of views, showcasing what we already knew - when it comes to marketing and digital content - Starbucks is a genius brand.
How long this series will last, or what other concepts will Starbucks leverage for its YouTube Shorts, is hard to tell - but one thing is sure: they will be memorable.
4. Key takeaways from Starbucks' social media marketing strategy
As trends come and go and the buyer's journey continues to change, it's imperative for businesses looking to shine and top their competitors to adapt to the new customer's needs and preferences.
Especially now - given the many shifts on the horizon for the social media sphere, coming from TikTok's growing popularity - there's a great opportunity for brands to get in front of their targeted audiences and wow them with some creative magic.
While content formats evolve and new ones are worth trying, the most important pillar of a successful social media strategy is its core concept, around which all the messages will be created.
Let's take Starbucks' example. First and foremost, the brand's primary aim for its social media activity is to be relatable and facilitate a personal relationship with its audiences.
This is, if you ask me, the very reason Starbucks' social media strategy is so successful. Because it focuses on the customers' experiences.
Through skillful usage of storytelling, Starbucks shows how its products effortlessly integrate into the lives of its clients while equally making them a part of the brand's story.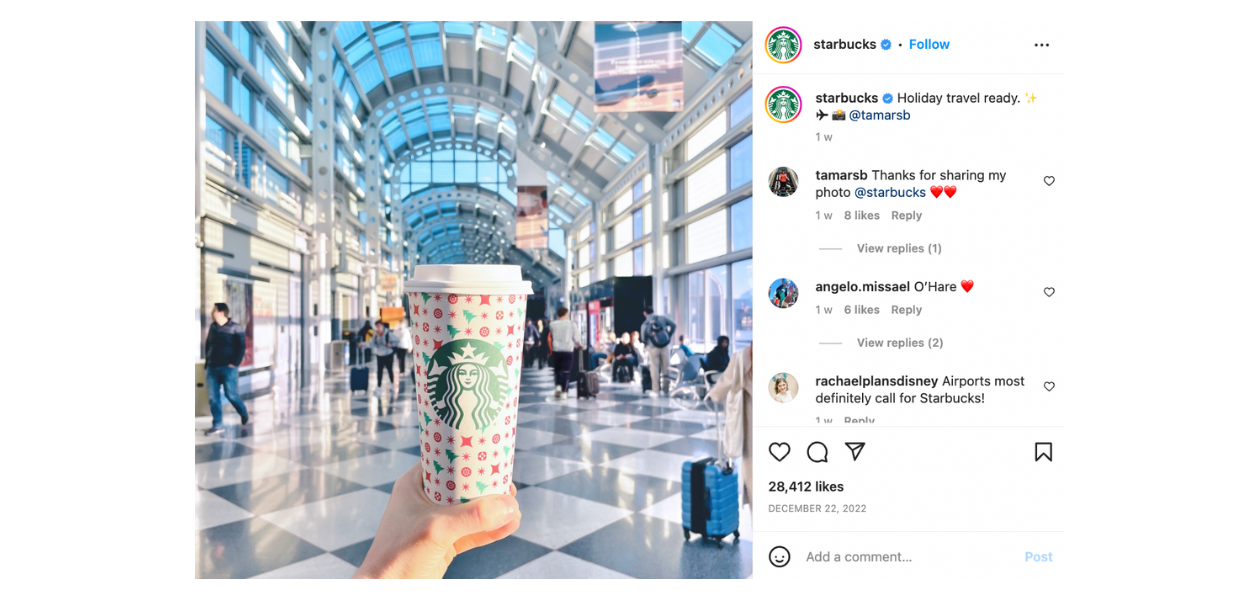 Final thoughts
One of the primary reasons for Starbucks' social media success is the way they construct its brand image around both itself and its audience.
Starbucks' marketing strategy is entirely aligned with the brand's mission - that of inspiring and nurturing the human spirit.
Overall, Starbucks is a brand that extends its social media presence way further than solely product promotion, being focused on rather emphasizing the Starbucks lifestyle, which is known for its sense of belongingness and inclusion.