If you've been posting on Instagram for a while but haven't seen the engagement results you'd like to, this post was written for you!
Today I want to share the type of updates you can make on Instagram to not only increase your engagement but also the number of followers you have.
Let's dive right into the good stuff!
---
Types of Instagram Posts You Should Be Sharing
👉 Product Photos
👉 Lifestyle Photos
👉 Behind the Scenes Photos
👉 Videos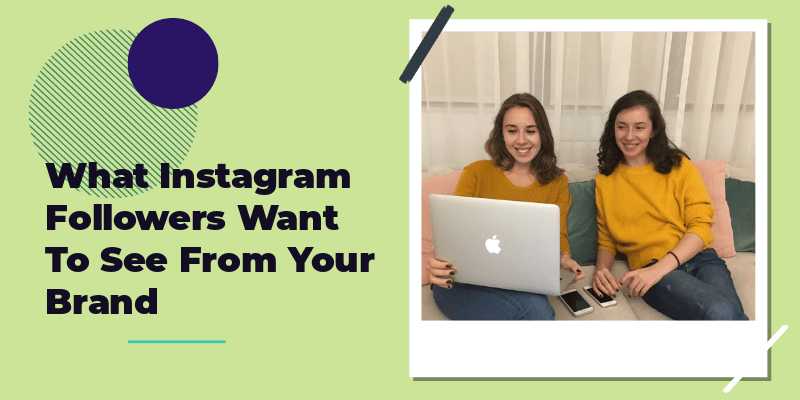 ---
#1. Product Photos
The top way to increase your brand engagement on Instagram is by posting product photos.
According to research from L2 and Olapic, 65% of the best-performing brand posts on Instagram feature product shots, compared to 43% which feature lifestyle images.
From beer brands like Pabst Blue Ribbon to makeup companies like Tarte, car companies like Maserati and men's grooming products like Harry's, engagement skyrockets on product photos. Of course it helps if your product photos are beautifully shot. It's even better if they are beautifully shot and provide some useful information to the viewer.
For example, Tarte often shares images of newly launched or limited-edition products along with where they can be purchased.
Harry's takes a similar approach and not only posts new products, but also how those products can be shared as gifts.
Who doesn't appreciate a good gift idea? I know I'm grateful for it (especially on those days when it's a gift to me from me).
All of your photos don't need to be professionally taken; some users will appreciate authentic "behind the scenes" photos which we'll talk about at length below.
That being said, always keep in mind that Instagram is a marketing channel at the end of the day, and you want to show your product in it's best looking form. Often that will mean taken in good lighting with a decent camera.
#2. Lifestyle Photos
While 65% of the Instagram posts with the highest engagement comes from product photos, lifestyle shots still garner great engagement. And you can always try to increase your engagement with the right hashtag strategy. That means it makes a lot of sense for brands to balance out an Instagram feed with product and lifestyle shots.
Here you can see Harry's does just that: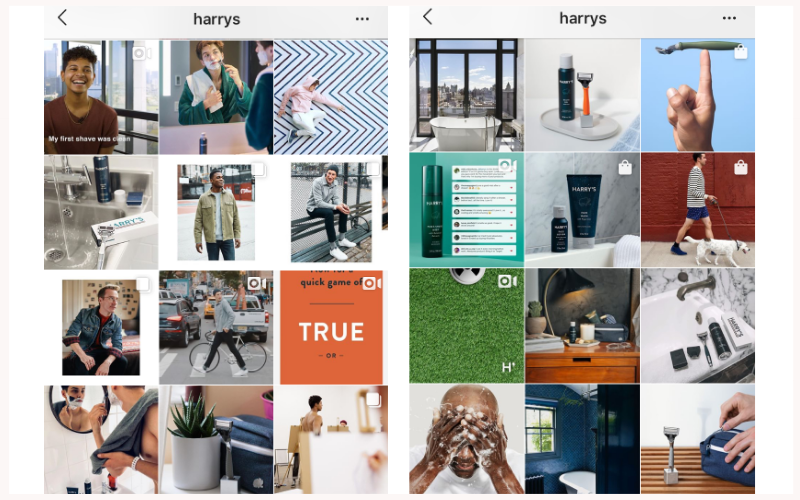 The type of lifestyle shots you post can vary, but often you'll want to come up with a theme that ties back to a specific campaign.
For example, Harry's is currently promoting a Father's Day Set of grooming items. Therefore, most of the shots you see in the photo include a dad and his kid or kids.
If you're in between campaigns it's okay to go with generic lifestyle shots. However, Instagram makes for a great first, second or third touch point in a larger overall campaign.
#3. Behind the Scenes Photos
Sharing behind the scenes photos is another great way to increase your engagement and Instagram followers. These type of photos provide a glimpse into your brand that customers would otherwise not get to see.
Behind the scenes content is great for branding because it:
Humanizes your company
Shows that you have fun
Reveals your love for your team/company/industry
Shows you can laugh if and when you make mistakes
According to Jeffrey Gitomer, founder of the Gitomer Learning Academy, "all things being equal, people want to do business with their friends. And all things being NOT so equal, people still want to do business with their friends."
Behind the scenes photos shows the people behind the brand, which can come to feel like friends to consumers if those employees are shown often enough. Don't limit yourself to photos, use Instagram Stories and live videos to let your followers know more about your behind the scenes life.
Don't be afraid to show your team. If you've hired the right people and put them into the right roles, they can become your greatest brand ambassadors - talking about how great your company is!
#4. Videos
You know that saying that pictures can say a thousand words? Well videos can quadruple that!
Showing off a photo of your products or employees is nice, but what if you could show your products in-action?
Tutorials, how-to's, DIYs and all other types of videos that provide value to your followers make for great Instagram content.
For example from our latest social media benchmarking study, we saw that during 2018 the automotive brands used 14.7% of videos on Instagram, the beauty brands published 15% of videos posts and the fashion industry posted 19.7% video content on Instagram.
The one thing you should know is that many people can't watch video while they're at work. Because of that Instagram videos posted after 9pm tend to do better than those posted earlier in the day.
Final thought


Now that you have a better picture as to which type of content generates the best engagement it's time to get to work. Don't be afraid to experiment with each one of these types of content.
Watch your engagement levels and if you see one type consistently getting more engagement than the others, put more time and effort into creating more of that kind of post. Similarly, if you see one type of post not working for your brand, don't worry about using it.
While there are certain types of posts that work for most brands, not every single one will work for all brands. Don't worry about bending any rules…there are no rules!
If you have any questions leave me a comment below and I'll do my best to respond!
Start a free Socialinsider trial today and track your Instagram analytics! Report and analyze multiple profiles from one dashboard, quickly evaluate your Instagram performance based on the metrics that matter, understand your hashtags performance and get Stories analytics!
---
Related articles: