Staying true to its brand identity, being a brand "for the bold", as its very tagline mentions, Doritos's marketing strategy is centered around the company's vision and values.
With most of Doritos' marketing campaigns having a heavy digital component - in order to get in front of the younger population segments - that consist of its core audience, it's interesting to see which specific tactics work for the brand. Ready to dive in?
What is Doritos' social media strategy?
1. Doritos on TikTok
Capitalizing on the platform's high engagement levels, as revealed by our latest social media engagement study, Doritos could not miss the opportunity to leverage TikTok and get on Gen Z's radar on social. Especially with the FMCG - Food sector scoring the highest engagement results within TikTok.
After analyzing Doritos' TikTok account, we came up with a couple of insights that you can apply and test out for your own TikTok marketing strategy if you find the brand's account inspiring:
Doritos very rarely use hashtags in its videos' captions (and when it does, those are branded ones);
it integrates primarily original songs in its TikToks
the videos' captions are very short
it posts predominantly videos under 10 seconds (the funny, product-oriented ones)
The brand's content portrays a mix that focuses on product promotion & addressing social problems
With TikTok being a platform most suited for entertaining & recreational videos, for its product-centered videos, Doritos adopts a funny approach.
Through this type of content, when showcasing different amusing situations that the brand's consumers may have gone through - like the terrible moment when the chips at a party get to an end - the brand tries to be relatable and stir engagement.
However, while leveraging humor is the winning card to play when it comes to TikTok marketing, Doritos does not limit its TikTok content to purely being funny.
Matching its daring personality, the other creative content pillar adopted by Doritos for its TikTok strategy is social causes communication - such as black people's discrimination and mental health awareness.
Through campaigns such as #SolidBlack22, which integrated a series of videos featuring several black people's success stories, the brand tried to inspire and offer support and confidence to marginalized communities.
Talking about a brand that takes a stand on different social problems, Doritos is a great example of how to stir empowerment.
Doritos creates challenges for its TikTok audience
In TikTok's case, we could say that everything started with dance challenges.
Remember the hype?
Not forgetting the huge traction challenges get on TikTok, every now and then, Doritos comes up with a challenge for TikTok enthusiasts.
Doritos is certainly one of those brands that are doing marketing in a "go big or go home" way.
To give you an example of the effort put by the brand into one of its TikTok challenges' creation, let's take a look at the #DoritosTriangleTrackler contest.
After branding some triangle-shaped landmarks in New York, Atlanta, and Memphis, Doritos challenged TikTokers to share the best angles they could get with the buildings' takeovers. By using #DoritosTriangleTrackler, and tagging Doritos when doing so they would get on the race for winning $15.000.
How's this for an idea that could generate incredible brand awareness?
Obviously, there's a certain budget needed for such a campaign, but from a creative concept perspective, this could serve as an amazing inspiration source.
So, be sure to keep an eye on what Doritos is up to on TikTok these days because there's certainly so much to learn from the brand's TikTok strategy.
2. Doritos on Instagram
Somehow similar to its TikTok account, on Instagram as well, one of Doritos' main content pillars is product promotion.
Be that as it may, don't start imagining we're talking about hard, pushing selling, but rather fun posts about the sensations, feelings, or experiences awakened by different Doritos products and flavors.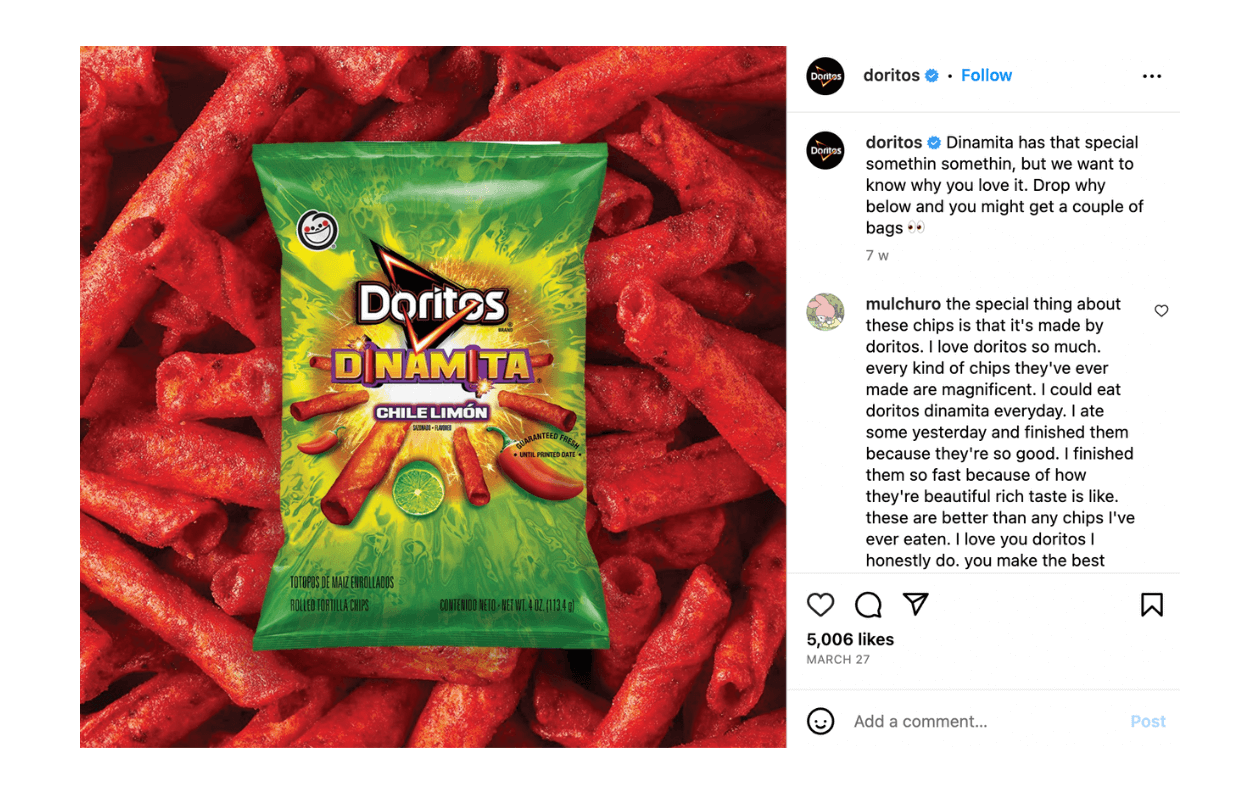 Doritos integrates memes into its Instagram content strategy
These days, memes dominate Instagram. And with so much attention given to them, more and more brands have started to integrate memes into their content calendars, hoping it will help them increase engagement and generate a more positive brand sentiment. As you might have guessed, this is Doritos's case as well.
As for the type of memes chosen by Doritos, most of them are evergreen ones.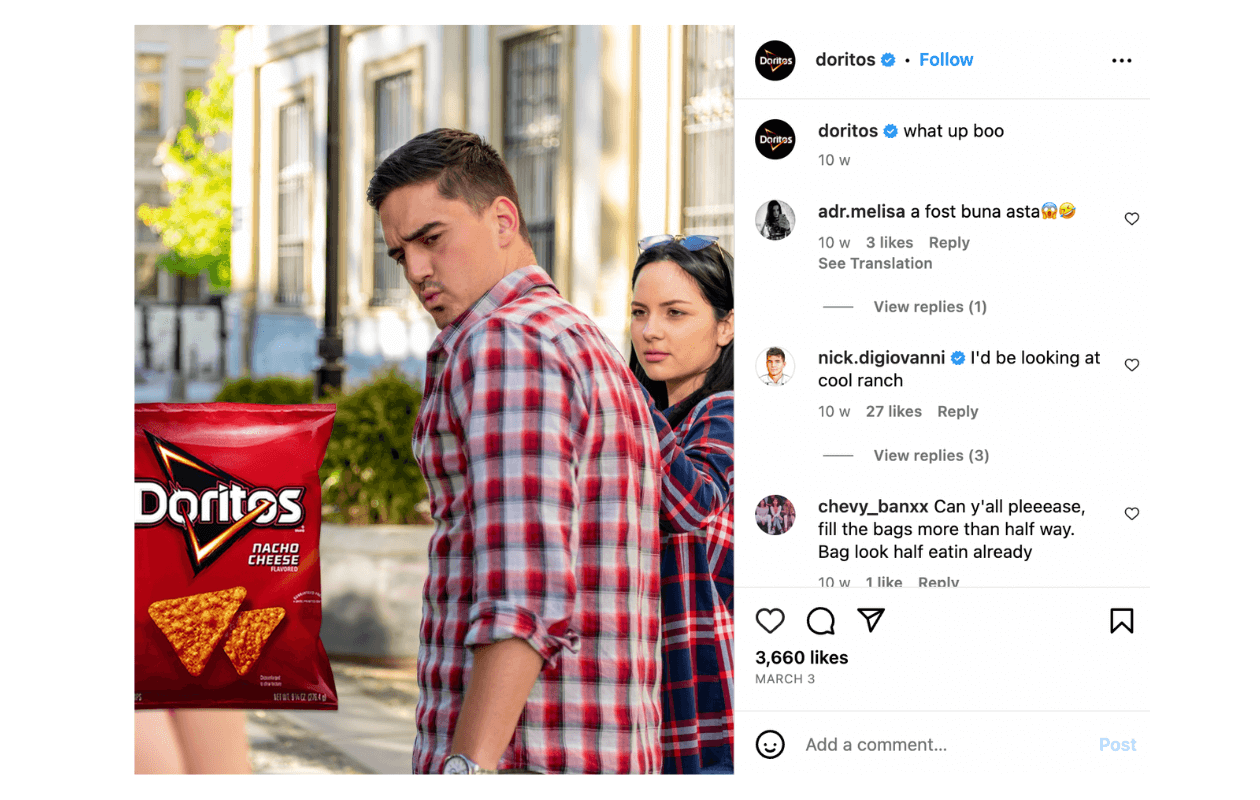 Last but not least, when analyzing Doritos' Instagram strategy, we also thought about taking a peek at the content format the brand leverages for its Instagram posts.
With Doritos' social media strategy having a heavy video content component, Doritos quickly jumped at the opportunity of integrating Reels into its posting calendar. Ultimately, Reels actually became one of the brand's most used formats, as our Socialinsider data indicates.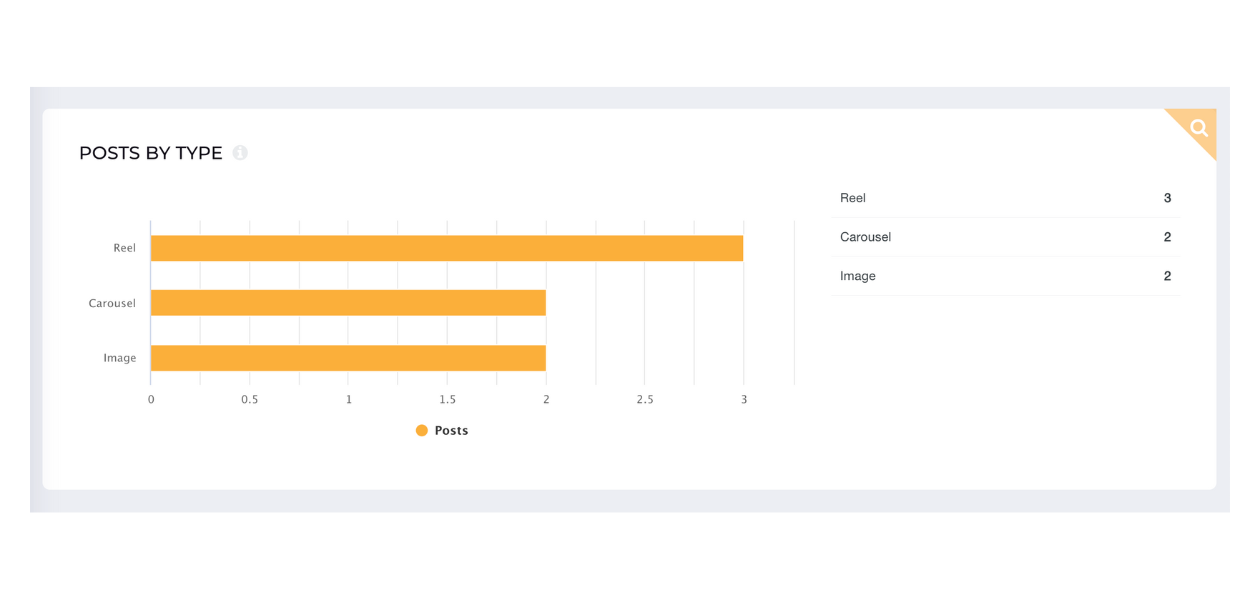 To give you a clearer understanding of how we got this insight, I'll briefly walk you through our analysis of Doritos' past two weeks' Instagram content:
I started by adding the Doritos Instagram account on the Socialinsider app by inserting the accounts' Instagram URL, then selected a timeframe for the analysis.
While in the Overview section, I scrolled down until reaching the Posts by type chart.
So, if you want to know how to spy on your competitors' Instagram content without spending too many hours scrolling through their feed, there you have your solution.
3. Performance data for Doritos' social media strategy
Now that we've seen the marketing tactics integrated by Doritos into its social media strategy, don't you think it would be interesting to dig a little deeper and see what data has to tell us?
If you ask me, that's the most accurate way to tell exactly what initiatives are the most successful. As we uncover them, be sure to note the takeaways as future strategy optimization ideas.
Here's what we discovered about Doritos' social media strategy KPIs (by performing a two weeks analysis):
Compared to TikTok, Doritos has a higher posting frequency for its Instagram account;
In Doritos' case, TikTok generates 3x more engagement than Instagram.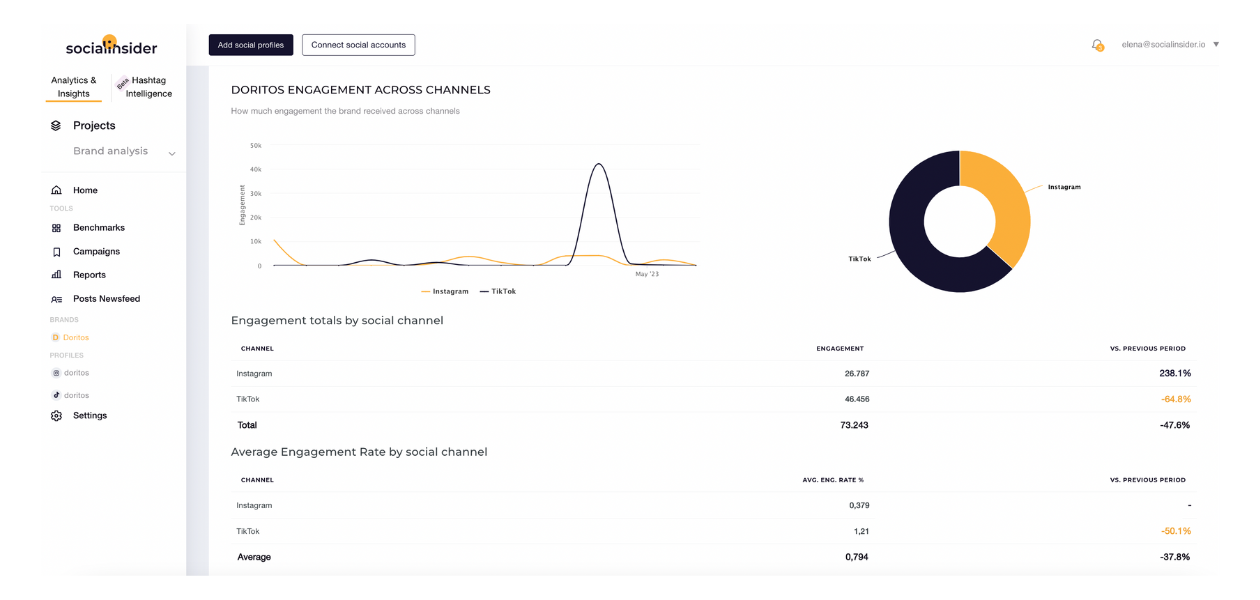 If you're curious about how to perform a multi-channel social media analysis for your brand (or even better, for your competitors), let me show you quickly you can do this by using Socialinsider:
Once I added Doritos' TikTok and Instagram accounts to Socialinsider I went to the Home section to create a brand (so that I could perform a cross-channel analysis to see performance stats across the brand's multiple social channels) and selected the social accounts wanted.
Then I went to my brand report, which enables access to followers, engagement, posting frequency, impressions data, as well as best-performing posts insights.
Final thoughts
From user-generated campaigns to the more traditional influencer marketing, is clear that Doritos' focus at the moment is TikTok. And the way Doritos has chosen to approach TikTok marketing is in perfect line with the brand's personality: being bold and creative.