With the rise of TikTok and short-form video content, the social media scene has entered a new exciting, yet incredibly challenging cycle.
Let me guess - you're probably thinking: "as if being a social media person wasn't demanding enough even before that." Right? Truth be told, it really is. We know it.
It's the case for a social media manager in an agency that has to juggle between smaller or bigger brands' social media accounts and even for a brand's marketing manager that has to adapt the brand's overall social strategy to a local market.
Speaking of which, our case study for today consists of Ben & Jerry's social media strategy analysis, in which we'll take a look at the content perspectives and patterns on the brand's main account and its UK-localized one. Let's get started!
An in-depth view of Ben & Jerry's marketing strategy
1. Ben and Jerry's on Instagram: global and local strategies leveraged
2. Ben and Jerry's on TikTok: differences between its global and local accounts
1. Ben & Jerry's on Instagram: global and local strategies leveraged
When it comes to its global social accounts, any marketer could say Ben & Jerry's has a very interesting content mix.
On Instagram, the brand creates its posts around two main concept pillars: social activism and product promotion.
Being a company that's values-led, Ben & Jerry's openly addresses different social problems driven by the desire to make the world a better place, as this roots in the founders' DNA.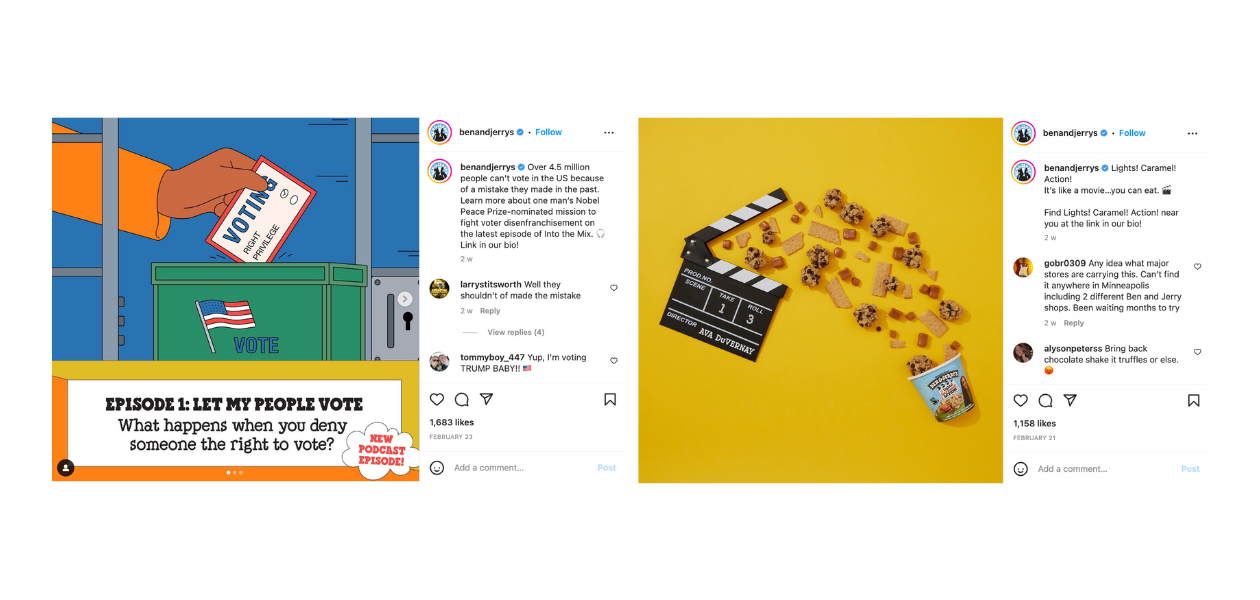 Trying to align the brand's local social strategy with its overall brand image, Ben & Jerry's UK Instagram account equally creates content tailored for those specific themes, having, however, a higher emphasis on promoting the brand's products.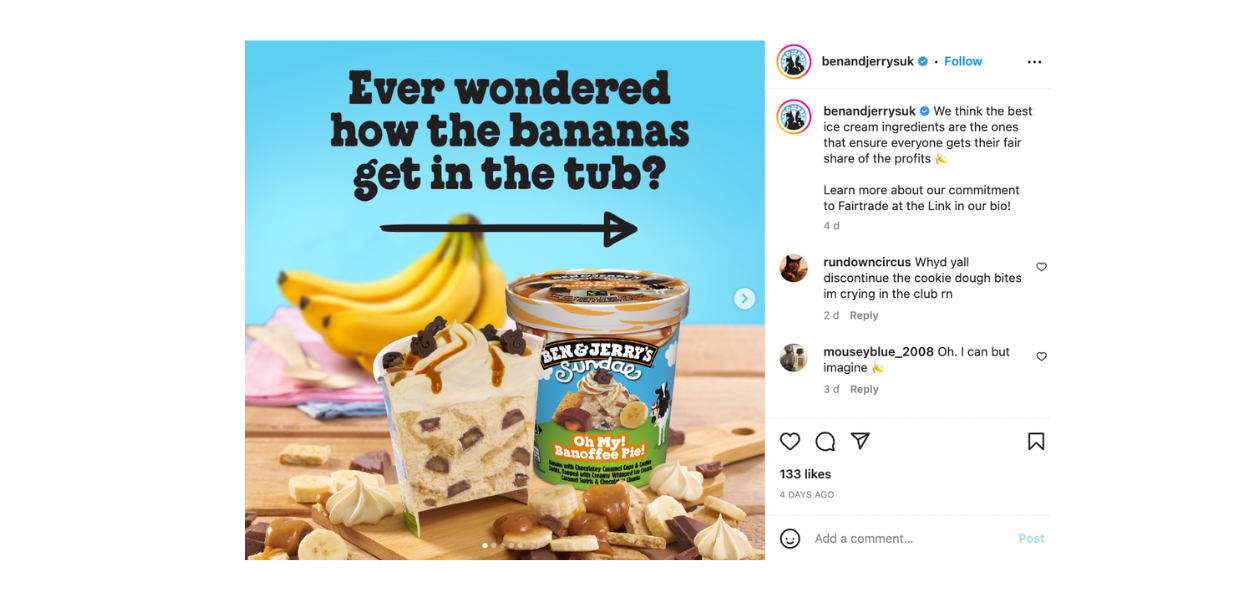 From a content analysis perspective, for both accounts, the single image post type is the go-to format leveraged.
Moving further, Ben & Jerry's global Instagram page integrates more carousels in its content plan compared to the local account, while the latter decided to adopt as a secondary content option the platform's newest feature - Instagram Reels.
Truth be told, according to our latest social media studies, besides being the most engaging content format at the moment, Reels also generate an engagement that's at least double compared to the other Instagram post types.
However, when looking at some performance KPIs, such as engagement rate, we'll notice that Ben & Jerry's global Instagram page ranks higher compared to its local account.

While this may raise a few questions here and there, Instagram expert - Jenn Herman offers a very plausible explanation for this situation.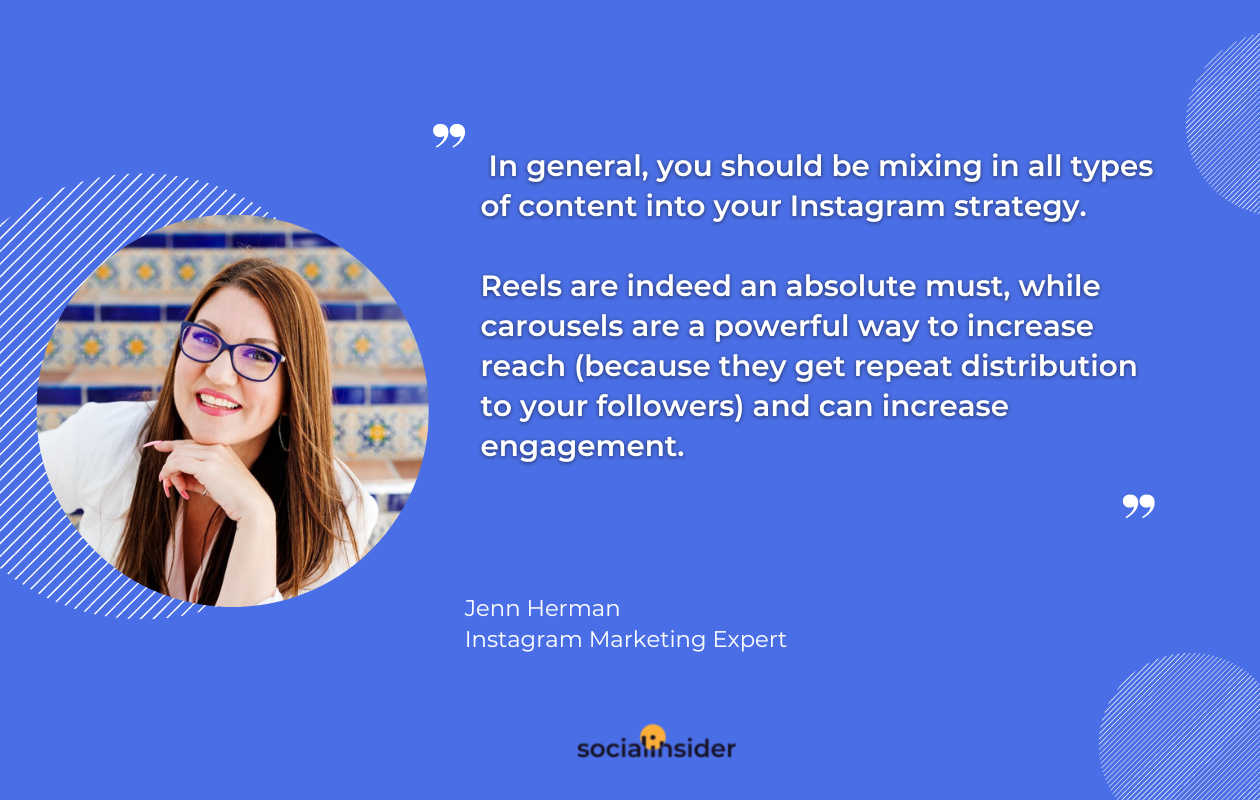 PS: To get performance benchmarks and compare a brand's multiple social accounts within a platform, you can use Socialinsider's Benchmarks feature, which offers you side-by-side data that you can use to better optimize your strategy!
2. Ben and Jerry's on TikTok: differences between its global and local accounts
With TikTok still being very new and raising many challenges for brands that are thinking of leveraging it, Ben & Jerry's started dipping their toe in TikTok marketing with the launch of their global account.
The Ben & Jerry's regional TikTok accounts, like its UK-based one, started to come to life a year later, only after different lessons about TikTok marketing were learned and the brand gained a deeper understanding of what tactics are most likely to work.
Now let's see the secrets of adapting to a local market, according to Ben & Jerry's TikTok marketing strategy.
Compared to its global account, Ben & Jerry's regional account integrates much more humor into its videos.
Borrowing a page from Duolingo's playbook on how to get popular on TikTok, Ben & Jerry's regional account created a mascot that is featured in many of the brand's videos.
As for some key concept pillars, it could be said that Ben & Jerry's UK TikTok videos are split between funny, entertaining videos and others that are oriented more toward product promotion.
But rest assured; the selling approach is rather soft, most videos portraying recipes for anyone with a sweet tooth that might want a twist for their more conventional treats - meaning a scoop or two of Ben & Jerry's tasty ice cream.
Heading toward the global profile, we'll see that Ben & Jerry's social media strategy for TikTok is slightly different from what we've seen on its local account.
Ben & Jerry's marketing strategy for its global TikTok account focuses primarily on raising awareness for new products launched - like their Doggie deserts, for example - which are frozen treats created especially for our furry canine best friends.
Between the two strategies applied, from a performance perspective, the one of the regional account seems to be more effective.
Thanks to using catchy songs, and a more humanized approach, the UK-based profile outperforms the global account in terms of engagement.

Final thoughts
When you're managing a global brand' social accounts, there's a lot of pressure on what you're communicating on social media - from the type of messages approached to the way information is presented.
Adding up to that is the need to adapt to local markets' culture and trends while adhering to the broader brand image and identity.
As showcased by this analysis of local vs. global social strategies leveraged by Ben & Jerry's, if you're thinking of launching a TikTok account for your business - be it local or global - it's important to keep in mind authenticity is what matters the most on social these days.
All in all, beyond the many creative concepts that can be leveraged, the human factor is, in the end, the strongest asset of any marketing strategy.