Inspiration is crucial when you work in social media and you try to market your clients' products in a world full of flashy ads.
However, besides inspiration, creativity is even more important. You can definitely top your marketing game if you keep up with the trends, becoming even more inventive.
Maybe not Thomas Edison-inventive, but still something that can shine a different light onto the digital world.
Today we're going to dig deeper  into the world of Instagram marketing trends and hopefully we'll get to the light safely together, with a lot more insights. Let's roll!
---
Instagram Marketing Trends For 2023
1. What is Instagram marketing and how can trends help
You will consider this the most childish explanation ever, but bare with me. It may get useful if a child asks you what you do for a living and you'll have to explain.
Instagram marketing is putting up your products and services like you put up your Christmas tree every winter.
Posting content (images, carousels, Reels, stories) about your brand's products will not only help you increase your brand awareness, but it will also contribute to the growth of your sales.
By following the latest Instagram marketing trends in 2023 you will make sure that your posts will appear first in users' searches and everyone's feed.
And we know the saying about the early bird. If you get your posts in front of their eyes, you will be top-of-mind when they'll be looking for similar products.
Moreover, if you make use of tags and topics for your Instagram Reels, these will double your chances of getting noticed and increase the number of prospects.
2. How to make Instagram marketing work for your brand
When starting your own brand (or catering the needs of your clients and their brands), you want to be present all over social media.
Creating a profile on every social platform is the first step.
To further catapult your brand towards digital success, you need to get to know your audience and post quality content that speaks the same language as them.
It is important to learn about their needs to be able to offer solutions.
Posting every product or service's story, one that makes users empathize, will surely increase your chances to make the audience transform into a community.
There are a lot of steps to follow to make Instagram marketing work for your brand, but you should know that there's no successful recipe.
You just have to figure out what works for your brand and products. If for you Reels may be the most engaging type of content, for other brands carousels may work better.
Moreover, it all depends on how open you are to change (whenever needed in your campaigns) and to implementing new ideas and starting fresh collabs.
Instagram marketing (and truthfully any social media platform marketing) is about behaving like a chameleon.
Your power to "improvise, adapt and overcome" will help you thrive in the digital marketing world.
3. 12 instagram marketing trends for 2023
And, finally, here is the part that brought you to this article in the first place. We're going to look at how could you improve your marketing strategy on Instagram by using the latest Instagram marketing trends in 2023.
1. Authenticity sells
If you are wondering what kind of content gets to be the most popular one, well, it's pretty simple: the authentic one.
Authenticity sells like crazy because it requires a lot of work from your side and your audience will notice that.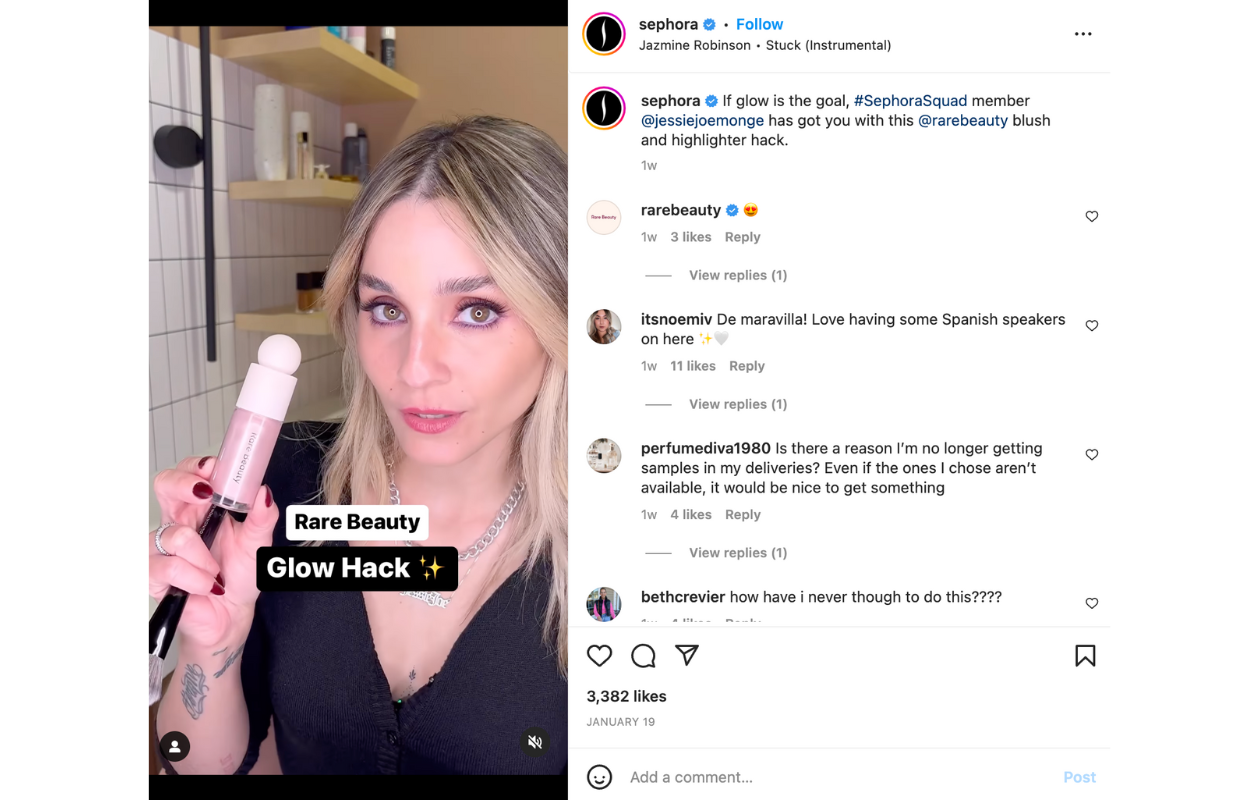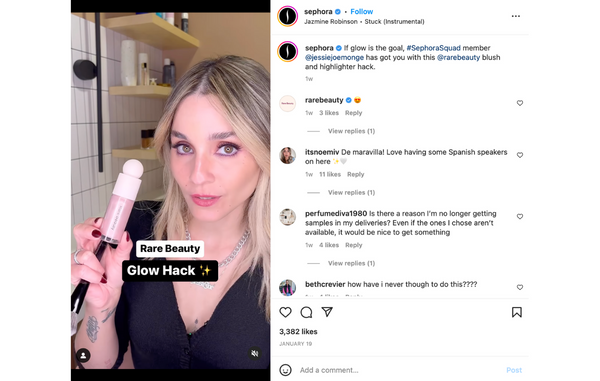 Even if everyone seems to have planted their own tree, authenticity is the juice from the fruits hanging there, with less and less people knowing how to take advantage of them.
It is true that authenticity is about being creative. If you were creative enough to come up with a new brand idea, then you can do it.
All you need is a brainstorming session with your team and you're good to go.
2. Reels are queens
We've learned from 2022, when Reels caught the big wave, that they are trending and the trend keeps on rolling into 2023.
If you think you're too old to make Reels or you don't know enough about them, maybe you should start studying. It's never too late to learn something new.
Reels offer you the possibility to put a brilliant idea into a short video, with a catchy vibe and message bound to increase your number of followers, engagement rate and interactions.
The next thing that could convince you to start creating Reels is the virality of this type of content.
By choosing the right hashtags while including your services and products in the form of a story can really attract users' attention.
If you make a Reel that convinces them you got the solution for their problem, then they will no longer search somewhere else.
3. Brand partnerships bring benefits
If this is not the first time when the idea of brand partnership pops into your mind, maybe it is time to consider it. It can be a useful way to expand your brand and fuel its growth.
Maybe you've all seen posts on Instagram when two users or brands' pages post something together.
The impact of this type of posts is double on both their communities and the possibility of that product becoming sold-out soon increases.
When you develop a collab with another brand, you get a wider exposure and way more chances to transform your brand into a more popular one, getting higher notoriety.
A brand partnership is a win-win situation for both parties.
4. Boosted content will become a priority
Even if one of the Instagram marketing trends this year is about quality content, this does not exclude boosting it.
Great organic content that gets boosted can become a great method through which you can give a little extra push to posts with great potential.
In 2023, every brand is likely to boost their posts or even design complex ad campaigns.
Boosted posts can bring your brand an increased visibility on Instagram and even a higher reach.
And we all know what happens when a brand is seen by more users: you get a higher conversion rate and an increased engagement.
5. Video memes will be on the rise
Another Instagram marketing trend that will slay in 2023 is related to memes. And who doesn't love memes?
Memes started being a thing in the mid-1990s, making our lifes a lot more fun. Memes can get a lot of "shapes" and colours, but video memes are the best.
The super-power of memes is that they have a great potential for virality. And every marketer wants for their Reel to become popular in an instant.
If you pair a relatable situation or feeling with something cute or funny, while following a dynamic trend: ta-daaa! You get a nice video meme that will bring you a higher engagement rate.
Moreover, everyone will get the joke since you do something related to an existing meme, bringing you a lot of followers who will appreciate your brand's sense of humour and it's human nature.
6. Live shopping will increase in popularity
In 2023, live shopping, another Instagram marketing trend, will sweep users off their feet. Even if this is not a new feature, it's one that more and more brands will dare to use.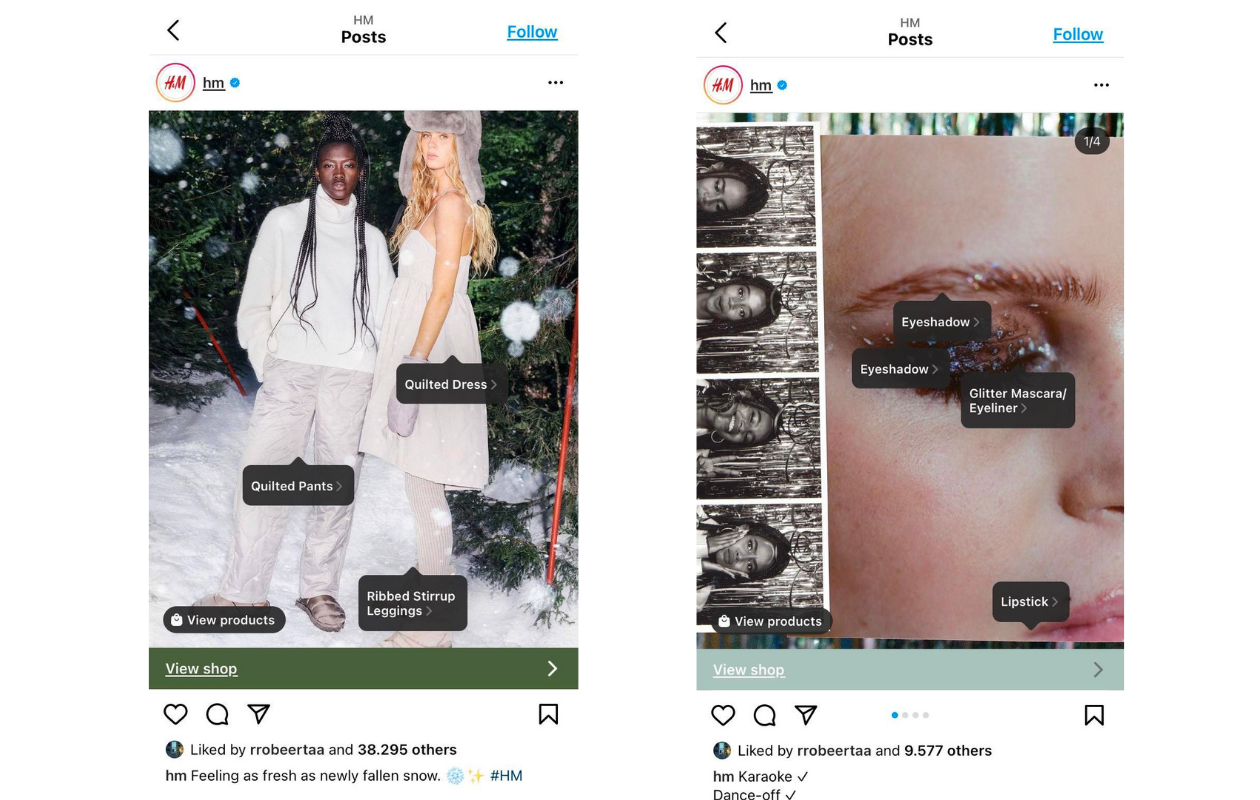 The live shopping option will appear on more Instagram Lives, making users curious about the prices of the products while someone showcases the products.
This way, you'll get more insights and hacks on how to wear certain clothing items, makeup products, or a branded merchandise line.
If this doesn't convince you to buy, I don't know what will. With all those product demonstrations on the rise, brands will increase their sales.
7. Brand personalities really matter
In 2023, your brand's voice needs to be louder and clearer. It is time to show everyone who is behind your business and let your audience get to know your human side.
Don't forget that people want to work with and for people. Therefore, they'll love to get to know the people behind the brand, feeling more comfortable and getting a sense of familiarity.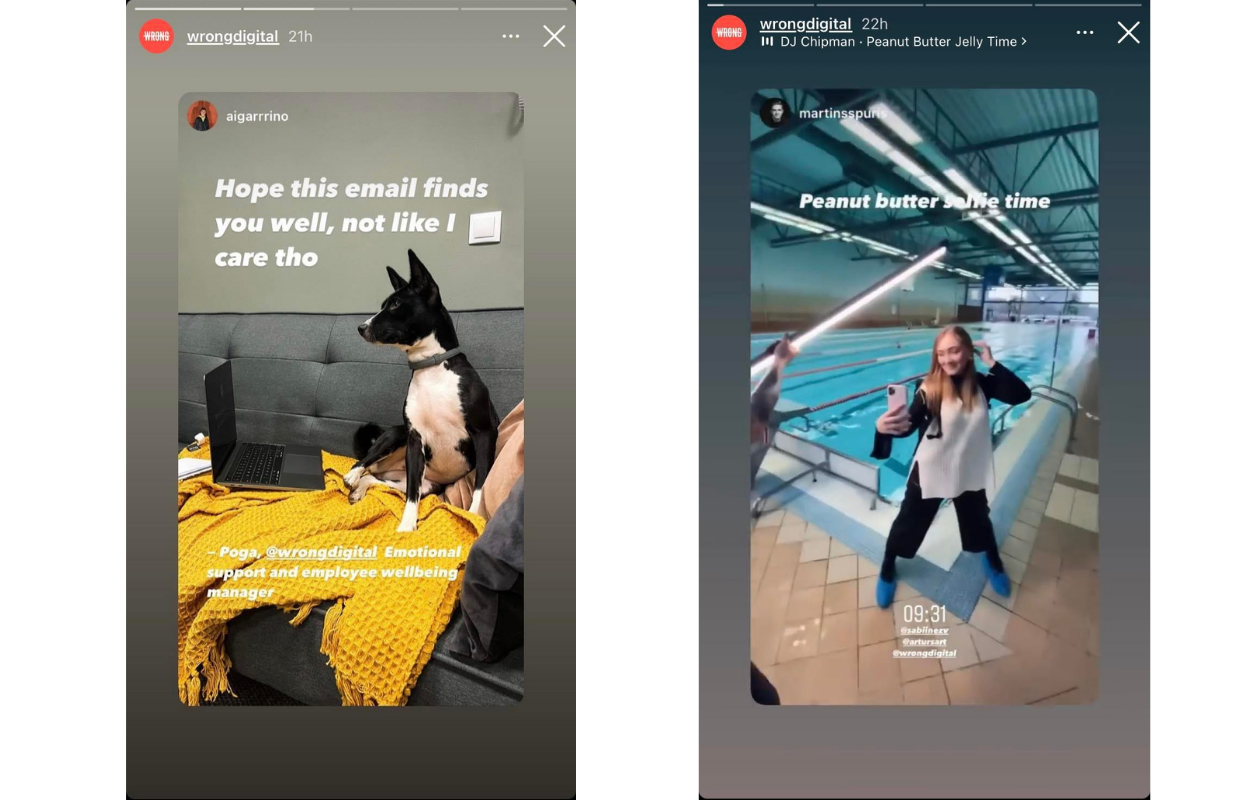 You can choose to make some Instagram stories or maybe show yourself in some Reels, explaining the use of your products to attract your audience to interact with your brand.
Answer their questions and queries and you'll see that this is the easiest way to build a solid relationship with your customers. As stated by Zeropark, customers are more likely to finalize their orders with companies they feel connected to.
With this marketing trend, you will stay on top of other brands promoting their goods on Instagram.
8. User-generated content is bliss
User-generated content is yet another Instagram marketing trend that will continue in 2023.
This type of content will prove to your audience that there are some satisfied customers out there who are bragging about their acquisitions.
One of the greatest Instagram marketing trends that is bound to remain popular in 2023 will surely make prospects curious.
If they'll see user-generated content as feedback from your customers, potential clients will be more eager to take a look at your products and even buy.
We all know that user-generated content is content that followers make with your products after trying them out.
It can also be considered feedback and it's given to brands for free, in the exchange of getting public recognition.
However, it seems that there's a new hype with user-generated creators. Brands hire and pay this type of creators to build content that looks just like the one a buyer develops after using their products.
It is likely that this type of content will also increase in popularity this year.
9. Community engagement features rock
As a brand who wants to build a trustworthy community and increase the number of followers, keeping in touch with your people is bliss.
Besides the fact that you make them feel seen and their needs are acknowledged, your followers will offer you a lot of suggestions and feedback regarding your products and services.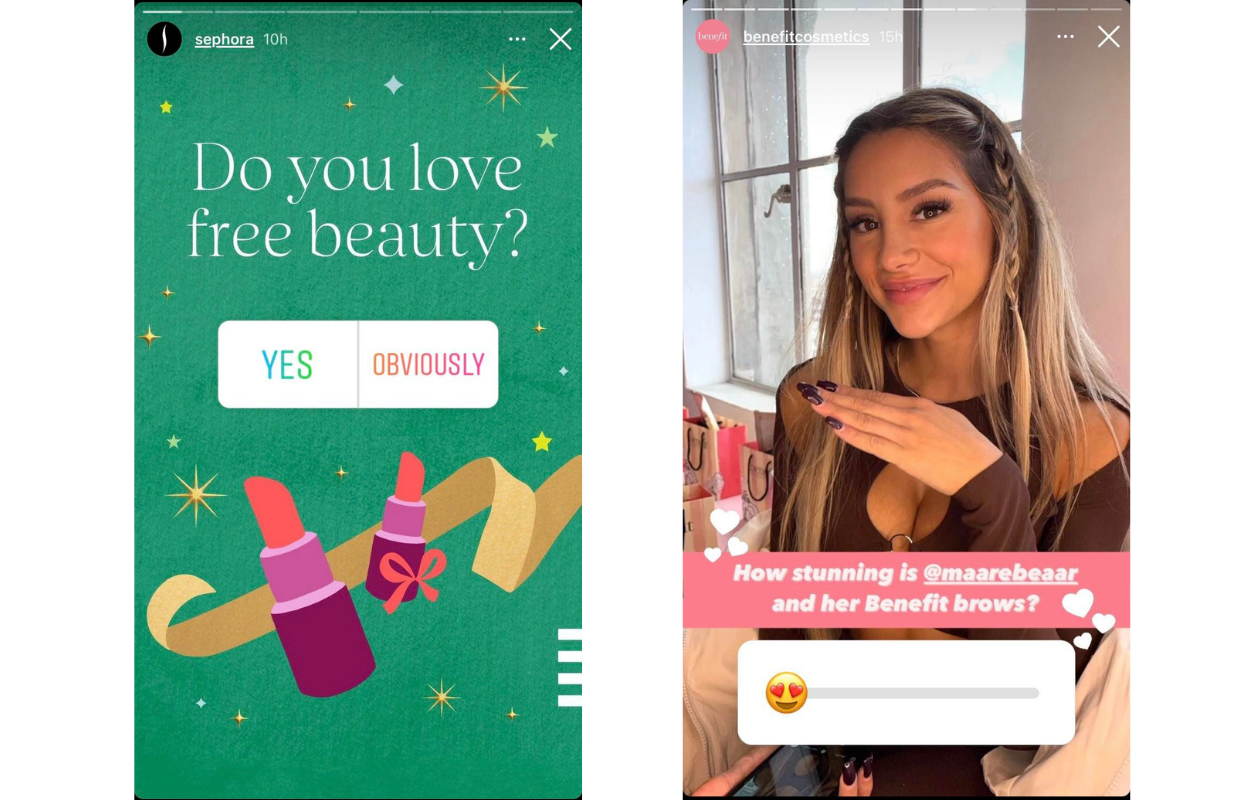 Instagram offers you a lot of means through which you can interact with your community.
From polls on stories to DMs and comments, you will be able to find out everything about what they are searching for, in what colours and what type of goods.
You should definitely take advantage of this to increase your Instagram engagement. Make sure you include in your Insta stories CTAs like "swipe up to learn more", "discover more", "link in bio" etc.
If you make your Instagram content interactive, you are prone to increase the overall values of all your metrics since you show your audience you care.
10. Analytics tools are a must
Another Instagram marketing trend that will continue to be a great help is the use of an analytics tool to assess your marketing campaign's results.
How can you know what works for you if you don't know how your Instagram posts have performed during your campaign?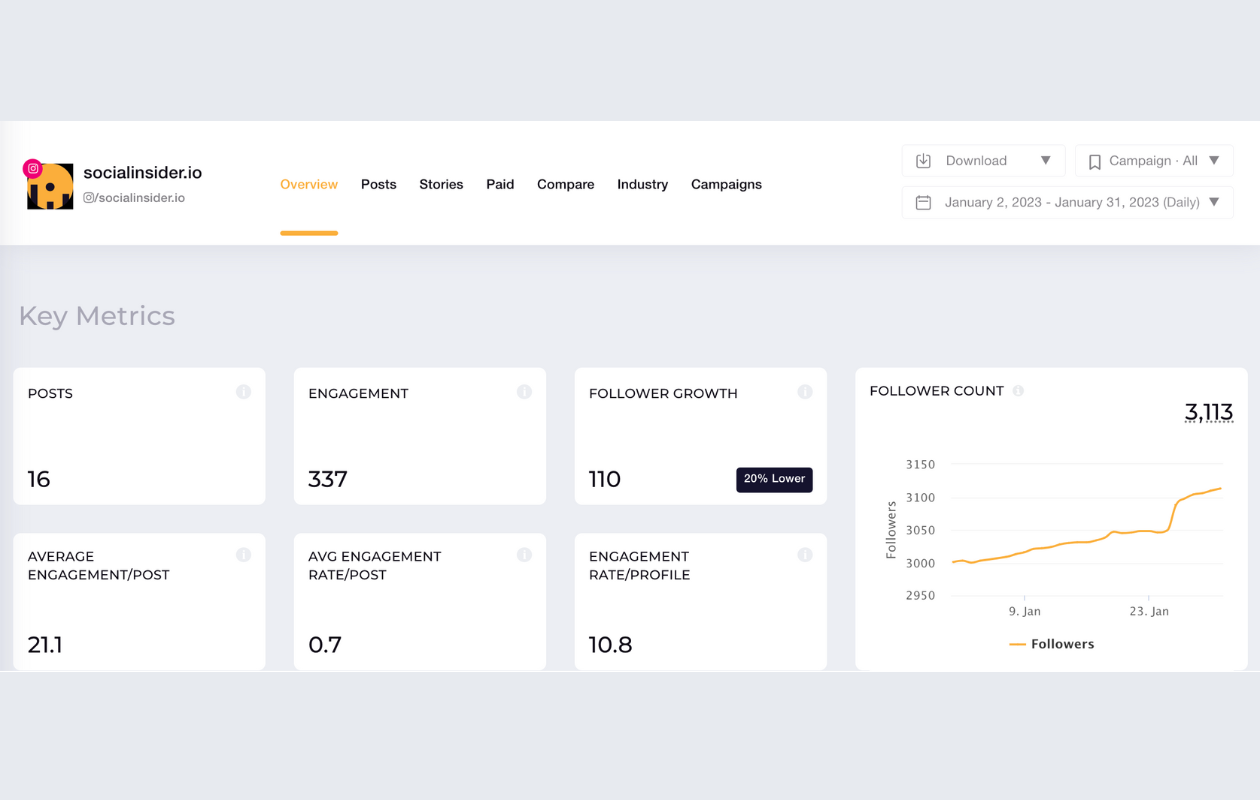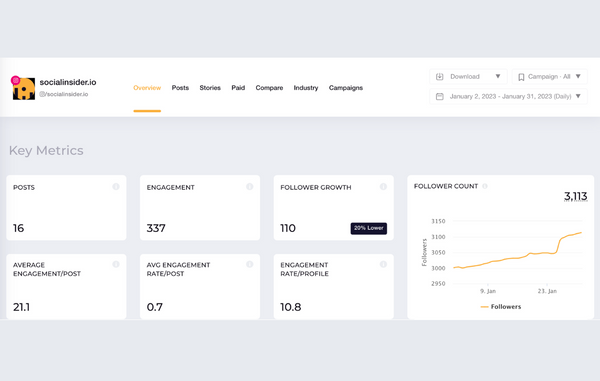 An analytics tool, like Socialinsider, can easily provide you with the data you need to develop your campaign report and compare the results you gained with your previous activity and product launches.
To make sure your Instagram content strategy is successful in 2023, implement the use of a third-party tool to follow your marketing campaign's evolution.
In case some things don't work, you will be able to immediately notice it in your metrics' values and make a change.
11. Use features that bring back the nostalgy
Those who have a love for vintage and who are nostalgic about the past, they are the ones who'd enjoy a few details that can take them back to simpler times.
Last year, Instagram has included some features that take you back to MySpace and MSN, with the notes and "music in feed" options you can use.
We all remember the campaign "Make Instagram Great Again" from 2022 that made a lot of influencers and celebrities "fight" for making photos popular on the platform.
This trend might continue in 2023, with a wish to find a balance between Reels and photos.
12. Collabs with micro-influencers
In 2023, an Instagram marketing trend that started in 2022 is bound to continue. Brands are more likely to work with micro and nano-influencers, specialized on their niche or industry.
Instead of collaborating with big influencers, who have a larger follower count and smaller chances of getting seen by people who are really interested in those products, brands make use of nano and micro-influencers' help.
Another advantage when working with micro and nano-influencers is that their engagement rate is higher. This means their followers will be more likely to interact with their posts when they showcase your products.
Final Thoughts
Building a strong brand presence on Instagram in 2023 is a must for a successful marketing strategy.
This guide covers the hottest Instagram trends that every marketer should follow in 2023.
This year will be an exciting one for this social media giant. With so many features, Instagram is THE platform you should use to promote your brand and message.