Since its launch in 2010, Instagram has grown to become the most profitable social media platforms.
Currently, Instagram is the top photo and video sharing social network, where 80% of Instagram users follow at least one business, with more than 200 million visiting as least one business profile every day.
Although Facebook still dominates the social media platforms space with 79% of US population using it on a daily basis, Instagram is fast catching up and is currently being used by 32% of US population daily.
In this article, I will dive into Instagram trends predicted over the next year and how you can get ahead of the game.
---
11 Instagram trends you need to be aware of in 2021
---
1. Instagram Video Stories
Is it now the time to turn on your camera?
No matter how many followers a brand has on Instagram, using videos in their stories leads to increased engagement.
Brands are posting an average of 7 to 8 stories per month while posting up to 5 stories per day will ensure a retention rate of over 70%, according to our Instagram Stories Study.
Sometimes viewers stop watching during the first stories, but once they reach the fourth or fifth story, they're more likely to watch until the end.
Based on the same study, it seems the latest Instagram trends indicate 57% of the stories are video and the remaining 43% are images.
We also noticed that the video stories exit rate is lower than images stories, mainly with a 5.54% exit rate for video and a 5.64% exit rate for images.
To further increase engagement, you can use Instagram's story features like the question sticker - this will help you find your followers' opinion about your brand.
You could use the mention sticker to increase engagement, play and use GIFs, and make sure to use a clear call to action.
Here are some ideas: swipe up, learn more, see more, discover more, link in bio, etc.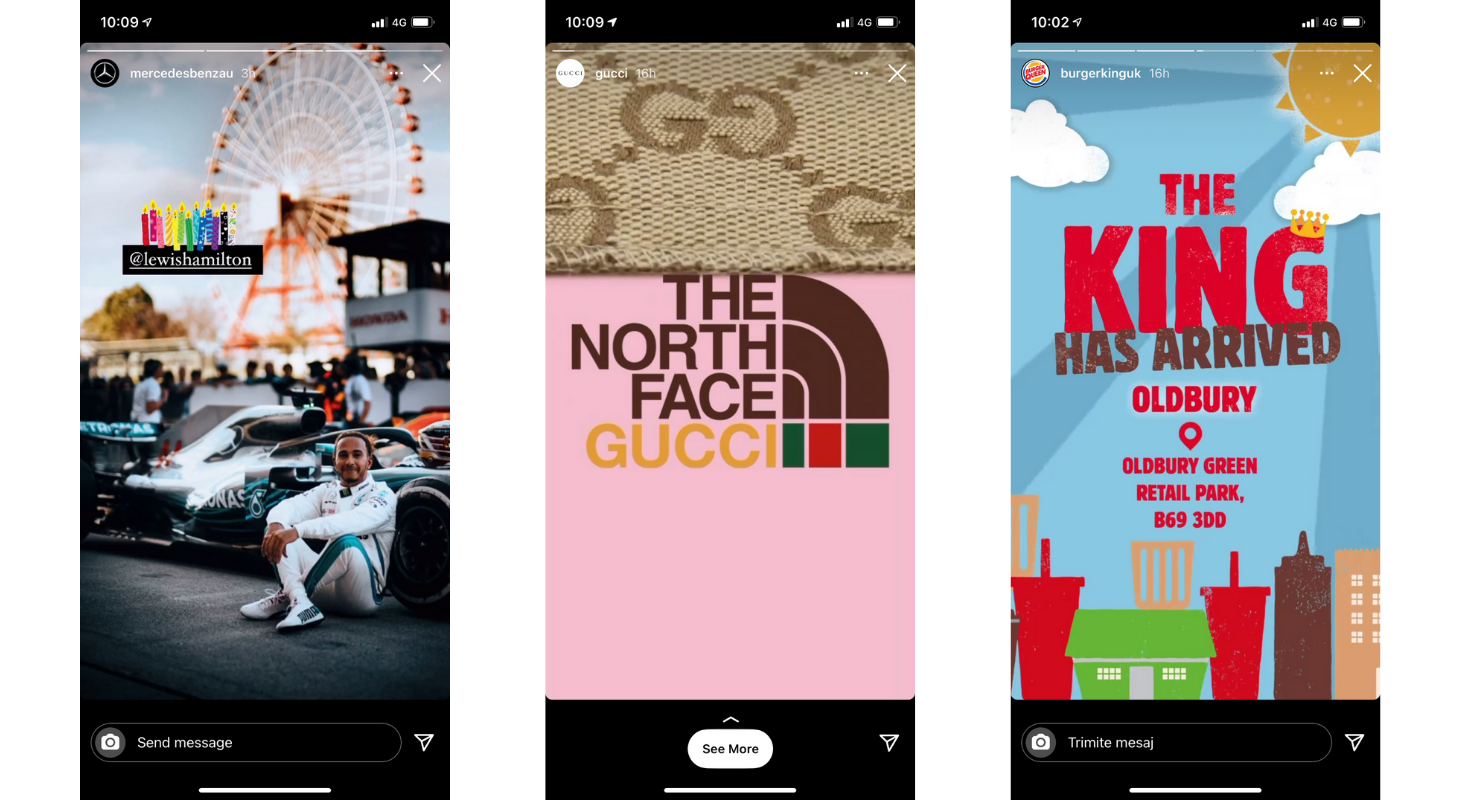 2. Instagram Carousel
Instagram Carousels is probably the best feature in your brand arsenal.
By analyzing 22,360,021 total posts, out of which 2,949,312 were carousels, we found out that in 2017 only 3% to 4% of Instagrams' posts were carousels. However, in 2020, we saw a growth in popularity, averaging at 19.44%.
The growth in popularity of this feature is justified by the engagement it brings.
Carousels exceed images and videos, averaging an engagement rate per post of 1.92%, compared to 1.74% for images and 1.45% for videos.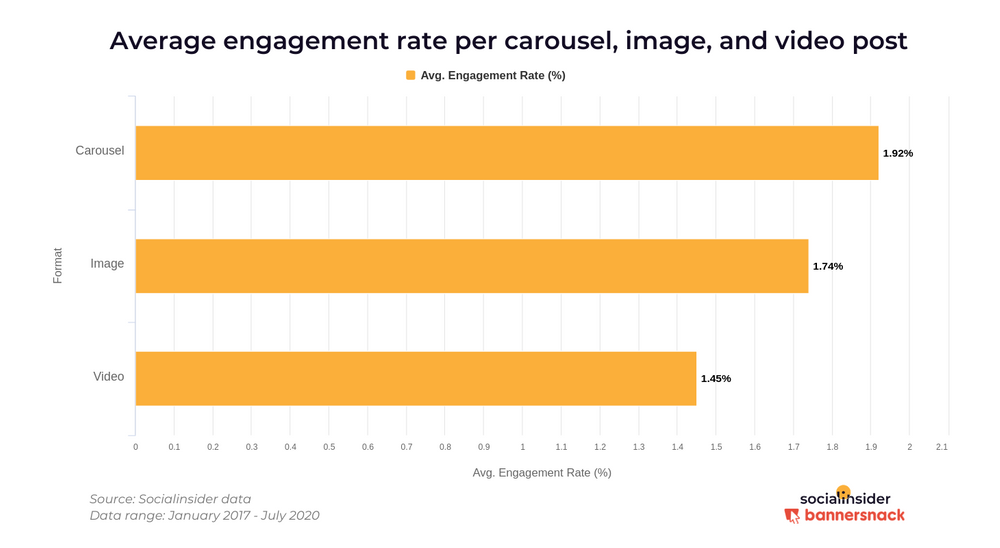 For example, in the past, we posted just a single image/ video on our Socialinsider's Instagram account, and as a result, our likes and the number of accounts we reached weren't that big.
When we changed our approach by posting carousels, the number of accounts we reached increased a lot.
Take a look at the photo below.
As you probably know, Instagram allows you to add up to 10 carousel slides.
We discovered that if you use 10 slides and create a mix of images and videos, the engagement will increase.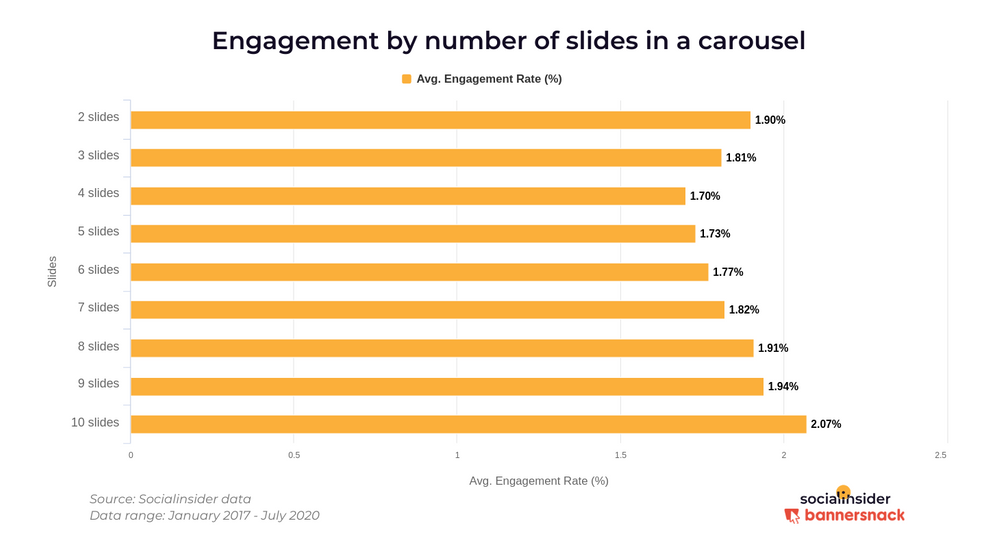 3. Shopping features and product tagging
These shopping features aim to bridge the gap for marketers who want to use this platform as a marketing tool to also use it as an e-commerce channel.
For instance, the feature shopping in Stories rolled out in 2019 helped advertisers to place a shopping bag icon on any product or service that they are promoting.
With this option, marketers have the option to target their audience to click the shopping bag icon and view product image, information, and link to the website to buy the product.
With more than 400 million users using Instagram Stories on a daily basis, advertisers can take advantage of this marketing feature to connect with their target clients.
Continue reading: Sell On Instagram: 7 Tips To Make Awesome Shopping Posts
4. Influencer marketing with nano-influencers
Influencer marketing is quickly becoming mainstream as most brands see it is as one of the best ways to reach out to their target audience.
According to a Nielsen report, 92% of consumers trust recommendations from individuals (even if they don't know them) more than brands.
Using people who are trustworthy, reputable and likeable is a great strategy you can use to market your brand.
Nano-influencers are a social media marketers secret weapon.
Nano-influencers have a much smaller following of around 5,000 but have a niche following.
They represent a typical friend persona, and they are very good at social media.
Although their following is much smaller than that of a celebrity, their community is more engaged.
According to a Digiday survey, nano-influencers are able to engage up to 8.7 percent of their following while the engagement percentage of celebrity influencers, who have more than a million followers, is only 1.7 percent.
Take a look at Kelsey_Thefarmersdaughter's Instagram account. She's using Instagram to drive traffic to her blog and she's actively engage with her audience.  
5. Authentic profiles win peoples' heart
Authenticity is a valuable skill in 2021. Instagram is set to favor brands that create more Instagram lives and less polished content.
Start focusing on authenticity instead just posting polished content on your business profile.
Due to the Cambrige Analytica, trust in social networks is on the decline.
Edelman's 2018 Trust Barometer found that 60 percent of respondents no longer trust social media companies.
By analyzing the latest Instagram trends, we must tell you that if you want to create authentic content, you need to tell stories with your captions and use Stories features such as emoji, slider, gif or the questions sticker.
Take Wholefoods for example. They upload authentic photos with food and DIY recipes.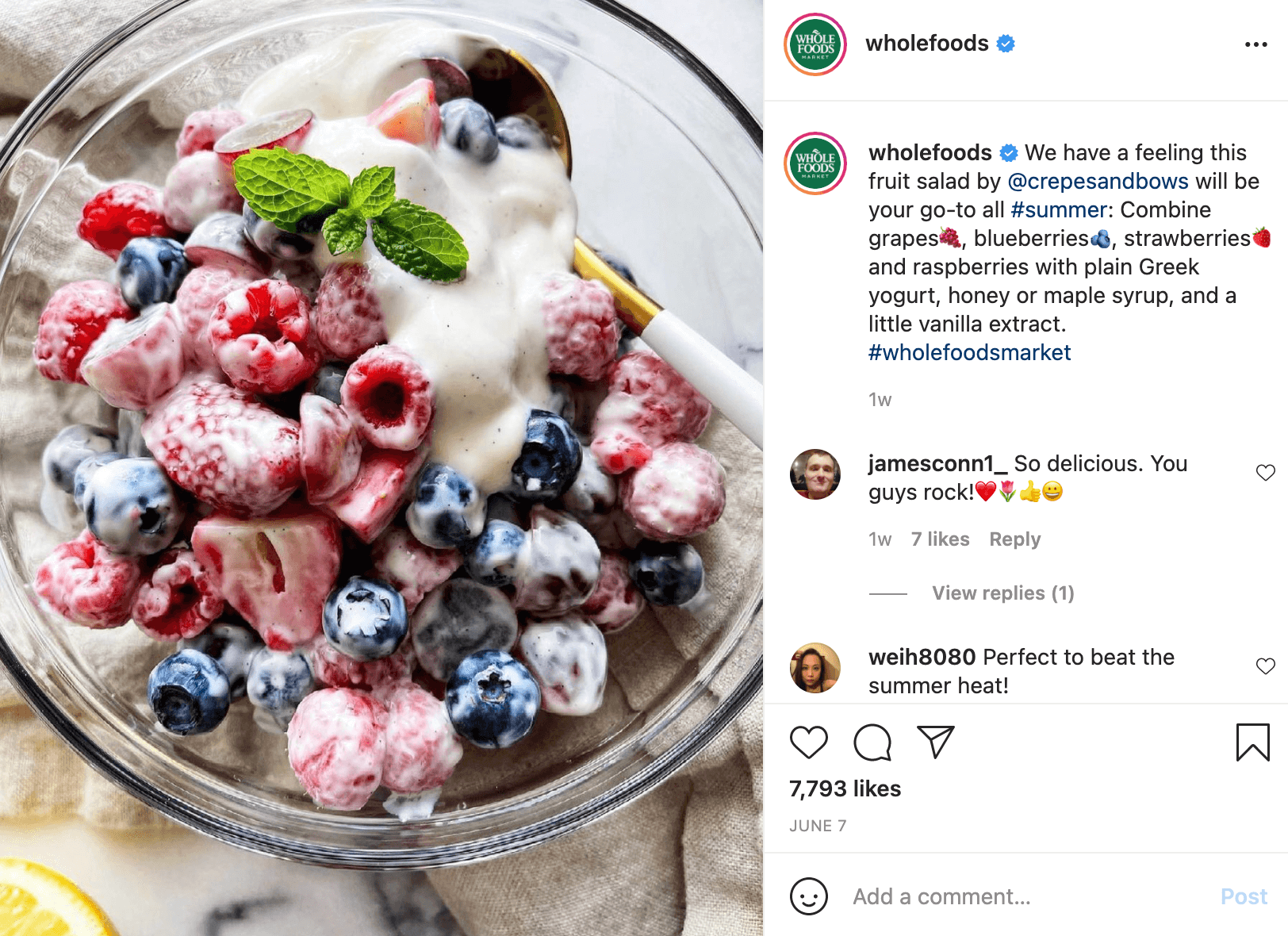 Related article: What Questions You Should Use In Instagram Stories To Generate Conversations
6. Reels
Another important Instagram trend you should follow in 2021 is called Instagram Reels.
It is known that when Instagram rolls a new feature, they are doing everything they can to put it in front of how many people they can. So they start to boost the engagement of the early adopters.
Reels was created as a response to Instagrams' rival, TikTok. Just like TikTok, it's a feature where you can share short and dynamic videos.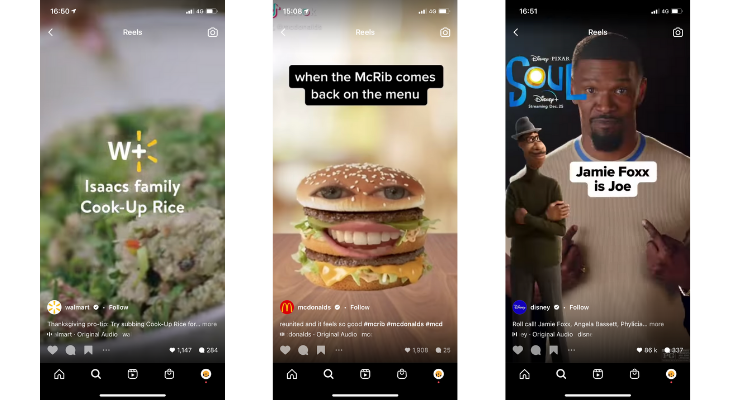 While uploading the 15 seconds video, you can make use of text, stickers and camera effects.
Your brand should take the upper hand in using Instagram Reels just because it's still a fresh update and you benefit from a boost.
Also, some users prefer shorter forms of content. One tip that you can make use of is to post your content from TikTok over to Reels.
All these tools expand your brands' flexibility, translating into more reach and engagement.
7. Micro-brand marketing
The main aim of Instagram is to ensure that brands market their services or product to relevant people who are looking for those particular products or services.
Therefore, if you want your brand to thrive on Instagram in 2021, then you need to start acting like a local business.
This means all your marketing efforts should target the local market as opposed to international market.
Robert Katai said: Being a true social channel, Instagram favors micro-brand marketing and, in fact, we see quite an explosion of small companies and brands on the platform.
Take Jcrew for example. They created a new Instagram space to geek out on menswear.
Related article: Social media benchmarks for Automotive, Beauty, Fashion, Food Industries. Check it out!
8. Less polished videos work better on Instagram Stories
For a long period, brands were posting heavily polished videos on Instagram to attract customers. Such videos take so much time and effort to be produced.
In 2021, Instagram trends show that less polished videos that cost less time to create and post will work better.
Most Instagram users are not interested in viewing highly polished videos, instead, they are looking for content that is authentic and relevant to them.
Brands should invite their employees to promote products or services and managers to speak up freely about their challenges.
A good example here is Buffer. They asked Jackie Modena, the community director for Jot - a coffee company, to record some Stories.
She recorded the Stories from the comfort of her home, with no filter or other edits, but she shared some helpful insights.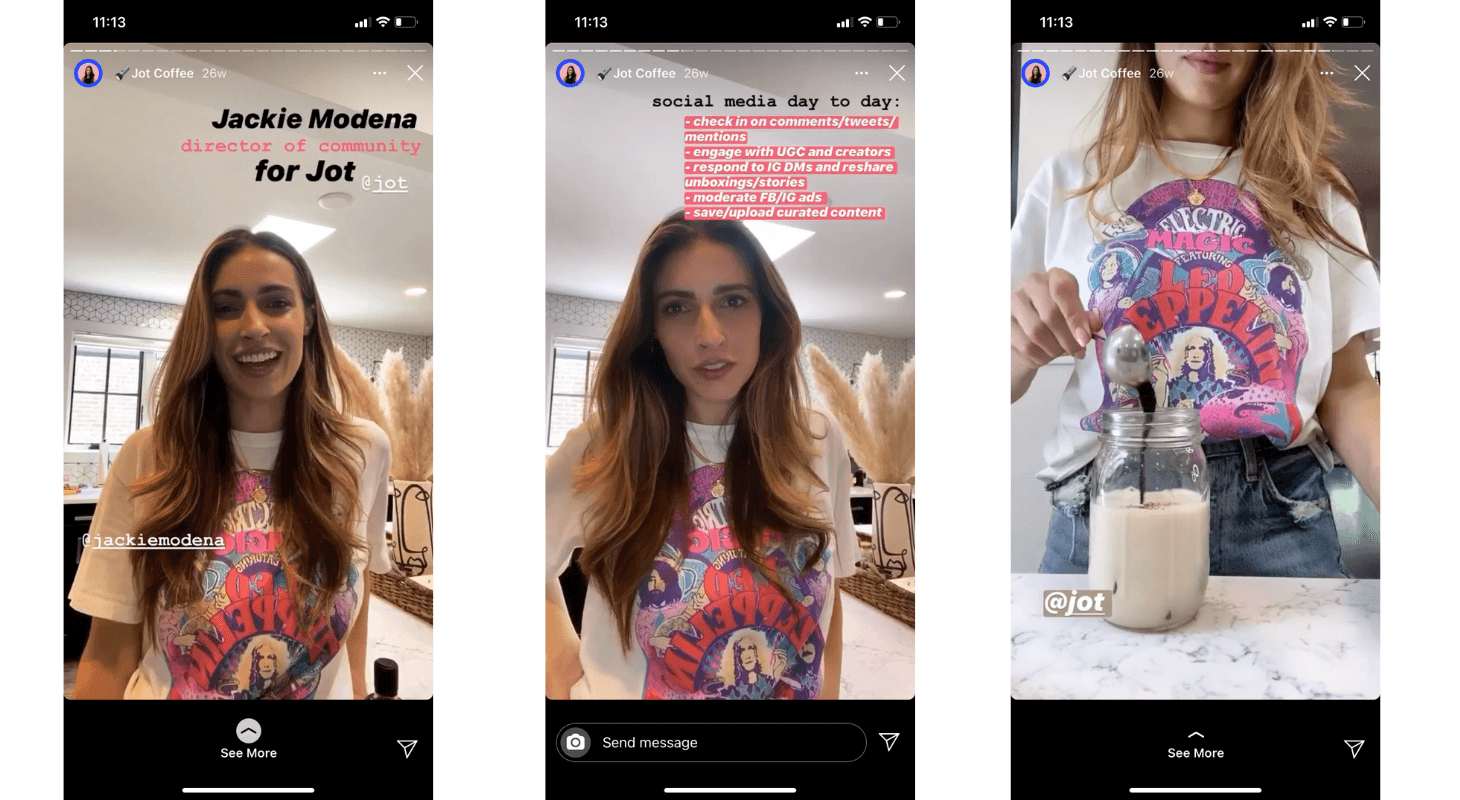 9. IGTV
Instagram IGTV is the perfect medium where you can share your long-form video content. You can upload videos for up to one hour long.
Keep in mind that videos are full screen and vertical. The 60 minutes mark is only reserved for verified accounts. For regular users, the limit is 10 minutes.
Users can also show their appreciation for the video by liking, commenting, or even sharing the video via DMs with their friends.
A few content ideas for IGTV are that you can upload a tutorial on how to use your product, post behind the scenes, create a video series, and interview with personalities from your industry.
Despite Youtube, IGTV doesn't have a search option for brands.
Do not forget to be mindful of Instagrams' guide while posting on IGTV. Their standard format consists of:
File size: Up to 3.6GB
File type: MP4
Video size: 9:16
Video thumbnail/cover image: .JPG
10. Consistency
The mother of all growth and the glue that holds everything together is consistency. Being consistent equals being trustworthy and staying in for the long term.
You need to maintain a consistency of the content you post, voice and feel, the filters used, and the time scheduled for your posts.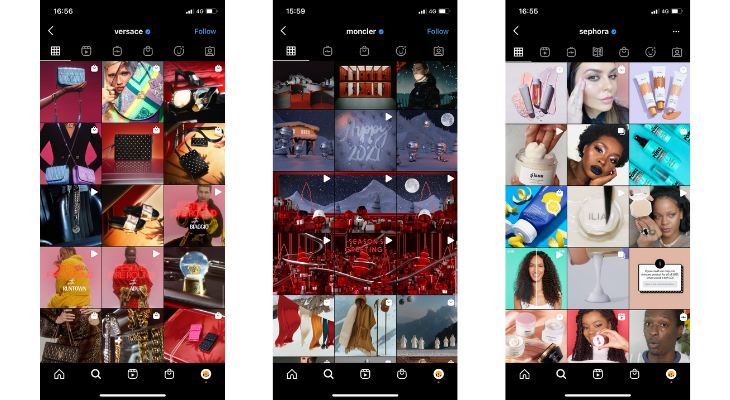 However, keep in mind that more content doesn't equal better content. It's better to take your time and create content that resonates with your target audience.
Remember the phrase that all the internet knows: "Content is King!". It sounds like a cliche, but it still holds true today.
11. Advanced measurement tools
Before you even plan your Instagram marketing budget, use advanced measurement tools to measure your performance.
If you want your marketing to be successful on Instagram in 2021, then you need to use advanced measurement tools to track your overall performance as well as comparing your efforts against top competitors.
This way, you quickly know if your marketing strategies are working and if not, then you will know areas that you need to improve. Socialinsider might be a great help here :)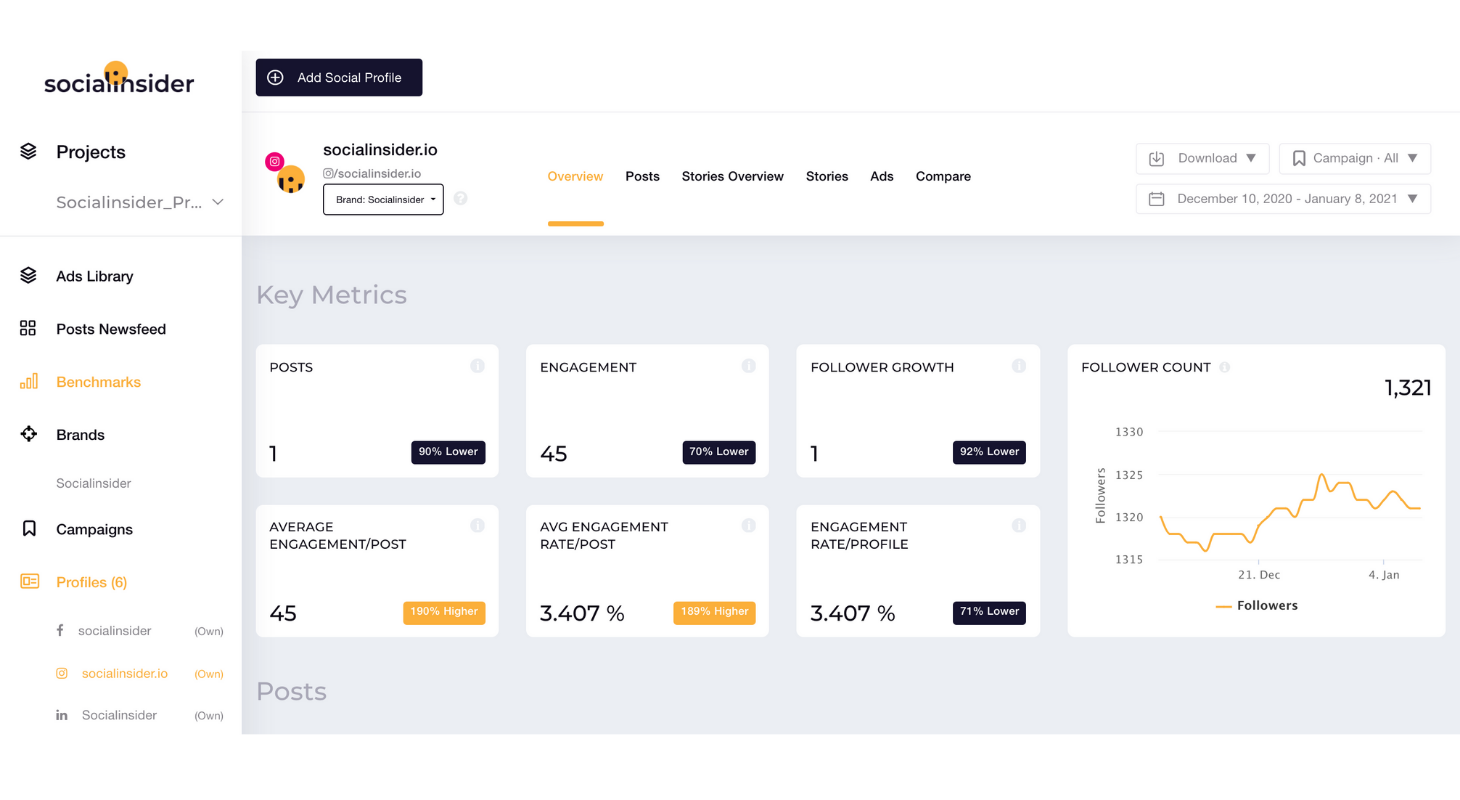 Final Thought
These are the hottest Instagram trends that you should follow in 2021.
This year will be an exciting one for this social media giant. With so many features, Instagram is THE platform you should use to promote your brand and message.
I hope this guide gave you some useful insights, and if you want to share an Instagram trend for 2021 that we've missed, let us know in the comments below.
---
Related articles: