Navigating TikTok might be confusing for new brands or creators.
What may be trending on other social media platforms might not be successful on TikTok.
But if you want a chance of winning over Gen Z's hearts (and not only), it's worth decoding the TikTok algorithm.
Knowing how to make a video go viral on TikTok is a sought-after skill for many organizations—it can increase brand recognition and sales.
In this article, we will walk you through the process of creating viral content on TikTok step-by-step.
Tips on how to create viral content on TikTok
1. What type of content goes viral on TikTok?
Understanding how the TikTok algorithm rates and distributes content is essential to learning how to go viral on TikTok.
Once you're aware of the crucial elements that TikTok's algorithm uses to measure the value you bring to your potential followers, you'll be one step closer to creating a TikTok video people want to view on their For You page.
In this instance, watch time and completion rate are the main TikTok metrics that the app tracks.
After just 3 seconds of viewing, the algorithm will mark your video as either exciting or irrelevant for a specific audience.
But, to go viral on TikTok, a social media manager should first decide what they want the video to achieve.
Will it be a how-to tutorial, or will you blatantly advertise a product?
Either way, originality is key to creating content that goes viral on TikTok.
In most cases, you are well on your way to becoming famous on TikTok if you have a sense of humor, a captivating story to tell, simple tips to share from your industry, or can persuade social media content creators to follow your challenge.
Regardless of the niche you choose to establish your authority in, remember that your video needs to showcase your brand personality, while being entertaining, informative, or relatable.
2. 10 tips to create viral content on TikTok
Whether you're a creator or a brand seeking to leverage TikTok for B2B marketing, there are a few things you can do to optimize your chances of going viral.
To make it onto TikTok's For You page, you may want to read the tips below.
2.1 Feature real people in your TikTok content
TikTok is a very person-heavy platform.
Not only will someone need to create videos for your brand, but they'll also probably appear in them.
Allow us to explain more.
The key selling point of TikTok is built around its creators.
The app's integrated recording and editing features make it simple for content creators to swiftly record, edit, and share TikTok video content —and have it go viral when done well.
With this in mind, it only makes sense that most viral videos display real people.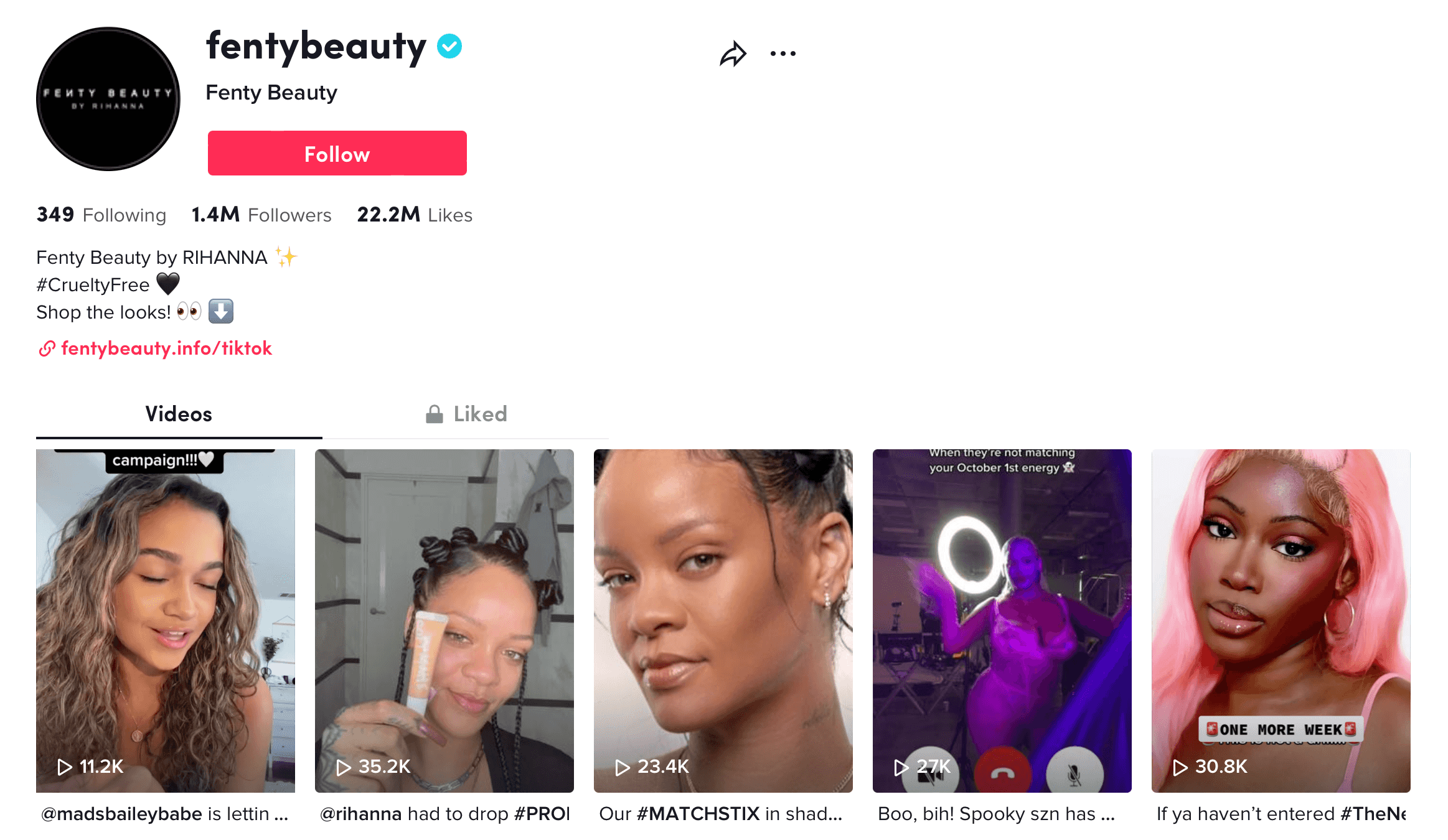 Sure, there are many TikTok ideas you can do without showing your face, but both creators and brands need to establish their brand identity and humanize their brands to be successful on the app.
Showcasing real people in your TikToks and cultivating your brand's personality and values can help establish meaningful connections with your audience.
2.2 Choose a vertical topic for your TikTok content
TikTok performs best when using segmented content.
Once you choose a TikTok content niche, it is best you stick with it. This way, you'll establish authority in that specific vertical.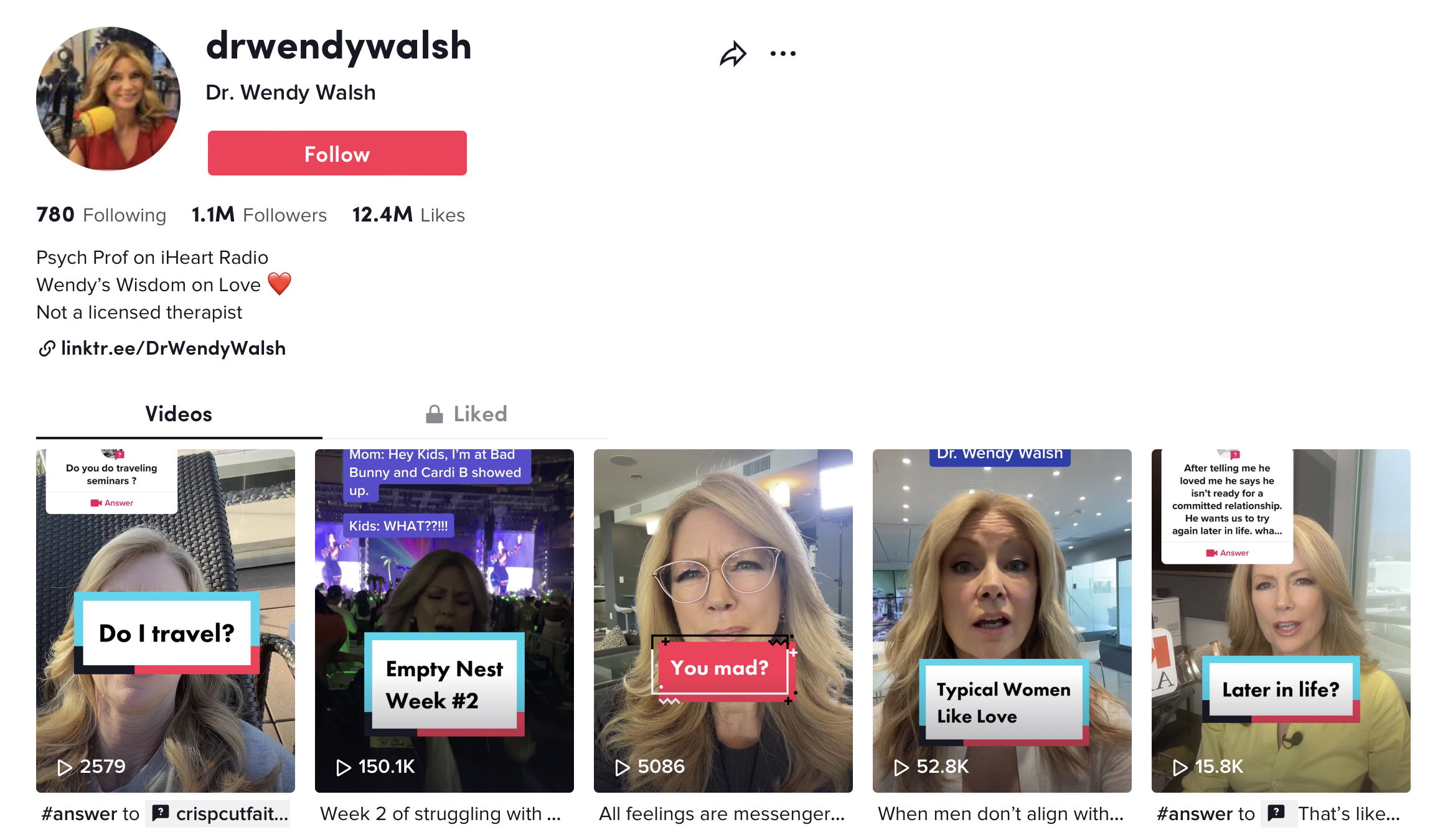 Unpredictable content without a defined topic will have a negative effect on the algorithm and prevent your content from being pushed to your target audience.
Experimenting with videos that fit into different categories is like beginning all over again.
2.3 Divide your TikTok content into more parts
The TikTok mantra goes that the more content you provide, the greater your chances of being noticed.
Breaking up longer content into distinct segments on your TikTok profile is a terrific way to keep your audience interested and your viewings high.
More content on the same subject means a greater chance that one of your clips may go viral and pique people's interest in learning more, thus returning to your profile.
Additionally, you can also use TikTok's Playlists feature to group your clips into themed collections.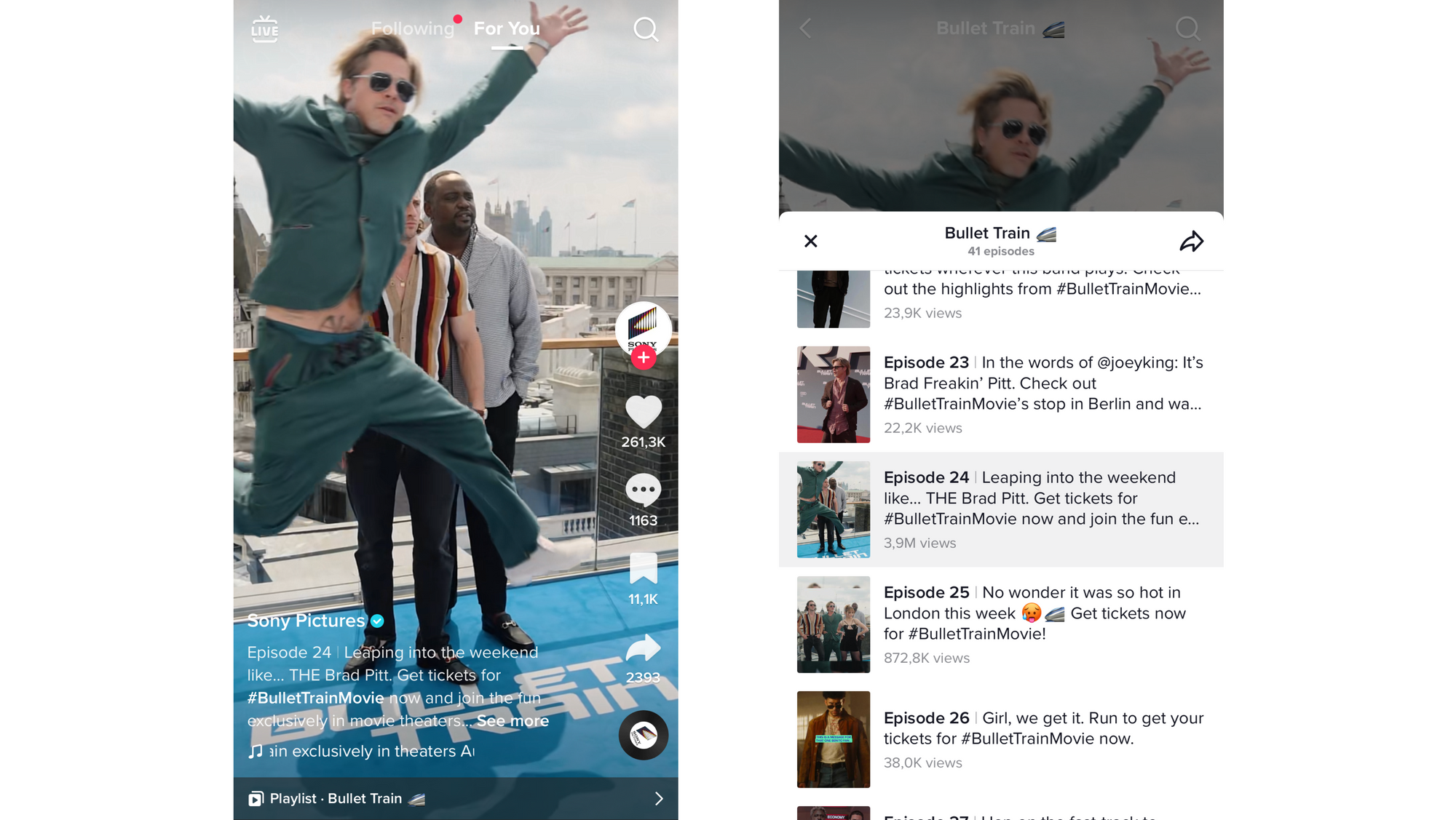 The new feature allows you to create specific collections of TikToks that are subsequently displayed on your profile. You have up to 15 characters to name each playlist.
2.4 Keep your TikTok content short
We've clarified that the completion rate is a big part of the TikTok algorithm.
And with this in mind, it only makes sense that you create TikToks that people will gladly watch rather than skip through.
Naturally, the easier way to pull this off is to keep your videos shorter. It's less likely that a larger audience will have the patience to digest lengthy information.
However, this doesn't negate the requirement for quality content; your video still needs to be long enough to convey the information you want.
2.5 Jump on TikTok trends
TikTok is the birthplace of many social media trends.
Being one of the most trend-driven social media platforms, keeping up with the most recent TikTok trends is essential if you want to understand how to go viral on the platform.
Fortunately, discovering what's trending on TikTok is pretty simple.
Visit the For You section in the app, or go through the viral challenges and hashtags on the Discover page for a ton of suggestions.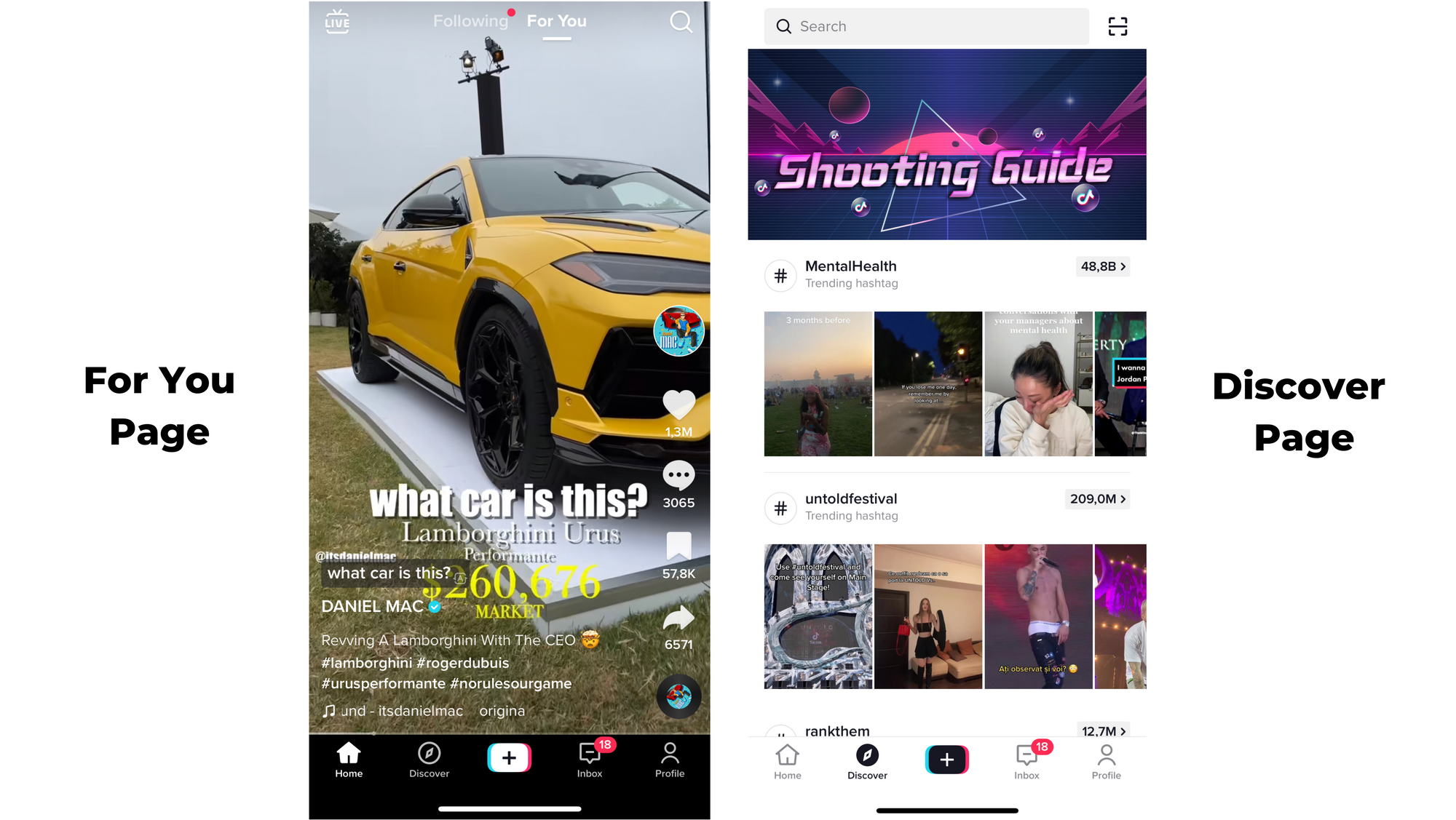 Remember that the TikTok algorithm carefully chooses personalized content for you based on your location.
Once you spot trends, consider whether they can prove relevant to your niche and, if so, take advantage of the opportunity to create your own version of the viral TikTok trend.
If you'd like to see real examples of brands that generate and follow trends around their brand personas, Duolingo and Ryanair are two excellent examples that you need to check out.
2.6 Add trending audios to your TikTok content
TikTok has a unique capacity for influencing musical trends.
Previously known as Musicall.ly, TikTok began as a platform for music syncing.
It is not uncommon for TikTok to have agreements with major record labels, allowing them to post brief music snippets on the platform. In some cases, a segment of a song will be revealed on TikTok even before it is fully released officially.
Fortunately, there are many options available for selecting the greatest trending tune to use with your TikTok video.
You can either scroll the For You page, use TikTok's search bar to look for viral sounds, or browse through TikTok's sound library.
Additionally, you can check out Spotify's trending playlists and pay attention to the Billboard Hot 100 chart. Many of the hottest songs on these playlists are actually popular TikTok audios.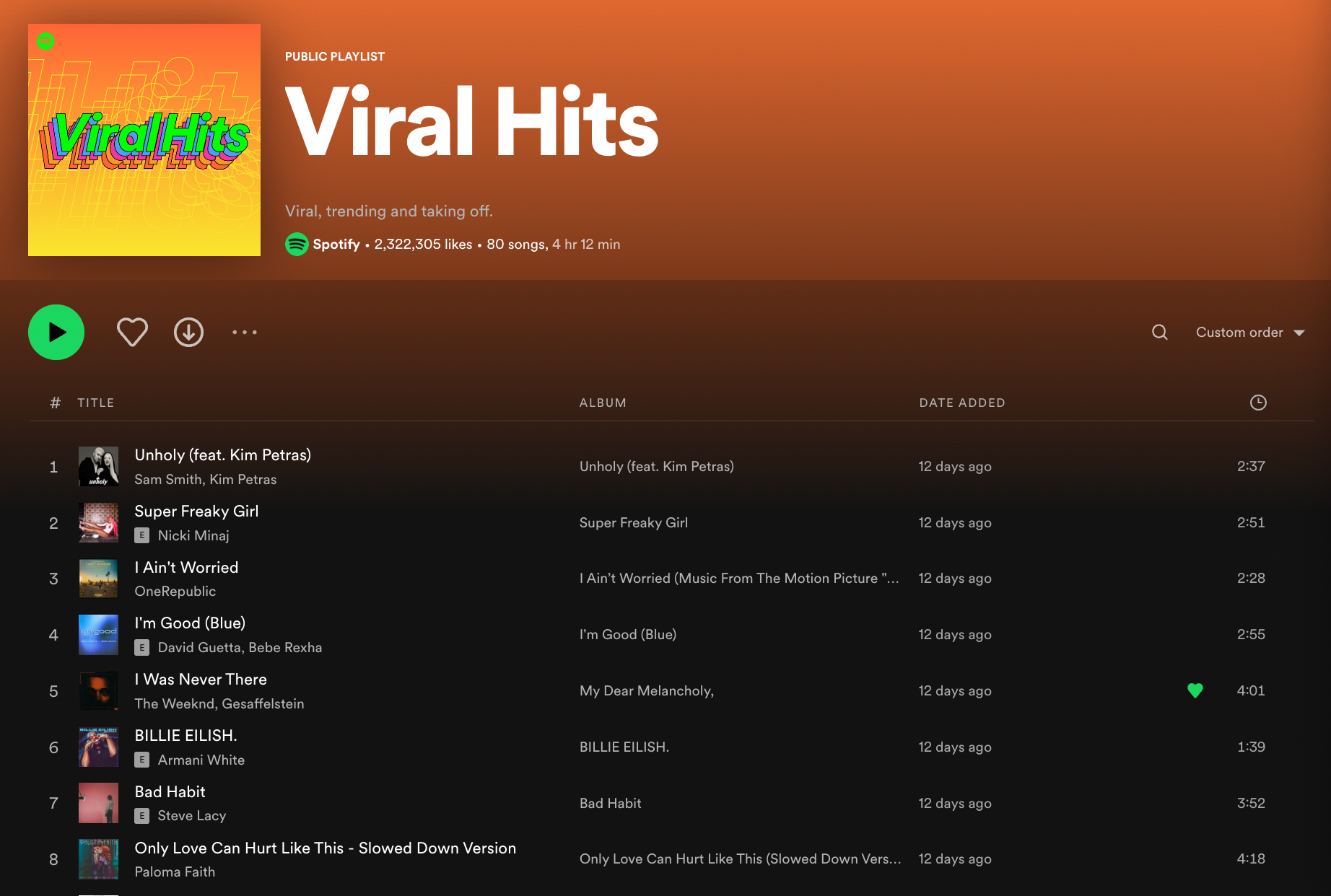 Don't forget to add them to your favorites whenever you find a popular TikTok sound or song that you like. By doing this, you can avoid having to search for them again when you want to use them.
2.7 Team up with influencers to create viral content on TikTok
If you want to increase the effectiveness of your digital marketing campaigns and expand your audience, collaborating with influencers is a great strategy.
While brands may use sponsored TikTok ads to increase exposure and sales, influencer-generated content usually results in more meaningful engagement.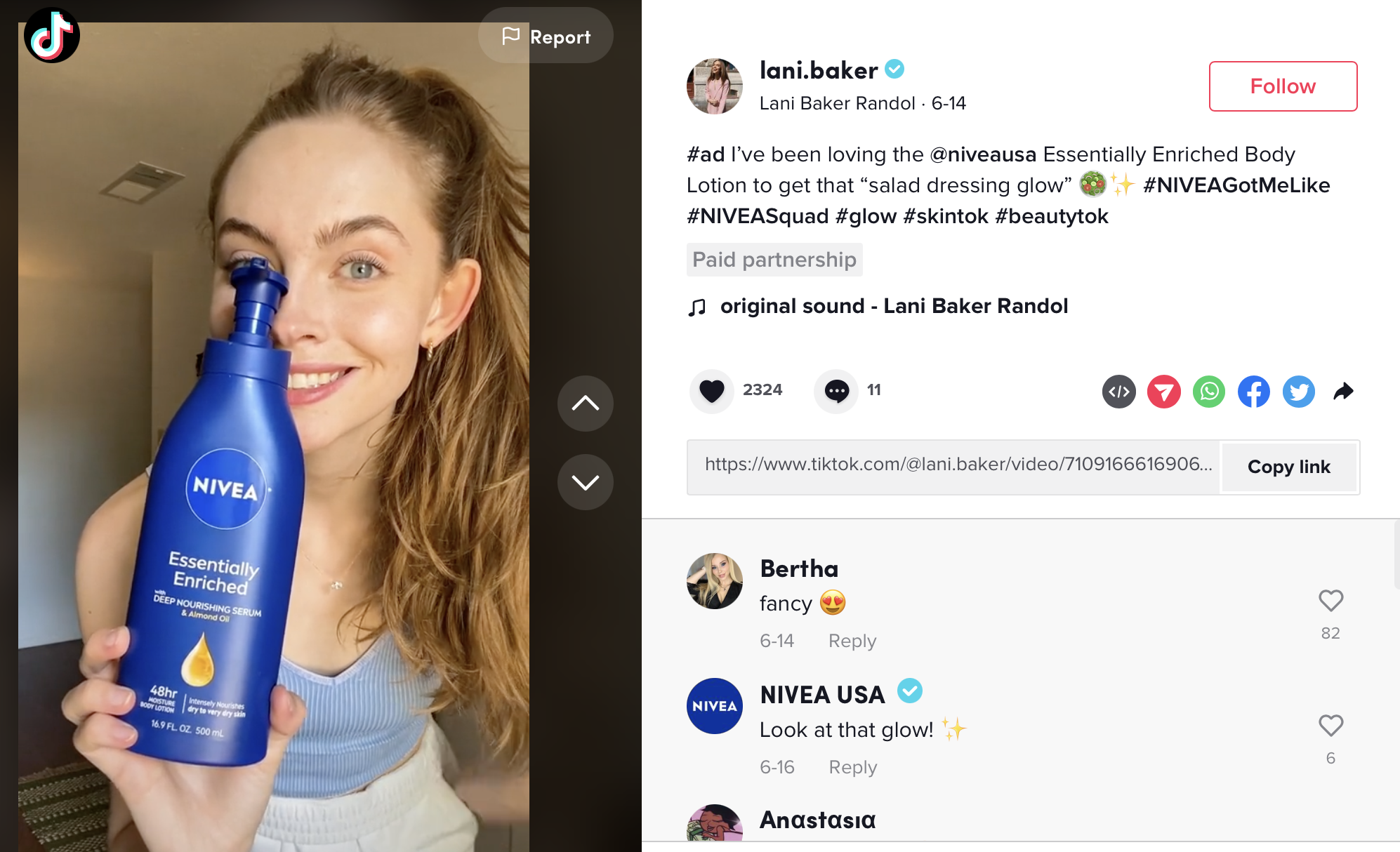 Influencers on TikTok are familiar with viral trends and may give you valuable insights into what actually matters to your target audience.
You may develop native content by involving key opinion leaders in your TikTok marketing plan, thus improving user experience.
If you'd like to learn more about working with key opinion leaders to raise brand awareness, you might want to check out our article—How to Build a Successful TikTok Influencer Marketing Campaign in Just 5 Steps.
2.8 Interact with TikTok content creators and followers
Understanding the significance of engagement on TikTok is essential to learning how to go viral.
As TikTok's algorithm favors interaction, responding to comments on your videos can foster a sense of community and raise the likelihood that your material will go viral.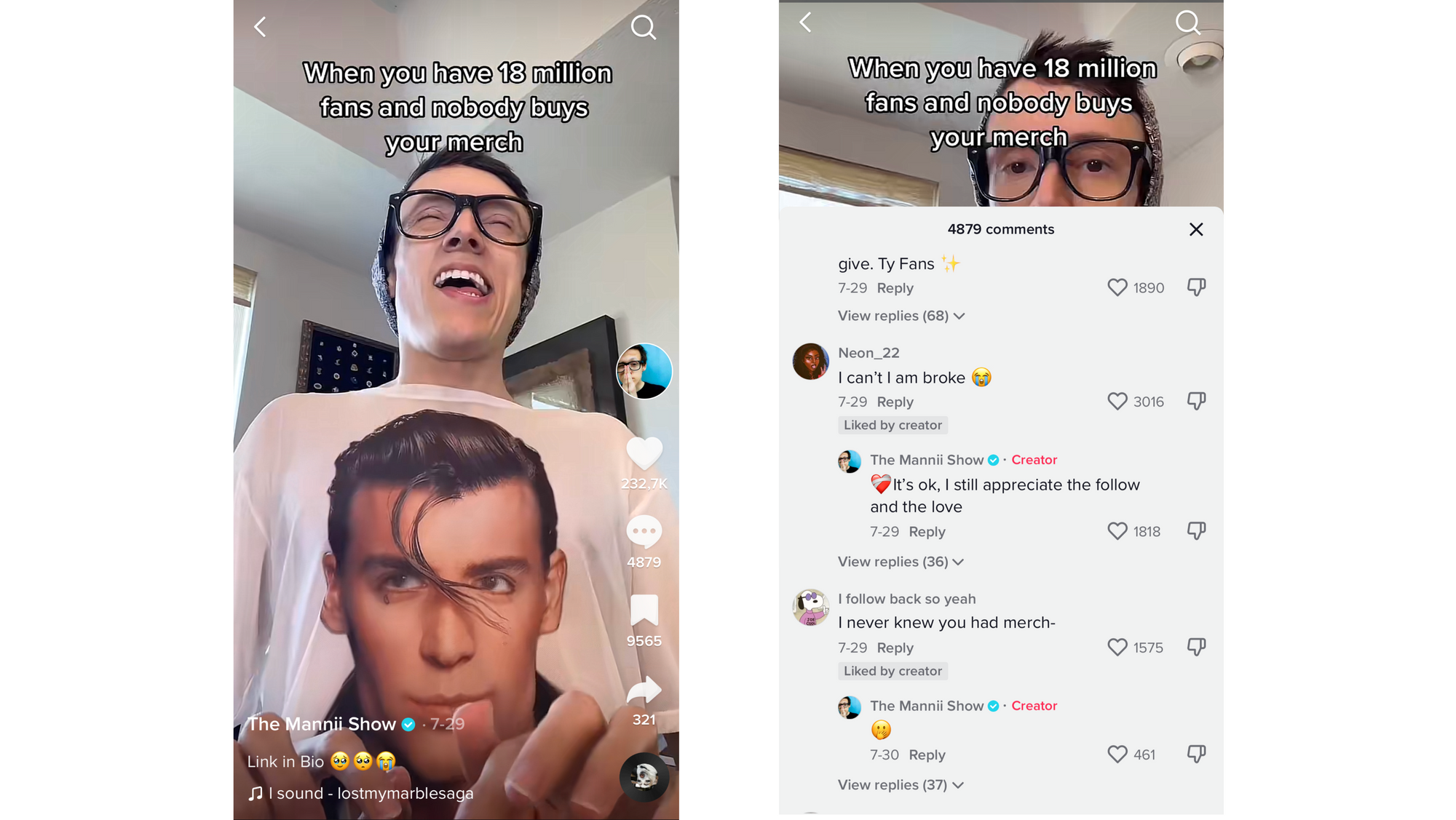 A call to action in your videos can also help to increase your TikTok views.
You could, for instance, invite your viewers to leave you a remark at the end of each video, share it on social media, subscribe to your channel, or even answer with a video of their own using the Duet or Stitch features.
However, if you're still in the early stages and haven't had an opportunity to gain more followers, it's advisable to start by interacting with other popular TikTok videos.
2.9 Don't delete your older content: it can still go viral on TikTok
The main distinction between TikTok and other social media platforms is that, on TikTok, your videos can become viral at any time—yes, even older ones.
A delayed explosion is why you should carefully consider eliminating outdated information regardless of how well or poorly it performed previously.
TikTok will periodically hide the publish date of content on the FYP and start re-evaluating your older content in order to push it to your desired audience.
2.10 Use the right TikTok hashtags
Some users may believe that using the hashtags #fyp or #ForYou will make their content widely shared.
However, this rumor has never been confirmed by TikTok, and using these hashtags doesn't ensure that your video will become popular.
On the contrary, using these hashtags can prevent you from leveraging keywords appropriate for your content and niche.
To make the most out of hashtags, you should choose a small number of relevant hashtags that are popular in your niche and combine trending hashtags with less popular ones.
3. How long does it take for TikTok content to go viral?
The time it takes to do something depends on you and your resources.
No brand, expert, or creator can say precisely how long it takes for content to go viral.
Usually, your video is deemed somewhat viral if it receives one million views. However, you will formally become a viral TikTok star if your video receives five million views in three to seven days.
But getting trending on TikTok takes experimentation and persistence—not to mention some good fortune.
The first step is to take the time to create and involve your community with trendy, timely material.
Unfortunately, there isn't a particular form of content that will always go viral on TikTok.
However, if you want to increase your chances of going viral on TikTok, being humorous and relatable in your postings will undoubtedly help.
4. Creating viral content on TikTok: measuring performance
TikTok audits are a vital resource for marketers and creators trying to make a difference on this social media platform.
With the help of the integrated TikTok Analytics, any user can now effortlessly track the information associated with their TikTok accounts.
TikTok Analytics provides insights into the number of followers gained through a specific period, the profile overview, and other video analytics.
To track more advanced metrics, however, brands may opt to use dedicated TikTok analytics tools.
Socialinsider, for example, offers you access to multiple TikTok analytics such as post engagement, engagement rate, the optimal time to share content on TikTok, total views, hashtags, and even music.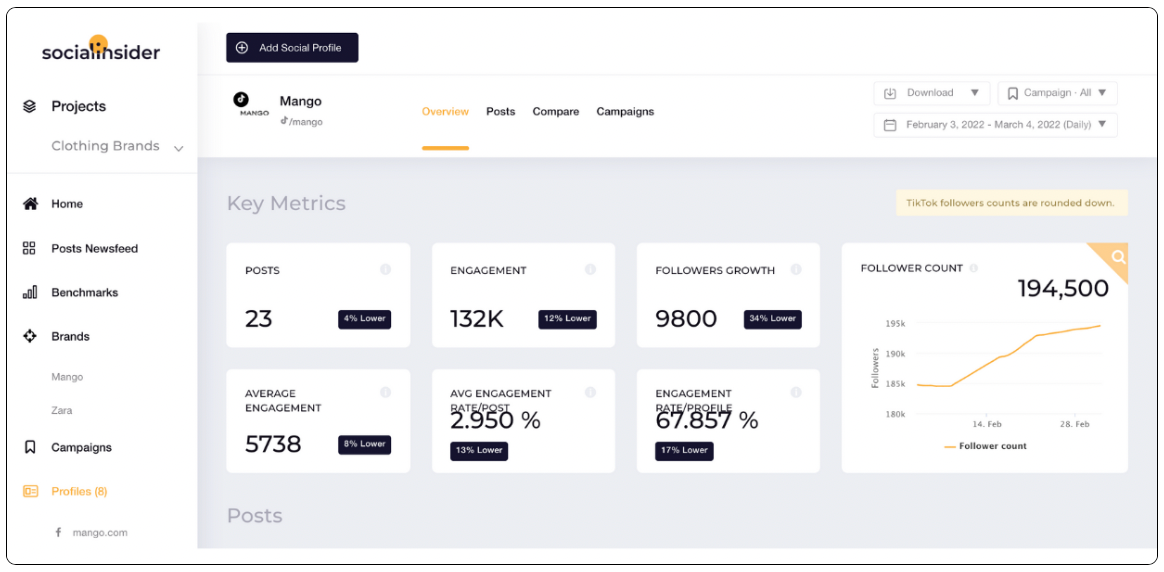 You can also use the app to do competitive TikTok benchmarks and gain in-depth insights into the campaigns of your competitors.
Additionally, with Socialinsider, you can easily manage your influencer analytics to track and gauge your influencer network.
This way, it will be easier for you to plan ahead if you have a clear visual representation of the type of TikTok content that is successful or not.
Last thoughts
There are several theories about the best ways to make viral TikTok content.
However, there isn't much evidence to back them up.
Experts can only speculate what is most likely to improve the chances that their TikTok videos will go viral and appear on the For You page.
This is primarily due to TikTok's continued reluctance to reveal the mechanics of its algorithm.
Overall, you should keep in mind that TikTok has only acknowledged two things impacting the likelihood of your video going viral on the For You tab: what someone likes and who they follow.