Instagram Stories should be a primary part of any business' social media strategy.
In fact, stories that are published by brands and businesses get more views than stories from regular profiles, as Instagram points out.
Through Instagram story marketing, you can easily promote products, tools or any messages you might want to share with your audience, while keeping Instagram engagement high.
Creating stories for your business can be a fun activity with a lot of benefits.
You can share as much as you want throughout the day — with as much creativity as you want.
In this article, you'll find out why you should make Instagram Stories a main part of your business' social media strategy.
Why Make Instagram Stories Part of Your Strategy
1. Improve brand visibility
2. Interact with your audience and reach more people
3. Generate leads
4. Get instant feedback for new products or services
5. Repurpose your blog content
6. Increase brand transparency
7. Use real-time marketing
8. Run Instagram Stories Ads
9. Increase your Instagram engagement
10. Stay top of mind
1. Improve brand visibility
As you know the stories of users that you follow appear at the top of your feed with a colorful ring to indicate that there is a New Story published.
Your followers will also be notified when you've published a new Story, making them harder to miss than the regular Instagram post.
And don't limit yourself to just one story per day.
An Instagram story study shows that posting up to 5 stories per day keeps retention rates to over 70%.
2. Interact with your audience and reach more people
Within the world of social media marketing, and especially within the world of Instagram, Stories have a key role because of the nature in which this feature showcases your business.
First of all, among all the social platforms, Instagram is where people engage the most, so you're already getting a free prime-time channel to do with as you wish.
With Istagram Stories, you can interact directly with your audience in order to better understand their needs.
Try asking your followers questions to get them involved in your story, and have them share their interest.
If you want to obtain more followers and grow your reach, you'll have to invest your time in creating an Instagram Stories strategy.
Start communicating with other people, build relationships, and comment on others' content.
Once you hit 10,000 followers with an Instagram Business account, you get access to swipe-up links, which makes it even easier to drive traffic to your site.
All you have to do is to be creative, use an aesthetic photo or video with a significant message.
3. Generate leads
Growing your Instagram following basically means growing your pool of prospects and leads, that are one step closer to converting.
Even if your Instagram stories last for 24 hours, the advantage is that not only those who follow you will be able to see them.
That means Instagram stories are discoverable, and people who don't follow you can see your posts too.
Instagram stories marketing is a great opportunity to reach a new audience and express your ideas more uniquely, while also showcasing your products or services in a fun way.
4. Get instant feedback for new products or services
Even before the launch of a new product, you can use Instagram Stories to do a bit of market research and to ask your audience for some honest feedback.
Say you're insecure about the usefulness of a certain functionality, or even the look and feel of a new release.
All you have to do is go to Stories and ask your followers about what they need or about their preferences. Use polls and question stickers to start the conversation.
5. Repurpose your blog content
Repurposing content will strengthen the power of your videos or blog posts and create a unified strategy throughout your digital presence.
This will improve your brand awareness and encourage your audience to convert by increasing your chances to be heard and remembered.
Tyler J. McCall: "You can repurpose content from other platforms. You might turn a quote from a podcast or captioned video into a fun graphic. Or repurpose a blog post into a talking-head video on Instagram Stories that highlights the bullet points from the blog post."
If you have a piece of content that performed well on another platform you can recreate and reshape the content and share it with your Instagram Story.
Make some really good photos and tell your business story through them.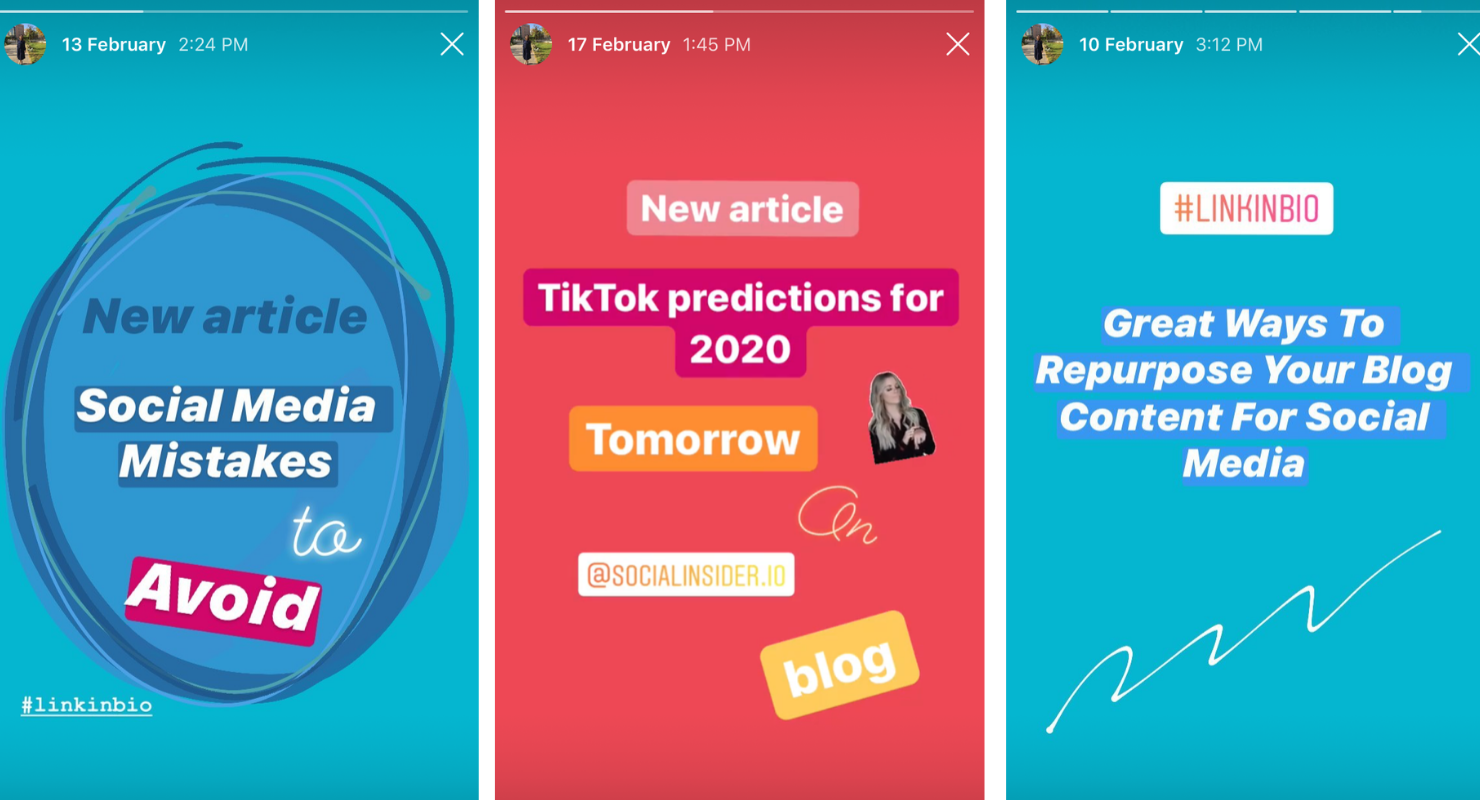 You can also invite people to learn more on the matter on your website, leading them further down your marketing funnel.
6. Increase brand transparency
Try showing some behind-the-scenes videos to give your followers more information on the people behind your products and their personalities.
Make a video with the whole team, give sneak peaks on what you're planning to do next, or simply take a photo during your break.
The goal is to try to make your customers part of your everyday life at work, to make them feel included.
7. Use real-time marketing
Instagram Stories encourages the use of real-time marketing, with actual real-time feedback from your clients.
Create an Instagram strategy focused on current, relevant content, with topics of utmost importance to your clients is a sure way to get their attention.
For example, posting a video story straight from an event or sale can encourage more people to attend.
8. Run Instagram Story Ads
In March 2017, Instagram released the Instagram Story ads feature to all business accounts.
This option lets your business use targeting and reach capabilities that make your ads relevant to the people you want to reach.
What's more, Instagram Story ads are typically used by brands to obtain link clicks and convesions, data shows.
You can use Ads Manager, Creative Hub or the API to run ads on Instagram Stories.
With the Ads Manager, you can follow these 8 steps to create Instagram Stories Ads:
Go to Ads Manager.
Click Create.
Select the Reach, Video views, Conversions, App installs, Lead Generation or Traffic objective.
In the Ad Set section, click Placements.
Select the Edit Placements, then select the Instagram placement.
Click Stories.
Follow the rest of the steps to continue building your ad campaign.
Click Confirm to publish your changes when it's done.
❗️Tip: Make use of video story ads to obtain a higher CTR!
9. Increase your Instagram engagement

The more you post stories on Instagram, the more your posts will show up in the feed.
Instagram is one of the best places to market your brand online, gain a loyal following, and build a community that supports your business and your brand values.
It's already a highly engaging channel, capable of obtains high results at low costs.
However, if you feel your brand could use an engagement boost, start by following these 12 steps:
Complete your Instagram bio
Add some fun elements to your posts
Post multiple stories per day
Maintain a schedule
Add a location every time you post
Reply to your DMs
Start conversations with Instagram Stories Stickers
Use branded hashtags
Keep an eye on your analytics and improve your content accordingly
Stick with one Instagram filter
Write longer Instagram captions
Use Correct Instagram Size Images
Include a link in your Instagram bio
Use ads to target relevant people
10. Stay top of mind
Always be present in the back of your customers' minds. The more they hear from you, the more they'll remember you when the need for one of your products or services arises.
Think of  Instagram Stories as a secret weapon in this regard.
That's because "one-third of the most viewed stories come from businesses, and one in five stories gets a direct message from its viewers." - according to Instagram internal data.
Find out more insights on how to boost Instagram engagement 👉
Final thoughts
Be a storyteller, tell stories about your product and services, share your ideas with the community, discuss blog posts, add tutorials on how to solve problems or everything you want to share with others.
Instagram enables you to show off your ideas in a creative way. Document your journey with Stories to make your brand approachable.
Get Stories insights with Socialinsider! Increase your Stories reach and engagement, and understand what to post more and how often.
---
Related articles: