Wondering how to write a compelling Instagram bio for your business?
You might say it's easy to make a good impression, but it actually requires a lot of thought to write a good Instagram bio with 150 characters.
Before jumping to this photo and video sharing application, you need to understand why Instagram is valuable for your business.
Well, in case you didn't know, Instagram is the 4th most used social media platform in the world, with a primary audience formed of people aged between 25 - 34. And of course, it doesn't stop here.
Which makes it a hard to neglect place to be in, given its huge marketing potential and great business opportunities.
And, in such a competitive environment, making the users know and remember your brand becomes a real challenge.
That's why you need to learn how to create a perfect Instagram bio for business. Here are a few things to keep in mind when creating your Instagram bio.
How to write the Instagram bio for your business in 2021
---
1. Components of an Instagram bio in 2021
It's important to add various components of your business's Insta bio carefully as each of these components plays a significant role in ensuring that users visiting your account get all the required info about your company just by taking a look at the Instagram bio.
Profile photo
The first component is profile photo. The photo you add should be relevant to your business. You can add your company's logo, a photo of one of your most popular products, and so on.
Make sure that the photo looks equally attractive when minimized as it looks in its maximum size.
The profile photo should tell the story of your brand or it should be an icon for your brand.
In our case as an Internet company, we chose our brand logo, but if you're an influencer you could be more creative.
Take a look at @Sunny Lenarduzzi account which is an influencer and marketing expert. She is a one women show that's why using a portrait of herself as a profile bio is the way to go.
Username & name
The next component includes your username and name.
The Instagram username (many also refer to it as the Instagram handle) can be seen right on the profile page's top and is preceded by @ sign. Ideally, you should use your company's name as the account's username.
The Instagram name, on the other hand, is present on a more noticeable spot; it appears bolded on the profile.
If you have used your business's name as your username, you can get a bit creative when picking your account's title or name.
For instance, if you run a café called Coffee and Friends in Texas, your Instagram name can be, The Best Coffee Makers in Texas.
Tip!
Make sure your Instagram name is searchable.
Your name and username are two of the most important components of your Instagram profile because they are the only two searchable criteria of your profile.
When users type a keyword or name in the search field on Instagram, the app looks at only the username and name fields of accounts to determine if an account is relevant to that search query.
An Instagram bio of 150 characters
Get an answer for this question: what's your story?
It should be obvious what you or your company do.
The word of mouth around Instagram bio says that you should think about 3 words that best describe your brand and use that as a starting point.
While that is a good start you should try and make it personal - give it a human touch. Nobody likes reading empty, soulless descriptions of feature. They make your account seem very impersonal. Play around, use emojis, different types of texts.
Mari Smith is a great exemple here. Take a look at her bio and see how she plays with the emojis and how she incorporates them in her bio description.
Tip!
Your Instagram bio gives you 150 characters to explain who you are, what you offer, and why people should follow you.
Your official business website
Also, don't forget to add the link to your official business website. On Instagram, you will get the chance of adding your website's URL just on the bio, placing it on your feed is not an option.
Category
It's a good thing to be able to mention whether you are running a coffee shop or an Internet company without using up characters in the small space dedicated to the bio.
Location, email address and your business' phone number
Instagram has allowed Business Accounts to free up more space in their Instagram bio by allotting separate space for the location address and email address.
If you enter your email address, it would generate a separate email button on your profile. Clicking on this button will direct the customers to the default mail apps on their respective phones.
Make sure to also use an SPF record to ensure that your company's email domain is protected at all times. Also, another great recommendation is to implement Instagram security to safeguard your account and business data."
Businesses that have a dedicated brick and mortar location, on the other hand, should always add their full address. This would generate an address button and whenever a customer will click on it he or she would be directed to their phone's map app.
Finally, add your business' phone number to generate a call button.
Tip!
Add a readable link URL, as opposed to a series of random characters.
The requirement isn't that every aspect of the URL must be absolutely clean and perfect, but that at least it can be easily understood and, hopefully, compelling to those seeking its content.
To understand better, take a look at @Sue B.Zimmerman and @Jenn Hernam URL in bio.
Stories highlights
Since Instagram stories are a type of content most users are drawn to, you must take full advantage of this feature.
If most of the Instagram stories disappear after the 24 hours are gone, through stories highlights you can maximize the effect of your best work, and amaze the followers that didn't see that piece of content even after the time is up.
Because it will still be shown in Instagram, being just one click away.
2. Seven ways of making your Instagram bio attractive
1. Add a tagline
To make your Insta bio thought-provoking and interesting, you can use a unique tagline in your bio.
A tagline would allow you to tell people what exactly your company does in very few words.
You can also use a summary of the company's values or add your business' mission statement in the Instagram bio.
2. Be minimalistic
The Instagram bio must be made as simple as possible.
Just provide as much info as an individual (targeted customer) would need for identifying the aim of your brand.
For knowing more about your business, your visitors can browse through your Insta posts or visit your website.
3. Link the other social media accounts your business has
This would allow you to keep the account bio short and to the point more efficiently.
Linking the account with your accounts on Facebook, Twitter, and Snapchat would allow your followers to find your company even on those social media platforms.
For example, @jcrew account, a fashion account is cross-promoting other social media accounts.
4. Use branded hashtag
Accounts that use user-generated content for making their Instagram account popular can include a relevant branded hashtag in their bio.
Tip!
Hashtags in the Instagram bio are clickable. Use this opportunity and create a branded hashtag for your business.
5. Use emoji
Adding emojis would allow you to convey the personality of your business. You can also use emojis as replacement of certain words. Overall, emojis make Instagram bio appear more exciting.


6. Add line breaks to your Instagram bio
Illustrate your strengths using line breaks to your Instagram bio. Plus, it makes your Instagram profile more consumable.


7. Include an appealing call to action
If you are wondering how to write a creative Instagram bio, it's important for you to know that without a proper call to action, your Instagram bio is incomplete.
The call to action must compel your targeted visitors to visit your store, email you, or dial your number after checking your Insta bio.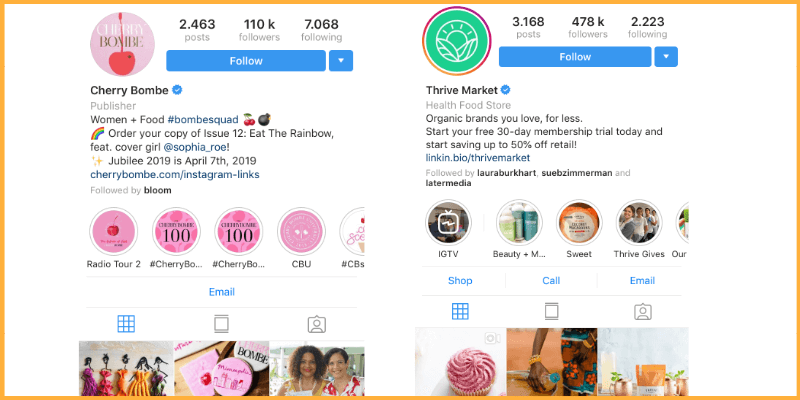 Final thought


Profile images draw the attention, but the text besides them is what convinces an exploring user to follow your profile. Some Instagram bios immediately pop into our eyes while others don't really stand out from the crowd.
Writing a killer Instagram bio makes all the difference. Will you get a quick follower or be forever ignored?
Originally written Oct. 01, 2018. Last updated July. 22, 2021.
Related articles: