When it comes to marketing there are a lot of books and people around you from you can learn, but how do you know that you are listening to the best advice.
If you are wondering how do you learn about the latest tips, tricks, and tools in marketing, this article will make light and reveal some awesome marketing people.
Next, you will find out the 10 most influential marketing Twitter accounts for you to follow.
---
Top 10 Twitter account you should follow immediately
👉 Ann Handley
👉 Jeffrey Bullas
👉 Peter Shankman
👉 Pam Moore
👉 Rand Fishkin
👉 Kim Garst
👉 Marsha Collier
👉 Barry Schwartz
👉 Brian Carter
👉 Sue B. Zimmerman
---
#1. Ann Handley
From layman guides on creating infographics, her much deserved blog, and marketing focused community seminars, Ann Handley does is all. He is called a writing guru, and her Twitter account is full of fantastic tips on how you can take your content marketing to the next level.
On her account, you will find a helpful weekly #SocialSkim of the top marketing news, and a touch of humor.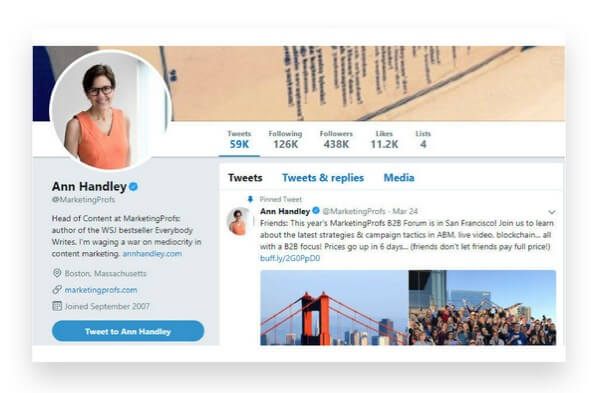 #2. Jeffrey Bullas
Jeff Bullas has been voted the #1 content marketing influencer in the world, and his network is really impresive. He has a globally recognized business blog and everything he tweets is considered pure marketing gold.
If you want to learn how to be a more productive marketer, then you should follow Jeff Bullas.
#3. Peter Shankman
All you have to do is take a look at Peter's bio, and you'll realize immediately who are you going to follow. He is quite a personality with job titles like business consultant, angel investor, NASA advisor (yes, NASA..this is really wow) and founder of Help a Reporter Out (HARO). With all this, he still has plenty of time to create high-quality blog content and some helpful tweets.
#4. Pam Moore
As one of Forbes'Top 20 Women Social Media Influencers, Pam Moore is a certifiable social media expert. As one of her approximately 300,000 followers, you'll get the latest updates on changes to crucial social platforms, industry news, and a healthy dose of her own expert advice for eager marketers.
#5. Rand Fishkin
The author of "Lost & Founder," Rand is considered one of the good guys in marketing. He provides practical takeaways every week in his Whiteboard Friday series, he never fails to include that personal touch. Earning the trust and building that audience over time he managed to become a marketing figure.
R. Fishkin- Best way to sell something - don't sell anything. Earn the awareness, respect & trust of those who might buy.
#6. Kim Garst
Forbes ranked Kim Garst as one of the top 10 social media influencers, and she really deserves that.
If you are looking at her Twitter account, you will find the latest tips for better Facebook ads, how to engage more on other social media platforms and how you can generally growing your business account using social media.
#7. Marsha Collier
Marsha Collier has authored 48 marketing and commerce books, and she is the founder of one of the most successful Twitter chats- #CustServ. Also, she hosts a hugely popular marketing and tech podcast. Her Twitter feed is always full of great marketing information and tips for your account.
#8. Barry Schwartz
If you are interested in Google AdWords, Barry Schwartz is the person you are looking. His Twitter page is always the first to break any news related to this topic. He also has a blog called Search Engine Roundtable, where he recaps and reports the most interesting topics you may be interested in.
#9. Brian Carter
Best selling author, keynote speaking, and marketer, Brian describes himself as a creative and funny person. Since he is also a musician and a comedian, we have to believe him.
His tweets include his own as well as others' content, and each one contains fresh information about the latest in social media and digital marketing.
#10. Sue B. Zimmerman
Last but not least, Sue B. Zimmerman. If you are wondering how to become an Instagram story teller or an expert on every social media platform you are using, Sue B. Zimmerman is the answer.
Final tought
Sometimes if you follow the right Twitter account, you may find the latest tips and tricks for your business. These 10 accounts are our suggestion if you have a favorite Twitter account that's not on our list tag @socialinsiderio on Twitter and let us know.
Start a free Socialinsider trial today and track your competitors on Twitter! Get access to your competitors' tweets, measure your engagement rates on Twitter and understand how to optimize your content.
---
Related articles: