LinkedIn is well-known as the perfect online environment that promotes professionals and encourages them to talk about their businesses.
However, this social media platform is not only about finding potential employees, but it is also about learning. Finding out more about marketing and social media could really help you better promote your brand.
But when it comes to paying in order for people to give them that attention, a lot of marketers gave up the idea of social media advertising.
Besides the organic content, you should also use LinkedIn ads to offer your posts a boost. A small budget for LinkedIn ads could really do more than you think for your business.
Today we are going to talk about everything there is to learn on LinkedIn ads so that your marketing campaigns can be more efficient. Let's jump in!
Guide to LinkedIn ads
1. How do LinkedIn ads work?
Since we know that LinkedIn ads can make your content be more efficient and reach even more users, let's see how ads work.
Planning your social media campaign can seem difficult at first if you have no guidance.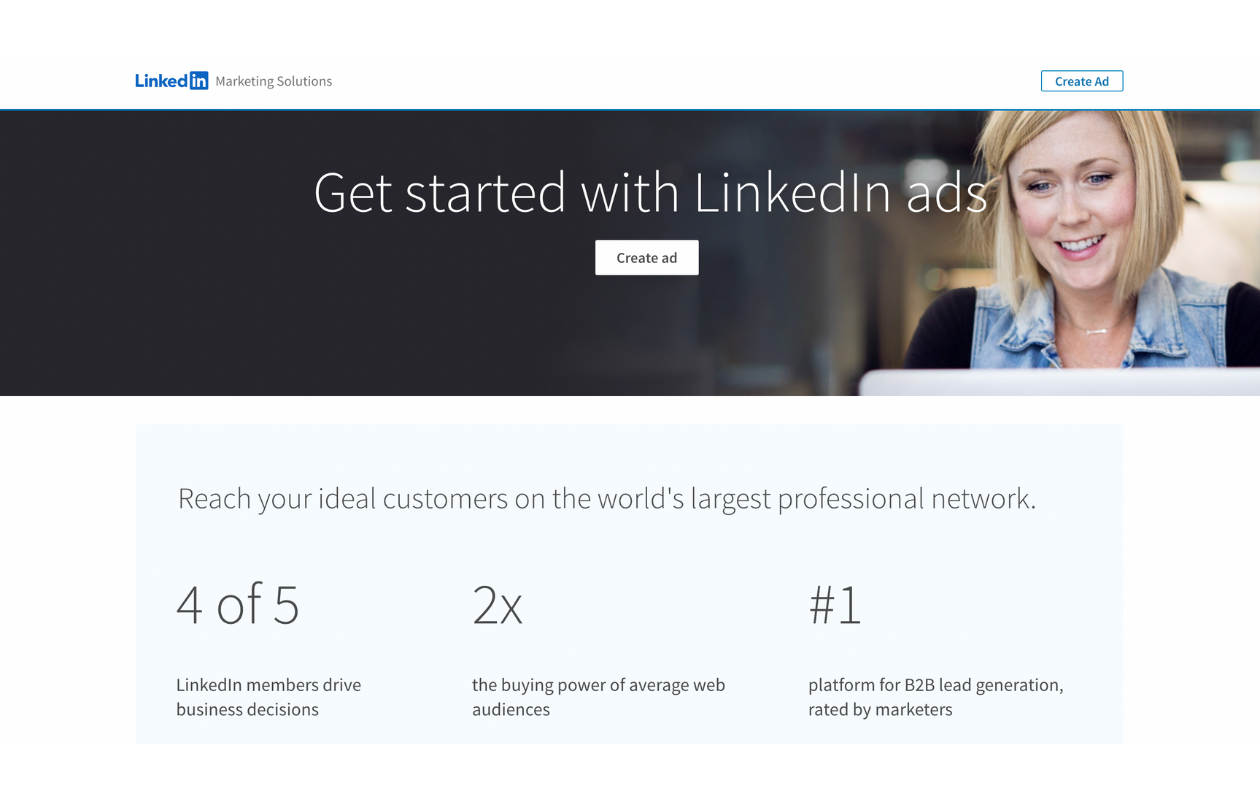 After establishing your priorities and the things you want to achieve, you should also decide how many ads you want to use per campaign and how much money you are ready to invest.
When you develop a LinkedIn ad, regardless of the type of ad you choose, your content will be displayed to more LinkedIn users who have shown lately some interest in the niche or industry you activate in.
This way, the LinkedIn ad will increase brand awareness while having the potential to also increase your ROI, turning prospects into clients.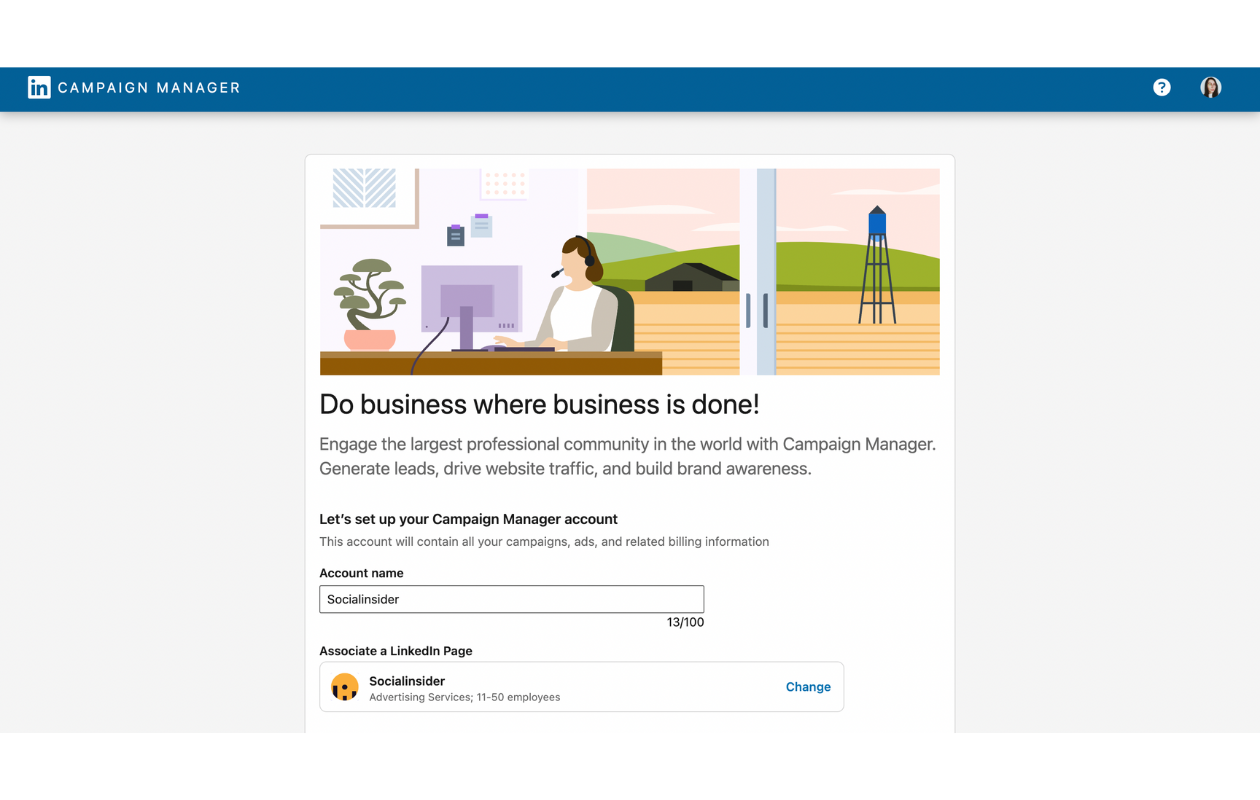 In what follows, the step-by-step guide on how to run a LinkedIn ad will make all this seem a lot easier.
2. How to run ads on LinkedIn?
Creating ads on LinkedIn is similar - up to a certain point, of course - to creating Facebook ads.
So, if you've ever tried out this latest form of online advertising, running ads on LinkedIn and the whole LinkedIn ads dashboard may seem pretty familiar.
But if this is your first time experimenting with paid ads, no worries - the whole process of running LinkedIn ads is quite explicit.
Step 1
To start creating LinkedIn ads, you'll first have to sign in to Campaign Manager.
After having built your account there, you can jump to the next step.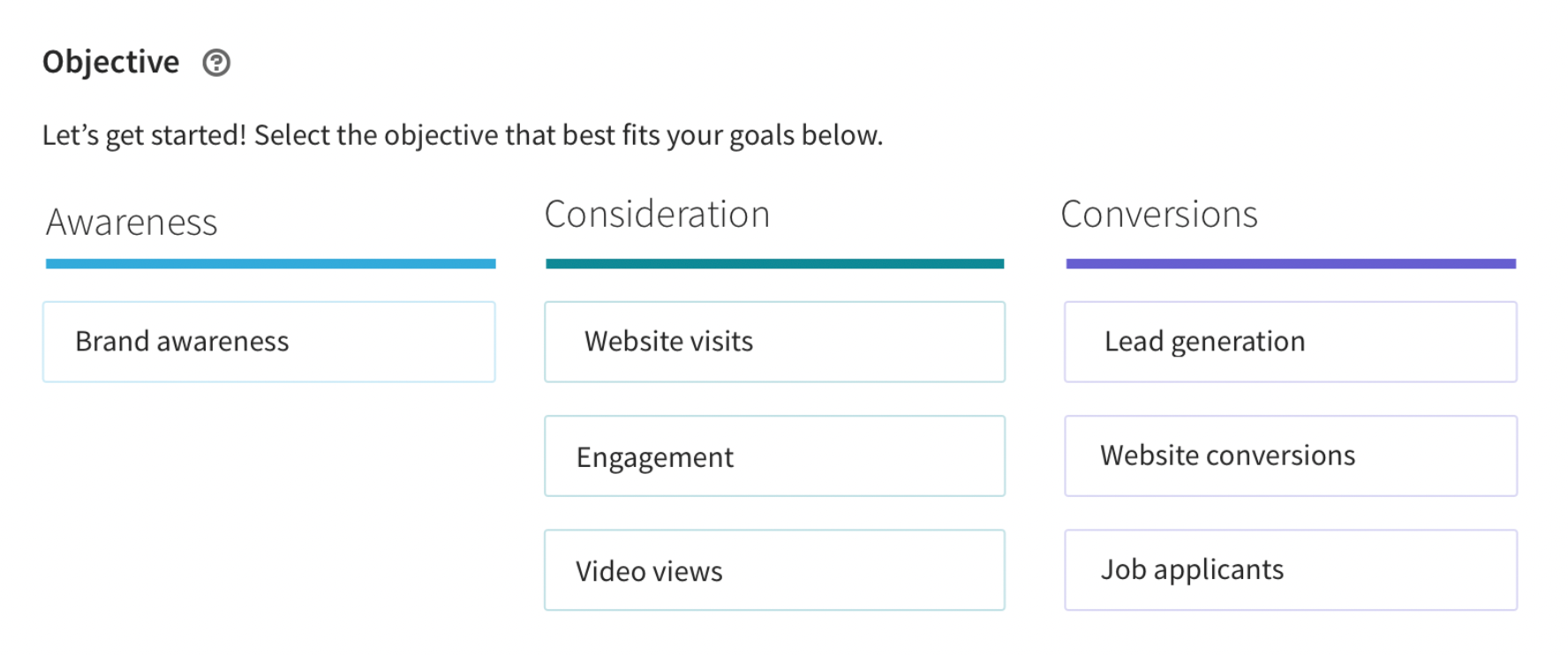 Step 2
Before setting up your LinkedIn paid ads, you must clearly know what you want to achieve through these paid LinkedIn ads.
Choosing a goal for your LinkedIn ads campaign is a mandatory step when scheduling ads on LinkedIn.
Remember that you should choose the goal depending on which stage of the marketing funnel your targeted audience is, regarding your set LinkedIn ad campaign.
That is why it is advisable to have multiple ads campaigns running for different audiences.
Step 3
What makes LinkedIn ads so great and effective it's the possibility of establishing very targeted audiences.
When setting a LinkedIn ads campaign, you can select your target's job title, industry, or target by professional or personal interests.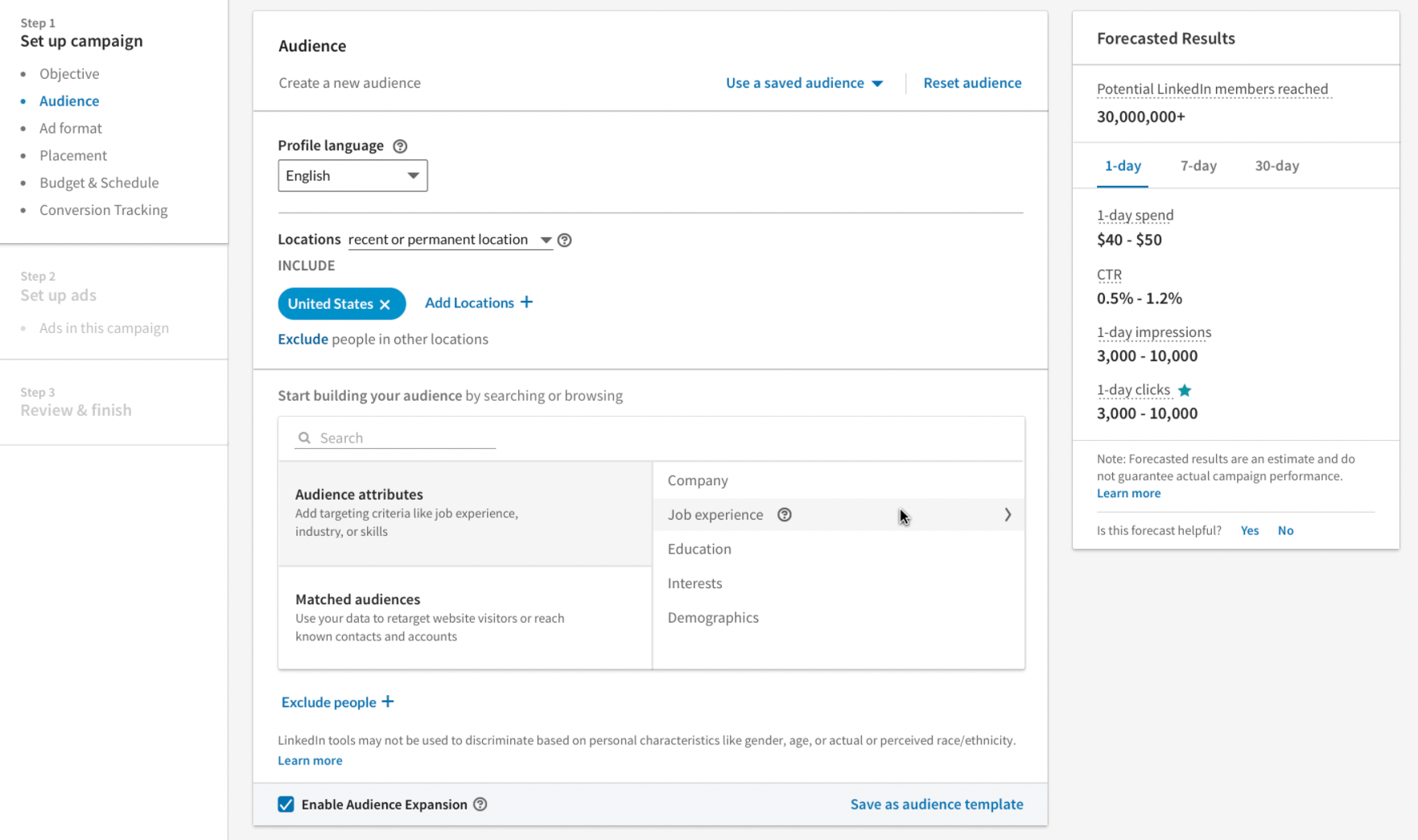 Moreover, when setting the audiences for your LinkedIn ads, the "Matched Audience" option can simplify your work when you're interested in retargeting campaigns - oriented towards people who visited your website.
Step 4
When it comes to the types of LinkedIn ads the platform puts at your disposal, you'll be glad to hear you'll have plenty and creative options.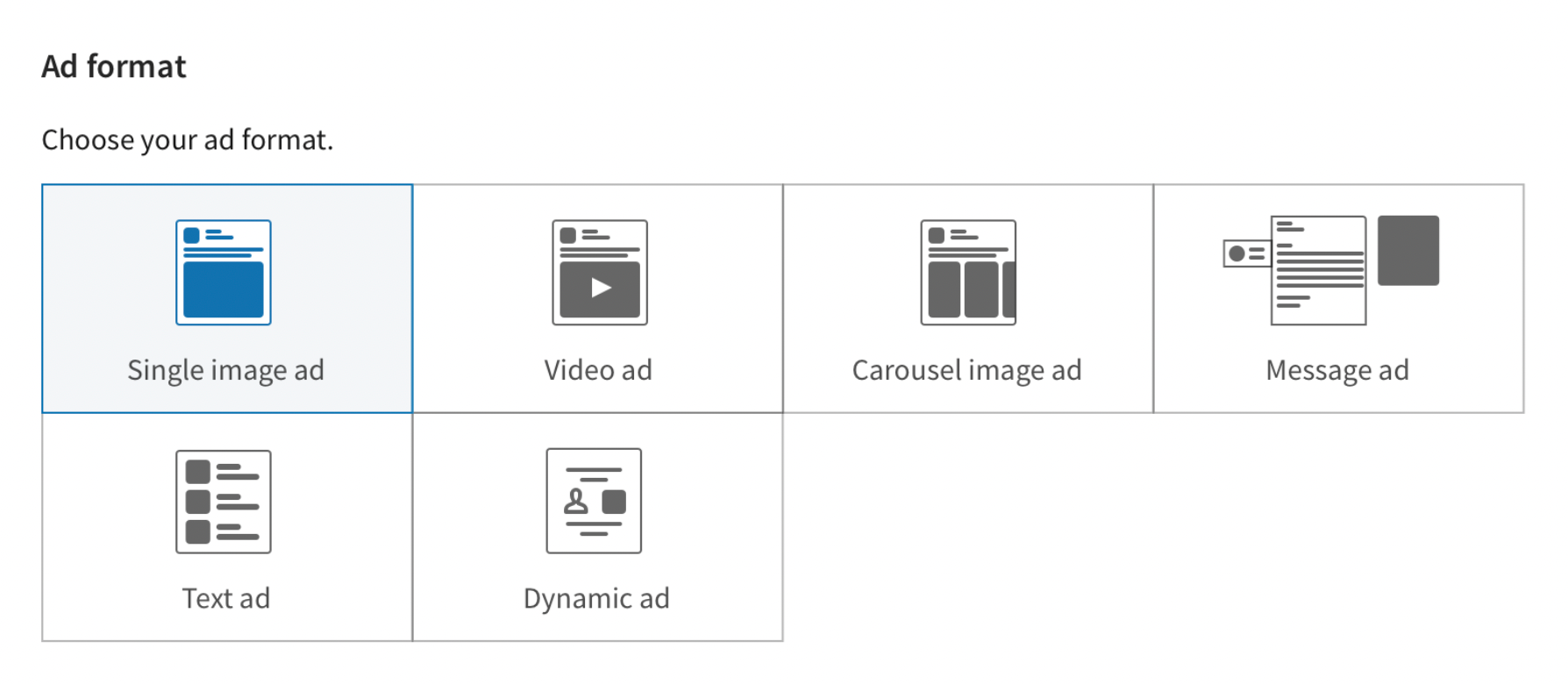 Step 5
Like on any other ads campaign dashboard, you'll have to set a budget and a schedule for your LinkedIn ads.
When setting your budget for your LinkedIn ads, take into account that the average cost per click for LinkedIn ads is $5.26, being the most expensive social media platform in terms of online paid advertising.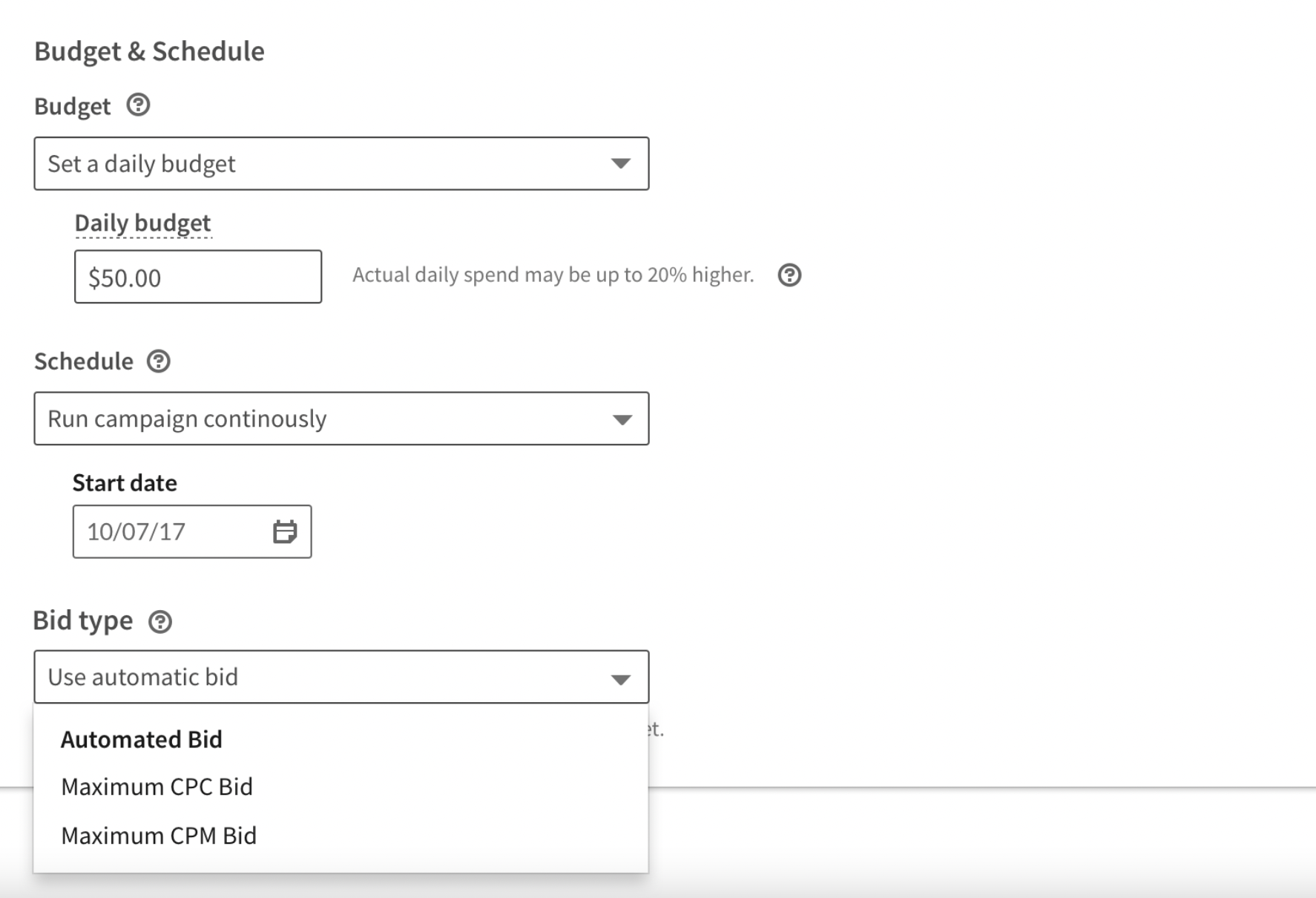 This high cost for LinkedIn ads is justified by the fact that LinkedIn drives more than 50% of all social traffic directed to B2B company blogs, as data has indicated.
Step 6
After selecting your budget and schedule, it's time to jump to the next step of your LinkedIn ads creation process - working on your ad creatives.
For this part, LinkedIn offers several ad options - Sponsored Content, Message Ads, and Text ads.
While Sponsored Content ads refer to in-feed LinkedIn ads in more popular terms, the Text Ads category is Facebook's equivalent for right-column ads. When it comes to the Message Ads type - well, its name is pretty self-explanatory.
Depending on the LinkedIn ad type you'll choose to run, you'll have to fill out some specific fields to each ad type, like thumbnail insertion, call to action, and so on.
Step 7
Once the technical aspects of your LinkedIn ads campaign are all set up, the last part you'll have to cover will be the insertion of your billing information. With this final step completed, your work is done.
Afterward, your ad's journey will continue with a short review process that, once completed, will allow it to be launched into the world.
3. Types of LinkedIn ads
Having mentioned them briefly earlier, now we'll make a more in-depth breakdown of all the different types of LinkedIn ads available for this platform.
Sponsored Content ad
The Sponsored Content ad is the one that blends within a user's LinkedIn feed posts, having a distinguished "Sponsored" tag attached to it to differentiate it from organic content.

When opting to create a Sponsored Content LinkedIn ad, marketers have four types of LinkedIn ads available for choosing inside this category:
LinkedIn single image ads
LinkedIn carousel ads
LinkedIn video ads
LinkedIn event ads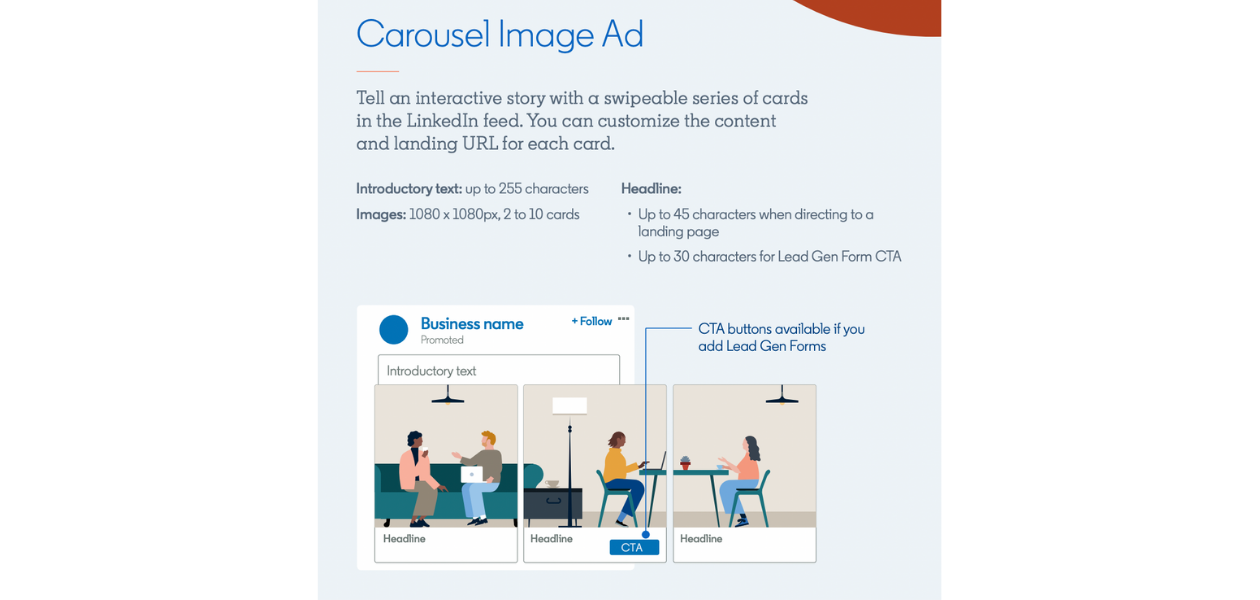 Sponsored Message ad
LinkedIn Messaging ads are a great way of getting your targeted audience's attention as a brand's message will be delivered directly into the user's inbox.
The LinkedIn Sponsored Message ad type differentiates itself from the regular messages in a user's inbox by displaying a "Sponsored" tag and having a CTA button.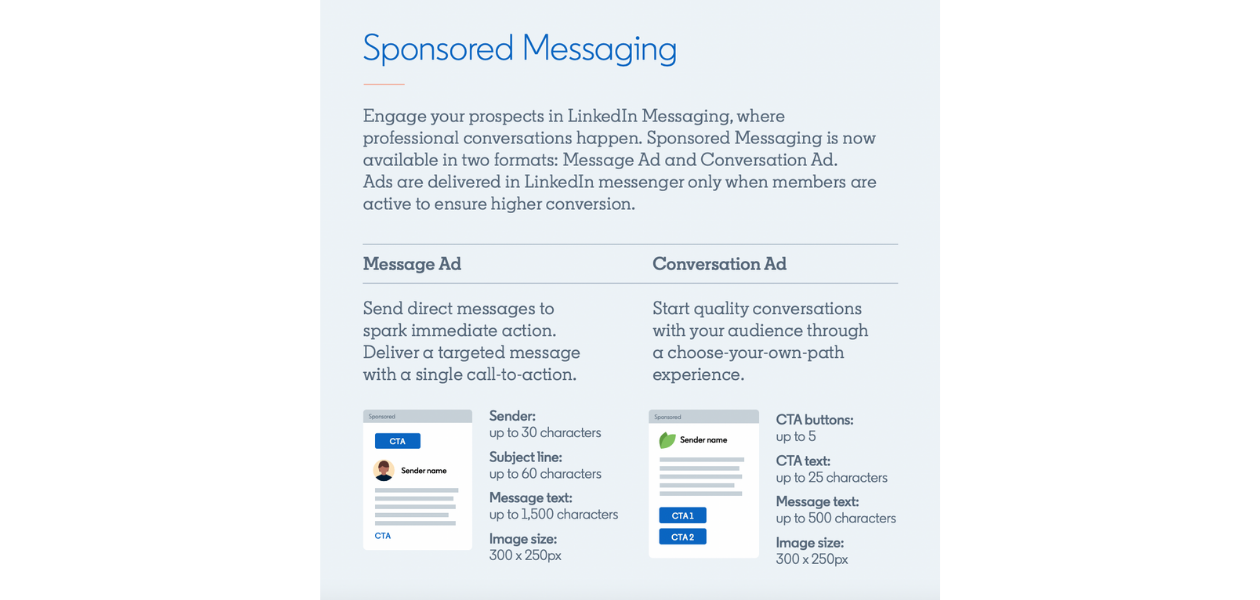 To be marked as read, the messages need to be opened, remaining in the user's inbox even after that.
Text ad
The LinkedIn Text Ads are one of the most simplified ad types, consisting of only three elements: the logo of the brand, a short advertising copy, and a clickable CTA.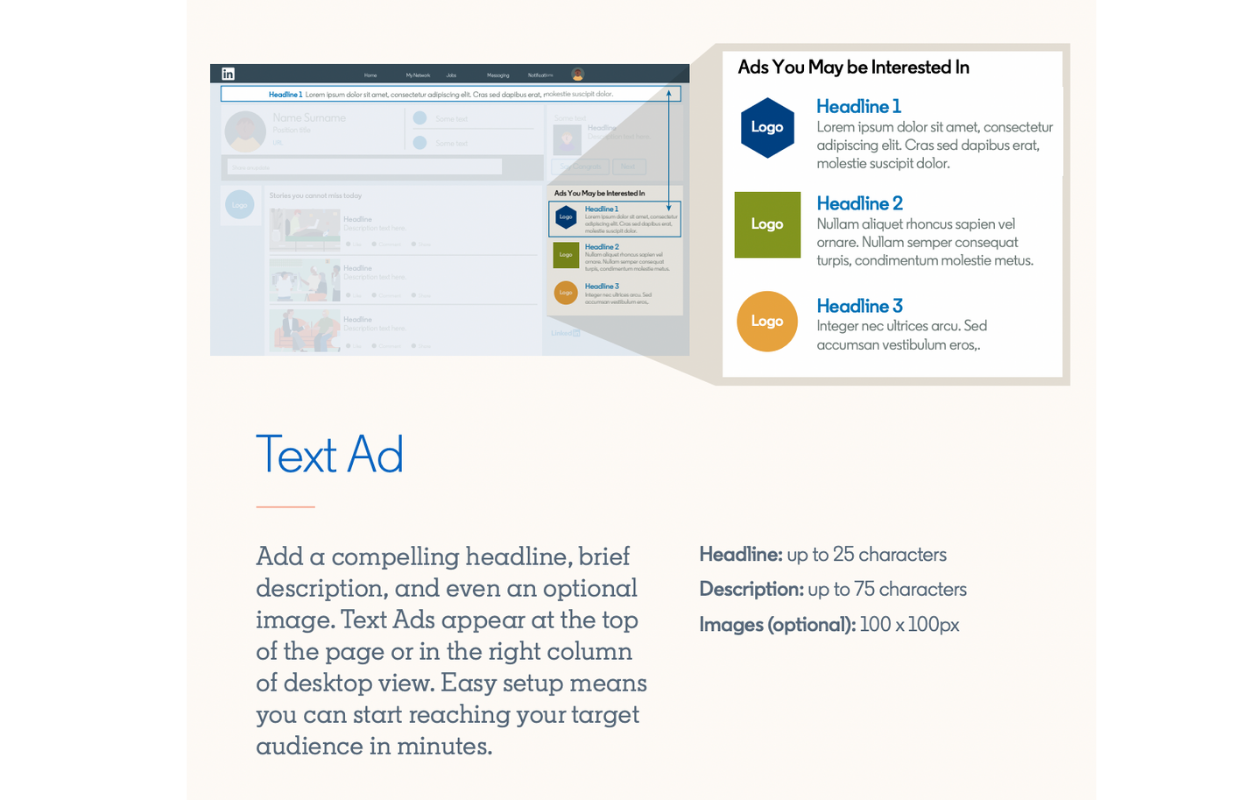 They are located in the right-hand sidebar that's kept visible while users are scrolling down into their newsfeed.
Dynamic ad
Dynamic ads are some of LinkedIn's wonders. This type of LinkedIn ad has taken social media advertising to a place no other social media platform had taken it before.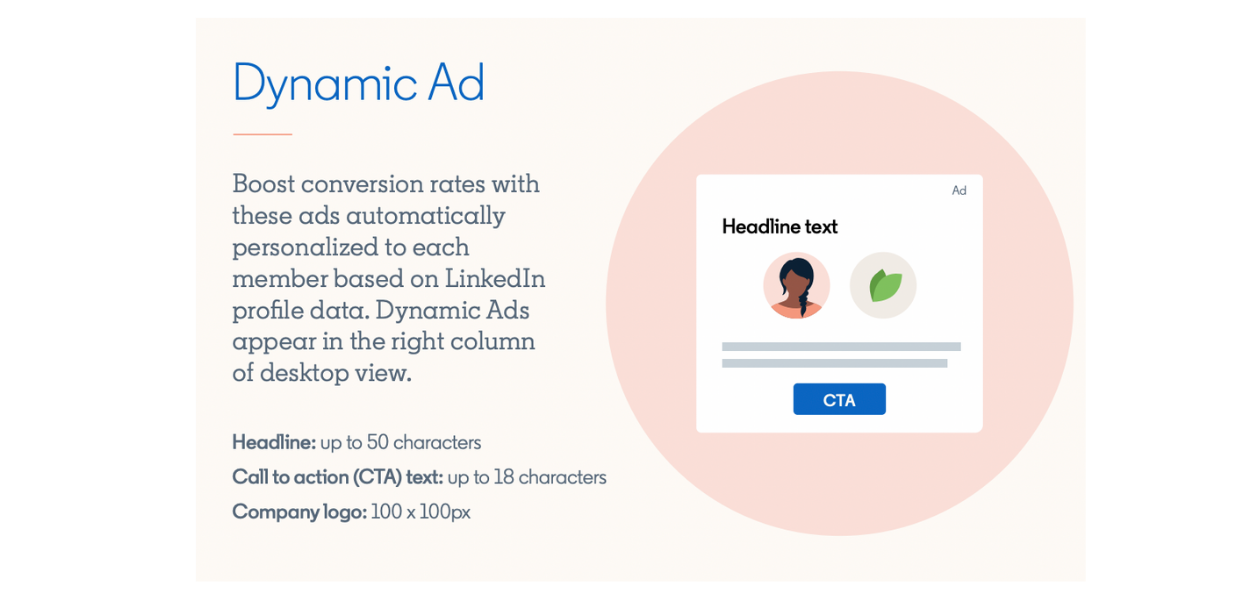 LinkedIn's dynamic ads are the platform's way of creating a deeper connection between the targeted audiences and the brand developing the ad.
It is a type of social media ad that shows personalized content based on the personal information of the member that is viewing it.
4. LinkedIn ad objectives
Your LinkedIn ad strategy must be aligned with whatever goal you want to achieve through LinkedIn paid advertising.
Because different customers can find themselves at different stages of the marketing funnel, you should create various LinkedIn ad campaigns.
This is exactly the reason why LinkedIn offers three different ad objectives for your LinkedIn ads: awareness, consideration, and conversion.
Suppose you've made up your mind and decided to create some consideration ads on LinkedIn, for example.
In that case, you'll have to choose once again, on a more granular level, which KPIs you want to boost through your LinkedIn paid advertising efforts: website visits, engagement, or video views.
On the other hand, for a conversion ad, you'll have to decide if you're more interested in gaining leads, website conversions, or job applicants.
Irrespective of the goals you want to achieve, you have to establish realistic expectations. Be patient before worrying about the results not being visible.
Moreover, you should constantly evaluate the efficiency of your LinkedIn ad campaign to make sure everything works as planned.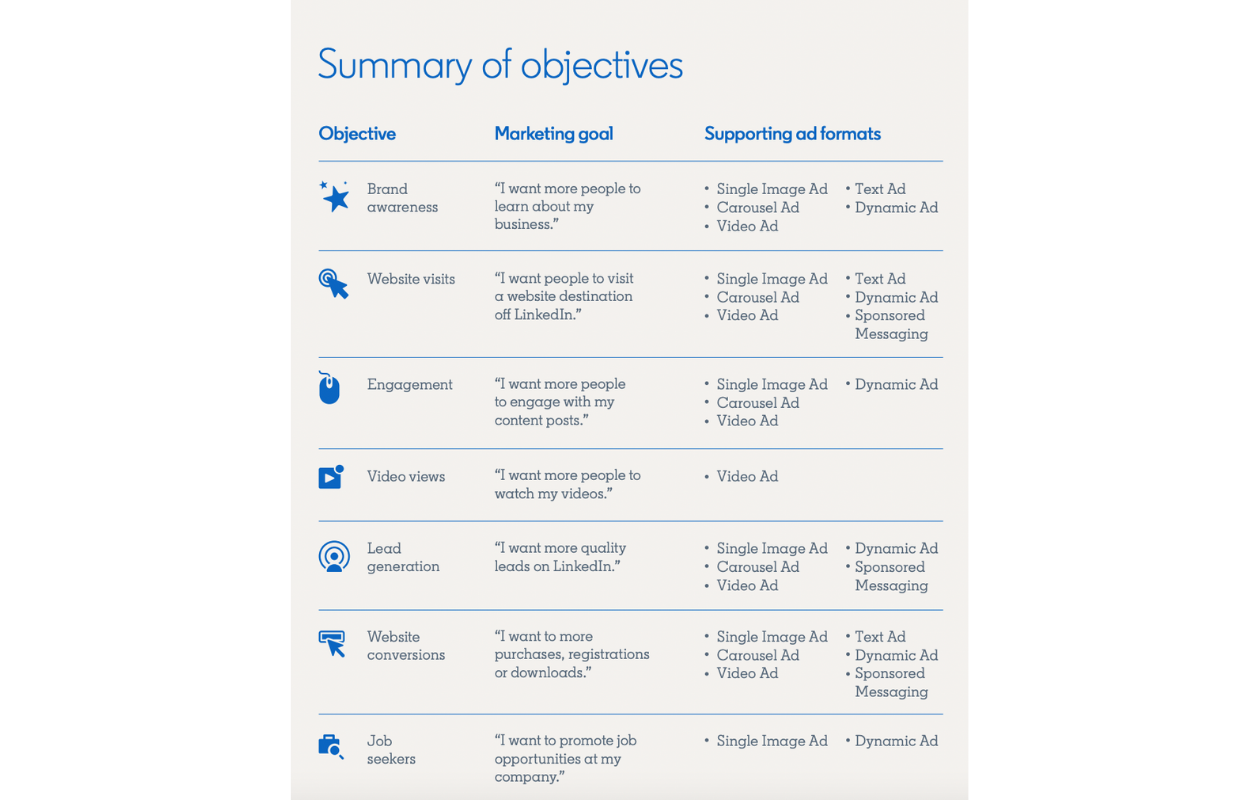 5. LinkedIn ad formats
Being a pro in helping businesses present and promote themselves is LinkedIn's nature, and its advertising options also fall into the same standard.
Just like Facebook, LinkedIn offers a variety of ad types and places where you can display them.
Furthermore, every ad category has numerous variations to better help marketers achieve their goals through LinkedIn advertising. It is impossible for you not to find something that suits your brand.
LinkedIn Sponsored ads, which are some of the most popular ads thanks to their high performance, have the most varied formats.
The Sponsored Content section offers four ad types available, which are the followings:
LinkedIn single image ads
LinkedIn video ads:
LinkedIn carousel ads
LinkedIn events ads
For marketers that would like to try out the Sponsored Message type of ad, LinkedIn offers two variations: Conversation Ads & Message Ads.
To highlight the difference between them, just as the name suggests, instead of delivering a single message, the Conversation Ad will offer a choose-your-own-path experience.
It will offer multiple answers, depending on which the conversation will flow.
Moving forward, to LinkedIn conversion ads, it is important to pay particular attention to Lead Gen Forms, which can be created as both Sponsored Content or Message Ads.
As LinkedIn has revealed, Lead Gen Forms drive 2-3X more conversions compared to standard campaigns.
Undoubtedly, the Lead Gen Forms ad types were created to simplify the user's process of getting gated content in order to avoid as many possible dropping points.
How is that possible?
" When a member clicks on the call-to-action button on a LinkedIn ad with an attached Lead Gen Form, the form is automatically filled with their contact and profile information. They can then submit their information to companies through the form without having to manually type it in." - LinkedIn
The LinkedIn generation ads are some of the most common ads campaigns that marketers run on LinkedIn, probably as a result of the fact that LinkedIn is responsible for 80% of all B2B leads coming from social media.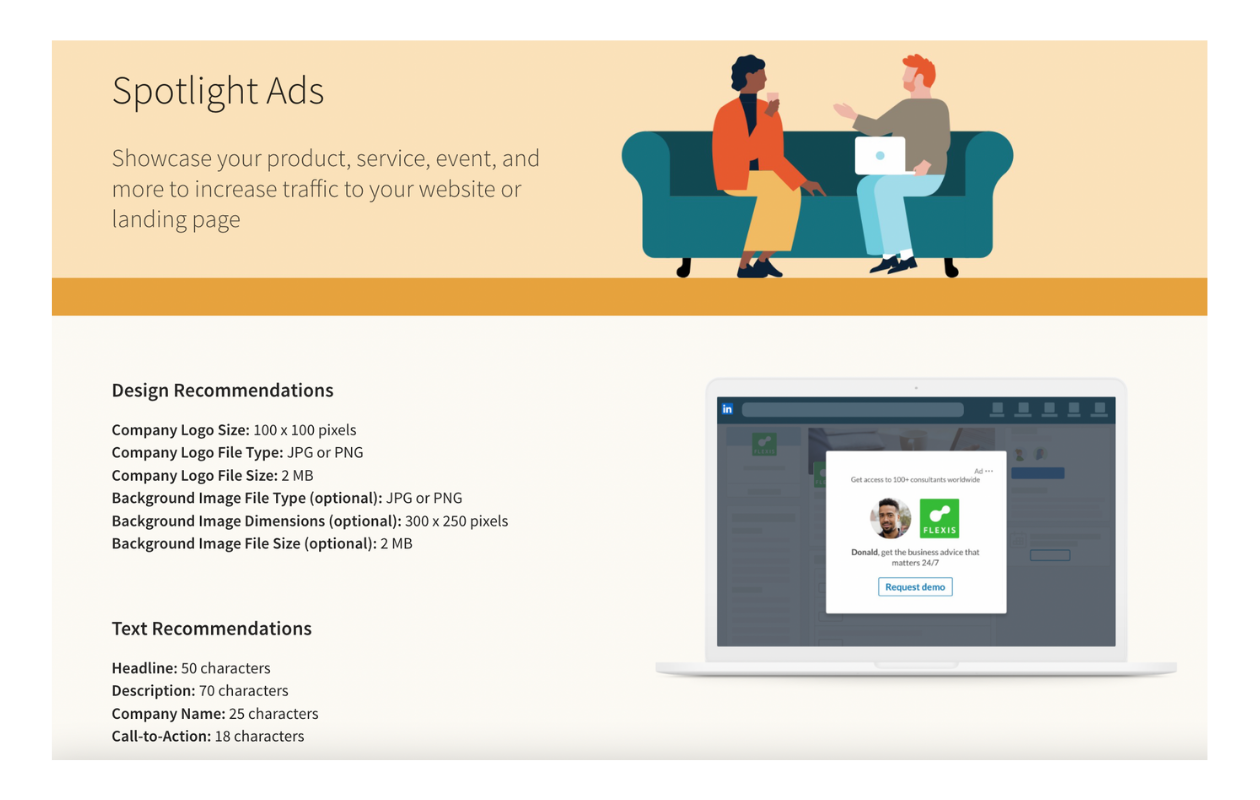 The last remaining LinkedIn ad formats to cover are the ones displayed in the platform's right rail - Text Ads and Dynamic Ads.
Since we covered the elements of a LinkedIn text ad when mentioning what types of ads are available in the platform, we'll focus on the second category - LinkedIn Dynamic ads, which also have two formats available: Spotlight ads and Follower ads.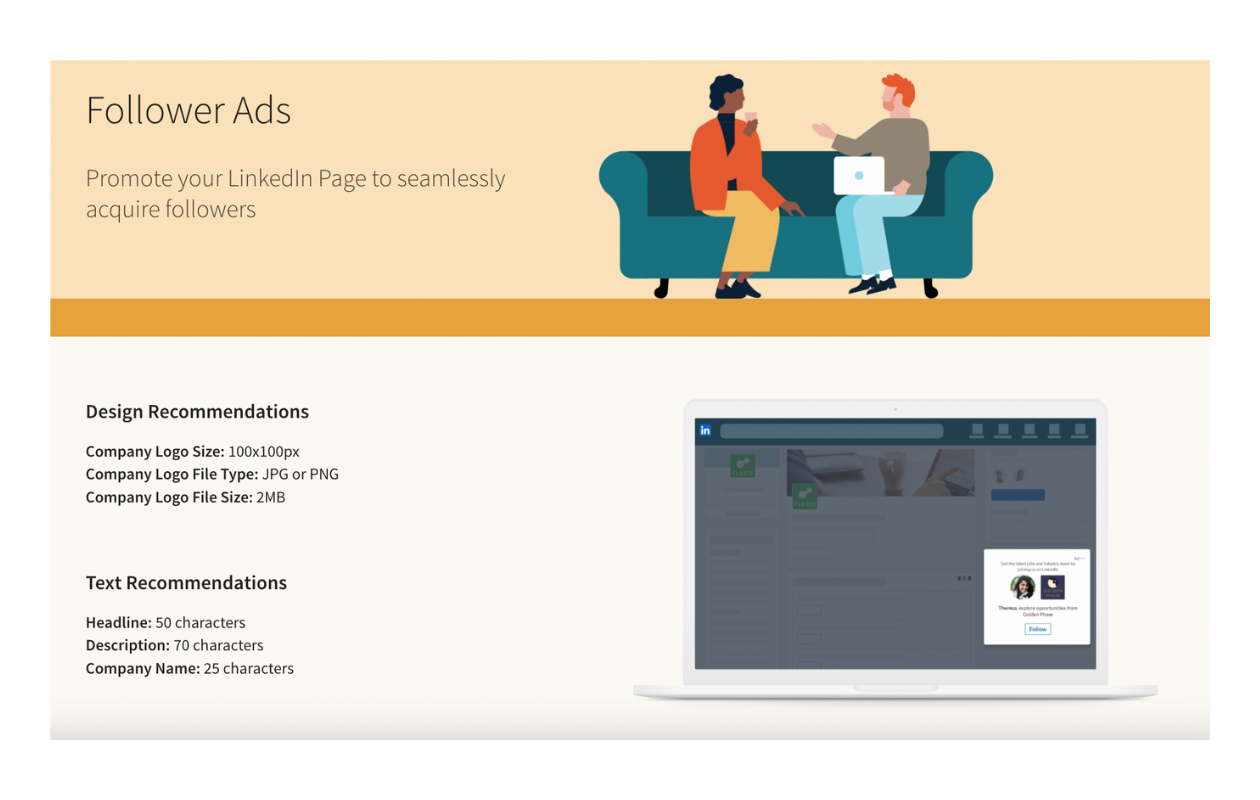 These both types of LinkedIn Dynamic ads allow the personalization of your message by integrating the contact info of the viewer, but their main distinction is connected to the purpose they serve.
While the Spotlight ad was created for the promotion of a service, product, or event, the Follower ad has a sole goal - that of helping you acquire page followers.
6. LinkedIn advertising costs
Before starting experimenting with LinkedIn ad campaigns, you're probably wondering, how much do Linkedin ads cost right.
As mentioned earlier, LinkedIn ads are one of the most expensive forms of online advertising, having higher costs than Facebook or Instagram.
However, the high LinkedIn ads pricing seems to be justified by amazing results.
If you're to set your LinkedIn ad budget, you have to think about the type of ad that you'll be running in your LinkedIn ad campaigns.
Of course, LinkedIn ad sets with different objectives may imply different costs.
Based on what marketers who have tried out LinkedIn advertising have reported, the average cost of LinkedIn ads is as follows:
CPC: $5.26
CPM: $6.59
Cost per send (for message ads): $0.80.
In terms of click-through rate, in 2022, the global average CTR for sponsored content is between 0.44% – 0.65%.
A more detailed breakdown of LinkedIn ads' CTR for each ad type indicated the following percentages:
Sponsored Content (Single Image): 0.56%
Sponsored Content (Carousel): 0.40%
Sponsored Content (Video): 0.44%
Message Ads: 3% with open rates at 30%
Dynamic Ads Standard: 0.06%
Dynamic Ads Dynamic: 0.08%
Text Ads: 0.02%
7. LinkedIn ads best practices
Having a LinkedIn ads strategy means more than having a couple of visuals and two or three lines of text to accompany it.
Creating a researched strategy for your LinkedIn ad campaign instead of sending some sporadic ones from now and then will help you better optimize your costs.
You will thus succeed in building more effective ads that will ultimately generate higher results - either you aim for engagement, leads, conversions, or whatever.
Therefore, when elaborating your strategy for your LinkedIn ad campaigns, there are some LinkedIn paid ads best practices that would be great for you to be acquainted with to adjust and optimize your strategy faster.
Before you even think about setting in place your LinkedIn ad campaign, you have to know who you are addressing to.
Learning about your audience is a must, since they are the ones who are going to judge or approve your commercials.
Your audience will decide whether your LinkedIn ad made them click the "but" button.
Study your followers behavior, do some social media listening and find out more about what they like and what they are disappointed about.
This kind of analysis will inspire you to know your audience, your prospects and maybe future clients. This way, you will know what to offer them to keep them satisfied.
Finding that sweet spot is undeniably the receipt for a successful ad campaign. However, to reach that point, a lot of testing is necessary.
When you match the ad type with the creatives, the right audience and their location on the customer journey map, you know you are on the right track.
Some good news is that, unlike other social networks, on LinkedIn, people are more willing to engage with longer content. Did you know that?
That's actually a result of the fact that 91% of marketers consider LinkedIn one of the web's most reliable resources of quality content.
Going back to the customer journey for a sec, the match between this strategical step and the right ad type is infinitely important.
For example, choosing the Sponsored Message as the first touchpoint with new prospects may prove a non-effective tactic.
But if you instead try out this LinkedIn ad type with people that already know your brand and moved beyond the awareness stage, you may get amazing results, as it is known to have a high open-rate.
In the end, effective marketing is impossible without lead nurturing!
Nothing says "click me" more than eye-catching visuals. And this was long tested by many brands when posting their LinkedIn ads.
We know that an image or a video is worth a thousand words, but you surely want more. You want to send people a message, a message like "you need this product/service".
In order to do so with LinkedIn ads, you have to carefully choose images and record videos that could stir up conversation in the online world.
Remember that your ad content needs to reflect your brand's values. As long as your LinkedIn makes followers watch it until the end, then you can consider that you've conquered their hearts and your ad investment is worth it.
A/B test your LinkedIn ads
Remember when we said testing is the key to all great successes in social media?
This is the very reason A/B testing was invented in the first place.
By trying out different versions of your ad - from different visuals, texts, bids, or interests targeted, you'll be able to understand what makes your audience thick and create more content in that direction.
You can rest assured the best LinkedIn ads have behind them a lot of A/B testing.
This tactic is pure gold for marketing professionals since its role is to spare them a lot of time figuring out what could be improved.
The testing part helps marketers with their optimizing budgets, indicating in which LinkedIn ad type they should invest more.
When you develop your LinkedIn ad campaign, you need to think about who you're addressing to. Besides learning more about your audience, you also have to find out who are decision makers.
Targeting decision makers is a vital step for every campaign and marketing initiative you'll ever take.
This way, you will specifically know how to design your ad campaign on LinkedIn to attract people who can easily transform into buyers.
Having spoken earlier about LinkedIn's in-depth targeting options, once you have identified what your ideal buyer persona looks like, it will be easier to shape your ad, having that in mind.
Measure your ad campaign's success
After your LinkedIn ad campaign is over, it's time to see how efficient it has been. Looking at data is equally important to designing your business' LinkedIn ads.
That is why, you should definitely track your ad performance in the Campaign Manager dashboard, situated under Campaign Performance dashboard.
In this LinkedIn dashboard, you will also be able to keep tabs of your conversions.
8. Metrics to oversee for measuring your LinkedIn ads performance
Since LinkedIn provides multiple objectives that can be achieved through LinkedIn ads, given that you'll have campaigns with different goals, it's only natural to measure them differently.
Overseeing your LinkedIn ad's performance will give you precious insights that will help you optimize your costs and create better ad campaigns in the future.
When you're working on your LinkedIn ads report, you should know the primary metrics available to you in the Campaign Manager will be:
Sends – number of times your ad was sent (impressions);
Opens – number of times your ad was opened (unique opens);
Clicks – total clicks on CTA buttons and link clicks;
Button Clicks – total clicks on CTA buttons;
Banner Clicks – total clicks on banner ads;
Link Clicks – clicks in the message body;
Open Rate – this shows in what percentage your audience has opened your ad (it is calculated by dividing your total number of opens to your total of sends);
Click to Open Rate – % of clicks divided by opens;
Cost Per Send – spend divided by sends;
Cost Per Open – spend divided by opens;
Average CPC – spend divided by clicks.
Final Thoughts
Running ads on all your social media platforms can be really expensive. That is why, you should start with the ones that you consider to have a greater potential of converting followers.
A LinkedIn ad campaign is a great starting point, since this platform is well-known for its efficiency in connecting businesses, potential employees and clients since 2003.
Make sure you set realistic expectations when it comes to the results you aim to obtain through your ad campaign.
Hopefully this guide into the world of LinkedIn ads helps you design better content for better marketing campaigns.