How to Conduct a Competitive Brand Analysis on Facebook to Grow Your Brand's Awareness
As Mark Schaefer noted - "It's not a social media platform. It's a lifestyle. For millions of people, Facebook is the Internet."
When it comes to developing a reliable digital strategy for your brand, an assessment of what your competitors are doing on social media is quite essential. It goes without saying that Facebook remains the goldmine for marketers to extract audience data and derive valuable insights from it.
According to Entrepreneur, conducting a competitive brand analysis on Facebook is "Identifying your competitors and evaluating their strategies to determine their strengths and weaknesses relative to those of your product or service."
Invest time in analyzing your competitors and studying which strategy to use.
In this article, I will tell you how you can monitor your competitors based on their activity on Facebook, and understand which of the key metrics deliver useful insights about your competitors' social media strategy and your target audience.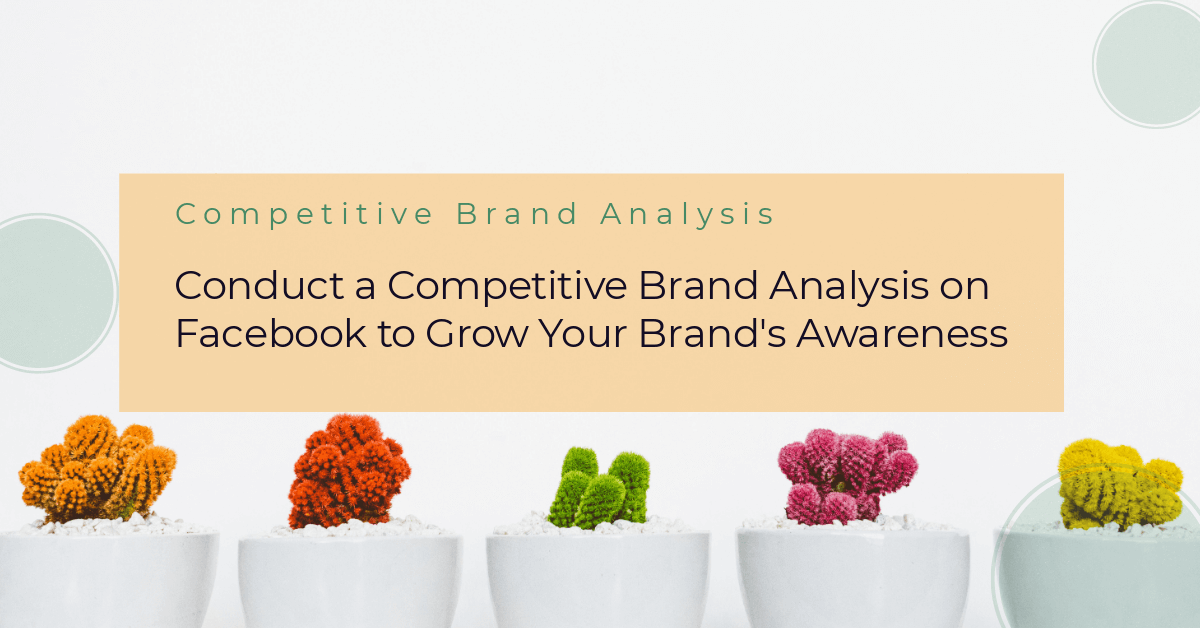 ---
Here's a sneak peak of the article:
---
#1. Why should you do a competitor analysis on Facebook?
Monitoring your competitors is probably even more critical than just researching them.
Carefully monitoring your competitors' next steps and campaigns can save time and grow your business.
Using analytics, it's easy to see which type of content best engages your audience, encourages the most link clicks, app downloads, likes, etc. Knowing exactly what makes your customers engage with your content is essential and social media has made this information a lot easier to access.
Choose the top 3 to 5 competitors to benchmark your efforts against, gather information about them, including the social networks they use, how often they post and what their engagement numbers are like.
Knowing all this information about your competitors will help you plan your own social media strategy, avoiding the mistakes.
For example, if you are looking at @Sephora Facebook page, you will see that most of the times they are posting videos with their products, showing how to apply foundation, blush or lipstick. Also, you will see that on average they post more than one time a day.
A study by Socialinsider shows that on average, a US Instagram beauty account posts 2.04 posts per day.
If you are in the beauty industry, knowing all these things will help you promote your business better.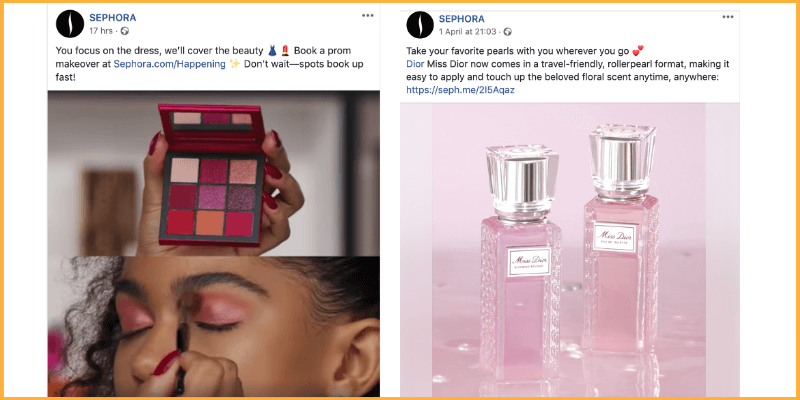 #2. Advantages of a social media competitor analysis
Doing a social media competitor analysis will allow brands to identify their competitors, what they do well and where the gaps are in their social media strategy.
Here are the top 3 advantages of a social media competitor analysis:
Get to know your customers better: Most of the time, a competitor analysis will help you in better understanding the shared target group, its desires, and needs.
Avoid mistakes: This is a big step. Monitoring on an ongoing basis your competitors will help you notice which campaign or content fails for your competitors and avoid making the same mistakes.
Discover new social media channels: You're probably posting every day on Facebook, Instagram, and Twitter, but maybe there is more. What about LinkedIn or Pinterest?
If your competitors are using these platforms successfully, this could be a motivation for you and give them a try.
#3. What metrics you should track for your brand performance
As you imagine there are a lot of Facebook metrics you can track. It's up to you and your brand to decide which ones you want to monitor.
Next, I will share with you four essential metrics to track:
Engagement: Engagement is one of the most critical Facebook metrics you can track for your brand, and you should know that it will fluctuate a lot. I recommend you to monitor your engagement rate consistently; perhaps daily.
The easiest method to track engagement is to use a tool, like Socialinsider.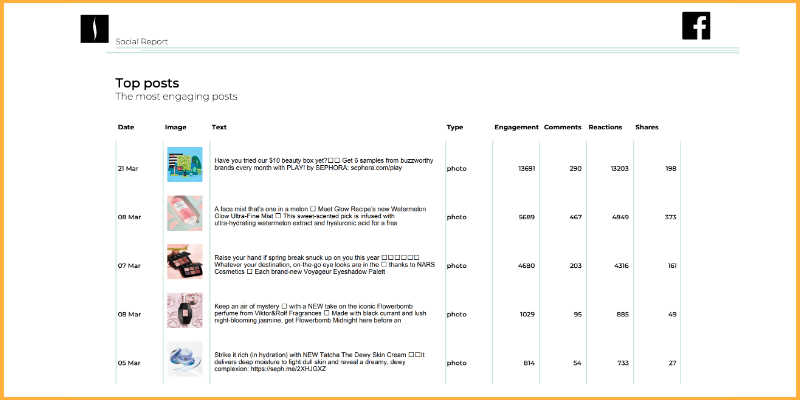 With Socialinsider you can see how much engagement your page and posts receive, as well as the types.
Reach: Reach is the number of people your content is seen by on Facebook. This can be through either paid or organic efforts.
You can see an overview of your reach by going to your page Insights, and if you want more details, you can click on the Reach tab.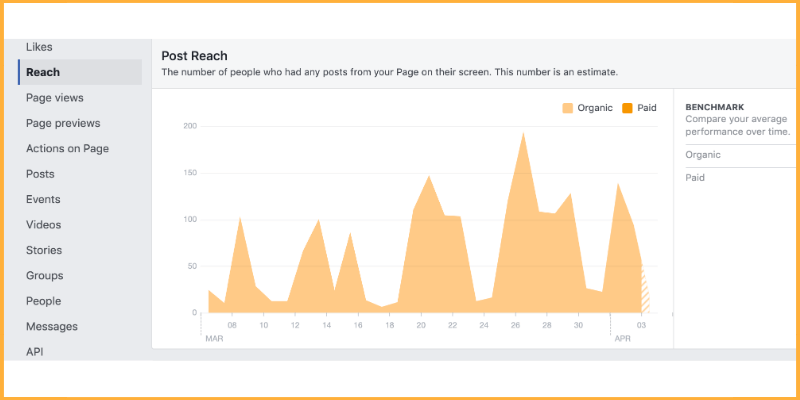 Average engagement rate per post: This metric represents the sum of likes, comments and shares on a specific post divided by the number of total posts * followers divided by 100.

Page likes:Are considered a vanity metric. Why? Because likes don't represent how successful your Facebook marketing efforts are compared to engagement or reach.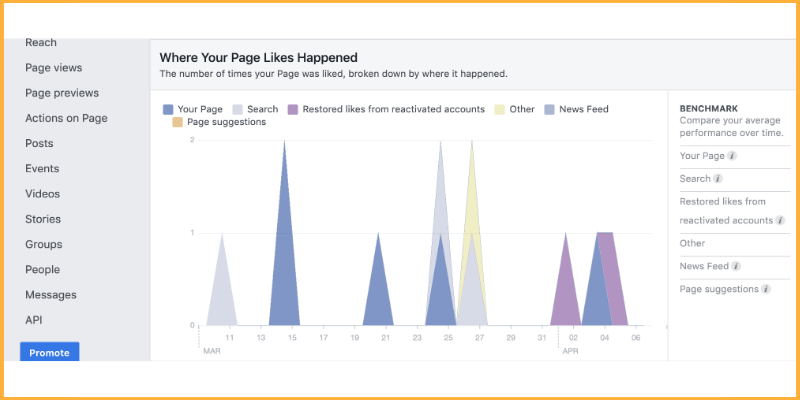 #4. Key factors to consider when conducting competitive analysis on Facebook
If the growth of your competitor's fan base on Facebook seems stagnant since a while, more likely than not they are facing issues tapping into the target audience.
But this doesn't mean you can't use their failure to your advantage. The various factors that led to their failure on Facebook, be it incorrect content strategy or limited exposure to the target audience, should be studied closely too.
Did they change something about their social media strategy? Have they stopped their spending on audience engagement ads? Is there any impact on their online reputation over time which has led to a stagnant audience pool? These are the kind of questions you need to answer to be able to get value out of this competitive analysis.
Similarly, if you notice an ongoing growth trend in their audience size, they are definitely doing something right. All you need to do is figure out what exactly it is that they are executing well and how it fits into their overall digital marketing strategy.
Notice if there are any spikes in their popularity over the last year.
Did they run any successful ad campaigns during this period? What's the source of this growing fan base (online vs offline) and what's leading them to your competitor's fan page?
Are they doing anything innovative or interesting that's grabbing the audience's attention?
If you can successfully answer these questions, you will be inching close to refining your own strategy.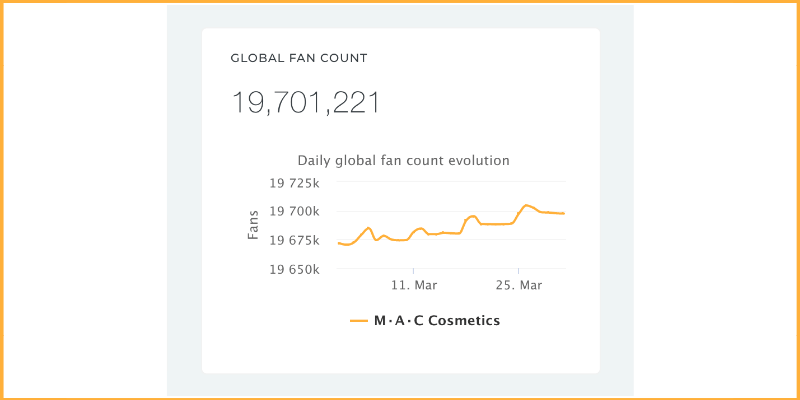 Considering the possibility that you have more than a few competitors that are doing well on Facebook, you will need to use tools for Facebook analysis like socialinsider to stack them together and observe the differences in their strategies.
Of course, if you are just starting out and don't want to invest in such tools, for now, nothing beats the free Facebook Insights app which breaks down data for you in a nice way.
Here are some key factors to analyze when trying to understand a competitor's Facebook strategy:
What type of posts are they publishing?
Figure out the nature of posts they usually share and how is it working well for their brand image.
Which content format are they using the most?
What is the ratio of text, photos, videos and links in the content they are sharing on their fan page? If one content format is performing better, take a note of it.
What time do they usually post?
Most brands share content during peak traffic hours. See if that's the case or they post at regular intervals outside of peak hours.
How frequently are they posting?
Do they share content more than once a day or is it just a few times a week? This tells you how active they are on Facebook.
Which types of posts receive the most engagement?
It's not uncommon for digital marketers to run engagement ads on Facebook to "boost" their posts and gather look-alike audiences. This is why it becomes important to check what's the ratio of their boosted posts vs non-boosted posts and which ones perform better for their audience (and why).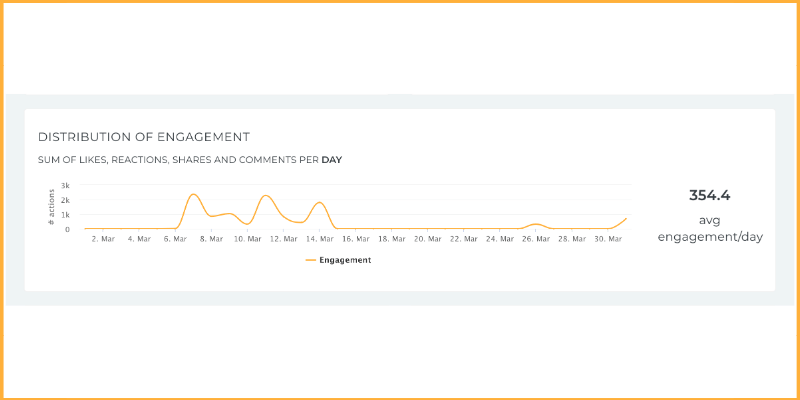 The key metrics to measure how well the fans are interacting with the posts your competitors share on their fan page are likes, shares, and comments. If the number of times a post has been shared is high, it's quite likely that their audience is loving what they post and likes to share it with their friends.
Even though comments are not a direct factor to demonstrate likeability of a piece of content, it's still an important factor to consider if the brand does interact with their audience on a regular basis. It also tells how involved the fans are with the brand's image and fan page and how comfortable they are in sharing their comments with the public.
If the brand is paying attention to what their fans are saying, they are most likely working with a sound social media strategy. So, once you notice their traits and behaviors on their fan page, you can almost replicate that for your audience if you are in the same niche.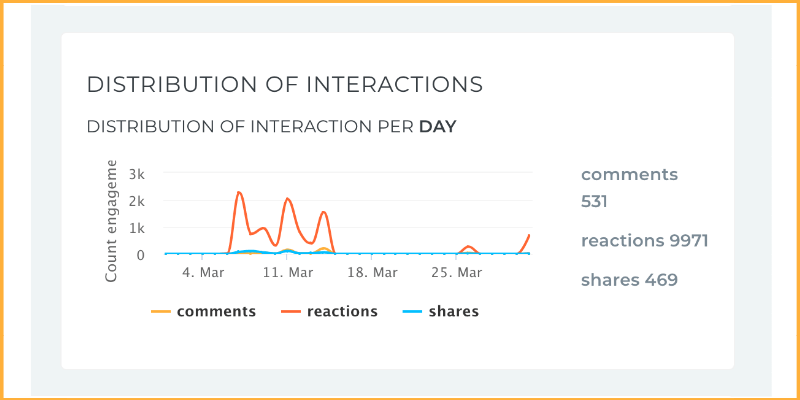 #5. Conduct a social media competitive analysis on Facebook with Socialinsider
Do you want to take a look into your competitor's profiles and see how many posts they have posted in a specific period, which type of posts perform better for them (video vs. image), what time they post, or what hashtags they used the most?
Using Socialinsider Facebook Analytics tool, you'll be able to know all this information in only a few minutes.
Find out what type of post generates more engagement, and when is the right time to post to get more reach.
For example, if you work in the beauty industry, you can take a look at your competitor's accounts, and based on what they post you can create your Facebook strategy avoiding the mistakes they've already made.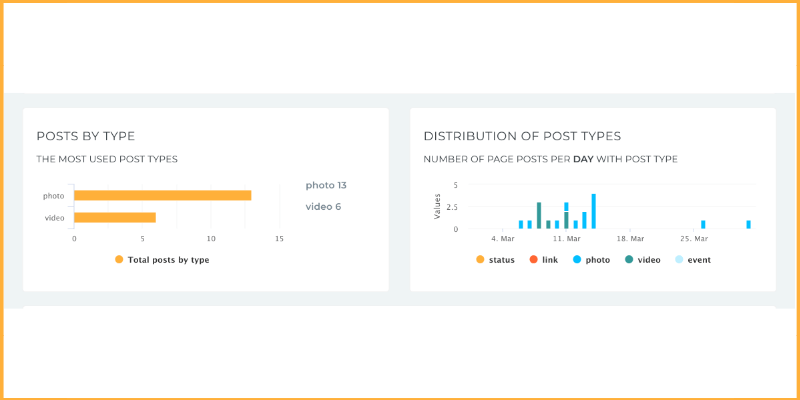 As a plus, you can compare your brand to your competitors. Take a look at MacCosmetics and Makeupforever, for example:
You can see that MacCosmetics is posting more photos, while Makeupforever is focusing more on videos for the same period of time. Besides photos and videos, Makeupforever is also using 'status', so this could be a plus.
Finally, this analysis about your competitors on Facebook will allow you to learn what's working for them. What type of content they post (photo,video,status), when, and not only.
Final thought
Figuring out what other companies in your niche are doing on social networks can help you not just brainstorm ideas for your content tactics but also give you insights that reveal current habits of the kind of audience you are targeting.
It's an important step towards defining your own digital media strategy because it helps you avoid making the same mistakes that they did and provides you with ample ideas on what might actually work well for your own Facebook page (and overall content strategy).
Originally written 19. Oct.2017 last update 8 April 2019.
Report and analyze social media performance for multiple business profiles from one dashboard with Socialinsider! Create social media benchmarks for your clients or industry, generate .pdf or .ppt reports, and automatically send them to clients. - *For users on an Agency plan.
---
Related articles:
P.S. Can we send you an email?
Once a week or so we send an email with our best content. No sales pitches, no bullshit, and one-click unsubscribe: