Every business has stories to tell. Stories that will not only engage, inform, and impact their audience, but that will also deliver on measurable business goals.
If you want to promote your business and ideas to as many people as possible, social media is the right way to go. And let me tell you this: if you haven't used Stories by now, you should start immediately.
Did you know that:
In this article, I am going to tell you the benefits of using Stories to promote your business, and everything you should know about Facebook and Instagram Stories Insights.
---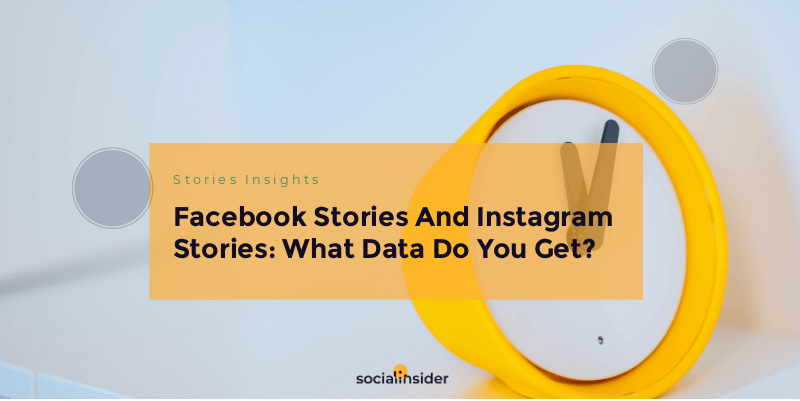 What Stories data you can get from Facebook and Instagram
---
#1. Instagram Stories Specific Insights
If you decide to use Instagram Stories to promote your business, analyzing your performance is the key to a viable social strategy. Look at your insights and see when you should post your next story, what content brings more engagement for your business, what hashtags you should use, etc.
Instagram Stories metrics are divided into three sections: Interactions, Discovery and Navigation.
Here is what each section contains:
Interactions: replies and profile visits.
Discovery: reach and impressions.
Navigation: taps back, taps forward, next story, exited.
Don't limit your Instagram marketing performance using the native app; use complementary analytics tools like Socialinsider, for a complete social media analysis.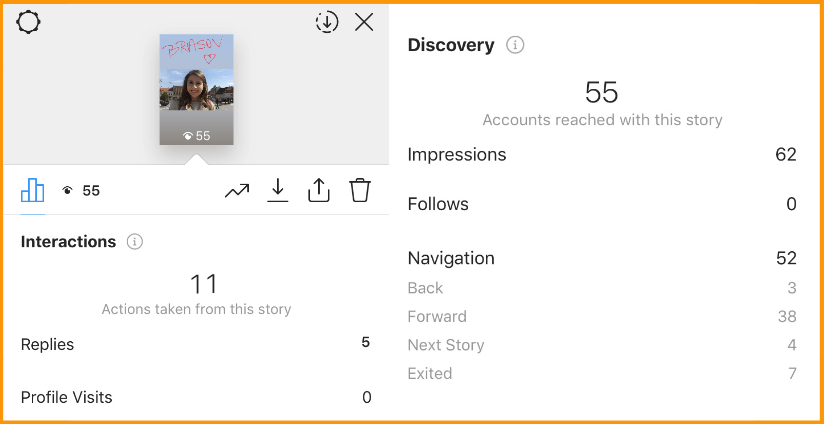 #2. How to Access Your Stories Insights?
There are a few ways how you can view your stories statistics, depending if you want to view the insights for the current/live story or you want to check historical data about the previous stories.
Instagram native app gives you data for Stories for the last fourteen days.
To access the Instagram stories of the active story, follow these steps:
Tap on the current story
Swipe up the story you are viewing
At the top will appear your story insights
Tap the (eye) icon to view the actual Instagram users who have viewed the story
Tap the (chart) icon to view the insights for the story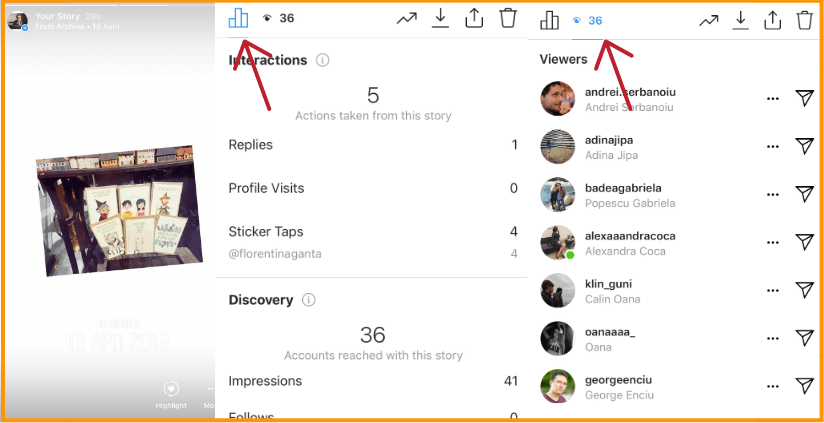 If you want to access the insights for Instagram Highlights, the above steps are the same. Just go to your profile and tap on 'Highlight'.
Go to your profile
Tap the top right (menu) icon
Tap 'Insights'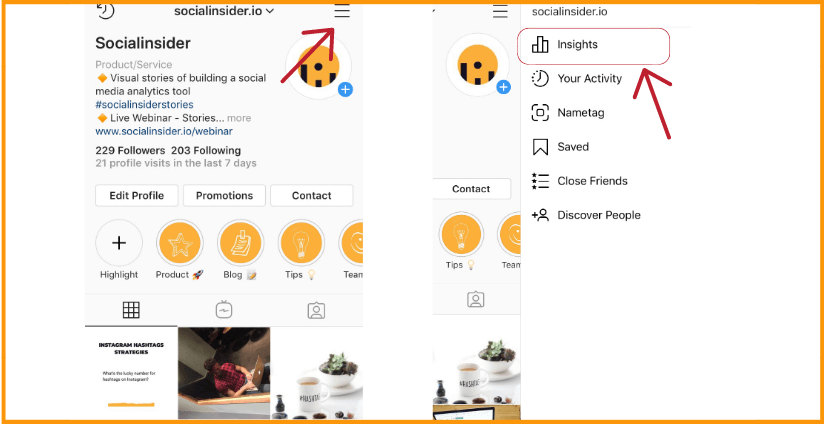 Here you will find a section called 'Content'. Scroll till you find 'Stories' and then click 'See all'. Here you will find your Instagram stories history from the last 14 days.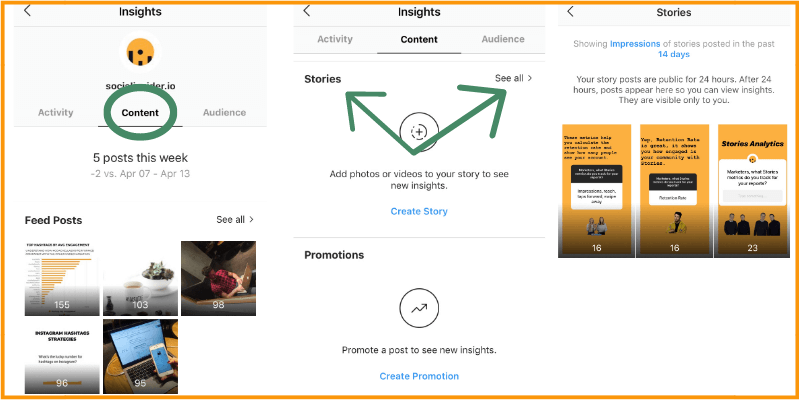 Here comes the benefit of using an analytics tool.
📌If you choose to use an analytics tool you can access your Instagram Stories history since you connect your Instagram with the analytics tool.
#3. Why analyze Instagram Stories data
Robert Katai: "Engagement. That's the real deal on Instagram marketing. Lately Instagram launched some cool features on Stories to help the creator make their audience engage more with them. Starting from Poll, Question, Emoji slider and others.
Knowing and understanding the data helps you create the perfect Instagram Stories strategy, and for a business it's important to know when and what to post.
A report from eMarketer, shows that engagement with Instagram videos is growing at a faster rate than photos.
Other things that you get by analyzing the data are:
The number of stories you should publish per day for better engagement - You can find the lucky number by analyzing your Instagram Stories data.
What content brings you more traffic - If today you post content from your blog on your Instagram Stories, tomorrow news about social media in general, and the day after tomorrow you use the question sticker, at the end of the week you can see what content brings you more traffic.
What you should post to generate more leads - Maybe blog content, maybe Instagram tips, create pools or use the question sticker feature to find out your followers thoughts, etc.
You don't have to do all this manually, you can use an Instagram Stories analytics tool like Socialinsider, and you will improve your stories content immediately.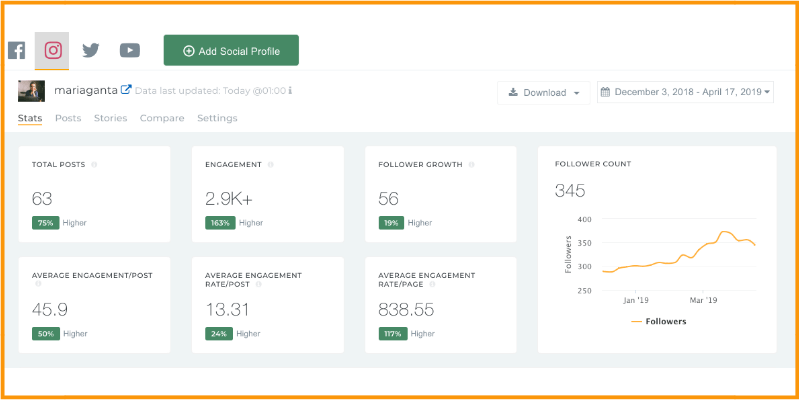 #4. Facebook Stories Specific Insights
Go to your page then click insights button located on top of the page. Click Stories then click the turn on the icon.
📌Important note!
You can access insights about your Facebook Stories only if you turn on the Stories insights - available only for the page admins.
Please note that if you choose to cross-promote Stories from Instagram to Facebook, you won't be able to see the statistics on your Facebook stories as you would if you share them natively on Facebook (at least, I don't see them in the Admin dashboard)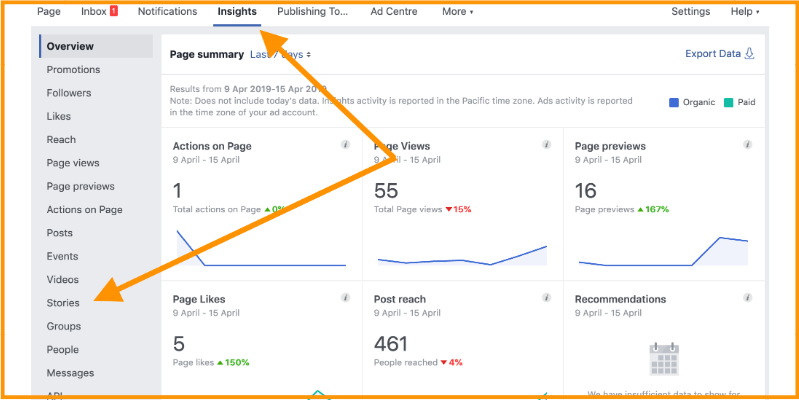 Understand your Facebook Stories insights
Once your insights are on, here are the metrics you will see:
Publish date: When an admin or editor of your Page created the story.
Story Items: A thumbnail of what your Page's story looks like.
Status: If the status of your Page's story is active, it means that an admin or editor of your Page created the story in the last 24 hours and it's still visible to the public.
Unique Story Opens: The number of people who have viewd your Stories.
Forward Taps - The number of times that an individual has skipped to go to the next Story.
Backward Taps - The number of times an individual has taped to go back to view previous Story.
Forward Swipes - The number of times someone swipes to skip to the next account's story.
📌 Important note!
Keep in mind that photos and videos will disappear from your Page's story after 24 hours but will remain visible in Insights for 28 days.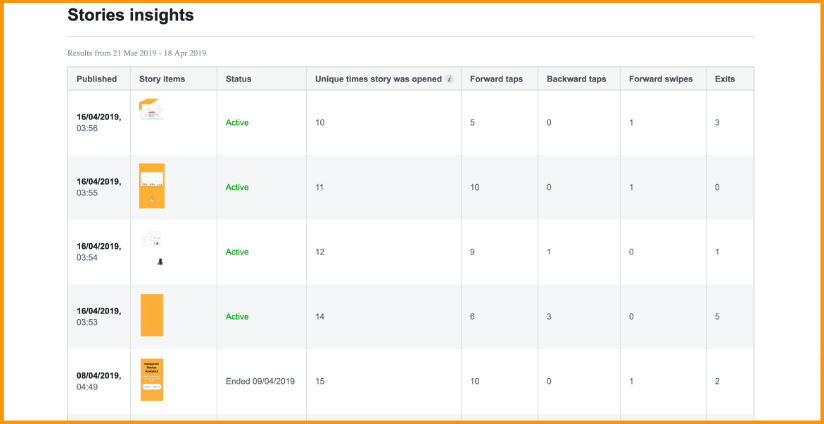 #5. Why analyze Facebook Stories data
We expect Stories are on track to overtake posts in feeds as the most common way people share across all social apps. That's because Stories is a better format for sharing multiple quick video clips throughout your day. - Mark Zuckerberg – 31st January 2018.
Facebook is a preferred social network by marketers, not only because of the sheer number of users represented but also because of its incredibly insightful analytics suite. You can use Facebook Stories to connect with your customers and build your brand.
By analyzing your Facebook Stories data you will:
Keep an engaged community on Facebook - One way you can do this is to  ask questions in your Stories. Ask your community what they are working at, or their favorite blog, marketing book, etc.
Improve your Stories content - Analyze the answers you get. For example, if you ask your community what they would like to see on your Facebook Stories and they say 'more blog content' - that means you should post at least two-three times a week your blog content.
Gary Vaynerchuk: "It's not how many followers you have, it's how many care. It's not width, it's depth. It's not how many impressions you get, it's how much attention you get."
📌Important note!
Facebook Ads totally dominates social media advertising, with a massive 93% of social media advertisers using the service.
Brands testing Facebook Stories ads are already seeing results. iHeartRadio, Kettle Chips and KFC are among the advertisers who have seen brand lift from their Facebook Stories ad campaigns.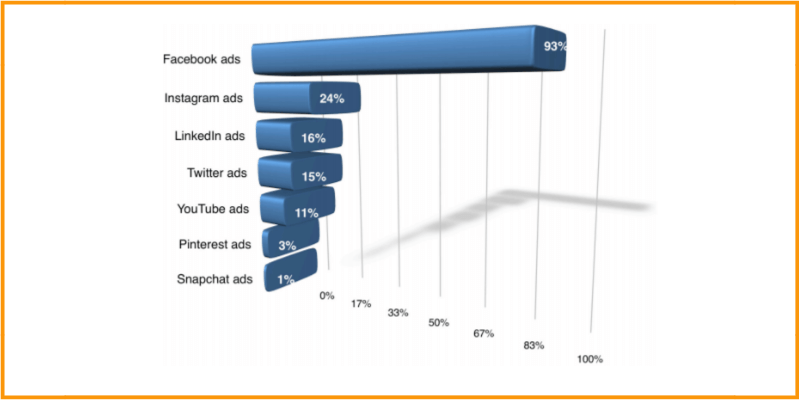 #6. Facebook Stories vs. Instagram Stories - what insights do you get?
Take a look at the next table and see Facebook Stories Insights vs. Instagram Stories Insights 👇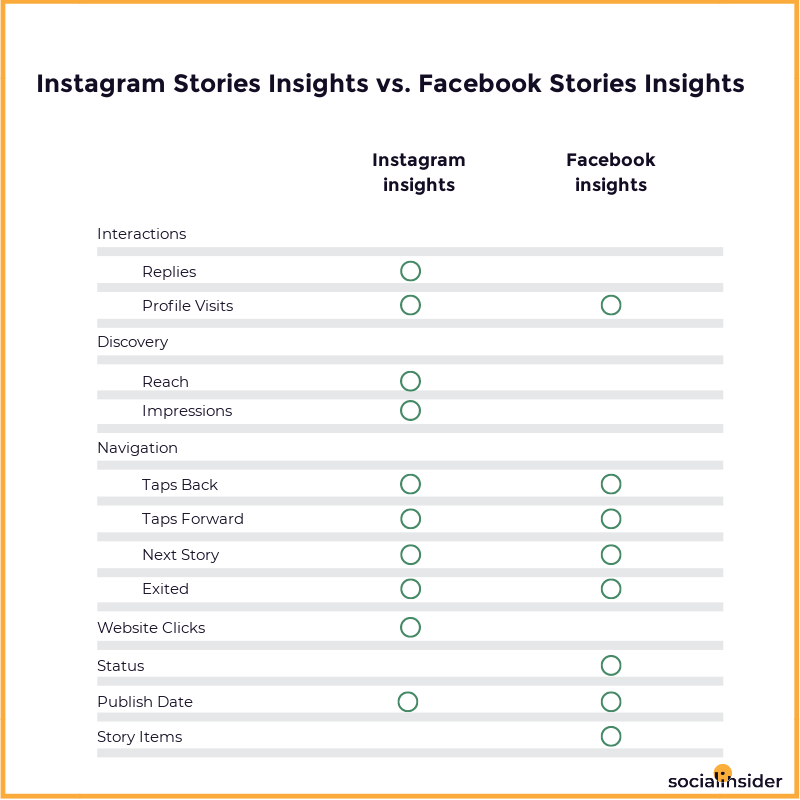 Remember! You can post the same Story on Facebook and Instagram at the same time.
All you have to do is link your account, and then you'll be able to share your Instagram stories to Facebook. Just head to your Instagram profile settings and then scroll to Story Controls. Now click the button 'next' to share your Story to Facebook.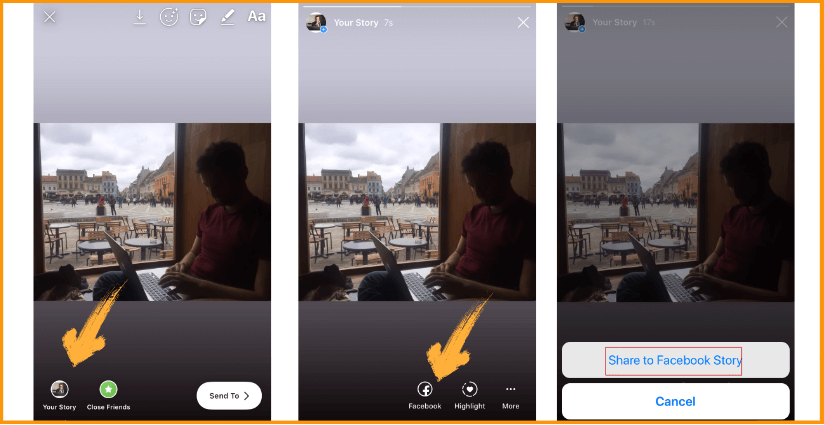 Final thought
As a conclusion like it or not, Stories are the future of social media.
Creating stories can be a fun activity with a lot of benefits for your business. You can share as much as you want throughout the day — with as much creativity as you want.
Have you started using Facebook Stories for your business? Which one performs better? Share your ideas with me in the comments.
Get Stories data with Socialinsider!
Increase your Stories reach and engagement, and understand what to post more and how often.
---
Related articles: