With more than 2 billion downloads, TikTok is one of the most popular social media platforms at the moment, and brands of all shapes and sizes worldwide are starting to create content.
Despite being so popular, there are a lot of TikTok questions people are wondering about: how to create an account, how to edit a video, how to see analytics, and more.
In this article, you will discover the answers to the most asked TikTok questions!
Let's start!
TikTok questions people often ask
1. How to create a TikTok account?
Want to create an account so you can start using this fun video app?
Here are seven easy steps to follow if you want to sign up for a TikTok account in 2020.
Open the TikTok app
Tap the profile icon (bottom right corner)
Select "Sign up with phone or email." You can also use your Facebook, Instagram, Twitter, or Google account to create a TikTok profile, but my recommendation is to sign up with your phone number or email address.
Enter your birthday (this information is not public)
Enter your email or phone number
Set a password
Done - you have a TikTok account
Now that you have an account, you can customize your profile picture, display name, and user name by tapping the "Edit profile."
After you finish with all these changes, press "SAVE" from the top right corner.
2. How to switch to a TikTok Pro account?
Once you turn your TikTok account into a TikTok Pro account, you'll get a lot of useful insights that will help you grow your TikTok profile faster.
Here are the steps you have to follow if you want to switch to a TikTok Pro account.
Go to your profile.
Go to settings and click the "Manage My Account" option.
Click "Switch to Pro Account."
Select a featured category for your account: public figure, music/dance, personal blog, education, media, entertainment, sports, etc.
Add your phone number: you'll receive a verification code.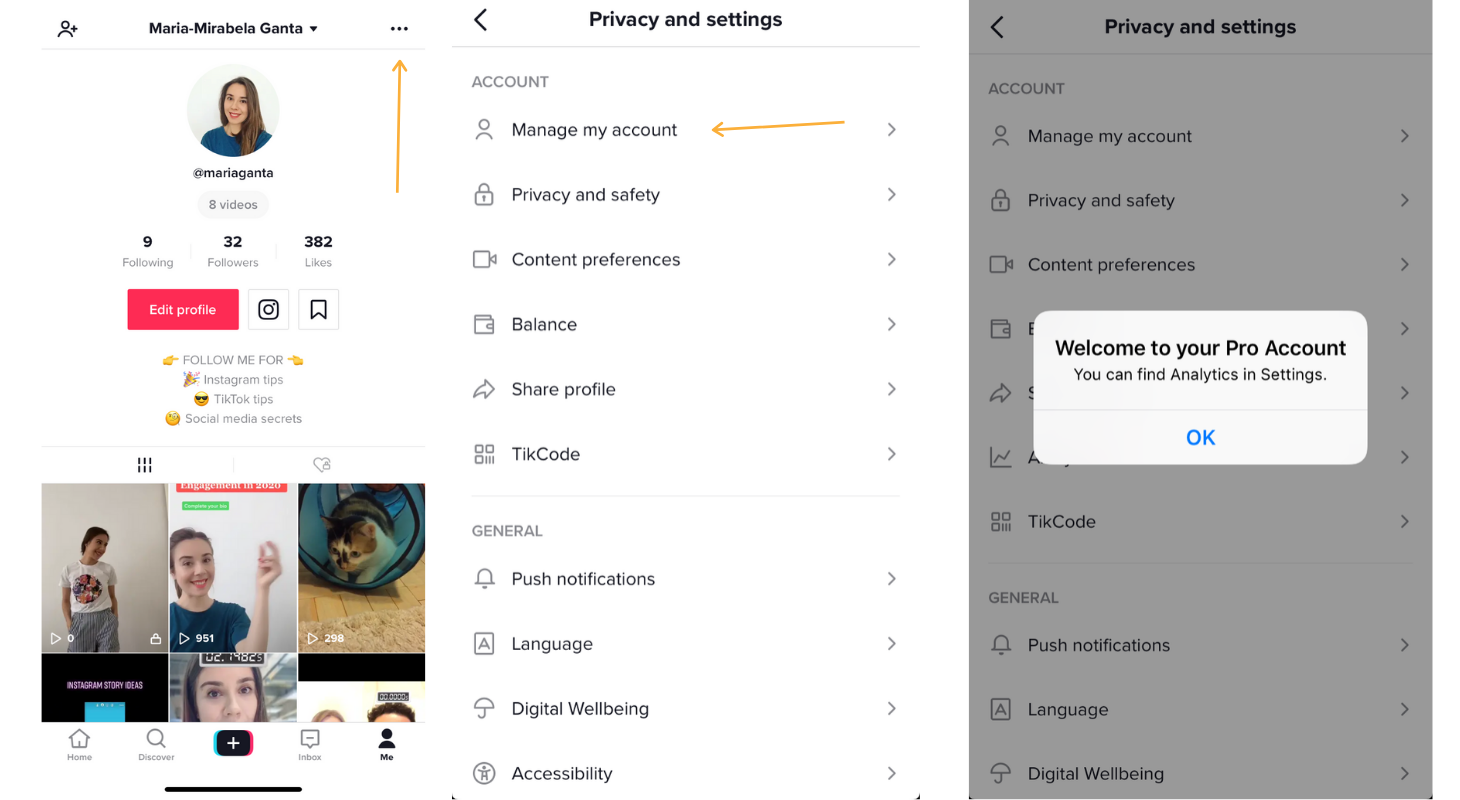 Now that you know how to switch to a Pro account (and I guess you made the switch), it's time to take a look at your Tiktok analytics.
If one of your TikTok questions is how you can access them from the native app or from your descktop, we come with the answer.
Here's how you can access them from the native app:
Go to your profile
Tap the 3 lines in the right corner
Select Analytics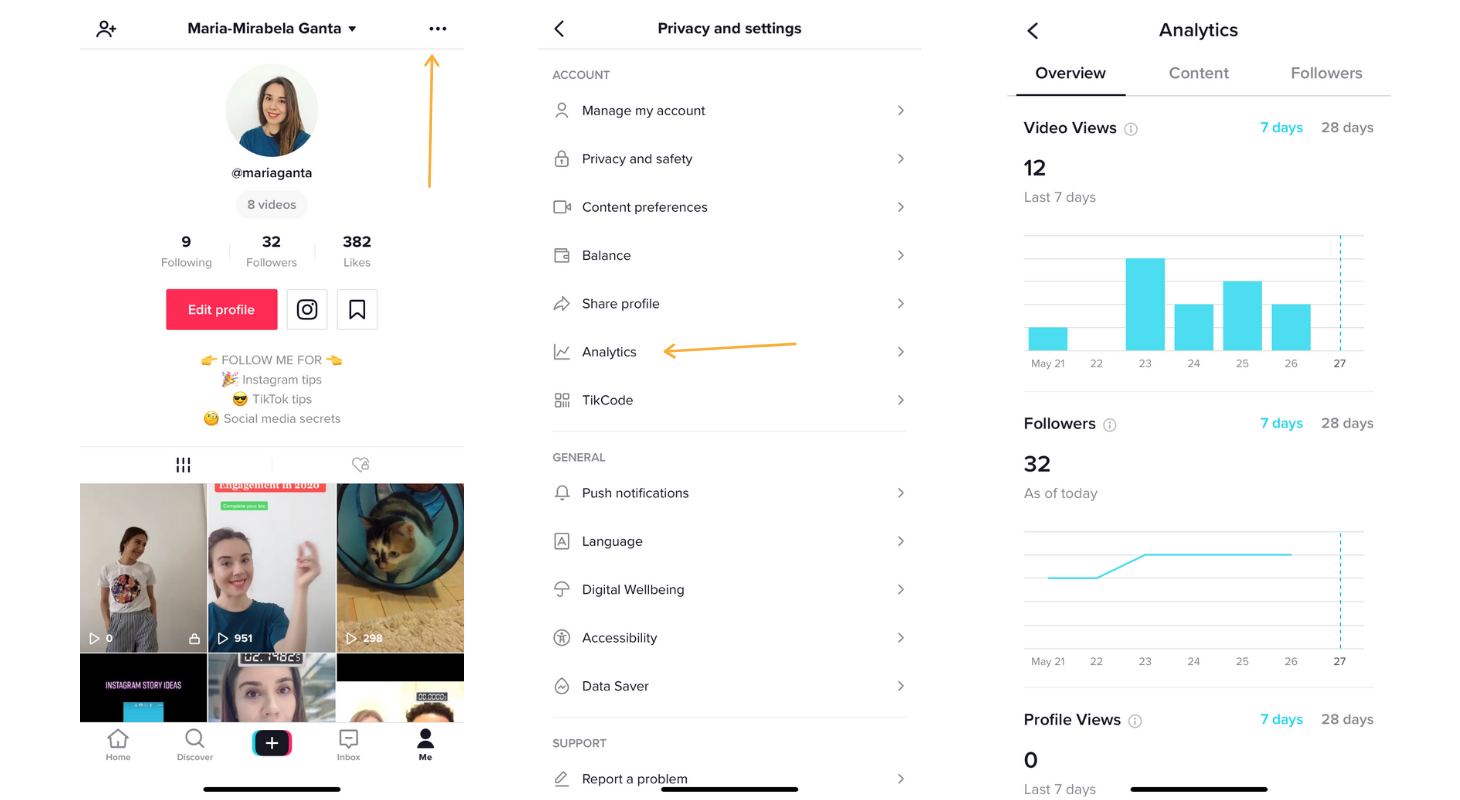 Here's how to access them from your descktop:
Go to www.tiktok.com
Log in to your profile
Under your photo - click "View analytics"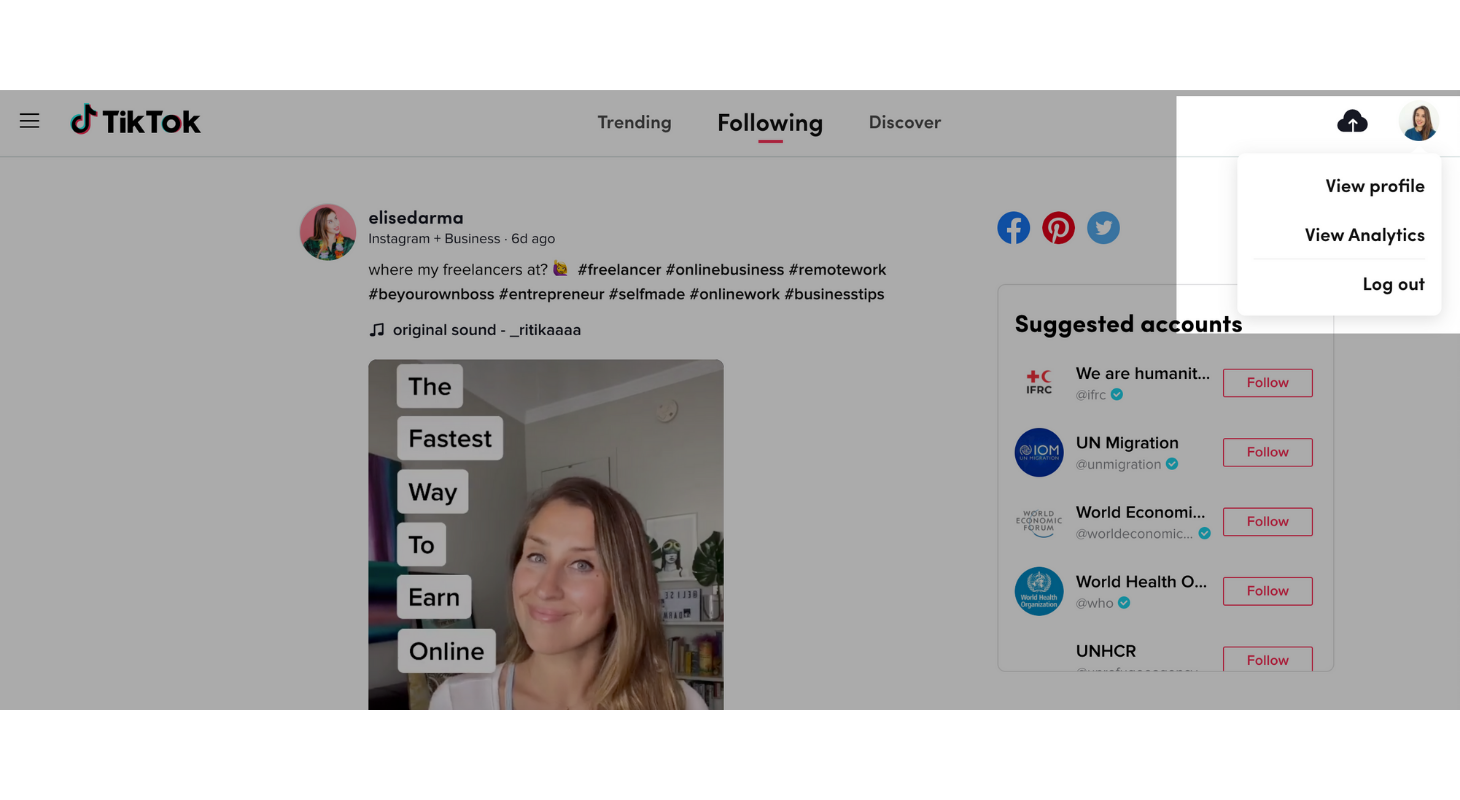 4. How to download TikTok videos?
Want to download a TikTok video?
This is an easy process, all you have to do is:
Open TikTok
Tap on the video that you want to download
Tap on the "three dots"
Tap "save video."
The video is now saved on your phone.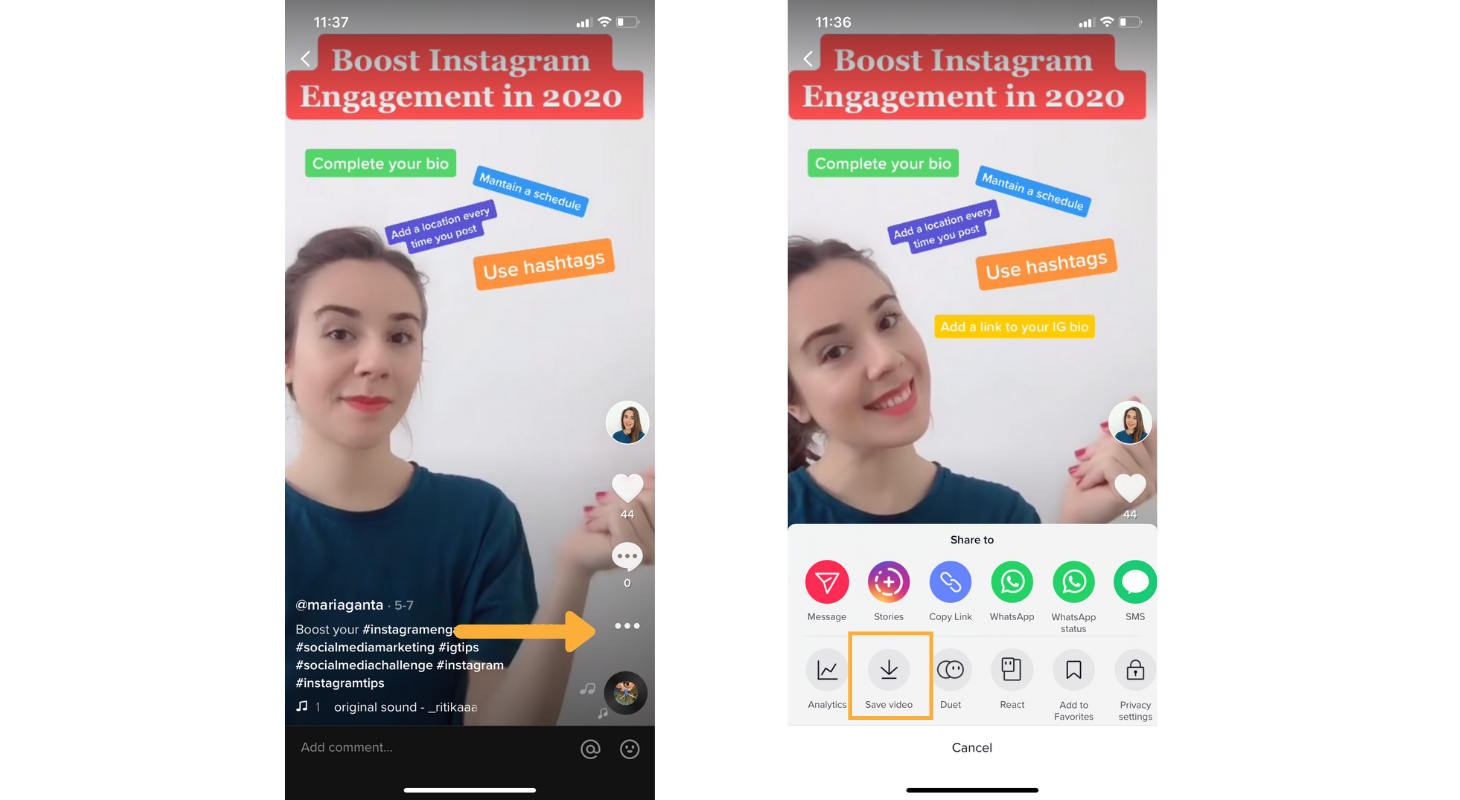 5. How to go live on TikTok?
To be able to go live on TikTok you must meet certain conditions:
You must have at least 1,000 followers.
You have to be at least 16.
Yes, I know that the minimum age to make an account is 13, but if you want to go live, these are the rules.
If you meet these conditions, follow these steps and go live:
Tap the "+ sign" on the bottom of your screen like you normally would make a video.
Scroll at the bottom where says "60 seconds," "15 seconds," "Templates," and then "LIVE."
Select LIVE.
Choose a picture / add text / call to action
Smooth your skin or add TikTok filters
6. How to add music on TikTok?
Want to make your TikTok videos more engaging? Add music!
You have two options here: Choose one of the sounds you can find on the platform already, or add them to the video using a third-party app.
Open TikTok and click the "+ icon."
Click "Sounds" at the top of the screen.
Select one song and add it to your TikTok video.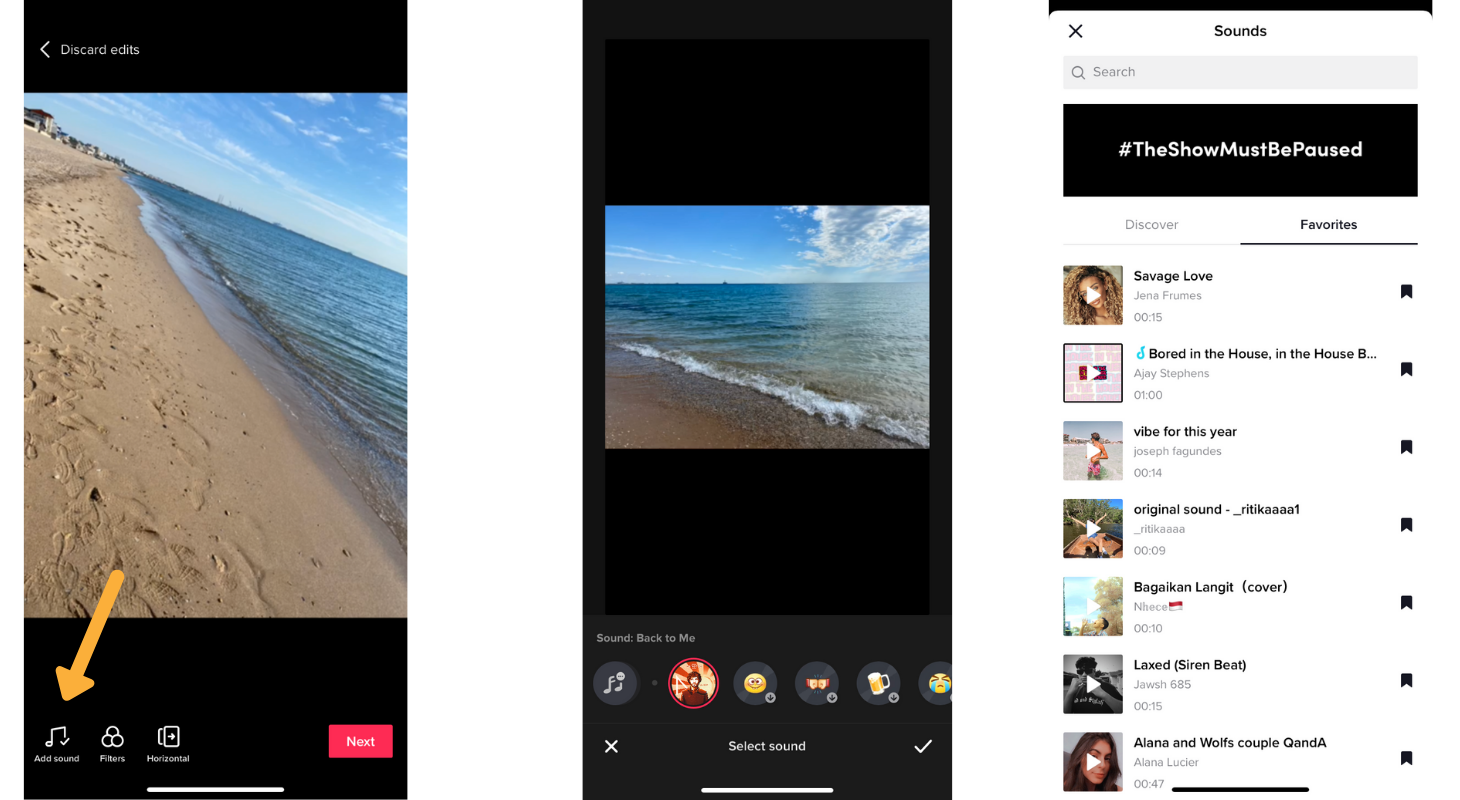 7. How to add TikTok filters?
I'm sure you are already familiar with Instagram filters, so this part will be easy. Like other social media platform, TikTok is providing a lot of filters from you can choose from.
Moving on to another TikTok question, here's how to add video filters on TikTok.
Open TikTok
Tap Effects on the right of the Camera screen.
Choose from: trending, new, selfies, world, accessories, animal, selftest.
Tap and hold the Record button to start filming.
8. How to upload a TikTok video?
Don't have time to record a new TikTok video? You can create a TikTok using older footage of yourself that's saved on your device.
Open TikTok.
Tap the Uploads button on the Camera Screen.
Select what you want to post from your phone.
You'll have the option trim it, adjust its length, rotate it, etc.
Select Next when you are done.
You'll see a preview screen where you can add sounds, more effects, text, and stickers.
Select Next, when your content is ready.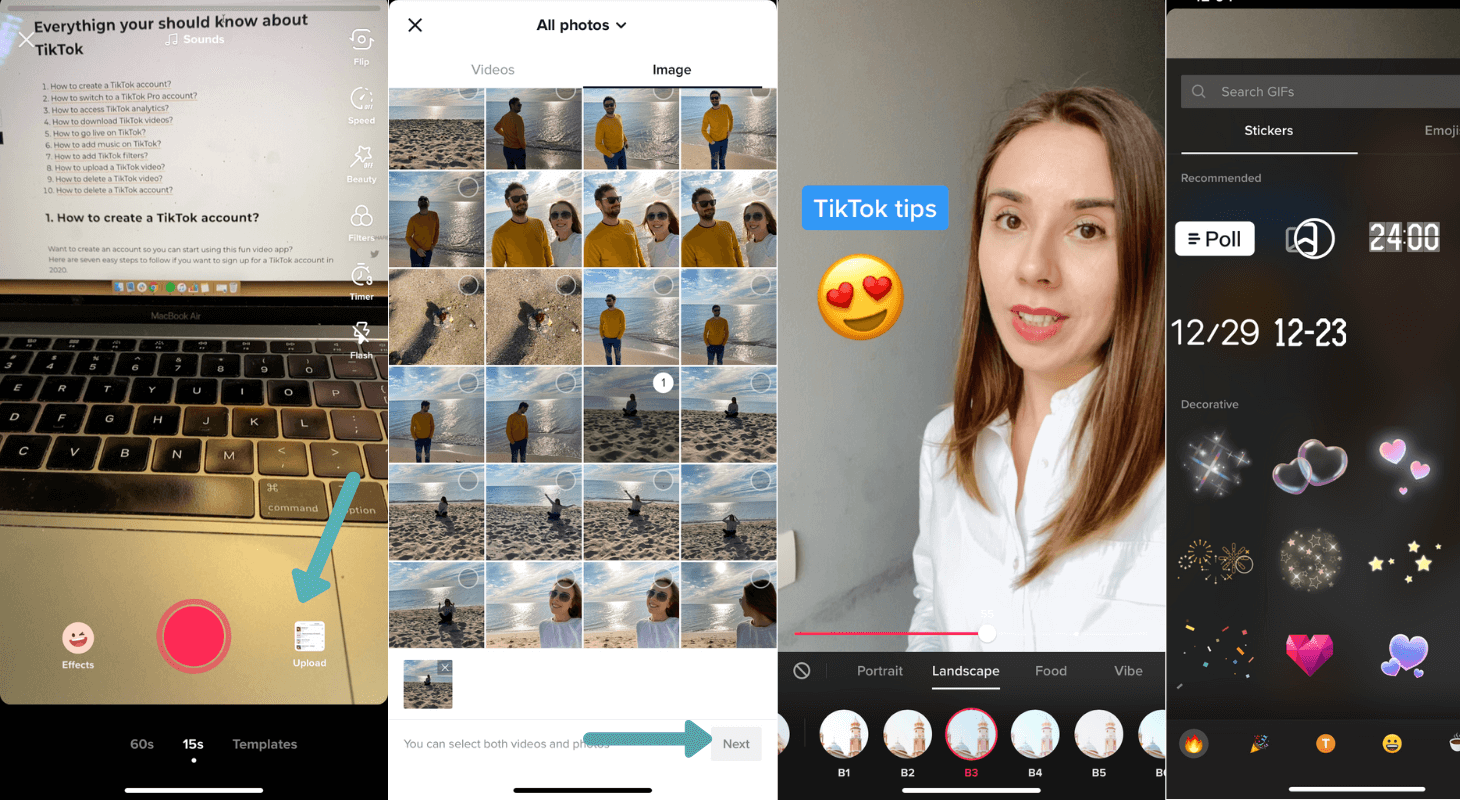 9. How can you tag someone in your TikTok video?
Want to tag someone in your TikTok videos?
Yes, you can.
After creating the video, and finishing with all the edits, before you press publish, tap the @friends button to tag someone quickly.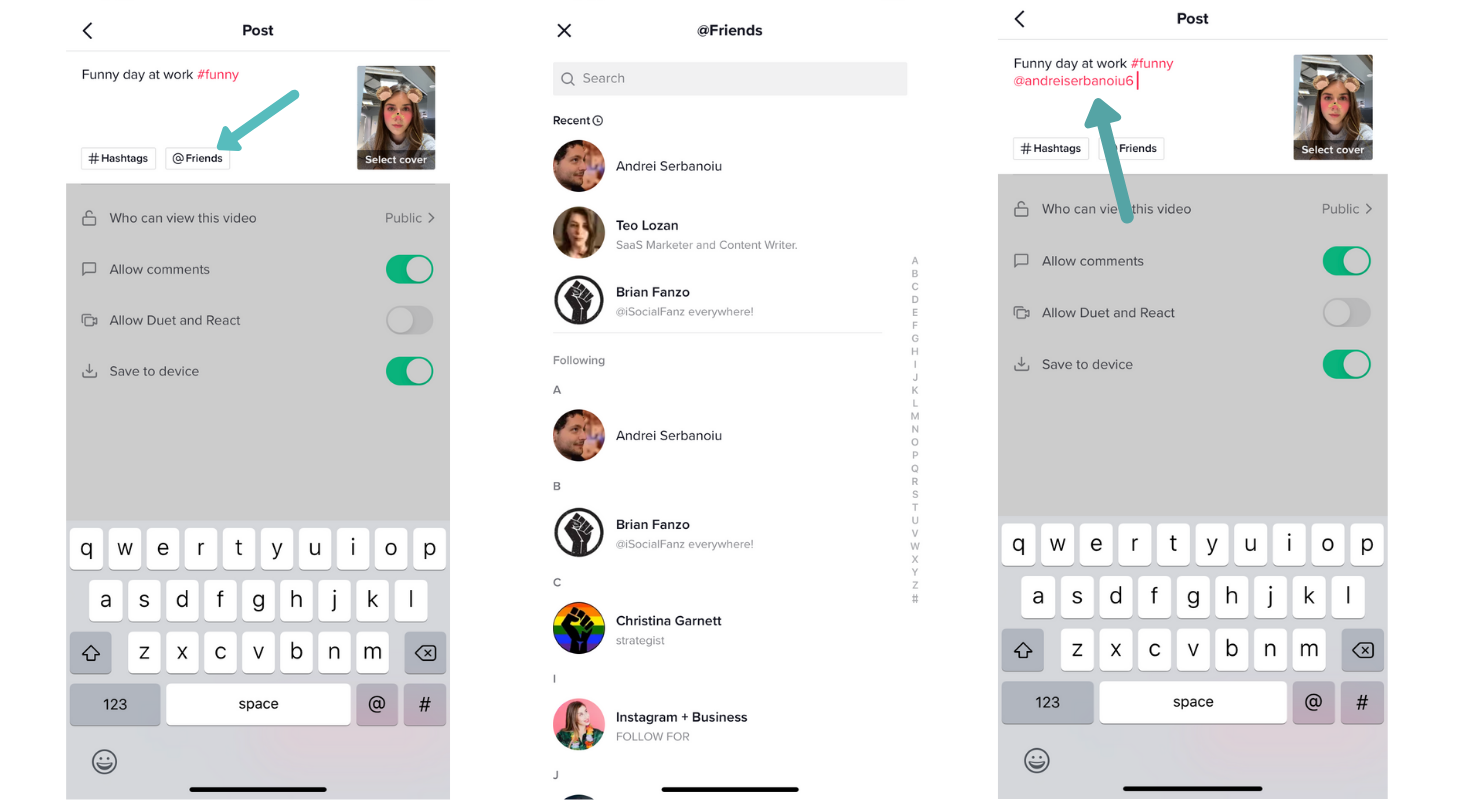 10. How to save a TikTok video to drafts?
Don't have time to record a TikTok video every day, but do you want to post daily? You can save your videos to your draft and edit/post them later.
To do this, follow these steps:
Create a TikTok video
Click "next."
Click "Draft" from the bottom of the screen.
Only you can see your drafts, and you can edit them later.
11. How to change your TikTok name or username?
Another one of your TikTok questions is how to change your name or username on TikTok? This is easy - here's what you should do:
Go to your TikTok profile
Tap the "Edit profile" button.
Click on "Name" or "Username" and change them.
Click "Save"
12. How to delete a TikTok video?
Want to delete a TikTok video? Follow these steps:
Open the video you want to delete
Select the three dots
Click "Delete"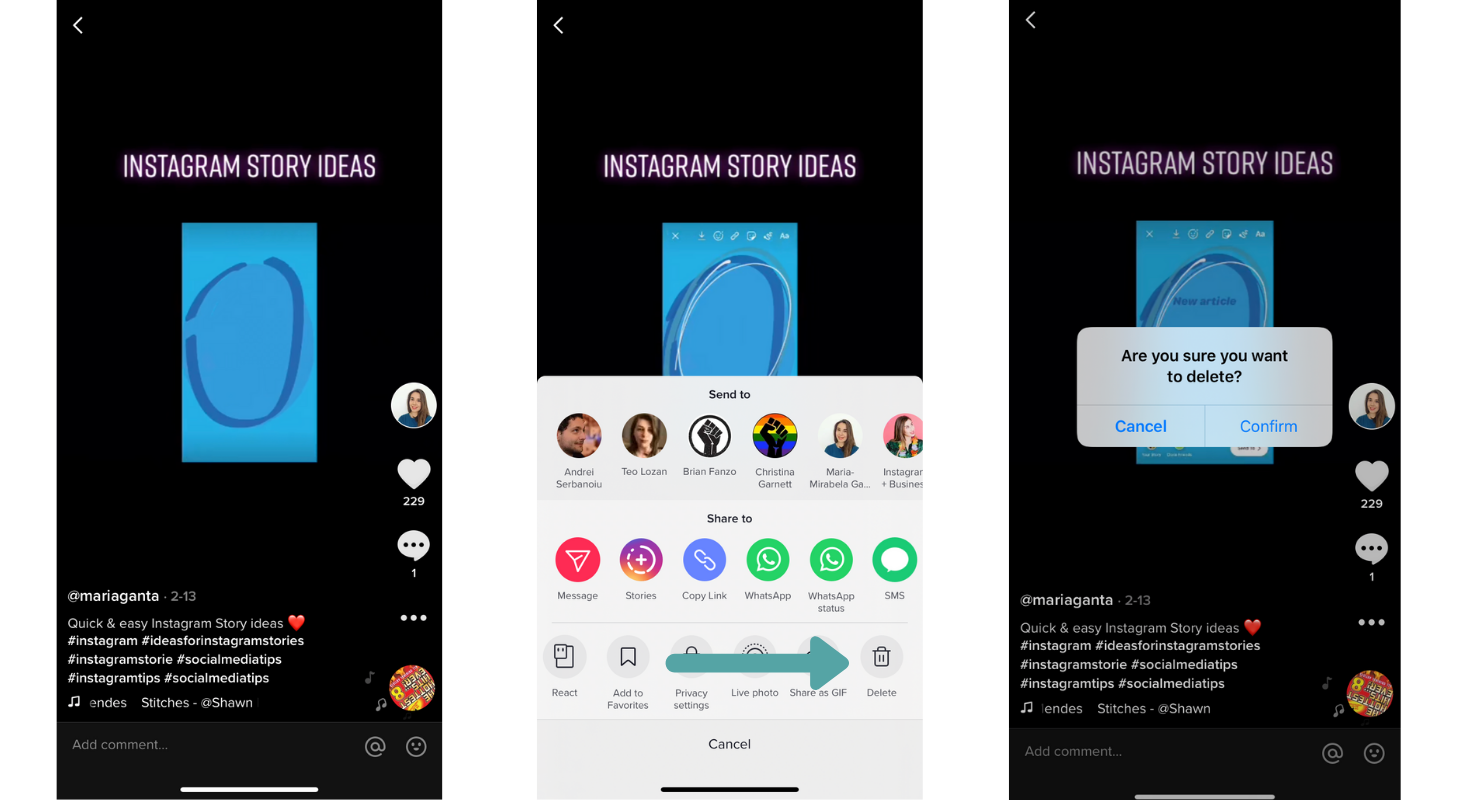 13. How to delete a TikTok account?
Let's say TikTok is not for you, and you want to delete your account permanently. Here's how to do it:
Open TikTok
Go to your profile
Tap the three dots in the top-right corner of the screen.
Tap "Manage My Account"
Click "Delete account."
Note: If you change your mind, you have 30 days to reactivate your TikTok account. Just log into your account using the app. You'll be able to access your account immediately.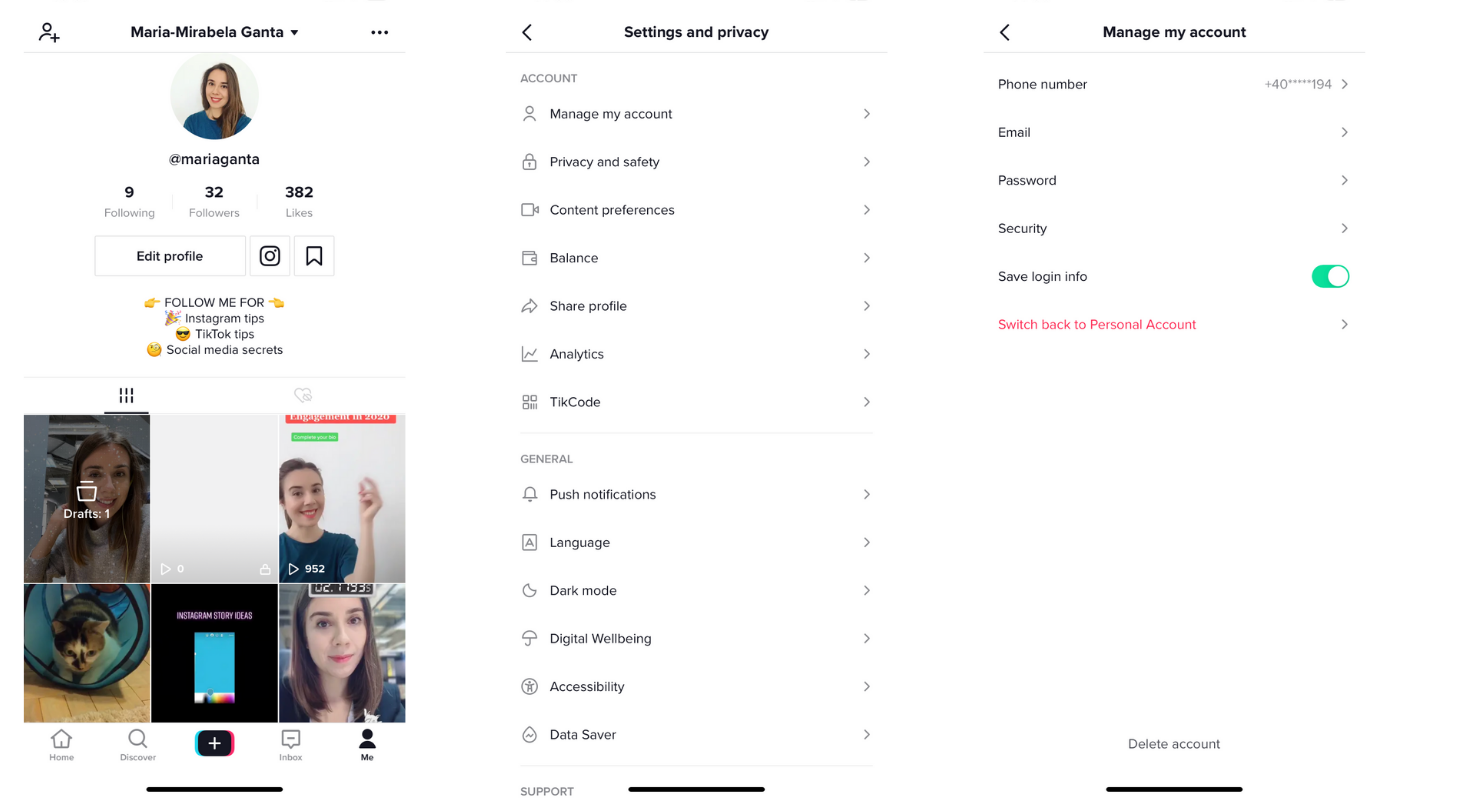 Final thoughts
Your turn.
Are there any other TikTok questions you have? 🤔 Let me know, and I will add the answers to this article.
---
Related articles