The Importance Of The Instagram Theme For Your Business Account
For businesses, Instagram represents without a doubt an excellent opportunity to market their products to a more targeted and interested audience. That's a fact.
Besides the main elements like bio, profile picture, hashtags which helps you to be more visible, the theme should also be a starting point. There are a lot of themes from you can choose like travel, lifestyle, nature, portraits, etc. All you have to do is find your comfort area and half of the work is done.
This article will help you to get some ideas of what an Instagram business account should look like and what are the secrets to get more engagement with a well-chosen theme.
Secrets to get more engagement with a well-chosen theme
• Why have an Instagram theme?
• >Focus on the look of your account
• >Focus on the subject of your account
• >Focus on the story behind the photo
• More tips for an Instagram account
What is an instagram theme?
An Instagram feed can be easily described as a personal portfolio which reflects who you are and what you enjoy. In other words, the better it looks, the more interactions you'll have on the page. One of the best ways to gain followers on Instagram is to establish an aesthetic or theme. A lovely look that will help you up your engagement.
Why have an Instagram theme?
The answer is quite simple: to gain attention immediately. If you create a theme and stick to it, people will associate that with your name, and that is the way your photos will become more recognizable.
A lot of people think that having a theme means every picture needs to look the same. False! It is about focusing on the overall story and the colors. It's your choice if you want your feed to be bright, full of colors or dark.
Different types of Instagram accounts
#1. Focus on the look of your account
You don't have to stick to a color if you don't want to. Your photos don't have to be all blue, black, green, just make them look uniform.
Take oh.sopretty's example. Her feed is all bright and light, her focus in more on white and having space between the posted objects. Most of her photos have a white background even if the original it's not (for exemple, in clouds case, in reality, they are blue, but in her photos white is the central element). Also, lots of their photos are shot from above, and the content is simple.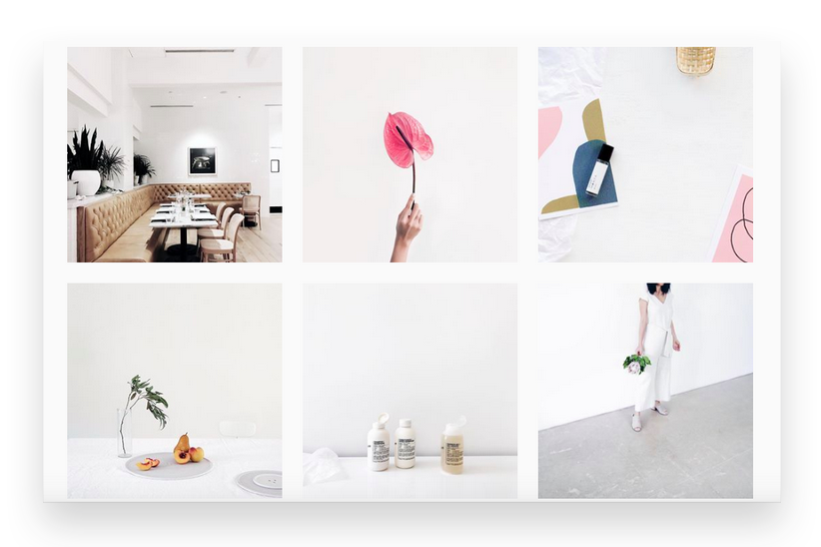 In dalaslovelist case, it is all about the colors. If you are following this account, you will see joy, colorful feed, and high pigments. Besides the colors, this Instagram account is about the location. Through the pictures you will be able to see a part of Dallas and as the bio says, to fall in love.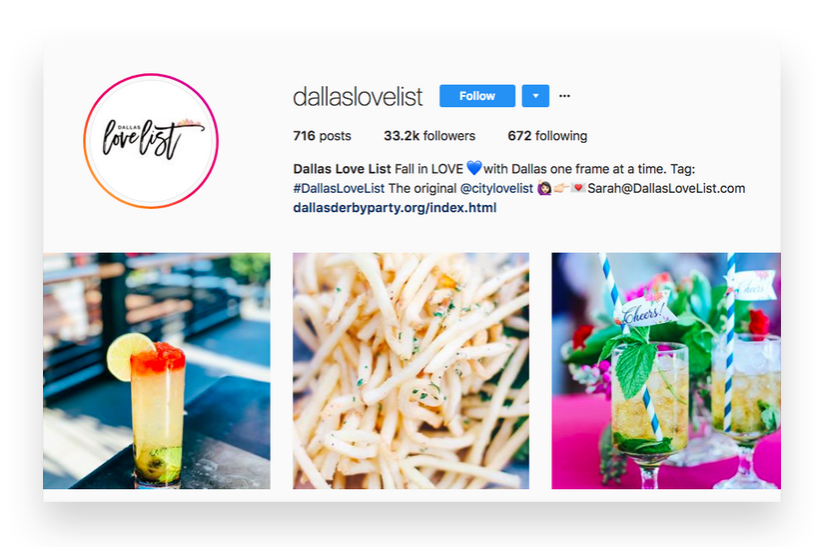 #2. Focus on the subject of your account
Similar to choosing a location, you can choose a subject or an object. Let's talk about coffeenclothes account, here you will find out only what the name says: coffee and clothes. Posting only pictures from this area they created a recognizable brand.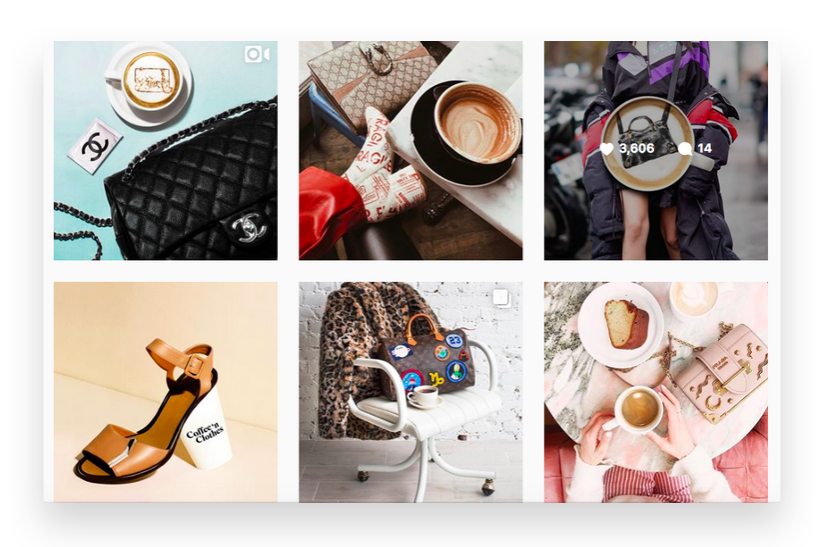 The same with bookbaristas account, here you will find good books to read and a lot of coffee. Not excentric colors but a uniform palette. If you don't know what book to read this week, you can check bookbaristas account.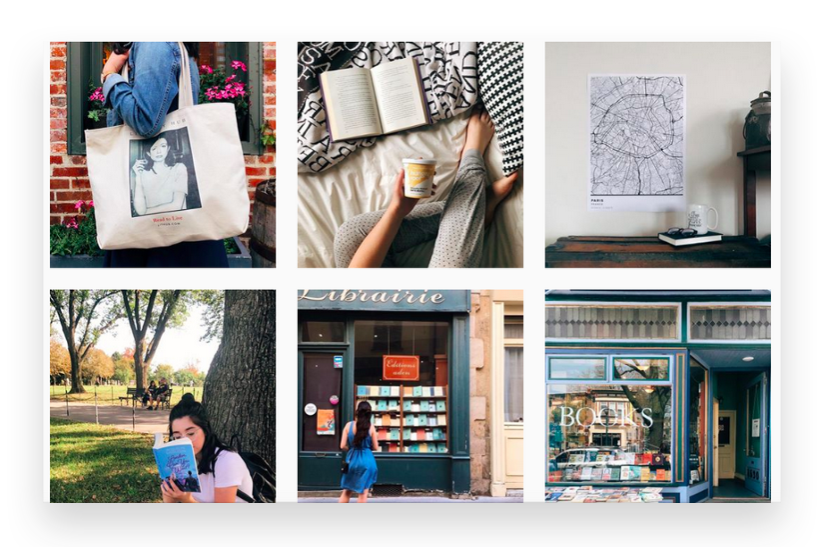 #3. Focus on the story behind the photo
Like your bio where you tell your story, with each photo you post you can say something for your audience. If it is a picture taken in the woods, or at the mountain or anywhere else, tell that in the description.
Like laurenswells, a lifestyle blogger and traveler; with every image, she tells you where she is and sometimes you feel like you are there with here.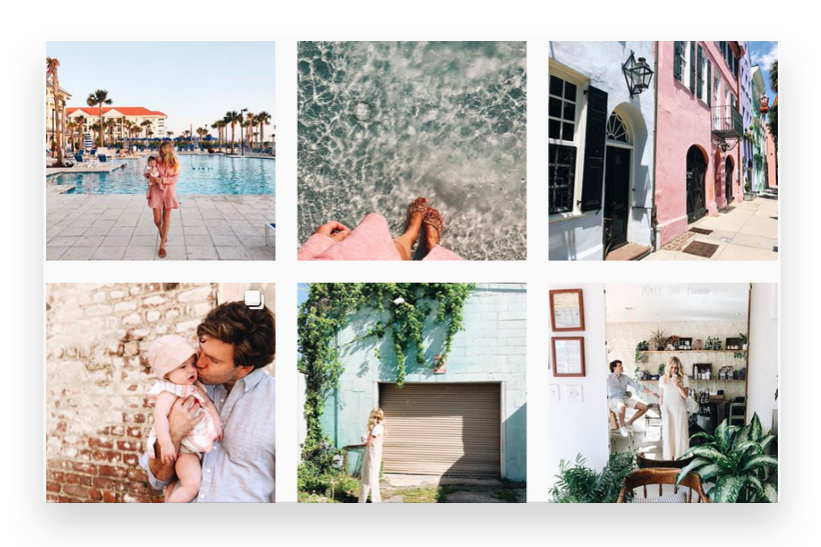 💦 Related: Ten Content Pillars To Build An Engaged Community On Instagram


#4. More tips for an Instagram account
Crop all your images the same way
It's your choice, even if you choose to add a white border or a black one, or the classic square, or you want your images to be narrow, pick a box and stick to it. When all your images are the same shape and size, your feed will look 100 times better as a whole.
Take pictures of the same subjects. If you want your account to be about fashion, you should post according to this. Pictures of sunrise, nature, quotes or dogs do not have much to look for. If you want your photos to be from a more varied range, then you have to pick a filter and stick and use it for all your photos.
Stick with the same filter
Using the same filter is one of the easiest ways to achieve consistency in your feed. You want your account to be nice and have a pretty look, and all of your pictures to meld well together, then use the same filter, this will help.
You have ten new photos, and you like all of them, but all are about fashion while your account is about landscapes. Does it fit your theme? Certainly not. If you want to share with your friends the photos, choose Facebook or Twitter and let your Instagram account clean.
Final thought
When you choose an Instagram theme, and you decide to stick to it, also a specific filter and frame, you not only create an account, at that moment you create a brand story. You will stop and think about every picture you'll put out there because building an Instagram theme is a great way to keep your branding visually consistent.
P.S. Can we send you an email?
Once a week or so we send an email with our best content. No sales pitches, no bullshit, and one-click unsubscribe: