Twitter is a powerfull tool for businesses when used corectly. It can help you generate leads, solydify your branding and build strong connections with your prospects.
From the first day Twitter launched till now, it has 330 million monthly active users and were been created 3 billion Twitter accounts during the time.
If we had to describe Twitter in one sentence we can say that Twitter is the place to find trending news and a perfect place to tell the world news about your product.
It is like an elevator for your brand, a way of getting your point across quickly and connect yourself to important news topics. Fast moving and simple to use, Twitter is one of the easiest social following to grow from scratch.
In this article we will talk exclusivly about Twitter, about how to atract value and how to get more followers. in order to achive that you have to follow some steps.
---
Here is a sneak peak of the article:
👉 Tweet more often
👉 Follow more people
👉 Use relevant hashtags
👉 Post more visual content
👉 Promote your Twitter account
👉 Engage with other users
👉 Optimize your profile
👉 Reference users in your tweets
---
#1. Tweet more often
If on other platforms you post 2-3 times a week, on Twitter you should post 2-3 times per day if you want to raise the engagement.
Some brands tweet often as 15 times per day, so context and competitive analysis are very important here.
If you don't have news about your product don't panick. The key is to not only promote yourself. The posibilities for filling up your content are endless. You can tweet relevant industry articles, breaking news, insights from your business, personal updates, and the list can go on and on.
Feel up your Twitter feed with fresh content and let your potential followers to know that you are active and engaging.
#2. Follow more people
Use Twiends to find new Twitter users that you can connect to. Once you're listed on the platform, other users with similar interests will also be able to find and follow you.
Some researches shown that there is a correlation between the number of people you follow and the number of followers.
#3. Use relevant hashtags
It is known that in any platform you use, post with hashtags get more engagement. Twitter makes no exception, so tweets with hashtags get at least 2x more engagement and will help you attract new followers who are searching for those keywords.
Think of hashtags as a way to make your posts searchable and don't pos without a minnimum of 1 or 2 relevant hashtags, and you will see the difference.
#4. Post more visual content
Include images with your tweets.As you probably know, tweets containing visual content receive more likes, shares and retweets that those without them.
Brands should take advantage of this option and make their tweets pretty visual.
If you don't have anu idea of what your picture should like like, don't stress. You can download any time a photo or play with your imagination like @slack did in this post. After 1 or 2 tweets you will see it's easy and fun.
#5. Promote your Twitter account
Promote your Twitter account on all your marketing material. This includes youre business card, your email signature, people should see your account in your other platforms like Instagram or Facebook, and of course on your website.
#6. Engage with other users
Share other people's content and tag them. This will get you on their radar, and they will notice you. The more you help other people out, the more likely they are to help you.
Also, you should comment on their posts, because if you are not trying to engage with other Twitter users, you're going to struggle to build an engaged following.
Tagging other brands as a compliment is a favorite tactic to show some love to others in your industry. In turn, they might give you a shout out as well.
#7. Optimize your profile
You want your profile to be friendly for new followers, and to reach this, you have to start with your profile.
Optimizing your profile involves three steps:
A clean profile photo. This day a lot of the account are bots, so brands need to be sure that on the other part is a real human. An unobstructed facial photo is ideal if you aren't using a high-res brand logo.

Relevant tags, industry keywords and location information. Your profile should be complete, you should tell people who you are, what is your company doing and where you operate.
Brian Honigman tags Forbes and NYU to boost his credibility.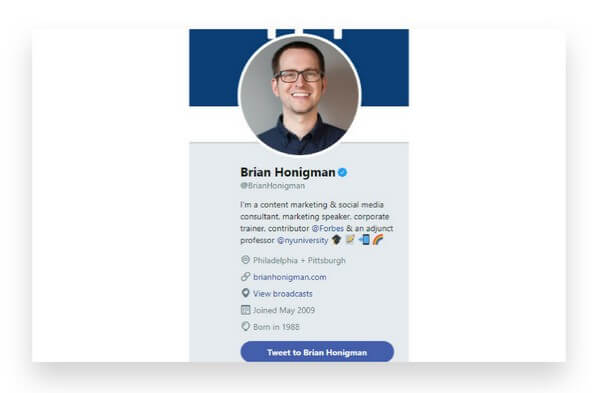 #8. Reference users in your tweets
When replying to or mentioning other users, be sure you @mention them. People will engage more with your tweets when they're mentioned by name. Don't waste time and @mention, then will be your turn to see your name there.
Final Thought
You need to know that growing your Twitter following doesn't happen by accident. There is a combination of planning your content, engaging with users and optimizing your profile. These are some of the keys to attracting new followers.
Start a free Socialinsider trial today and track your Instagram analytics! Report and analyze multiple profiles from one dashboard, quickly evaluate your Instagram performance based on the metrics that matter, understand your hashtags performance and get Stories analytics!
---
Related articles: