Marketers today are constantly on the search for simple, clear solutions that will make their jobs easier.
This is why social media managers understand best how the right tools can help improve the entire social media management process and boost ROI.
And, if you are just getting started with your social media management and are unsure of which tools to use, we've already done all the work for you.
We analyzed nine social media scheduling tools to help you better organize and plan your content ahead.
The best social media scheduling tools in 2022
1. What are social media scheduling tools?
A social media scheduling tool is a unified team calendar that can help social media managers accomplish many of their day-to-day activities.
These tasks include scheduling and posting content across many platforms, and, in some circumstances, monitoring social media statistics.
2. Why use social media scheduling tools?
Solopreneurs and social media managers may use scheduling tools to automate publishing to Facebook, Instagram, and other social media platforms.
How can posting from a single dashboard can save you significant time?
For starters, you might spend that extra time creating more content or strengthening your editing and copywriting abilities, for example.
Another advantage of using a social scheduling software is that you don't have to worry about being at the office, posting at the appropriate time every day, or working on weekends when a national holiday is celebrated.
3. How to use scheduling tools for social media?
The majority of social media scheduling tools operate similarly.
These are the basic steps of using a scheduling tool:

Authenticate with your credentials across the desired platforms
Press the Create post button or similar
Type in the copy text and add the images, videos, or links that you want
Choose a date and time that works for you
Press the Schedule or Publish button and wait for the magic to happen
9 best social media scheduling tools
When choosing the best scheduling service for your brand, you should consider your business objectives, the tools they provide, and the pricing plans available.
Let's compare these nine affordable and top-performing social media scheduling tools to find which one fits your needs best:
TweetDeck is a Twitter-only scheduling tool that you may use to plan tweets across multiple accounts.
You may view real-time data and manage, organize, and engage with your feeds all in one spot.
💰 Pricing
TweetDeck is completely free, making it ideal for solopreneurs and small enterprises without a large budget for social media tools.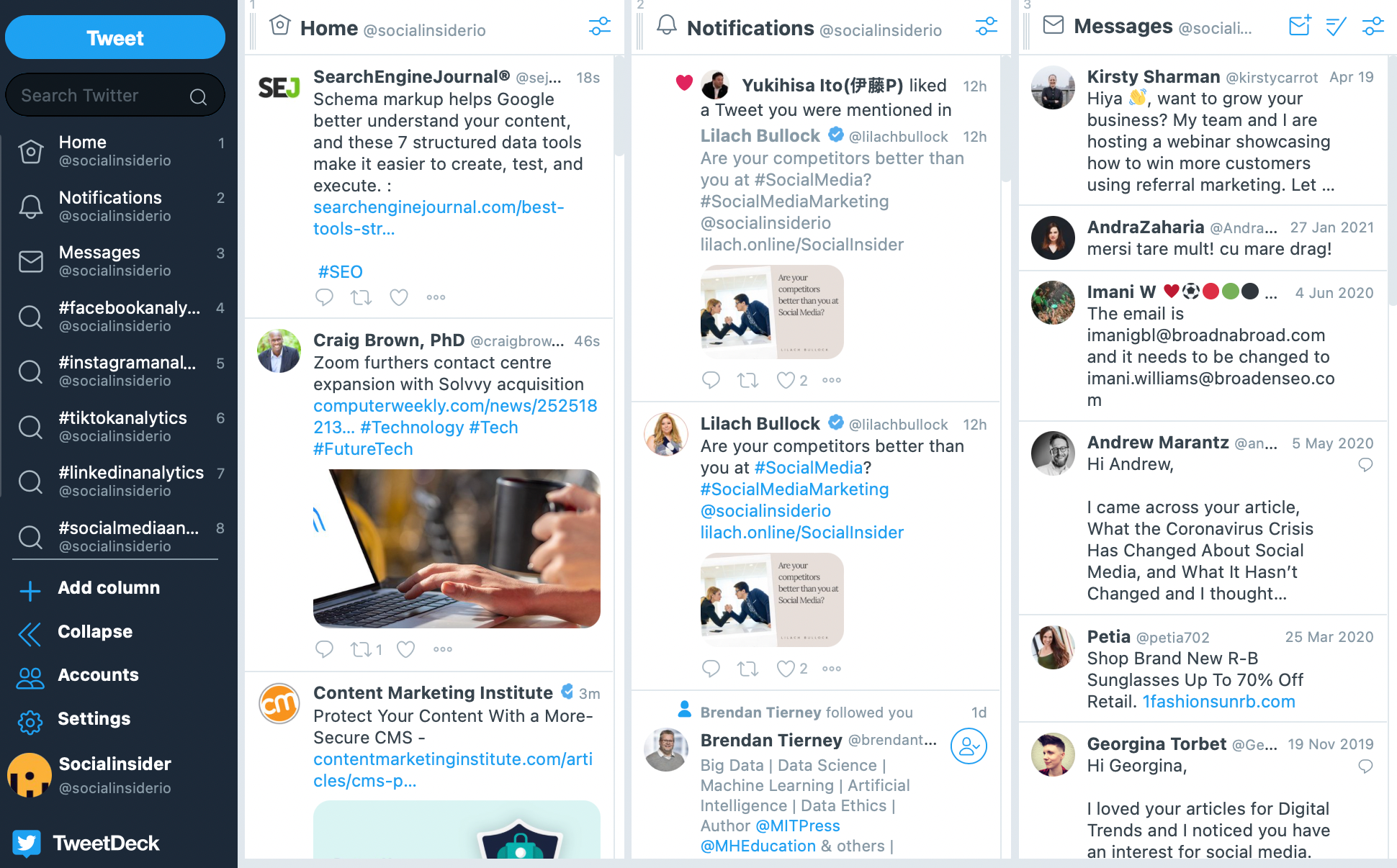 👍 Benefits
TweetDeck integrates a whole dashboard that shows the tweets in your Home feed.
You can also view Notifications, Messages, Activity, and Mentions and include columns for Lists, Collections, Likes, Followers, or Scheduled Posts.
Moreover, you can also add images and GIFs to your messages.
👎 Disadvantages
TweetDeck's only disadvantage is that it does not allow you to schedule posts for other social media platforms.
Facebook's built-in scheduling tool, Creator Studio, lets you schedule content across your Facebook and Instagram profiles.
💰 Pricing
Unlike similar tools, Facebook won't charge you on a monthly or annual basis. Using Creator Studio is completely free for everyone.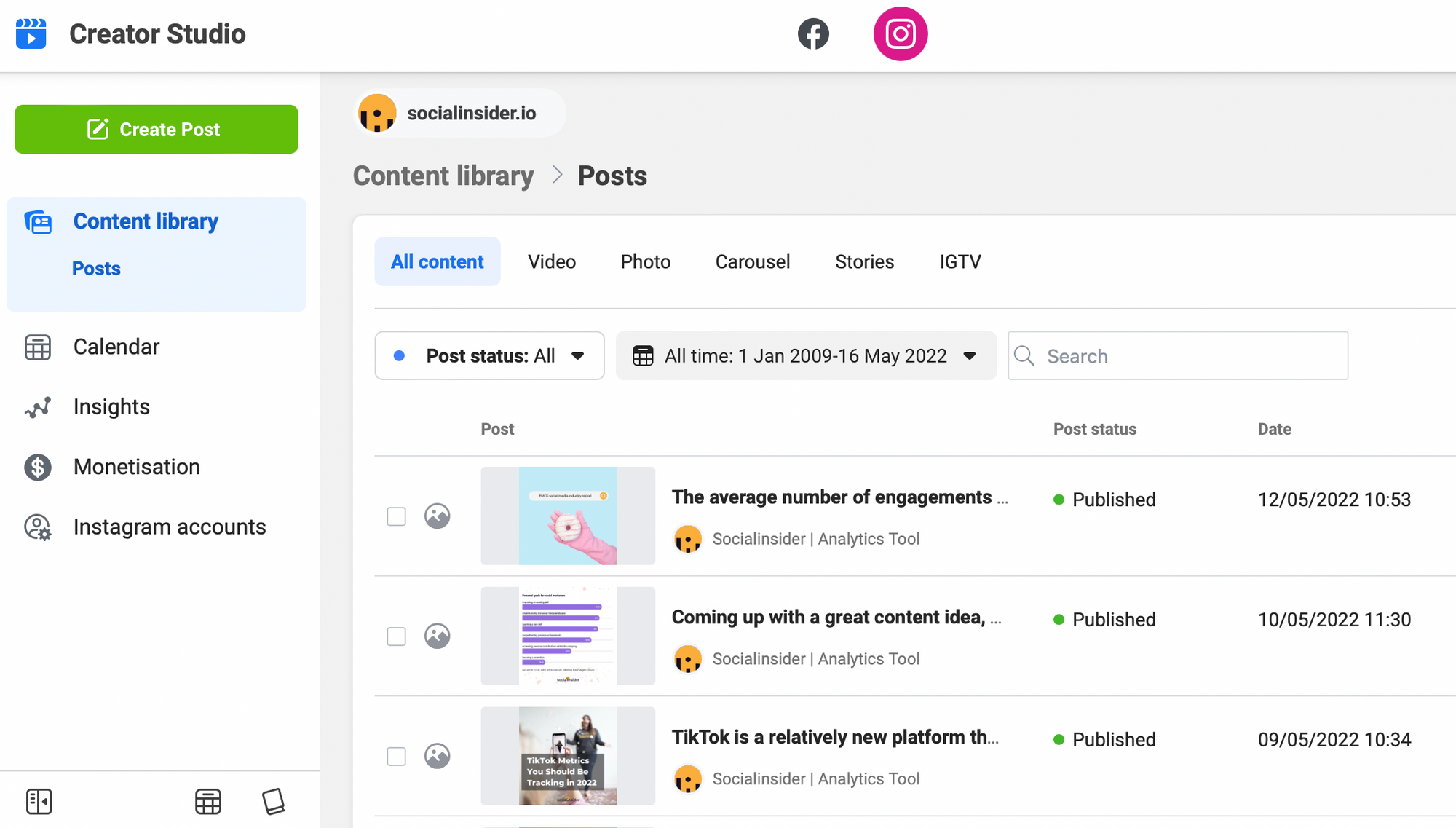 👍 Benefits
Unlike other third-party platforms, Creator Studio allows you to schedule and publish multi-photo posts, Stories, and IGTVs.
Creator Studio is available on both the desktop and mobile.
And most importantly, you do not have to pay for these services!
👎 Disadvantages
Creator Studio only offers scheduling across Facebook and Instagram.
Facebook has not yet added another platform to its plan.
Even though you can schedule Stories, you can not add stickers or links within the platform.
SocialBee is well-known for its outstanding planning and sharing capabilities across multiple platforms.
The app supports Instagram, Facebook, LinkedIn, Twitter, Pinterest, TikTok, and Google My Business.
💰 Pricing
In comparison to competitors such as Hootsuite or Sprout Social, SocialBee's pricing plans are affordable and fit nicely within the budgets of small and medium businesses.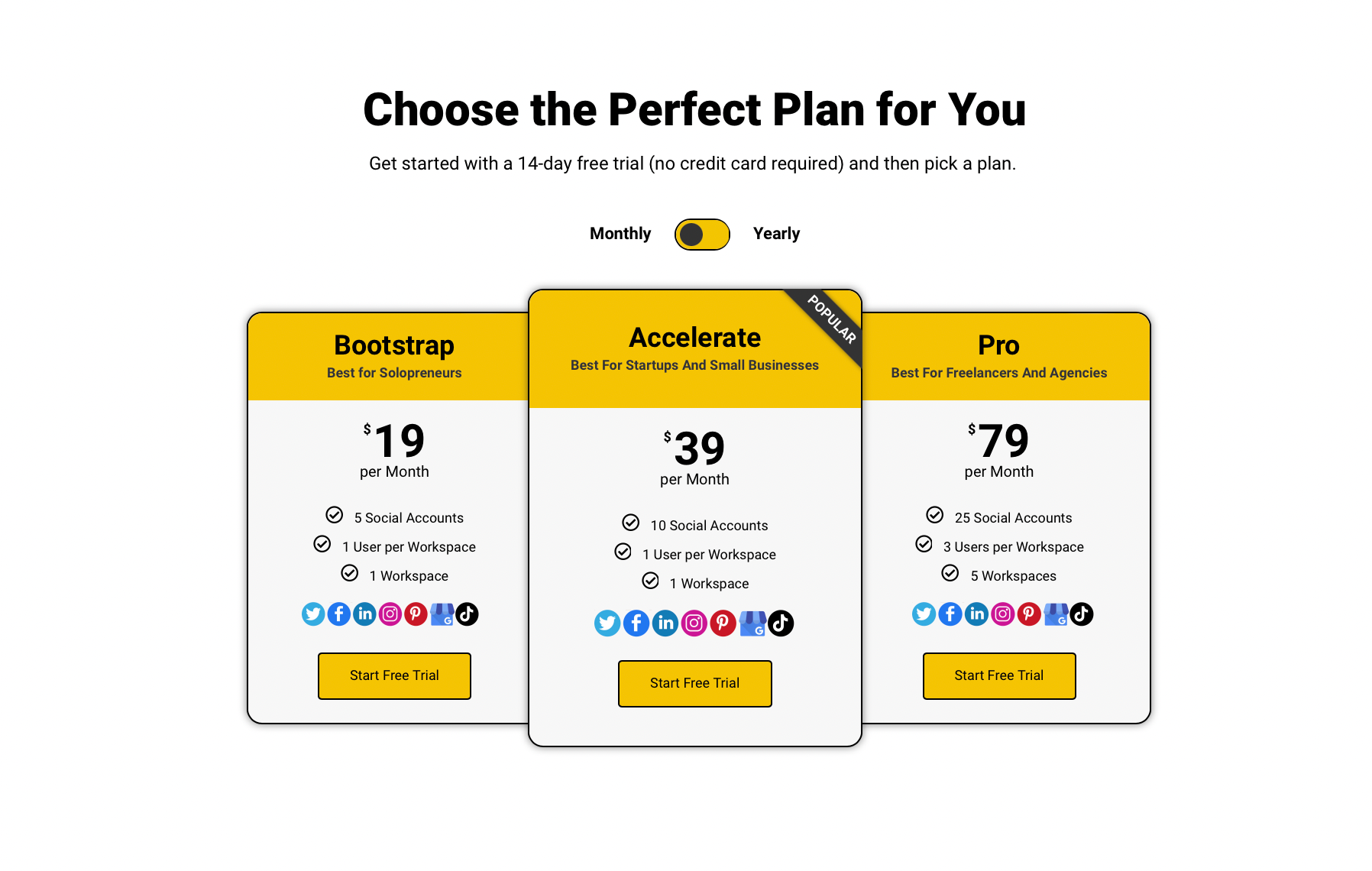 👍 Benefits
SocialBee allows you to set up a posting schedule in your content calendar, customize the posts for each social media platform, and recycle your evergreen content.
Other great features of SocialBee include Canva integration within the app's post editor and notifications for time-sensitive posts.
Additionally, the tool offers analytics to evaluate the performance of your accounts and a real-time preview of your upcoming posts.
👎 Disadvantages
Currently, SocialBee is web-based only and does not support YouTube.
It began as a Twitter-only app but has since expanded to include other sites.
Crowdfire focuses on scheduling content across your social channels at the most appropriate moments.
The tool allows you to post to nearly every major social network and share content from a surprising number of blogging platforms, online stores, and video sites, including YouTube and Twitch.
💰 Pricing
Crowdfire is available for purchase monthly or annually and has three paid options and a free plan.
Crowdfire's free edition is somewhat limited, but it does allow you an opportunity to try out the basic features.
However, the paid plans are reasonably priced — compared to much of the competition.
At higher subscription levels, it incorporates social listening and competitive analysis.
Crowdfire summarizes the performance of your social profiles, including key social media analytics.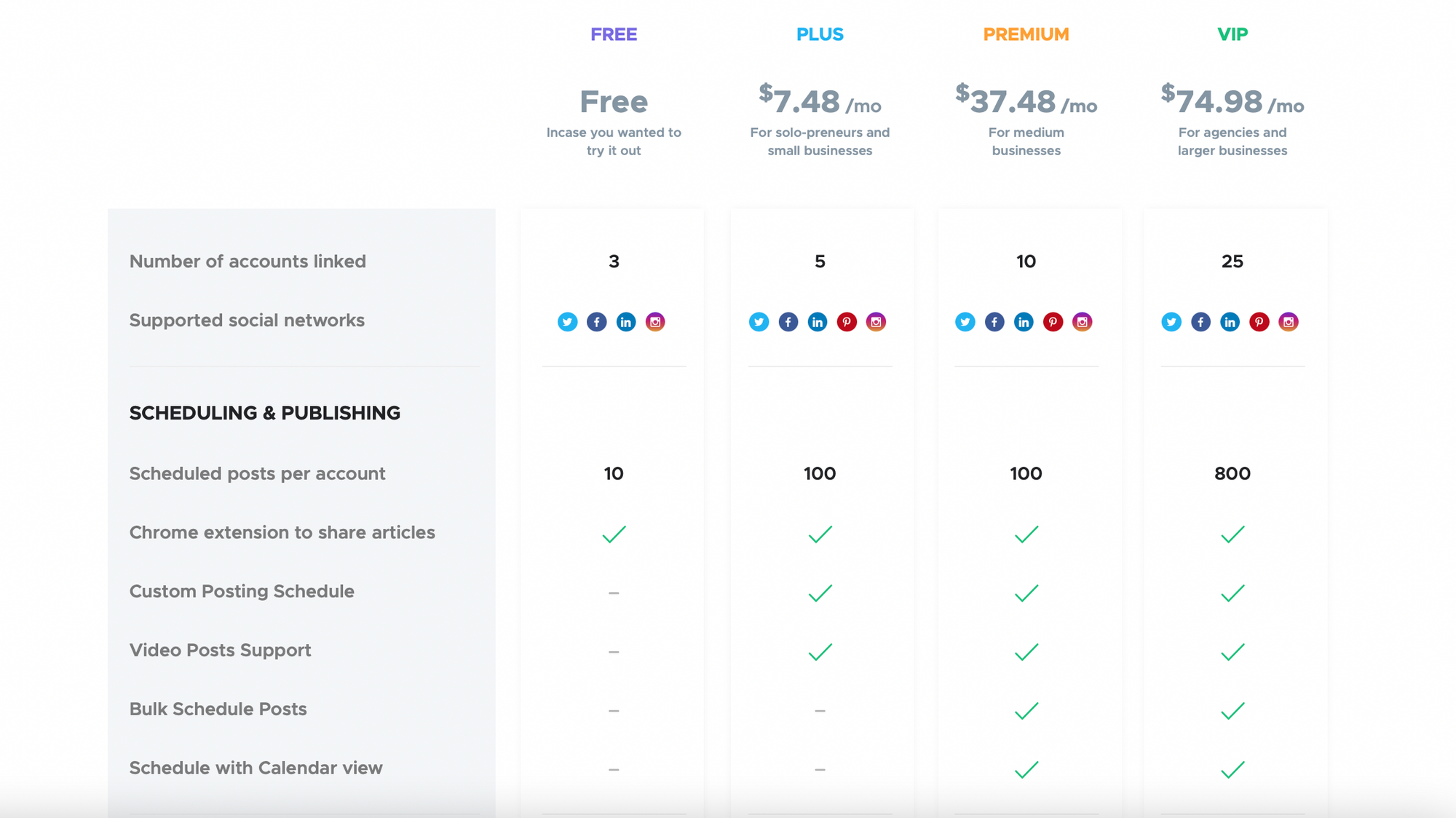 👍 Benefits
Crowdfire has a very clean, intuitive, easy-to-use interface.
With content curation being one of the app's strongest features, Crowdfire understands the importance of photos in today's world — with Instagram and Pinterest prominently featured.
Websites, blogs, online storefronts, YouTube channels, Twitch streaming, and other content conduits can also be connected in-app.
👎 Disadvantages
Crowdfire can be irritating because it logs you out after some time and asks you to log back in.
And, although you can choose an overview for a specific timeframe, the analytics are quite rudimentary.
On Instagram, for example, the app only displays the number of followers, posts, likes, and comments.
Onlypult appears to be a standard automatic publishing platform at first glance, with bulk scheduling and simple statistics.
However, it offers great features and supports 14 social media platforms — with Facebook, Instagram, Twitter, LinkedIn, Google My Business, YouTube, TikTok, Tumblr, WordPress, Telegram, and Pinterest being some of them.
💰 Pricing
From posting capabilities to image and video editing, Onlypult is jam-packed with well-integrated features at an affordable price.
The fundamental features of the social media scheduling tool are the same across all plans.
However, the number of managers that can use the app and the accounts you can integrate are the main variation between the price levels.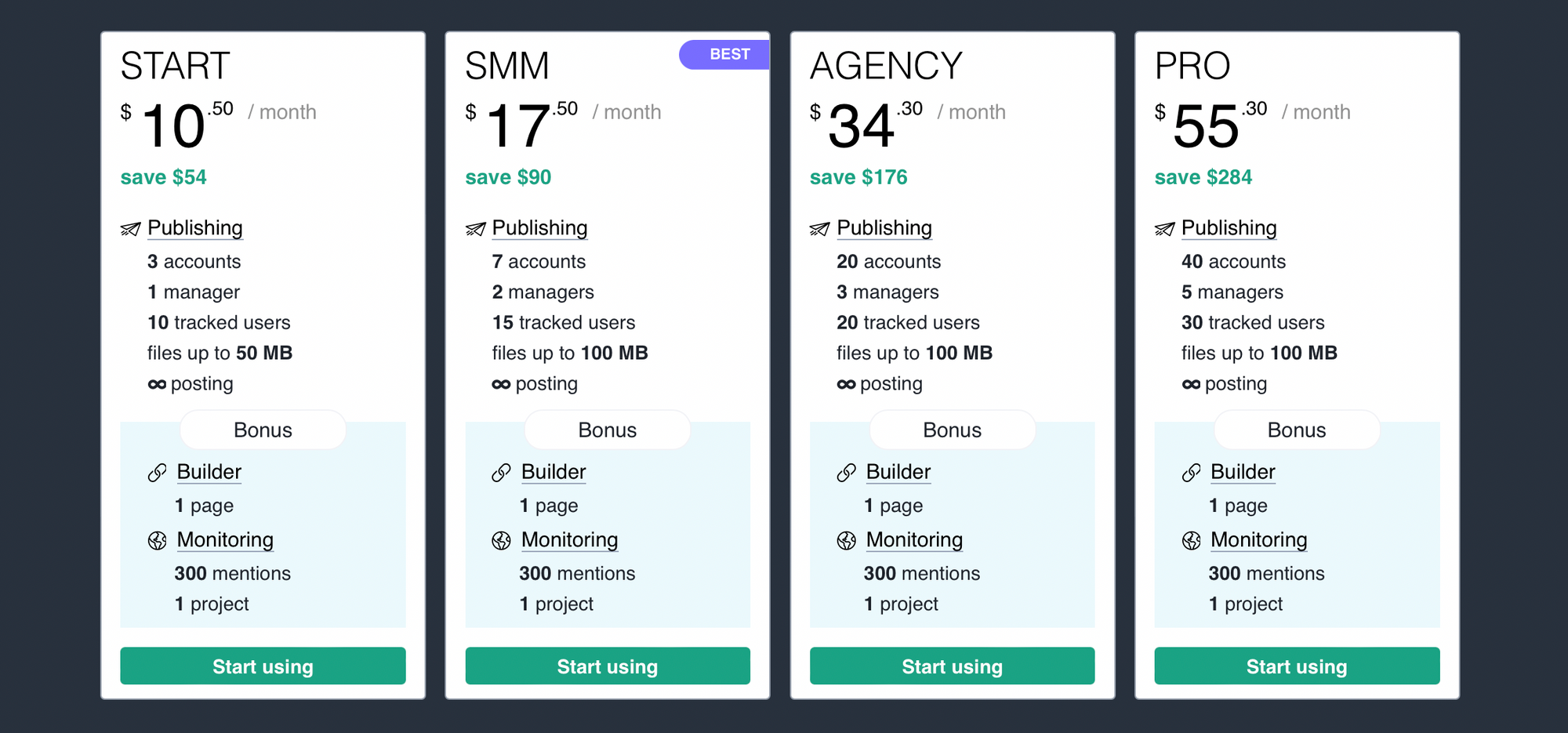 👍 Benefits
Multiposting and auto-deleting are two incredible features that set Onlypult apart from the competition.
Multiposting allows you to publish a batch of social media posts so that your message reaches as many people as possible.
It's also helpful in experimenting with social media posts to see which images and language resonate most with your target demographic.
Moreover, Onlypult allows you to create a post and define an expiration date and time so you won't have to worry about promotional links and codes circulating the internet.
👎 Disadvantages
People claim that, while the program provides enough features for Instagram, it lacks options for Facebook.
Furthermore, Onlypult will not accept Stories that are longer than 15 seconds.
Planable is an excellent tool for automating your social media activities.
The platform, which has a strong visual focus, encourages content creation and teamwork.
Instagram, Facebook, LinkedIn, Twitter, Google My Business, YouTube, and TikTok are all integrated into Planable.
💰 Pricing
Planable, like most social media scheduling apps, has a free edition and three other price options.
Interestingly, the software allows you to customize your plan, with annual costs starting at just $11 per user.
You can change the number of workspaces and users you require and your price plans will adjust automatically.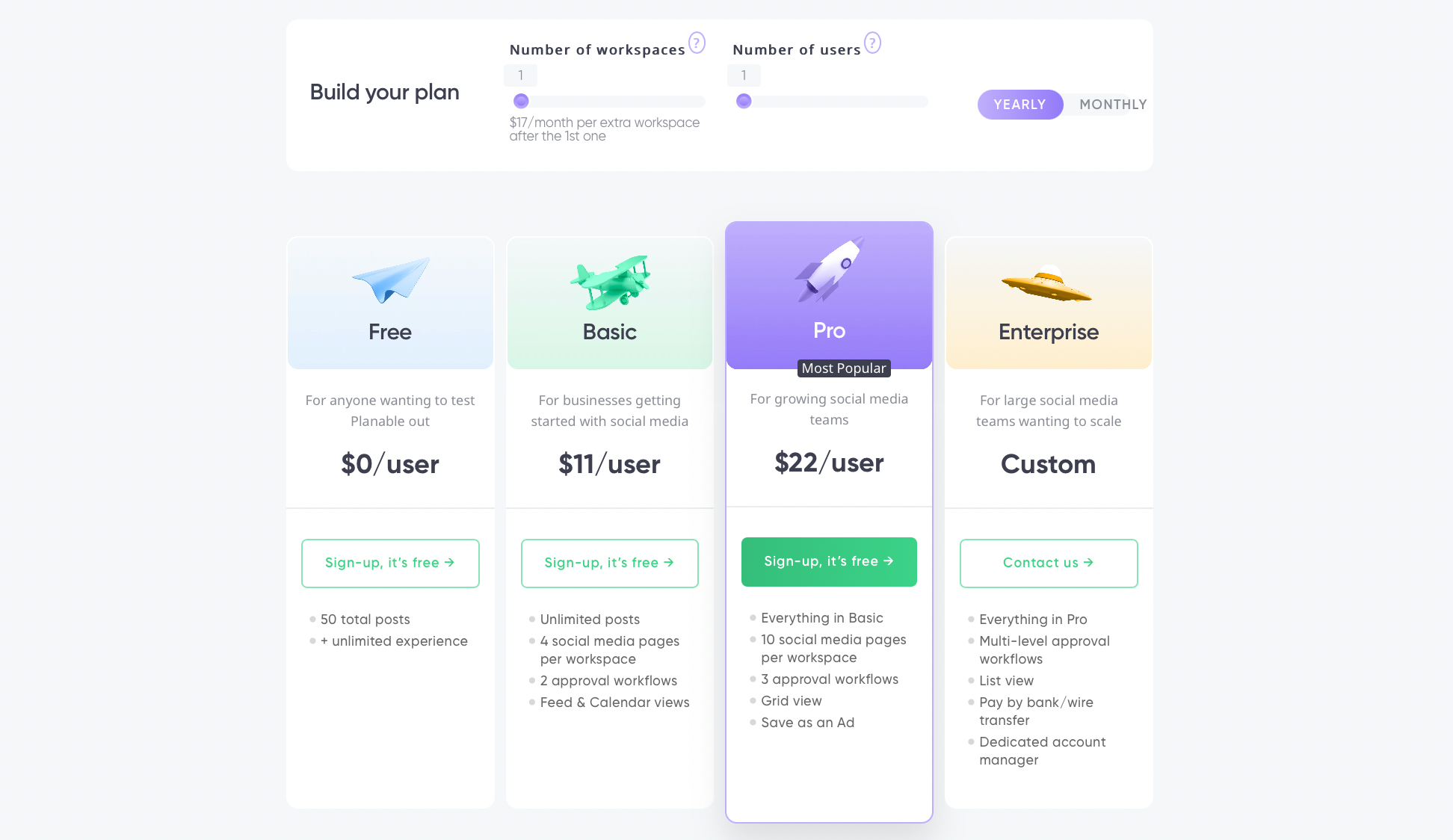 👍 Benefits
Planable is very visually oriented.
Feed, calendar, list, and grid view are all available in Planable to help you create amazing content.
👎 Disadvantages
One significant disadvantage is that, for such a graphically oriented platform, Pinterest is not an option.
Later is a visual first, simple software that self-proclaims as Instagram's BFF due to its focus on aesthetic grids.
When scheduling a post, Later asks you to start with an image and then add the text — regardless of the platform you're sharing content on.
You can store your graphic images in the Media Library.
The Media Library shows you much information about each image you've used, separating new from used content.
💰 Pricing
Later's three paid options are available in monthly or yearly installments.
The higher pricing tiers include a Conversations module for managing Instagram comments.
This means you can keep track of and respond to your Instagram comments from your desktop computer.
And even though Instagram is the most popular app on the site, Later also works with Facebook, Pinterest, Twitter, Facebook, and TikTok.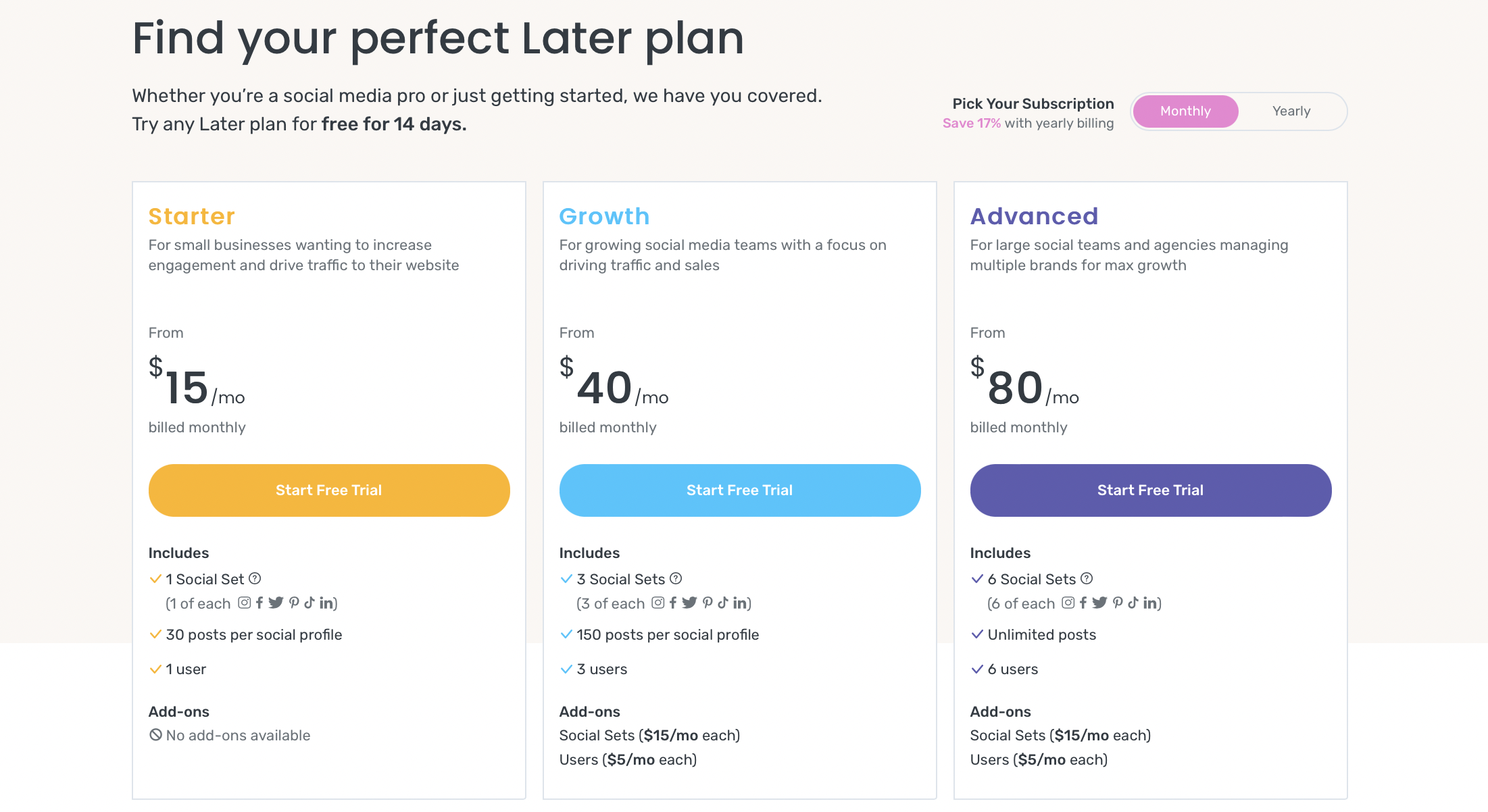 👍 Benefits
Later provides tools like hashtags and keywords to make content research easier.
You may organize your content calendar visually and save each media piece in the asset library.
You can also add notes, labels, and stars to any material to organize your content better.
👎 Disadvantages
Later won't let you publish on social media without photos, which can be a problem for services that don't demand them as much.
Besides, bulk upload is not available.
Hopper HQ has completely automatic posting, a calendar and grid planner for bulk content planning, analytics, full image editing, and the ability to auto-post captions and the first comment.
To maximize content value, Hopper HQ places a strong emphasis on hashtag monitoring and discovery.
💰 Pricing
Hopper HQ offers a 14-days free trial.
Unlike other SaaS', this software offers a single customizable plan.
The pricing starts at $19 a month for one Instagram, Facebook, Twitter, or LinkedIn profile and goes up when you add more profiles to each platform.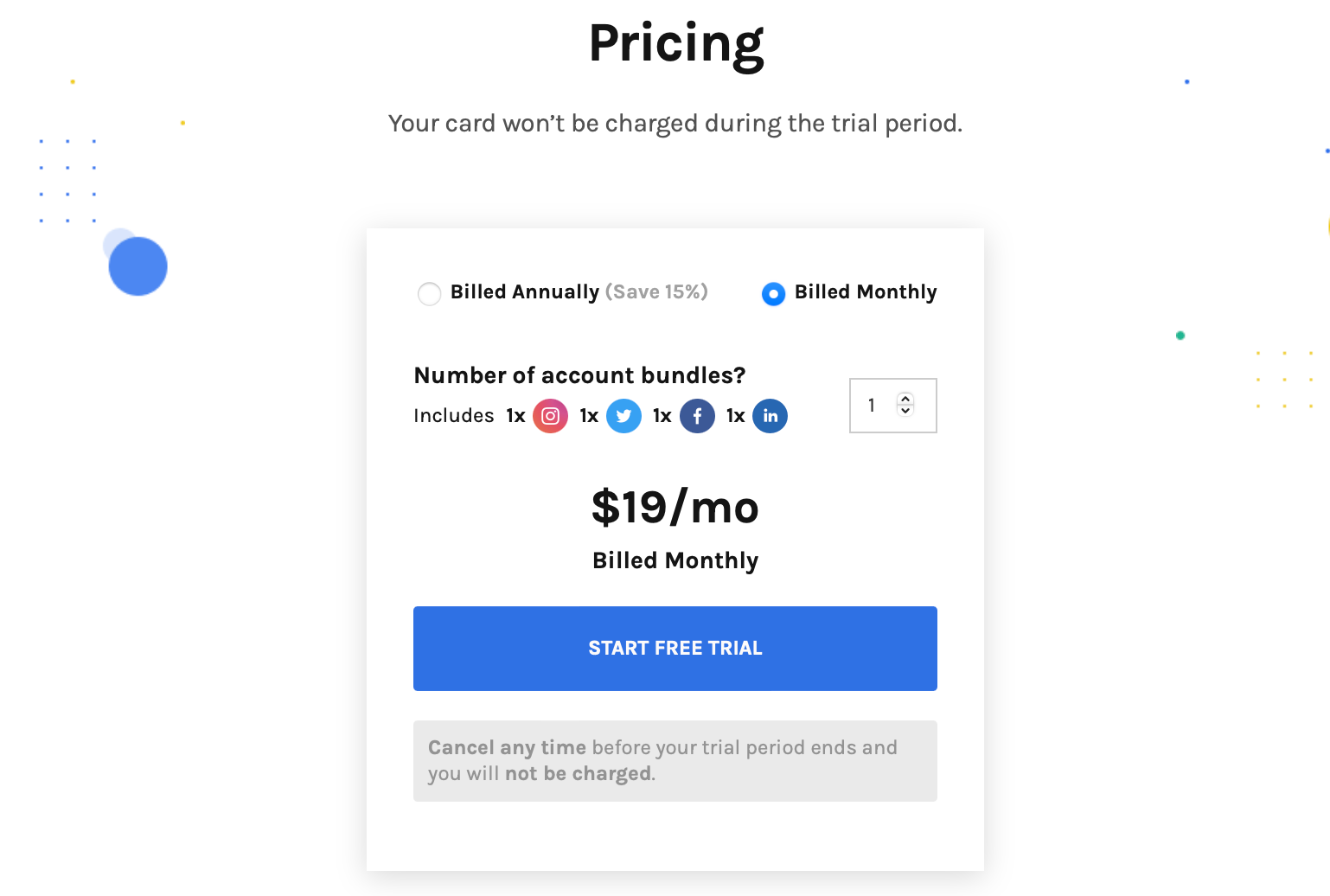 👍 Benefits
The software is straightforward and well-designed.
Hopper lets you schedule an infinite number of posts per month and 50 ahead of time.
Additionally, Hopper's customer support staff is highly responsive and helpful.
👎 Disadvantages
The app does not include a social inbox to manage the messages and comments.
Sked Social is a visual marketing platform that allows organizations, corporations, and agencies to collaborate more easily.
The first thing you see on Sked Social's landing page is that it's a social media planner that focuses on Instagram.
However, you can create, source, share and cross-post your greatest Instagram content to Facebook, Twitter, TikTok, YouTube, Pinterest, LinkedIn, and Google My Business.
💰 Pricing
Sked Social allows you to trial their product for a week for free.
The service offers three pricing levels, with the standard one starting from $25 per month.
The premium plan includes product tagging & shoppable tags, a Whitelabel link in bio, and a dedicated customer success manager.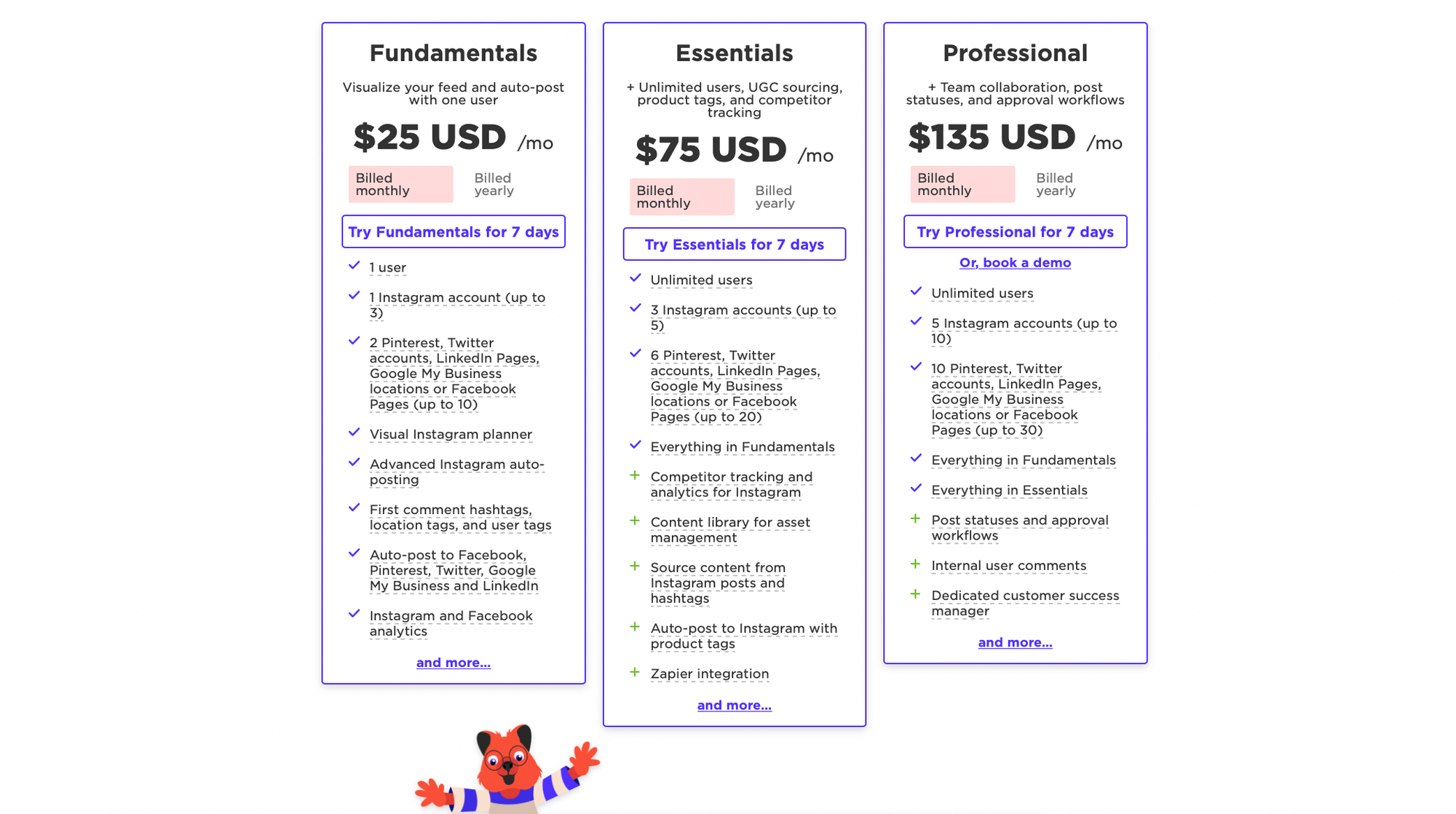 👍 Benefits
You basically have everything you need to leverage leads and sales.
The platform provides you with lots of tools to assist you in creating visual marketing masterpieces that emotionally engage your audience — from social media post creator to photo editor and Instagram tagging features.
👎 Disadvantages
Several marketers pointed out several flaws that are somewhat common for this type of software.
While the information takes several minutes to load, the posting times can be delayed.
Furthermore, there are cropping concerns regarding images or blurred content.
Wrap up
Social media scheduling tools are more than a quick way to schedule updates on social media.
The right tools can help you improve your whole social media management process, giving you more time to create fantastic content and form real-time connections with your followers.
Related articles: