Interactions on social media are vital for all businesses. Authentic social media responses can up your engagement rates, create brand ambassadors, and help to generate a positive brand affinity.
These opportunities on social media come in all shapes and sizes.
In this article we'll explore how you can improve the way you talk to your customers as well as technical steps you need to implement to get the job done.
Ways to Improve Your Social Media Interactions
Follow 5 golden processes to improve your social media interactions
Create adaptable, visual templates
Showcase some of your best interactions as posts
Follow 5 golden processes to improve your social media
To get the most out of your social media content, you first need to go through 5 simple processes that will set you on the right track.

1. Create a tone of voice guide
A tone of voice guideline is essential for any brand that is looking to grow their digital presence.
It's all well and good having a social media manager or community manager that knows how to write or speak as your brand, but what happens when their role changes or you're looking to open in new markets?
You need to get this knowledge down on paper. When your business grows it will be impossible for one person to manage every communication channel, yet every channel needs to be authentic to your brand.
Create tone of voice guidelines and ensure that any person within your company handling a customer-facing channel is familiar with this resource.
2. Set up an analytics tool
In order to know if you're improving your social media interactions or not, it's important to set your business up with a social analytics tool.
By staying up to date with your performance on social, you'll be able to adjust your goals and keep pushing your business to perform better.
A social media analytics tool empowers your team by giving them access to actionable data.
Your team will be able to track post performance and campaign efforts, alongside other metrics, and tweak the social interactions strategy using numbers- not feelings.
By creating authentic social media interactions you'll begin to see your engagement rate rise, across all of your social platforms. Keep pushing that number, it's a domino effect.
3. Train your social media team
With the above points in mind, point number three is to train your team. No matter how big or small it may be. They need to be trained to interact appropriately on social media.
Brand and tone of voice guidelines certainly help this move along. However, there will be times that your team members will need to know how to interact in a certain situation.
This interaction needs to be appropriate externally and also internally. What internal processes need to be triggered for different interactions?
Once your team has been given the tools, resources and training they need, you can rest assured that your business's social interactions will run as smoothly as possible.
Consider completing your training process with an interactive quiz that runs your team members through different real-world scenarios. It's a great way of making sure they've acquired the knowledge they need in an engaging way.
4. Set KPIs for response times
Social Media interactions need to happen daily. They are not a task that should be completed on a weekly basis. Interactions need to happen as close to real-time as your team can manage.
How can you do this? Set KPIs for your team to follow. Hit Facebook's optimum response time and set your own for other social media channels.
It will begin to show how often your customers interact with you and with what sentiment.
5. Ask how you did
If you've spent a while on private interactions with a customer then there's no harm in asking how you did.
Create a quick feedback survey and ask if the person you have been engaging with would take a couple of minutes to fill it out.
Keep your survey short and concise to ensure a high completion rate.
Gather enough data to get feedback on whether your interactions are creating the desired effect with your social media or followers, or not. If you're not getting the responses you'd hoped for, then what do you need to change?
Use quizzes
Once you've got your processes in place to improve your social media interactions, you're ready to start implementing some innovative ways of engaging.
Quizzes are massively underutilized by businesses and can be such a great tool for driving interactions and engagements, especially on social media. Buzzfeed has done a fantastic job of triumphing quizzes over the years, with some of them reaching millions of users, online.
What's more, quizzes don't need to be coded or something complicated for a brand to use. They can be created by any marketer using a simple quiz creator and designed so they fit your brand aesthetic. Consider creating a quiz that drives conversation, is sharable and is something that your demographic would be interested in.
Try polls & question stickers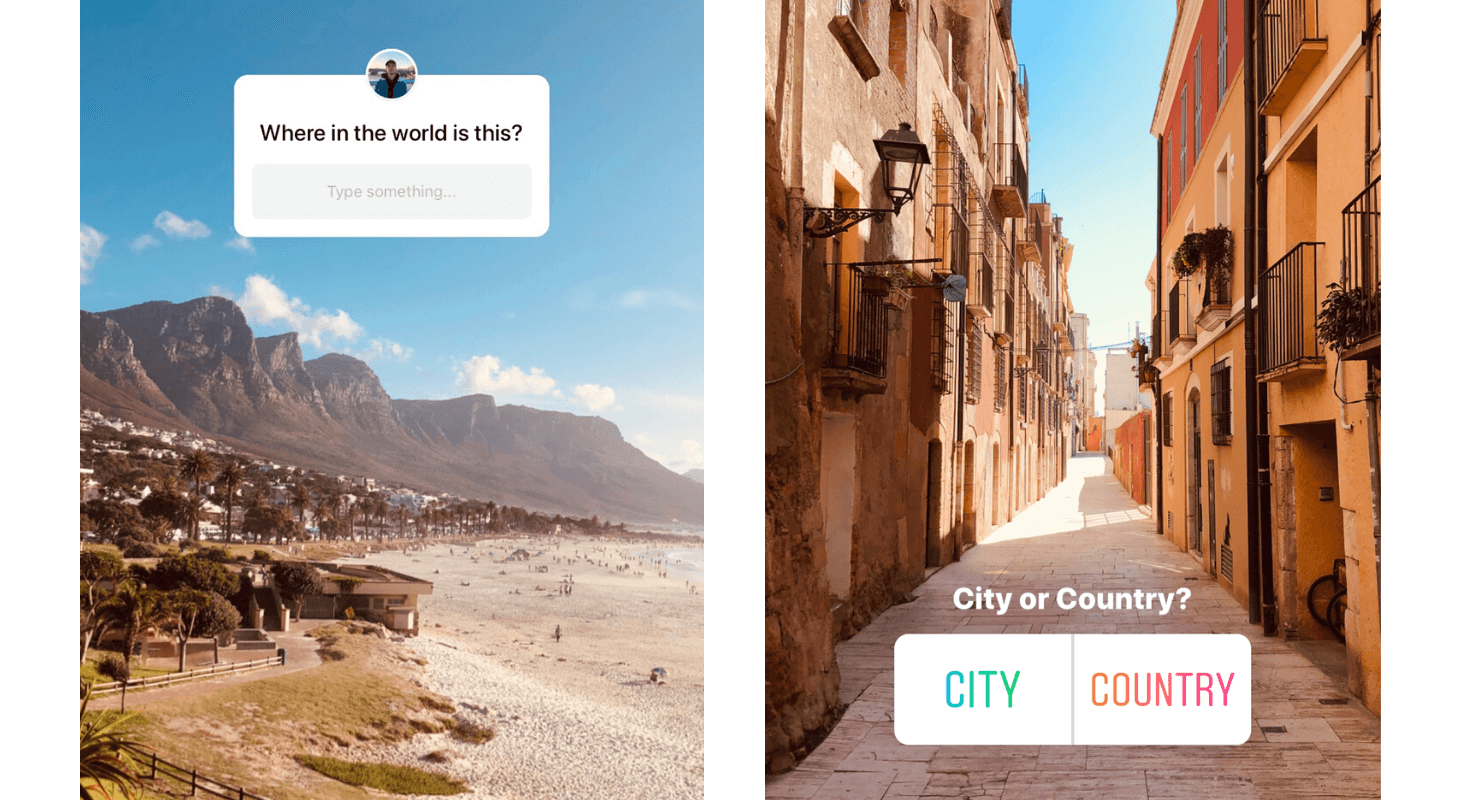 Polls and question stickers are simplified versions of quizzes and are already built into a lot of social channels. Instagram hosts polls and questions stickers in stories whilst Twitter posts and Facebook groups currently just host polls.
There's no doubt we'll see more social channels evolving and offering this easy-to-use interaction technique. It allows brands to have conversations with the masses at a fraction of the effort.
Although this method is nowhere near as personal as a quiz, it's definitely something you should consider in your daily efforts.
Write thought-provoking posts
These posts can come in any form, it's whatever grabs the attention of your demographic. Image posts with text in them tend to support this technique really well.
Once you've grabbed the attention of your social media followers you need to ask something that inspires them to interact with the post. Identify what matters to them and encourage conversation around the topic. Try to inspire debate, ask questions, make people comment on how they feel.
Be the host of conversation. By encouraging interactions from fan to fan, you also begin to build a community around your brand.
Use 360° content
360° content is super interactive and provides a nice break from the usual photo and video posts that are flooding social media feeds. If you want this post to be interactive directly within the social app then you'll only be able to use certain social media channels, like Facebook.
360° Content provides a level of interaction that is beyond whether someone likes or even recognizes your brand. This content type sparks curiosity with viewers and sees them interacting with your brand regardless of their level of brand awareness.
Create adaptable, visual templates
Visual templates that any member of your team can adjust are a great way of creating seemingly personal customer interactions on social media. They work well on platforms like Twitter where others can see your interactions with people.
Use a tool like Canva or similar user-friendly editing software and create templates that leave space for personalization. The theme of these can be your choice. Perhaps you want to involve the customer's name within a post, maybe you want to incorporate something they have said with a meme. Be creative and make it accessible for your entire team to create personal interactions that are shareable.
Host comment competitions
Competitions that remain on a social platform are a great way of generating interactions at a very low level. If you're looking to hit metrics and give your brand a boost so that it appears in people's feeds more regularly then consider introducing a comment competition.
A comment competition is basically a social media competition that has a really low barrier of entry. "Follow this account and comment below."
What you ask people to comment should be relevant to your brand. If it gives you UGC to work with in the future then even better.
Prompt interactions
If you don't ask, you don't get. It sounds like a basic tactic but try it and see how it works for you. It's one that's often overlooked and results in an easy reward.
Prompt people to interact with your posts within the copy you write.  Especially if you're a relatively new business or new on that particular social media channel, it's important to set up expectations and to guide people in how you want them to interact with your page.
If you prompt social interactions from the beginning of your brand's time on social media then as your followers grow they'll learn from those that are already engaged and follow suit.
Showcase some of your best interactions as posts
We'll finish on this tactic and use Instagram as an example. People post (unsponsored) branded photos on Instagram for two reasons:
They truly love the brand
They're hoping to tap into the brand's audience - get a repost
Just because your brand interactions are not image-focused doesn't mean they can't be repurposed and used on your brand's social channels. Highlight comments, tweets and other copy focused interactions in an engaging and appealing way.
By doing this, customers will realize they can be "featured" by your brand just by interacting with you. You'll begin to see more thoughtful interactions from your customers on public social media channels.
Wrapping up
Hopefully, you're now fueled with ideas on how you can technically and creatively generate better social media interactions on your channels.
Remember to set your team up for success with the tools, resources and training they need before implementing any interaction tactic.
This way, when the interactions come, your team will be ready to facilitate them and see your social media channels thrive.
Related articles: