For a social media manager, being inspired and creative is bliss. However, this is not the whole recipe for having engaging social media posts.
The social media content approval process plays a crucial part.
It's a must when you need to switch between social media platforms to promote your new campaign or a trend you have just  hopped on.
However, the content approval process might be tiring if you need to speak to different departments until you get the thumbs up.
Let's learn together how to make the social media content approval process more efficient and less frustrating.
Social media content approval process
1. What is a social media content approval process
Probably many of you, social media managers, already know what this process is, since you may have struggled with it. However, I wanna make it clearer.
A social media approval process consists in establishing a workflow for your content creation and then moving it to all the teams (like legal or finance) to get edits (if needed) and then posted.
In theory, this sounds pretty simple and not at all time-consuming. But more often than not, social media managers get their content approval after the trend has died on social media.
And that's the moment when you are being left looking at your work that can no longer be used.
To make sure this never happens (or at least you narrow down the chances), you need to be more careful with the planning.
Others may call you a control freak, but you know best. If it is required to make a step-by-step brief about your content, the intent, the goal of your campaign and how your post is going to bring revenue, then do it.
The content approval process features important steps of your content plan, indicating what person from what department wanted to edit it in a specific way.
At the end of the process, you will learn exactly how many people saw your content and had a saying in the approval process.
Whoever said being a social media manager is a piece of cake, just scrolling through social media posts all day, has no idea that this cake is actually a hoard of unicorns.
That you have to ride on a slippery slope in the mountain. And the unicorns are on fire.
So, yeah, good luck. At least you have this super explanatory guide to teach you how to develop a more efficient workflow and still remain friends with all the other people in the departments you get the approval from.
2. Why do social media managers need to use content approval and who can benefit from it
Some social media managers, especially those working in small companies or for small brands, do not always ask for approval when posting on social platforms.
However, the content approval process brings a lot of benefits and can help to avoid misunderstandings with customers.
Plus, you make sure that several pairs of eyes have already checked what you've developed, from copy, message conveyed and visuals.
A social media content approval process should ensure an efficient collab with the stakeholders who check the content, while following the brand voice, ruling out typos and delivering the content in time.
Therefore, this benefits both the social media manager and the client or the legal team that takes care of the brand.
The client/ brand/ company gets what they want on social media and the social media manager knows for sure that they did not waste their time.
This way, you make sure that you have fulfilled your client's needs and you know that your job has been appreciated.
Anyone who works in social media can benefit from a social media content approval process, from freelancers to social media strategists working in big companies or agencies.
3. How to build an efficient social media content approval process
Since we learned the bare minimum about the social media content approval process, we can now go into in-depth details on how to develop such a process.
Building an efficient content approval process for social media is no easy job. Nevertheless, with a bit of patience and determination, a social media manager can go a long way.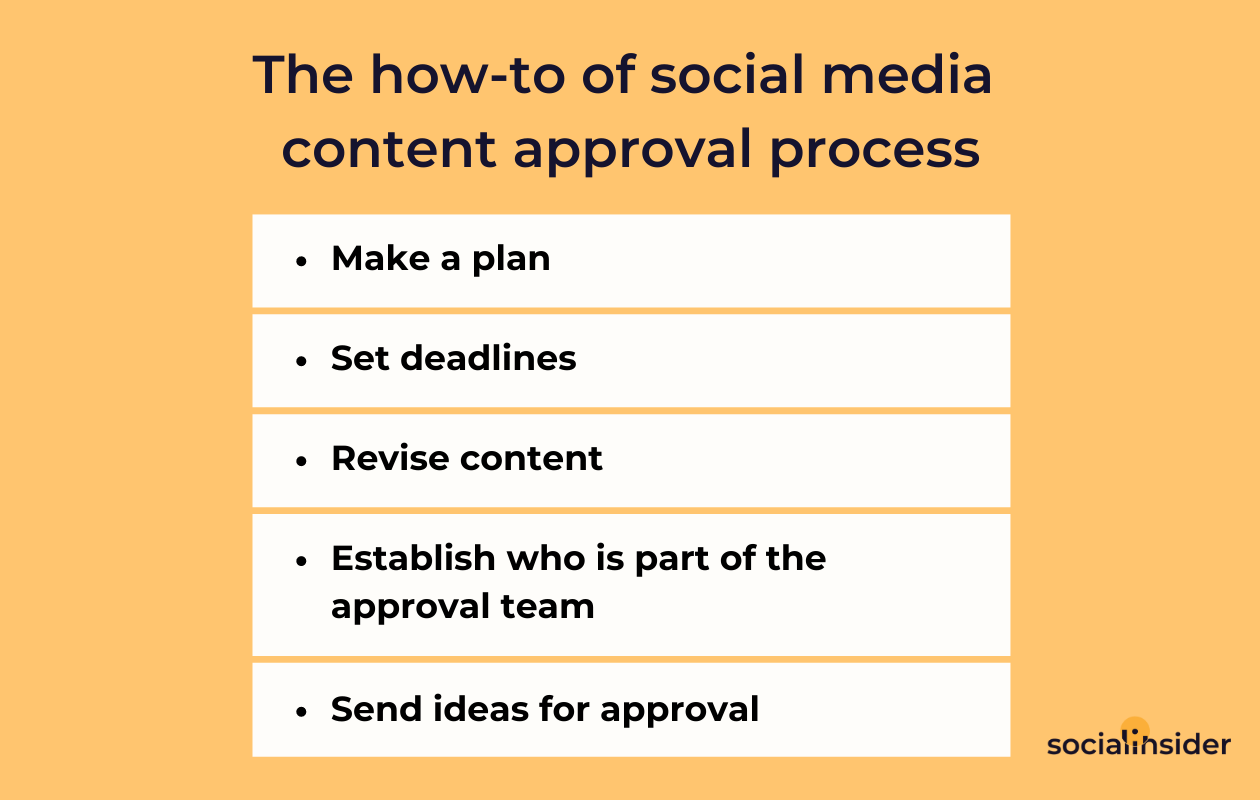 Make a plan about every stage of content developing
First things first, start by making a plan for your content. Take a pen and some paper, if this suits you best, and start writing what are the steps you have to take after creating content for a specific campaign.
If you already have your copy, message and visuals, all you have to do is to ask for approval from the persons in charge.
Make sure that when you send your content, you have already checked it for spelling errors or typos.
You wouldn't want an unnecessary back-and-forth exchange of emails. After you are sure of the message you want to send users when they'll be reading your copy and see your visual, then you can make brief for the team that will give you the approval, explaining your purpose.
When you create content for social media, you have a planned schedule where you know exactly what to post and when to post, even the specific hours.
If you don't want to let anyone disrupt your schedule, you should inform your approval team about the deadline you have for the posts.
This way, you make sure they prioritise getting back to you with an answer. Without deadlines, you risk delivering your social media content late. And we know being late is not appreciated.
After you collaborate with all those who help you obtain top-notch content, where the copy perfectly suits the visuals and you've smartly introduced the products, you need to read it all again.
Sometimes even for the 8th time. Just to make sure there are no errors.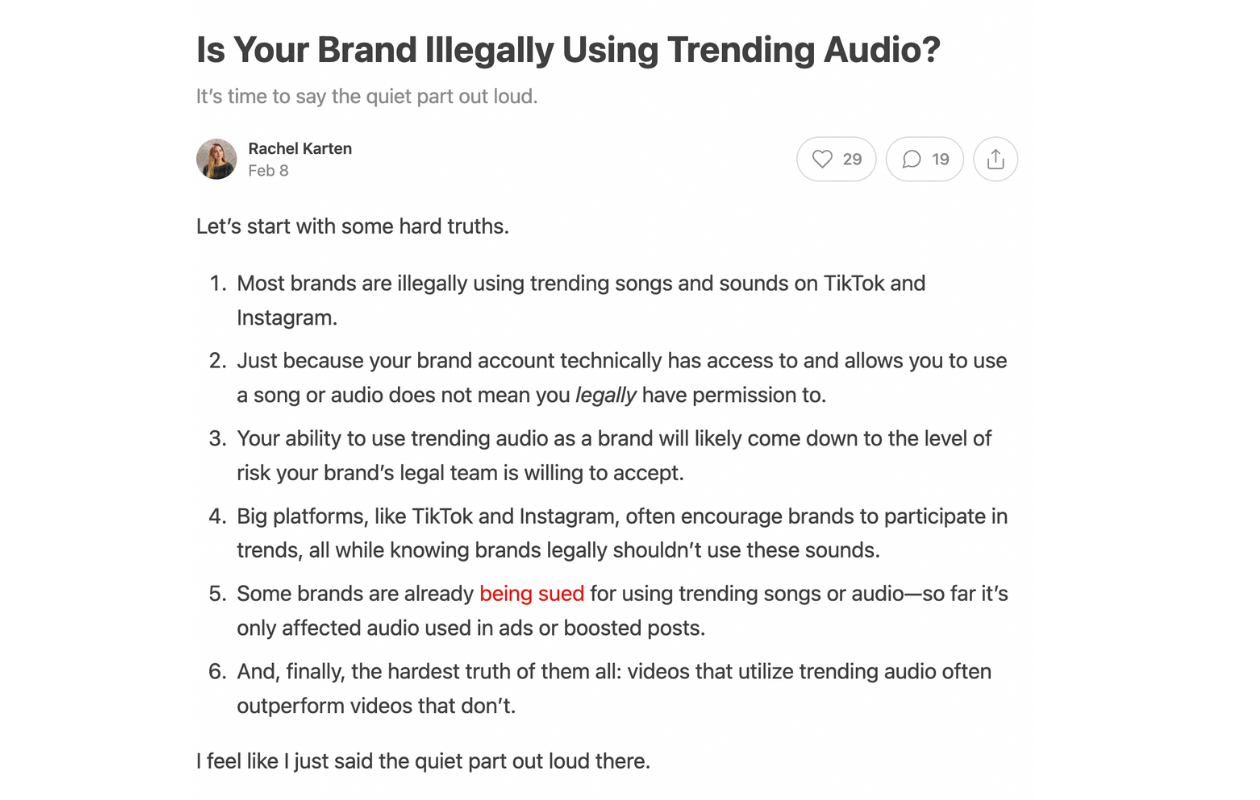 Then, when the content gets all the checks from you, you can send it to the approval team.
The approval team may say that the trending song you want to use for your new video is not legally used. Therefore, they may require you to change it and maybe you'll have to rethink everything about your post.
Establish who is part of your approval process
As a social media strategist, when developing your content, you may only be in charge of the copy and the idea behind the campaign you're working on.
However, if you are not a Jack-of-all-trades, you might need to ask for the help of a graphic designer for the visuals.
Then, you might need to talk to a lot of other co-workers to get the content approval.
You can split the list of people who will overview your content in two: people who are directly involved and those who find out second.
In the list of people who are directly involved, there is the Team Manager, then the Brand Manager and the Marketing Manager.
The list of people who are not directly involved into the approval process are the legal team and the finance one. They will only need to see the content after it has already been revised.
However, even if they see the content second, their decision is important. If your requests are too big or imply too many costs, your company's finance team may not support your decisions.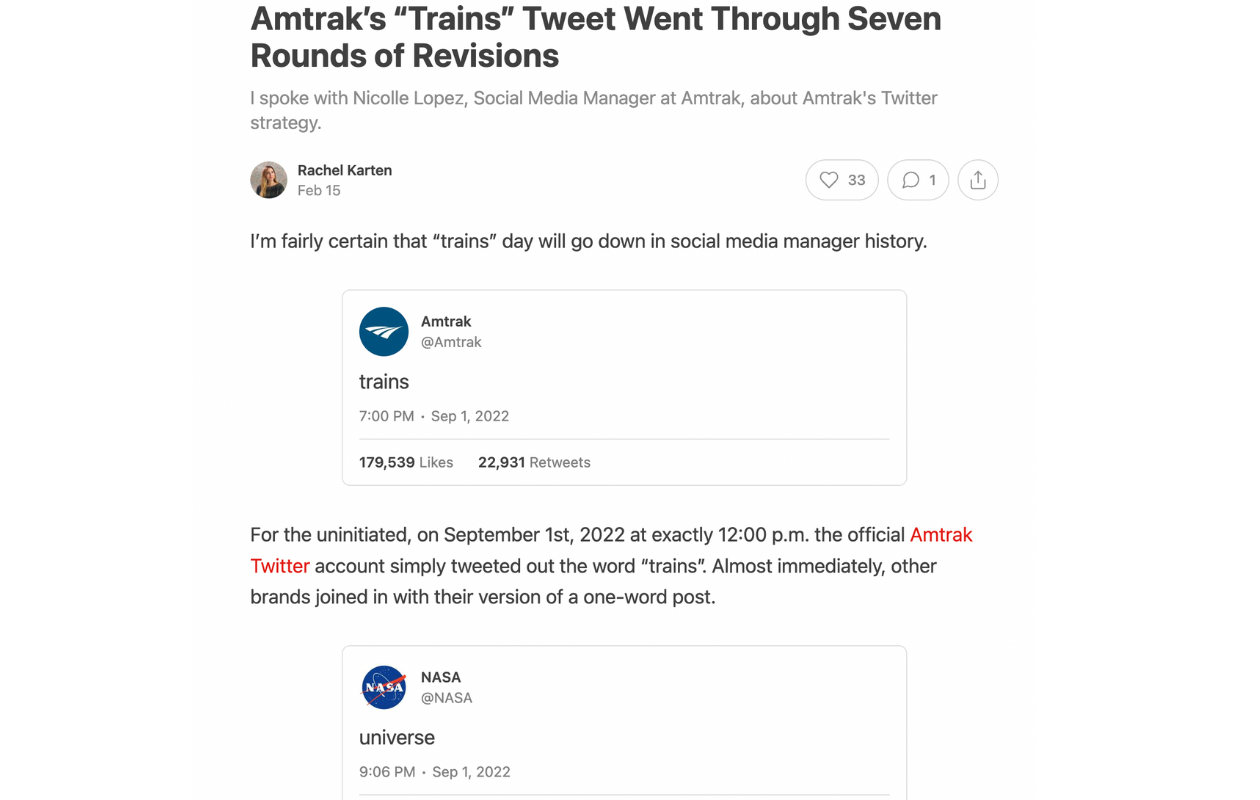 At the same time, if the legal team decides that your content is not in line with the brand's reputation or voice, you will not get the chance to post the content.
Pay attention and don't forget to include everyone needed into the social media content approval process.
It seems this happens even for the biggest brands and companies of the world. We all remember this trend highlighted by Rachel Karten in the article that I screenshot above.
Everyone on Twitter posted a Tweet with just one word that defines their company. The Internet was surprised to see that President Joe Biden needed two days to hop on the trend.
This means that the approval team was not sure about it right form the start.
Send your ideas for approval to the team in charge
After you have already established who is part of the approval team, you just have to send your content together with the visuals, while also informing them about the deadline.
Then all you have to do is wait for an answer. And I know the suspense feels like it's almost deadly.
This tweet posted by Dave Harland is still available today for all social media managers struggling to efficiently work with the rest of the departments.
But you have to keep focused and stand your ground when you will be showered with questions about why and what you are trying to convey through the content you want to post.
Even the greatest companies, like the World Health Organisation, also uses social content approval processes when wanting to post.
Diya Banerjee, who is the Global Head of Social Media at WHO, told us in our podcast "The Life of a Social Media Manager", that they have a different content process for every platform.
The agency on public health focuses more on the latest news. However, the social media team also develops health campaigns based on a certain topic in which people are interested in.
"We produce content that is news-based and see what platform it fits", said Diya Banerjee.
The social media team at WHO uses social media analytics and listening a lot to find out more about the interests of their readers.
4.Types of social media approval workflow
When searching for the right and effective way to develop a social media approval workflow, you need to know that there are three types of social media content approval processes.
Generally, the project you're working for, being it for your own company or a client, sets the type of needed approval for your social media content.
One of these is surely going to make the entire process a lot easier for both social media managers and the approval team.
Required social media content approval process
The required social media approval indicates that no one is entitled to publish the content until the approval team didn't approve the content yet.
This is a security measure that saves the social media manager from a lot of trouble, in case the decision-making team asks for some content edits.
This type of social media content approval process assures a better, trustworthy relationship between a company or agency and its clients.
Multi-level social media content approval process
The multi-level social media approval process indicates that, before posting your content, you can establish several layers of approval.
This technique could only assure you that everyone looking at the social content you've created has double-checked it before giving you the "OK".
For each layer of the content approval process, you have to designate certain co-workers or stakeholders, from the ones in the marketing department, to the legal and financial department afterwards.
Make sure you send it to two people from the same department to get an answer even quicker.
This type of social media content approval process will only increase your efficiency and productivity, being always ahead of schedule.
Optional social media content approval process
The optional social media content approval process is best suited for those social media managers who like to ask for their marketing colleagues' opinion about their content.
This does not mean that they are really asking for approval, but it's more like a second opinion.
In case you show your content to a designated person that should offer you feedback and they don't answer in time, you can share your content with everyone in the team.
This type of social media approval process is suitable for start-ups or companies who are still working on developing their brand.
5.Benefits of a social media approval process
We have already understood the importance of a social media content approval process and how it can make a marketer's life more efficient.
It is clear that, although it may seem like another long, interminable brief for the approval team, it is very useful.
Here are only a few benefits of this new trait that can really change a social media manager's perspective on how to get a "YES" from the stakeholders.
As a social media manager, when the tasks start to pile up, you know that the only thing you can do to keep everything under control is by thorough planning.
A great plan and workflow can help make things more clear. And let's all admit this: we love to tick off tasks we've finished on our to-do list.
By implementing a social content approval process, you avoid chaos. The more the eyes looking at your content, the less the mistakes and errors.
Doesn't this sound like a dream come true?
Instead of getting caught in a back-and-forth email sequence with your colleagues, with no way out, you'd better prioritise sending the content for approval in time.
By developing a structure to the process and establishing a deadline, you make sure you get the answer just in time for posting.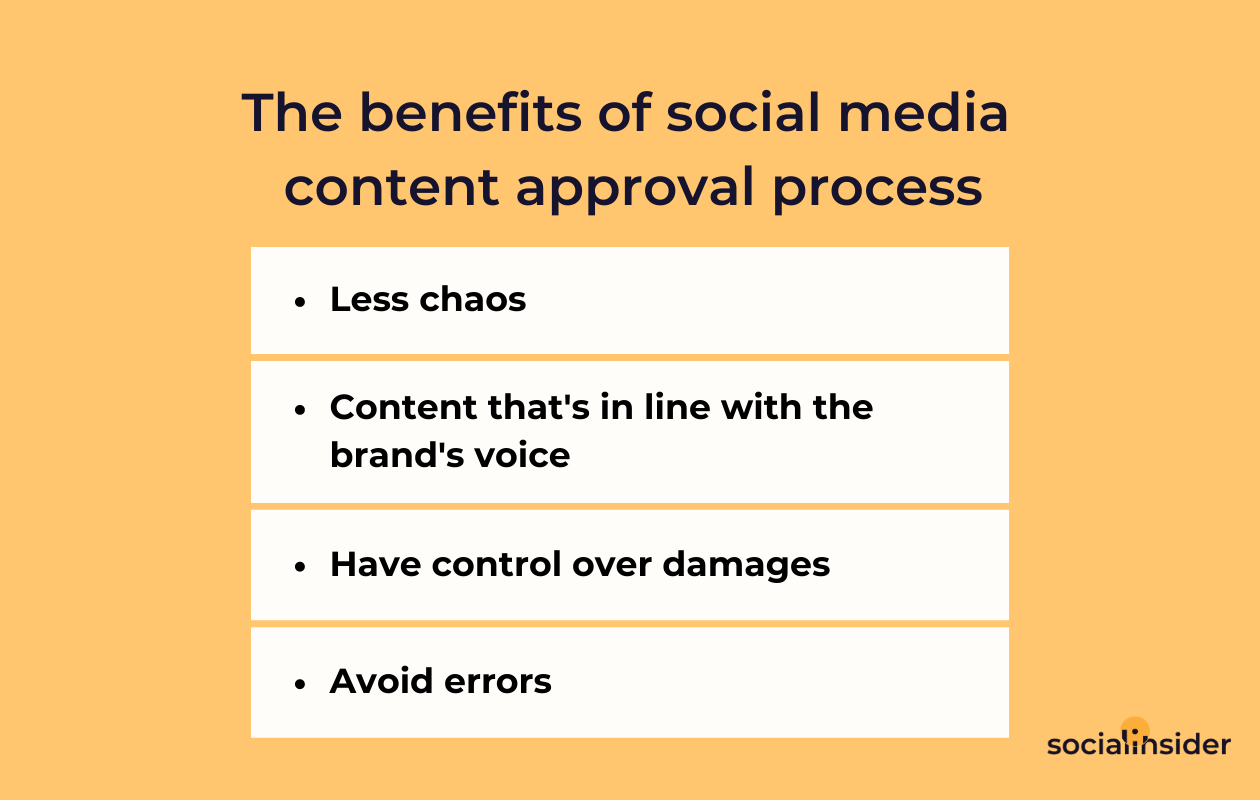 Make sure your content is in line with your brand's voice, always
When your client or your approval team offers you feedback for the social media content you have created, you learn new things on how to stay in line with the brand's perspective and values.
If you learn how to efficiently collaborate with your team, you will see that your social media content will be closer and closer to the approval teams' desires.
This means that soon enough you will learn how to obtain their approval faster. If you align with your sales team and your legal team, learning from one campaign to the other, you definitely find out more about the brand's voice and begin to utter it.
Moreover, you will also save up more time.
Avoid errors and control damages
Typos and spelling mistakes are a social media manager's greatest enemies. One way to combat them is through a social media content approval process.
And even if there's a new trend on social that keeps on pushing more and more users to adapt it, I really hope it won't make it.
I'm talking about intentionally putting a type or a grammar mistake in your copy so that it sounds more human.
Basically, this trend wants to show that "hey, here's my post that is not written by AI because otherwise it would be flawless".
Instead of posting content that was not double-checked and edited after posting, when you notice the mistake, maybe you should worry more about the accuracy of the data and how it can help your readers.
Even if the use of ChatGPT or *insert here the name of any other AI writing tool* has increased in popularity, we tend to lose the genuine creativity of people.
A good eye always spots the lack of the human touch in a piece of writing. Moreover, one of the reasons your approval team may not give you the final "OK" can also be the use of AI writing tools.
The stiff, plastic wording is easily noticeable, especially by an avid reader or a person really interested in your field or industry.
Avoid sharing you access to the documents with someone else
To make sure the security levels pertain at normal levels, it is advisable to avoid sharing access to different documents, even with your co-workers.
You also need a social media management tool to know exactly who can have access to certain content.
If all the teams in your company use the same system, it will be easier for everyone to access only the docs and data they are interested in.
Afterall, another purpose for the social media content approval process is to keep count of who has access to your campaigns, being able to control the access.
This can also establish an efficient workflow for all the teams, like a conductor who smoothly leads an orchestra.
Collaborate efficiently with your team and departments
Since we talked about teamwork, collaborating efficiently, even time-efficiently, is key.
A lot of document-sharing with your team and colleagues from the legal and financial department can slow you down.
The social media content approval process can increase your overall productivity since everyone will take turns on offering feedback.
When you have an approval task established for every department, with a deadline included and notifications set in place, everyone will be in sync.
You and your approval team will not only follow the schedule, but you will also save a lot of effort from all the back-and-forth.
The social media content approval process offers social media managers an editing trail.
This means that you can see exactly what person edited what to the text and how has the text changed from day 1 to the day it got back to you with the "OK" approval.
The editing trail will also provide a marketer with more insights on what the approval team usually wants to see, how they can remain in line with the brand's voice and what approach they should use.
Final Thoughts
Being organised is a social media manager's top skills. That is why planning comes before publishing.
Otherwise, you risk sending out there, in the vastness of the Internet, data that is not accurate or not in-line with the brand's values.
And that's something you cannot take back. However, you can still edit.
But in order to establish an efficient workflow, a social media content approval process is crucial.
You will not only post better, double-checked content, but you will also finish your social media tasks a lot faster. Moreover, you will also improve your team working skills.
Hopefully you resonated with this guide and you also found some answers regarding the content approval process. In case you have any questions, we are only a few clicks away.