It's no secret that getting to know your audience is a major building block in creating a successful social media strategy. But how does one begin to get to know Gen Z?
Let's start with the basics.
Gen Zers are progressive, creative, opinionated, pragmatic and loyal. They also make up 40% of the global consumer population and they have a spending power of over $360 billion.
Most importantly, they were born with the internet at their fingertips.
Keep on reading to discover what Gen Z is, why they seem so hard to please and how you can reach and connect with the Gen Z market in 2023.
How to win over Gen Z with social media marketing
1. What is Gen Z?
Generation Z - also known as Zoomers, iGen, or centennials - is made up of people born between the late 1990s and early 2010s. The youngest of the bunch are today's teenagers and the oldest are young adults in their mid-20s.
Gen Z is the first generation to be dubbed "digital natives", seeing as they grew up with smartphones and social media technology so they don't know life without the internet.
The online world is their second home, they feel like they belong there and more importantly, they feel entitled to shape it to their needs and expectations.
Unlike previous generations, Gen Zers expect to be able to communicate with anyone in the world at any given time, with a simple touch, swipe, or tap of the finger.
"A superlative generation in many regards, Generation Z is on track to be the largest, most ethnically diverse, and financially-powerful generation ever." - Morning Consult
That's all great, but once you get past the official demographics, Gen Z becomes harder to define. Why?
Because they are a complex, incredibly dynamic generation.
2. Which social media platforms does Gen Z prefer?
According to a 2022 Creatopy survey, YouTube and TikTok were the top choices among Gen Zers when asked what platforms they use most. Instagram was also a popular choice.
This all makes sense, considering Gen Z has declared a preference for video content.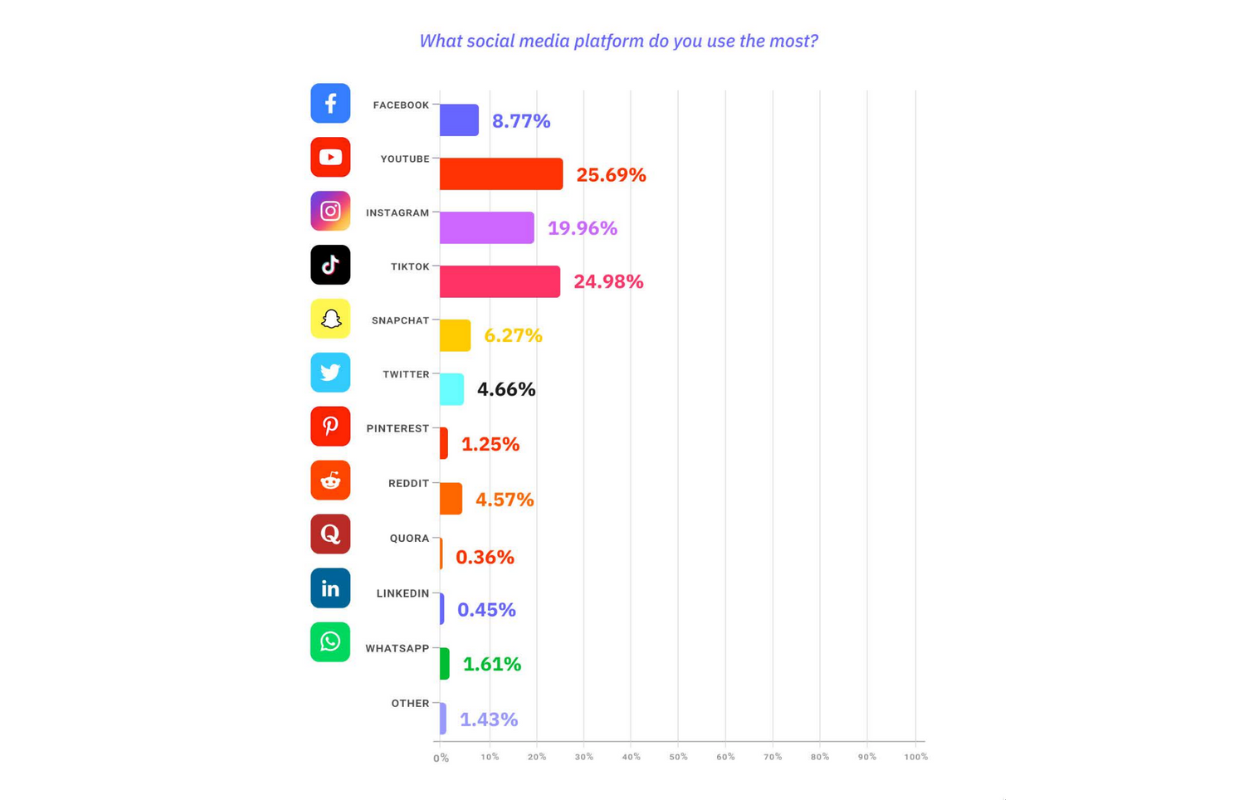 3. What makes Zoomers tick?
That's what every marketer out there racking their brain trying to connect with Gen Z would love to know. One thing is clear:
For marketers aiming to reach, target, and successfully get in front of Gen Z consumers, social media is the perfect destination.
A good amount of research and the right social media analytics tools will give you crucial clues as to what your target audience is, what they want, what they believe in, what rallies them, what they are missing or what they despise.
It's never a good idea to just assume these things, particularly when it comes to Zoomers. Why?
Because most traditional marketing methods won't work on them. Gen Z marketing is unique in many ways, and you absolutely need to understand how this generation feels, thinks and acts before you start creating content for them.
Which brings us back to the burning question: what makes Gen Z tick?
3.1. Authenticity
Growing up in the golden era of filters, generic marketing and fake news, Gen Zers value authenticity more than any generation before.
They want brands to feel more real and human, be accountable for their mistakes, find a way to be in constant contact with their followers, and generally have a more relational, not transactional approach.
According to Statista, 45% of people that belong to Generation Z are more likely to engage with brands that appear genuine and trustworthy on social media.
"If you take a step back and think about how this generation is the first digitally-centric and mobile-native group in history, you start to realize how completely bombarded this generation has been with information across many, many channels. As a result, the Gen-Z consumer has built an incredibly sophisticated filter to winnow out the noise and do so almost instantaneously" - OptiMine CEO Matt Voda
What's more, Gen Z has a soft spot for brands that not only are authentic but also encourage authenticity. A great example of this is Paula's Choice:
3.2. Social activism
Gen Zers have high expectations from brands when it comes to societal issues. 57% of Gen Z expect a brand's stand on important issues to be visible at any point in time, according to the 2022 Edelman Trust Barometer Special Report.
The same report suggests 55% of Gen Zers agree that brands who "do good in the world" are worth their trust, time and money.
3.3. Feeling heard
Everyone wants and likes to be heard and this generation is no exception. However, Zoomers want to be more than simple, passive spectators.
They want to feel that their comments and feedback inspire action and actively shape the course of brand development.
Which explains why UGC (user generated content) is such a sure shot way to keep Gen Z engaged and promote brand authenticity all in one fell swoop.
4. How to market to Gen Z
The great news about marketing or branding to Gen Z is that there are endless ways to do it. The bad news is that… there may be too many for any of us to keep up.
Still, here are 5 tried-and-true strategy tips on how to do marketing for Gen Z. Let's go over them together:
4.1. Create channel-specific content
One thing that Zoomers hate is generic marketing. To please your Gen Z audience, don't run the same exact social media campaign on more than one channel.
For Gen Zers, every platform has a purpose. TikTok is typically where they go for entertainment, Instagram is their go-to spot for aspirational content, Twitter is their primary source for news and so on.
Sure, this compartmentalization is not set in stone, but it may give you an idea of what Gen Z expects to see whenever they log into each platform.
A common temptation is to share TikTok videos on Instagram Reels and hope to achieve similar results on both channels. This usually backfires, as Gen Z prefers content that is fresh and strategically created with one single platform in mind.
4.2. Speak their language
When considering how to market towards Gen Z, take some time to brush up on your Gen Z slang. Zoomers love it when you speak their language and are quick to detect if you're being genuine or just trying to fake it till you make it.
Don't just throw in a few popular terms like 'slay', 'sus' or 'camp' and call it a day. As far as Gen Z marketing trends go, memes are huge. They show a less formal and scripted side to brand interactions.
So we suggest you keep track of popular memes and join in as soon as you get the chance (provided it aligns with your brand's identity):
4.3. Stick to video content (and keep it short!)
Gen Zers are much more present on video-first platforms such as TikTok, YouTube or Snapchat than their Millennial counterparts, according to The Manifest.
Younger generations in general tend to gravitate towards visual content, and with Gen Z's average attention span of just 8 seconds… short-form video content seems like the way to go.
In other words, you only have a few seconds to get your message across and convince Gen Zers that you're worth their time. Make them count.
4.4. Lean on influencers to help spread your message
Zoomers are big on influencers. In fact, a Morning Consult study found that 72% of Gen Z and Millennials follow influencers and for Gen Z in particular, top YouTube influencers are just as popular as major celebrities.
The same report suggests that influencers are generally more trusted than celebrities as brand spokespeople.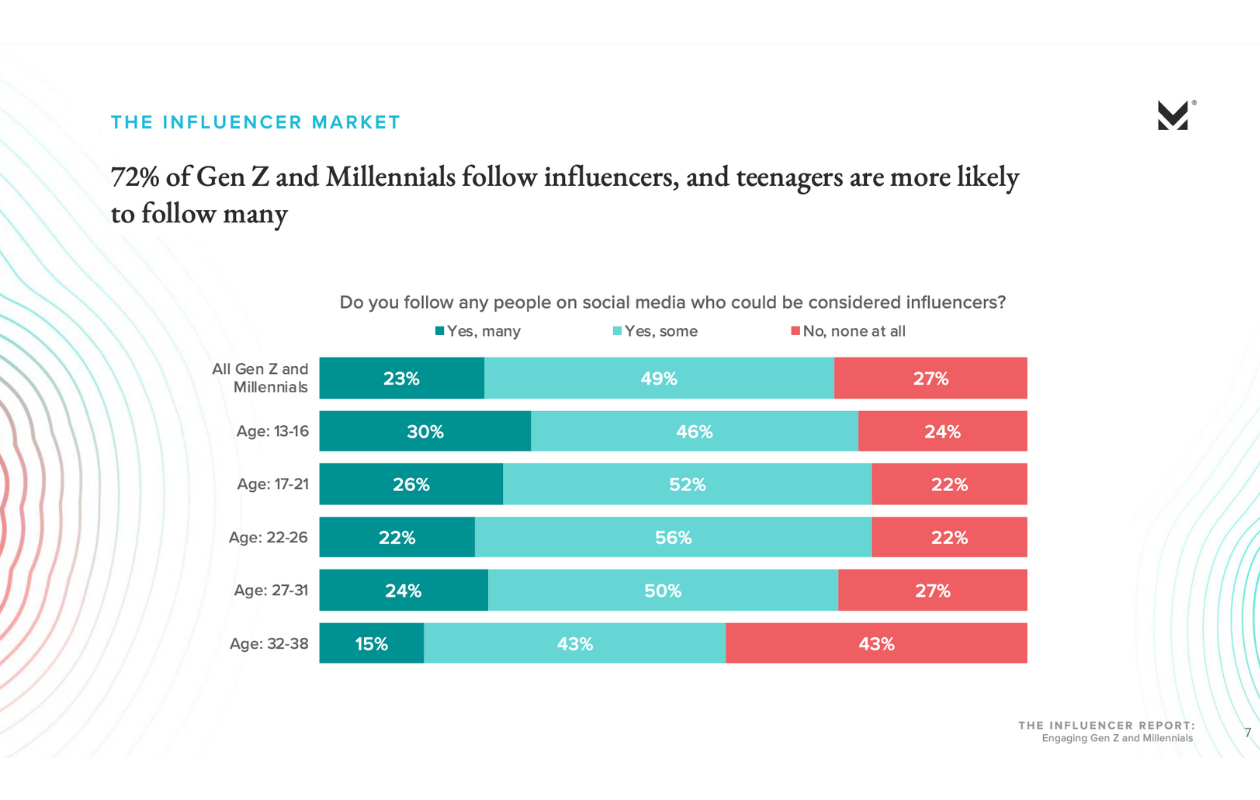 So what does this mean?
It means that when you're doing social media advertising to Gen Z, it would be useful to reach out to influencers (in your industry or beyond) and get them to help you market your brand / product / services to your young audience.
Coming from them, your message has a better chance to reach more people, be more relatable and engaging.
4.5. Be real
As we mentioned before, Gen Z values authenticity above all. They want brands to feel human, genuine, trustworthy and approachable.
Whether you're representing a small, young start-up or a large company, Gen Z wants to have the chance to really connect with you.
As a social media manager marketing to Gen Z, you should not be afraid to take risks. Calculated risks - backed by a solid amount of research and social media analytics data - are the best kind.
Don't be afraid to build a unique, bold personality for your brand - Zoomers will adore it. Or hate it. Either way, they will engage with it.
Gen Z advertising content should be open for collaboration and instantly interactive. Let them join your creative process and become a part of a dynamic community. You'll win them over.
So, what strategies will you use for marketing to Generation Z?