LinkedIn is the number one social media platform for B2B marketers and is the perfect social network for professionals. Recently, LinkedIn announced that they are making LinkedIn Stories available to all users.
Who doesn't like Stories?
Storytelling is one of the most effective ways you can connect with your target audience. Snapchat was the first app that invented the Story feature, and then Instagram, Facebook, and now LinkedIn copied it.
Now it's time to integrate Stories into your LinkedIn marketing strategy, and this article will help you understand why this is an important marketing step for your business.
In this article, you will discover how to properly utilize LinkedIn Stories, what content you should create, and how you can maximize your engagement.
Let's start!
---
Include LinkedIn Stories into your marketing strategy
---
1. What are LinkedIn Stories
Dr. Natalia Wiechowski - LinkedIn Expert, Personal Branding Pro
LinkedIn Stories are the 1.0 version of the recent Instagram Stories - and I DON'T indicate that in an unkind way.

I am excited about this new LinkedIn feature, and every platform starts somewhere. I am also very curious about how it will develop.
Just like the Stories we are used to on most social media platforms, LinkedIn Stories are visual status updates that last for 24 hours.
For those who have access to this feature, a Stories bar is now visible on the top of the main feed. The stories appear vertically and automatically plays the next Story once you have viewed the first one.
You can post a video or photo and edit it by adding simple elements such as stickers and texts. Just like on Instagram.
2. What does LinkedIn Stories mean for brands
Because of its professional look, you might think that Stories are a little bit out of place when used on a networking platform such as LinkedIn.
However, the introduction of this feature makes sense-especially because they offer another way of presenting content.
Stories dominate other social media platforms, and many people prefer to view them rather than reading status updates.
However, this is not to say that Stories have to replace posting LinkedIn status. You need to use Stories to diversify ways of presenting LinkedIn content and reach a wider audience.
The good thing about Stories is that they provide raw content that gives users a chance to see the person behind a specific brand. This is useful for entrepreneurs and users who would like to use this LinkedIn strategy to build relationships with potential clients.
Let's find out some of the methods you can use to succeed with LinkedIn Stories.
3. Ways to incorporate LinkedIn Stories into your marketing strategy
If you have already been posting Stories on other social media platforms, it will not be challenging to do the same process for LinkedIn Stories.
1. Share profesional tips
It is essential to mention that the Stories feature doesn't change the 'professional' nature of LinkedIn.
Therefore, unlike Instagram and Facebook Stories, which call for more relaxed and funny content, the LinkedIn Stories feature should be used to build a professional network for your brand.
This means that using professional language and dressing the way you usually do when meeting a potential client. In other words, you should act in a way that reflects your brand's mission and values.
Here are some of the professional tips you can share:
Important projects you are working on. You can share updates of your initiatives as well as real-time reports.
Home office. Showcase your current office step up and things that help you stay productive. People are always looking for ways to improve their home office, and it can help if you share your office setting.
Behind the scenes. Are you making a product or software? You can share behind the scene process. People are always interested to see this exclusive content.
Hacks and tips. Share professional tips on things like how to multitask or how to make better decisions.
What you are watching or reading. Your audience will appreciate you for sharing enlightening things such as books you are reading, type of podcasts you are into, and much more.
You can also share your interests as well as creative side projects you are into.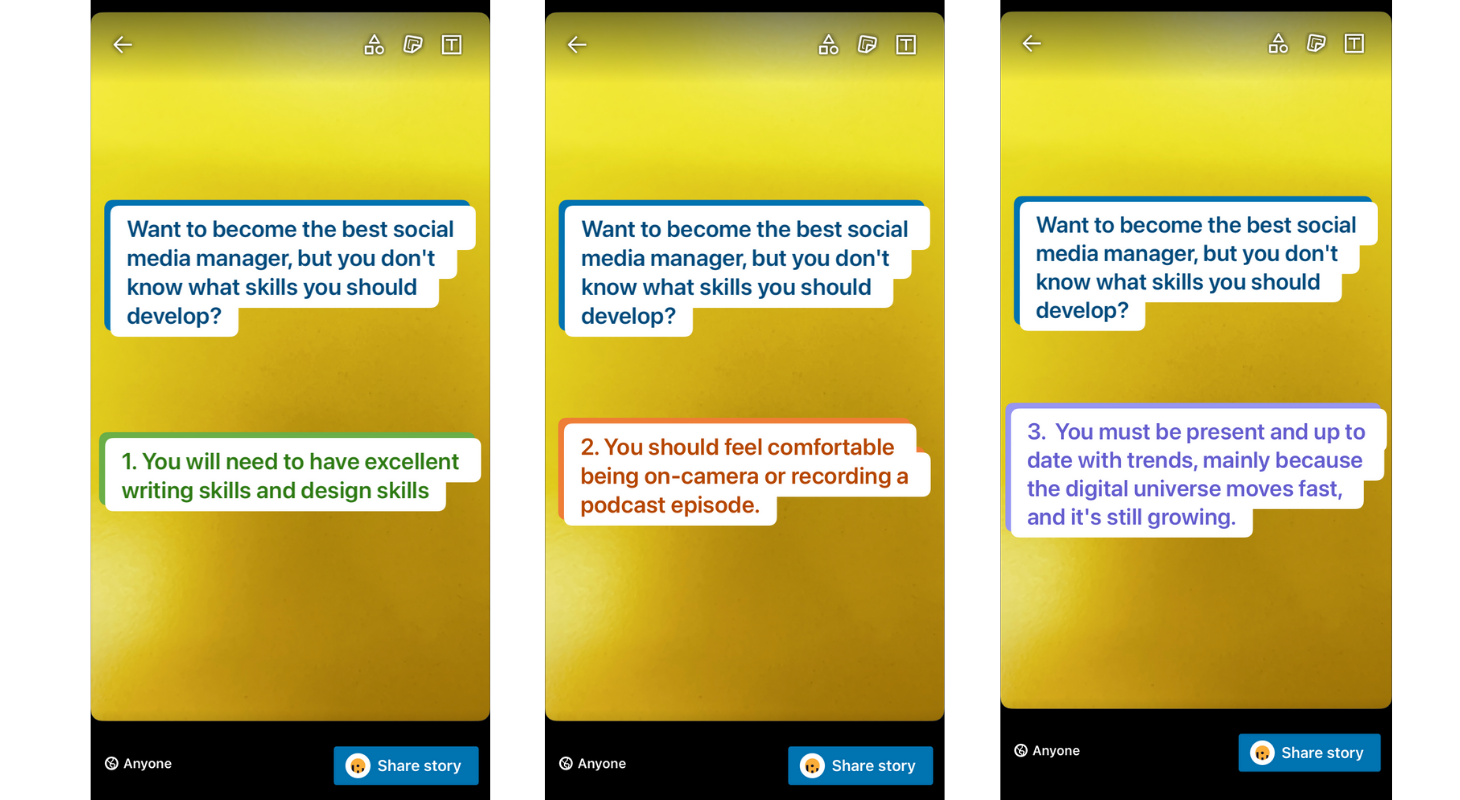 2. Share real-time updates
You need to show your audience that your brand is made of real people, and there is no better way of doing this than using Stories.
Showcase people behind your brand having real experiences and show these moments in real-time. This will help to create a better connection with your audience.
Some of the real-time updates you can informally share include clips of awards ceremonies, a snap of your team having lunch, workshop snippets, etc. All these will help to make your brand or business more human.
Real-time updates can also act as a way of showing an upcoming product launch or event.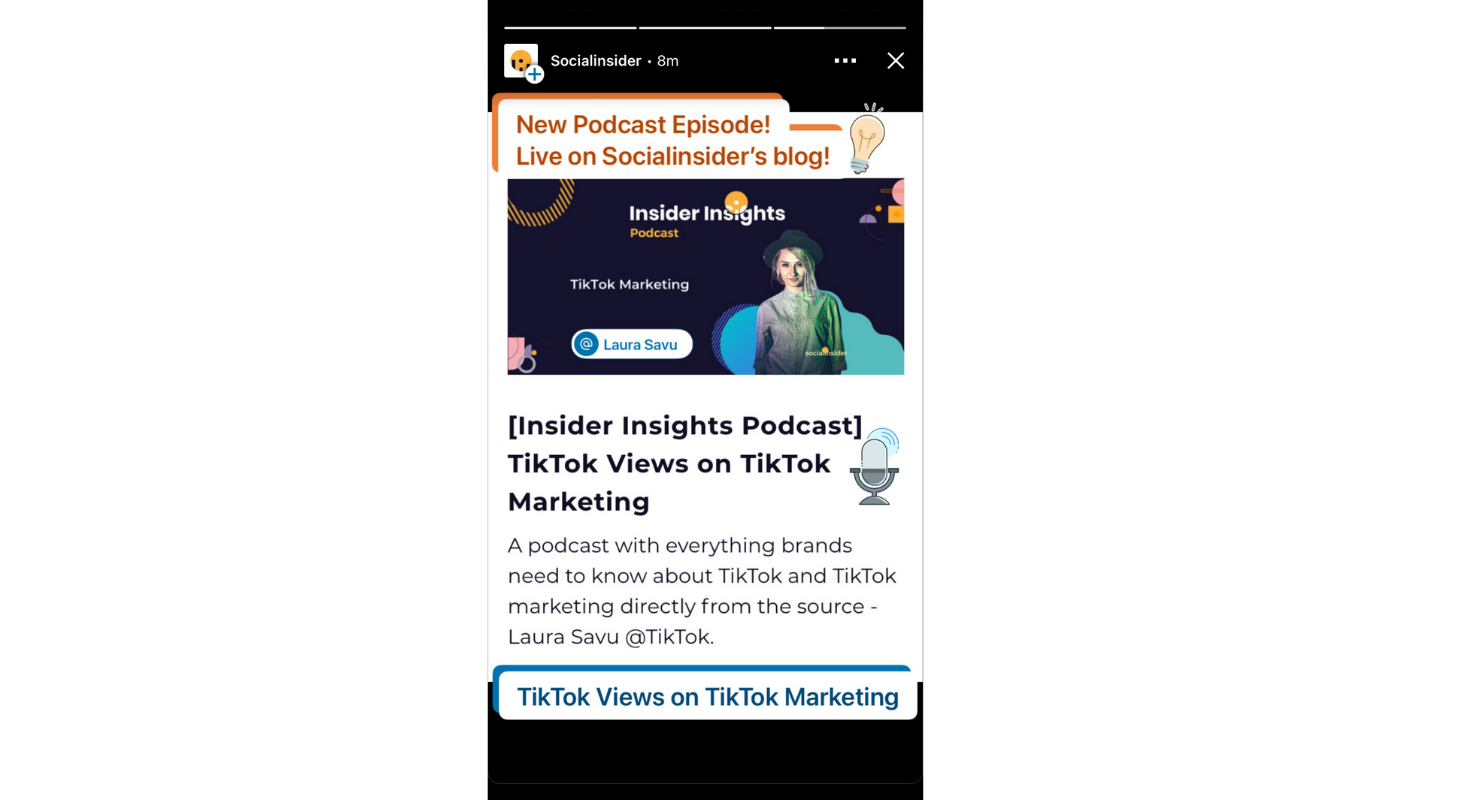 3. Host a corporate Q&A
This is another effective Stories strategy that has worked for business pages on other social media platforms. Live-streaming Q&A has become a popular way of sharing content on many platforms, but this has not been common in the business world.
Use LinkedIn Stories to answer questions your prospective customers or clients may have regarding your brand. By hosting Q&A on LinkedIn Stories, you will be showcasing the people behind your brand.
This will help to make your brand more human. To help you answer the most burning questions, your audience may have, invite them to submit questions in advance. You can have a status update to post their question on the comment section or through direct messages.
4. Share latest brand news and announcements
Why restrict your latest brand news and announcement for your brand's LinkedIn page while you can reach out to a broader audience by sharing the news through the Stories feature?
Stories can help generate the hype and demand you want around a product launch or an upcoming event. Your loyal audience will view your story. If they are super excited about it, they will share it with their friends.
5. Share customer testimonials stories
People tend to trust recommendations given by other people more than any content marketing strategy.
That's why testimonials are a great type of content to share on LinkedIn Stories. If you are selling a product, software, or service, encourage your audience to share their experience.
Post these experiences on your Stories to capture other people's attention.
Final thoughts
LinkedIn Stories are a great way to connect with a more qualified audience, so make sure you integrate this feature into your LinkedIn marketing strategy.
I also launched Socialinsider's fourth free handbook called "Your Guide to Stories" - a guide that will help you create engaging Instagram, Facebook, and LinkedIn Stories.
I wrote an entire chapter about LinkedIn Stories and how you can use them to promote your business, and the team easel.ly create this great infographic.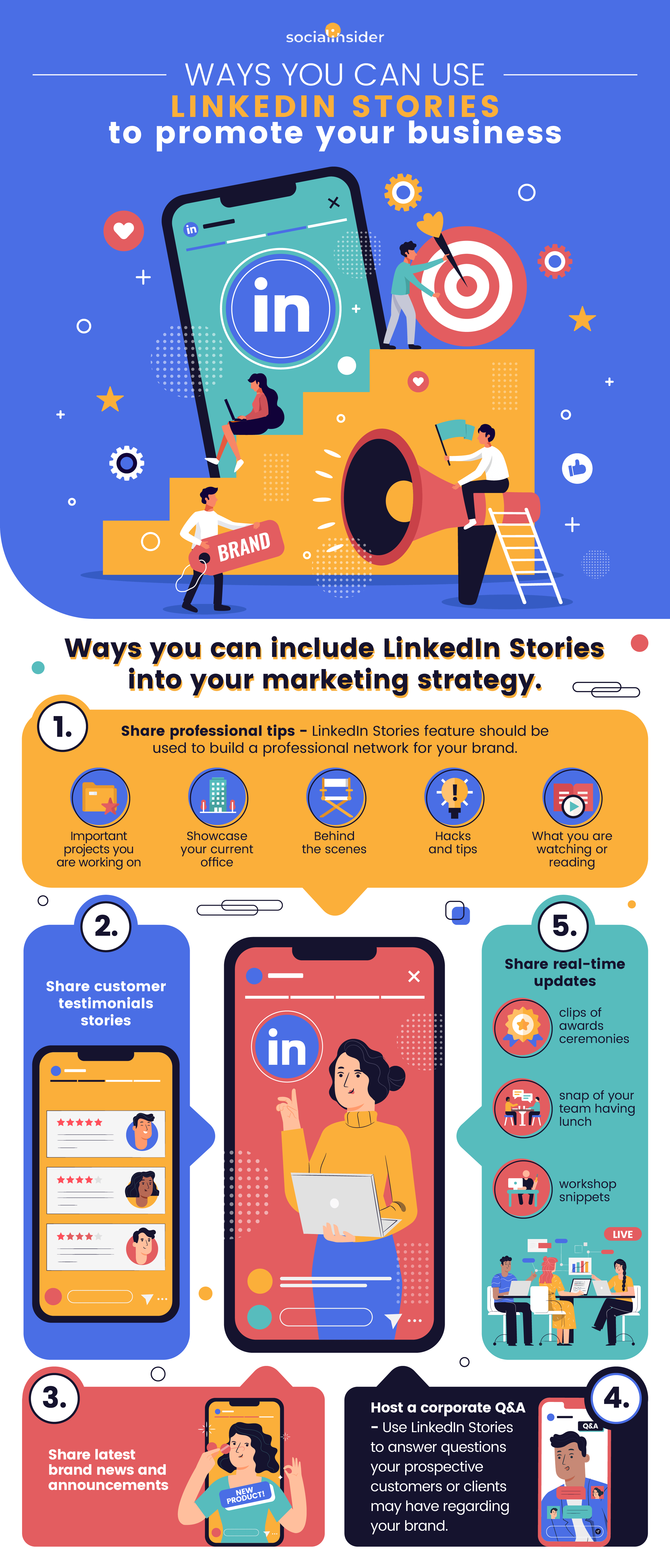 ---
Related articles: