Over 500 million accounts use Instagram stories everyday, according to Instagram's own data, and one-third of the most-viewed stories were coming from businesses.
In fact, half of the stories published by brands on Instagram are video, and they outperform images, a recent stories study shows.
There's no doubt that the video format has created a whirlwind on all social media platforms, and Instagram especially, as it's being used on all features.
Unlike images, videos create authenticity and drive conversations, a factor that results in higher retention, and low tap forward rates.
Video stories outperform stories with images, having a tap forward rate that is 5,39% lower, according to Socialinsider study.
Here are 11 tips on how to create more engaging and interesting Instagram video Stories.
Let's dive in!
11 tips to create engaging video Stories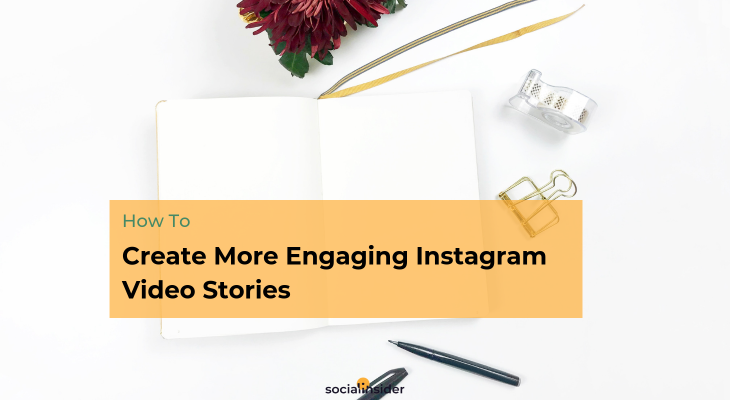 ---
#1. Play with stickers
Many brands use Instagram stories. However, very few brands utilize a powerful feature within stories known as Instagram stickers.
Stickers are a powerful marketing tool that can help take your brand to another level.
If used at the right time, stickers will not only make your stories fun but will also help you achieve your marketing goals.
Users are more likely to watch your videos if you include relevant stickers. Add clickable stickers to your stories for more engagement.
Also, use poll stickers. They will help you get more information from your audience, a factor that will help you improve your services.
For instance, you can use poll stickers to ask your audience a question then give them two options to choose from.
The feedback from your audience will help you know how your brand is performing and things that you need to do to attract a bigger audience.
#2. Add location
One great thing about Instagram is that it helps brands reach out to people around the world.
When you share a video on Instagram, it will be seen by people all over the world.
Sometimes worldwide reach is essential but most of the time channeling your marketing effort within a specific target location is more rewarding.
For instance, if your business is based in New York and you are targeting a New York audience, then it is prudent to be more specific with your video marketing, and that is where location comes in.
Adding location to your videos will increase engagement, especially from your target audience, and make it easier for users to find your brand when searching for that specific location.
#3. Add hashtags
Statistics show that an Instagram video with at least one hashtag averages about 12.6% more engagement than a post without a hashtag.
In the recent past, Instagram has made a lot of changes, including adding a new video channel - IGTV and plenty of other amazing features.
However, one thing that has remained constant for the entire duration of Instagram's existence is the use of hashtags.
One of the best ways to get your videos discovered by a new audience is by using relevant and targeted hashtags.
Hashtags not only help increase your brand visibility, but they also help you monitor your competitors. You can also hide hashtags if you don't want people to see them.
How to hide hashtags in your Instagram Stories 🧐
Step 1. Write a message
Step 2. Insert the hashtags you find appropriate for your Story
Step 3. Make the hashtags smaller
Step 4. Place the text over the hashtags
Recent algorithm updates on Instagram encourage brands to pay to boost their brand exposure. The only remaining marketing technique that drives organic traffic is the use of hashtags. Take your time and do your research before you start using hashtags.
You can only improve your brand's visibility if you use relevant and targeted hashtags. This can only be achieved if you clearly understand your target audience. Research to understand where your audiences are, their behavior, and what they expect from your brand.
#4. Shoot your videos in the right dimensions
Recommend Instagram story dimensions are 1080px by 1920px. This means that your Instagram videos should be 1080 pixels wide and 1920 pixels in height. (Aspect ratio of 9:16).
If you record your video on your smartphone, using the Instagram app, most of the time it will automatically comply with these dimensions.
However, if you want to create more professional videos, then you need to use other devices and tools that might not automatically comply with the 9:16 aspect ratio so your need to check the dimensions before uploading.
If you upload a video that does not fit to Instagram story dimensions, then the video will be cropped, meaning that you will lose some of your content.
To prevent this you need to ensure that you upload your video in the right dimensions.
#5. Add a call to action
A call to action helps to prompt your audience to take a specific action. Regardless of how robust your marketing campaign is, if you don't have a convincing call-to-action, then your conversion rate will be low.
Your business conversion rate and profits all depend on the CTA that you use. They are essential and can determine if your marketing campaign will be successful or not. The main aim of a call to action is to trigger your target audience to take action immediately.
You can use CTAs to spur users to fill out a form, download a PDF, like a photo, visit your website, or buy a product.
#6. Add music to your video stories
High quality and informative videos are useful to attract clients. However, sometimes, you need to attract customers with more than just high-quality video. If you want to stand out from your competitors, then you need to add some catchy music to your videos - it's guaranteed to make your videos more engaging.
The Instagram app now allows brands to add music to videos directly within the app. There are two ways to add music to your video stories.
Method one: Music sticker
Take a photo
Tap the smiley face icon located on the upper right corner
Tap the music icon then choose the song that you want to add
Choose from the above categories: moods, popular, and genres.
Tap to play icon to preview
Add to Story
Method two: Music shooting mode
Choose a song from your library
Choose a part of the song
Add face filter(optional)
Record a video
Add to Story
#7. Use the vertical format for your video stories
95% of users access their Instagram account from their smartphones. This means that your videos are likely to be watched via the phone.
If you record videos from your phone, you will most likely record it in vertical format as opposed to landscape or square format.
People naturally hold their phones vertically. The vertical format brings a higher rate of engagement because it is better suited for mobile viewers.
Smartphones were designed to perform a necessary function, and that is calling. This means that their aspect ratio has to be vertical.
The fact that most people access Instagram using their phones, which is vertical means that you have to use vertices video format to boost user engagement.
Even on Facebook, the video format has increased in popularity over the years, bringing more engagement.
#8. Post 5 video stories per day
How many video stories should you post per day and does higher frequency translate to higher engagement? 🧐
If you'd like to keep your audience glued to your daily stories, post 5 stories per day to ensure a retention rate of over 70%.
Simply put, over 70% of people who watch a brand's daily stories will be tuned in to the first 5 stories, one story less than in 2019, statistics show.
The decline goes flat with 6 or more stories per day. This means that more stories result in a higher engagement rate.
There has been a growing concern among marketers that posting more video stories results in lower engagement rates.
However, not all brands have the resources that allow frequent and multiple stories.
The number of times you post stories should purely depend on the nature of your business and what you plan to achieve.
The best posting frequency is one that you can sustain on the long term.
#9. Teach people something from your video stories
Don't just post promotional videos, focused on making your brand look good and selling.
The reason users are watching your videos is that they want to learn something. So, every time you post a video, ensure that you teach your followers a new thing.
This way, they will always look forward to watching your stories. Try to balance between marketing your products/ services and educating your followers.
#10. Use Instagram apps to create your stories
If you want to make your stories more attractive and engaging, then you need to use Instagram apps.
These apps will help enhance the flow and clarity of your videos. This way, your followers will enjoy watching them.
Currently, there are numerous Instagram story apps; some of them are very good, while others are not worth your time.
If you want to create high-quality video stories for your Instagram followers, then ensure that you use any of the following apps: Videoshop, Filmmaker Pro, or Snapseed.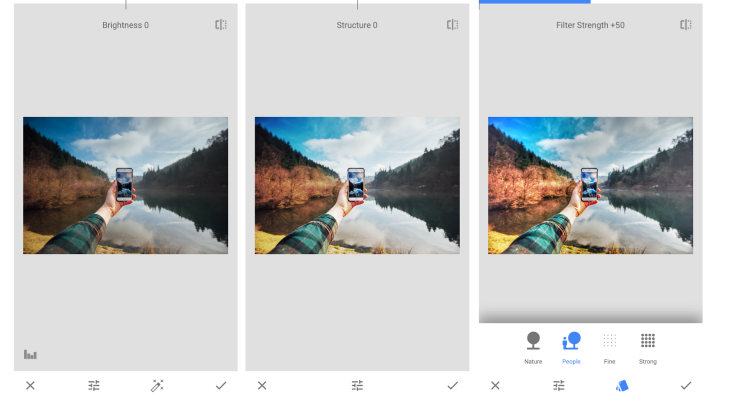 #11. Use videos in story ads
Story ads are a great way to boost results and leverage the power of videos even more.
In fact, videos are the go-to format for story ads. 75.6% of ads in stories utilise videos.
A Socialinsider story study shows that brands are interested in link clicks when they run story ads, and videos obtain the best outcome for that goal.
Video story ads recorded average click-through rates of 0.59%, versus an average of 0.29% CTR obtained by images.
Final thought
Instagram Stories are a fun and great way to show more than only a picture on Instagram.
Have you been using Instagram videos to promote your business? Do you have any additional tips or tricks you'd like to share with me?
Let me know in the comments below 👇🏻
---
Related articles: