In 2021 there are currently over 1 billion people on Instagram and over 500 million daily users. And eight out of ten users are following businesses on the platform.
We all love Instagram, and this social media platform has come a long way since its beginning in 2010.
What does this mean for all of these business accounts?🤔
Mainly, this is great news for every business on Instagram who tries to increases its engagement rate and ultimately its revenue. But while internet fame might be enticing, being actually able to attract local customers is the main challenge.
This is where Instagram location tag can help.
Adding a location to an Instagram photo or video can be useful for letting your followers know where you are, without stating it in the caption.
It also helps your engagement rate on Instagram and it will give you more exposure and attract customers with minimal effort.
We are going to explore everything you need to know about the Instagram location tag. I'll also show you how to create one and how to use it to engage with your target audience.
Let's dive in⇣
---
Why Instagram location tag matters and how can your business benefit from it
---
1. What is an Instagram location tag and why it is important for your Instagram marketing strategy
In order to find products or services close-by, many people search for local businesses on Instagram.
Luckily, the platform offers just the right feature for your businesses - location tag.
So if you want to be found, you have to make sure your location is correctly tagged. Your instagram metrics will thank you.
Let's say you have a coffee shop and you serve a wide variety of coffee, so you want to be found from people around the world who are visiting your city for the perfect coffee tasting experience.
When you post pictures of your serving, not only are you inviting them to recreate the experience, but you also want to invite them to taste everything for themselves at your shop.
You want to make your business to be easily found. This is the stage when the Instagram location tag does the magic.
Therefore, an Instagram tag is a specific location based on latitude and longitude of where your brand decides to store all your Instagram content.
Locations are displayed at the top of every post once they're published, right underneath the username or the brand.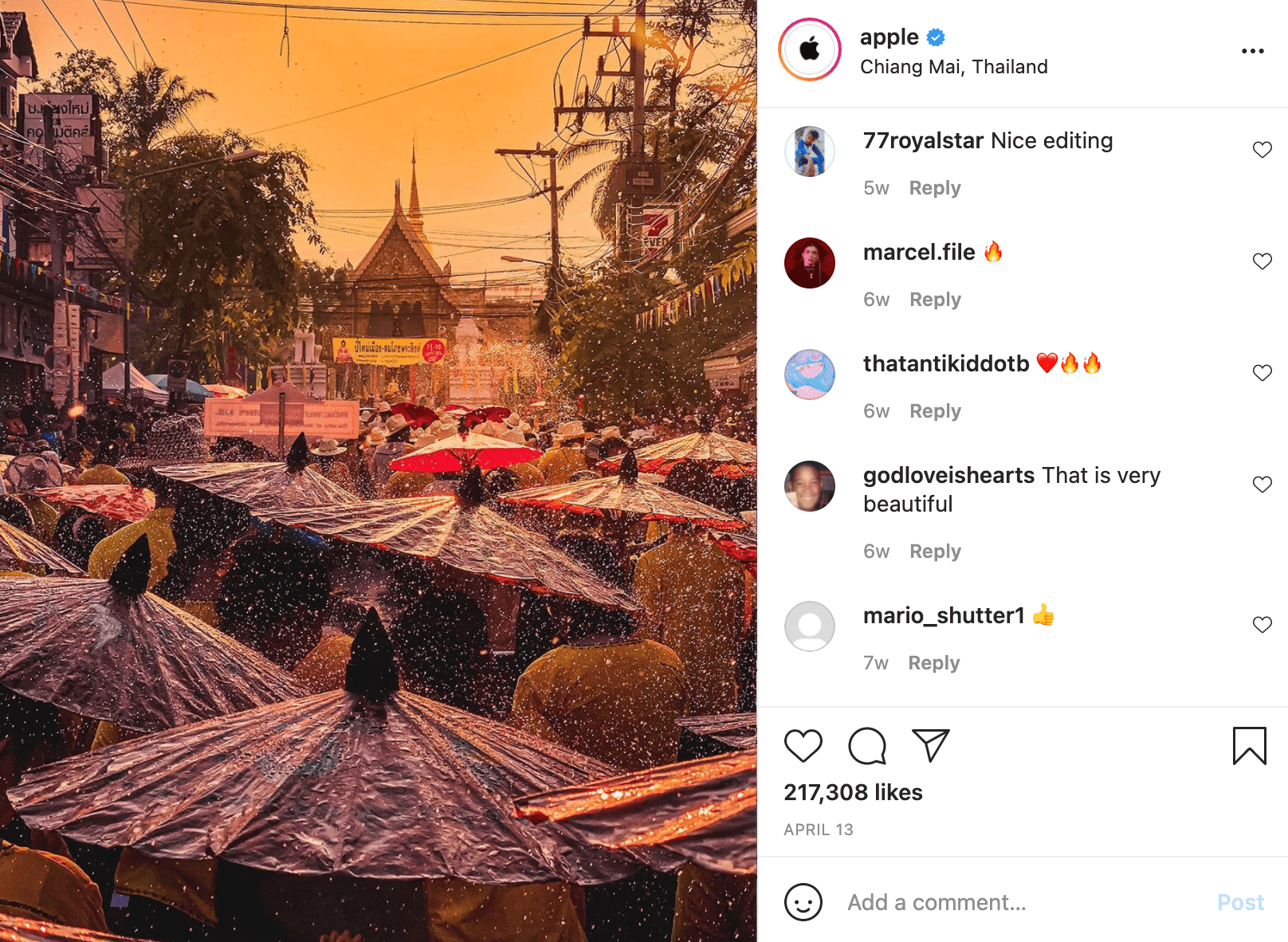 2. Learn to add a new Instagram location tag to your next Instagram post
After editing, filtering and cropping your image or video, comes the page where you can add your caption, tag people or decide if you want to also share the content to other platforms.
Instagram automatically displays "Location" options near where you were while taking the picture! If you can't find the right location between the suggestions, you can tap ">" to search for more.
Just choose your location and post as usual. And there you go, you have just added a location to your Instagram post!
3. Create, step by step, a custom geotag to help you grow your business
If you don't have a custom location for your business, it's relatively simple to create and add it. Make sure you follow these steps and get started right away.
Step 1 - Facebook Check-In
Because Instagram and Facebook are connected, you have to create the location via Facebook.
Go to your Facebook homepage, then to the "Check In" button located underneath the status bar. Click on it and you should see a list of popular locations near you.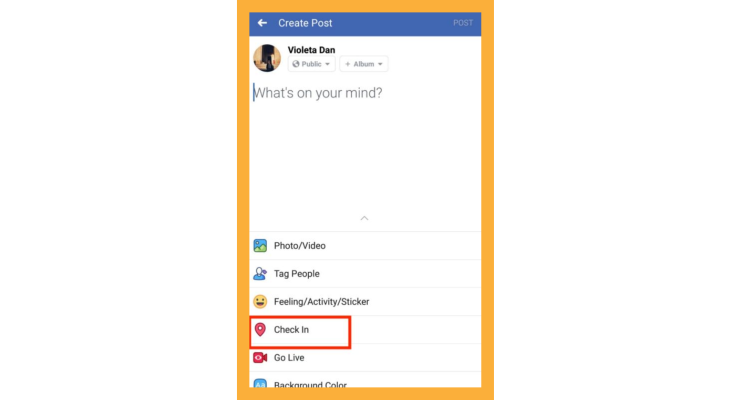 Step 2 - Enable location services
Make sure you have your location services turned on in order to create a custom location. You can do this by going into your Settings > Privacy > Location Services and allowing your Facebook app to know your location.
Step 3 - Name your location
Once your GPS is turned on, type your custom location name which in most cases will be the name of your business.
Make sure there isn't involved any typo because this is what your future customers will see.
Step 4 - Add your location
Ignore all the other locations that appear on the screen while you're typing. After you finished typing, find the "Add Location" option, located towards the bottom of the Check-In screen.
Tip❗
If the name is already taken, try to be creative and to come up with another one, but use the right keywords for your audience.
Step 5 - Choose a category
After clicking on the "Add" button, you'll be taken to pick a category for your location.
It's important to choose an accurate category so people can find your business when searching in your niche.
For example, for a coffee shop, you might want to choose the Restaurant category.
Step 6 - Pick a physical location
After choosing a category, the next step is to determine your exact location. This process works best if you are physically at the location of your business.
Step 7 - Claim your location
After creating your location, find it on Facebook by typing it into the search bar at the top of the Facebook homepage.
When you find it, you should be brought to a page where you can click, "claim this location."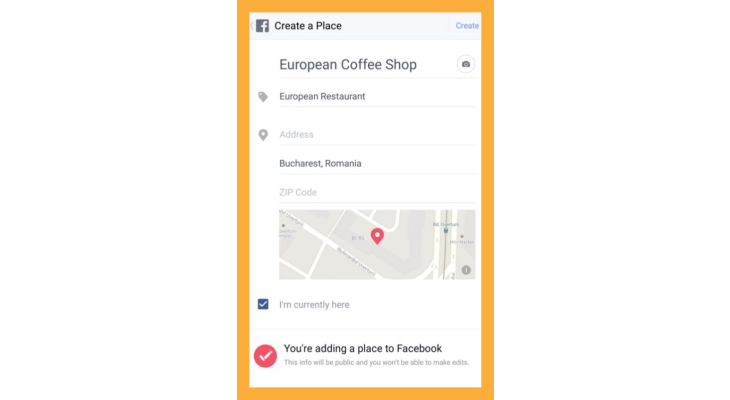 Now when you want to post a photo or a video on Instagram, your new location should now be available to tag and share.
Tip❗
Be in the Exact Location or really close. Custom locations tend to work better when you're creating one in the exact spot of your business. If entering in an address from elsewhere didn't work, try creating the location while you are physically there.
4. Use Instagram location tag in Instagram stories
It's better to give people all the info they need in one place.
There is a higher chance that people to visit your place if they see your location in the caption versus having to look up that information on their own.
Because you have already set up your location for Instagram, you can also use it by applying locations stickers. Make sure you follow these steps:

Create a story by tapping the camera icon or swiping right from anywhere in the feed
Take a photo, record a video or upload something you already recorded
Tap on sticker icon which looks like a square smiley face, at the top right of the screen and the choose the location sticker option
Type the name of the location you want to use and select a corresponding name from the list that appears
Rotate, resize, move or change its color and place it in.
If you want to see just how useful it may turnout to be, keep a record of the total visits of your business before and after using the Instagram location tag by accessing your Instagram historical data.
5. The benefits of using an Instagram location tag for businesses
Is it really worth it to create a tagging location? The answer is definitely yes.
Posts with a tagged location result in 79% higher engagement than posts without a tagged location. People who click on it can view all the other posts that have been uploaded on that location.
More exposure means more customers and more customers leads to more profit.
It puts your business on the map - literally
Above all else, a custom Instagram location creates exposure for your business, literally putting it on the map for social media users.
Instagram locations work in a similar way to hashtags. When a user searches a particular word or phrase, any hashtags containing that word or phrase pop-up.
It's the same process with Instagram locations. If someone searches for a coffee shop nearby, he/she's more likely to find your business.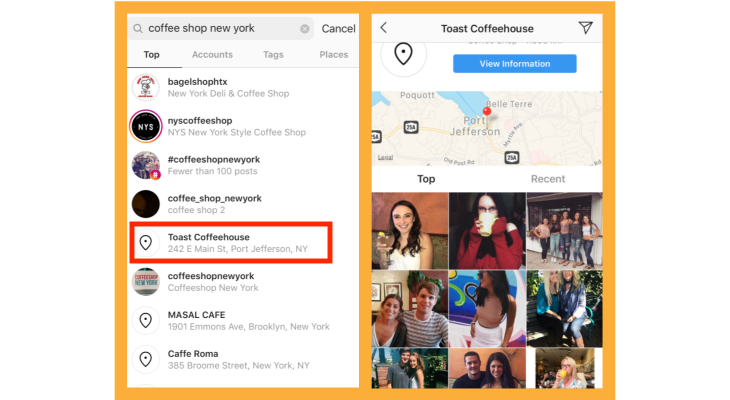 You have more chances to be found by instagrammers
Moreover, Instagram and other social media platforms such as Facebook have algorithms that show photos or videos in people's feed based on their prior searches and the likelihood of liking that content.
If your caffeine-loving Instagrams users are searching for coffee shops or coffee-related products, they are going to be shown more posts about this. The likelihood of your business appearing in their feed increases when you have a custom location turned on.
You can better engage with other Instagram users
Geotagged posts allow your business to collect user-generated content (UCG). All of these posts which are created by your audience, (If they have public accounts), will be received in the geotag search and you can share them with your followers.
This means you notice your existing clients and appreciate them as well, and also it shows your audience another perspective of your company.
6. Final thoughts
Instagram location tag feature provides your brand or business the opportunity to gain more exposure and to attract local customers. If you haven't considered it yet, you should really give it a try.
In order to do this, guide yourself after Instagram analytics  to make the best decisions!
We'd love to hear how your location tagging influenced your Instagram engagement rate!

---
Related posts: