Wondering why and how to use Instagram Stories for your business in 2019?
Over the past two years, Instagram Stories has evolved, and now it's a highly competitive channel for business marketing. The Stories which include posts of photos and videos that disappear after 24 hours is one of the most popular features on Instagram with over 500 million daily users (January 2019).
Currently, this feature is used by businesses to enhance their visibility and engagement. Brands are using Instagram Stories to generate user-specific content in order to interact with their audience, increase their engagement rates, website conversions, leads or sales.
In this Guide to Instagram Stories for Businesses, I'm going to show you how to use Instagram Stories for your business, what strategies help you level up your presence on Instagram, what Instagram Stories features intensify the brand awareness with tools and examples of brands that are using this feature to their brand's advantage.
Let's kick it off!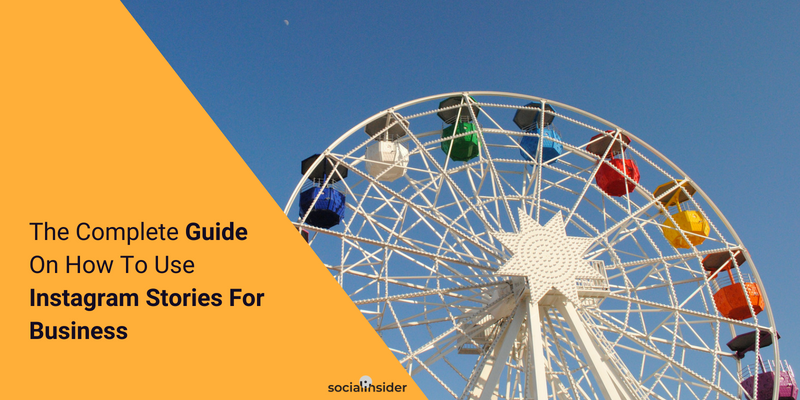 ---
What's in this guide:
---
1. Why use Instagram Stories for business
1.1. The rapid adopion of Stories
As Instagram noted in June 2018, 'Stories has evolved to become the home for self-expression and casual sharing for more than 400 million Instagrammers every day'.
As you can see in the graph below, Instagram Stories feature is definitely the fastest growing format on Instagram, with more than 400 million accounts who use Instagram Stories every day.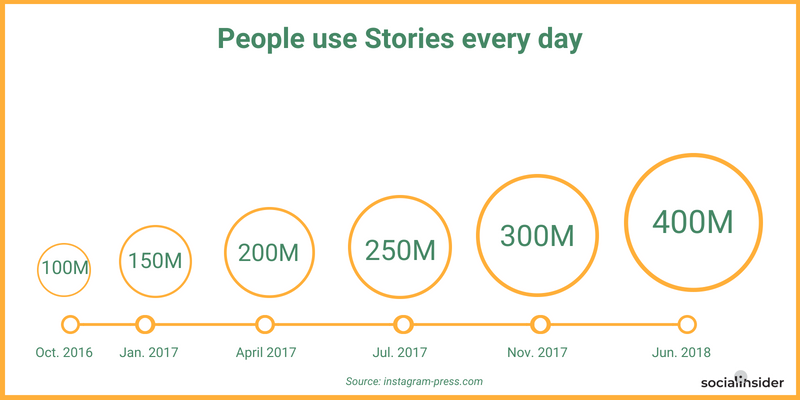 1.2. Increase your brand awareness
You can use Instagram Stories to show your target audience what you have been working on, sneak peaks of what is happening behind the scenes or when you are launching new products.
1.3. Drive traffic to your website
With options like 'add links to Stories', you can repurpose your blog content, invite your audience to read the latest blog posts or promote some 'HowTo's articles.
1.4. Promote products or launches
Your target audience needs to feel special and you can use Instagram stories to carry out product promotions, and getting customer feedback on products or services.
1.5. Get customer feedback
Instagram Stories offer options like - going live or the questions sticker - which are amazing for getting customer feedback and let people ask you questions.
1.6. Generate leads
Instagram Stories has the power to help convert viewers into leads. Create engaging content and give audience a strong reason to lend you their email address.
Include these offerings when creating Instagram Stories for your business:
Discount codes to products
Free eBooks
Free email courses
Free product samples
A chance to win something
2. How to create an Instagram Story strategy for your business
Using Instagram stories for your business isn't just about uploading and posting videos or pictures.
You must implement an appropriate strategy that matches with your brand and resonates with your audience.
To understand precisely who your audience is and what they need from you, you need to fully define the user persona you are addressing.
So do you know how to use Instagram Stories to promote your business?
Well, here are three steps that will help you with your strategy on Instagram:
2.1. Define your Instagram Stories goals
Before you get started with Instagram Stories, it is crucial to be clear about the objectives of your business.
Be honest with you and perform this quick and extremely easy exercise to figure out the true 'objectives' of your Instagram Stories for business: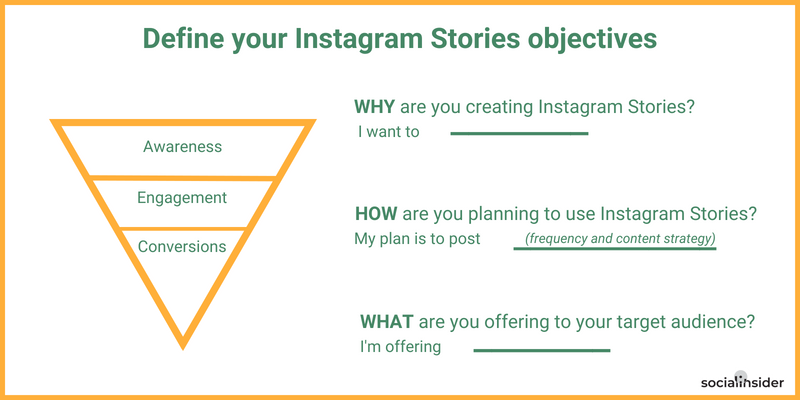 When you are creating a story, your business strategy should be based on the following factors:
WHY are you creating Instagram Stories for your business?
HOW are you planning to useInstagram Stories? Note that your Stories have to be captivating, funny and engaging.
WHAT are you offering to your target audience?
Once you have found the objectives, it's now the right time to move towards implementing them.
👉 Continue reading: 8 reasons why brands are using Instagram Stories
2.2. Portrait your User Persona for Instagram
Before posting anything, you have to know who you're posting for.
Draw your buyer / user persona for Instagram before jumping to Instagram Stories. Some helpful factors involved in narrowing down the right segments of the audience for your Instagram business include:
Demographic:

Age
Gender
Location
Lifestyle

Psychographic:

Personality Traits
Interests
Attitude

Geographic: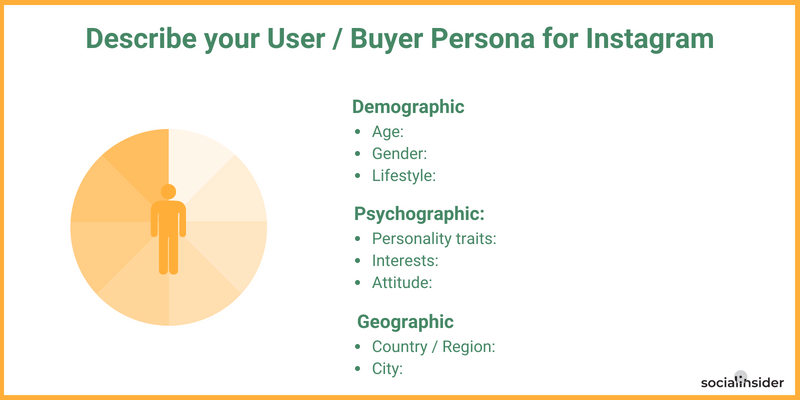 2.3. Study your competitors' Instagram Stories
Researching competitors' Instagram Stories can give you new insights on how to go about your marketing strategy.
Track your competitors actions on Instagram Stories and learn:
What type of Stories they use
How many Stories per day or week they upload
How many hashtags per Stories they use
The most used Instagram Stories feature
Pay attention to their CTAs
Check out their paid partnerships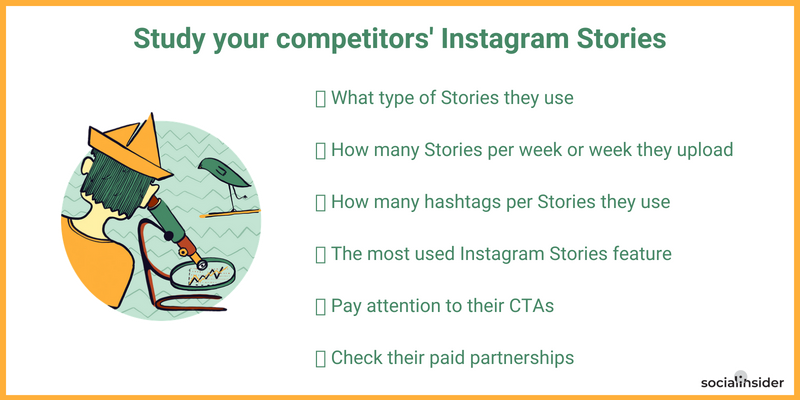 👉 Measure your Instagram Stories performance with Socialinsider.


3. When to post your Instagram Stories
Is there any best time to post your Instagram Stories?
They live for 24 hours and disappear if they are not downloaded or saved in archive or Highlights so, I think that it's not necessary to upload Stories on specific hours.
However, you could schedule your Instagram Stories when most of your followers are online. The goal isn't only about how much engagement your stories drive, but also how quickly.
4. How many Stories you should post
With features like the Questions Sticker, brands started posting more and more Stories because it's engaging and generates conversations.
Take @classpass for example which is an app for searching gyms and studio, they use the Questions Sticker to ask questions about the favorite moments in class, and they share every answer with a new Story (20 answers were posted yesterday!!!)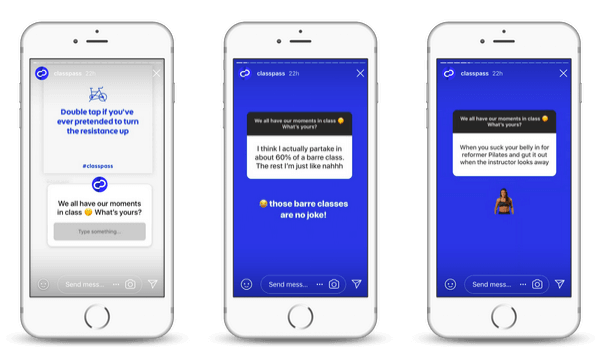 You need to test what's working with your audience and learn how many Stories you need to post.
Tracking your competitors' Instagram Stories might be a great help too.
Keep in mind that your followers have the option to mute you, so it's important for you to know the maximum number of stories that you can post about your business.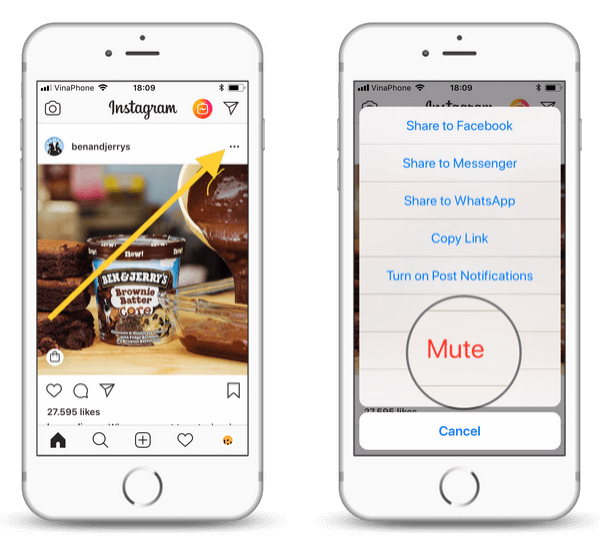 There are no rules for how many Stories you should post as long as you keep an engaging interaction with your audience.
5. What to post to your Instagram Stories
As much as it is important for a story to focus on conversion, businesses should try to create posts that focus on engagement and connection. It's important to create lighthearted and promotional content with a mix of fun.
In order to maximize on engagement, you can craft unique and fresh content:
Create visual 'How to' tutorials for your products
Provide free tips and tricks
Present the latest news about your products or news from your industry
Unveil 'behind the scene' content
Showcase an event or a tradeshow your business attended
Invite influencers for a profile takeover
Give special promotions, discount codes, last minute offers.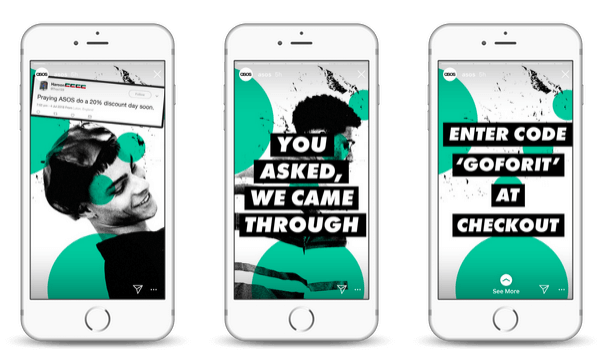 6. Instagram Stories features to enhace visibility and engagement
Here are 6 Instagram Stories features you can use to level up your Instagram game:
6.1. Drive traffic to your website by adding links to your Instagram Stories
The best thing about Instagram stories is that users can add links and guide your audience to specific content, for instance, a link to a blog post, a landing page for promotion etc.
Before posting your story make sure you add a call-to-action. If you really want your audience to click on your link, you have to remind them to swipe up.
At the end of your story, people will see a "see more" sign, but it will help, if you tell them nicely to click it.
If you don't have imagination, here are some examples:
swipe up to shop!
read more here!
for more information!
find out more!
swipe up at any time to join!
want more? Swipe up!
swipe up for the tutorial!
Or you can replace these CTAs with a gif.
Take @asos for example. They always offer useful guides on what to wear these days, promote the upcoming season editions or ask for feedback.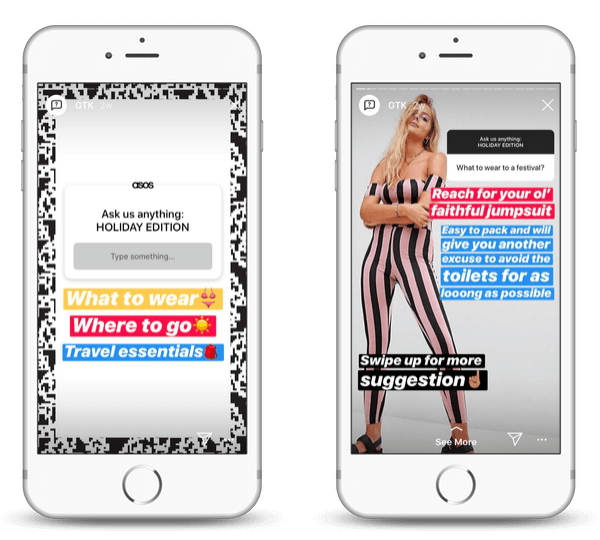 Remember! Only verified business accounts with more than 10k followers have the option to add links to their stories. If you really want to add links, you can opt out for an Instagram ad choose to add a link to your Stories Ad.
👉 Read more: A complete guide on how to add links to Instagram Stories!
6.2. Improve your interactions by using polls and emoji stickers
One of the best ways to improve interactions in your Instagram Stories for business is by using polls and emoji stickers.
It can be an A/B poll or an emoji slider where users give answers as a percentage. Instead of choosing between two options only, an emoji sticker provides a more fun and interactive way of spontaneous user participation.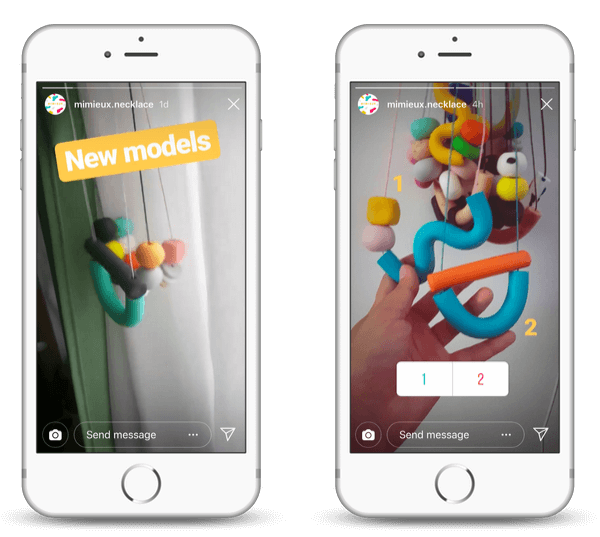 6.3. Create AMA Stories with the questions sticker
The Ask Me Anything (AMA) feature of Instagram stories in an amazing fleeting photo-sharing component.
You can create AMA stories using the Questions Sticker from the sticker library where you prompt your story viewers to ask you questions that can be publicly answered in the subsequent posts.
This is a great way of using Instagram stories for business since your followers can get feedback within your stories.
I love @everlane' Instagram Stories. They have a themed day - Transparency Tuesday - where its audience ask questions about the everlane products. Chapeau, Everlane!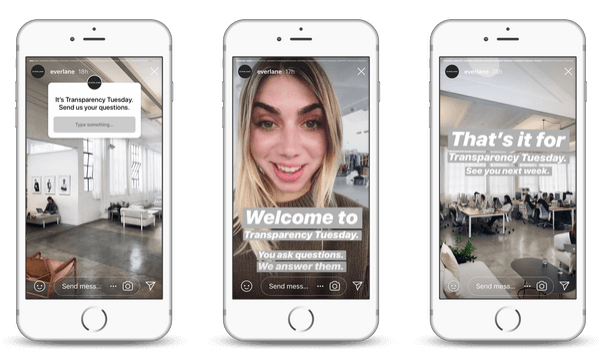 6.4. Increase your (local) reach and impressions by adding location and hashtags in your Instagram Stories
You can significantly increase your brand's social reach as well as impressions by adding hashtags and location in your Instagram stories.
By doing so, other users who are searching through a location or a hashtag can easily come across your posts including even those who don't follow your account. Additionally, stories with hashtags are more discoverable since they usually appear on top of the feed.
@Naluunderwear, for example, is a brand of lingerie and swimwear with minimalist views and quiet aesthetics. Naluunderwear is using Instagram Stories to promote their products and gently includes some branded hashtags.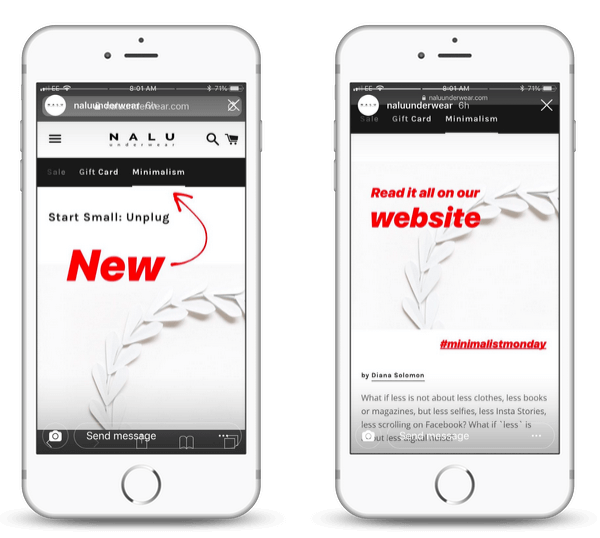 6.5. Share the Instagram Stories where you are mentioned
Sharing your audience content in Instagram Stories for your business helps create:
Transparency - fantastic way to connect with your audience on Instagram.
Interaction - transform your Instagram Stories viewers in power users and engage with them in real-time.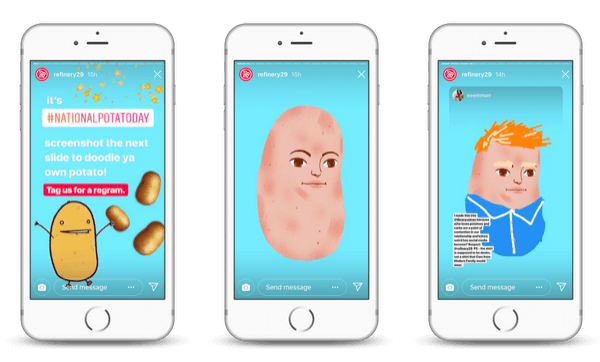 7. Tools to create Instagram Stories
Looking for tools for creating, editing and analyzing your Instagram Stories performance? These might be a great help for your business:
Instagram Stories photo editing tools:
Instagram Stories quotes tools:
Instagram Video Stories tools:
Or you can add Video via the native Instagram app:
Live vide
Boomerang
Superzoom
Rewind. Plays video in reverse.
Hands-free
Instagram Stories Analytics:
👉 Check out the complete list of tools for video stories!
8. Instagram Story analytics
If you're investing time and effort on Instagram Stories for your business, then it is necessary to measure their performance.
Here's the complete list Instagram Stories metrics you should follow:
Number of viewers - who and how many people saw your Stories.
Reach - the number of people (unique Instagram accounts) who have seen your story.
Impressions - the number of times your stories has been viewed.
Interactions - the number of people who interacted with the stories that you posted.
Taps forward.
Taps back.
Next Story.
Exit.
Swipe-up - a key metric for the Stories ROI. When your audience swipe up, they are sensually taken to a website of their choice.
Replies - the number of DMs you've been received as a result of a Story.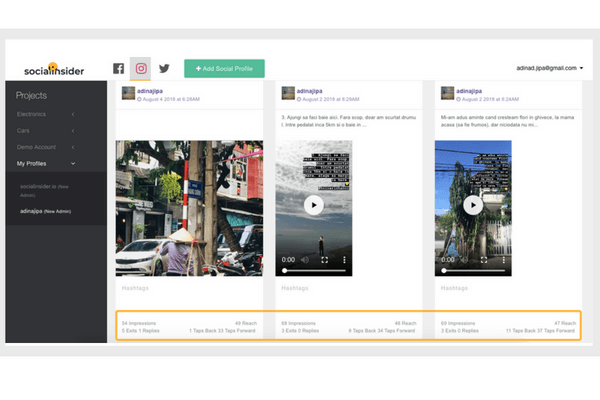 9. Some questions about Instagram Stories
What is the best resolution for an Instagram story?
You can use:
For photos size: 1080px width x 1920px height

for high-definition video: 1920px width x 1080px height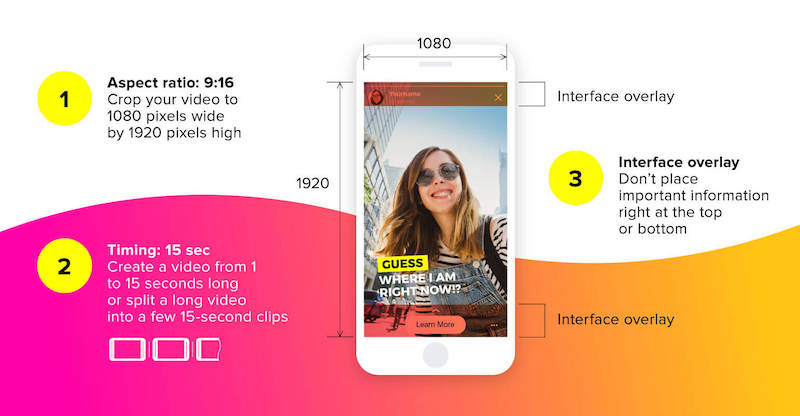 How can I save or download Instagram stories?
If you want to re-share your Instagram Stories, here are some ideas on how to save Instagram Stories and make sure you never lose your Instagram stories:
Save stories in Highlights
Save stories in your phone camera roll
Save stories by using a scheduling app.
How do you know when someone takes a screenshot of your photo on Instagram?
You'll get a mobile notification when someone takes a screenshot of your Stories.
How do I add links in Instagram story?
To add a link to your Instagram story, first you need a verified account (blue check mark), or 10,000 followers and a business account.
Using Instagram Stories ads gives the ability to add links to your Stories.
Final Thoughts
Your turn. How do you use Instagram Stories to promote your business? Share your thoughts in comments.
---
Related articles: