Struggling with your Instagram Stories views and engagement? It's time to understand your Instagram Stories Analytics and learn how to measure your performance on Instagram Stories.
Stories play crucial role in enhancing Instagram experience.
In fact, out of over 800 million Instagram users, about 400 million are active daily story users.
As such, it is not surprise why many businesses and brands are making use of Stories. You may think that Instagram Stories are instant, so setting up KPIs measurement may seem unnecessary.
However if you are investing your time and effort on Instagram Stories, then it is necessary to measure their performance.
Measuring the key performance metrics is very important because it allows you to analyze stories that drive most engagement, tackle pain points, increase brand awareness as well as segment your audience to deliver the right message to the right people.
Today, I'm going to present you Instagram Stories Analytics and how to use it to improve your Instagram Stories experience.
---
Here's a sneak peek at the article:
#1. What's the difference between reach and impressions
#2. How to improve your interactions in Stories
#3. Understand the navigation behavior of your audience
#4. Engagement on Instagram Stories
#5. What discovery means
---
The most important Instagram Stories metrics every marketer should follow
#1. Reach and impressions
These two metrics are crucial and will help you estimate the size of your audience. In most cases, your audience will watch Stories that you post more than they like your pictures.
So the big question is: what is the main distinction between reach and impression?
Reach is the exact number of individuals (unique Instagram accounts) who have seen your story. On the other hand, impression is the exact number of times your stories has been viewed. In some cases, one person can view your stories three times. Therefore, if you post a story and reach two people who viewed it eight times, insight will reveal that there was two reach and eight impressions.
In most cases, Instagram Stories usually have lower reach numbers and higher impressions. Your reach rate will depend on size of your audience. This means that the more followers you have, the lower your stories reach rate will be. This is how this metric usually applies on Instagram.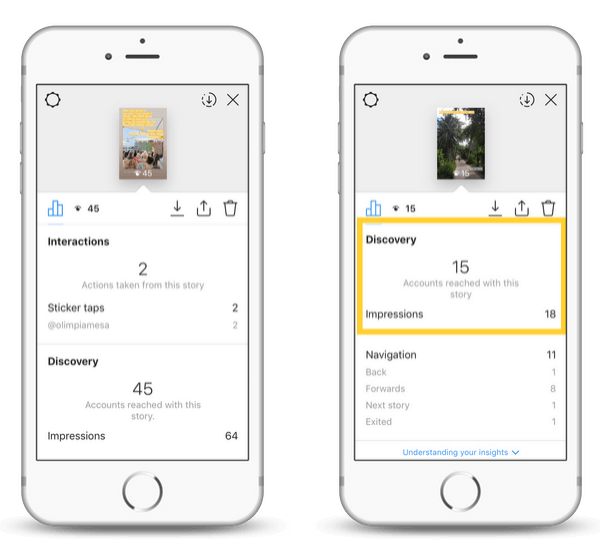 Why is important to measure reach and impressions on Instagram Stories?
These metrics are important because it will enable you analyze the quality of stories and frequency of posting.
For instance, if you notice that there is a sudden drop in reach, it may be because your stories are bouncy or blurry and need to upgrade in order give your audience quality stories that they looking for. It will also help you come up with a pre-determined schedule of when to post your stories each day or week.
#2. Interactions
Interactions are a must use metric for the Instagram marketers. It indicates how your audience interacted with the story that you posted. Interactions also help you to know the action that your audience have taken on your story.
There are many features you can use to boost interaction rate: mention someone in your story, add location, use the questions sticker and poll, use hashtags among many others.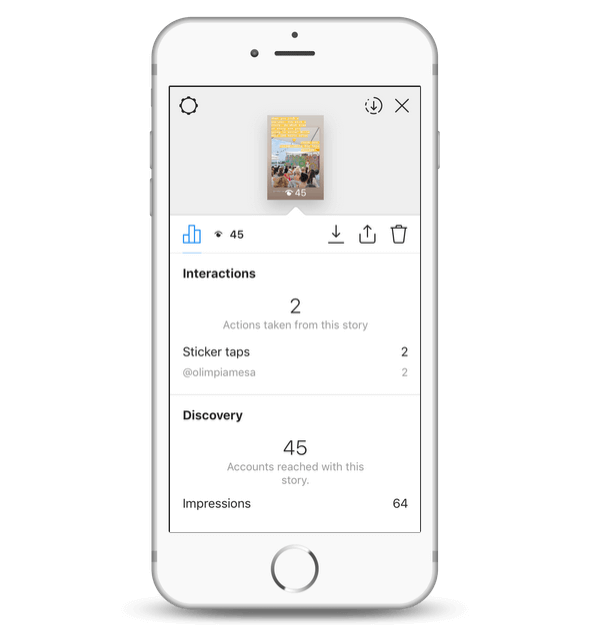 Why is important to measure the interactions in Stories?
This metric shows you how successful your strategies are at interacting with your audience so as to drive traffic.
Although Instagram does not allow you to track click on the users handle, this metric will show you the exact number of interactions, a factor that will make it possible for you to evaluate the performance of your Story.
This metric will help you to accurately assess how well your Stories are performing in terms of interactions and engaging with your audience.
#3. Understand the navigation behavior of your audience
As Agora Pulse noted, the completion rate 'lets you know how many people watch your entire Stories.' This metric applies for more than one Story uploaded on your business profile.
To calculate the completion rate, you need to apply some arithmetics or just follow this formula: divide the number of viewers of your last story by the number of people who saw your first post.
This metric tells you the number of individuals who have watched your story from the start to the end. This feature is divided into four categories: taps back, taps forward, next story and exit.
Taps forward is the number of taps that your audience have made to see the video or photos that you have posted in your story.
Taps back is the number of taps that your audience have made to see your previous video and photo in your story.
High number of taps forward is not so good. It indicates that your story was not fun to watch or was not cropped properly. It also means that your story was too long or your story's composition was off. On the other hand, high number taps back is good and signals that people really enjoyed watching your story and would even like to re-watch it.
Next and exits tell you whether users watched your stories to completion or exited before the story ended. There are many scenarios that can cause exit. Some of these scenarios include user closing their Instagram app while viewing your story, user moved to another story by swiping left, users clicking on the X button to cancel your story and users swiping down to go back to the main feed section.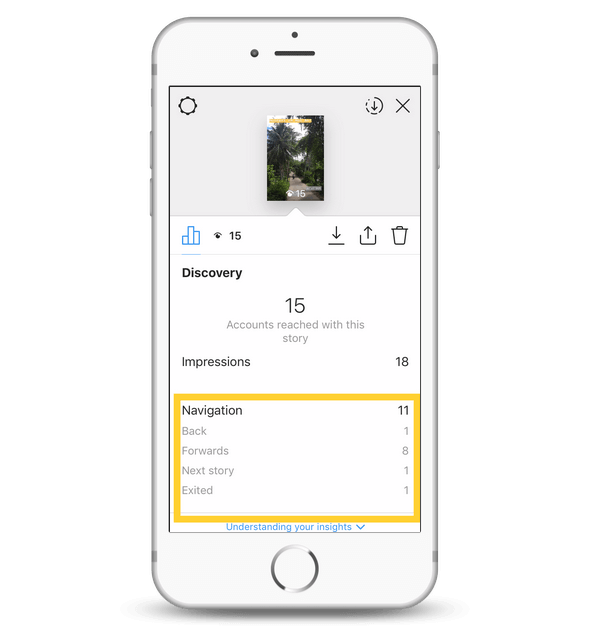 Why is important to understand the navigation behavior of your Instagram audience?
If you want to analyze the exists accurately, it is crucial to post a sequence of stories then access the Instagram analytics to note the type of stories that are most interesting to your audience.
If you notice fewer exists, then that is a good indication because it means that your stories are being watched.
On the other hand, if there is more exists in your story, it means that users find it less interesting meaning. You need to add some few elements in your Stories to make it interesting and interactive.
👉Continue reading: 8 reasons why brands are using Instagram Stories
#4. Engagement on Instagram Stories
The engagement on Instagram Stories is defined by the swipes-up and and the number of replies.
Swipe up - when it comes to measuring ROI, one of the most valuable feature to utilize is swipe up CTA. When your audience swipe up, they are sensually taken to a website of their choice.
Since this incredible feature was introduce, according to Swat.io swipe-through rate range between 15-25% which is good conversion rate for any Instagram marketers.
You can use CTA Stories to share valuable content, link viewers to full stories, drive your audience to your online shop or introduce new products to your audience.
Replies represent the number of DMs you've been received as a result of a Story. Just like the number of back taps, this is a good measure of positive engagement... sometimes. A controversial story might get lots of angry messages too!
#5. What discovery means
Just as the name suggest, this metric helps to indicate where your post was discovered or seen the most. It also shows how many users that were not following you when they first saw the post.
It includes metric on impression and reflects the number of times that your story was discovered from a particular place within Instagram including through a search, user's home feed, a hashtag, location tag or from your profile. Discovery metrics also include data on post reach and shows the number of unique accounts that saw your post.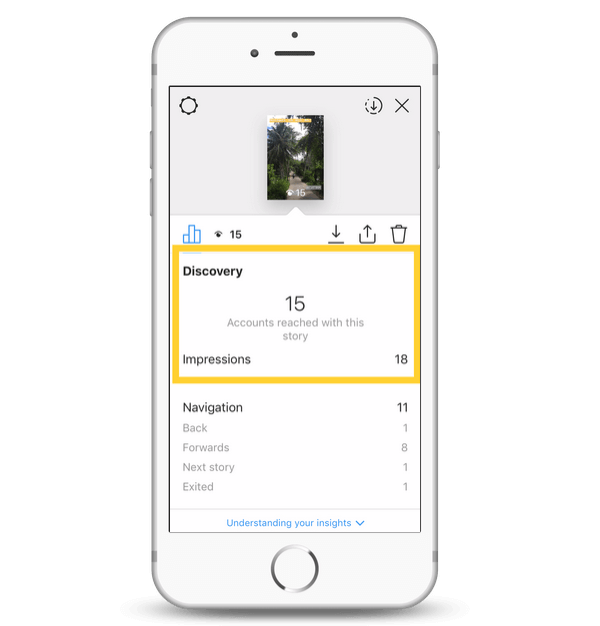 Final thought
Your turn. What Instagram Stories metrics do you follow? Do share in the comments below!
Get Stories insights with Socialinsider! Increase your Stories reach and engagement, and understand what to post more and how often.
---
Related articles: