If you have Instagram, you have Stories.
With a massive increase in daily active users - 500 million people around the world use Instagram Stories on a daily basis, this feature has changed the meaning of Instagram.
Now content creators have to create a specific content strategy for this new channel too.
Stories offer businesses a unique opportunity to capture the direct attention of audiences and potential customers, drive traffic and increase sales.
50% of businesses on Instagram worldwide created at least one story during a typical month.
If your goal is to drive traffic to your website, Instagram comes with the option to add links in Stories.
Today, I'm going to show you how to add links in Stories even if you don't have a swipe up option in Stories.
Let's dive in ⇣
---
How do you get the swipe up feature on Instagram stories
1. What is the Instagram Stories feature
2. How to add links to Instagram Stories
2.1 Add a link in stories when you have more than 10k followers
2.2. Add a swipe up in stories when you have less than 10k followers
3. How to analyze the performance of your Instagram Stories
---
#1. What are Instagram Stories?
The Instagram Story feature is a simple way to share your photos or videos with your followers for 24 hours. After hours have passed your stories will disappear, and no longer be available for your followers to view on your profile.
Recently they came with an update, and after uploading a part of a story, you can choose to highlight it on your profile, save it to your device for future use, or let it disappear after 24 hours with the story mode.


#2. How to add links to Instagram Stories
One of Instagram's biggest issues as a social media marketing tool is that links in captions aren't clickable. You can add a URL to your Instagram post caption, but this is not a solution. Plus, it looks inadequate within the platform.
#2.1. Add a link in Stories when you have more than 10k followers


When Instagram launched clickable links in stories, they allowed this to only verified accounts, but starting from last year the social network app is letting all business Instagram accounts with 10,000 or more followers have the option to add links to their Instagram Stories.
This is extremely helpful in driving Instagram traffic to your business website, promote a blog post and attract leads to a contact form.
If you want to add a link to your Instagram Story, follow these steps:


Tap the camera icon to begin your Story
Once you have opened the camera icon, you have a lot of options. You can take a photo, a video, or you can swipe up and access your library.



Enter or Paste the URL
Click on the chain icon and a new page will open where you can either enter or paste the URL that you want your followers to click. Once you put your link make sure you press done.


📌 Important note!
This icon appears only if you have a verified account or if you have a business profile that has more than 10kfollowers.
Add a call to action for your Instagram Story link
Before posting your story make sure you add a call-to-action. If you really want your audience to click on your link, you have to remind them to swipe up. Using swipe up .gifs increase the story's interactions.
You can choose one of these call-to-actions:
swipe up for more!
read more here!
for more information!
find out more!
swipe up at any time to join!
want more? Swipe up!
swipe up for the tutorial!
Once you've done the steps above your Instagram Story is ready to be published!. Adding interactive stickers or .gif may increase the interactions and the retention rates for Stories.
#2.2. Add a swipe up in stories when you have less than 10k followers


How can you add a swipe up call to action in Stories when you have no option to add a link? Here are four options for you:
1. Apply Dennis Yu's 1-dollar strategy


Recently, I discovered that I can apply Dennis Yu's 1-dollar strategy to Stories too.
If your business profile has less than 10k followers, you can opt out to promote your Stories. Set up a daily budget of $1, and promote a simple frame or more Stories.
You have two options to start a promoted Story on Instagram:
Once you published a Story, Instagram gives you the option to promote the Story from the app.
In my case, I got the message this message 'this post cannot be promoted'. I don't why, and I didn't investigate it because of the second option.👇
You can create promoted Stories from the Ads Manager.
Follow these steps to add links in Stories for the profiles with less than 10k followers:
Go to the Ads Manager
Set up a campaign objective - in our case, it's better to choose 'Traffic'
Create an audience or use a custom audience
Set up a daily budget - which in my case I chose $1 per day.
Choose the placement - Instagram Stories
Here's come the beautiful part:
Edit your Story by adding:
text
website URL
headline
Call to Action which comes with these options: apply now, book now, contact us, download, get offer, get quote, get showtimes, learn more.
Once your add is ready, and your Story is approved, you can track the story performance using the Ads Manager or accessing insights from the native app.
📌Important note!
Note that you cannot add .gifs, stickers. Maybe videos are a better option than photos. Test it multiple times for your profile.
2. Add a link to your IGTV
Yes, a video description that contains links can be an exciting way to drive traffic!
Of course, the first "big" step is posting an IGTV video.
Create a new video IGTV, uploaded to your profile, add a catchy name to capture your viewers' attention, then in the description, directly add the link.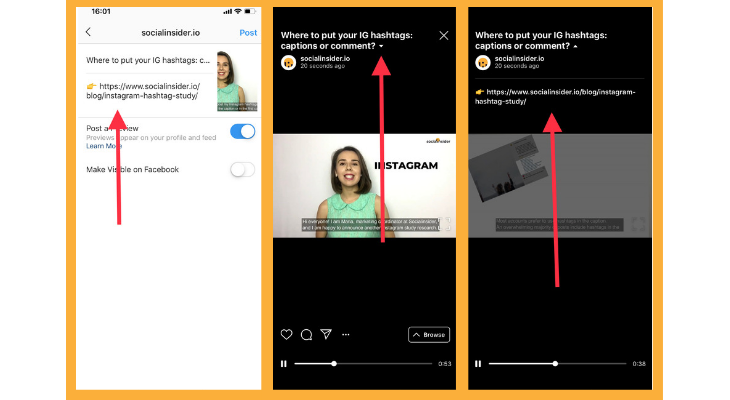 Next step, go to your Stories, upload a new Insta Story, tap on the link option, and select IGTV. When people view your IGTV description, they can click on the active link.


Now you Instagram followers can swipe up to check out your newest IGTV video. In your IGTV you can literally tell your followers to tap the title to get the link.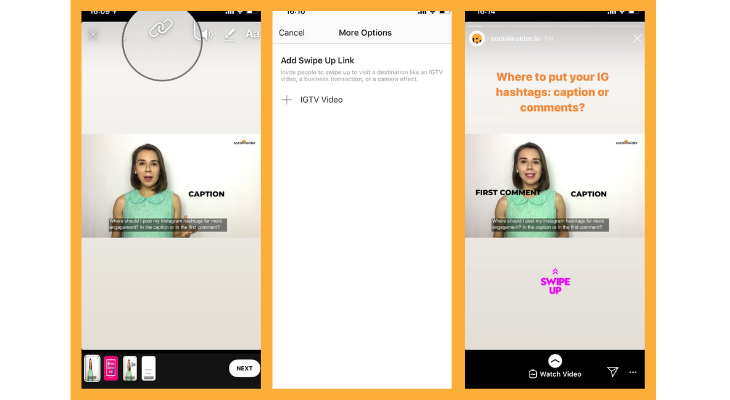 It seems like a workaround, but definitely worth trying if Instagram is your game.


3. Use a poll sticker


Instagram Poll Stickers can help you boost the chances of interacting with your followers in Stories. Poll Stickers provides a novel way for poll responders to strike up a conversation with you.
You have a 24-hour window of time to DM anyone who responded to your IG Poll Sticker. Poll sticker analytics allows you to message your followers by navigating to your Instagram story, then swiping up to view the analytics.


One of the key things about Poll Stickers is that there is a list of people who answered your poll that you could view. Just look for a tiny paper plane icon that will appear next to the names of IG account holders.
Click on this new icon (paper plane) to DM them. You can also provide additional information to them, start a conversation with them, or send them to your landing page with a link.


4. Use a chat sticker


The "Join Chat" sticker is a new addition to the Instagram Stories Stickers. It allows others to join your group chat.
You have the power to name the chat and moderate the group. The "Join Chat" enables you to connect to those who are interested in what you have to say.
Indeed, the power is in these colorful tools that can grab people's attention and work to keep your group members interested or make a call to action.
Important tip!
You can have up to 32 people in this chat at any time.
#3. How to analyze the performance of your Instagram Stories
There are two options to access Stories analytics for your business profile.
You get insights using the native app or you could choose an analytics tool such as Socialinsider which gives you a complete overview of your profile.
Yes, I know I'm biased, but let me show you how to improve your content stories, engagement, profile reach by using an analytics tool.
Within the native app, the Instagram Stories metrics are divided into three sections with these metrics:
Interactions: replies and profile visits.
Discovery: reach and impressions.
Navigation: taps back, taps forward, next story, exited.
Accessing Socialinsider, you'll get:
Total stories: How many stories the profile published in a specific period.
Days with stories: Number of days in which the profile published stories.
Stories per day: Average published stories per day.
Average peak reach: How many unique accounts you reach each day in average.
Average retention rate: It shows how engaged is your audience with stories. It represents the impressions of the last story divided by the impressions of the first story.
Peak reach rate: Highest reach you had in a day as percentage of followers count.
Insights into publishing behavior: See how many stories were published in a period.
Replies: Understand how many people reply to your Stories.
Impressions: It shows you the distribution of impressions for a specific period.
Reach: It gives the number of accounts that saw a photo or video in your story.
Completion rate for multiple Stories in one day.
Hashtags analytics data in Stories (only for those in text, and not as stickers)
I created this comparative so you can decide by yourself which one limits your performance.
Continue reading: 12 Instagram Metrics To Reconsider If You Want To Grow Your Audience And Drive Traffic
Final thought
Instagram Stories provides you the opportunity to tell a story and present your content in an exciting new way.
Drive traffic to your website, and don't limit your performance by the profile size.
Share with me in the comments if you added links in Stories by choosing to promote your Stories with a smaller budget.
Originally written on 29 March, 2018. Last update 17 April, 2019.
---
Related articles: