Rumour has it Facebook is no longer as popular as it once was. However, marketers and agencies keep investing into Facebook ads like there's no tomorrow.
And others may be wondering why.
Well, the truth is people who have social media profiles on different platforms are still more likely to buy from Facebook ads.
They put their trust into brands that advertise on Facebook like they trust grandma's words 'cause she has more life experience. (No offense, TikTok)
It seems that experience also qualifies Facebook and Facebook ads continue to be a great way to sell even in 2023.
Keep reading to find out more about Facebook ads best practices that promise to change your agency's marketing game.
Facebook Ads Best Practices To Try
1. How can Facebook ads help your brand
A Facebook ad is a method used by marketers to advertise their products and services, while specifically targeting their audience with custom-made ads.
Somehow Facebook feels more like home for users, especially for those who have been growing up with this social media platform.
For them, Facebook still occupies a special place and they tend to trust more the reviews and news they see there.
Do you still need more reasons to market your products and services using Facebook ads?
As long as you are sure that your target audience is there, you should definitely start planning your Facebook ads campaign.
Facebook ads are meant to reach more people than your brand's Facebook posts. This way, you will manage to increase your ROI and brand awareness.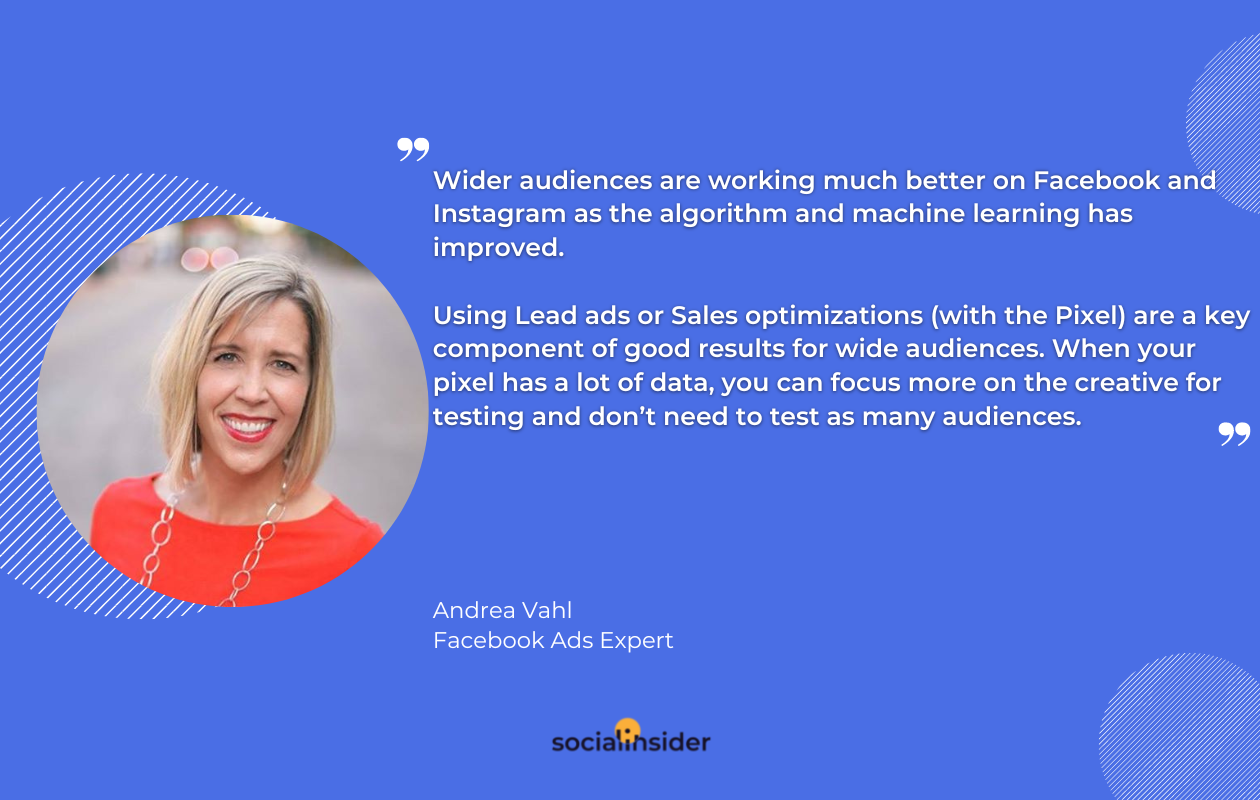 Some Facebook ads best practices can really be a game changer for marketers wanting to innovate their ad campaign.
Andrea Vahl, a Facebook ads specialist, gave us a few tips and tricks about the use of Facebook ads best practices.
Wider audiences are working much better on Facebook and Instagram as the algorithm and machine learning has improved.
Using Lead ads or Sales optimizations (with the Pixel) are a key component of good results for wide audiences. When your pixel has a lot of data, you can focus more on the creative for testing and don't need to test as many audiences.
Instant Form ads are working well for Lead Generation but use Higher Intent forms to get better lead quality. Advantage+ Shopping ads are working great for ecommerce businesses if you have a catalog or Facebook shop.
2. The structure of a Facebook ad
When thinking about designing a Facebook ad to attract customers, you need to set a detailed plan.
There are three main layers for Facebook ads that you should take into account when designing your next ad: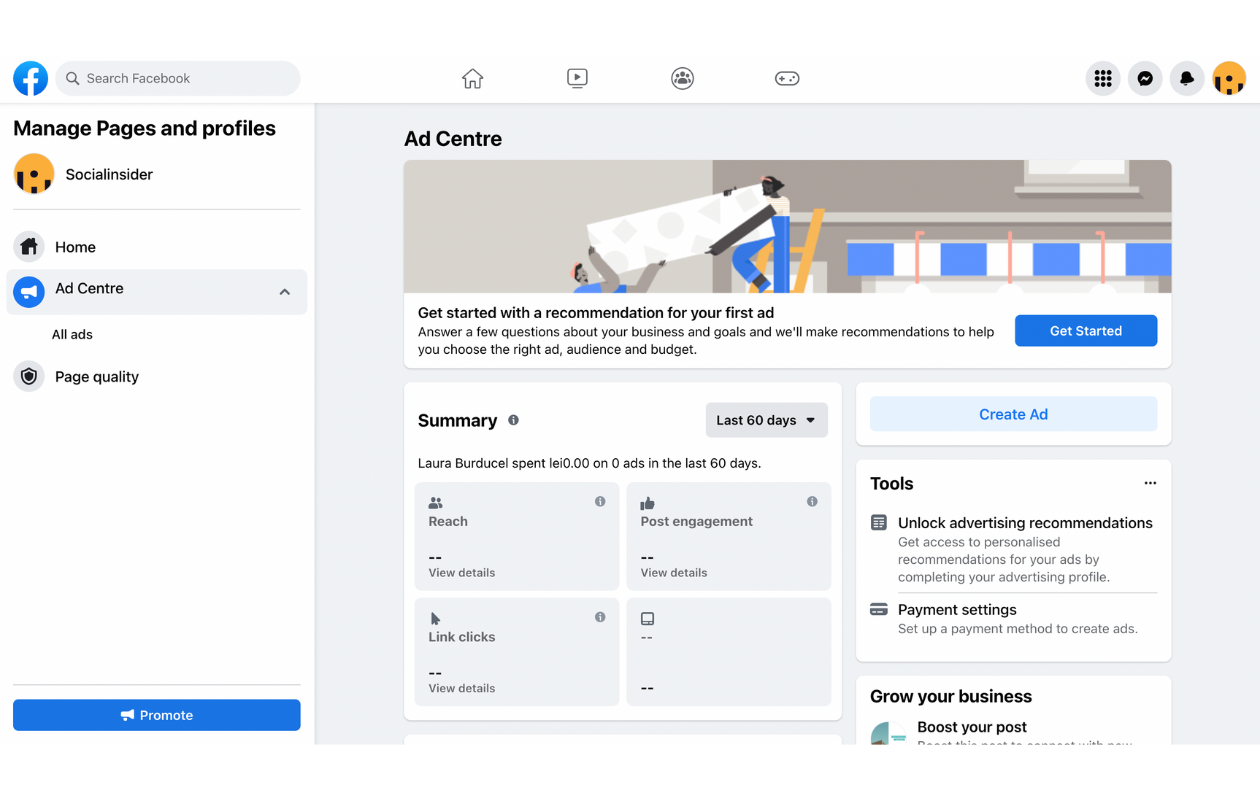 You have to design your campaign since this will be the solid ground on which you will build your ads.
Establish the goal you want to reach through your Facebook ads, what you want to advertise (a product, a service or your brand), and see who's your target audience.
This decides how your ad will run relying on the budget, the placements of the ad and the audience you want to see it. The ad set is related to more technical parts.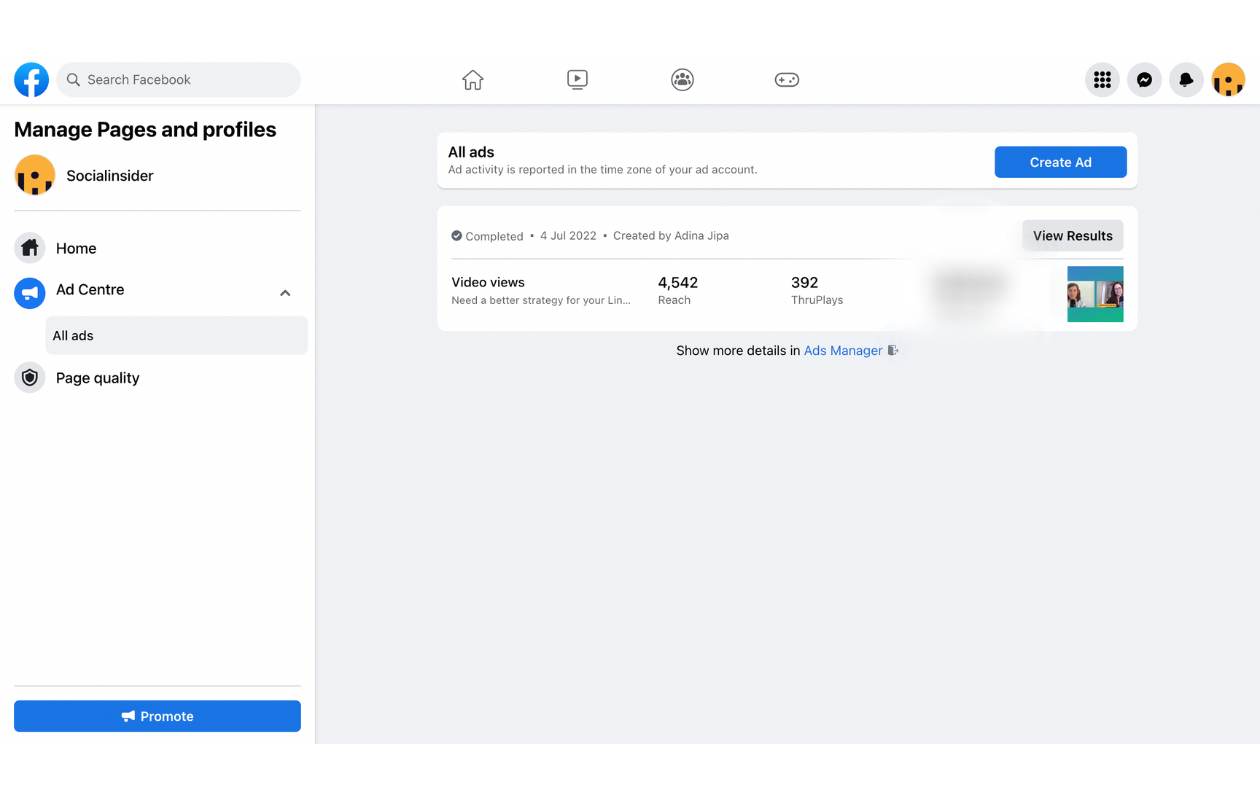 This is the product of your creativity and based on it your audience will transform into your clients. That is why the format, copy, images and videos matter.
3. 12 types of Facebook ads
Displaying your products and services in different ways for your customers by using ads can attract them on your website.
Besides using Facebook ads best practices, you also need to learn about the types of Facebook ads you can experiment with.
Even if the audience may display different personalities and wishes, and it may be drawn by distinct types of ads, you have to learn how to conform and direct them towards your product.
Luckily, there are several types of Facebook ads you can use to attract each and everyone of them. Let's take a look at the methods you can use to convert your Facebook prospects into customers.
Image ads
Facebook image ads are among the most successful types of Facebook ads when it comes to convincing people to buy.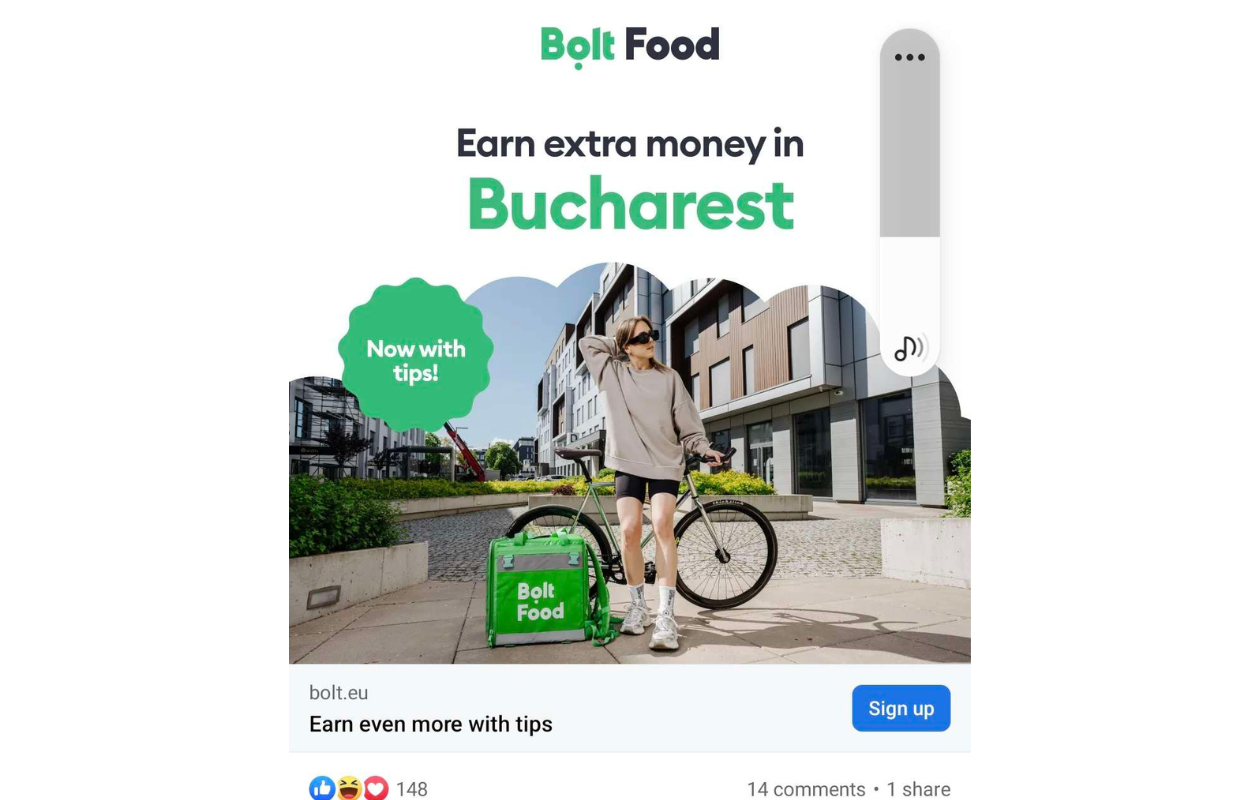 Picture ads can be used by boosting an existing post or designing a photo ad from scratch. Make sure you add some text, a smart CTA and some contrasting colours to attract users' attention.
The copy of your image ad needs to be top-notch to determine users to stop scrolling and pay attention to your brand.
Video ads
Facebook video ads are a bit more costly than image ads, but their effect on people is clearly different. With today's shrinking attention rate, users are drawn to video content because it's easier to digest.
They tend to pay more attention to videos since they get the needed data in just a few seconds and a bunch of moving images. That sounds like perfection, right?
This is why video ads are among Facebook ads best practices.
However, to develop a video ad, you need to be more creative, having a clear story in mind that you can impress your prospects with.
Stories ads
Facebook stories ads are completely different then the rest of the ad types presented above because these disappear in 24 hours, unless you save them.
Users on Facebook find it easier to interact with brands on Facebook Stories compared to Instagram.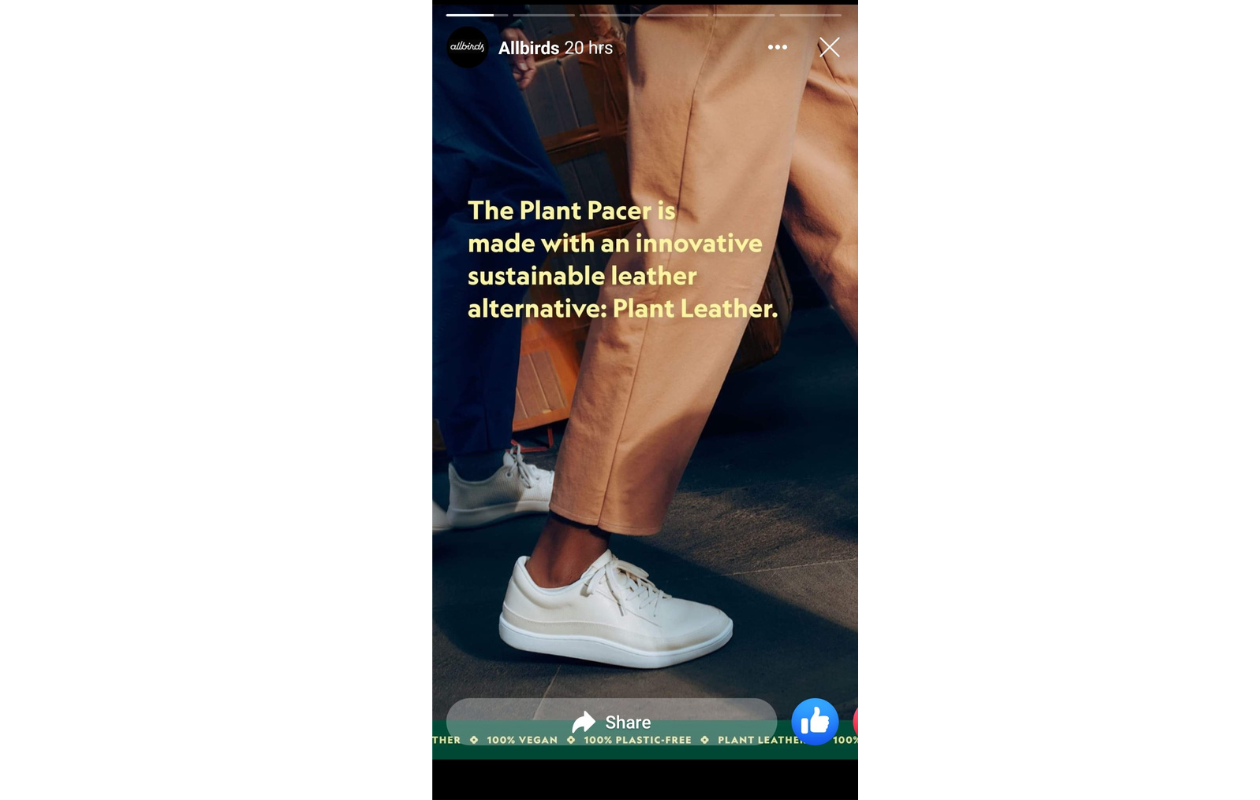 While scrolling through their friends' Stories, users come across your Facebook ad and they swipe to your link because they realise that your product satisfies their needs.
Facebook Stories are a great opportunity to tell your followers a story using appealing images, filters and effects. You can opt for an ad that takes several Facebook Stories in a row.
Slideshow ads
Facebook slideshow ads are also known to be video-like ads, since they comprise both videos and photos.
That's why slideshow ads can be included on the Facebook ads best practices.
Through this type of Facebook ads, with eye-catching visuals, marketers get great results.
Carousel ads
Some may not even notice a difference between Facebook carousel ads and Facebook slideshow ads. However, the difference here is that carousels are a lot more interactive.
With carousel ads you can add from 2 to 10 photos and videos, developing a very diverse campaign.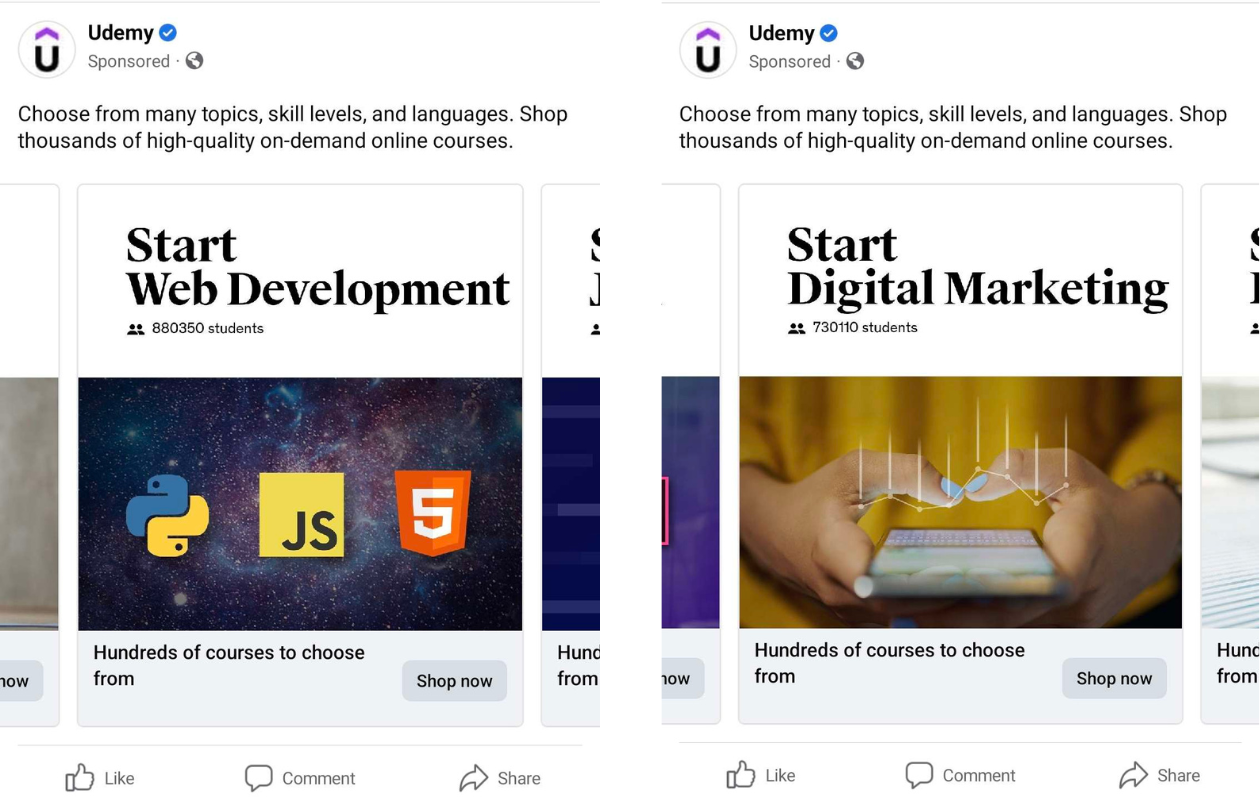 Don't forget to include your CTA to drive conversion. This is definitely some of the Facebook ads best practices.
Users will not only interact with your ad, swiping through the carousel and discovering new products, but they may also click the images and go right to your website.
Collection ads
Facebook collection ads are hybrid ads that comprise 5 images, videos and slideshows.
This type of ad can clearly increase traffic. The great part is that collection ads allow the users to make a purchase directly on Facebook.
Dynamic ads
Facebook dynamic ads offer you the chance to link your product catalogue to your Facebook profile by using Pixel technology.
With dynamic ads, after surfing your website, users can see the products they've shown their interest for in the form of an ad.
This type of ad can convince them to click that "add to cart" button and make a decision. Dynamic ads usually appear as carousels, displaying a targeted collection of products.
Facebook dynamic ads allow you to customise them based on four types of user's behaviour. Use this type of ad as some of Facebook ads best practices to increase your audience and customer count.
Lead ads
Facebook lead ads are developed in such a way that the customer feels like a star. The ad basically advertises the customer's needs and offers a solution for their problem.
The lead ad asks prospects if they want to sign up for the brand's newsletter to get more details about the services and products.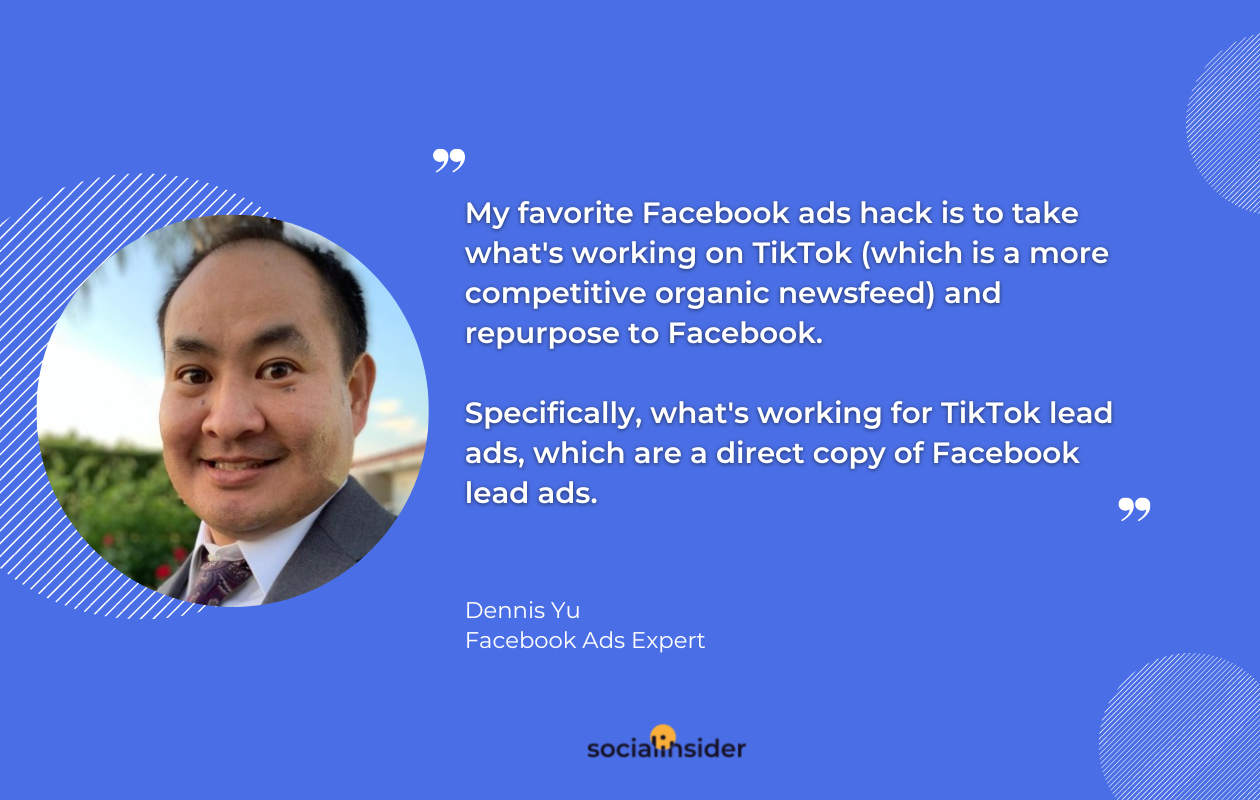 The pop-up offers them infos about your brand and this can convince them to click your website.
To back up what we said, we got the opinion of a Facebook ads expert, Dennis Yu, on lead ads.
My favorite Facebook ads hack is to take what's working on TikTok (which is a more competitive organic newsfeed) and repurpose to Facebook.
Specifically, what's working for TikTok lead ads, which are a direct copy of Facebook lead ads.
You can use the TikTok ads library, much like Facebook's ad library (though not as searchable and doesn't show as many details) to find what your competitors are doing.
For years we've been able to get away with weak creatives on Facebook-- stuff that is clearly advertising, not engaging vertical video.  So now add in TikTok style creatives to see how this lifts overall ad performance.
Poll ads
Facebook poll ads help you find out your audience's opinion about your brand's products and services, by surveying them.
Use Facebook poll ads to ask your prospects a question and offer them a few possible answers.
When your audience interacts with this poll, your engagement rate will increase.
Messenger ads
Facebook Messenger ads emerge in users' chat tab, in between Messenger Stories.
When your audience will click on the Messenger ad, you can set on what page they should land. It could be your website, direct message with your Facebook page or your brand's app.
You continue to be as creative as you want to attract users to click on your Messenger ad. At the end of the day, the clicks really matter since they convert to profit.
AI ads
Facebook AI ads are very futuristic and help the audience "try on" some of your products in the online world. Yep, that is possible, as hard as you may find it to believe.
For instance, if you own a hair dye brand and you want users to see how your trendy colours will suit them, you can use AI to help them try them out.
This is one of the most revolutionary type of ad that you can include on your list of Facebook ads best practices.
4. 17 Facebook ads best practices to try
Your Facebook ad campaign needs a little bit of salt and pepper if you want to attract more clients on your website.
Your "salt and pepper" are down below in the form of Facebook ad best practices to draw everyone's attention.
Take a look at this list of Facebook ads best practices to increase your engagement, ROI and grow your community of satisfied clients.
4.1. Use a hook right from the start
To make sure you catch your audience's eye, use a powerful hook that convinces them to continue reading or watching your ad content.
If you hook users from the start by showing them your products or services, then chances are the engagement will increase.
4.2 Create a strong CTA
The call-to-action (CTA) is really important. If the users remain there long enough to look at your Facebook ad, then you have to tell them why.
What's in it for them? Use a strong CTA to convince prospects to go to your website and buy your newest products.
This is one of the most useful Facebook ad best practices to implement when developing your ad campaign on Facebook.
4.3 Focus on producing a powerful Facebook copy
After designing the image or video ad, you think that everything else following this process is a piece of cake. Well, you should think twice.
Your Facebook copy is extremely important. Even if you conquer your audience with the visual part, the message you want to send through your copy needs to be witty.
A smart, short, witty and on-point copy, that underlines all the necessary details about your ad campaign will be like the cherry on top. Nicely complementing the ad with the copy will surely make users click that link and go to your website.
That's why you need to rely on a good copywriter who has understood the value of your brand and what your new Facebook ad is about.
4.4. Keep in mind that relevance is crucial
How many times did you watch an ad and at the end of it you felt like it didn't make any sense?
Well, probably that online ad was not targeted properly since it reached your screen, even if you didn't show any interest in those products or services.
Another important Facebook ad best practice is to keep your ad content relevant. Otherwise, the user will skip your ad or scroll away from it.
If you want to be efficient, you wouldn't want to waste your ad budget on people who are not interested. It is clear that relevancy comes from thorough research.
4.5. Combine Facebook ads with content marketing
Prospects and warm leads should not be "bombarded" with ads right away. Most likely, they are not ready to buy yet. That is why, you should invest into powerful content marketing to prove your brand's worth.
If you provide them with useful content that gives them just the right insights and enough infos to make them curious, then you won over their hearts.
This Facebook ad best practice will save you.
You will see that being patient will pay off since you will slowly convert warm leads into customers. You just have to understand it will take a while to convince them.
Make sure you periodically share quality content on Facebook, always appearing in their feed. Consider boosting the organic content to reach a wider audience.
And when prospects will be ready, your brand should be top-of-mind for them.
4.6. Use less text
Another Facebook ad best practice to try out is to include less text in your ads. This way, users will pay more attention to the visual, being it an image or a video.
On social media, people don't have the time to read endless explanations. Make sure you include only the relevant data, be short and offer a solution to their problems.
This is what will trigger them to click your ad or go to your website. Long lines of text, rumbling on and on about your brand will not convince them to become your clients.
Less text is the new trend, having a clear message to convey through your ad.
4.7. Use movement in your ads to attract customers
Even if you don't always post video ads and maybe choose carousels, slideshows or dynamic ads, you should focus on including movement in your Facebook ads.
This Facebook ad best practice can help you attract a lot more customers since they will be intrigued by the way you introduce your products and services.
4.8. Add your brand's logo
A top Facebook ad best practice is putting up your logo. People will surely want to click on your ad if they are already familiar with your brand's name or logo.
Being easily recognized by your buyer persona will make your audience convert. In your go-to approach, you should include your logo and brand name in your ad, but don't make it too bulky.
It is clear that you want them to remember that visual, but you don't want to repeat the logo in a video ad too much.
If the logo appears too many times, they will forget what the ad is about and you will make it more about the brand than about the product you want to promote.
4.9. Design videos with sound off
This simple trick, that you can include in your Facebook ads best practices, brings so much outcome that not all people know about.
When you design a video ad with sound off, including the subtitle, you don't only provide help to those with hearing problems.
You make your content more accessible to a lot of people, in different situations in their lives.
If someone is seeing your ad on their mobile, while riding on the bus or when putting their baby to sleep, it is much more convenient for them to read the subtitles.
This way, you make sure you don't lose more prospects and you cover a wider audience.
4.10. Keep an eye on abandoned carts
Another hack that you can put on your Facebook ads best practices list is related to abandoned carts.
At times, prospects and leads who are about to convert enter your website, scroll through your products, see something they like and add them to cart for later.
They will either purchase the items in the cart or forget about them.
That's when you step in. You can reach out to them (by email or as a notification) reminding them that they have an unfinished order that they may have forgotten to place.
Moreover, if you also offer them a minimal discount for the items they want to purchase, then they will be more eager to press the "Buy" button.
4.11. Avoid using white background in ads
You may think that this is a business for your graphic designer. Thing is that, as a marketer or social media manager, you coordinate everyone.
Write this down 'cause this definitely deserves a spot on your list of Facebook ads best practices.
It is great if you test different types of visuals, for both image ads and video ads, but it is even better if you avoid a white background from the start.
Just don't take it as an option for your ad, since most users will look at the content on their mobile, while scrolling, probably on a white background already. They will barely notice your brand.
You don't want your message to be lost in a sea of colourless background.
Make sure you stand out with vivid colours that attract users and convince them to click. Decide on a brand colour and use that in your ads to make your products recognizable.
4.12. Use contests and giveaways
Facebook giveaways attract more users than you can imagine. The news will soon be spread among users and you will get a wider audience.
If the purpose here is to increase your follower count, then you definitely win if you make that a rule for them in order to sign up for the giveaway.
The contest will surely catch their eye and users will not only increase brand awareness, but they will also contribute to the growth of your profile's impressions.
4.13. Make up an audience list
This hack can help you target your Facebook audience in a proper way. When setting up an ad campaign on Facebook, your goal should be to display the ad to people who will find it relevant.
You can set up a negative audience list by going to Audiences > Create Audience > Custom Audience.
Then choose "Customer list" from the pop-up and upload the list of clients in CSV format.
Now you make sure that this list is updated periodically to display to everyone the newest ad you have.
4.14. Make up a list of lookalike audiences
To create a lookalike audience, you have to go to Audiences > Create Audience > Lookalike audience and then choose your lookalike source. Here you can either use Pixel or from the customer list that you uploaded.
Now set your audience size ranging from 1% to 10%, where 1% consists of the users who are most similar to your lookalike source.
As the percentage grows, you will refer to a wider audience.
4.15. Find out who's your retention audience
Yep, there's one more type of audience you can set with your Facebook ad campaign. You can establish your retention audience by seeing who made a purchase on your website.
This way, you target your existing clients and you have the chance to engage with them again.
Basically this will be like a reminder for them that your brand is still there and it can serve them well.
You'd want this on your list of Facebook ads best practices to remember how to make use of the hack.
Make sure you send your existing customers the latest offers and ads about new products to determine them to come back and purchase.
To do so you have to go to Audiences > Create Audience > Custom Audience, then choose "Website" from the pop-up. Choose "Purchase" at the "Events" section and set the retention as 180 days.
4.16. Avoid editing ads
When your Facebook ad campaign is running, make sure you let it run for at least 7 days in order for the Facebook algorithm to do its job. The algorithm will find people who are interested in your brand.
Your ad will not perform as you expect it to if you edit it too often. Experts say that it is advisable to optimise it and make a performance analysis once a week.
When you edit a Facebook ad, it reenters the learning phase and it is reevaluated by the algorithm. Too many changes will contribute to the decrease of your ad's performance.
It is better to do a performance analysis and optimise it once a week. Here are a few things to consider.
Budget: You can make more than 30% of budget changes within a week.
Audience: Make changes to your ad set's audience targeting.
Placement: Make any changes to the ad set's placement targeting.
Ad Creative: Add new creatives to the ad or make changes to the existing ad creatives.
4.17. Don't test several types of ads at the same time
Another thing to put on your list of Facebook ads best practices is avoiding to test several types of ads at the same time.
If you design several types of ads for the same campaign, you have to consider the fact that your ad budget will be really fragmented.
Because of this fragmentation on different ad creatives, the results of the Facebook ad campaign can be really poor.
Instead of testing 5 or more types of ads at the same time, resume to only 2 types of ads and see how that is going for your brand.
4.18. Measure the performance of your ads
Last but not least, it's important to measure the ROI of your Facebook ads. You can do with an advanced social media analytics tool like Socialinsider, which now includes a brand new Paid section.
With these insights, you can now have the full picture of your social media performance, both organic and paid, and track KPIs such as reach, impressions, CTR and more.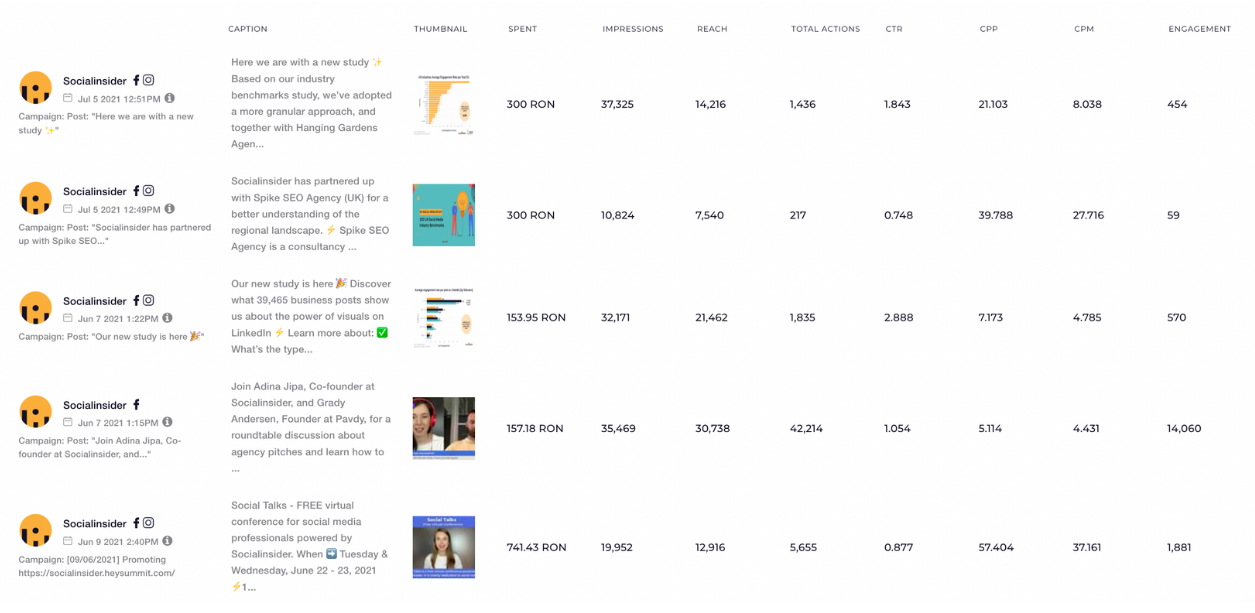 The best part?
You can also download a report of all your Facebook ads, from the Paid section: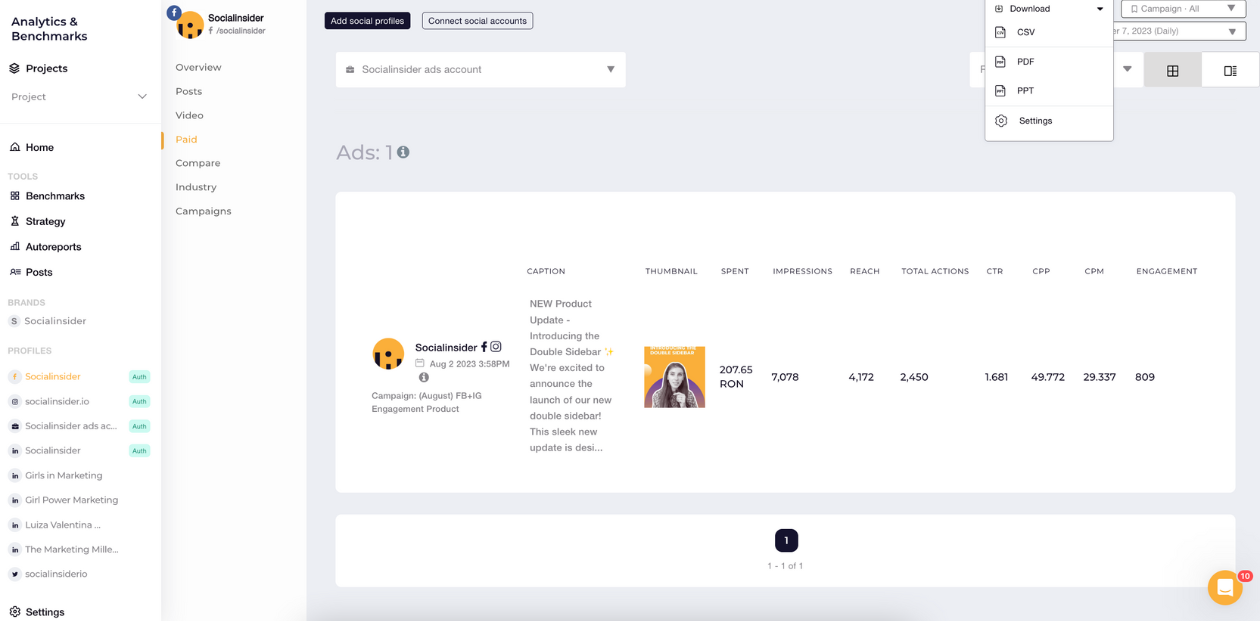 Or by selecting your connected Ad account from the sidebar: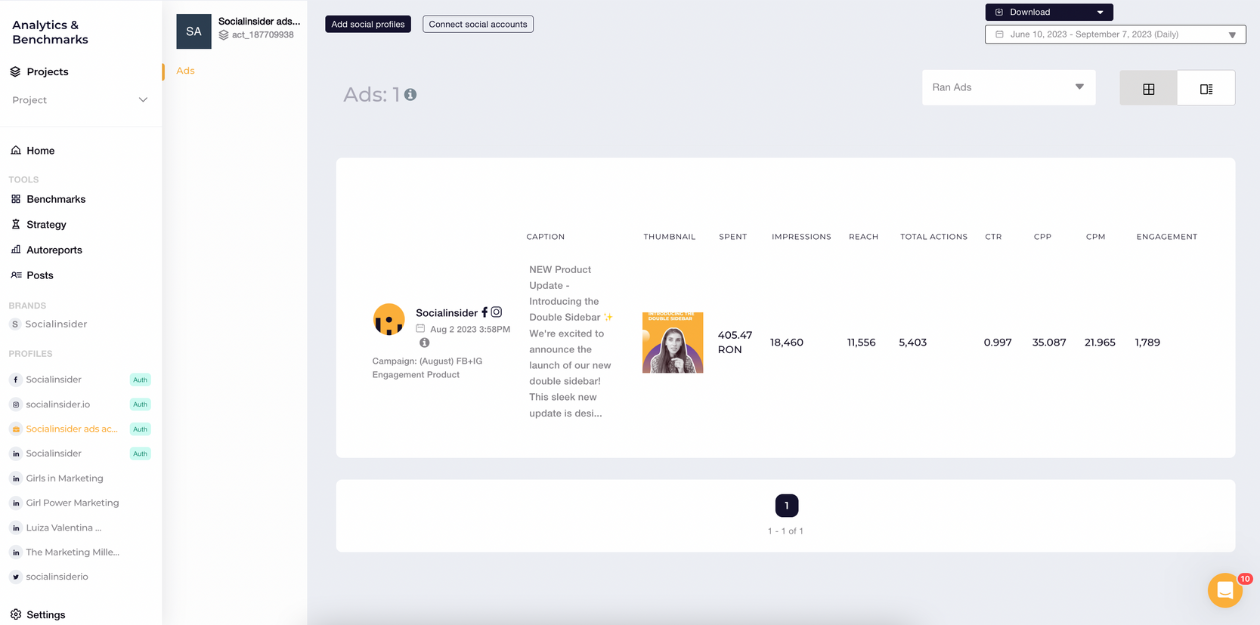 Final thoughts

This list of Facebook ads best practices can inspire your next ads campaign.
Besides learning insightful things about ads campaigns and how to use all the types of Facebook ads for your brand, you can also apply the 17 useful tips about advertising.
Advertising on Facebook helps you build trust in users who are more eager to buy if they see your logo on popular social media platforms.
Hopefully, this complete guide on Facebook ads best practices will help you develop efficient ad campaigns.
In case you have any questions, remember that we are only a few clicks away.