Some companies may believe that a social media manager and a community manager are the same person, just wearing different hats.
To marketers' surprise, community managers have different tasks from social media managers, even if sometimes their responsibilities may intertwine.
You cannot grow your brand properly if you don't grow your community first. Both community vs social media managers focus on your brand's community.
Today we will find out what are the differences between community managers vs. social media managers and, more important, why a business needs them both. Ready? Let's jump in!
Community Manager vs. Social Media Manager
1. What is a social media manager?
A social media manager is the person who coordinates and supports all social media platforms for a brand.
Their main focus is to interact with the community of the brand as the brand itself, using the brand's voice and values.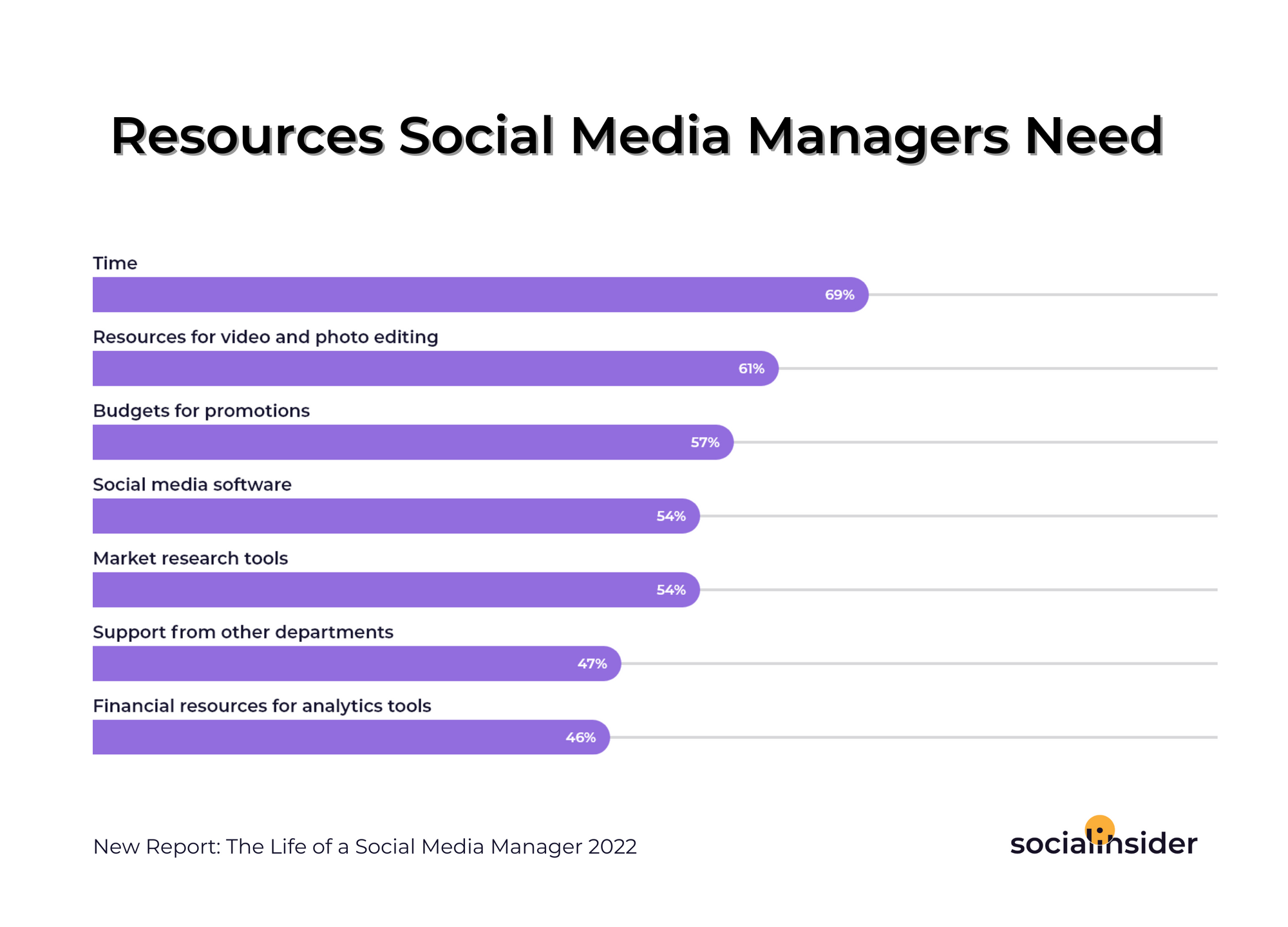 One of their main responsibilities is to administer the social media channels for the brand they are working for.
Social media managers are usually the people behind a brand's social media platforms.
When getting hired for this position, besides the fact that you can easily explore your creativity, critical thinking and explore your ideas for successful campaigns, you have to learn patience first.
The social media manager needs to be ready to take on a lot of tasks, from copywriting, to customer support and campaign reporting.
As a social media manager, you will be in touch with your brand's audience 24/7. And when you will not be there to quickly answer their queries, they will notice. Trust me.
This may be a dream job for many, but people don't know that this position implies doing a lot more tasks than actually believed.
2. What is a community manager?
Like the name itself says it, a community manager is more attuned to the wishes and requests of a brand's community.
Their main focus is building a friendly relationship with the customers that interact more with the brand.
They interact with the brand's community as themselves and they usually represent the company at public events, keeping in touch with the community at all times.
Basically, they take the idea of communicating with the audience at the next level. Answering customers' requests and complaints becomes their primary goal.
The community manager works to engage the existing audience of the brand, militating as the man/ woman behind the brand.
They represent the values and main focus of a company through the way they interact with users, having their individual voice which, however, is in line with the voice of the brand.
3. Main differences between community manager vs social media manager
If we are talking about a small brand or local business, it may be that the social media manager takes care of all responsibilities related to marketing campaigns on social media.
Therefore, they will be in charge of all the work that would be otherwise destined for a community manager.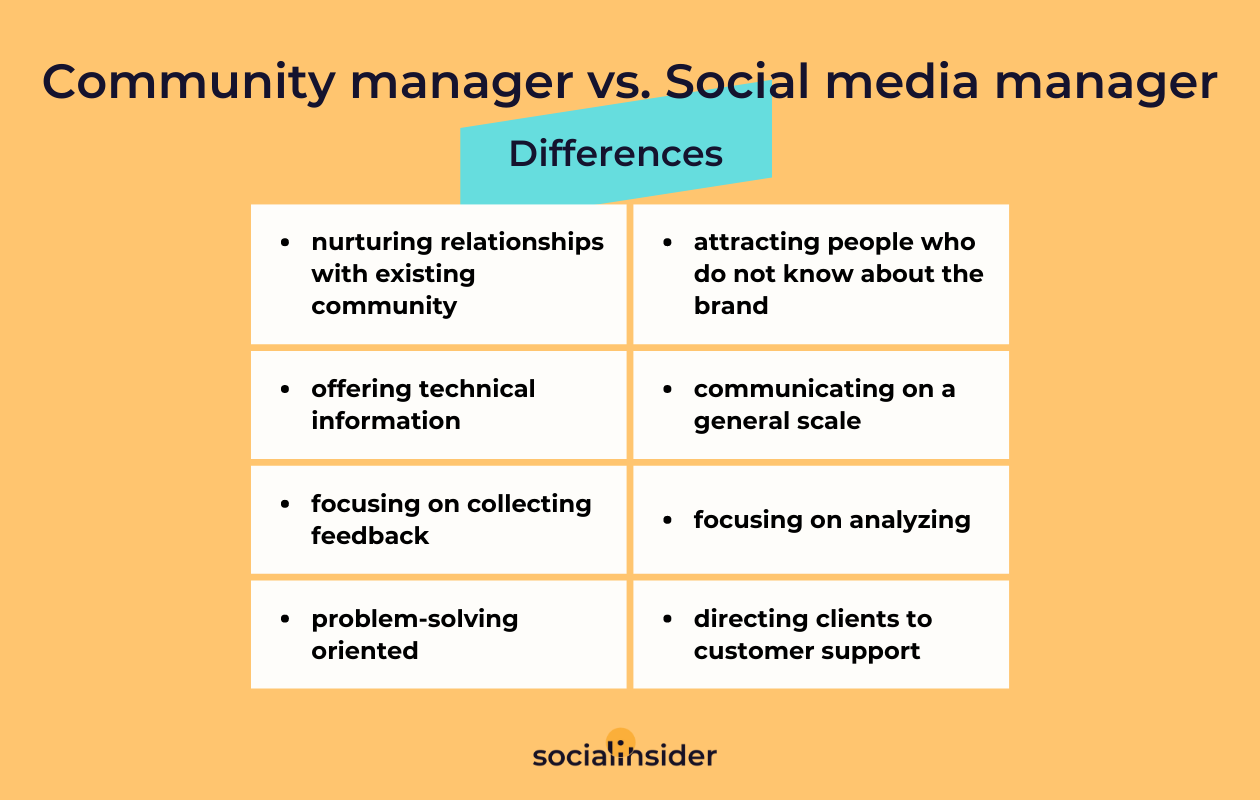 If the company is huge and they can barely keep count of the novelties they introduce while  their community is growing, then a community manager will take care of the engaged audience.
The main difference lies in the way they interact with the community. Social media managers tend to attract people who do not know about the brand, while community managers focus on nurturing the relationships with the existing clients.
Even if their tasks rely on communication, a social media manager does it on a general scale, while a community manager addresses specific problems. It's all about the scale and the tactics they use.
Also social media managers take care of the analytics part, where they assess the impact of a marketing campaign.
Community managers also collect feedback from the brand's audience. Even if social media managers interact with a lot of customers, they do not necessarily ask for clients' opinions.
At the same time, community managers are more focused on problem solving, while social media managers may direct clients towards the customer support service.
The social media manager provides general information, while the community manager offers technical answers for their audience.
4. Community manager vs social media manager - What do they have in common
As some people think that these two jobs are the same, here are a few insights that will help you understand when and why these two positions overlap, when it comes to responsibilities.
They both apply a communication-based strategy when developing a marketing plan meant to conquer their audience.
Social media managers and community managers both work with a brand's customers and they may offer customer support (in case they do not have a customer support department).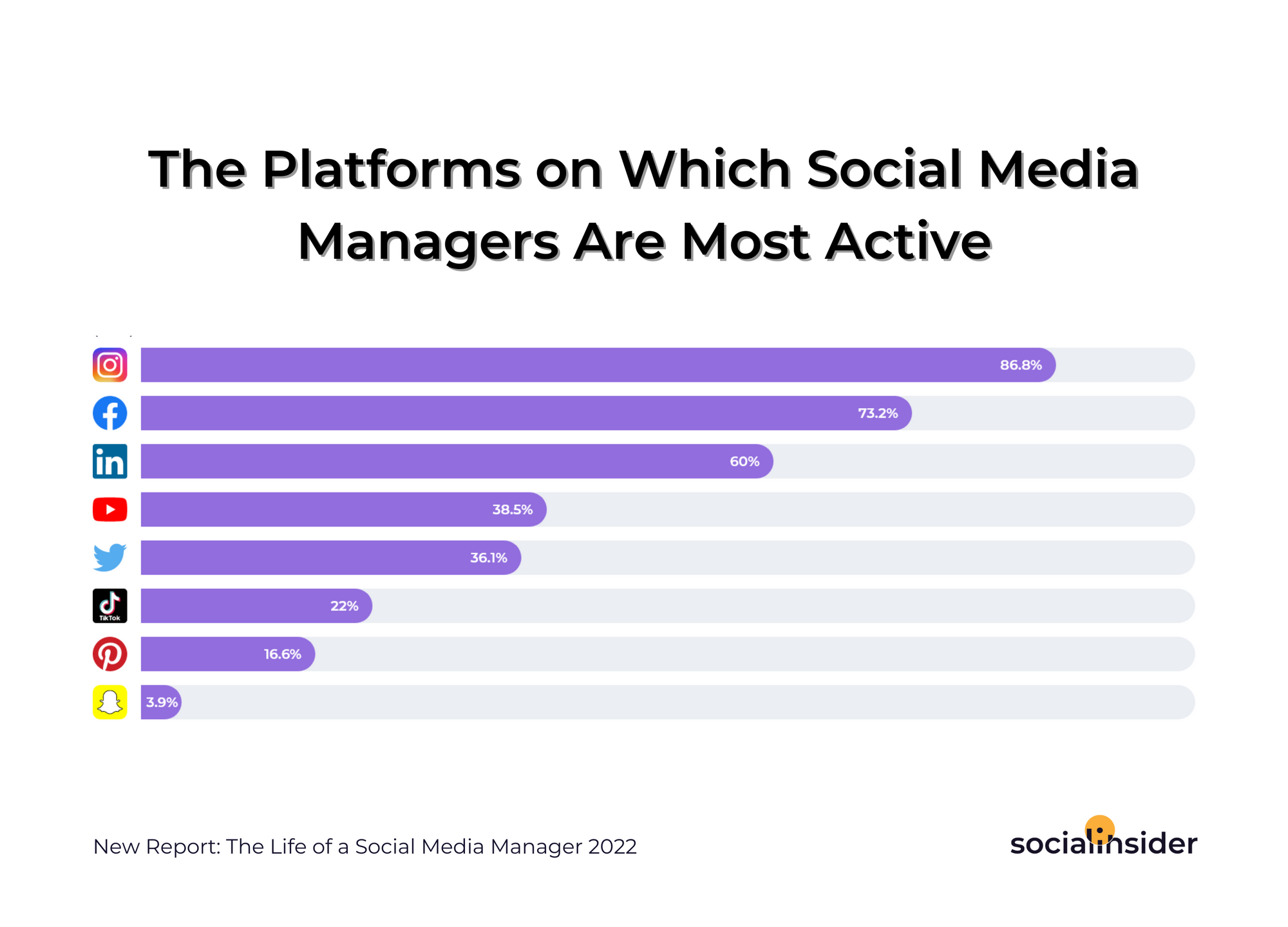 They are both in touch with the community, answering their questions and solving queries.
These two are essential for the brand's growth strategies and marketing plan. Both work in the marketing department and they work together with a social media strategist.
Both jobs contribute to increasing brand awareness and brand recognition. In many situations, social media managers and community managers work together to solve customer problems and develop marketing strategies.
A community manager and a social media manager always have to collaborate for the benefit of the brand.
For instance, a community manager will tell the social media manager what kind of content the audience expects, based on their previous interactions with customers, engagement and other relevant metrics.
A social media manager can offer the community manager all the needed data about the release of a new product or service, expecting that this data will reach clients.
Together, these two employees can build an online presence and reach the brand's goals that later translate into sales.
5. What does a community manager vs social media manager do
What does a community manager do
A community manager has a lot of responsibilities that sometimes may feel overwhelming. However, they still manage to do all the tasks like some kind of superhero. Here are just a few of them, the most important ones:
increase brand awareness and recognition
grow the brand's community
join different groups on social media and Twitter discussions to constantly remain in touch with the audience
encourage customers to offer feedback
answering and solving clients' queries
offer customer support (if needed)
give clients access to additional data and resources about the brand
What does a social media manager do
A social media manager lives on piles of papers that include reports and analytics data, holding an endless cup of coffee in one hand while on the phone, planning a marketing strategy.
If this sounds surreal, then you should take a look at the whole list of responsibilities below.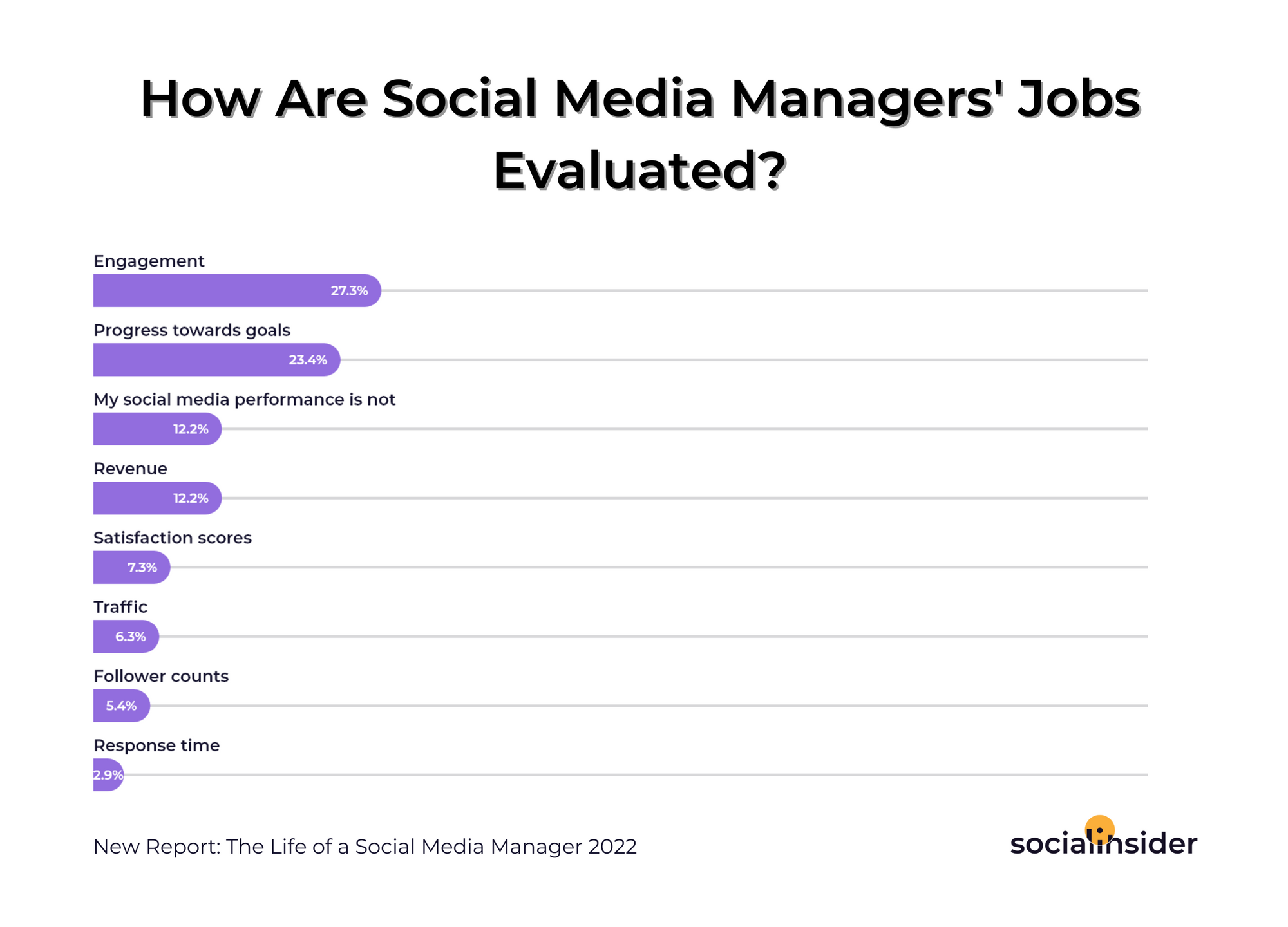 master all social media platforms and their in-built analytics tools and features
interpret data from analytics tools
understand the audience needs and requests by empathizing with them
develop a profile for the brand's buyer persona
use data to plan effective social media strategies
supervise the unfolding of a marketing campaign and social media strategies
communicate with the brand's audience
look at demographics to design accustomed content for the audience
create eye-candy content
6. What skills does a community manager vs social media manager need
Let's face it! It is not easy to keep up with the changes that may occur in a growing world, for a growing brand.
To be suitable in a position like community manager or social media manager, requires a lot of skills. But mostly, it is important to surface your human side as long as you will be working with people and for people.
For them, feeling you empathize with them will mean the world. However, you still need to develop certain mechanisms that can help you cope with critical situations, tough-to-solve queries or marketing campaigns that do not go as planned.
Well, you have to prepare yourself for every available scenario. No matter the conditions, you have to make things work for the sake of the brand you are working for.
Let's see which are the most important skills that can mold a great community manager vs social media manager.
Social media manager's skills
be flexible on social media
have communication skills
have good analytical skills
be trustworthy for customers and collaborators
do customer retention
do customer support
own creative skills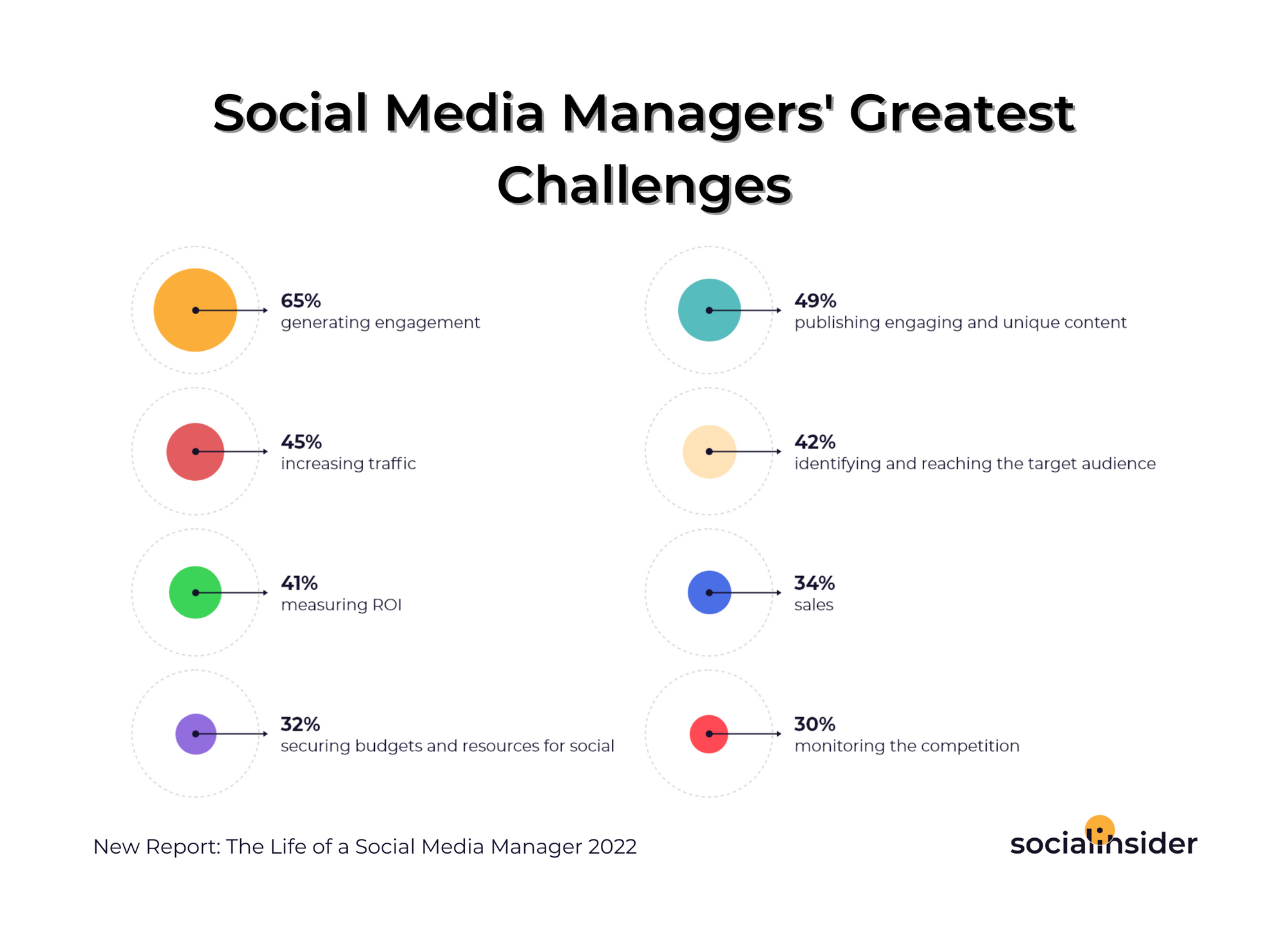 Community manager's skills
have communication skills
be empathetic, understanding customers' needs
own networking skills
have critical thinking skills
be good at addressing and solving problems
offer customer support
do customer retention
have innovative ideas for new products
7. What are the responsibilities of a community manager vs social media manager
Even if they respond to the audience's requests and queries, they do it differently, having different purposes in mind. Community managers take care of technical requests, while social media managers take care of general queries.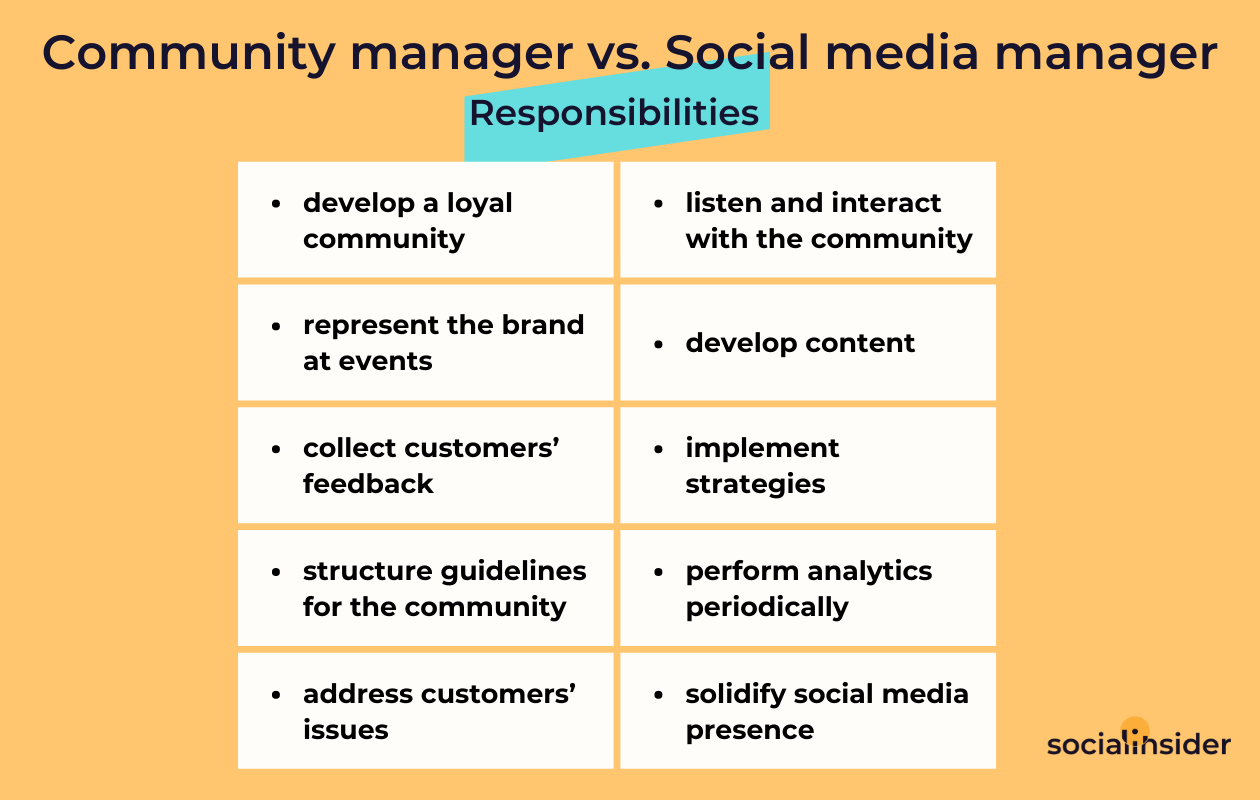 Social media manager's responsibilities
listen and interact with the community
develop content
implement strategies
perform analytics periodically
solidify social media presence
network with influencers and brand's advocates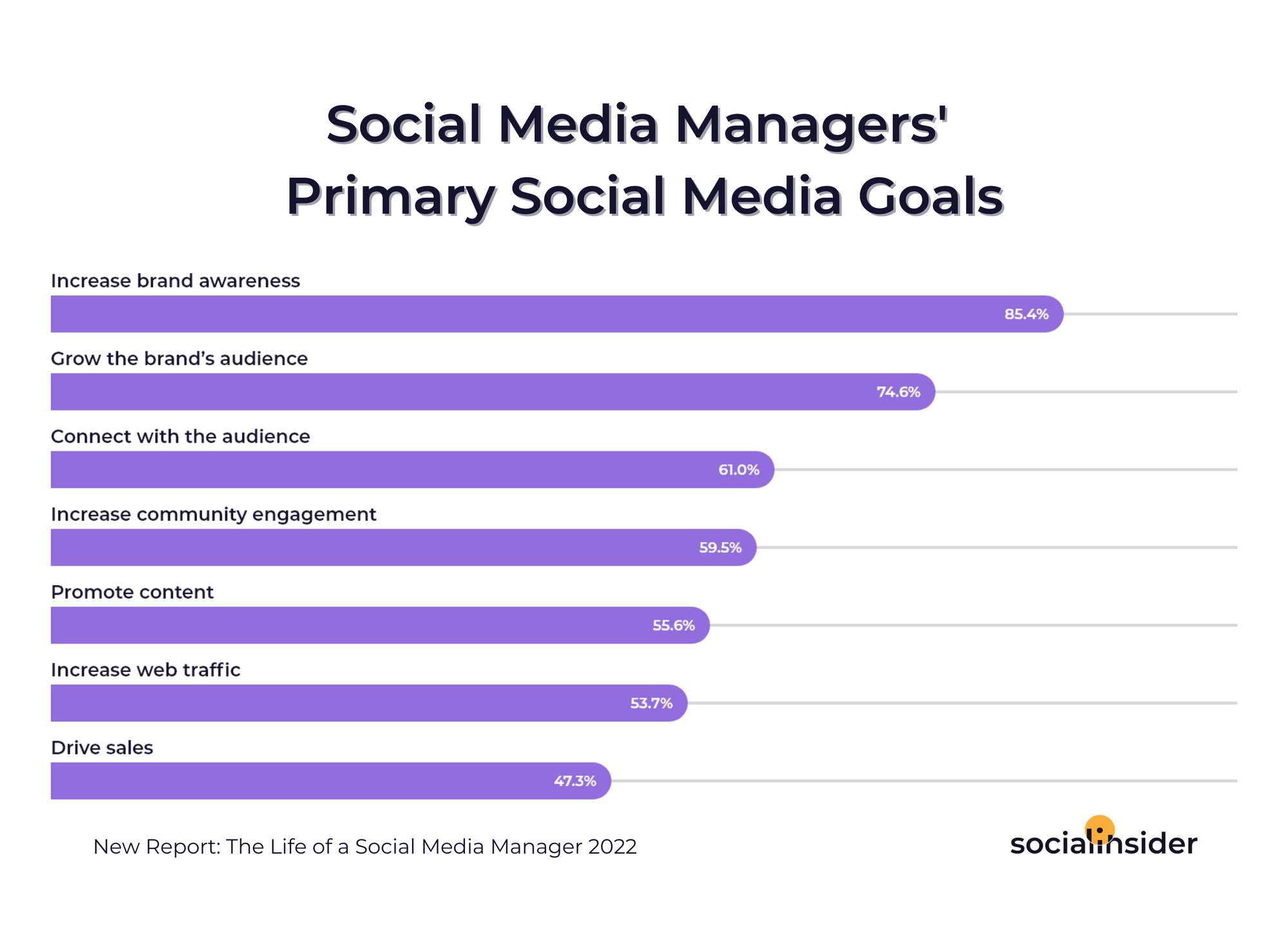 Community manager's responsibilities
find new users and answering questions
develop a loyal community
represent the brand at events
collect customers' feedback
structure policies and guidelines for the community
address customers' issues and complaints
offer access to additional resources for customers
grow the brand based on a deeper connections with the community
increase brand visibility
bring products to the attention of customers
troubleshoot customers' issues
8. Social media manager salary
Even if we know that it doesn't come all down to money, we still have to pay our bills. Salary is important, no matter how passionate you are about your job.
As a social media manager, the annual salary, as per Glassdoor, can reach up to $52.000. Depending on the company you work for and the eventual bonuses that you may receive, this salary can vary.
9. Community manager salary
My grandma has an old saying that goes like this: If you are good at something, you should get paid for it.
Being skilled at efficiently communicating with a brand's audience and solving queries can be qualified as super powers.
As a community manager, the salary can go up to $66.000. However, depending on the company, this may vary.
Final thoughts
Being in charge of everything related to social media, from content creation to community's super hero in problem-solving, can be hard.
However, the results may be spectacular when you see yourself succeeding. Regardless if you are a community manager vs. social media manager, when working with people, can be difficult.
Working at the development of an effective marketing strategy and being an important pillar in the process is valuable. And people genuinely appreciate your effort if you are there to offer them your support when they are in trouble.
Choosing to become a community manager or a social media manager means learning how to wear your cape proudly, even on days when the sun doesn't shine and customers are all alarmed by the new updates.
No matter the problems, being them itsy-bitsy tiny or huge, the fact that you can keep in touch with your community is always a big plus for your brand, increasing brand awareness and engagement.
If you have questions or any ideas related to our topic, remember we are only a few clicks away. Dare to ask away anything!