As the sweater weather season starts to enchant everyone with its festive spirit, social media is opening its floodgates, and brands are trying to impress social media users with their frenzy Christmas marketing campaigns.
With all the magic flowing through the air, the festive season is still quite a challenge for marketers and social media specialists worldwide who need to come up with new ways of catching users' attention.
To give them a hand, we put together a short list of steps they must follow to create a successful Christmas marketing strategy, alongside some useful stats for data lovers and a couple of inspirational social media Christmas posts.
Let's dive in!
How to plan your Christmas marketing campaigns
1. Creating a successful Christmas marketing campaign: three steps to cover
While some brands choose a rather emotional, more like nostalgical approach for their Christmas campaigns on social media, other may turn to humour, with the intention of spreading laughter and good vibes.
Regardless of the concept, without a doubt, all of them are magical and are inspiring people to strengthen their connection with their favorite brands.
But with the social media trends changing so fast, how can businesses optimize their Christmas campaign creation?
Analyzing last year's results is certainly a good direction to start with, but since what worked last year may no longer apply today, marketers need to be very thorough with their campaigns planifications.
If we were to split this process into a couple of essential steps that need to be covered for a successful Christmas marketing campaign, we would name three main strategical pillars, pointed below.

Define your Christmas social media campaign objective and come up with a catchy concept
The first step every Christmas marketing campaign should start with (as any other social media campaign, for that matter) is setting the objectives.
As a social media manager, start by asking yourself what your brand wants to achieve through this year's Christmas marketing campaign.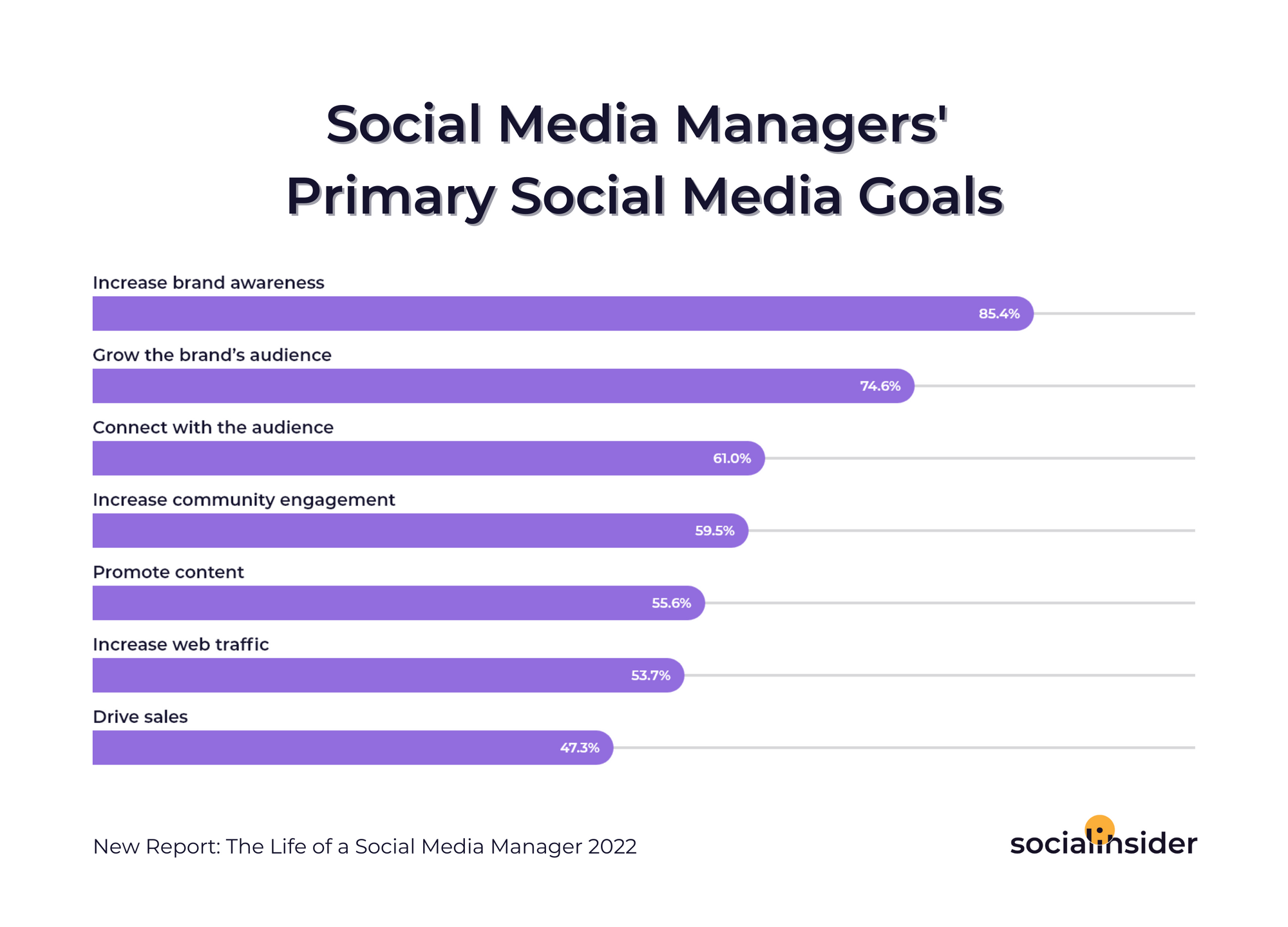 TIP: To make sure you're creating a bulletproof social media Christmas campaign, establish your objectives following the SMART methodology - which stands for specific, measurable, achievable, relevant, and time-based goals.
After this step is taken care of, you can move forward and start exploring different creative concepts for your Christmas social media campaign.
A creative concept refers to the main idea your Christmas social media posts will depict.
To give you an example, for this year's social media Christmas campaign, Oreo's creative concept is to highlight how Oreo cookies can be used to create different Christmas-themed sweets.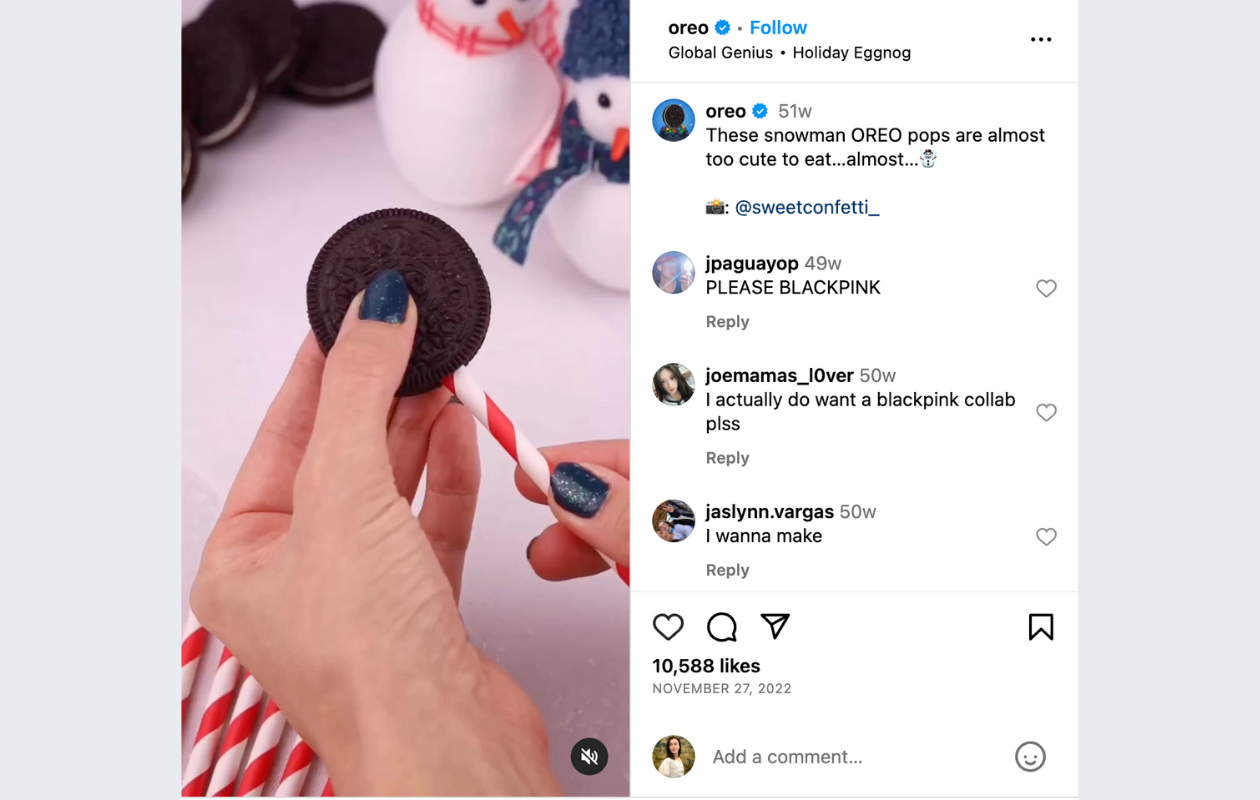 Understand your audience and create a schedule
Before starting to write your Christmas social media posts, you must take a moment and think about a core component of your Christmas campaign: your target audience.
For your Christmas marketing campaign to be successful, you must first understand what your social communities like, what they don't like, and when they are active on social media.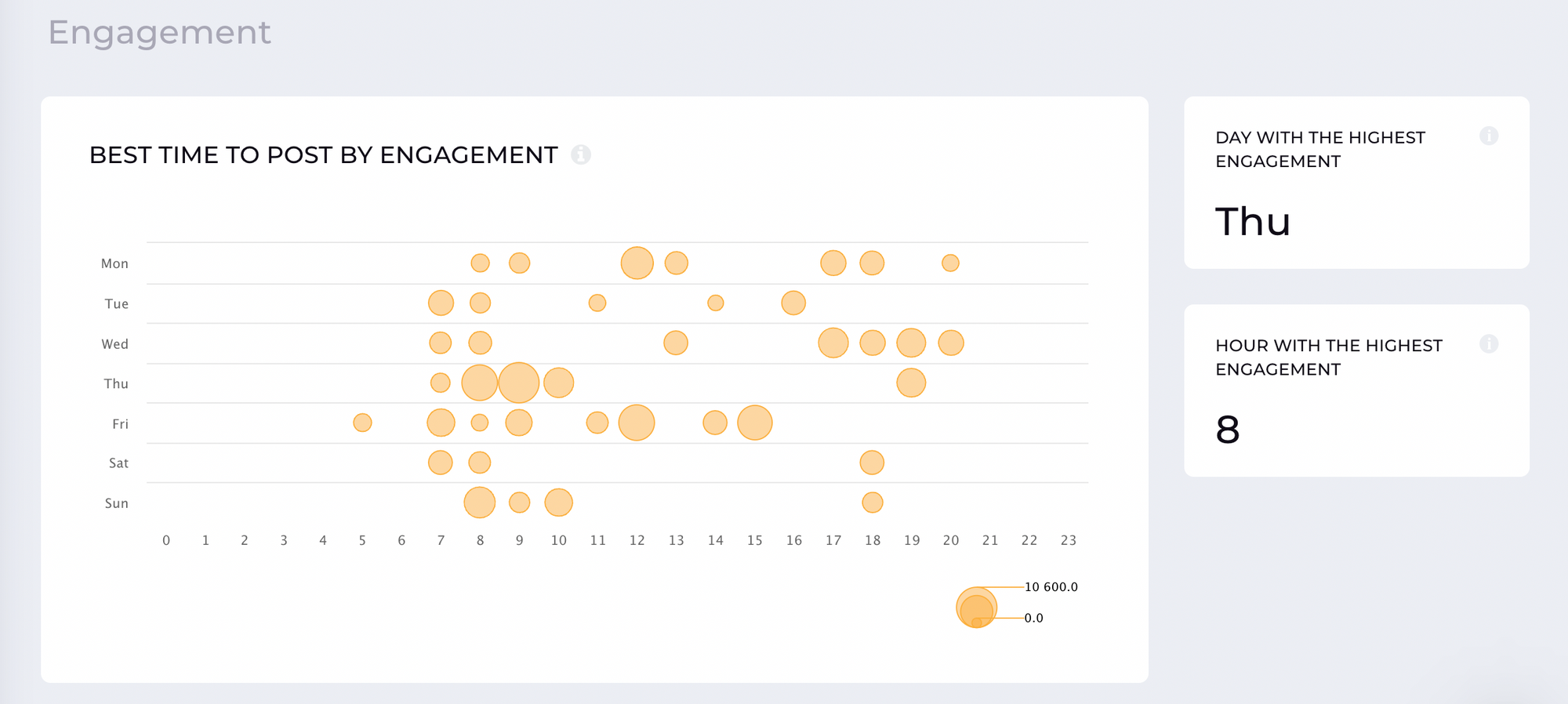 For example, if your audience is more drawn to interact with videos instead of images, there's no doubt that your Christmas marketing campaign should integrate this post type primarily.
When doing an audience behavior analysis for your Christmas social media campaign creation process, you can always use an analytics tool, such as Socialinsider, to be more time-effective when getting your insights.
Curious to see what data can you get for different social media platforms? Sign up for a 14-day trial!
Last but not least, with TikTok being so popular lately, there's a great chance for some of your prospects to be present and even highly active on this platform.
This should make you think about whether or not it's time to create your TikTok channel and integrate everyone's new favorite platform into your Christmas marketing campaign plan.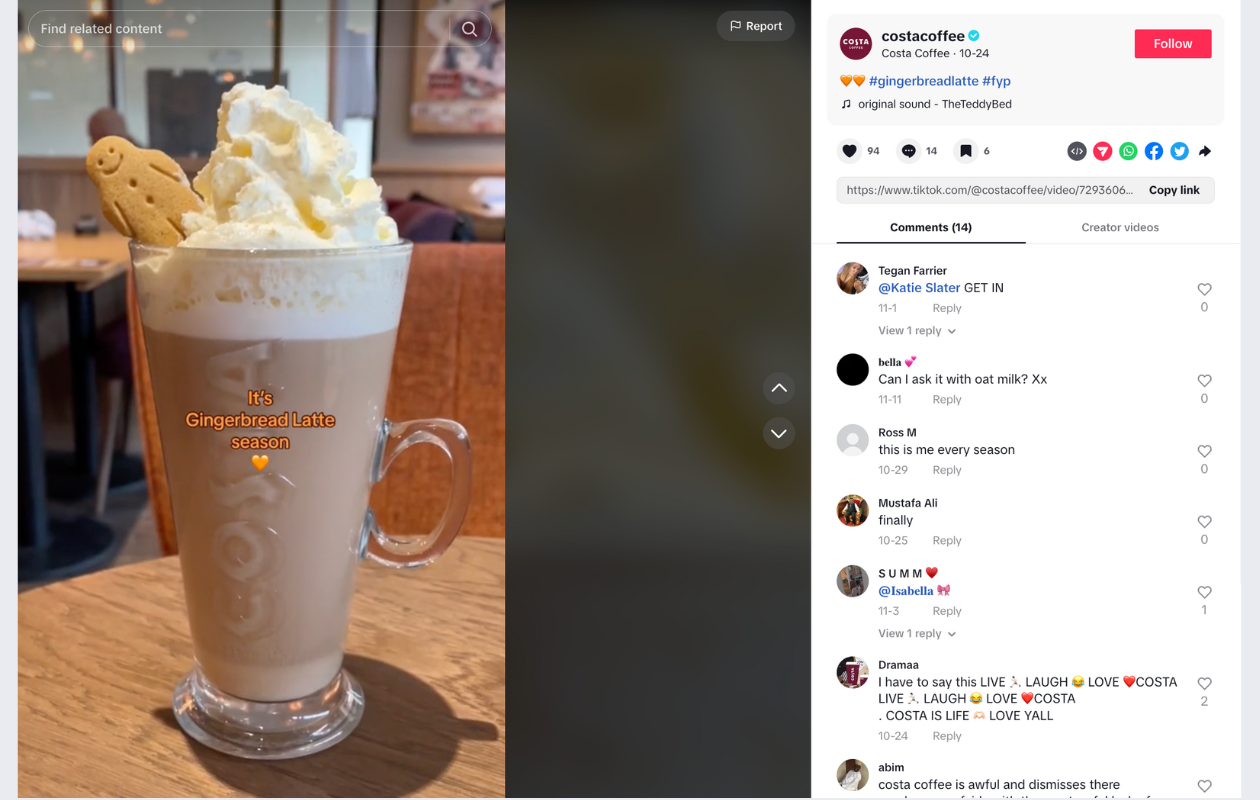 If you're circling around the idea, you should be aware that for increased chances of success, there's a serious need to do a rather in-depth analysis regarding the types of messages that resonate the best with the TikTok audience.
And speaking of TikTok, did you know this platform generates an average engagement rate that's six times bigger than Instagram's?
To discover more performance benchmarks, you can check out our TikTok vs. Reels study.
Now that you know your objective and your target audience, it's time to create social media Christmas posts that will align with these two.
While every marketing campaign needs a main goal, as mentioned earlier, there will also be secondary objectives for each action carried out.
Generating engagement is, for example, a very desired outcome by social media managers that's complementary to the campaign's primary intention.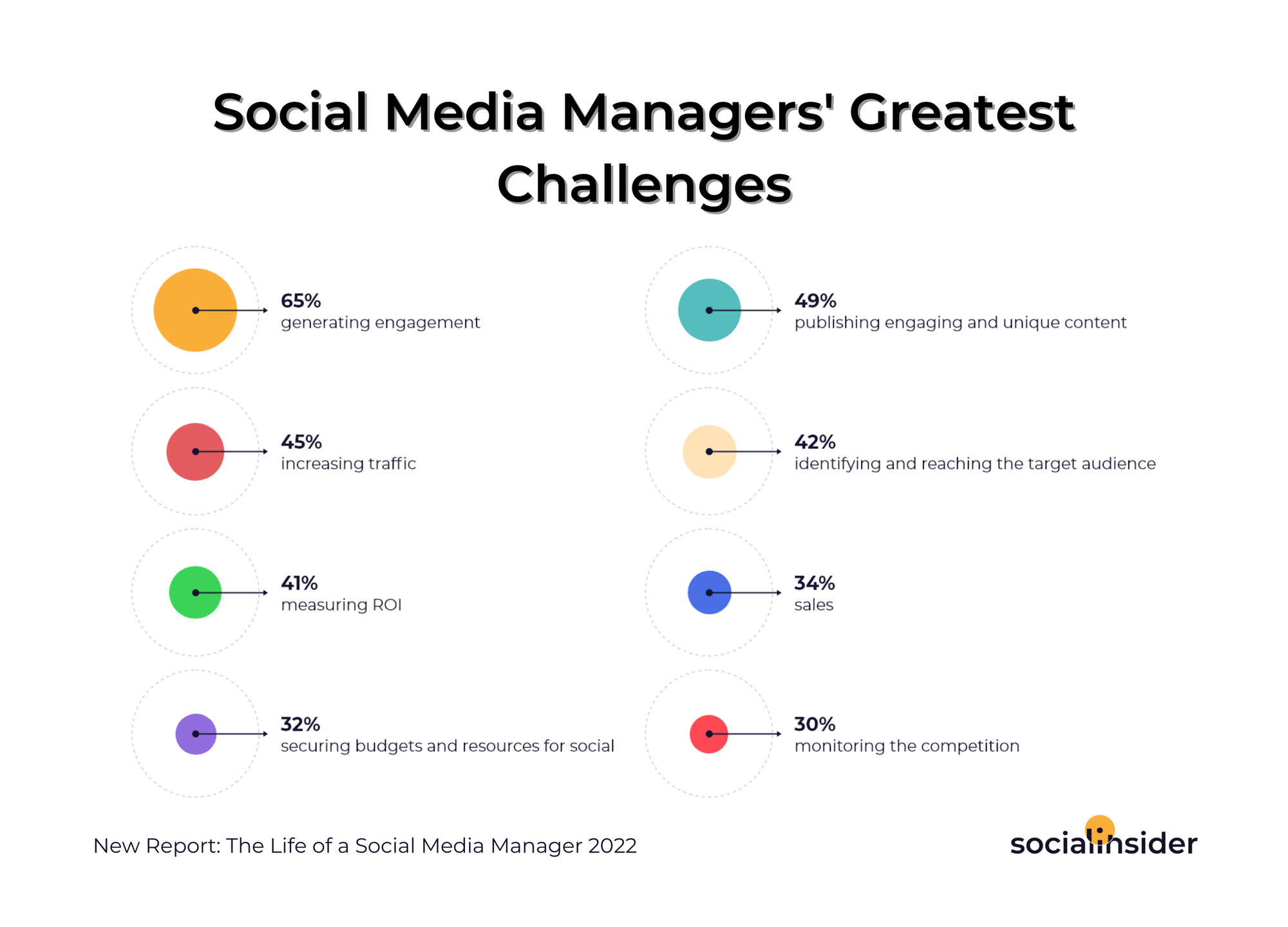 Truth be told, regardless of your specific goal, your Christmas marketing campaign needs to generate interest that can afterward translate into engagement, leads, or conversions - depending on how you design your messages.
Creating catchy and engaging captions, appealing visuals, or even better - entertaining videos is what can help you stand out from your competitors and make social media users turn their heads toward your business.
At the end of the day, it's quite likely that your competitors to come up with similar Christmas offerings to the ones you have prepared.
But the secret to keeping their interest in your company alive lies in the way of wrapping your messages.
This is actually where creativity is tested and matters the most.
2. How can data help you write the best Christmas posts on social media
Regardless of the industry you are in, there's always something special you can do on social media for your Christmas marketing campaign.
Remember, the idea of the perfect Christmas post is relative. But with the help of data, you might just craft the perfect post for your own audience!
Christmas social media campaigns require time and dedication, but a little help from specialized tools can work wonders for your brand's exposure.
This holiday season is about getting closer to loved ones, so it also means your brand should be closer to its followers, no matter the platform.
Boost your Christmas content engagement by picking the right platform
Before crafting your Christmas posts for social media, you must decide what your content calendar will look like. You'll have to do a bit of research to see what type of content is most engaging and, most importantly, where to post.
To help you, we've done a short analysis to see where are the biggest brands communicating more about their Christmas offerings and campaigns, discovering this chapter's winner is Instagram, followed by Facebook, as expected.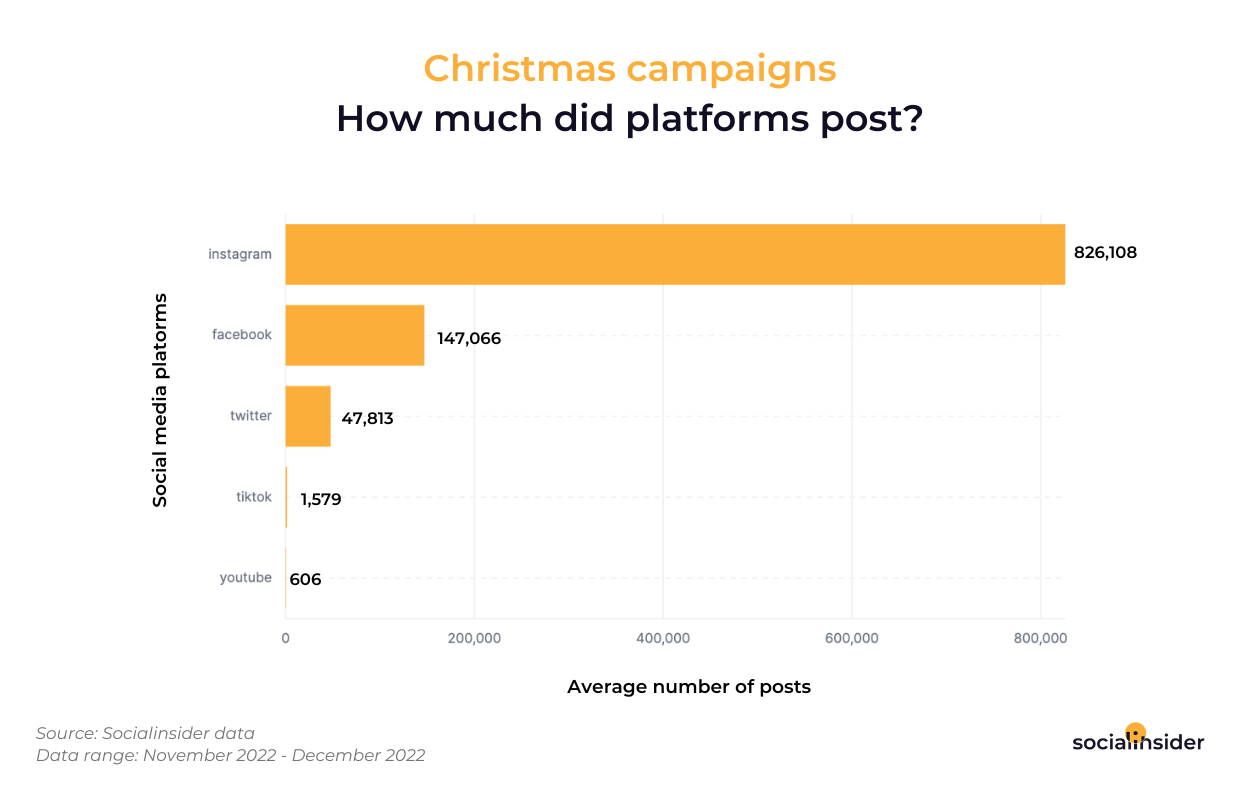 Now let's look beyond the numbers a bit. What does this data tell us?
A key takeaway would be that creating a 360' marketing strategy is important for every business.
Of course, creating content just for the sake of it will be of no use to any brand.
What's most important is understanding each platform's audiences, features, and potential and creating specific content for each platform leveraged.
Hopefully, this insight is useful for you to make some last-minute tweaks to this year's Christmas social media campaigns.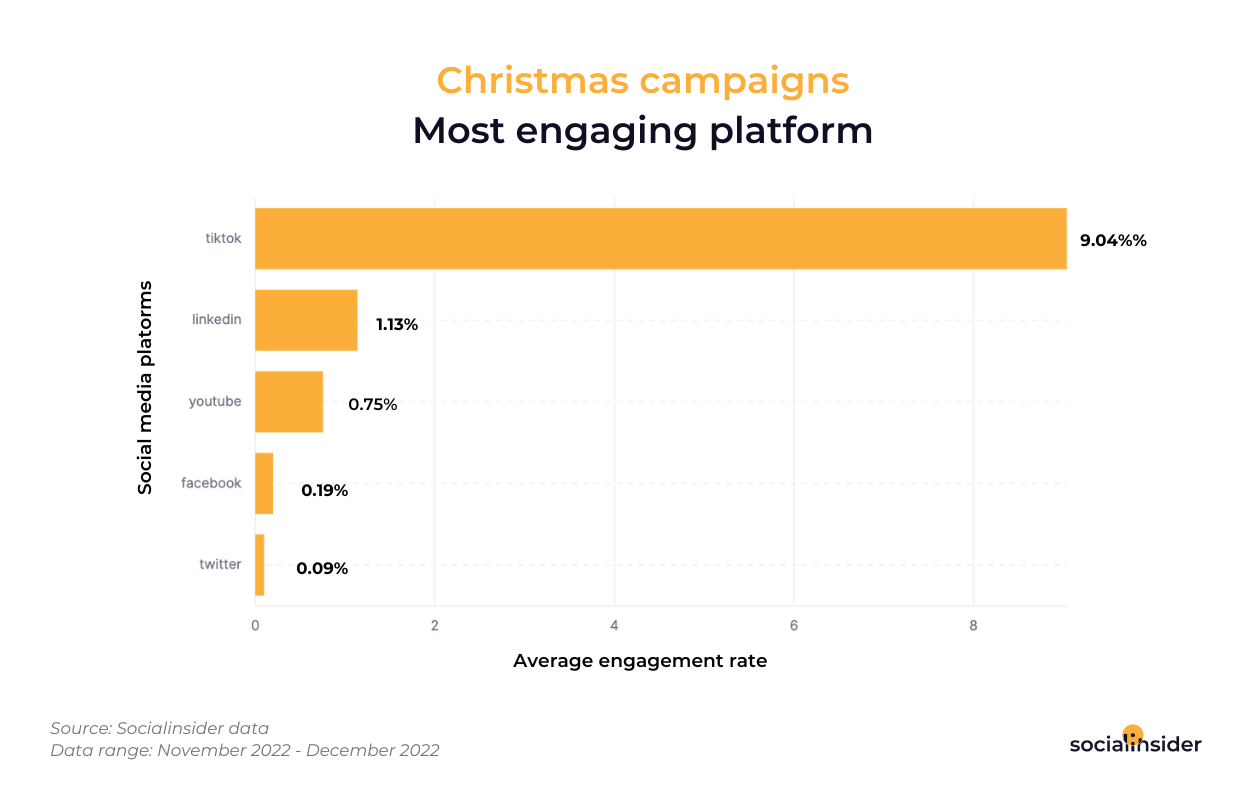 As for the most engaging platform when it comes to social media Christmas campaigns, surprisingly or not - it is not Instagram. In this corner, TikTok holds supremacy.
Another lesson that data reveals that could help you boost your Christmas campaign's results could be to start experimenting with TikTok marketing - in case you want to connect on a deeper level with the younger audiences and get a head start against your competitors.
However, to maximize your reach, do not forget about the more established social media platforms like Facebook and Instagram.
Integrate more Reels into your Christmas campaign strategy for Instagram
According to our latest Instagram content performance study, Reels make for the most engaging content type on the platform at the moment.
For being the newest feature launched by Instagram, in an attempt to keep its audiences away from TikTok - the platform's main competitor - Reels are heavily pushed on Instagram right now.
With the network's algorithm favoring and offering increased engagement levels for this content type, not trying out this post format would be a wasted opportunity.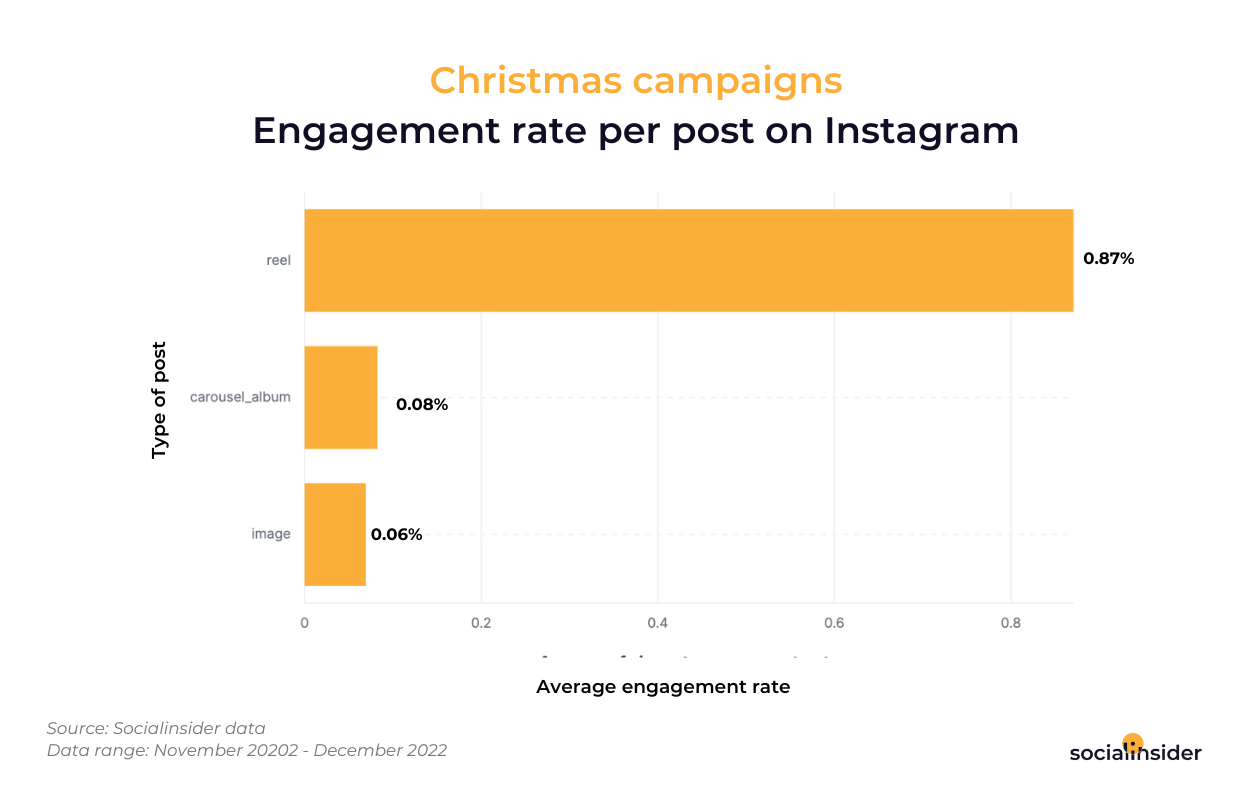 3. Three of the best social media Christmas campaigns
Christmas social media campaigns are among those marketing initiatives that last the longest throughout a year (usually for the whole of December, and sometimes, even before that).  
Because of this, they require a lot of creative effort, especially given their heavily visual component.
With this in mind, it's safe to say that coming up come up with new, fresh Christmas content ideas ain't an easy task.
Adding up to that, the fear of using the same social media Christmas post ideas repeatedly might slow down the process of creating your Christmas content calendar even more.
So, to help you gain some inspiration for this year's social media posts for Christmas, we've put together a short list of Christmas social media posts examples posted by some of the most popular brands for this year's holiday.
Starbucks is a world-renowned brand for its (besides delicious products) creative marketing campaigns.
When it comes to seasonal marketing, there aren't many businesses that can compete with Starbucks' ingeniosity.
For this year's Christmas campaign, Starbucks went on a new path, and oriented its most of its Christmas marketing effort toward TikTok and Instagram.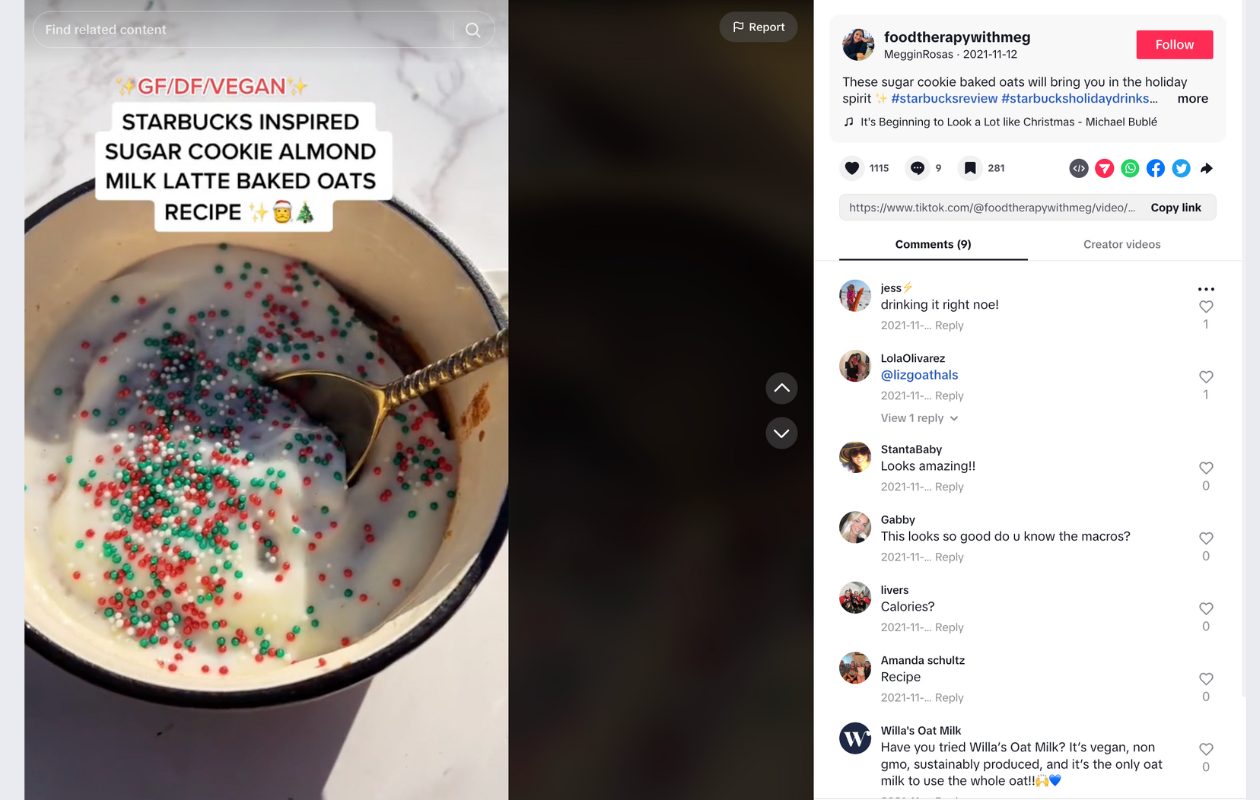 Starbucks has always had a great festive presence when it comes to Christmas marketing campaigns.
We all know that with the holiday season kicking in, Starbucks puts its festive hats (as in its emblematic, red, Christmassy-themed cups) and turns its Instagram account into Christmas land.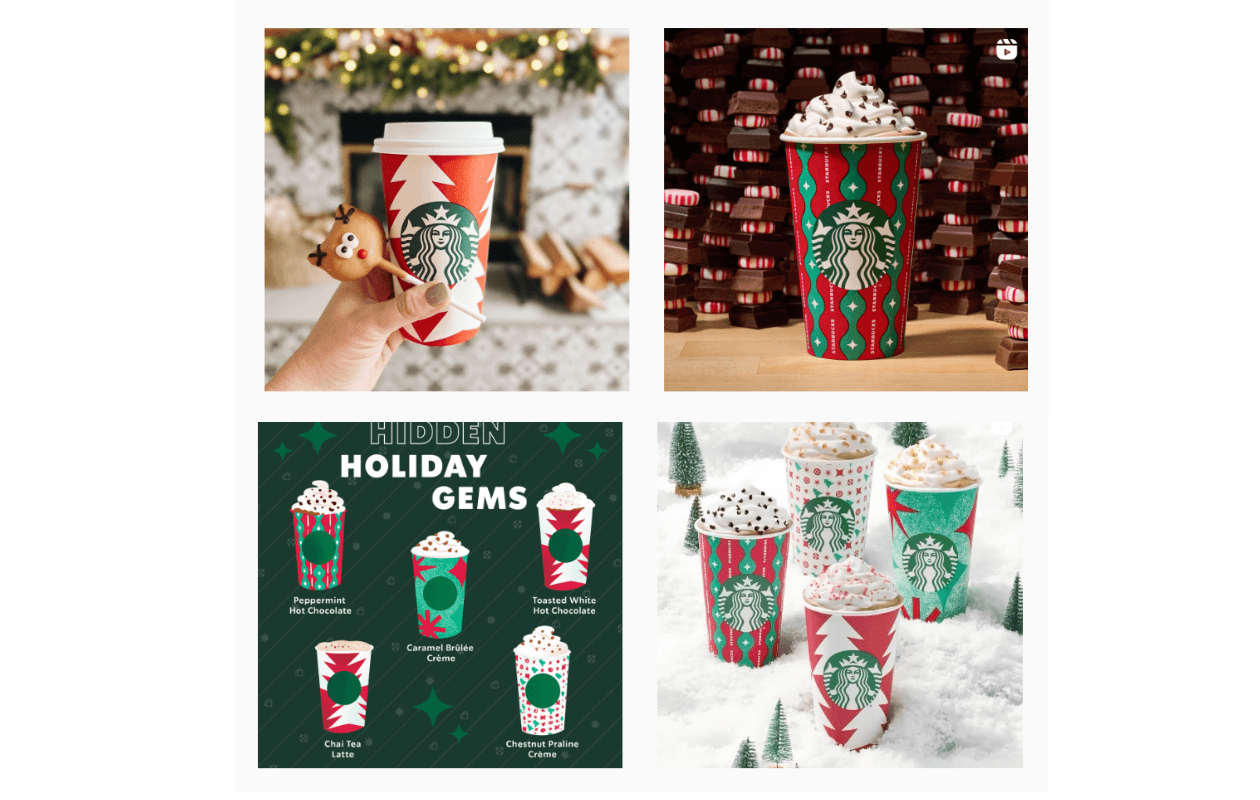 Let's be honest, do you know any other brand that can get you in that cozy holiday mood faster than Starbucks? I would bet there isn't.
One of the brand's biggest assets on social media is its visually-appealing aesthetics and the freshness and coziness it dispatches.
From launching Christmassy hot drinks in stores to their adorable Christmas cup packages, we are all waiting to see what other Christmas ideas this brand will bring to the table.
For this year's Christmas campaigns brands seemed to have taken TikTok marketing very seriously, as an increased number of businesses have leveraged the platform compared to last year.
And Benefit Cosmetics is no exception.
In its characteristic style (using a lot of pink, of course), the brand created a series of entertaining TikTok videos that integrated very catchy songs, like the one below.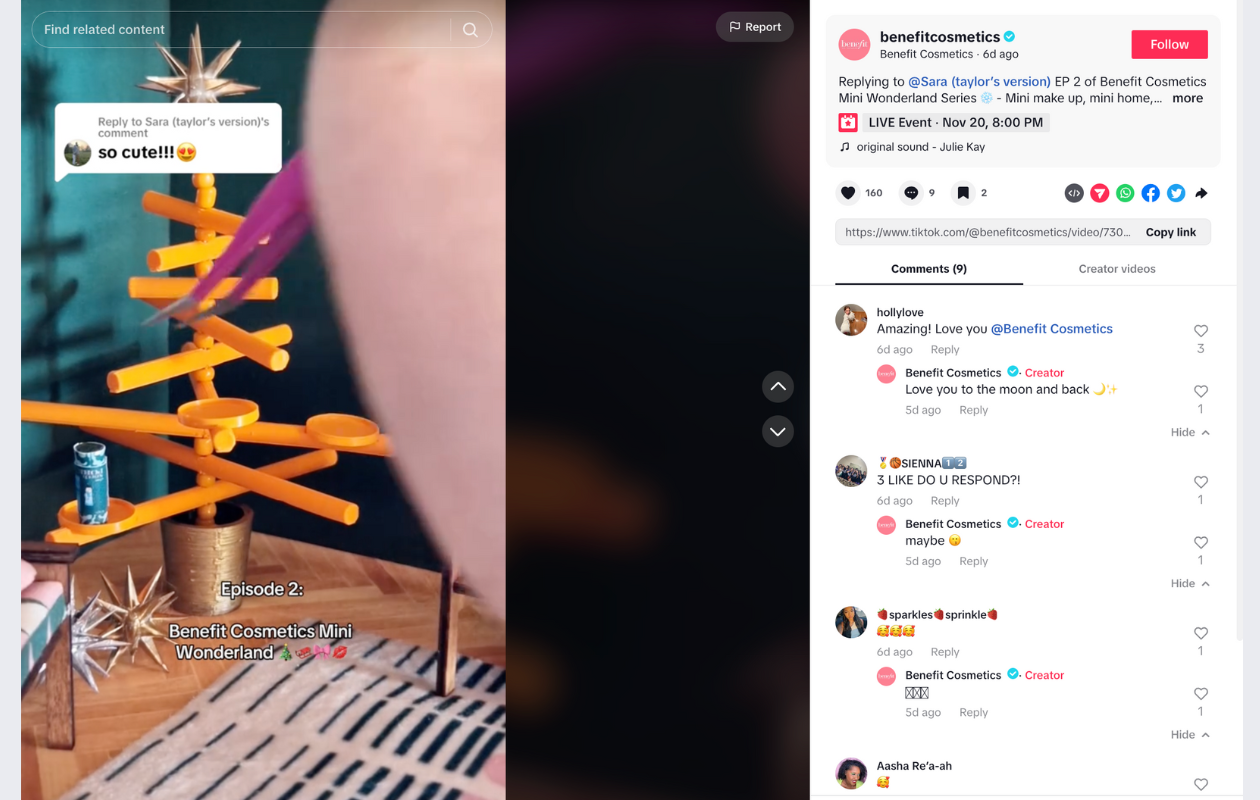 This year, Old Navy started spreading the Christmas jolly a bit earlier. And Christmas lovers couldn't be happier.
The brand's primary channel for its Christmas campaign was Instagram, where it posted a series of Reels highlighting a part of its winter collection while presenting different relatable situations in a cute or funny way.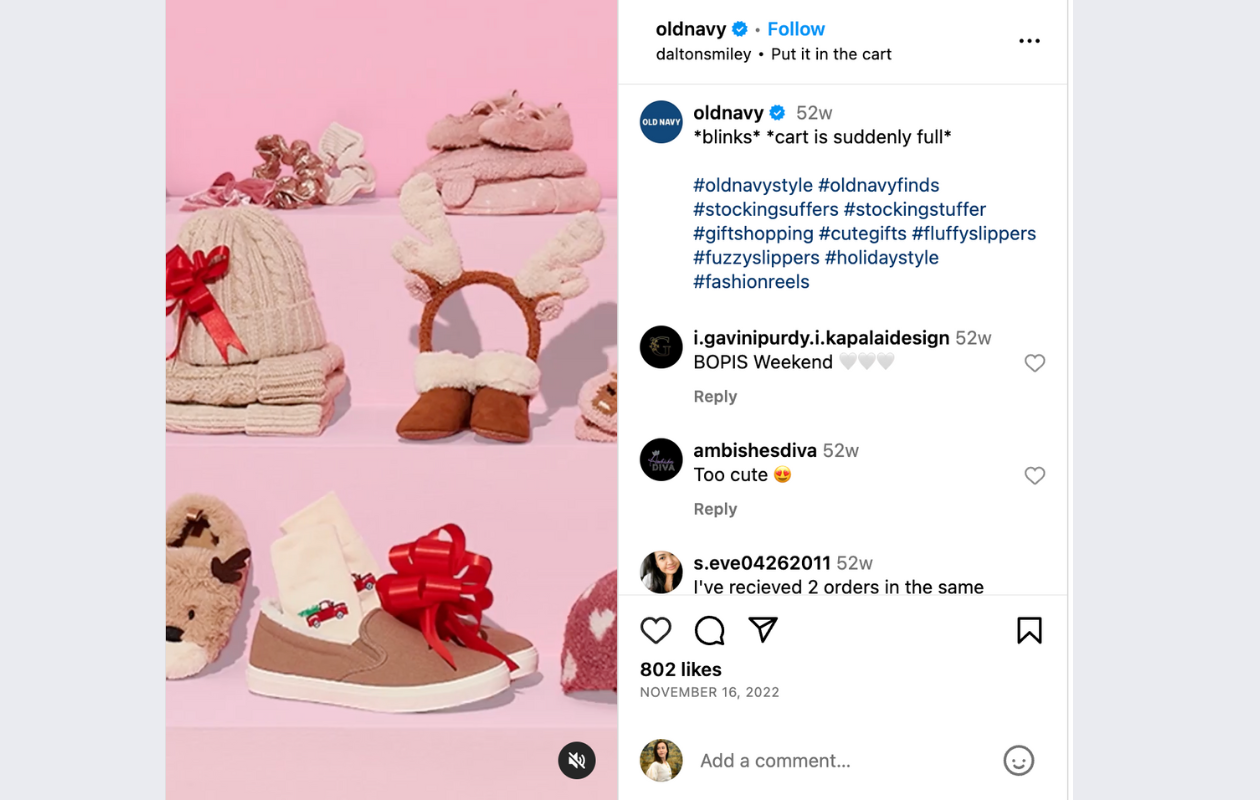 Final thoughts
From a marketing perspective, Christmas time is one of the most intense periods of the year, as the brand's competition for their target audience's attention is getting fiercer than ever.
Therefore, since it holds such great weight in a business' yearly sales and revenue stream, starting early and planning ahead would be the most desired way of dealing with Christmas marketing campaigns.
However, there are moments when time does not work that much in our favor.
Hopefully, the Christmas marketing suggestions listed above will help you craft some catchy social media Christmas posts -in case you've run out of time and need some inspiration- and also highlight the most important channels you should focus on this year.
PS: The platform's engagement data analysis included 890,357 Instagram posts and 1,848 TikTok videos published between November - December 2022.