The last time I looked at the window, the trees were still green, but time flies, and we are close to December. 🎄
Do you know what this means?
Means that brands should start planning their Christmas marketing campaigns right now. Ideas, strategies, meetings, content calendar, reports - there are many things brands should do before seeing a perfect product campaign.
To give them a hand, I've created a list of steps, tricks, and tips they must follow if they want to run a successful Christmas marketing strategy.
---
Create the perfect Christmas campaign this year
---
1. Define your campaign objective & create a message
Every marketing campaign should start by setting the objectives. This should be your first step, and often this is a much more challenging task than it seems.
As a social media manager, start by asking yourself what your brand wants to achieve this Christmas season?
Maybe you want to:
generate new leads
raise the awareness of your brand
increase your sales
increase the number of subscriptions for your product
After answering this question, and you know what your business objectives are, you'll be able to define and create your marketing message.
Make sure you include clear calls to action, even if it's just a 'check out our store' button leading to your website or social media accounts.
2. Understand your audience and create a schedule
Understand your audience and create a schedule for your Christmas posts. This is a significant step because if your audience is sleeping when you are posting, your engagement per post will not be high.
If your audience is more willing to see videos instead of images - you should create more video posts for them.
So before starting planning a campaign, analyze your target audience, see what they like, what they don't like, and see when they are active on social media.
To save time, you can always use an analytics tool like Socialinsider. You'll be able to see your post types ranked by engagement and by average engagement.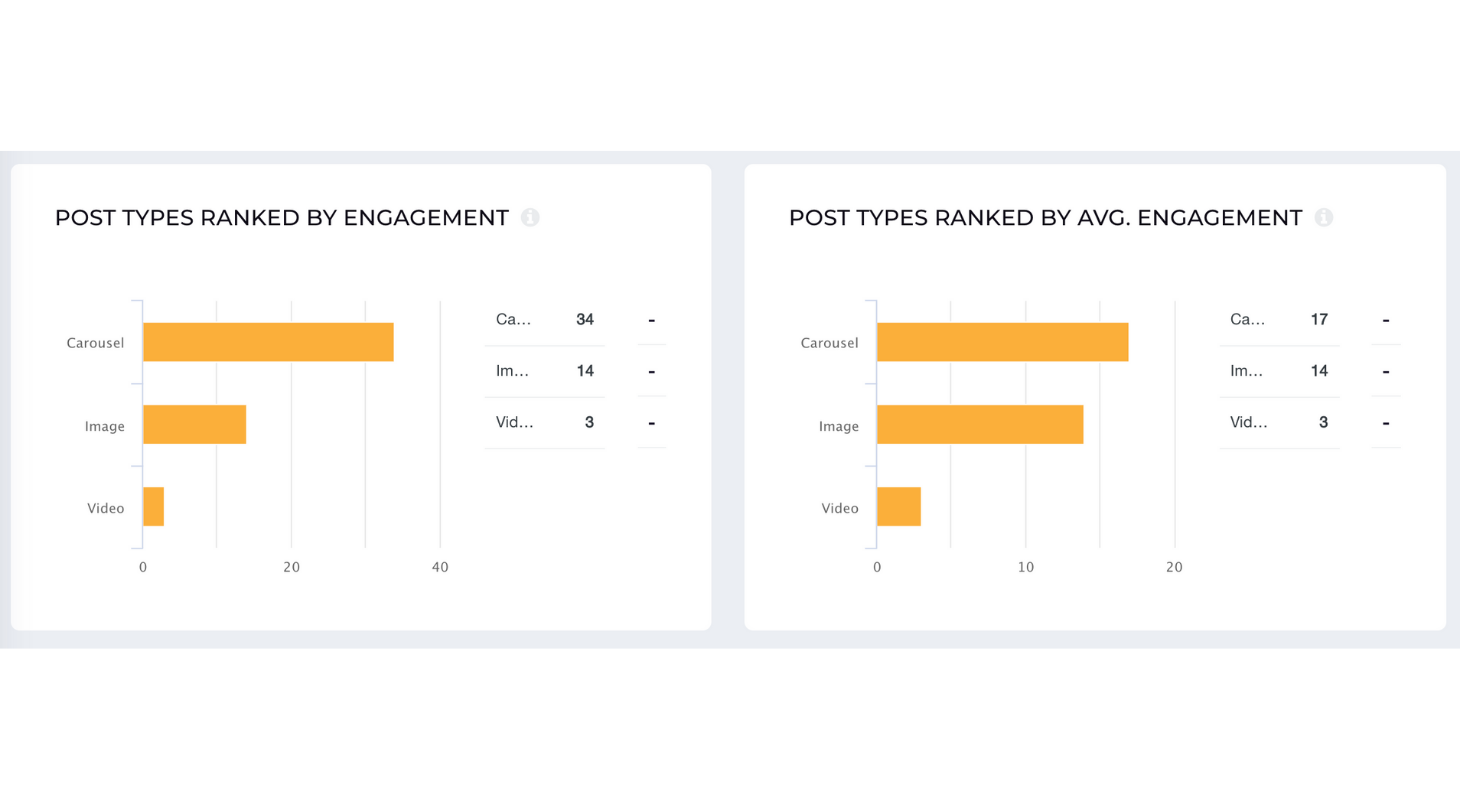 Analyze the graphics and create content relevant to your audience.
You'll also be able to see the geographical distribution of your fallowers - great information that will help you know when your posts should go live on social media.
You can grow your social media presence using analytics.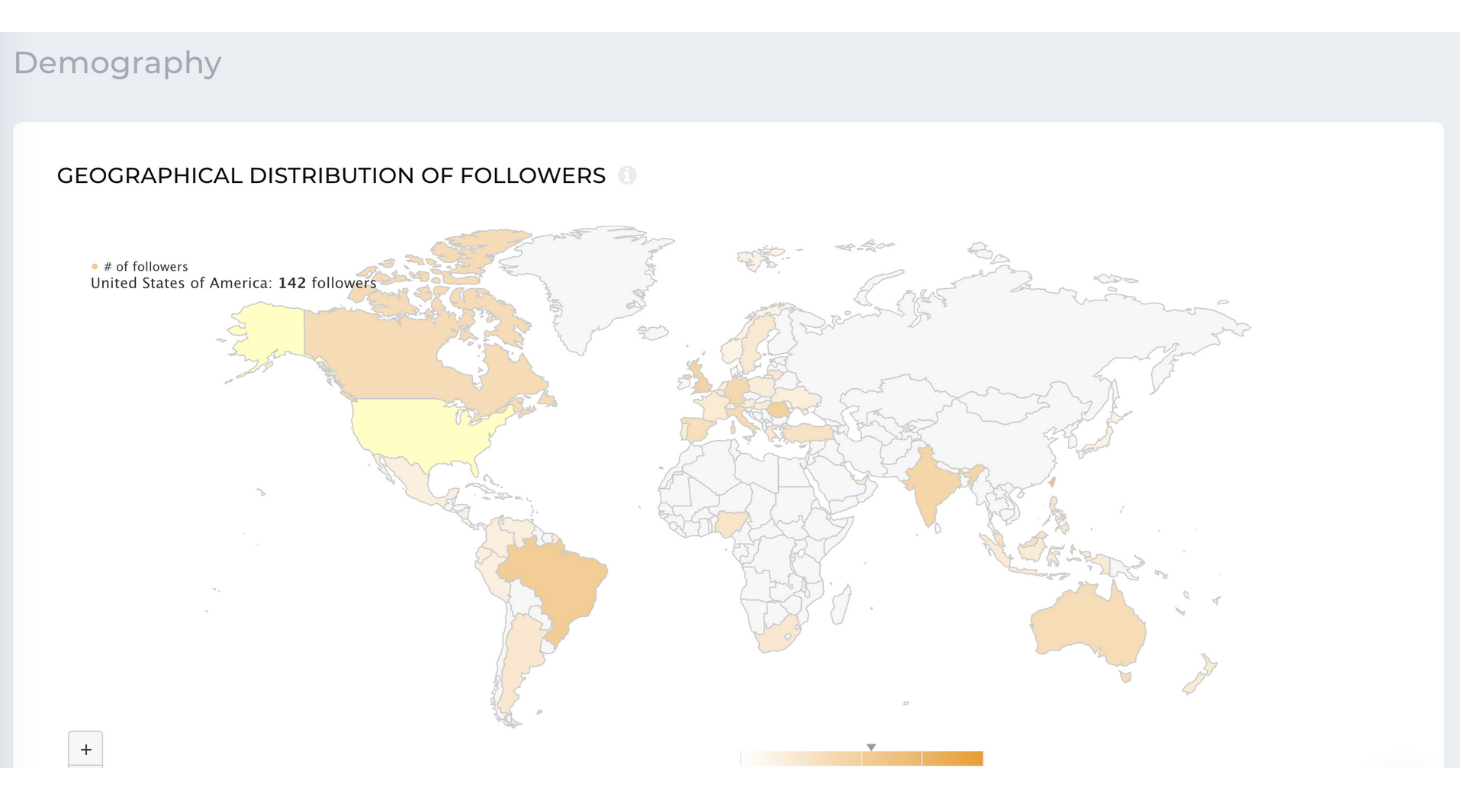 3. Create a Christmas offer
Get seasonal with your offers.Now that you know your objectives and who your target audience is, it is time to create a Christmas offer that will align with these two: objectives and audience.
Here are some ideas that might help you. You can create:
Discount codes
Gift certificates
Product packages
Reward features for your clients
Loyalty bonuses for your first clients
Free shipping
Specialized packaging
Note! Analyzing the competition is always a good idea, so make sure you check what offers your competitors are delivering on their website.
Here are two examples. Last year, Starbucks introduced a limited Irish Cream Cold Brew—a new holiday classic.
Costa Coffee also announced you could find a new flavor in their coffee shop during Christmas times.
4. Spread the Christmas joy on social media
After defining your objectives, understanding your audience, and creating a Christmas offer, the next thing you have to do is polishing your social media handles because these are the first ones who'll help you attract your audience.
So, work on your Facebook, Instagram, and Twitter handle and plan unique seasonal content for Christmas.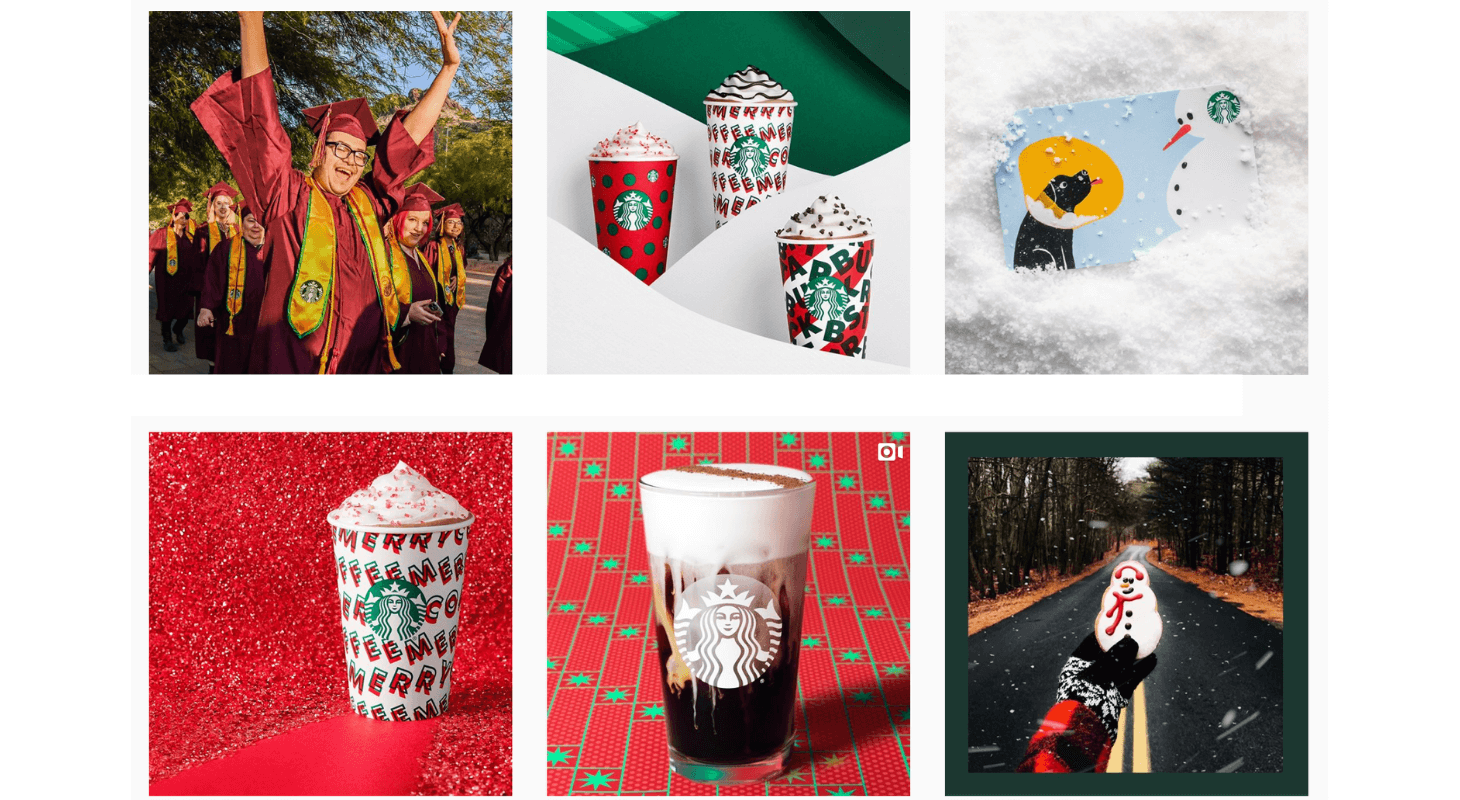 This includes posting Christmas themed pictures, videos, contests, and other posts. The good idea is to plan your social media content so that you won't end up posting low-quality content randomly. Just think and design the content according to your audience and what they want to consume.
Apart from social media handles, work upon your website, and change its theme to an attractive festive one.
A good example here is Happy Socks - the Swedish brand. On their website, you'll find a place with the latest offers and promotions, also with the limited editions. They've also add to their landing page some Christmas joy.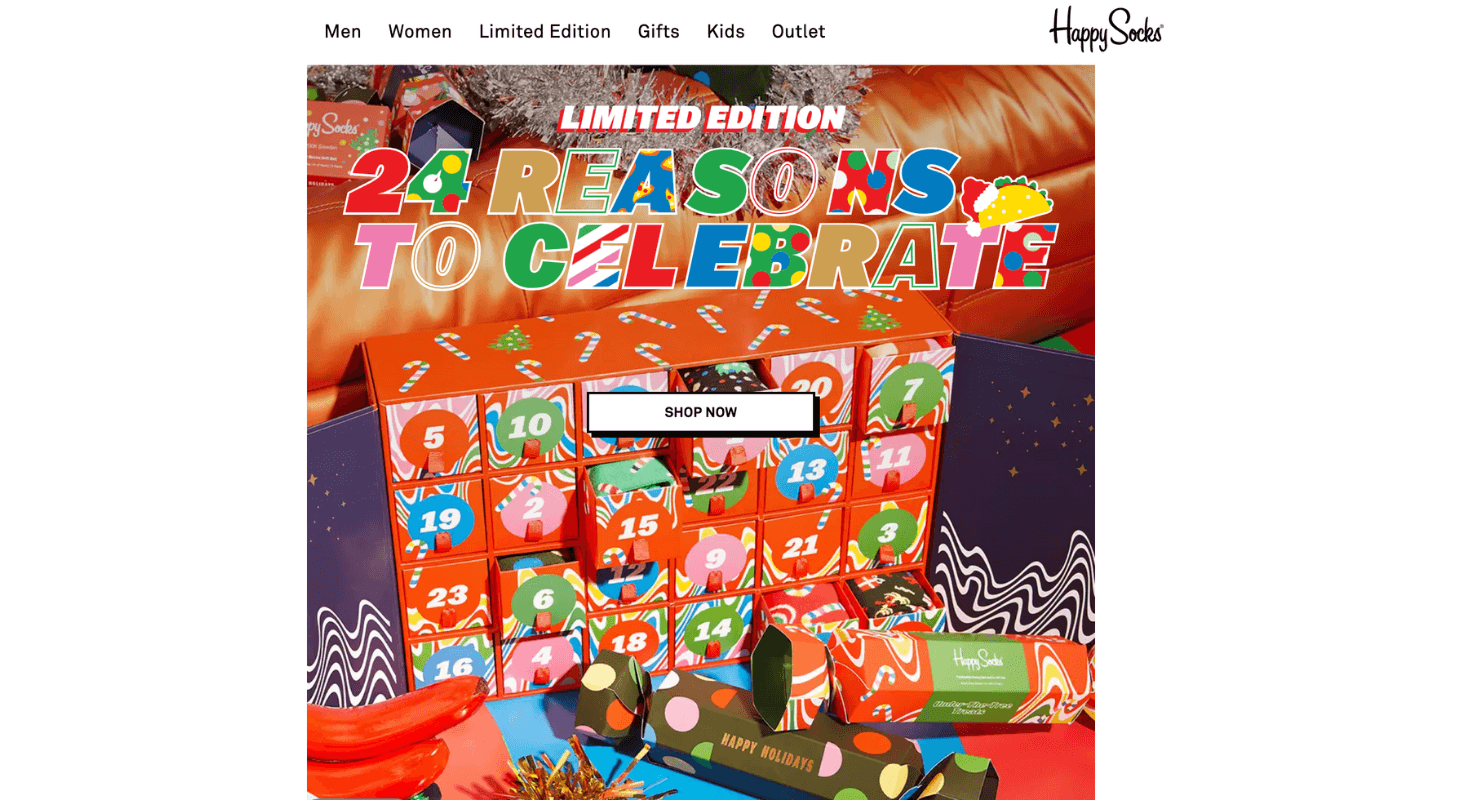 Create landing pages and pop-ups for your specific elements. Also, don't add too many details as it is off-putting. Keep it simple but stylish. One good idea is to organize limited time contests as they improve the engagement to a great extent. For example: organize a quiz on Christmas.
5. Attract audience with Paid promotions
Christmas is that time of the year where you can make the most out of your paid promotions.
These will help you to attract more visitors to your desired landing pages. Even if they don't make a purchase, they will be introduced to your products, services, and offers, which will benefit you in other ways. Not just Christmas, but paid promotions should never be missed while planning a seasonal campaign.
If you have a reasonable budget, you can run your ads on platforms like Google Ads, Facebook ads, PPC ads, LinkedIn ads, etc.
6. Christmas content ideas for social media
You may have heard the phrase "content is the king" thousands of times, and to be very honest, there is no doubt in that.
Providing people with information and content, they are looking for and are ready to consume is far better than a sales pitch.
The best thing is, planning and designing content needs only creative brains. If you have a computer and a good internet connection, you can create and publish the content that will help you increase your brand's visibility and gain a new audience.
Christmas is the most versatile time for designing attractive seasonal content.
You can create your brand awareness and increase visibility by organizing interesting social media contests.
These contests are highly engaging and have better reach than the regular posts.
You can host a giveaway or collaborate with the business in a similar niche as yours. While organizing the giveaways, focus on your brand and products. Other social media contest ideas are :
Ask your audience to write a caption and win exciting prizes
Ask them to share your brand in their posts or stories to win prizes.
Ask them to share their Christmas pictures with your products or services.
You can also try video ideas. The benefit of video campaigns is, they are more engaging and shareable. They act like wildfire on social media. So, make sure to include short and interesting videos in your Christmas campaigns.
7. Post-Christmas actions - analyze & report
After any social media campaign, there are some questions:
Was the campaign a success?
Were the objectives been achieved?
Did we increase our sales?
To answer all these questions, you must analyze your campaign. This might take time if you do it manually, but here's the good part - you can use Socialinsider and analyze your performance for any campaign you run on social media.
You should know that an innovative and well-executed marketing strategy can drive substantial revenues on investment or ROI.
With Socialinsider's campaign feature, you can compare campaigns across multiple social media networks. Here's how:
First, you have to create a tag for that campaign and apply it to your posts, like in the below picture.
I've used the word "Christmas" to find out all H&M's posts that include this word.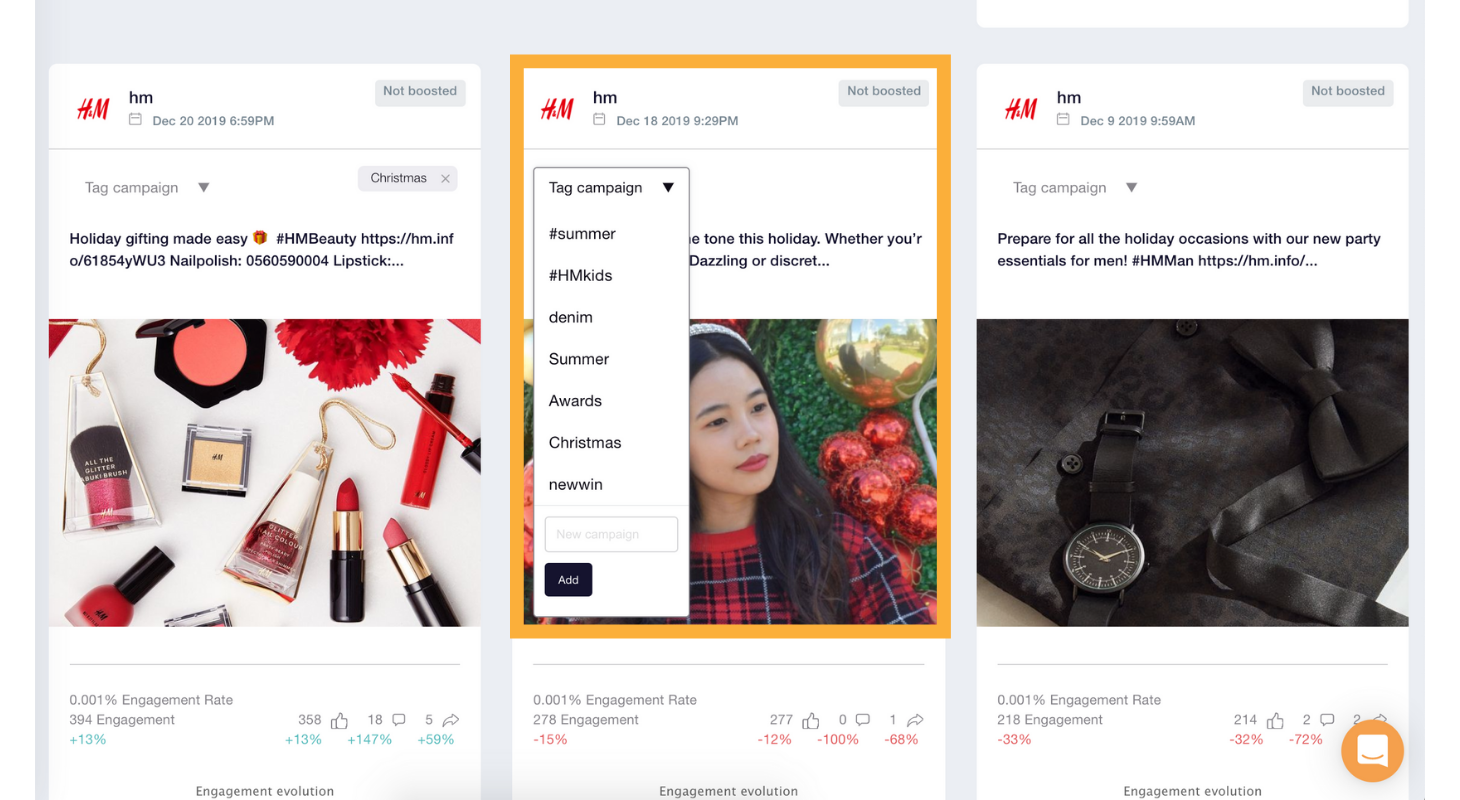 Then you can see all your tagged posts from each platform and the engagement for them like in the below picture.
Measure engagement by social channel
With this feature you can also measure the engagement by social channel. All you have to do is select 'Campaign Details' from the menu bar.
You'll see how the posts are distributed for each channel, distribution of engagement, and a list of top 10 posts ranked by engagement.
From this photo, you can see that H&M used 6 posts on Facebook with a total engagement of 3.349 and on Instagram 4 posts with an engagement much bigger. So Instagram returns a higher engagement and engagement rate, even though there were more postings on Facebook.
Using this feature, you can also:
Tag and report your competitors' campaigns
Track your influencers' success
Get a more in-depth content analysis with posts tags
Here's a how to video:
Analyze your Christmas campaign with Socialinsider!
Final thought
Regardless of the industry you are in, there's always something special you can do on social media for Christmas Day.
Show your audience you're ready to give them some special Christmas present by offering them a promo, a discount, or interacting with them through a contest.
Remember: you can make the most out of Christmas time by designing the right campaigns!
---
Related articles:
---